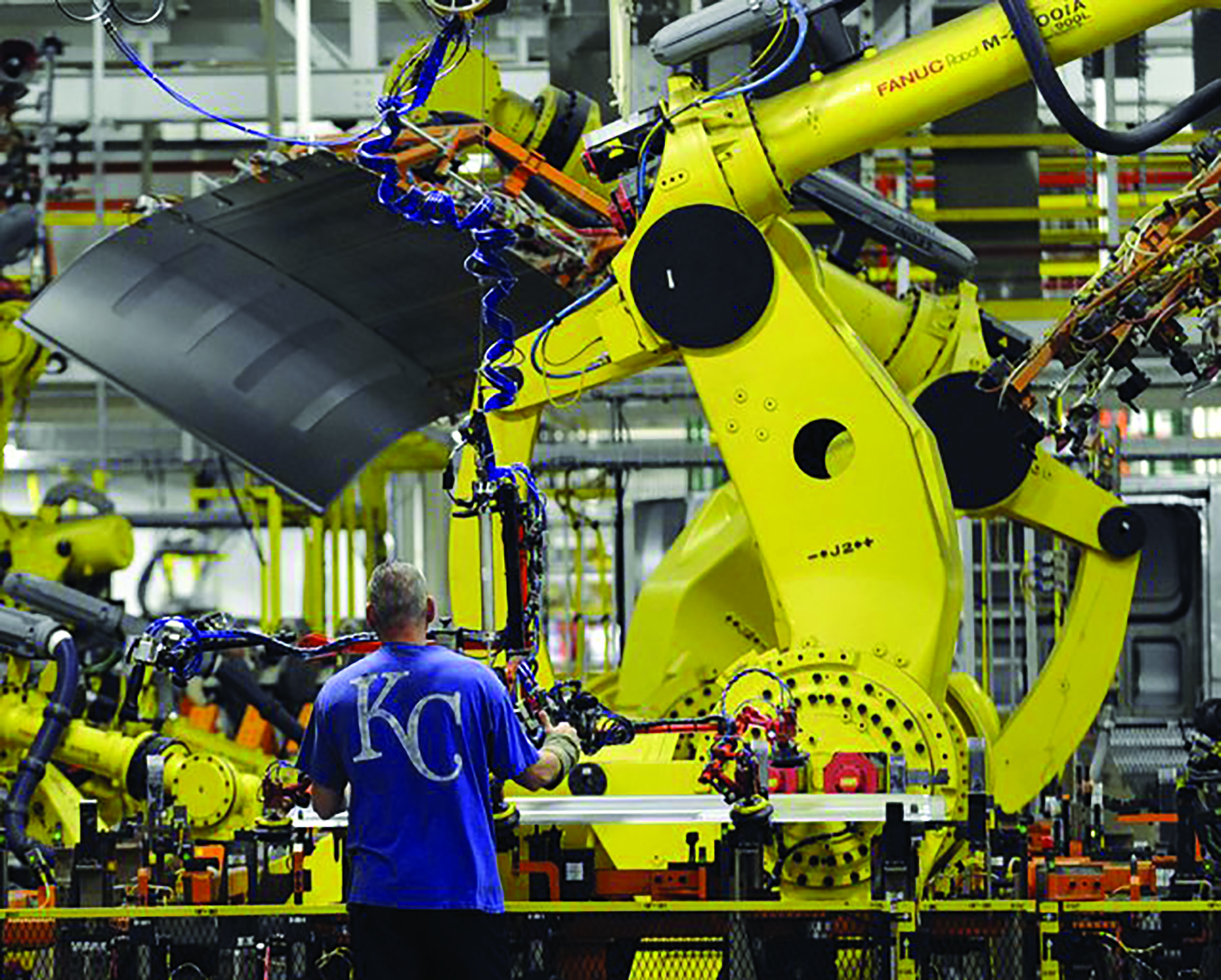 As of March 2018, more than 126 million Americans were in the labor force—and more than 75 million of them had no college degree. But whether they are in construction, manufacturing, logistics, transportation or even service industries and retail work, jobs that have long been labeled something other than "white collar" are being transformed by technology.  The trick for employers, work-force development executives say, is that the tech tools your workers are using today will soon be replaced by new generations of programmed machinery that is more versatile and more productive. Long gone are the days of training a worker to proficiency with one tool for one job and expecting him to apply that same skill for years.  Even those who understand that must keep something else in mind, says Richard Fort, interim dean of the industrial tech program at Johnson County Community College.
"There are certain skills in blue collar that are not going to change with tech," he says. "In HVAC, it doesn't matter if a new condensing unit comes with an ECM and other stuff like variable-speed compressors; you're still going to have to braise lines back and into the house and into the business. Braising is going to be a skill, and you're going to need it."
That said, the tools that will be applied by the technician are going to become more complex, and will require additional training. "So we try to identify the hands-on skills that students must have or need to know, and make sure they are very good at those," Fort says. That means having the ability to analyze problems and find information, and being able to interpret that information so they can come up with a viable trouble-shooting method.  An example of the way things are changing, he said, is the simple household furnace. In concept, they haven't changed in decades. "But we're just getting to the point where there are drastic differences between furnaces," Fort said. "It's one of the last fields to move more into the information age," particularly with building-management programs and Internet of Things applications. "It's more important for us to teach the student how to find information and digest it than to come up with a solution to fix it," Fort said.
Those critical-thinking skills will be increasingly important in blue-collar work, even as the numbers of people holding such jobs continues to decline. Between 2006 and 2016, the nation lost 1.8 million manufacturing jobs, even as output in that sector increased significantly. Technology played a role on both halves of that equation.  "The nation used to have 20 million jobs in manufacturing," says Donna Gordon, managing director for the Kansas City Manufacturing Association. "I don't know that we'll ever return to that, because productivity improvements and automation have changed the whole calculus in terms of the number of jobs."  But while the numbers and kinds of jobs required moving forward decline, she said, those positions will require workers who are more skilled. "That complicates the whole situation; even if you get the skills today, in 10 years, they may not be relevant. It will be much like IT, where you need to learn new process, technology and other things to stay relevant."
The broader issues in play here, says Kim Inman of the Missouri Association of Manufacturers, have profound implications for both business and policy-makers, especially in public education.
When it comes to ensuring that workers, especially those just starting their careers, are properly equipped to thrive in this new environment, Inman said, "who owns the problem and who owns the responsibility to find the solution?"  A prime example of how the educational establishment is disconnected from downstream realities, she said, showed up in conversations with state education officials. "We asked why vo-tech programming went away, and it turned out, it was as simple as a transportation issue," Inman said. "It wasn't about funding for vo-tech, per se; but without the bus budget, districts couldn't get students to vo-tech, so the schools closed those programs. People don't always look at cause and effect."  And to be candid, she said, manufacturing as a sector hasn't fostered enough of those conversations. "What most organizations are doing," she said," is trying to talk about problems and issues, but not addressing the solution and the action to come up with a solution."  Manufacturing is good at producing and promoting products, she said, "but what we're not good at, and haven't done in so many years, is we haven't promoted the industry. If we can promote the industry and share that story with parents, teachers and counselors, and share that we have jobs that pay an average of 33 percent higher than other industries, with wonderful benefits, that will make a difference."  With unemployment at the lowest level since December 2000, American companies are battling for talent on a whole new level. That, say work-force professionals, creates opportunities to find talent from non-traditional sources—including in-house.
"While most firms advertise that they promote from within, often they only do so from jobs that are already considered on the "management track,' " says Keely Schneider, director of the Workforce Partnership. "Talent is universal, but opportunity may not be, so smart companies regularly look for talent within their entry-level hires."  Other solutions, she said, could be found for businesses that partner with community colleges and work-force development boards to develop customized training programs. Those can be designed specifically for entry-level talent to take on higher-skilled work.
"If designed correctly, costs to develop customized training can often be offset by accessing certain public work-force funds," Schneider says. Custom training expenses are comparatively less than the average cost to attract, hire and train a brand-new employee, she said. "Those costs can amount to 20-30 percent of an annual salary for mid-range positions and as much as 200 percent for highly educated executive positions," she said, "even when you add the cost of backfilling the vacated front-line jobs."  JCCC's Fort also sees that as a resource for talent-starved hiring managers. "Technology is giving those blue-collar fields more upward mobility," he said. "People can start in at that level, and a large number of those who have finished school can take classes at night, upgrade their skills and be able to move into higher-level positions." The message from educators to students, he says, is that they are not taking classes to secure employment.  "This improves the marketability of students," Fort said. "I tell all students, you are here to get a career, not to get a job. You can get a job now; it might not pay worth a damn, but you can get a job. You may start at the bottom, but your knowledge and skill will determine how quickly you move up."