By identifying an unmet need, founders of Nativity House KC embrace best of both.
In recent years, "entrepreneurship" has become something of a buzzword in philanthropic circles. Almost inevitably, the people who employ it are the paid administrators of established philanthropies. They have learned that to impress their business-oriented board members, they must speak the language.
This is all well and good, but a little ROI-oriented finessing here and there really isn't entrepreneurship. The word, which derives from the French entreprendre, means to "undertake," not to "tweak."
As a side note, I taught commercial English in a French university some years back. More than once, I had to tell my students that the English word for the French word entrepreneur was "entrepreneur," not "undertaker."
Barbara Belcher knows what it means to undertake. A veteran lobbyist for the pharmaceutical giant Merck, Barbara was driving south on Interstate 29 after a successful go-round with the Nebraska legislature when she had a genuine road-to-Damascus moment, albeit on the road to Kansas City.
Nearing retirement, Barbara was contemplating what the future might hold for her and her husband, Vin Belcher, when she felt the urge to pray what she calls "the scary prayer."
This is the one found in Luke 1, a verse particularly relevant at Christmas time. The Angel Gabriel approaches Mary with some startling news: specifically, that she will give birth to the Son of God and become, in essence, the mother emeritus of western civilization. Said Mary in response, "Behold, the handmaiden of the Lord; be it done to me according to your word."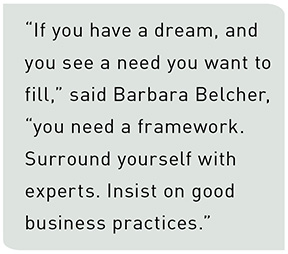 God's plans for Vin and Barbara Belcher were somewhat less ambitious, but almost as daunting. After some serious soul-searching and a fair share of strategic planning, the Belchers chose as a mission the provision of "a soft place to land" for those young women who rejected abortion but who, like Mary herself, found themselves homeless as the birth approached.
I had the chance to speak with one such woman. Kristen, by name, might have lived her life as a statistic in a study on the state of homelessness, were it not for the Belchers. Although thoughtful and well-spoken, she found herself, when not couch-surfing with friends, sleeping on a bench near the Boulevard Brewery as the sixth month of an unplanned pregnancy approached.
At 20, she was too old for state shelters. As the product of foster care most of her young life, she had no home to go to once her fiancé—a wedding had already been planned—threw her out of the house they had shared with his parents. Kristen found every hole in the social safety net, and fell through.
It was precisely for people like Kristen that the Belchers had launched their initiative. Like all successful entrepreneurs, the Belchers began by identifying a real need and working strategically to fill it. This began with a careful study of what might be called their "market."
Once they had settled on a general direction, they gathered a group of like-minded people and explored their options. This led them to contact the non-profit group at the Polsinelli Law Firm and create a 501(c)3. That done, the Belchers worked with a financial adviser to put together a serious business plan.
"If you have a dream, and you see a need you want to fill," said Barbara, "you need a framework. Surround yourself with experts. Insist on good business practices."
For people like Kristen, the Belchers understood, that "soft place" meant an actual roof over her head. As Kristen admitted, at the time of her deepest despair, she was thinking, "No roof, no kid."
The mission statement the Belchers put together is more a plan of action than some hopeful aspiration, that mission being "to provide help, hope, healing, shelter and love for young unwed mothers in a faith-based environment, based on the Roman Catholic tradition."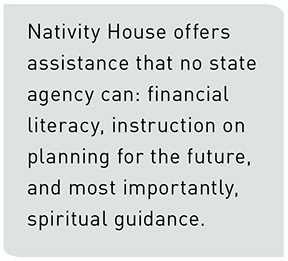 For the Belchers, "shelter" was not a metaphor, but an actual four-bedroom house that Vin, a real estate broker, found in the far reaches of Kansas City, Kan. As with all real entrepreneurs, the Belchers resolved to put up their own time and money to get the newly christened Nativity House KC off the ground. It would take considerable amounts of both.
Nativity House opened for business in May 2014, and from its first day, the demand has succeeded supply. Finding her way through that demand turned Kristen's life around. "I prayed they would accept me, and they did," said Kristen. "I finally had a place called home."
Kristen now lives in the Nativity House with her healthy six-month old son, Carter. Thanks to the support she received, she was able to complete her certification as  a nursing assistant and is now embarked on a five-year track to become a nurse-midwife.
Nativity House offers assistance that no state agency can: not just love and support, but also schooling in financial management, planning for the future, and most importantly, spiritual guidance. Although open to all faiths, Barbara believes that the Catholic tradition lends a needed structure to their efforts.
"If you think about Pope Francis' focus on the family while he was here," she said, "this really is at the core, the base of his message, because we're trying to help these women build strong families."
Since opening, Barbara has begun to adapt her missions to the needs of the market. Sheltering a woman for the first year of a child's life, she realizes, is a good start, but not enough. In the planning stages is "Nativity Village," a structured community for the young mothers who have graduated from Nativity House.
To accomplish this, the Belchers will need the help of many more people than those they know right now. To join them in this inspired entrepreneurial venture, please take a look at nativityhousekc.org.
---