Waddell & Reed cancels plan to move Downtown
---
---
The acquisition of Waddell & Reed Financial Inc. in late 2020 is beginning to have a clearer impact after a Tuesday announcement confirmed the company will not be moving into a downtown Kansas City building intended to serve as Waddell's new headquarters.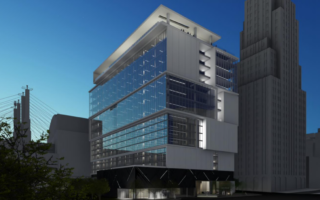 Rendering courtesy of Waddell & Reed
---
While the $140 million building at 1400 Baltimore Ave. remains under construction, Waddell & Reed's $1.7 billion acquisition in December 2020 by Macquarie Asset Management has resulted in the company back-pedaling on plans.
As part of Macquarie's deal, Waddell & Reed's wealth management platform will be divested to LPL Financial Holdings.
Tuesday's announcement also confirmed layoffs that were anticipated with the merger, which is set to finalize in April 2021.
Around 219 employees will be affected by the upcoming layoff, according to a spokesperson with Waddell & Reed who said all employees would be eligible for "comprehensive financial and non-financial severance benefits, including continued subsidized healthcare and outplacement services to assist them in securing new jobs."