Veterans Community Project raising money for new campus
---
---
An increase in those seeking services through local nonprofit Veterans Community Project has further fueled the organization's $10 million capital campaign for a Veterans Navigation Campus facility.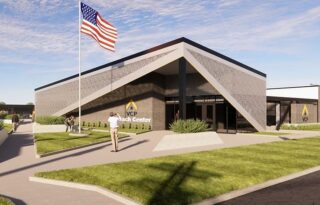 Rendering courtesy Finkle + Williams Architecture
---
Funds acquired through the campaign are said to be used to expand and rehabilitate its footprint around the intersection of 89th Street and Troost Avenue, including its headquarters and village of 49 tiny homes.
The new Veterans Navigation Campus facility will be built in place of an auto repair shop at the northeast corner of 89th Street and Troost Avenue.
The Veterans Navigation Campus is planned to be a 3,000-square-foot addition to the nonprofit's current 11,000-square-foot outreach center.
Upon completion, the campus will serve as an entry point for clients with additional space to offer on-site assistance with financial management, job searches, mental healthcare and other needs.
Depending on the speed of fundraising, the full expansion and rehabilitation to take place over approximately three years.