Despite record output, America's farmers face huge challenges. The bi-state region, and the nation, have much riding on their success.
The current reality of American agriculture is that this nation doesn't have enough young farmers. And the ones it does have, just like their older peers, are challenged by a four-year slump in commodity prices, high capital costs for mach-inery and land, farm consolidation, trade policy, emerging technology costs—a bumper crop of barriers to success, accor-ding to executives in farm-related organizations in the region.
For many in the metropolitan areas like Kansas City, regional economic ties to agribusiness are abstractions hidden behind urban issues like work-force development, educational attainment, public safety, transportation infrastructure and housing costs. But much is riding on the success of those farms and ranches that are Somewhere Out There. If the economic resurgence the nation is experiencing is an engine that doesn't seem to be firing on all cylinders in this region, the current plight of farm producers may be a reason why.
"What you have to remember is that Kansas City is surrounded by a great number of people who use it as a hub for medical services, entertainment, capital-goods purchasing and those kinds of things," says Bill Watson, president of UMB Bank's agribusiness division. "We often look at Kansas City's economy as feeding on itself, but the fact is, there is a much broader area of people feeding into the economy here, and a lot of those are production ag individuals.
"And those folks are just flat out of cash."
It's not a secret to anyone, Watson says, that record crops have contributed to an oversupply that has driven commodity prices down almost across the board in recent years. So much so, he says, that what producers are receiving for their work may not always cover the cost of production. Farmers have, in many cases, blown through the reserves they were able to build up in good years from 2011-2014. But after three straight year of downstroke, and another looming, "those people are not coming to Kansas City to buy new car, refrigerator, see a Royals game, have dinner or go to a movie," Watson says.
Furthermore, from an investor's standpoint, many people who do live in the city have holdings in land and farm operations that are underperforming. Combined, Watson says, those elements add up to a missing piece in the overall economy, one that could be filled by a more profitable farm-ing sector.
 
By the Numbers
USDA statistics on farm income by commodity help tell some of the story about the role that agribusiness plays in both the regional and national economy. 
From 2000-2010, total farm income nationwide averaged $64.88 billion, but 2011 saw explosive growth, to $113.59 billion, and after a 15 percent pullback in 2012, a record $123.75 billion. Since then, however, the numbers have gone straight south—falling by $20 billion year-over-year in both 2015 and 2016, and likely to fall below $60 billion this year, according to USDA projections.
Numbers like those prompted Agriculture Secretary Sonny Perdue to tell a House committee earlier this month that "the state of the rural economy is fragile. There's a lot of stress and a lot of duress on the farms today."
In Kansas, commodity production in 2016 was a $15.47 billion industry, based on cash receipts reported by the USDA. Animal production accounted for nearly 60 percent—$8.98 billion, with cattle and calves providing the largest share of that, $7.86 billion. In something of a surprise to those who think Kansas is all about wheat, that commodity ranked third in cash receipts, at $1.39 billion, behind the $2.08 billion generated by corn and $1.84 billion for soybeans.
Missouri, with $8.91 billion in receipts, tilts more heavily toward production agriculture, with crops yielding $4.76 billion (53.4 percent) and animal production at 46.6 percent, raising $4.2 billion. Soybeans ($2.2 billion) and corn ($1.62 billion) were far and away the largest cash crops. 
Those are just the front-end numbers. Downstream from the farms are the companies that store and transport grain, process it into consumer products and supply the energy and infrastructure for a system that feeds 323 million Americans and markets overseas. And even though they don't provide local employment that corresponds with their revenue size, organizations that have their headquarters in this region dominate the list of largest private companies in the region.
Among them are Dairy Farmers of America, Associated Wholesale Grocers, Lansing Trade Group, National Beef Packing, Bartlett & Co., all with revenues in the multiple billions. Publicly traded Seaboard Corp. is also based here, with $5.4 billion in global sales. 
In large part, the lower commodity costs have helped those who use farm products for their raw mat-erials—prices are
near their lowest points in a decade. But other organiza-tions also have a stake in what's happening on the farm, not the least of which are the colleges of agriculture at the land-grant universities in Columbia, Mo., and Manhattan, Kan., and the research interests tied to both of those programs.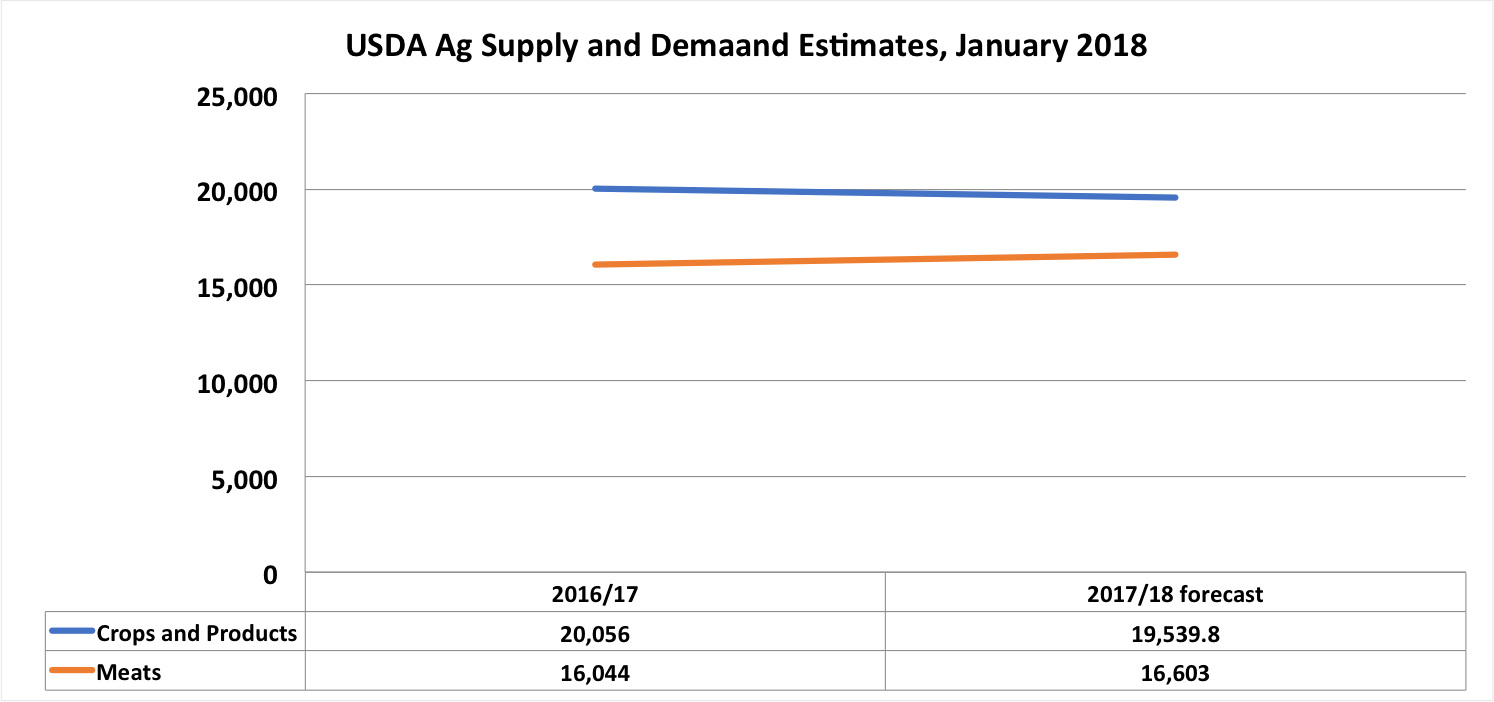 On Campus
     Christopher Daubert, dean of the college of agriculture, food and natural resources at MU, assesses the task of the modern farmer thusly: "Farmers are scientists, engineers, technologists, business people—you have to be talented and bright and hard-working for success in farming today," he says.
MU's challenge is to turn out more of them, along with others in the food-production chain. A lot of others. "The USDA says that this year, there are 20,000 unfilled jobs through the ag and natural resources industries in this country," says Daubert. "That's a considerable deficit in talent working its way through the academic pipeline."
Almost incongruously, that demand has withstood a huge increase in ag-related degrees issued by the nation's 83 land-grant universities since 2002. At MU, the number of degrees had more than doubled in that time frame, at Kansas State University, the figure has tripled, according to figures com-piled by Virginia Tech University.
Daubert's counterpart as dean at KSU, Allen Featherstone, said that after a run-up of nearly 40 percent in ag-related enrollment over the past five years, last year's numbers dipped a bit, something he attributed in part to the ability of farm families to manage college costs in this environment. "A lot is simply the uncertainly on whether now is the right time," Featherstone said.
But for almost all who make that choice, the ROI is immediate. "Our most recent place-ment information shows we're plac-ing 98 percent of students right out of undergraduate program," Featherstone said. "So there is strong demand for young individuals with knowledge of food sector, and business and economic skills."
Technological skills are also an increasingly big part of the picture. The advent of precision agriculture over the past decade has rolled back onto colleges, which have had to sharpen their focus not just on familiarizing students with current technologies, but on developing a mindset open to innovation that will be a constant throughout their lives on the farm.
"The levels of technology that give a farmer an advantage today are constantly being increased," Daubert said. "Aware-ness of many aspects that impact the bottom line, such as regulations, are also changing, so a farmer has to be really adept and nimble to a changing climate—not just environ-mental, but fiscal management."
Because many of the tech skills needed today will be rendered obsolete with innovations, he said, "our scientists and engineers have to really be prepping students to be suc-cessful five, 10, even 15 years down the road, giving them a breadth of knowledge and a skill set to acquire knowledge," Daubert said.
But even so armed, the next cohort of farmers will have to operate in a business and social construct that will be significantly different. Despite public conceptions that cor-porate farming is displacing family farms, the reality is that roughly 80 percent of farms being sold are going to larger farmers nearby, Featherstone said, or to local investors like a doctor or dentist who will by the land and rent it out.
One bigger concern he point-ed out are the soc-ial factors. "There is the potential loss of commu-nity," Featherstone said, as when en-rollment falls too low for a local school to remain open, or a community loses an asset like a grocery store. But a number of those larger farms, he said, "will quite often hire individuals within the community to help operate the farm."
The Policy Piece
      Donald Trump surged into the White House behind some tough talk about U.S. trade profiles, particularly the 25-year-old North American Free Trade Agreement with Canada and Mexico. He wants tougher terms; the ag community is solidly opposed to any changes that would trim farm exports.
"We've got to have trade," said Rich Felts, president of the Kansas Farm Bureau. "We hear so much about the government and the farm bill; it's important that we have that. But when we talk trade, that's real money, selling a commodity and getting a price for it."
The organization's posture on any policy changes is fairly generic, he said. "We have a policy that overall says we want open trade, but doesn't get into the specifics—it allows room for interpretation."
John Wilson, chief fluid marketing officer for Dairy Farmers of America, said the national cooperative is optimistic that NAFTA will endure and that the U.S. will be a part of it. "It would be disastrous for the U.S. dairy industry if we're not," he said. "Our message to Washington is please don't do anything that harms trade with Mexico." Some improvements on trade with Canada would be help-ful, cracking a dairy system that is fairly closed to imports, but exacerbating that by dumping milk powder on the world market, he said. 
Long-term trends in the industry have left it in acceptable condition, Wilson said, and con-sumption of dairy products is up every year, in total. What has changed over the past generation is that the U.S. is much more rooted in a global dairy industry, especially with production of cheese and milk powders to feed a growing demand for protein as part of Third World diets. But like grain farmers, dairymen are up against a global oversupply of milk powder, and "until we get that problem resolved, we're probably not going to see a lot of improvement in prices," he said.
The upside to any of this, said UMB's Watson, is that "we are amazingly productive, and we continue to produce more than we can consume, so we have food available for export. We're always just 90 days away from the next drought, but the fact that bins are full is a reflection of our record harvests. All this technology and efficiency does result in higher yields."