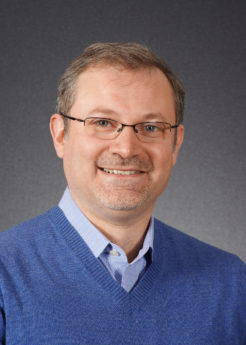 Obadah AlChekakie
AdventHealth Shawnee Mission
Obadah AlChekakie still remembers the page of that physiology textbook he was reading when the call came  with the news of his 54-year-old uncle's death in Virginia. "This was devastating to me," AlChekakie remembers of that heartache during his second year of medical school in his native Syria. "He was very close to me and my dad and used to take me out on trips with him. … After finishing medical school, I decided to pursue the best training I could get to become an excellent cardiologist and help prevent the tragedy of my uncle from happening again to other people." That meant taking the path to America.  
A native of Damascus, he spent much of his youth in Saudi Arabia after his parents fled the unrest in their homeland when he was seven. With his father an engineer and his mother a pharmacist, there was always an emphasis on education, and he fulfilled that promise by finishing in the Top 10 among students nationwide. But the Saudis wouldn't allow non-natives into medical school, so it was back to Aleppo for training, then America for further education through the Cleveland Clinic and Chicago Loyola.
"I realized that medicine satisfies my love for biology and gives me the ability to help other people and make their lives better," he said. Once in America, "I had the chance to get first-hand training and do my clinical rotations in the subspecialities of medicine with some of the top doctors in the world."
That led to an elective in electrophysiology, where he found that "I loved the discipline, which combines critical thinking of arrhythmias and understanding of the detailed anatomy and physiology of the heart." At that point—2002—electrophysiology was witness to major breakthroughs in clinical trials as well as technological advances, especially in sudden cardiac death prevention, he said.
After a decade in that subspeciality, he anticipates advances that will alter the calculus on sudden cardiac death—smaller devices and longer battery  life for pacemakers and defibrillators, devices without leads emerging as the norm, safer and even more effective ablation procedures. "Finally, there are new frontiers in the treatment of diastolic heart failure with cardiac contractility modulation that we hope will be a game-changer for patients with diastolic heart failure."
He has found that treating those patients creates a special attachment. "You hope that you touch their lives positively and they certainly touch mine," he says. "Seeing your patients enjoying life and enjoying their family is the best reward."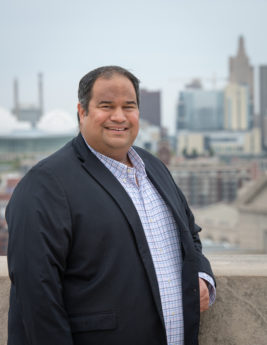 Paul Moore
AdventHealth Shawnee Mission
Paul Moore was born for this. "I have always wanted to be a doctor; you can ask my family and they will tell you that was the case," he says. "I recall as a kid not understanding why someone would want to be a fireman, police officer, or lawyer when they could be a doctor. There was never a thought of becoming something else."
So committed was Moore to the cause that he pursued the fastest way he could find to a medical career: the six-year program at UMKC's School of Medicine. It was a hometown choice for this native of Jackson County, who grew up in eastern Independence. No one in his family had been in medicine before him, so he credits the guidance of a high-school counselor with steering him to his career path.
As he followed it, he was certain that primary care would be the final destination. "The idea of following families along the health continuum has always been exciting to me," Moore says. "When I completed my pediatrics training in medical school, I realized I wanted a significant emphasis on children. I also realized how much I enjoy adult medicine. I chose the combined Internal Medicine / Pediatrics training to allow me to focus on both without the need to provide obstetrical care that other primary-care specialties require."
As a result, his care has become multigenerational: "I now have the pleasure of caring for three and four generations of families in my out-patient practice," Moore says. "I am far enough in my career that I have been in the post-partum room with some patients that I now see when they return from college."
In a pediatric setting, he's been witness to the life-saving power of vaccines, and he's hopeful that reluctance by a third of America to the COVID-19 vaccines will soon wane. Physicians in his age cohort and older, he says, "have seen people die from diseases that we now no longer see due to vaccination programs: HIV, Varicella, Pneumococcus have all taken lives prematurely, but since vaccination, we hardly ever see significant disease." Vaccine hesitancy, he says, "has brought back those helpless feelings when critically ill patients present and are far advanced in the disease process to make a meaningful difference in their outcome."
One upside of the pandemic, he says, has been the huge increase in telehealth visits. "I have found that telehealth visits, especially for mental-health visits, have been quite successful and can see that expanding," he says. "Engaging patients in their own environment, even if electronically, provides significant information to help guide care."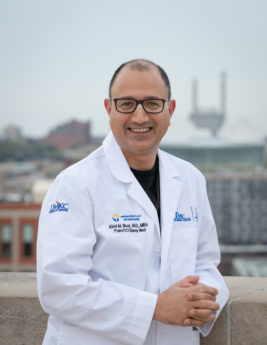 Abid Bhat 
University Health
Abid Bhat can connect the dots for you: Coronary artery disease. Immune-system deficiencies. Diabetes. Weight gain and obesity. Often, Bhat can tell you, they have a common culprit—outright sleep deprivation, or poor sleep patterns. Each of those conditions has approached epidemic levels, yet too often, the national conversation overlooks that root cause to focus on specific treatments for each.
Bhat is the program director for sleep medicine and medical director at the Center for Sleep Health at University Health, and a professor of sleep medicine at UMKC. And in addition to his medical degree, he holds and MBA from the Bloch School of Management.
"My passion is to help people get better sleep," he says. "Sleep is so crucial for everyone. If you don't sleep well, you'll notice the difference in how tired, fatigued or exhausted you feel. Insufficient sleep is one of the main reasons we're having people come into the hospitals—it's like a big epidemic happening in the whole country."
The medical complications alone are worrisome, but poor sleep—whether it's from insomnia, sleep apnea, sleepwalking or other causes—can lead to impaired judgment, such as getting behind the wheel of a car when you're beat, and lack of focus at work. Ironically, lack of sleep at night can contribute to falling asleep during the day, when you can least afford it.
"You're whole quality of life is impacted," Bhat says. "I see people all the time who get the treatment and feel different. It's not only that person, it's their spouses—all of society benefits from better sleep."
So why isn't this more urgent in the national debate over health care causes and costs? "It's just one of those things we tend to ignore," Bhat says. "But more and more people, especially in the medical faculty, are talking about sleep as something we should not ignore. Remember, we spend one-third of our life in sleep; nature has given us this time, and that's when the body cleanses itself, takes the toxins out. Studies show that if a person doesn't sleep for even just one night, a protein found in patients with Alzheimer's dementia goes up."
Good sleep, then, is one part of a three-legged stool that yields good health, he says. "No. 1, we talk about diet, then No. 2, exercise," Bhat says. "But the third one is good sleep. If you don't have all three, it's hard to have good health."
Bhat has been in Kansas City since 2005, following his fellowship at the University of Buffalo in New York. "I find this one of the best places in the country," he says. "The reason is about the people who live here. The way people here care about each other. … I don't find that in many places."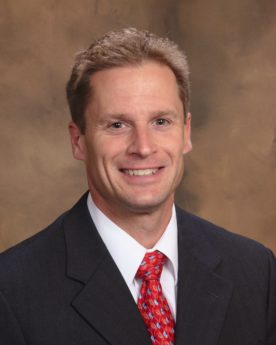 Mark Fleischman 
Dermatology & Skin Cancer Centers/U.S. Dermatology Partners
Mark Fleischman wasn't far down the road of his career as a dermatologist when the young patient, just 18, showed up with a dark spot that was growing above one eyebrow. Diagnosis: malignant melanoma. He didn't want to tell her that an excision the size of a silver dollar would be required. But he didn't have to worry for long: "She was so appreciative that we found the cancer early and it was treatable," Fleischman says. "She had little concern of the potential scar. She did great and I still see her years later, monitoring for any recurrence or new lesions. Her positive attitude, gratitude and maturity have always resonated with me."
Outcomes like that have long marked his journey through dermatology as a first-generation physician who was raised in Nebraska. His father and grandfather worked in business, he says, and he remembers being interested in learning about what they did, but "I knew from an early age, I loved science. I enjoyed learning how everything worked, how to disassemble and reassemble toys, building Legos, etc." In early high school the general surgeon who lived
next door took him under his wing, allowing him to tag along on daily rounds and during surgery. By ninth grade, he says, "I knew I wanted to be a doctor from that time forward and never looked back."
Dermatology, he says, is unique in that it offers a wide range of possibilities, including pathology, cosmetics, general dermatology, and cutaneous surgery. He's particularly excited about how the field is changing. "There are many exciting innovations coming in the next few years to improve patient outcomes," Fleischman says. "Genetic understanding of skin cancer is leading to new targeted medications for the treatment of basal cell, squamous cell, and melanoma cancers. Additionally, genetic analysis of these cancers is making it easier to predict which cancers need more conservative or aggressive treatments, allowing for better patient outcomes and improved survival."
Among the developments that have been most fulfilling for him is Mohs surgery, a specialized technique for removing skin cancer commonly located on the face. That, he says, was of particular interest. "After the removal of cancer,
the wound is surgically repaired in a cosmetically oriented approach," he says. "It combines the science, art, and humanity of medicine. Patients feel incredible relief, happiness, and gratitude when their cancer is removed, allowing me to share their joy every day. That feeling is what makes me excited to be their doctor. Seeing that look of relief in their eyes has never dulled."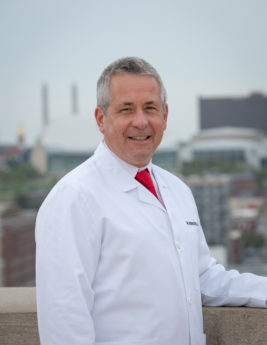 Michael DiBernardo 
Meritas Health/North Kansas City Hospital
Think of a kid in a candy store. That's the image you might have of Michael DiBernardo doing his medical-school training with rotations in the various specialties. "I wanted to do each one," he says. "I eventually decided on family medicine because I could do a little of everything. I really like the interpersonal relationships that can be built with patients and being able to take care of not only them, but their entire families." The Brooklyn-born physician for Meritas Health was transplanted to Kansas City as a youngster, and spent most of his life in the Northland.
"I really never had any physician influences at a young age; no one in my family was in the medical field," he says. But that doesn't mean he wasn't influenced. "My grandma is the only one I can remember saying that she would like to have a doctor in the family. I am very grateful she was able to be there when I graduated from my residency program."
It wasn't the degree he first anticipated; computer science was his calling when he was at UMKC, where he also played on the soccer team. "After two years I decided to try medicine because I liked the sciences and I liked working with people," he says. "After starting medical school I never regretted it."
If there are concerns about medicine today, they flow from external factors. "I am concerned that more and more of our care we can offer to patients is being directed by insurance companies," DiBernardo says. "I am concerned they are getting more involved in patient care, and this does take away from our interactions with patients. It also breaks down the physician-patient relationship," which complicates the task of identifying precisely what a patient needs.
Nonetheless, he says, the work is fulfilling "I have had multiple times that I have helped a family through a rough spot with a child, help a couple become pregnant and start a family, help a patient with aging challenges with one or both of their parents. I have comforted a spouse after losing a loved one, worked with someone on a new diagnosis or helped someone who has lost their job and insurance with free care until they get those issues resolved. I feel honored to be a part of their lives and to share in these experiences with them."
He finds guidance in a quote from William Osler, a co-founder of John Hopkins Hospital: "The good physician treats the disease; the great physician treats the patient who has the disease." Thus, says DiBernardo, "I honestly try every day to approach my patients with this very thought in mind. I am very blessed to be trusted by the patients and their families and to be allowed into their lives to care for them and their family members."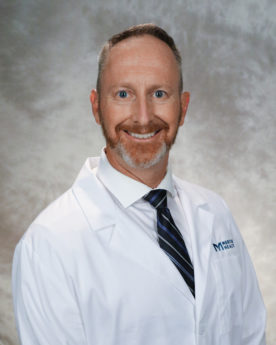 Ian Rosbrugh
Meritas Health/North Kansas City Hospital
California native Ian Rosbrugh had no family influences that steered him to a medical career, and no particular inclination to it while studying chemistry and biology at Westmont College. But he did have something that would provide a foundation for a successful career as a doctor: his father's influence.
"He was an electrician," Rosbrugh says. "What I learned from my father was how to work hard and invest myself, and not be afraid to do so because I may not know the outcome. It was the confidence to keep moving forward and understanding that I might make mistakes. Being successful is a mix of luck, perseverance, and acknowledging your mistakes so that you can then correct them."
That's powerful guidance in a world where no physician will ever bat 1,000 with their patients.
A gig on a construction crew working in Mexico exposed him to the medical and dental teams, and Rosbrugh was intrigued enough to join those efforts on a mission trip the following year, while still heavily involved in research in chemistry. "I respected the work being done; however, after doing this day in and day out, I realized that I wanted something different and more interactive. In a sense, when I went down to Mexico, I was primed to find another course in life," he says.
After earning his medical degree at Loma Linda University School of Medicine, he developed an interest in urogynecology during residency. "I always knew I wanted to be a surgeon and this field allowed me to do more surgically than the general Ob/Gyn," he says. "I was even offered the option to be the first fellow in a urogynecology program that KU wanted to develop." Though that effort was tabled, Rosbrugh signed on with North Kansas City Hospital, and his practice partner in OB/Gyn took up that typical case slack so he could focus on urogynecologic procedures. "I did not do this alone," he says, grateful for their support.
Reflecting on how he got where he is in the profession, Rosbrugh returns to the influence of his father.
"Everything my father did was labor intensive," Rosbrugh says. "His career was laborious and frequently involved working in hospitable environments, such as building schools in Palm Springs in the middle of summer. His hobbies weren't much different. He has restored cars and motorcycles my entire life. I, too, have developed similar hobbies. These projects take time, effort, and frequently a few busted knuckles to create something that you are truly proud of."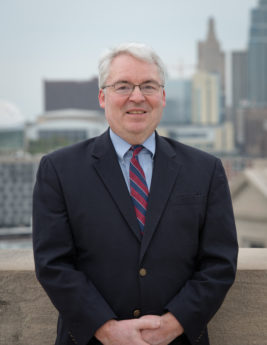 Kevin Ault
The University of Kansas Hospital
Kevin Ault's path to medicine was paved with small-town values and a parental expectation that a service mentality would become a cornerstone of his work. But it wasn't a given that a surgical specialty within obstetrics and gynecology would be that venue. 
"I don't have anybody in my family who was in health care," he recalls. "A lot of those people were factory workers, farmers and teachers, but they were all good influences." Indianapolis wasn't far away, but not so close as to overshadow the culture of Frankton, Ind. "Growing up in a small town, you were expected to be involved in things: Dad was on the town council, and in the Elks, so you were expected to be a joiner, and not just sit on the sidelines."
That's part of the value set he took with him to Butler University—the service part prompted a seat in student government there—and that experience proved to be a nice transition for a small-town kid who said the spark for a medical career came during his junior year. "I knew I enjoyed science, and I enjoyed people, and I thought it would be a way to combine those two interests," Ault said. "But it was hard to see myself spending lots of time in a lab like a research chemist or biologist." 
After heading to at Indiana University for his medical degree—though not yet committed to OB/GYN—he knew he'd found the right path by watching his adviser, the late Robert Munsick, who demonstrated the kinds of values that resonated with Ault. "He took time with med students, he was friendly and outgoing, and I remember one night on call, he had an emergency case. He was just so well-trained, competent, very skilled. I wanted to be just like him."
A key influence on his career track, he says, involved events of the day, during the emergence of the AIDS outbreak. "One of the things that influenced me to OB/GYN was infectious disease in the 1980s and 1990s," he says. "We realized HIV infected pregnant women and newborns; now, we can prevent that. We realized that chlamydia caused infertility; now have screening tests for that. Then that HPV causes cancer, and I was involved in research for a vaccine for that. A lot of things then are still relevant now."
He's practiced his craft in Kansas City since coming to the hospital for his fellowship in 1992—long enough to see the impact of his work revisit him. Among the young physicians he's encountered, he says, was one he delivered into this world back in the 1980s. "This guy," Ault marvels, "had a copy of a birth certificate with my signature on it."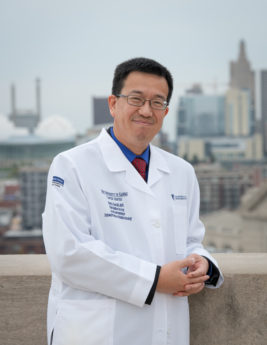 Ronald Chen
The University of Kansas Hospital
A full academic scholarship was the ticket to college for Topeka native Ronald Chen. But he left KU and his studies in chemical engineering to volunteer for a year at a hospice, and found a new purpose. "This powerful experience completely changed my career path," Chen says. "I returned to KU knowing that I wanted to become a cancer doctor, changed my major and I never looked back."
As a radiation oncologist there, "I have the privilege of taking care of many cancer patients. Radiation therapy is used to cure all major cancers; on the other hand, for patients with metastatic cancer, targeted radiation is also a great way to reduce pain and improve a patient's quality of life." The ability to directly and significantly help many patients and their families, he says, is the source of his passion for that work, as are continuing advances in cancer treatment "and helping advance the treatment with my own research."
And an extensive research effort it has been. In the years since earning his medical degree from Harvard and training at Mass General, he has authored four books, a dozen book chapters, and more than 200 medical papers, and delivered nearly 110 presentations. After a decade at the University of North Carolina in Chapel Hill, he came back to his home turf.
Reinforcing his decision to choose radiation oncology, he says, are the positive outcomes treating patients. But that's just a part of it. "Another incredibly rewarding aspect of my career is being a teacher: I have trained many medical students and residents who are now radiation oncologists across the country helping cancer patients, many working in medical schools and teaching their own students and residents. I have benefited from many great teachers and mentors in my career, and it is rewarding to be able to give this forward to the next generation of physicians."
Health-care professionals across the nation witnessed a seismic shift in utilization starting with the pandemic in March 2020, including Chen. "Early on in the COVID pandemic, cancer treatments changed significantly—many surgeries were canceled, and hospitals had to quickly develop protocols and processes to ensure the safety of patients coming for radiation therapy and chemotherapy," he said. Some cancer patients who urgently need treatment, he said, developed COVID-19, prompting the health system to develop protocols to deliver cancer treatment to these patients—"with no COVID spread to our staff or other cancer patients to date," Chen says, "We continue to review and update our protocols based on the COVID cases in the region and make adaptations when surges occur."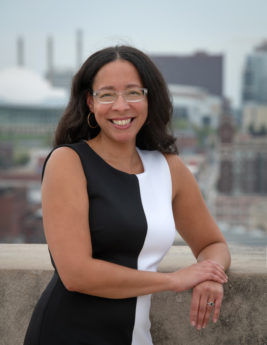 Carol Ulloa
The University of Kansas Hospital
Carol Ulloa solves riddles. The clues may be there, but when you're dealing with the nervous system, and epilepsy in particular, the pieces don't always present themselves for neat assembly. It takes a little detective work.
"I am so lucky doing what I was meant to do," says Ulloa, a neurology and epilepsy specialist for the region's largest medical center. "I basically have the opportunity to give people the answers that they've been searching for, sometimes for decades, and provide them with treatment options. We have the ability, at times, to stop seizures, and that's really a life-changing thing, for some, giving them their life back. I feel so blessed and lucky because I get to see that a lot."
Up to age 10, she was raised in Puerto Rico by parents from  the Dominican Republic. Then they moved to Springfield, Mo., where her father worked at the federal medical center as a psychiatrist. So matters of the mind, and the mystery of the brain, were shared interests after she took a psychology class in high school. "I remember going to my father and saying I think I might want to be a psychologist, and he said, 'you might as well just go to medical school; you could be psychiatrist or a neurologist'" she says.  "He was never pushy about it, at the time I didn't realize that advice was so huge. Looking back, I can see it was."
UMKC's six-year medical-school program was her ticket to that work—fleeting thoughts about becoming a professional dancer didn't stand a chance. "Once I went into the path of medicine, nothing else was even close," she says.
That's when the neurology bug bit. "It grabbed my interest early on, and when I did an elective rotation at NYU, it was an epilepsy rotation, that was really exciting," she says. "It's a common thing for neurologists, putting pieces of a puzzle together. Even using just the basic principles of the nervous system and listening to the patients, what they are telling you is going on, listening to their stories, you can put the puzzle together and figure out what's going on, even when it's quite challenging."
Her work entails new treatments, including medications, surgical techniques and medical devices. "When I meet with someone, I tell them what their options are, and the list I'm describing is much more thorough and longer than it was even eight or nine years ago," Ulloa says. "For example, people who were told they were not a surgical candidate eight years ago, I can say you ARE a candidate for neurostimulation or deep-brain stimulation," Ulloa says. "I always tell people not to give up. People who 15 years ago had an evaluation, I say we need to do those again because things have changed, and this time, we may come up with a different answer."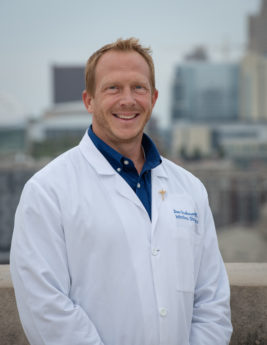 Dana Hawkinson
The University of Kansas Hospital
By early October 2020, Dana Hawkinson had already spent six months on the front lines of the war on COVID-19 as director of infectious diseases for the University of Kansas Health System. Having managed through the worst of the initial surge the previous spring, the hospital was seeing signs of a troubling surge as fall approached. 
With 700 daily new cases and a seven-day average of more than a dozen deaths at that point, it might be hard looking back now and thinking that "those were the good, old days." Hawkinson and his colleagues quickly became drawn into the fall surge that raised those numbers by 500 percent before things leveled out in the spring—and a new Delta-driven outbreak began in the summer. In his role with the health system, he's shaping the organizational response to the crisis, and doubling up as one of the faces of the hospital with the daily video updates in the on-site studio. It is not a stress-free routine. 
"The processing of my stress is multidimensional: I try to always take time and pause and reflect on the blessings I do have," says Hawkinson, a native of Rockford, Ill., who earned his medical degree at KU. "I have my faith in the Lord, which is the foundation of everything. I am grateful for the everyday things around me; my family and friends, especially my children. I take comfort and get stress relief understanding that patients can't leave the hospital, but at night I get to go home."
To honor them during their health challenges, he says, he tries to get outside, be active and be thankful for the opportunity to go for a walk or run outside "because I know so many of our patients are wishing they could be doing just that instead of being in the hospital." 
His work during a global pandemic is something of a career capstone for those working in infectious diseases, a field he chose early while still in school. "I always knew I liked infectious disease; I thought it was intriguing to work with and study something that was potentially very harmful," he says. 
His medical practice now, as it was pre-pandemic, "always centers on my patients," he says. That generally has meant working with routine infections, consulting surgeons, helping improve the quality of care. Since the pandemic, it has mean "working to get out the right message, the truth—be a source of truth in the community and the region for what is happening with COVID. We're trying to keep people safe and do as much as we can to get this infection to slow down."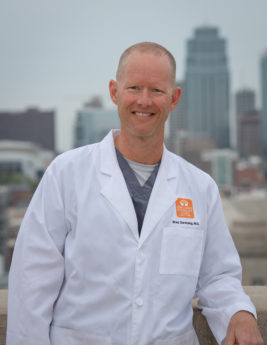 Brad Garstang
Liberty Hospital
You don't have to spend much time chatting with Brad Garstang to understand what appeals to him about being a primary-care physician. Successful outcomes are always satisfying, but he's really all about the power of relationships.
He saw that growing up in Rolla, Mo., where both his father and grandfather were optometrists, and still remembers "seeing my father and grandfather build their relationships with people in our community and helping them stay healthy." He saw more of it in their family doctor when he was young. And he sees it today in his own work with the hospital's Primary Care Shoal Creek, where he enjoys "the continuity of seeing patients over the years and building relationships with them."
His mother's career as a geologist, he says, helped spark his scientific curiosity, and, combined with the quality-of-life improvements in his father's work, it made medicine an easy career choice. "Early on in high school, I was just curious about how the body works," Garstang said. After earning his degree through UMKC's six-year program, he selected primary care and trained through Goppert Family Care, now a part of Research Medical Center.
Why primary care? A big factor, he said, was "the work-life balance, just having some time to not be called into the OR all the time." But again, there's that R-word: "And to build long-term relationships with families and patients. I've been here 20 years, long enough to be taking care of the next generation of my patients. That brings me a lot of satisfaction and building that trust with them. You get to see them through all the phases of life. It's that continuity of relationships with families. I'm at that stage where some of them are just starting to marry and have their own families and see that generation turn over, and I get to talk to my patients about my own kids who are leaving the nest and those kinds of things."
Passionate about sports medicine within that primary-care setting, Garstang himself is an avid runner—he's completed roughly 40 marathons and four Iron Man competitions. "I have that interest in staying active," he says, "and empowering patients to do the same."
So when it comes to building a relationship from scratch, what are the keys for people looking for the right physician fit? "I advise people to find someone they trust and can have conversations with, someone who listens to them," Garstang says. "Family plays a big role in people's health care, including spouses and other family members, and being able to talk to them helps me know how patients are doing in the real world."
Kelly Hendricks
Menorah Medical Center/HCA Midwest Health
Stop us if you've heard this one before: Middle-school student. Athlete. Injury. Then intense fascination with the recovery and healing process. "It is the classic orthopedic surgeon's story," chuckles Kelly Hendricks. Although his chapter in that story was foreshadowed by a conviction going back to third grade in Lincoln, Neb., that somehow, some way, he'd become a doctor.
"My aunts and uncles would ask what I was going to be and I said a doctor; I have no idea why," Hendricks says. "Mom was a nurse, but this was one of those strange things were you knew what you wanted to be when you were still very young."
Eighth-grade sports brought the injury, then a case of Osgood-Schlatter's disease (affecting the patellar tendon). "I saw a physician who had played football for Kansas, and his brother for NU," and the hook was set. Nebraska Wesleyan had a reputation for placing graduates in medical-school programs, so he headed there, and after seeing how his grandmother recovered from twin knee replacements, was convinced his instincts were right. "She felt so much better; I could see it in her face with the pain gone, and I said, 'all right that's what I'm doing."
Today, he specializes in hip and knee replacement, a track where the tasks, he says, are often cut and dried: "There's a deformity on Xray; you see it, fit it, they get better and you move on," he says. The fascination is the same one that appeals to engineering students: "The concreteness of it all," Hendricks says. "Two of my best friends in orthopedics were mechanical engineering majors who went into ortho. If I hadn't gone into orthopedics, engineering is something I might have done."
The payoffs for what he does, he says, are tangible. "I have had one patient come in for surgery multiple times—three hip replacements—and sometimes they've been taken care of by someone before, but for some reasons, they still had problems. When you're able to fix it, that's one of the most satisfying things—just puts the parts in and see them back to their normal routine. It's so rewarding."
Like others in the non-critical care space, his work has been disrupted by the pandemic's effect on the overall organization. But if the pandemic has done anything positive, he says, "it has made people appreciate their health a little more. Older folks, he says, are much happier to get out and get on with their lives." And an unexpected turn is that he has ended up offering counsel for people with their general health.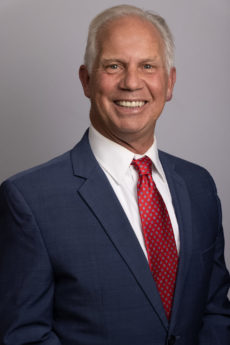 Lowry Jones
Kansas City Orthopedic Alliance
Seeing Lowry Jones as a patient is something of a good-news/bad-news experience: The good news, you're in the hands of a proven medical artist. The bad news? Something you really, really like about your musculoskeletal system is probably broken.
So much of medical care—cardiovascular medicine, endocrinology, pulmonology, oncology—can deal with real life-and-death issues. But for Jones, orthopedic care and surgery are about quality-of-life issues. When a surgery restores a patient's ability to walk, run, get back on a bike, or return to work, many other medical conditions can be remedied through increased fitness levels. Not the least of which is a patient's mental outlook.
"I so much enjoy watching patients get better, as we all do," says Jones. "Orthopedics provides us an opportunity to watch this happen relatively quickly and with dramatic changes in the patient's well-being. I never get tired of seeing my patients get better and adding happiness to their lives."
A lifelong resident of the Kansas City area, Jones saw one level of medical care at home—his father was a dentist. But Dad didn't bring him into the business, instead making the case that medicine was where young Lowry needed to be. He earned his degrees, undergrad and M.D., at the University of Kansas, then signed on with Saint Luke's and UMKC's faculty. In 1999, he joined the Dickson-Diveley clinic, located inside the Kansas City Orthopaedic Institute and Saint Luke's on the Plaza,  and has been there since.
Orthopedics, he realized, offered "a great balance of technical procedures and office practice. As I went through my medical school training, I changed my mind on my specialty many times until my orthopedic rotation. It was then that I knew what I wanted to do."
Dickson-Diveley recently merged with two other enterprises to create the Kansas City Orthopedic Alliance, building on an attribute that Jones identified as an advantage in becoming a more well-rounded practitioner. "I have added many areas of specialty during my practice to serve the needs of patients in Kansas City," he says. "Being part of a large specialty group has allowed me to now to do most of my work specializing in shoulder reconstruction and knee reconstruction."
Shoulder reconstruction, he says, was always his greatest interest, and as arthroscopy was introduced around the time of his residency and began to develop, "I have greatly enjoyed the continued development of new techniques and improvements in care," he says. "This area of orthopedics is evolving rapidly now and the future of shoulder joint replacement is yet to be fully defined."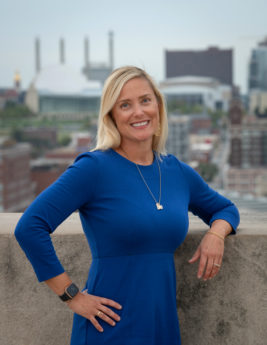 Angela Myers 
Children's Mercy Kansas City
For Angela Myers, the call to pediatrics wasn't a professional one—it was personal. Deeply personal: "I have known since the age of 12 that I wanted to be a doctor, specifically a pediatrician," she says. "I was diagnosed with osteosarcoma at the age of 16, just before the start of my junior year of high school. This experience solidified in my mind that being a physician was my calling."
Before she could fulfill that calling, she drew on a large supporting cast while growing up in Kansas City's suburbs. "I have had some wonderful teachers in my life who have encouraged me throughout my education. First and foremost, my mom, who was a kindergarten teacher for more than 30 years, and my dad who is a scientist in veterinary biologics. Also, my high school biology and English teachers. In my combined undergrad and med school, it was my writing composition and biochemistry teachers."
While she originally believed that her own illness as a teen was a call to oncology, she found that, during her second year of medical residency, "I had an Infectious Diseases elective and I fell in love with the detective work of making an elusive diagnosis and treating children with infections across the entire hospital, from the NICU to the regular inpatient unit to the clinic."
She's had first-hand experience with such advancements, as with the case early in her residency of a young leukemia patient with very low blood pressure. "She went from talk-ing to coding in front of my eyes," Myers recalls. "Three days later, she was back on the floor eating coco puffs. That is the amazing ability of antibiotics to save a life. I was in awe, and it was a defining moment for me in my decision to be an ID doctor. … I am often humbled by the human body's ability to fight infection."
That early course correction placed her on a track that is producing rapid change. "I think we are seeing it before our eyes," Myers says. "Biopharma, researchers, and clinicians never worked more closely together to bring new vaccines and medications to market to prevent and treat a highly contagious infectious disease. The speed in which new discovery is being made has seen exponential progress in the last two years. I see this continuing even beyond the pandemic."
The rise in telehealth visits during the pandemic, Myers says, has produced results "both good and bad. We could see patients from the comfort of their own home, and they were often more comfortable. However, we missed the opportunity to examine the patient and sometimes it was more difficult to get tests performed."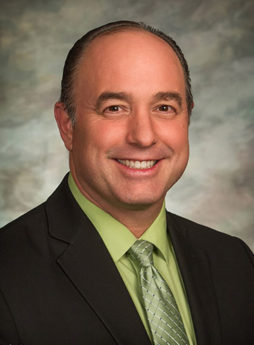 Ed Kammerer
Mosaic Life Care
Ed Kammerer's Epiphany came courtesy of a notorious alcoholic whom he simply calls "Mr. Smith." Summoned from a comfortable slumber years ago, the internal medicine specialist was on call when Mr. Smith—yet again—had been found passed out under a bridge and hauled by ambulance to the hospital. Kammerer was … chagrined. Turns out, the drunkard's real surname matched that of a brilliant surgeon whom Kammerer had known back at the Mayo Clinic, and when he asked, the patient snorted: "That's my brother."
So he called the Minnesota clinic, talked to the surgeon, and was told, yes, they were, indeed, brothers—and the drunk was always the smarter of the two. "He just couldn't get out of the bottle," the surgeon said. For Kammerer, "It changed my entire perspective: This was somebody's brother. Each of these folks is somebody's brother, child, father or mother. It was a career-defining moment, which is sometimes hard to do."
While not as gripping a tale, his path to medicine was also career-altering. "I was one of those doctors by default," he says. Before medical school, he studied quantum mechanics and physical chemistry. "I was in lab on a Friday, and asked other quantum mechanical students if they wanted to go out and do something, and they all just wanted to stay in the lab. I decided that I probably wasn't cut from the same cloth they were."
Before long, he was off to medical school at Creighton University, and thrilled to be going there, even though, he says, "I was not one of those people who thought they were going to be a doctor from two years old."
The allure of internal medicine, he says, is that it was the most fascinating discipline. "The doctors I knew in internal medicine were the smartest; they knew the entire body, and what impressed me about them was that they knew so much about everything. They were my role models."
He's had a front-row seat to see the wrenching impact of COVID-19 on his profession, but Kammerer is a guy who can reach into the gaping maw of cataclysm and extract a beam of sunshine. "It has been a strain on everybody across the entire nation; I can't think of a medical practice or medical application, whether it's a nurse or tech, that hasn't had a strain on their jobs," he says. "But I've enjoyed the experience, odd as that might be, because it allowed me to free think. For the first time in my career, I had nowhere to look for a House on the Hill with the answers. … In it's own funny way, it has been a fantastic experience."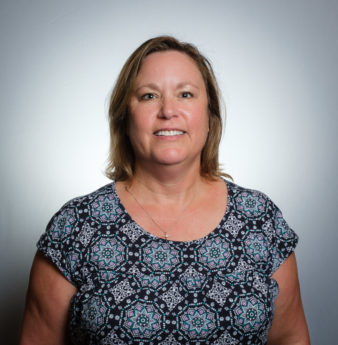 Korri Phillips
StormontVail Health
A global pandemic that exacts a heavy toll in lives and misery is the consummate taker. Somewhat incongruously, for Kori Phillips, it also had a flip side.
"This has given me my 'Why?' back to choosing health care and being a physician," says Phillips, a family physician by training who leads Stormont Vail's Express Care operations. "I remind myself regularly that this is a
mission field just where I am, and that I serve our patients as well as the staff/colleagues as the medical director."  
A graduate of UMKC's six-year program through its School of Medicine, Phillips entered her current medical niche after a career that began in family care, following a stint in the Air Force. 
But heavy demand for her services—at one point, she was delivering up to 15 babies a month, in addition to her duties taking care of other patients. Eventually, she took a break from a patient load to concentrate on one special case—her father, who was suffering from a lingering and eventually fatal illness. 
After that, she reconsidered her role in health care, and eventually moved into urgent care. Now, amid a global pandemic, her role allowed her to draw on skills she acquired in the military, skills not necessarily related to care delivery, including setting up clinics and creating new processes—"things I hadn't used a whole lot" on the medical side," she says.
One particular skill she has had to acquire—along with her team—since the outbreak of the COVID-19 crisis has been managing the stress of being on the front lines for going on two years, fighting a global-scale killer.
"I try to keep faith at the center of my life, trying daily in reading the Bible and prayer, exercise, keeping family and friend connections," Phillips says. "Also, reminding colleagues and nursing staff to find rest as well."
The pandemic has chan-ged the calculus on patient acuity for all hospitals. It literally has transformed what it means to be a health-care provider. 
At Stormont Vail, she says, "we have wanted to make sure we press on in some of the 'normalcy' of our work, even getting re-accredited by the Urgent Care Association during the last year. We want to make sure we are seeking to give the highest quality of care we are able to do, always.  We continue to see patients where they're present for care, though this may mean that we have to wear full protective gear and take a bit longer to care for these patients."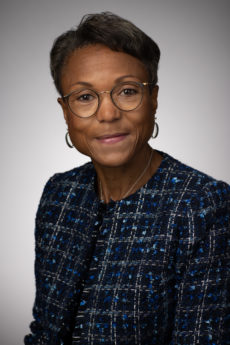 Olevia Pitts 
Research Medical Center/HCA Midwest Health
Olevia Pitts' father steered his daughters into medical career tracks. Olevia would become a physician, her sister would follow their mother into nursing. Oddly enough, though, he would brook no discussion of medical topics at the family's dinner table in Kansas City, Kan. "He had a queasy stomach and would get nauseous when talked 'medicine,' which we found hilarious, because he wanted health care to be our profession," Pitts recalls.
Convinced from junior-high age that she wanted to become a doctor—"There were not many options for girls of color" at that time, she says—she achieved that status through UMKC's six-year med-school track, and settled on internal medicine as a field. "In 2002, I transitioned to hospital medicine and absolutely loved it," Pitts says. "At that time, we did not have the 7-on/7-off schedule, but took care of the patient usually throughout their entire stay. We developed wonderful collaborative relationships with the primary-care physicians."
That hospital role scratched a long-nagging itch in her medical career. "I always wanted to know the 'Why?'" behind a patient's condition, she says. "Internal medicine is like a puzzle that is begging to be solved. It's detective work. While helping to grow the hospitalist opportunities I realized I enjoyed the challenges of process improvement.  How can we do things better? This is where I started asking the "why", not about the patient but "why" are things done this way. What can I do to make it better?"
That led her into executive duties, and she's now the chief medical officer for Research Medical Center. "I enjoy the business side of health care; hence I am a CMO," Pitts says. "I also enjoy the leadership aspect and how the decisions we make affect more than one patient at a time."
Those duties took on an awesome added layer of responsibility as the hospital pivoted to address the pandemic of 2020, a direct challenge to someone responsible for the safety and quality of care of all those in the building—employees, staff, patients and patients' families. "On March 13, 2020, we received our first Covid-19 patients and business as usual came to a halt," she recalls. "We instituted our Incident Command Team, and as of today have not disbanded it."
What that experience has reinforced in her, she says, is appreciation of two key leadership traits: Communication, and having the right players at the table throughout the enterprise. And "the two most important items about communication," she says, "are No. 1, listen; No. 2, listen before implementation."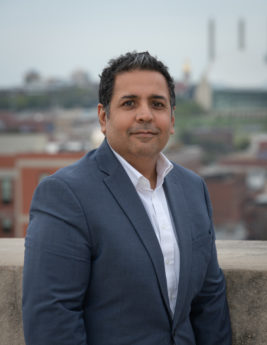 Jaswinder Singh
Kansas City Cancer Center/Sarah Cannon Cancer Center-HCA
Precisely one medication—one—was available to treat young Jaswinder Singh's stubborn case of asthma back in his native India. The malady, he remembers, prevented him from doing things other kids were able to do, but the drug proved effective and allowed him to breathe well.
Suffice to say, that made a lasting impression. So, too, did a new medication called albuterol that came out a few years later. "It was a game-changer for so many people, including myself.  This really intrigued me," Singh says. "I started to realize that a single medication could change many lives by improving breathing and elevating the quality of someone's life." Given the love he had for science even then, he says, "it was a pivotal moment that made me want to learn more about medicines and how they can impact the body and diseases."
That interest carried over into his arrival in the U.S., his work in oncology at Research Medical Center, and eventually to the start of his own practice, Kansas City Cancer Care, in 2019. In addition to treating patients, he says, "I study medicines with key scientific leaders in the field of oncology. We do this so that we push our overall understanding of how medicines will impact the body and change the disease process."
The choice of a medical career was not without sacrifices—in Singh's case, it was an acting career that received some promising reviews, but that, he says, "was a passion that I did not pursue following college because medicine was all-consuming. Once you turn your life over to the study of medicine and the care of patients, that same passion is poured into making sure your knowledge expands and your patients are receiving the best treatments."
A sense of spirituality led him to oncology. Specializations, he says, emerge with areas that speak to physicians' personalities. "I wanted to have the largest impact with the preservation of life," he says. "Oncology was a natural progression for this, because patients who are diagnosed with cancer are vulnerable and scared. They want compassion and understanding."
Those patients, he says, become my family and my community. I care about each and every one of them and love the ability to learn their individual stories. It draws me in everyday, the hunt to delivering patients the best answers and treatments."
Sadly, more of them will require his services because many people deferred treatment or early-diagnosis opportunities during the first part of the pandemic. Even now, Singh says, "we see more patients delaying their screening tests, like mammograms or colonoscopies.  The downhill effect is that patients are presenting with later-stage cancers because we did not identify their disease early on in the process."
Andrew Schlachter
Saint Luke's Health System
Like a lot of Kansas City natives poised to start their careers, Andrew Schlachter looked at the big, wide world out there and heard a siren song of opportunity. With the ink drying on a medical degree from the University of Kansas School of Medicine, he recalls, "I thought, 'Now it's time to get out of Kansas City, so I'm off to Chicago, never to come back."
Heh. We all know how deep those hometown hooks can be set, now, don't we? Even if, as Schlachter says, one develops great new friends and mentors, as he did during residency and fellowship in pulmonary and critical care at Rush University Medical Center. But …
"I quickly decided I missed home, I missed Kansas City," he says. "It was always a childhood dream to become what I hoped would be a good doctor, and do good work in my local community. I found out that home really is here."
His choice of medicine might not have been pre-ordained, but it was close: "I'm from a lineage of doctors; we joke that it's part of the Schlachter genes," he says. His father, grandfather, uncle and nearly half a dozen cousins are all physicians. Watching his father while making rounds helped close the deal. "I always thought that if I could ever be half as good a doctor as he was, I would do well in life," Schlachter says, because he saw the impact that compassionate, high-quality care could make on a patient's life.
Pulmonary and critical-care medicine, he said, "captured all the things that I found exciting at a young age, and still find exciting. … Part of my growth as an intensivist, I remember in med school, my grandmother dying of cancer as I was learning about cancer." He asked a mentoring oncologist at that time how it was possible to deal with the inevitable loss of a patient. The response? If you consider winning or the losing as the barometer, you need to rethink the way you deliver health care and the way you can help people in your life.
It was a powerful lesson. "Dealing with end-of-life issues is part and parcel of being an ICU doctor," says Schlacther, who has witnessed no shortage of that during the pandemic. "The way we deliver care when the outcome is not restoration of health is how can impact patients and the families they leave behind."
Lessons of loss amid a pandemic took on a new hue for him recently with a patient who suffered brain bleeding while at a Royals game, but staged a remarkable recovery. Her case resonates with him, as we may be exiting the pandemic he says, because "whether it's fair or not, I likened her recovery to all of us in health care. If she is able to recover from this profound sickness, so too can all of us in health care. Her case is a barometer for our own recovery."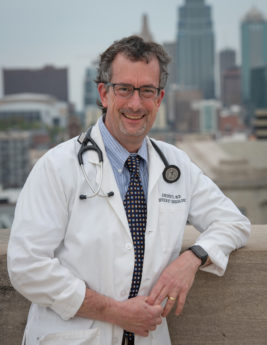 John Spertus
Saint Luke's Health System
It's an unlikely combination—Sherlock Holmes and John F. Kennedy—but those two figures, literary and historical, are like strands of DNA running through the work of John Spertus
at Saint Luke's. Kennedy for his inauguration call to service—
"Ask not what your country can do," and all that; Holmes for his ability to dig into mystery and pursue a resolution relentlessly.
Spertus brings both traits to his work in cardiology and conditions related to the cardiovascular system, and he does it with a zeal that is nearly unrivaled: He has authored or collaborated on an astonishing number of peer-reviewed articles—more than 750—he holds at least a share of six patents, and he was named one of the most influential scientists in the world in 2014 and 2015 by Thompson Reuters.
All that, and more, is before you even touch on his entrepreneurial genes as founder of the non-profit Cardiovascular Outcomes Research Consortium and CV Outcomes, research-
ing cardiovascular disease, and Health Outcomes Sciences, a biotech start-up focused on evidence-based, personalized medicine, a trend that is reshaping the delivery of health care itself. He was also a key player in what's known as the ISCHEMIA study, which broke new ground in understanding that an individual patient's unique traits and circumstances might play as great a role in successful outcomes as the treatments themselves.
The impetus for that breadth of work? "It seems corny,
Spertus says, "but it really was something revered in our family
and by my parents, this idea of giving back, and a strong, underlying obligation to make the world a better place. I think that's really why it felt so comfortable and right to become a physician."
The first in his family to become a doctor, Spertus was especially intrigued coming out of medical school by advances in genetics, the roots of what has become today's personalized health care. And he had the ability to dream big with it:
"After college, I thought it would be exciting to go to med school and find the gene responsible for heart disease or cancer,
then find a modification and cure it," he says.
Internal medicine is one of the most intellectually stimulating areas of medicine, he says, "and I was driven to that. It was almost a Sherlock Holmes passion for figuring out what's going on with this person." The initial appeal of cardiology was the breadth of heart disease as one of the biggest killers on the planet, and because there was room for improvement. "I felt it was important because it was a leading cause of death and disability, and there were a lot of ways for us to do it better as physicians. We've got an obligation to society to spend resources well, and I don't think we do that."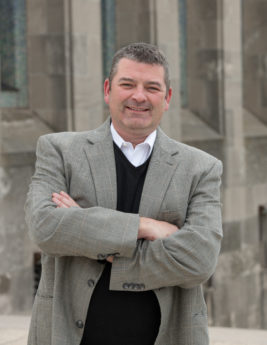 Jeremy Strom
St. Joseph Medical Center/Prime Healthcare
But for an ill-executed move with a saw during a landscaping job while he was still in high school, Jeremy Strom might have had a terrific career in computer science. "It went through my forearm, and I was looking at the tendons and muscles and I was just intrigued," he recalls. "My stepdad was panicking; he looked more pasty than I did, and I'm just thinking 'Look inside there—that is so awesome!'"
Both recovered, of course, with Strom forgoing the computer-science credits he'd racked up in high school to focus on biology, and eventually, medicine. "I just like the physiology of it, the constant puzzle you had to solve," he says. "Every patient is a variable, and I'm just drawn to the questions, the what-ifs, what's the problem and how do you figure it out?" The variety of cases in critical care, as well, has a special appeal, unlike the kinds of repetitive work some other specialties entail. "When a patient's history doesn't match the symptoms—someone comes in with COPD but never smoked a day of their life, or has no history of asthma, it makes you stop and pause," Strom said. Another attraction to that type of care is the teamwork required from other allied health professionals to reach satisfactory outcomes.
Kansas City is the closest thing he had to home as a youth, with considerable moves around the region, to Wichita, Denver, and Scottsbluff, Neb. He earned his medical degree at Ross University School of Medicine in Barbados, then did his residency and fellowship at The University of Kansas Hospital. "The doctors at KU, their breadth of knowledge was inspiring—they knew a lot about a lot," Strom says. "The way they talked to families and patients, their balance between intervention with what they can do and the knowledge they had to have to be critical-care doctor … I just wanted to be one of them."
The marvelous coincidences of life, the sheer randomness, are not lost Strom. He and the woman he would marry both served as teen volunteers at Camp Mitiog and Camp Quality, assisting in outings for children with spina bifida and cancer. They didn't know each other then, but their service, their understanding of the challenges of a disabled child, and ultimately, Strom's own work in critical care would all come together to benefit one very special patient—their teenage son who was left with a permanent spinal-cord injury after an accident.
"We have physicians within the city who I take my son to, and who have cared for him," Strom says, and on occasion, he has to overcome the urge to second-guess their guidance, based on his own experience and work. "I try not to do that, because of the potential for bias there," he says, "But as care-givers, I do think we have a little bit of an edge" compared to other parents in the same position.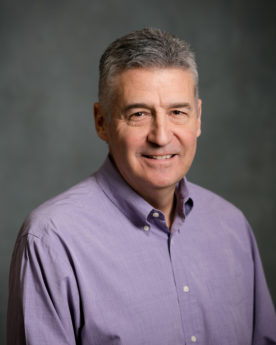 Richard Wendt
LMH Health
Cardiovascular surgery, young Richard Wendt figured, might just be the way to go with a medical career. Then he found out that it would entail eight years of additional schooling and training—after medical school. So when a boyhood pal from Herington, Kan., who'd gone into orthopedics suggested that option, Wendt was all ears.
"The thing about med school," Wendt says, "is that you have to decide a path before you have much experience in anything." His buddy was several years into orthopedic training "and he started showing me what was involved.
I learned it was pretty competitive, got the bug, and I liked it a lot. It fit my farm background, building things, repairing fences and the like."
That farm background in fact, growing up just a few miles outside of town, almost drew him in, and Wendt had to pick between two passions. Health care won, he says, "but I really loved farming."
But his mother had pushed him to do something different, and "I liked anatomy a lot, the feel of being a doctor and the health profession. I didn't know what was getting into," he cracks. He really enjoys the surgical aspects of it, and a work dynamic not tied to an office. Joint replacement surgery was just taking off at that point in his training—"I'd never heard of that in my life," Wendt says—but it had "opportunity" written all over it. That was just part of what appealed to him with orthopedics; "the other was trauma, where you actually piece things together when something is broken, and help get someone to heal and back to some semblance of normality in their lives."
That's vital, Wendt says, because when you restore someone's physical functionality, "it's good for the rest of their health, their heart, their mental status. It's such a key keeping people up and active."
Much of that good work came to a screeching halt in early 2020, with a pandemic sweeping the world and procedures that were more elective were put on hold so health systems could deal with a crisis of unknown potential magnitude. The trauma work was still there—accidents pay no heed to viral spread rates—but there was a pronounced pullback.
Working in a COVID environment at first, he confesses, was a bit intimidating. "The first time I walked in after it hit, I thought 'My God,' looking at all the masks and PPE," he says. "But you knew you had to do this, no matter what. I've been impressed with the numbers of doctors and nurses that responded that way. There were just a lot  of unknowns."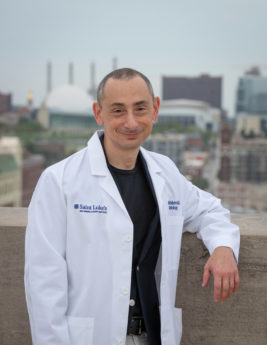 Mikhail Kosiborod
Saint Luke's Health System
His father is a physician, one brother is a physician, and his mother is a dentist. As they might say if there are apple orchards in Novosibirsk, Russia, this one didn't fall far from the tree. "I had my mind sent on medicine from age 14," says Mikhail Kosiborod, and the only thing competing for that interest was his violin. "I played quite seriously when I was a kid, and it was a tough decision—I loved playing, and music is still an important part of my life. While it's incredibly fulfilling, I did not see it as a career."  
After coming to the U.S. he was a student at Queens College, then earned his medical degree at Mount Sinai School of Medicine in New York. That's where he began his journey into cardiology, and now cardiometabolic medicine, encompassing diabetes research and treatment. The first step was not without pain. "My Dad had a heart attack when I was a second-year med student; that was very unexpected," Kosiborod says. "I ended up being the one to diagnose his angina and make sure he got medical attention."
The attending physician's charisma enthralled him, so Kosiborod began to shadow the doctor, learning as much as he could about seeing patients, interpreting imaging data, and making clinical decisions. After completing training at Yale, he came to Kansas City in 2005, signing on with both Saint Luke's and the med-school faculty for UMKC, where he's still a professor. He's also a prolific author, having penned more than 300 articles in peer-reviewed journals, plus hundreds of abstracts, many textbook chapters, reviews and editorials. And on the research side, he's a powerful magnet for attracting grant funding; with multiple projects being funded that way currently.
At around the time of his heart attack, his father was also diagnosed with Type 2 diabetes, and soon afterward his fiancée—now his wife of 27 years—was diagnosed with Type 1 diabetes, as well. "That influenced the way I viewed this intersection of diabetes and heart complications," he says.  That aspect of care, he says, "has been a huge benefit for patients, and it transformed this entire field and developed new standards for how to produce evidence and make decisions in clinical practice. … We have learned enormous amount, made huge advances that changed the way we take care of patients."
As a global pandemic endures, with the lion's share of its toll on those with health challenges related to obesity, diabetes, and other cardiometabolic conditions, "it has reminded us how important prevention is," Kosiborod says. "If you think of the risk factors for poor outcomes we've learned about since the Covid-19 pandemic started, they are the same public health issues we have long been talking about: diabetes, obesity, heart and kidney disease."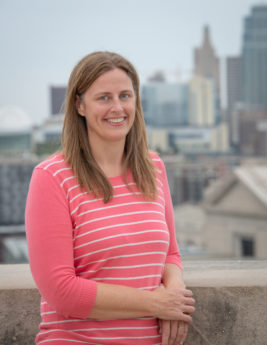 Jennifer Watts
Children's Mercy Kansas City
"I knew whatever career I chose, I wanted to be in something where I would help people and have an impact on people's lives in a positive way," says Jennifer Watts. She just didn't know, at the start of her medical journey, that images of pirates and treasure maps would be as important to her work as a stethoscope or sutures.
She's an ER physician at Children's Mercy, where the cases always have a special poignancy because the accidents or illnesses have struck at the least vulnerable among us. Still, Watts says, "there are so many patient encounters that remind me every day of the reason I went into medicine. Helping to ease a child's fear by talking about pirates and treasure maps before a procedure in the ER, to a life-saving procedure where a child ultimately walks out of the hospital."
Watts is a home-grown product from Independence who majored in math at Rockhurst University and earned her medical degree from Saint Louis University. She was primed at an early age to appreciate the power of education, thanks to her father, a railroad engineer, and her mother, a math teacher. Following Mom's lead with her undergrad work, Watts pondered biomathematics, engineering, physical therapy, and even education. "Ultimately," she says, "my desire to help others, combined with my interest in human pathophysiology, was the reason I continued to pursue medicine."
Pediatrics won out after her rotations, but in ER discipline, it meant "working and making decisions quickly and being prepared for anything and everything," she says. "Parents bring their children to the emergency room when they are scared, when they need immediate assistance. It is an honor and privilege to be allowed to participate in their care at such a critical moment."
Her work took a big turn in 2020 because she oversees the hospital's global health program. That meant quickly shutting down international operations when the pandemic hit. "We had to be nimble and creative to develop new educational methods to provide the necessary global health education to our physician trainees," Watts says.
The pandemic, she says, "is a continual reminder of why I do what I do. Every day I advocate for the well-being of children, keeping them safe, healthy and happy. To see kids around me, including my own, going to school, playing with friends, and being with their families is a constant reminder that even in times of disaster, pediatricians, including myself, have an impact and are critical in helping future generations live the best lives possible."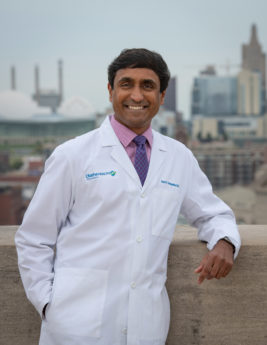 Ravi Yarlagadda
Olathe Health
Ravi Yarlagadda succinctly defines the difference between his hometown of 2 million people in India, and a metro area of that many people in the middle of the U.S.: "We did not have a cardiologist in town," he says, and when his grandfather had a heart attack, the attending physician was his mother—an obstetrician. "It's crazy," Yarlagadda says, but "you improvise if you don't have anything. At that point, she was giving him aspirin and IV meds and hoping for the best. So I wanted to be a cardiologist."
It helped, he said, that the family's home was on the floor above his mom's workplace, "so I basically grew up in a hospital." Yarlagadda came to the U.S. to perfect those skills after earning his medical degree in India, and worked in New York with tools of the cardiovascular trade roughly 20 years ago. That's when the field of electrophysiology was gathering momentum. "It was growing at such a rapid rate," he says. "Innovations were really on the upswing, with new things coming up every year or every other year. That's what interested me—with the amount of new discoveries, it was as important as development of the stent world in the years before that."
The medical world, he says, was not prepared for the pandemic of 2020, when elective procedures stopped short, given the demand for ventilators and bypass machines, plus protective gear. Then came a second wave, but even with better equipment on hand, "now you have the sheer fatigue of the nurses, people leaving health care because they are tired," Yarlagadda says. "I don't see a light at the end of that tunnel. Who would have guessed that in the United States, we'd be talking about a lack of personnel in health care?"
Don't get the wrong impression: His work is packed with fulfillment. Just recently, he says, he was at a grocery store with his sons, and a woman recognized him, approached and said to the boys: "Do you know your Dad changed my life?" The younger boy responded with "Who? Him? Are you talking about the right person?" But the sincerity of the compliment, he said, "brought tears to my eyes. I thought, OK, sometimes when a kid acknowledges that a parent did something good, it really makes you feel good."
In another instance, he outfitted several members of one family with defibrillators, including a 20-year-old who wasn't happy about it. But several years later, he went into cardiac arrest while traveling in a remote area, and the device shocked his heart back into normal rhythm. The young man's wife let him know that his work saved her husband, and now Yarlagadda marvels about how "medicine has come so far along that you could save this kid's life."