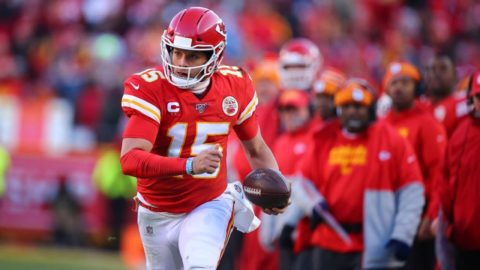 Fifty years after their only Super Bowl win, the Chiefs are back. An ecstatic fan base can only wonder if this is the dawn of a dynasty.
Officially, it goes in the record books as a 27-yard touchdown run. The bean-counters at NextGen Stats, who aggregate this sort of minutia for a living, tell us that Patrick Mahomes sprinted a total of 64 yards across the Arrowhead Stadium turf on his way to the end zone on that play in the AFC title game Jan. 19.
Long-suffering fans of the Kansas City Chiefs have, for the better part of a human lifetime, been on the outside looking in at the NFL's signature game, the Super Bowl. So for them, Mahomes' journey covered a lot more ground than his yards to the endzone. With each stride and juke of a frustrated defender down the sideline, with each piston-pumping power step through three defenders to plow his way into the end zone, Mahomes carried roughly 15 ounces of cowhide in one hand, and 50 years of a city's hopes on his shoulders.
Some folks couldn't care a fig about how Mahomes gave the Chiefs a lead they would never surrender, about the outcome of that game itself, about the fact that the Chiefs will be in their first Bowl in half a century, or about the sport in its entirety. That's their loss.
For uncountable hundreds of thousands of others in a Midwestern city known for its oversize sense of modesty—that, "aw, shucks, we ain't New York or Los Angeles" mentality that presents itself too often in civic and cultural affairs—the Chiefs' 35-24 victory over the Tennessee Titans was a validation of sorts. We've long known that KC is a great place to live, to map out a career, to start a business or own one.
For a few hours on that Sunday afternoon, and for hundreds more looming as the sports media goes nuts in the two weeks running up to the Super Bowl, Kansas City was more than the equal of the 31 other metro areas that lay claim to an NFL franchise.
But does any of that really matter in the grand scheme of things? We already know we have housing affordability that makes San Francisco, our Super Bowl opposition, look dystopian by comparison. We know that Houston (whose Texans fell to the Chiefs on Jan. 12) has an average daily commute twice our own, giving us the equivalent of three additional weeks of free time built into every work year. We know that by almost any economic or quality-of-life metric, we compare favorably with almost any other city you can think of.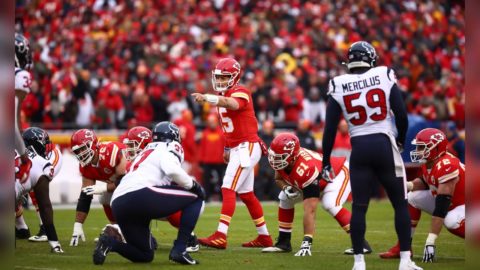 And yet, a football game remains so very important to so many of us. Why?
"People associate with all kinds of things—sports, actors—and sports teams bring people together and give us something in common to cheer about and focus on," says Andrew Jacobs, a nationally known sports psychologist based in Kansas City. "When Lin Elliott missed the three against the Colts, there was a self-help group Downtown for people who were so despondent."
Jacobs has heard plenty of that despondency over the decades in both his work role and on the radio show he does Sunday mornings on WHB. But he does not assess a Chiefs fan's emotions with a completely dispassionate view: He was in the stands when the Chiefs went to the very first Super Bowl, before we had the bright idea to assign Roman numerals to them, elevating them to the status of world wars. "I've only missed about 10 games when I've been in town since then, so I consider myself a fan. I see the attachment people have. It's a sense of pride when team wins. You feel it, that sense of braggadocio."
That civic pride is, effectively, an extension of our own selves. And sometimes, across the decades of frustration—unable to win a title even with the legendary Joe Montana calling signals, though the playoff collapses and missed opportunities, right up until Dee Ford's offsides call cost the Chiefs a likely Super Bowl berth just a year ago—we can take things too far.
"When the Chiefs lose, like they did last year, it was upsetting—until I got to my car," Jacobs recalls. "But then, I thought 'all right, now I've got to go home.' We move on. It hurt, and maybe more so because a couple of players had Super Bowl tickets for me. But it's entertainment; it's purpose is to entertain."
When the entertainment ends with victory, just look at what can happen. A shade more than four years ago, an estimated 800,000 residents of this metro area—roughly one in three souls living here—packed Downtown on a sunny November day for the Royals' World Series victory parade. For a while, Kansas City baseball, even Kansas City itself, was the toast of the nation. People were talking about us. We mattered.
We like being recognized that way, we like the respect it generates. Even if we're living it vicariously.
"Look what that did to the city, our sense of civic pride," Jacobs says. "It is a huge boon emotionally, civically and personally. When you're out of town wearing Chiefs clothing, we're happy to tell everyone, 'Yeah, I'm a fan.' We're tied up in that and I get it. If we win it all, and I sure as hell hope we do, we'll all be excited for a long time to come. If we don't do it again for years and years, at least we made it there this year. It's a personal connection we have with this stuff." 
YOUR NFL MBA
To reach the Super Bowl, the Chiefs had to make NFL history, overcoming a 24-0 deficit to reach the AFC title game. And they had to overcome a 10-point deficit (twice)to beat the Tennessee Titans in the AFC title game. If you think about them from a certain point of view, though, those games were primers for business executives striving to turn around distressed organizations. Some of those lessons: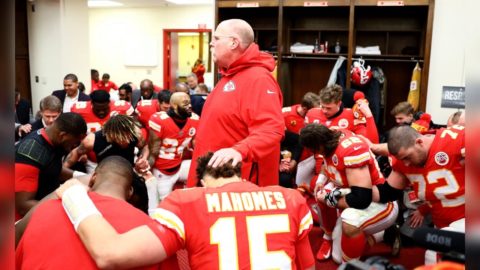 LEADERSHIP
After falling behind 24-0 against Houston and 17-7 against Tennessee, the Chiefs refused to panic. One reason: leadership: As Patrick Mahomes demonstrated against Houston with his memorable inspiration to the offense: "Let's go do something special!" They did.
CREATING OPPORTUNITIES
Daniel Sorensen's two monster special-teams plays against the Texans, forcing a fumble on a kickoff return and snuffing out a horribly-advised fake punt, gave the Chiefs short fields that lead to touchdowns. His individual excellence translated into team-wide success and turned the game around.
STICKING WITH THE PLAN
Kansas City knew Houston's man-coverage defense was susceptible through the air. It could have retreated from the passing game to regroup after a handful of third-down drops killed early drives, but at the risk of falling further behind. It never wavered in riding Mahomes' arm and attitude that carried the team this far.
TOP-DOWN FOCUS
The offensive genius of Head Coach Andy Reid has made him the architect of the most successful seven-year-run era in the Chiefs history, if you're measuring by victories and division titles. Clark Hunt, in the chief executive's chair, Mark Donovan as president and General Manager Brett Veach and their deft player-personnel skills have given Reid the tools he's needed to consistently operate at a high level.
INTANGIBLES
There's one other success factor that has set the Chiefs apart from teams in 31 other metro areas around the country: Its customer base, the fans. The full-throated, eardrum-rattling decibel levels at Arrowhead are legendary for their impact on the game itself. When your clients—the ones who allow you to pay the bills—are fully committed to your success and see it as a part of their own, you have a leg up on the competition. Synthesized best, perhaps, by tight end Travis Kelce after the Houston game: "I'm just happy that we get to play here in front of this unbelievable city,"
he said after pulling in three touchdown passes from Mahomes.