We've all heard the stories of people from New York who have never been to see the Statue of Liberty. Or D.C. denizens who've never set foot in the Lincoln Memorial. Sad but true, we get so caught up in the new-car smell of a vacation to never-visited places that we often overlook the charms right in front of us.
Too many of us in Kansas City, even, have to plead guilty to that charge. But here's something you can do about it, and it doesn't even require a staycation—you can build these attractions into your free time almost all year long. So slow down, enjoy one bite at a time of the best that this region has to offer, and see what you've been missing. 
We'll start with some iconic places, the ones that define Kansas City either visually or historically, or speak to its character. There are others, of course, and you may find them, especially if they're free. We also know that no matter what we include, some places that should be here, according to some, aren't. You'll also note that this is pretty Kansas City-centric. There are great places in the suburbs here—the Nerman Museum of Contemporary Art at the Johnson County Community College or the Deanna Rose Farmstead in Overland Park come quickly to mind—but we've focused more on the central city area itself.  
So regard this as simply a good start to all things Kansas City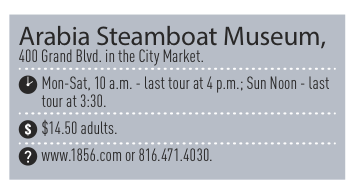 Although we don't pay enough attention to our rivers in Kansas City—we've talked about developing that waterfront for eons, but there sits all that empty acreage—learning more about the Missouri River is well worth your time. The Steamboat Arabia, stopped forever by a river snag in 1853, was eventually covered over in silt as the river flooded and changed course. Over 130 years later, its contents were dredged up, cleaned, and are now displayed in a remarkable full-size reproduction of the boat's main deck, including a 28-foot paddlewheel that still turns as part of the museum.  The boat may be gone, but a very complete picture of the past lives on. Leave time for wandering in the City Market area; there's a fabulous bakery, as well as several other homey restaurants. Planter's Seed on Walnut is just fun for gardeners and cooks who love spices.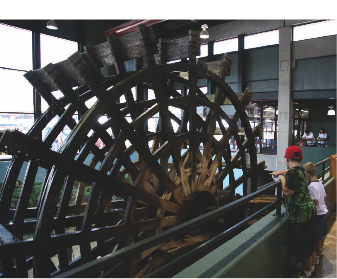 The National World War I Museum at Liberty Memorial. The war was raging a century ago, and it made a huge impact on the world we live in today, whether you realize it or not. Not only did that conflict set up the world's current Middle East configuration, its aftermath affected much more than boundary lines. And it is probably the most interesting museum in town in a town full of good ones, with affecting films that provide the background to the amazing exhibits and interactive displays. Experience what the trenches felt like; understand the repercussions of disastrous decisions; make your own decision on the impact of the Great War.
If you go to the World War I museum, make sure to budget time for Union Station, right across the street. This beautifully restored 1914 Beaux Arts edifice was the way-station for more a million travelers during the next world war that came along. Its 95-foot ceilings and nearly 1 million square feet house a variety of exhibits and permanent displays including the Rail Experience for train buffs (you don't have to be one to enjoy), Science City for the kids, a planetarium, theaters, restaurants, a chocolate shop, coffee and gift shops. A post office is here—and yes, you can still hop a train here, as well.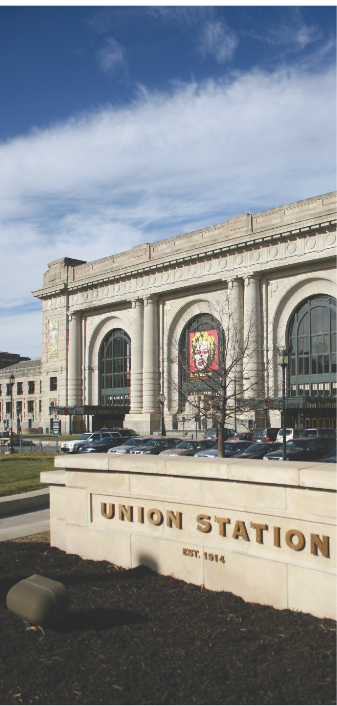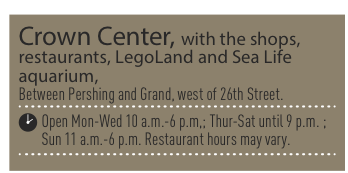 Still got time left in your day? The age-defying Crown Center remains a shopping and dining mecca, with substantial fast-food locations but also the Crayola Café, Milano, excellent sushi at Kabuki, and Streetcar Named Desire or Fritz's for hamburgers—the latter in a tub delivered by a train. The only 4-star Kansas City restaurant is here, The American. There are both live and movie theaters. The addition of LegoLand Discovery Center, for children 3-10 years who must accompany their adult companion for entry, and the Sea Life aquarium, for kids of any age who want to see more than 5,000 sea creatures, greatly added to the fun in this area when they opened in 2012.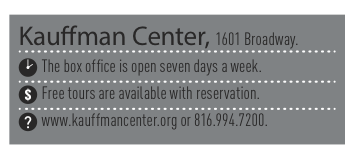 We continue on our crowded tour of Downtown attractions with the Kauffman Theater for the Performing Arts, a wonder inside and out.  If no one is performing in its two spectacular theatres, you may be able to arrange a tour. World-famous Moshe Safdie designed the glass-roofed building, and it is the home to the Kansas City Symphony, the Kansas City Ballet, and the Lyric Opera. Since its debut in 2011, the center has attracted almost any musical big name you can think of.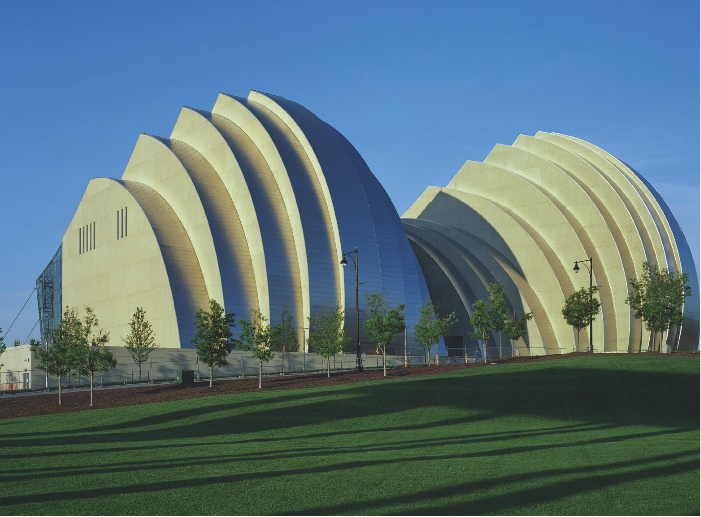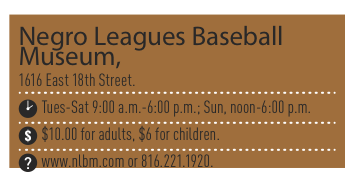 Branching out from the Downtown area, baseball buffs won't want to miss the Negro Leagues Baseball Museum in the famous 18th and Vine area. That neighborhood is the center of black culture with its many businesses, homes, jazz bars and restaurants. Today the area is a somewhat subdued version of its old self, but for baseball fans, this place is a must. Plus, it's a great way to learn not only about baseball, but America from the 1890s to the 1960s. Don't miss its cousin, The Jazz Museum, for an unforgettable picture of the birth and adolescence of Kansas City jazz, just a few steps away. Plan too to catch a game at the nearby youth fields–among the newest and nicest baseball fields in the city.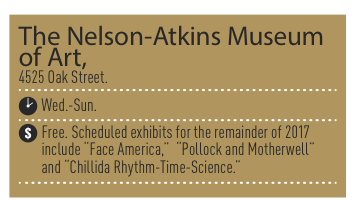 The Nelson-Atkins Museum of Art has won an accepted place as one of the best art museums in America. It's especially admired for its Chinese art section, European paintings and 20th-century sculpture, both in and outside of the gallery. Best of all, the price of admission is what you're willing to donate to keep this venerable institution going, above what you only pay for the underground parking, and there's lots of street parking around it. Both its new garage and the Bloch Building expansion are worthy architectural splendors by themselves—as noted by Time magazine, which named it the "Number One Architectural Marvel" in 2007. A great gift shop is there, by the way, and don't miss Rozzelle Court, whose fountain dates back to 200 A.D. and is thought to be one of the Roman imperial baths. Soap, however, is not provided. But they do serve up tasty meals.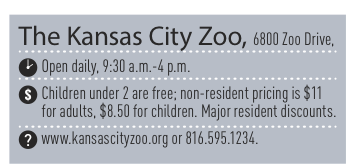 Whether you've brought the kids or not, the Kansas City Zoo in Swope Park should be on your list. Ever since Randy Wisthoff came here from the Omaha Zoo in 2003, and as funds have slowly become available, the zoo has steadily improved, both for animals and visitors. Dating back to 1909, the zoo has a number of excellent exhibits, the monkey house is always entertaining; the sky ride over and to Kenya is cool. There's lots more, of couse, including the march of the penguins. Wear your walking shoes; the zoo covers 200 acres. You're in for a fun adventure at the Kansas City Zoo.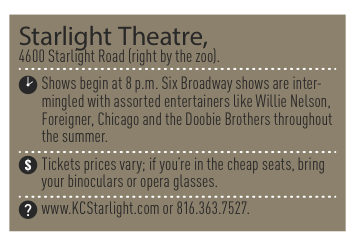 Just a few yards from the zoo's entrance sits Starlight Theatre, one of three existing self-producing outdoor theaters in the country. Within its beautifully landscaped spaces are fountains, flowers, and food courts that serve as the backdrop to six or so Broadway shows each summer, plus numerous concerts. The nearly 8,000-seat theatre has survived—and thrived—since 1925, with the last renovation bringing additional space, sound systems, and more restrooms to the facility. If you sit close to the stage, its air-conditioning cools you, but even on the hottest summer nights, there's usually a breeze.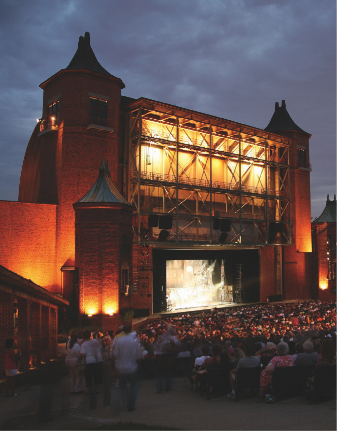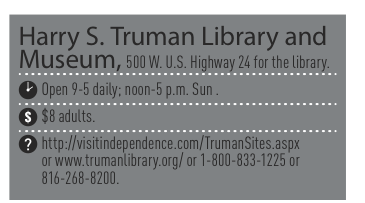 Drive east to the Harry S. Truman Library and Museum in nearby Independence, Mo. Give-'em-Hell Harry, the 33rd president of the U.S. and the only one from Missouri, is recognized as one of our greatest presidents, ever. See why as you experience his life and times, peruse actual documents (not an e-mail in sight), and see a replica of the Oval Office, exact down to the sign on his desk.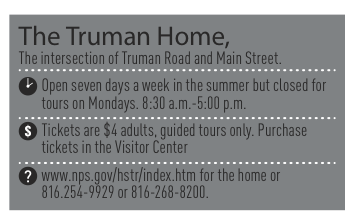 And as long as you're there, don't miss the Truman Home tour nearby and really take some steps in the president's shoes.  
And this is just getting you started; many other venues are worthy of your time and money. The Jesse James Museum and Home. The Sprint Center. The T-Bones. Powell Gardens. The best barbecue in America. The 1954 All-Electric House. But can you even make a decent size dent in our Top 10 in just a few days? Probably not. So much to do, so little time. You'll have to come back. 
That's great!