Some storied names in Kansas City business changed hands in 2017, or agreed to change hands. Others sealed deals that elevated their local, regional and even global market shares, or set the course for long-term growth. Among them were multigenerational icons of family ownership, startup success stories that evolved into national brands, public utilities and private investment firms, banks, law practices, IT companies, hospital systems and fast-food franchisees.
 As the economy roared to the threshold of 4 percent GDP growth in the fourth quarter—
the first time the nation has seen that pinnacle in better than three years—mergers and acquisitions came to $1.46 trillion in the United States last year. That's a retreat from the $1.9 trillion of 2015, but still better than we've seen in any other year of the past decade. 
What's driving that activity? Some of it is demographic: Baby Boomers who lassoed a rocket are cashing out and preparing for retirement. Some of it is strategic, selling off business units that no longer fit the leadership's vision for the company's future. Some of it is just good business sense, capturing value while an organization is at its peak. 
Is all of that a good thing, or a bad thing? Well, there's a body of research out there to suggest that, rather the macro perception that mergers and acquisitions are the stuff of layoffs and cost-cutting to eliminate redundancies, a considerable majority of such deals actually create jobs and investment at the local level.
Ash Grove Cements a Big One 
The biggest deal of 2017 brought to an end nearly a century of Sunderland family ownership at Ash Grove Cement Co., the nation's biggest maker of Portland cement for the construction industry. The company announced in September that it had found a buyer in CRH Plc, an Irish company with a global footprint in building-materials supplies. After a brief inquiry from another potential suitor, Ash Grove sealed the deal with CRH, at a price believed to be around $3.5 billion. The acquisition is part of a powerful globalization trend in construction materials supply, and analysts said CRH's move was a logical outcome after President Trump had repeatedly called for huge outlays for U.S. infrastructure. Funding for that hasn't come though Congress yet, but CRH and its competitors aren't waiting to position themselves for success if it does happen. Four generations of Sunderlands led Ash Grove, a chain that ended with Charles Sunderland, who turned over the reins of daily leadership as CEO a month before the sale was announced and ended his tenure as chairman.
Alexander Open Systems Sale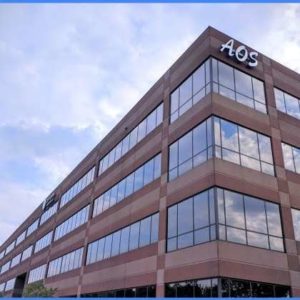 One might think Kansas City's interior location might insulate it from globalization, but proof to the contrary came Dec. 18, when news came that 25-year-old Alexander Open Systems was being acquired by ConvergeOne, a global IT services provider based in Eagan, Minn. Terms of the deal were not disclosed. AOS posted 2016 revenues of $177 million, stepping back from years of fast growth that a few years earlier had pushed revenues above $220 million. That arc made the company, founded by Gary Alexander in 1992, one of the most frequent honorees in Ingram's Corporate Report 100 over its history. AOS closed out its run with 11 appearances on that annual list of the Kansas City region's fastest-growing companies. 
Great Plains Energy-Westar Energy Merger 
Thanks to the work of regulators, the merger of Great Plains Energy and Westar Energy might go down as the biggest deal of 2016 … and 2017 … and 2018. First proposed in May 2016 as an acquisition with a price tag of $12.2 billion, the union of the Kansas City region's two largest electric utilities immediately ran into headwinds. It had to clear hurdles with federal regulators, utility commissions in each state, and shareholders. At virtually every step, opposition arose. The Missouri Public Service Commission was the first to acquiesce, after being persuaded that the deal ensured a solid foundation for the merged entity. Its counterpart to the west, the Kansas Corporation Commission, took a dimmer view, based on the potential loss of jobs and loss of a Fortune 1000 headquarters company. And shareholders filed lawsuits, as well, suggesting that the initial bid either over-stated or understated Westar's value. The companies took another run at a deal in 2017, and shareholders overwhelmingly signed off on it in November as a merger of equals, rather than an acquisition. The KCC? We'll find out in 2018: The commission has called for a new round of hearings that will run into the spring, two years after the deal was first proposed.
Cerner Corp. Lands a Whopper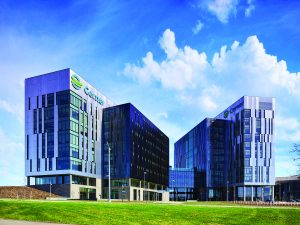 Outside of mergers and acquisitions, 11-figure business transactions don't come down the pike very often anywhere in the U.S., but health-care IT giant Cerner Corp. has bagged one with its contract to overhaul electronic health records for the Department of Veterans Affairs—a 10-year deal worth $10 billion. The price was disclosed at a December subcommittee meeting in the U.S. House subcommittee. Scott Blackburn, acting chief information officer for the agency, said it would be "the largest implementation of a health-care system EHR ever—and, it's going to be a really big undertaking. If all goes according to plan, the VA's new system will sync up with the Department of Defense—Cerner is also working on the Pentagon's HER system, as well. 
Bryan Cave Thinking Globally 
One of the biggest law firms in the region, St. Louis-based Bryan Cave, ended the year in merger discussions that would make it a global firm. Shareholders were expected to vote in late December on a union with the London law firm of Berwin Leighton Paisner, which would yield a firm roughly 1,500 lawyers working in 32 offices and 12 countries around the world. The goal, officials at Bryan Cave said, was to emerge as one of a handful of global firms with more than 500 lawyers in both the U.S. and internationally.
Tortoise Investments Sale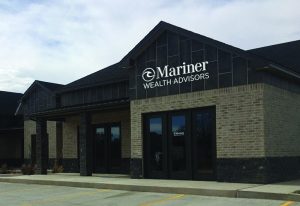 Does a deal qualify as one of the biggest of the year if it's price tag isn't disclosed? It does if the deal involves Mariner Holdings and its Tortoise Investments division, the largest component of the Mariner Holdings family, which had a combined $46 billion in assets under management before the deal was announced. Tortoise accounted for nearly half of that,
$20 billion, having grown from $1.3 billion in 2009, when Mariner picked up controlling interest. Mariner CEO Marty Bicknell said proceeds from the sale would fuel the company's strategy of growth through acquisition, a path that had took the parent company from startup in 2006 to one of the nation's biggest investment-management firms. Mariner Holdings comprises Mariner Wealth Advisors, for wealth management, and Montage Investments, an asset management division. Los Angeles-based Lovell Minnick Partners and various co-investors bought two-thirds of the company; members of Tortoise management are buying the rest. 
Bank Midwest Parent Buys Peoples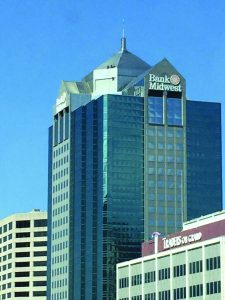 Among the year's biggest deals in the banking sector in the Kansas City region, National Bank Holdings Corp. announced in June that it would acquire the parent of Peoples Bank in Lawrence, owned for half a century by the Winter family, for $143 million in cash and stock. That deal added roughly $865 million in assets to the NBH stable, along with $719 million in deposits. NBH operates as Bank Midwest in Kansas City, and is one of the largest in the market. But even as the mother ship was growing, Bank Midwest was overtaken on the roster of the region's top banks, ranked by assets; Security Bank of Kansas City leaped ahead in the Top 10 in the very first week of 2017 when it finalized a deal to consolidate seven area banks that had been under the Bancability brand, creating a broad network with more than $3.2 billion in assets.
Scout Out, Infinitas In
UMB agreed in April to sell the region's fifth-largest wealth-management firm, Scout Investments, to a unit of Raymond James Financial, along with another subsidiary, Indiana-based Reams Asset Management, for $172.5 million. Scout was launched in 1982 as a division of UMB, and had $27 billion under advisement in 2016. Carillon Tower, the Raymond James operating unit, will be the global distributor for investment products through Scout and Reams. In a further reflection of things to come for the wealth-management sector, Kansas City added a new firm to its ranks in 2017, but said good-bye to four existing brands that consolidated to form Infinitas, an Overland Park advisory firm with a combined $1.5 billion in assets under management. The union of Gateway Financial, Pegasus Capital Management, Summit Wealth Advisors and Trinity Planning Group, all of which had operated for at least 25 years, yielded a firm with 14 advisers and 35 associates, large enough to reach the Top 25 in wealth-management firms in the region, and, principals said, positioned to connect with both a younger generation of investor as well as a new cohort of younger financial planners.
Health Care: Closing, Expanding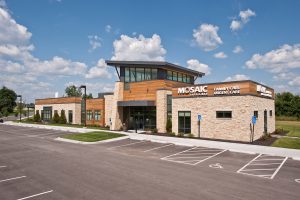 Two deals in December alone reflected opposite ends of what's happening in the health-care spectrum: Kindred Healthcare announced that it would close its 130-bed hospital in south Kansas City, which had nearly $100 million in annual revenues, and Saint Luke's Health System announced that it would acquire all but two of Mosaic Life Care's eight clinics in the Northland. Humana was reportedly deep into negotiations to buy Kindred Healthcare, the struggling home-care provider and hospital network that will merge its operations of its 130-bed south Kansas City facility into the far smaller Kindred Hospital Northland, which has 35 licensed beds. Terms of the latter deal were not disclosed, but it was a significant pullback for Mosaic, after a strategy launched several years ago to connect with consumers closer to where they live and work. Saint Luke's will offer primary care and limited specialist care at three of the Kansas City properties—Shoal Creek, Burlington Creek and Highland Plaza—plus clinics Mosaic had opened in Parkville, Platte City and Smithville. Two clinics closer to Mosaic's home turf in St. Joseph, in Excelsior Springs and Kearney, remain part of that system, allowing Mosaic to make additional investments at the main medical center.
Big Appetites
The world's largest Pizza Hut franchisee has called Kansas City home for years, and now, the world's largest Wendy's franchisee is here, too. In each case, it's NPC International, based in Overland Park. In June, it acquired 140 restaurants along the East Coast—the company's seventh Wendy's acquisition since 2013. All told, it gives NPC 386 Wendy's in seven states, complementing its 1,136 Pizza Hut restaurants in 28 states. And overall, NPC has nearly 1,500 units in its stable, which also includes KFC and Taco Bell, making it the nation's largest fast-food franchising firm, according to franchising.com. Roaring up that same list is a fast-growth Overland Park restaurant company, KBP Foods. Nationwide, KPB  is now on the threshold of that business sector's Top 10 (up seven spots from last year) after a series of 2017 acquisitions that gave it 530 units in 20 states. Keep a close eye on Michael Kulp and the team at KBP Foods as they continue skyrocket growth.
NorthPoint Sells LPKC Interest
In June, NorthPoint Development confirmed that it had wrapped up the sale of its majority stake in 10 buildings at Logistics Park Kansas City, the sprawling industrial complex that has come to define this region's transportation and distribution might. NorthPoint acquired development rights to the site in 2013, and immediately set out to rewrite the rules of Class A industrial space in this market. It built—usually on a speculative basis—a series of buildings that consistently broke records for their size. Ten of those were sold to Ares Management, a global investment group based in Los Angeles. The value of the deal wasn't announced, but by some industry estimates, it could have yielded $330 million in total volume and netted NorthPoint $60 million or more to fuel additional development across the nation. NorthPoint isn't walking away from that investment entirely; it remains as a minority partner and will still operate and maintain the buildings at LPKC.
Corporate Woods Changes Hands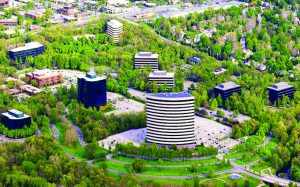 It's been a transformative two years for various types of real estate in Kansas City; in 2016, we saw the crown jewel of retail property—The Country Club Plaza—change owners in a deal worth more than $600 million; last year, in addition to the industrial building activity at KPKC, the signature office complex in this region, Corporate Woods, also got a new owner. RMC Group of New York and Montreal paid an estimated $300 million in August to acquire most of the 22 buildings on the Corporate Woods campus at College Boulevard and U.S. 69 in the heart of Johnson County. At the time of the sale, Corporate Woods, which remains one of the region's premier businesses addresses after more than 40 years, boasted nearly 300 tenants and an occupancy rate of nearly 93 percent. Since it first started rising from the ground as a game-changing approach to Class A office space in 1975 with its roomy green spaces, ample parking and immediate access to the new Interstate 435, the complex had changed hands only once.
Downtown Hotel Moves Forward
It took some doing on the municipal side—nearly 30 months' worth—but the planned 800-room Downtown convention hotel took what appeared to be its last regulatory step toward construction in November, as Kansas City's Tax Increment Financing Commission approved a series of agreements, including the partnership between KC Hotel Property Owner, the developer, the TIF panel and city's Land Clearance for Redevelopment Authority. That doesn't quite mean shovels are about to turn; as the new year dawned, the project was still in the financing stages. The hotel will fly the Loews chain flag, succeeding Hyatt Corp., which had been the planned brand behind a 1,000-room hotel when it was first proposed in May 2015. Much of the delay had been incurred through challenges to the city's participation by those who believed it shouldn't be in
the business of subsidizing hotel development; the TIF agreements cap that exposure at $42 million—$35 million in cash and land valued at $7 million. The target date for completion, assuming a spring 2018 construction launch, is 2020.
Mission Gateway . . . for Real
If there's a big deal in the history of Kansas City that took longer to nail down than this one, we'd like to hear about it. More than 12 full years after the region first heard the term "Mission Gateway," city officials in that Johnson County hamlet signed off on a mixed-use project that for years had pitted record levels of animus from nearby residents against the raw determination of a New York developer and its representative for the project, Tom Valenti. What started out as a $380 million plan for retail, office and residential space—plus a signature aquarium and satellite campus for Johnson County Community College—was rejected, scaled back, and rejected again—multiple times—before the council approved a $200 millio plan in October, one that envisions roughly 170 market-rate apartments set over small retail shops. But no Walmart and no aquarium. "This has been," said Valenti, no stranger to the concept of understatement, "a long, tough row to hoe."