Time for some Ingram's 250 math: What's i250 x 5? If you came up with 1,250, hats off to your grade-school math teachers—their lessons clearly took hold. But with this being the fifth year of our recognition of the 250 most powerful and influential executives in the Kansas City region, the correct answer is . . . 410.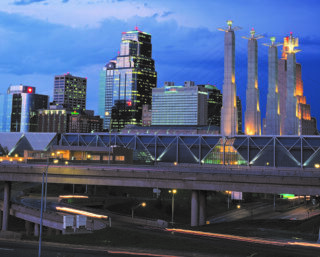 If you take the math thing one step further, that tells you that 160 high-powered executives from this area have been recognized in the past, but not this year. And that number should tell you that the ranks at the highest levels of prominent organizations are undergoing some significant revolving-door action.
Inclusion in the Ingram's 250 in any one year is gifted to no one in perpetuity. In just that short span, retirements, out-of-market moves, declining business fortunes—and sadly, on occasion, even death—all have chipped away at the year-to-year field, leading us to the 2020 iteration of the i250.
It's never an easy task to balance concepts of power and influence to produce a field like this. In some cases, the power is raw and visible: pure financial throw-weight. In others, it's the impact they have at organizations generating well north of $100 million in annual revenues, creating the jobs that thousands of workers depend on to take care of their families. In still others, it's the ability to influence public policy and the business conditions that help create wealth across a geography of 2.2 million people. And in a select few, it's the ability to influence some of the biggest corporate entities and non-profit organizations by dint of board membership, civic engagement and non-profit philanthropy.
But why, you might ask, does a ranking like this matter? Simply put, we think it's a declaration to the rest of the planet that the Kansas City region is home to world-class business executives and thought leaders, a level of talent we're confident is the collective match of that in any city you can name, anywhere. Almost to a man or woman, these are the power brokers who lead organizations that are attaining measurable levels of success and growth.
Through their work, the blessings of capitalism are realized for owners, shareholders, employees and stakeholders of all types. In the end, their organizational excellence elevates the entire region's commercial success, vibrancy and quality of life.
So, yes, we think it matters. From this group—comprising bankers, lawyers, health-care executives, commercial realty deal-makers, builders, designers, wealth managers, educators and many, many others—we see elevated performance that's worth bragging about. From us, then, to the world, meet the 2020 iteration of the Ingram's 250. Their stories, particularly in this most challenging of years and business climates, should provide guidance and inspiration for anyone who wants to know what it takes to succeed.
---
The Ingram's 250 for 2020
Rob Adams
PRACTICE CO-CHAIR, SHOOK, HARDY & BACON
Ranked by numbers of lawyers in Kansas City, Shook, Hardy& Bacon has long been the No. 1 firm. And among its leading rainmakers—those who bring in more transaction volume than they can service on their own—is Rob Adams. This veteran of the legal arena is co-chairman of the general liability litigation practice, a pillar of the firm's service lines. He's gone to battle to litigate cases against automotive, construction, insurance and pharmaceutical companies.
COLLEGE: B.A., University of Kansas; J.D., University of Missouri-Columbia
SUPER STAR: For 16 consecutive years, starting in 2005, Adams has been included in the Super Lawyers rankings of the nation's leading legal figures. More than 70 practice areas are assessed in determining those with a high-degree of peer recognition and professional achievement.
TOP OF HIS FIELD: Adams was Missouri Lawyers Weekly 2006 Missouri Lawyer of the Year.
COURTROOM VETERAN: Adams' workload down to general 50 percent general litigation, 30 percent business litigation and 20 percent intellectual-property litigation, according to the rating service.
IN HIS DNA: "I was fortunate to grow up with a father who was a great trial lawyer," Adams says.
LESSONS LEARNED: He once told us that losing a case proves two things: "First, a trial lawyer learns more from the cases lost than the cases won. Second, my wife is correct in stating that I need therapy. And lots of it."
---
Mayra Aguirre
CEO, HALL FAMILY FOUNDATION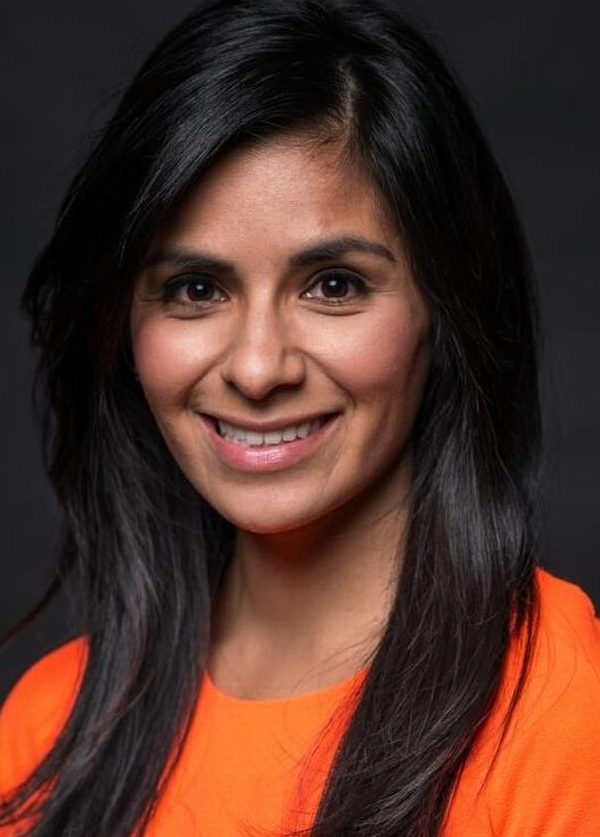 This year came with multiple milestones for Mayra Aguirre. A long-time executive in the region's non-profit sector, she had an addition to the family, then in July was named to succeed Bill Hall as president of one of the biggest philanthropic foundations in the city, after serving four years as vice president. "This is more than a job," she said. "It's really a calling." With $812 million in assets, the foundation focuses on early and K-12 education, higher education, children, youth and families, the arts and health.
COLLEGE: B.S., Business Management, Emporia State University; J.D., University of Kansas School of Law
BIG SHOES: Aguirre is tasked with picking up where Bill Hall left off after an impressive 38-year run as the foundation's president and assistant to Hallmark's chairman.
HIGH PRAISE: "Mayra's deep-seated passion for truly making a difference in Kansas City, and her ability to collaborate so effectively with others will make her a great addition to the civic community," executive chairman Don Hall, Jr. said in announcing her appointment.
THE PATH TO HALLMARK: Aguirre has served as senior program officer at the Greater Kansas City Community Foundation, Executive Director of the Greater Kansas City Hispanic Development Fund and a coordinator at Mid-America Regional Council's Metropolitan Council on Early Learning.
---
David Alvey
CEO/MAYOR, UNIFIED GOVERNMENT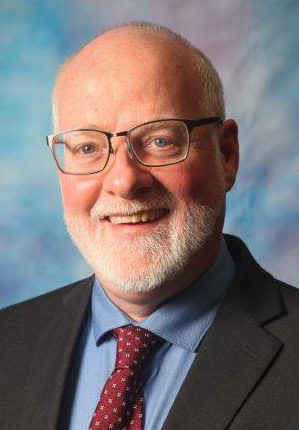 David Alvey has a unique public-sector role: Mayor of Kansas City, Kan., and CEO for Wyandotte County's Unified Government. His family's Wyandotte County roots stretch back to 1857, and he's determined to see every constituent cared for in the era of COVID. Says Alvey: "The leadership challenge from the beginning has been to muster the political will and material resources necessary to prevent the spread of the disease and the damage it can bring."COLLEGE: Philosophy and Letters, St. Louis University (summa cum laude)
ON LEADERSHIP: "I believe my time as Dean of Students at Rockhurst High School trained me to attend to the fundamentals of any crisis, such as this virus."
COVID & CULTURE: "The decline in sales tax revenues that we have experienced necessitated major reductions in expenditures, including furloughs for a large number of our employees, and of course reductions in services that go along with fewer persons to do the work. Nevertheless, our people are working to become more efficient, but they are strained."
COVID IMPACT: "So much more time at the computer and on the phone. I miss seeing people."
SILVER LINING: "I am still looking for people of all political persuasions to commit to a shared vision of the common good. When we do not, we cannot move forward because we are not together."
---
Mauli Agrawal
CHANCELLOR, UNIVERSITY OF MISSOURI-KANSAS CITY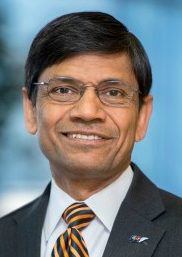 Mauli Agrawal runs an institution that has come a long way since its first graduating class of 80, back in 1936. Today, students from all 50 states and more than 85 countries come here to pursue 125 areas of academic interest. In addition to his administrative skills, Agrawal is a distinguished specialist in orthopedic and cardiovascular biomaterials/implants, authoring more than 300 scientific publications and 29 patents, both issued and pending.
COLLEGE: B.A., Technology, Indian Institute of Technology; M.S., Mechanical Engineering, Clemson University; Ph.D., Mechanical Engineering, Duke University
PANDEMIC CHALLENGE: "Keeping our UMKC community safe and managing significant financial losses, while ensuring that the educational mission is not interrupted."
COVID IMPACT: "It is likely that we will have more hybrid courses in the future, drawing upon the best of face-to-face and online education."
SILVER LINING: "It is forcing us to look at education delivery in new ways and conduct office work much more efficiently."
PERFECT WEEKEND: "Enjoying the outdoors and nature in a quiet fashion with family. COVID has also made me realize how much we have to be thankful for—the majesty of nature, for instance."
ANOTHER ERA YOU'D VISIT: "Would be fun to see dinosaurs!"
---
Matt All
PRESIDENT/CEO, BLUE CROSS BLUE SHIELD OF KANSAS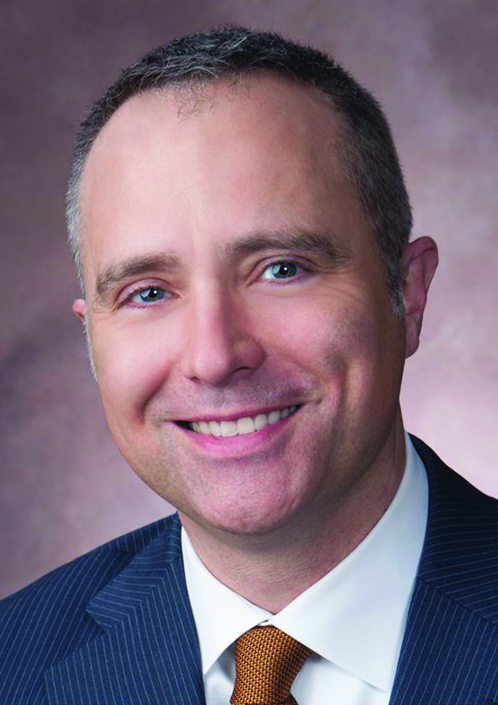 Two years into the CEO job at this vital Kansas health insurer and Matt All has a pandemic on his hands. He has answered the challenge with a keen perspective: "In the end, we're not going to be remembered for the specific decisions we made; we're going to be remembered for what we stood for," he says. The vast majority of his 1,500 employees were sent home to work remotely, and it has worked. "We've kept the trains running in a challenging time," All says. "We're determined to be stronger and better as a result."
COLLEGE: B.A., Political Science, University of Kansas; J.D., Yale Law School
ON INDUSTRY TRENDS: "The most significant change has been a greater reliance on telemedicine. We quickly made a wide array of changes to make telemedicine easier for patients and providers. The real question is whether more people will use telemedicine when this is all behind us."
SILVER LINING: "There's something beautiful and sacred about overcoming an enormous challenge with others, whether it's your colleagues at work or your family at home. You form bonds and memories that you probably wouldn't otherwise. We'll never forget what we've gone through together."
PERFECT WEEKEND: "It's to be home with my wife and five kids, just living life. There's truly nothing better for me than just ordering a pizza and having movie night with the whole family."
FAVORITE CHILDHOOD TOY: "Hands down, the Mego U.S.S. Enterprise Star Trek playset I got for Christmas when I was four years old. Don't tell anyone this, but I still have it."
---
Don Armacost Jr.
PRESIDENT/CEO, PETERSON MANUFACTURING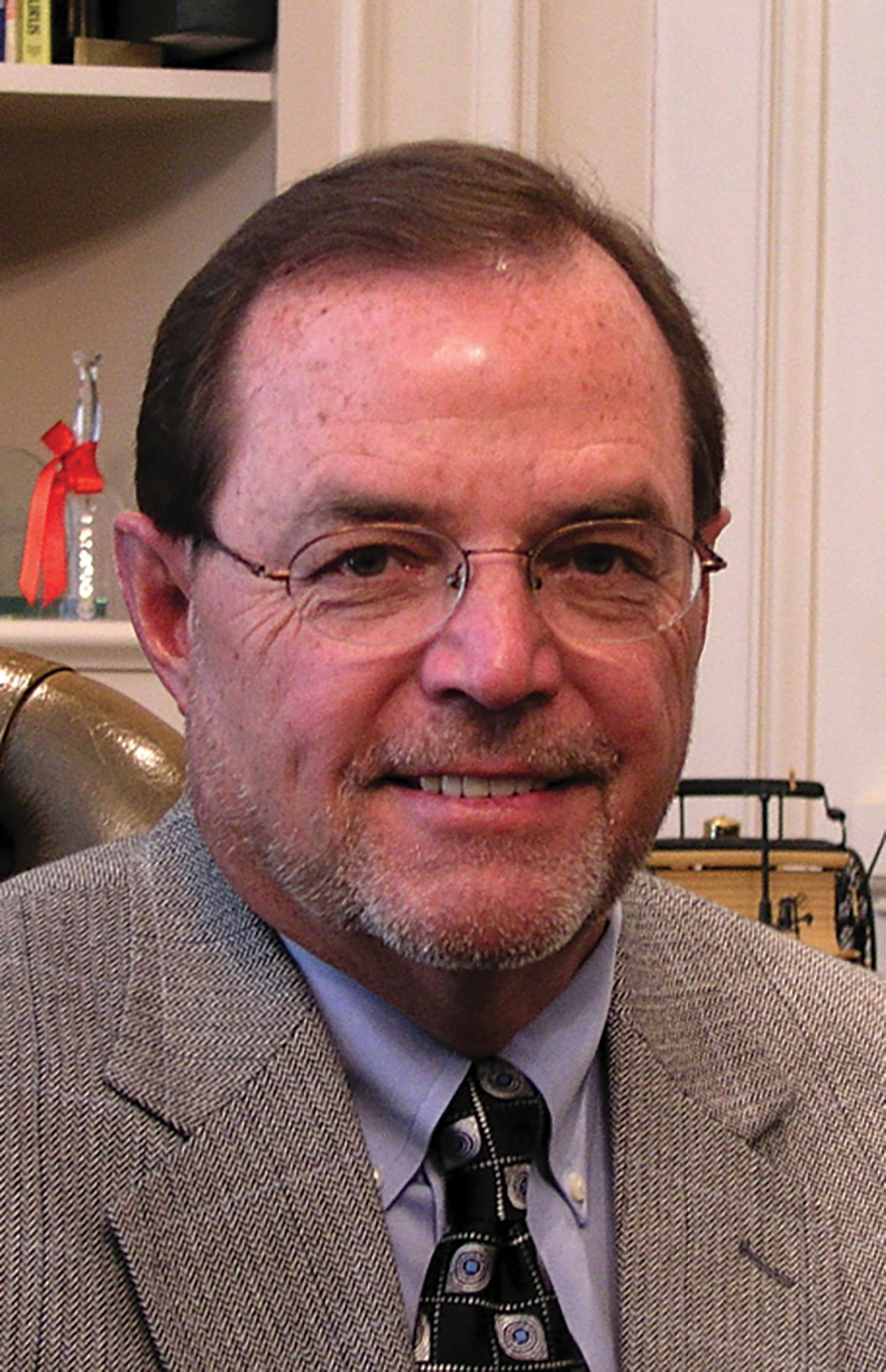 People who don't know any better, Don Armacost Jr. told an interviewer this year, will address him as "Mr. Peterson." Hard to figure, given the number of Armacosts working at the vehicle-lighting manufacturer, and a family history that runs four generations deep. But the little shop Armacost's grandfather acquired in 1956 has grown up under that family leadership: Don Jr. leads a team of more than 600 employees operating in seven divisions.
DRIVEN TO GIVE: The family's collection of vintage automobiles is on display at the private Armacost Museum, a venue for non-profit events in the Kansas City region, covering 44,000 square feet.
CUT THE CAKE: The company celebrated its 75th anniversary this year; it was founded by Wilbur Peterson in 1945. Armacost's father secured a loan from Crosby Kemper, bought the company and put his 14-year-old son to work, pushing a broom, for 75 cents an hour.
FOOTPRINT: At 670,000 square feet, the company's headquarters and manufacturing space is among the biggest buildings in Grandview, and it's the city's largest private-sector employer. All told, the company produces 2,200 lighting, safety and vehicle accessory products.
ON THE INGRAM'S 100: Peterson Manufacturing enjoyed a banner year in 2019, with revenues up 21.62 percent over 2018, hitting $225 million.
---
Adam Aron
PRESIDENT/CEO, AMC ENTERTAINMENT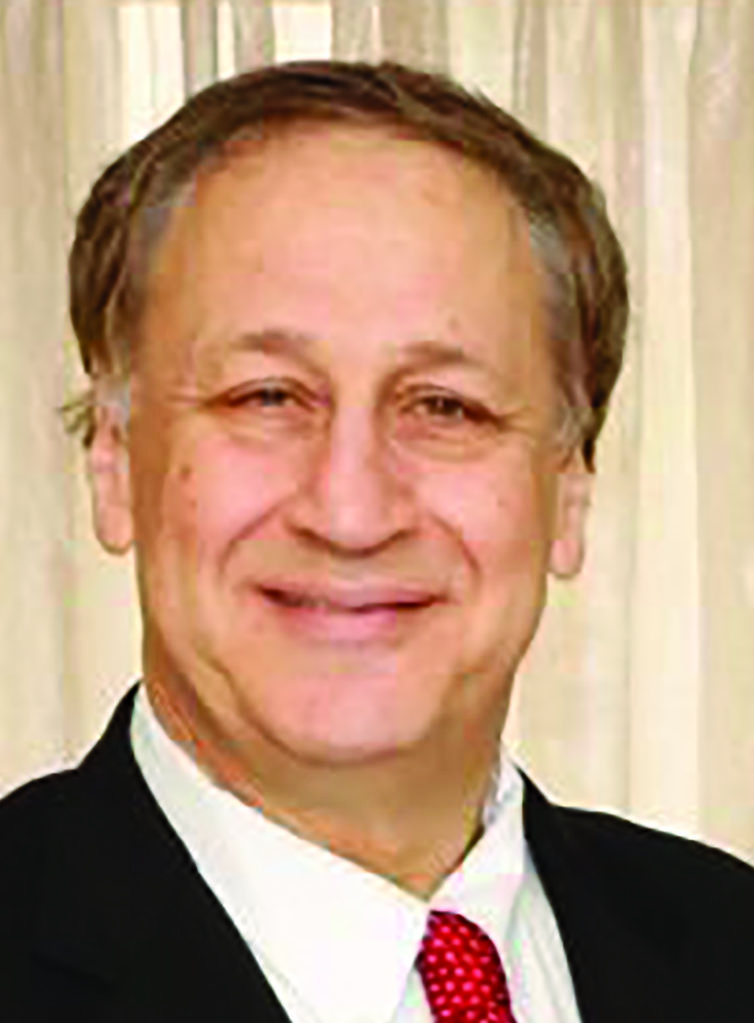 Perhaps no executive in the Kansas City region has been more challenged by the COVID-19 economy than Adam Aron. AMC Entertainment saw its revenue stream literally vanish in March, as nations around the globe shut down mass-gathering venues. That was a recipe for crisis at the world's largest theater chain, with more than 1,000 global venues. But theaters started reopening in August, bringing in a trickle of cash to re-prime the pump.
STOCK SWING: On Feb. 19, shares of AMC stock hit their 2020 peak at $7.76. Less than 45 days later, they had cratered to nearly 75 percent, to $2.08. But investors regained confidence as the pandemic progressed, and the price reached nearly $5.50 in late August.
PERSONNEL PAINS: A lot of companies had to lay off or furlough workers during the worst of the pandemic, but few had to do it on AMC's scale. To keep the organization afloat, Aron had to idle more than 30,000 workers worldwide, including the corporate staff of 600 in Leawood—and himself.
FAVORITE HOLIDAY: "Christmas," Aron says. "It brings out the best in people, for a month or more."
KANSAS CITY REALLY NEEDS: "A revitalized, modern, attractive, pedestrian-friendly urban core in the heart of the city center."
---
David Ball
PRESIDENT/CEO, BALLS FOOD STORES
Hen House, Price Chopper, Sun Fresh, Payless Discount—the flags flown by Balls Food Stores at 27 metro locations speak to the influence of one of the region's biggest grocery concerns. At the controls of that ship is David Ball, the third-generation leader of the company based in Kansas City, Kan. Though the company doesn't disclose revenues, if it's hitting industry averages of $455,777 a week in each building, it would be flirting with $640 million in sales volume.
COLLEGE: B.A., Personnel Administration, University of Kansas
STARTING SMALL: Sidney and Mollie Ball began the family's corporate legacy when they opened a small grocery store in KCK back in 1923, at Sixth and Stewart streets.
JOBS GIANT: Balls Food Stores is a major employer in the Kansas City region, with an estimated 4,000 people on the payroll.
DON'T FORGET DESSERT: In addition to the grocery stores, Balls Food Stores includes Tippin's Gourmet Pies. Our vote: The Chocolate-Walnut (known as Dixie or Derby in earlier incarnations).
CHARITABLE STRIPE: The Ball family has long been connected with KVC Health Systems, going back to its founding days, and David has served as executive chairman for the non-profit's board.
PRICE PIONEERING: Fred Ball, the second-generation owner, introduced a warehouse-style shopping venue with the launch of the early Price Chopper model nearly 50 years ago.
---
Kevin Barth
CHAIRMAN/CEO KANSAS CITY REGION, COMMERCE BANK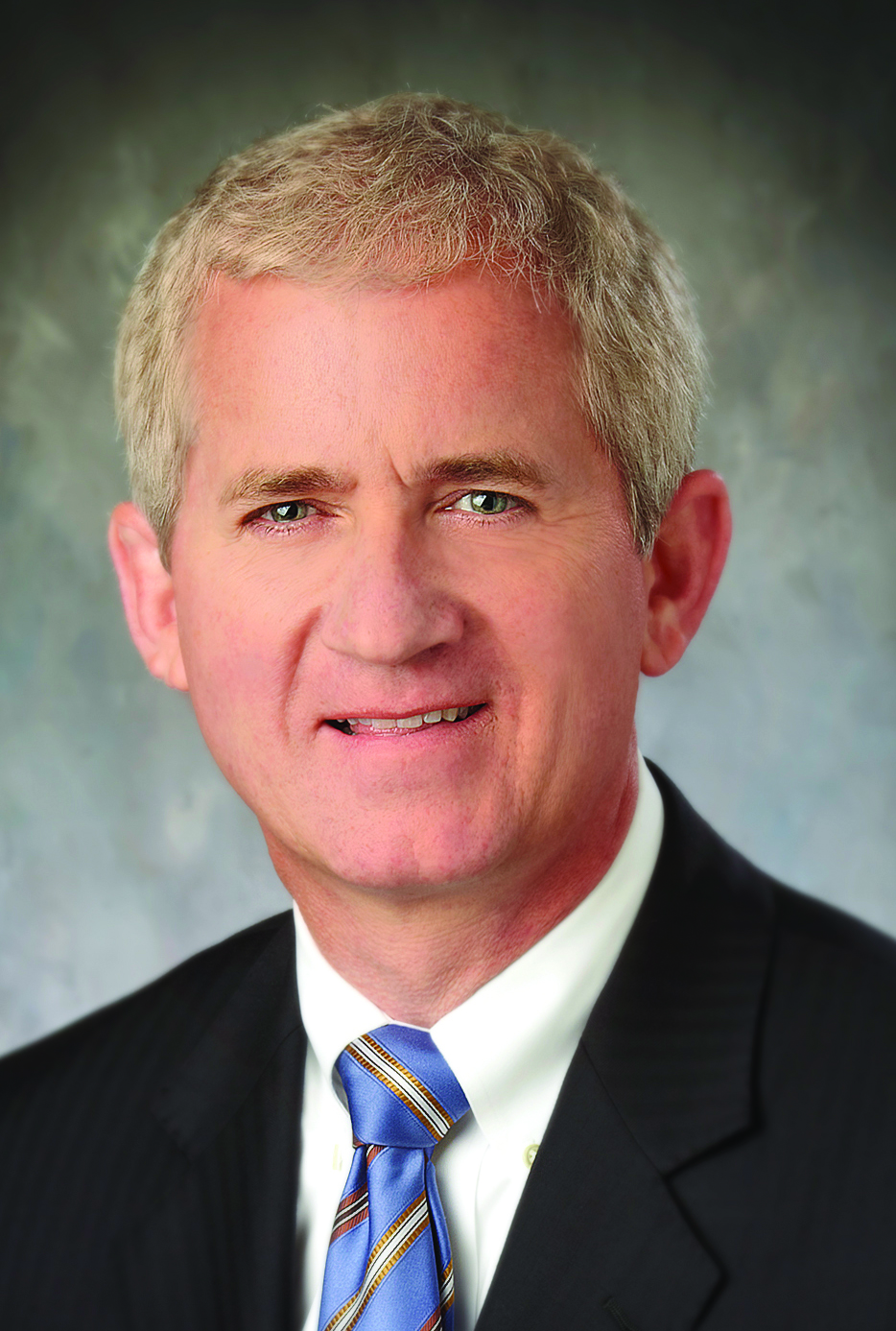 Kevin Barth has made a lot of calls during his executive tenure at Commerce Bank, but the best business decision he ever made, hands down, was "joining Commerce Bank's management training program 35 years ago," he told us. A member of Ingram's inaugural 40 Under Forty recognition back in 1998, Barth has risen through the ranks to oversee Kansas City operations for a banking system that has surpassed $30 billion in assets, 173 branches and operations in seven states.
COLLEGE: B.S., Business Administration/Economics, Graceland College; MBA, Rockhurst University
COVID RESPONSE: Barth's lending team quickly swung into action in the spring, with passage of the federal Paycheck Protection Program. In just the first installment of that initiative, Commerce Bank secured SBA funding of approximately $1.5 billion for 4,529 customers, with median loan size of $64,000.
BATTERY RECHARGE: "I recharge by being active in many ways: hiking, biking, scuba diving, gardening, paddle boarding or just about anything outdoors.
IDEAL DINNER COMPANION: "Not necessarily a historical figure, but my grandfather. I would like to know more than I do about my ancestry."
FAVORITE HOLIDAY: "Christmas, Halloween and St. Patrick's Day."
---
Jeff Auslander
PRESIDENT/CEO, DYNAMIC LOGISTIX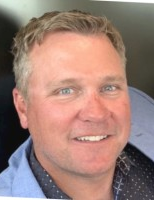 Not every business has been slammed during the health crisis of 2020: With on-line sales soaring, shipping has boomed. It has added an increased sense of urgency for Jeff Auslander and his team at Dynamic Logistix, a company with urgency in its DNA. "I've got an affliction of never being satisfied," says Auslander. "And that trickles down. The people here, they're competitors; they always want to get better."
COLLEGE: B.S., Journalism, University of Kansas; MBA, Baker University
KICKING IT: The company was Kansas City's fastest-growing in 2018, and a Top 10 repeater in 2019.
GRANULAR FOCUS: "We manage with budgets and stuff like every company does, but on a micro level—we manage on a weekly basis, not monthly, not quarterly. Again, that creates the sense of never-ending urgency."
WINNING ATTITUDES: "The challenge is finding the right kind of people—our biggest thing we look for is competitors. If someone has competitive drive—and we do personality tests to figure that out, as well as interview them—those are the people we want. We have a lot of focus on former college athletes, they are just competitive people. They don't take losing well; they want to win."
---
Whitney Bartelli
CMO, COMMUNITYAMERICA CREDIT UNION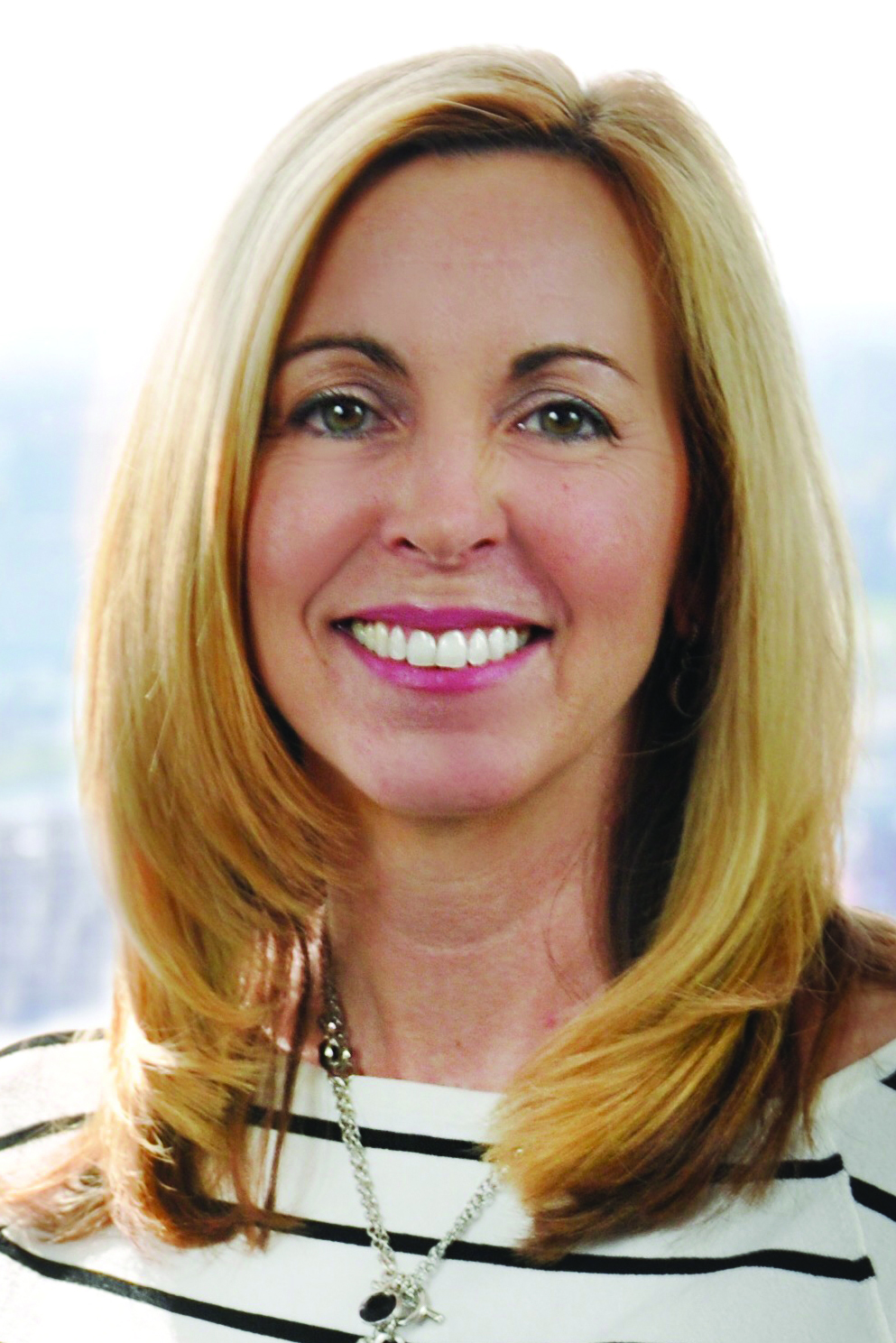 "A crisis," says Whitney Bartelli, "can often bring out the best in people and bring them closer together, serving as a catalyst for appreciating some of the seemingly 'little' things we may have taken for granted previously. That has certainly proven true for me." Just this month, she left her position at the helm of Bank Midwest to sign on with CommunityAmerica, the largest credit union in the Kansas City market, as CMO and chief strategy officer.
COLLEGE: B.F.A., Communications, Pittsburg State University
COVID & CULTURE: "A crisis without a proven playbook will test all leaders. Those who rise to the challenge collaborate with the right subject matter experts, act quickly based on facts and information–all while maintaining a strong focus on the well-being of their associates, clients and communities."
PERFECT WEEKEND: "I've developed an even greater appreciation for the outdoors and quality family time during the pandemic. I love taking walks with my family (and our dogs–and embarrassed to admit, even our cat in a kitty stroller!) and enjoying one another's company."
FAVORITE SONG: "As a child of the '80s, I'm a sucker for Journey and their epic hit, "Don't Stop Believin'."
---
Terry Bassham
PRESIDENT/CEO, EVERGY-KCP&L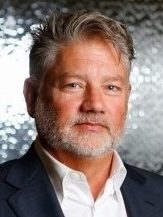 When he heads off into the sunset on his Harley—he announced his retirement in late August—Terry Bassham will leave behind a legacy of vision and determination. He saw an opportunity to merge Great Plains Energy with Topeka-based Westar Energy back in 2016. After regulators in Kansas shot that down his team was back a year later with a new proposal, secured regulatory approval, and merged the two entities in 2018, rebranding as Evergy.
THE LADDER UP: After joining Great Plains in 2005 as CFO, this native Texan became CEO in 2012 and chairman a year later.
BOARD BARON: In addition to Evergy's board, Bassham has seats on the boards for Commerce Bancshares, the Kansas City Symphony, Urban Neighborhood Initiative/Purpose Built Communities, and KC Scholars.
BROAD REACH: Now spanning a service territory from north-central Missouri to south-central Kansas, Evergy provides utility service to a combined 1.6 million customers from the merged utilities.
GOING GREEN: Official say Evergy generates nearly half the power that goes to homes and businesses with emission-free sources.
HOLDING THE LINE: The merged company now offers residential electricity at 11.75 cents per kilowatt hour in the Kansas City area, slightly below the national average of 11.92 cents.
---
Jim Bartimus
PARTNER, BARTIMUS FRICKLETON ROBERTSON RADER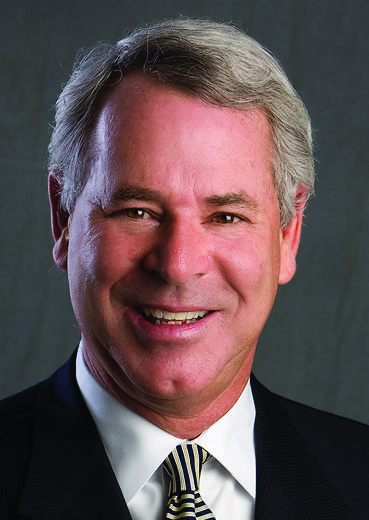 People wronged in the world of medicine have a true champion in Jim Bartimus. "Every day, people walk in who have suffered a catastrophe or a tragedy," he says. "My motivation is to try and help them." This Vietnam-era Navy veteran took his medical malpractice education so seriously, he enrolled in medical school for an understanding of anatomy and physiology. He has helped hundreds of families and actually changed both law and medical procedures across the country.
COVID & CULTURE: "Part of what makes our office so great is our 'community first' attitude—and despite the setbacks and challenges COVID-19 has created for our law firm, we have maintained loyal to that core principle."
WORK-FLOW CHANGES: "The time apart has fostered a greater respect for in-person interaction. While we try to create connections and build relationships from a distance, you simply cannot replace in-person work meetings or chats over coffee in between cases. I don't think we will ever take that for granted again."
CRYSTAL BALL: "I hope that 2021 will bring more kindness."
PERFECT WEEKEND: "Sitting on our back patio, sipping some wine, family—particularly my granddaughter, Sutton—and thinking (wishfully) of breaking 80 the next day on the course and always watching the sunset with my wife."
---
Jonathan Baum
PRESIDENT/CEO, BAUM CAPITAL
The past year saw a new chapter in the story of Geo. K. Baum & Co., which for more than 90 years was a major regional player in the taxable and tax-exempt municipal bond markets. Jonathan Baum, grandson of the firm's founder, led the asset sale to St. Louis-based financial-services giant Stifel. Now, Baum plies his financial acumen in the capital markets; he long served as director of investment banking for the company's investment wing.
COLLEGE: B.S., Kansas State University; MBA, University of Chicago
COVID CHALLENGE: "Effective communicating using all available tools to stay in touch was paramount. Baum Capital and its investment companies have more than 800 employees and we remain engaged in virtual team meetings including town halls to stay connected."
COVID & CULTURE: "The Baum Capital team has not been back to the office since March 14th. We have effectively used cloud-based tools to stay connected and productive. We have two regular weekly meetings and we have held one virtual team building session. While we miss each other and the camaraderie of the team, we remain highly productive."
PERFECT WEEKEND: "Outside activities—working in my apiary, gardens, or walking with friends."
ULTIMATE DESSERT: "Anything dark chocolate-centric."
---
Smitty Belcher
CEO/OWNER, P1 GROUP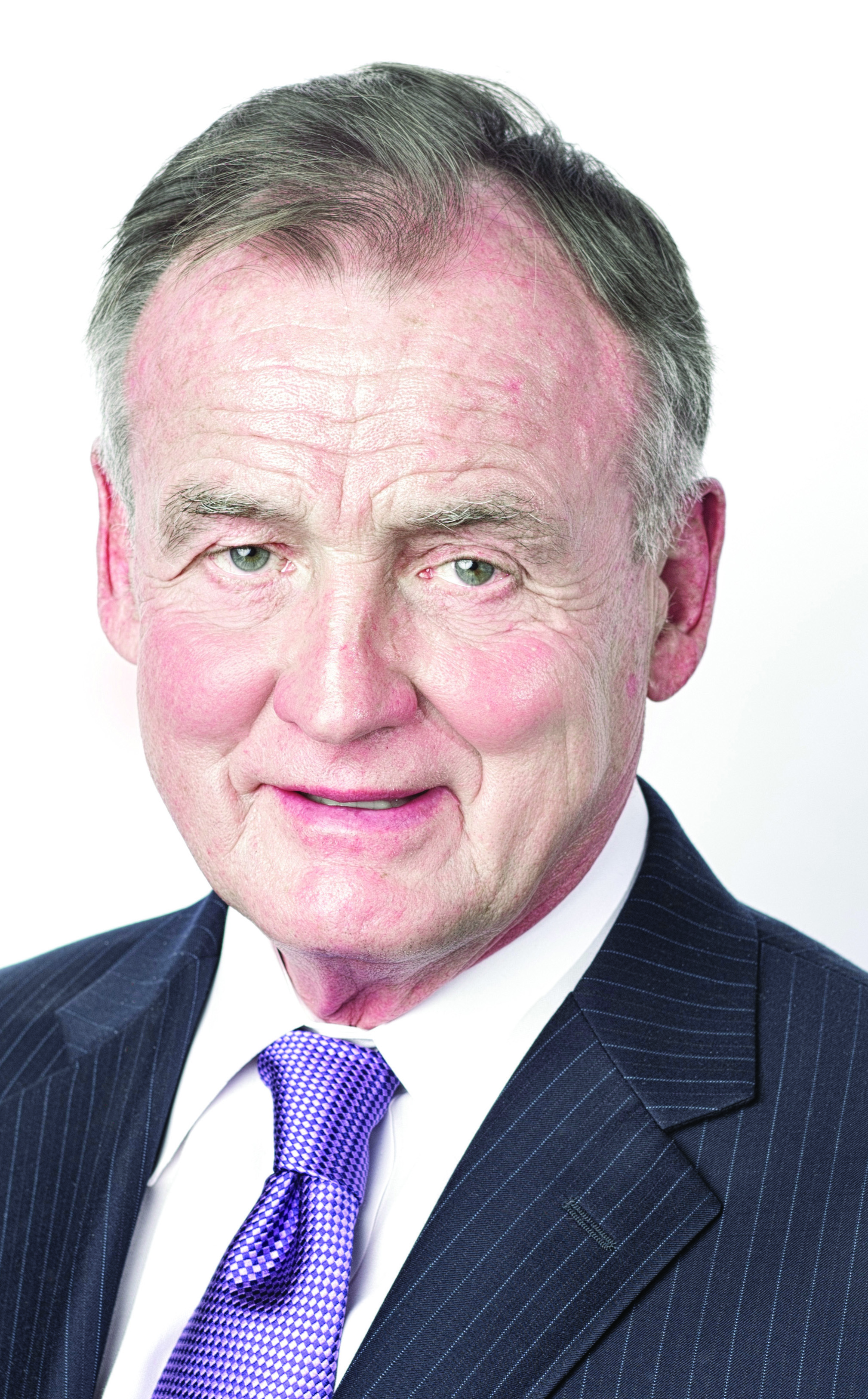 The best business decision Smitty Belcher says he ever made at P1 Group was "diversifying the business into multiple markets while providing MEP services. If one or two markets have times when they are less successful, the others help keep things solid, providing stability for the company and our associates." Can't argue with the results: Revenues in 2019 went north of $300 million for the first time ($305 million), and P1 employs roughly 275 in this area, and 1,385 nationwide.
COLLEGE: B.S., MBA, University of Toledo
THE PATH TO OWNERSHIP: Belcher, originally a pipefitter from Toledo, Ohio, bought Lawrence-based Huxtable & Associates in 1983 and formed P1 in 1998.
FAVORITE HOLIDAY: "Thanksgiving: It's a time for family. I am fortunate enough to have two families: my P1 family and my biological family. While I spend much of my year with my P1 family, Thanksgiving is a time to spend with my biological family—something most of us don't get to do often enough throughout the year."
RETIREMENT, DAY ONE: "An uninterrupted day—no email, no phone calls—enjoying the simple pleasures at home with my wife, Donna."
ABOUT P1 GROUP: The mechanical-electrical-plumbing construction firm ranked 119th on last year's Engineering News-Record's Top 600 Specialty Contractors list.
---
Marion Battaglia
PRESIDENT, SOAVE AUTOMOTIVE GROUP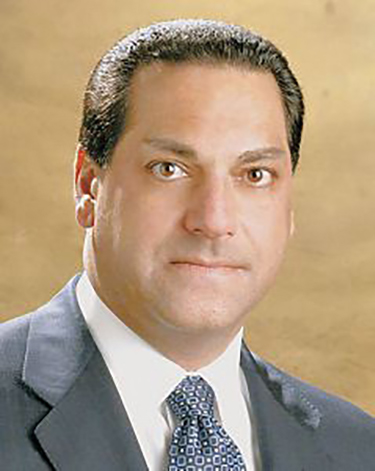 Think you can't sell cars with your showroom closed? Ask Marion Battaglia."We sent out a lot emails, and communication by phone," says the top exec a Merriam's Aristocrat. "We even went on the road in April, because people weren't bringing their cars in for service, they weren't leaving their houses. So we did pickup and delivery." Early closings and tailored staff hours also provided breathing room until the showroom could open up again.
COVID IMPACT: "It's not fair; it's a different world out there. Nothing like this could have been anticipated, and you couldn't know how you would handle it until it occurred."
COVID CHALLENGES: "With the different counties weighing in with different policies, and half our customers in Missouri and half in Kansas, it became difficult to understand who would go with what restrictions on business activity. We had to lock our showrooms to walk-in traffic, and the sales staff had to work by Internet and phone."
REASONS TO HOPE: "The car business, for some reason, really has come back in the last two months. It's really good again."
KEYS TO SUCCESS: "Customers are looking for consistency. If you're providing great service and providing consistent service, I think that's what they are looking for the most."
---
Kimberly Beatty
CHANCELLOR, METROPOLITAN COMMUNITY COLLEGE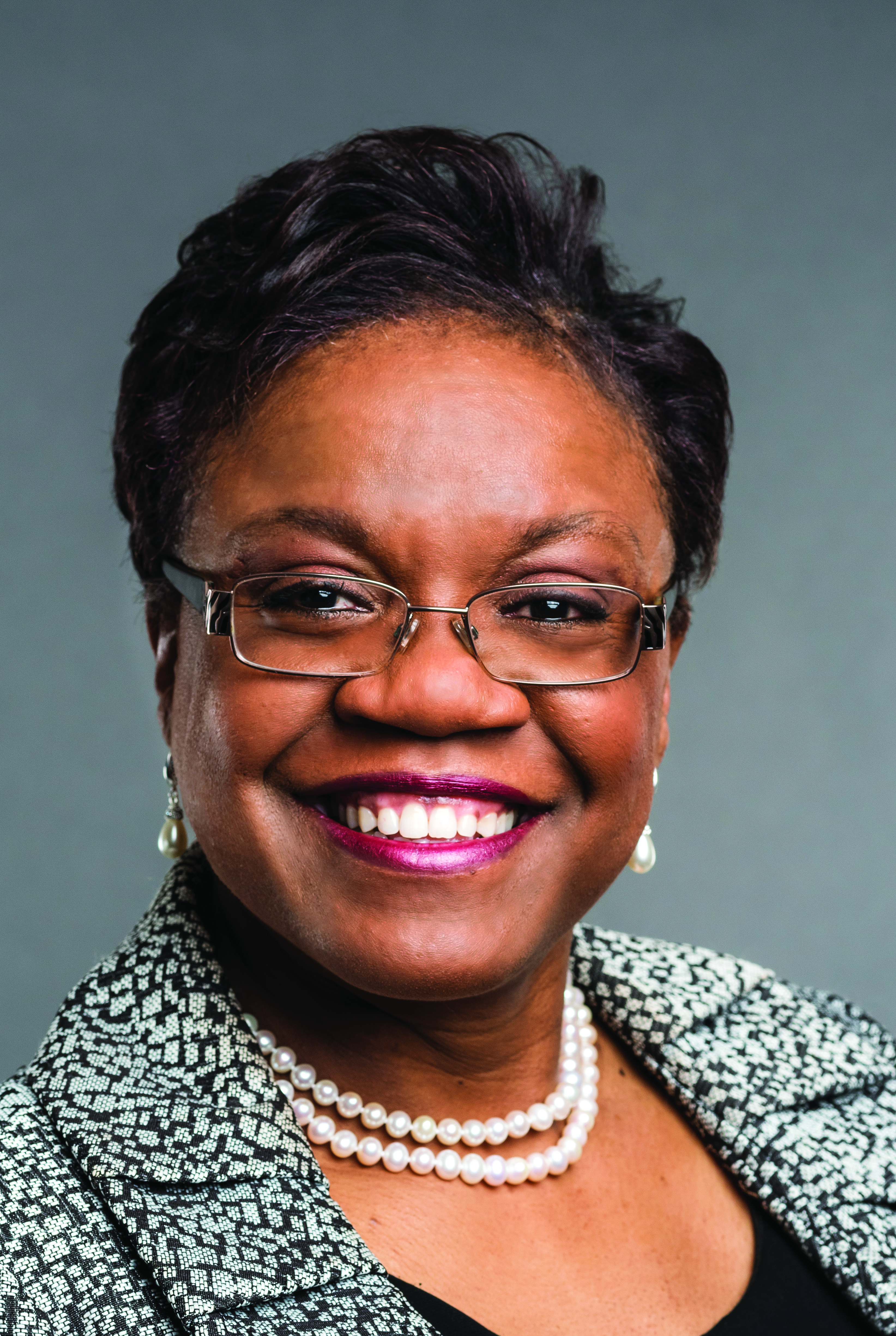 Kim Beatty came to Kansas City in 2017 to lead the five-campus community college system that is a key driver of work-force education. She quickly came to realize that something was missing here: collective self-esteem. "This city is amazing; however, most people in the country don't know it." She's trying to change that with her work overseeing a system providing instruction for more than 16,000 students.
COLLEGE: B.A., M.A, English, Ed.D., higher education, Morgan State University
IDEAL DINNER COMPANIONS: "Barack and Michelle Obama. From Barack, I think I could learn about the challenges for leading as an African-American who must be balanced in judgment and lead for all, even when there are situations that are very unfair to a group to which you are associated. For example, during his leadership, I believe the police brutality toward African-Americans sky-rocketed. I have heard him speak about the personal impact that had on him; however, his leadership and decision making had to be for all, not one group. Michelle was the master of leading with grace. I will never forget her saying, "when they go low, we go high!" These are words I try to live by.
FAVORITE HOLIDAY: "Christmas."
RETIREMENT, DAY ONE: "Take a cruise around the world."
---
Mark Benz
KC MARKET PRESIDENT, PRIME HEALTHCARE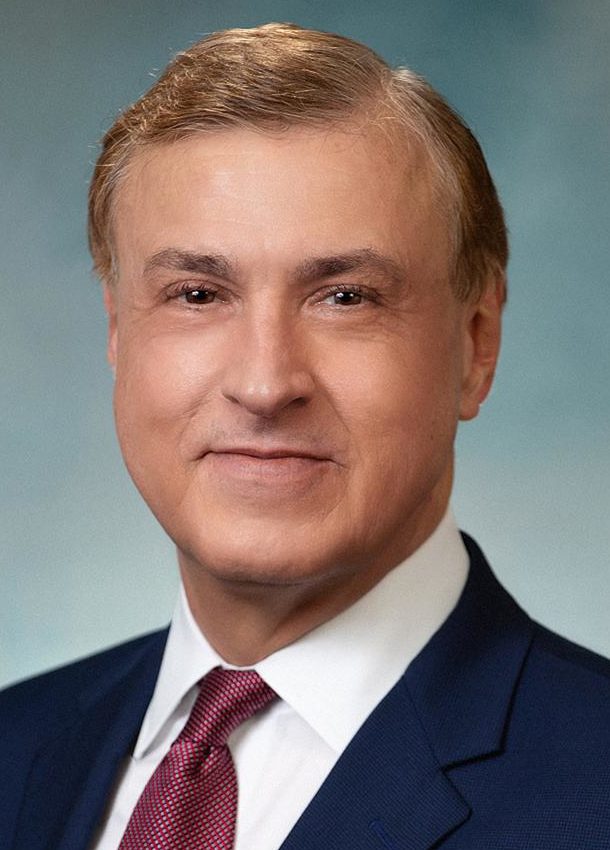 New to the market and debuting on the Ingram's 250, Mark Benz is Prime Healthcare Services' point man for the four hospitals it owns in this region: St. Joseph Medical Center and St. Mary's Medical Center on the Missouri side, and Providence Medical Center and Saint John Hospital on the Kansas side. They combined for 22,000 patient admissions last year, and more than
$2 billion in revenues.
COLLEGE: B.S., Social Work/Organizational Development; M.S., Social Work/Healthcare Administration, Arizona State University
EARLY ENTREPRENEUR: While still in high school, Benz was part of a group that created a behavioral health and chemical-dependency treatment service. He then worked his way through college and graduate school as a paramedic in Arizona.
THE ROAD TO KANSAS CITY: Benz has more than 25 years of health-care experience. His previous roles included market CEO for Tenet Healthcare/Carondelet Health Network in Tucson, Ariz.; CEO of Tenet's St. Joseph's Hospital in Tucson; and Frye Regional Medical Center in Hickory, N.C.
MARKET PRESENCE: Prime Healthcare's hospitals include 930 licensed beds, more than 900 physicians and 650 nurses, and 2,100 employees overall. In addition to the patient admissions, they serve more than 350,000 outpatients a year.
---
Brad Bergman
CHAIRMAN/CEO, MIDWEST TRUST
Midwest Trust is no longer just a name associated with financial services and investing; it's now the name of Johnson County Community College's center for performing arts. That change came after Brad Bergman and his wife, Libby, donated $1 million to the college this year; he sits on the JCCC Foundation board. A former commercial banker, lawyer and certified financial planner, Bergman has three decades of experience running trust companies.
COLLEGE: B.S., Illinois State; J.D., Washburn University
ABOUT MIDWEST: The firm provides financial guidance for organizations in education, health care, and historical preservation, with a focus on investment management, trust administration and wealth and retirement planning. Its FCI Advisors affiliate, part of MTC Holdings, manages more than $9 billion in client assets.
SERVICES: The firm assists clients with wealth management, retirement planning, Social Security optimization and IRA accounts.
OTHER ENGAGEMENT: Bergman's service record also includes time on the Blue Valley School District advisory board, the National World War I Museum's board of trustees, and the board for The Nature Conservancy of Kansas.
---
Steve Bernstein
PRESIDENT/CEO, BERNSTEIN REIN
BR describes itself as "entrepreneurs who see a problem and then invent a better way." And Steve Bernstein believes "better ways" will fuel the future: "Brands are going to have to be even more socially conscious," he says. "It will become even more important how you treat your associates, and even how you keep your associates and customers safe, no matter what product or service you are delivering."
COLLEGE: B.S., Business and Public Administration, University of Arizona; MBA and J.D., University of Missouri-Kansas City
PANDEMIC CHALLENGE: "Change has been significant and rapid. There has been a reduction in revenue (but not in need). As a result, we have needed to reduce our office space and ask a number of our associates to go from full-time to part-time. It has been very difficult on associates, whom we consider long-time family members, and consequently we have been asking fewer people to do even more. In spite of this, we have functioned well and seen success with our clients."
PERFECT WEEKEND: "Watching the next Chiefs Super Bowl Parade, huddled close with my family, of course!"
FAVORITE CHILDHOOD TOY: "Anything Star Wars."
ULTIMATE DESSERT: "Homemade ice cream."
---
Ken Block
MANAGING PRINCIPAL, BLOCK REAL ESTATE SERVICES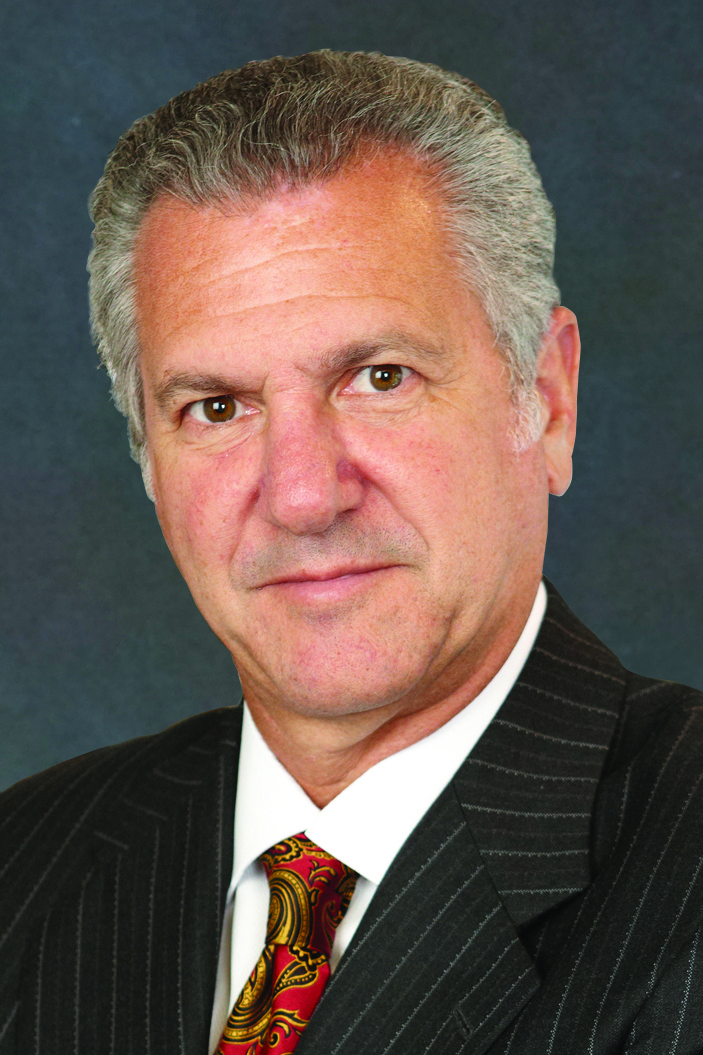 These days, Ken Block is focusing a lot on helping tenants in the firm's extensive portfolio of commercial buildings, such as medical offices, trying to work their way back after months of shutdown."With events not taking place and people not traveling, a lot of those businesses have struggled." Block, who leads the region's largest commercial realty firm, works closely with tenants and lenders on solutions while COVID-19 is still an issue.
COLLEGE: B.S., Michigan State University
PANDEMIC CHALLENGE: "Our leadership closely monitored the situation and had everyone working remotely before Kansas City had even announced its stay-at-home order back in March. We continue to communicate with our employees, lenders, tenants, investors, and clients to make sure they all know what we were doing."
SILVER LININGS: "The work ethic of our team at Block Real Estate Services and all of our sister companies has been excellent on the whole. We will get through this and our hope is to continue to make deals happen in the commercial real estate market both in KC and beyond."
PERFECT WEEKEND: "A round of golf, a Tito's and cranberry with my golf buddies, perhaps a little more golf, and then a great dinner with friends and family at one of our city's great restaurants or at Oakwood Country Club."
---
Bill Berkley
PRESIDENT/CEO, TENSION CORP.
Kansas City has a rich tradition of longstanding, family-owned businesses and Bill Berkley heads up one that stretches all the way back to 1886. Little did his great-grandfather, Bill Berkowitz, know that his envelope company would one day branch out to include packaging and automation and on a global scale. Since being awarded its first envelope patent in 1909—a shirt-packaging envelope—Tension has achieved more patents than all other envelope manufacturers combined.
COLLEGE: B.A., Colorado College; MBA, Dartmouth College-Tuck School of Business
COVID & CULTURE:  "Tension's associates have drawn together even more closely in support of one another as there is great concern for the health and safety of fellow associates."
COVID IMPACT: "In our manufacturing facilities we have in place strict coronavirus protocols to protect our associates, while those functions that can work remotely continue to do so."
SILVER LINING: "For a period of time all three of our children were home. It was a special time to be together."
ULTIMATE DESSERT: "My grandmother's lemon apricot cake."
---
Marty Bicknell
PRESIDENT/CEO, MARINER WEALTH ADVISORS
When your dad is Gene Bicknell, with a record of a dozen start-up companies, including one that would become the nation's largest Pizza Hut franchisee, entrepreneurship is part of your DNA. And Marty Bicknell used it to build a national wealth-management service. The firm he founded in 2006 with $300 million of assets under management now serves 40,000 clients from nearly 40 offices nationwide. And that AUM figure has grown to $22 billion.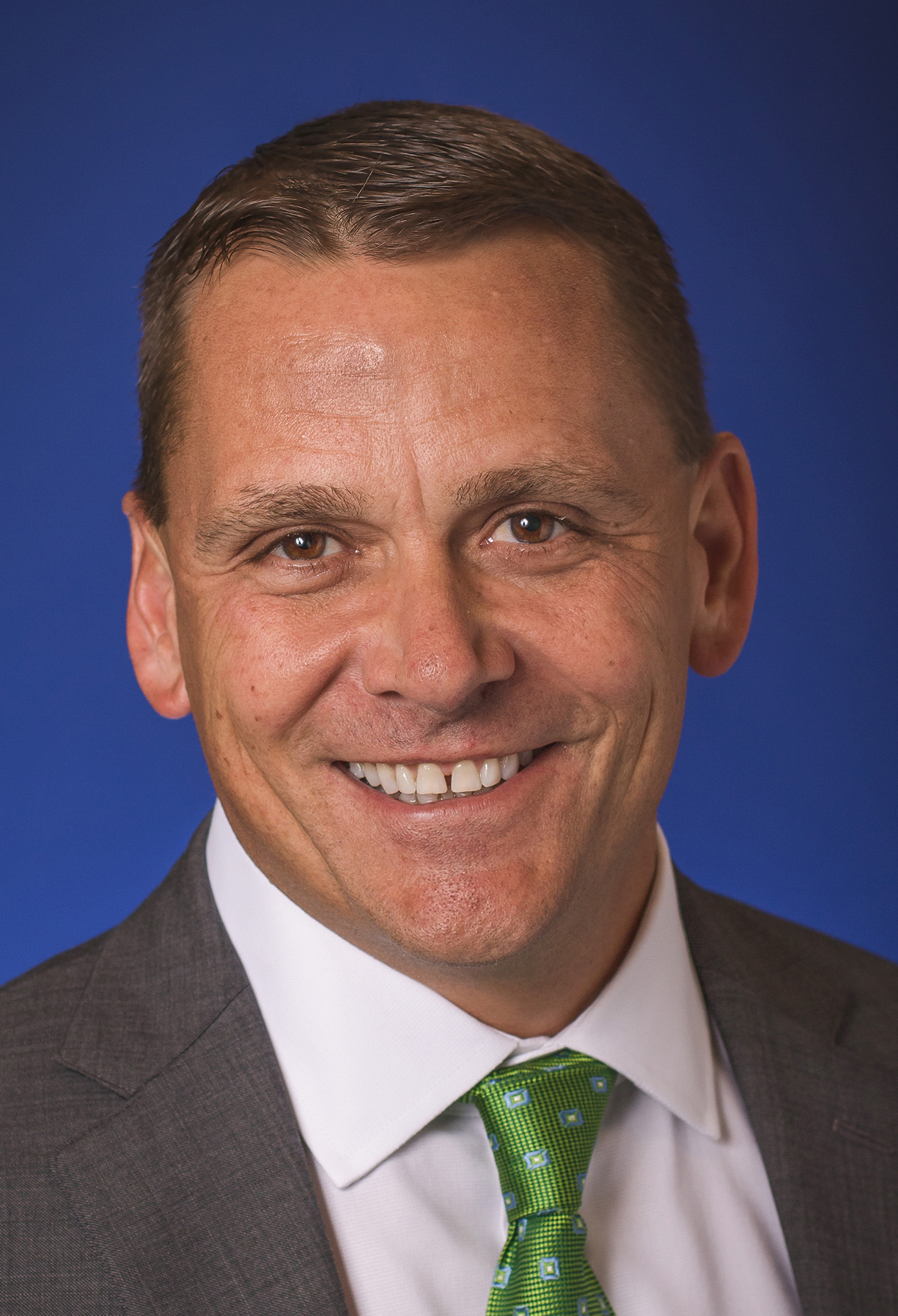 COLLEGE: B.S., Political Science, Pittsburg State University
DECADE OF DOMINANCE: Bicknell has cracked Barron's Top 100 Advisors list each year for more than a decade.
ORGANIC VS. ACQUISITION: While the firm is known for a vigorous pursuit of well-positioned smaller firms to bring into the fold (eight acquisitions in 2019), Bicknell told Barron's that the firm produced 19 percent organic growth in client numbers last year.
TECH FOCUS: Mariner and its affiliates have invested heavily in the fintech sector, backing nearly a score of wealth-tech startups.
THE NEXT BIG THING: Bicknell has teamed Mariner up with Dynasty Financial Partners to launch Mariner Platform Solutions, software for independent advisers, and he expects to quickly on-board hundreds of advisers and tens of billions in AUM.
---
Mark Bluhm
CHAIRMAN, LATHROP GPM
American business is changing, and events of the past half-year will continue to reshape things, especially in legal matters. So says Mark Bluhm, chairman of the oldest law firm west of the Mississippi, and an expert in business law himself. Among new matters of contention, he said, are the companies' ability to collect on insurance claims for business interruption, accessing federal and state aid programs, and boning up on force-majuere law.
COLLEGE: B.A., Stanford University; J.D., MBA, Washington University
BUSINESS BACKGROUND: The former CEO for the firm, Bluhm also co-founded a healthcare startup and was a bank director for 25 years.
SILVER LININGS: "Most individuals probably developed a greater appreciation of many aspects of their daily life previously taken for granted, such as family, health, social interaction, and simply the ability to go to work every day. Hopefully, this will lead to a more thoughtful and appreciative society."
PERFECT WEEKEND: "Right now, simply the ability to go anywhere indoors without a mask in a COVID-free environment!"
FAVORITE MUSICAL ARTIST: "Given the opportunity, I would arrange for "The Who" to perform at my "final concert." Their variety of music and passion would provide one last adrenaline burst."
---
Mike Boehm
MAYOR, CITY OF LENEXA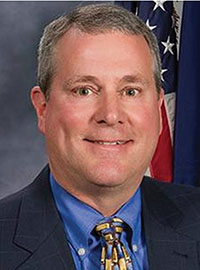 Mike Boehm isn't about to let COVID-19 put a damper on thriving Lenexa. "While our festivals have all been canceled, staff has found innovative ways to continue to keep the community together—virtually and/or socially distanced," he says. The key? "Partnering with local businesses, whether start-up or existing," he says. "Being flexible with codes and fees, to the extent possible, has kept Lenexa's economy moving forward."
COLLEGE: B.S., Business Administration, University of Kansas
PANDEMIC CHALLENGE: "Balancing the various needs/wants of a divided community has created a challenge for the elected officials and city staff. Unfortunately, the pandemic has taken on political overtones—especially with respect to mask-wearing and potentially shutting down the economy."
COVID IMPACT: "The city has remained open for business through the pandemic. Public safety remains a 24/7/365 necessity, and we've kept all departments open with a mix of on-site and remote workers. The parks and trails system throughout Lenexa have provided safe, active spaces for our residents."
PERFECT WEEKEND: "It varies: a quiet weekend at the lake with friends and a book; game day in Lawrence for a KU game; trying new restaurants."
FAVORITE CHILDHOOD GAME: "Operation."
---
Rob Broomfield
MARKET CEO, UNITEDHEALTHCARE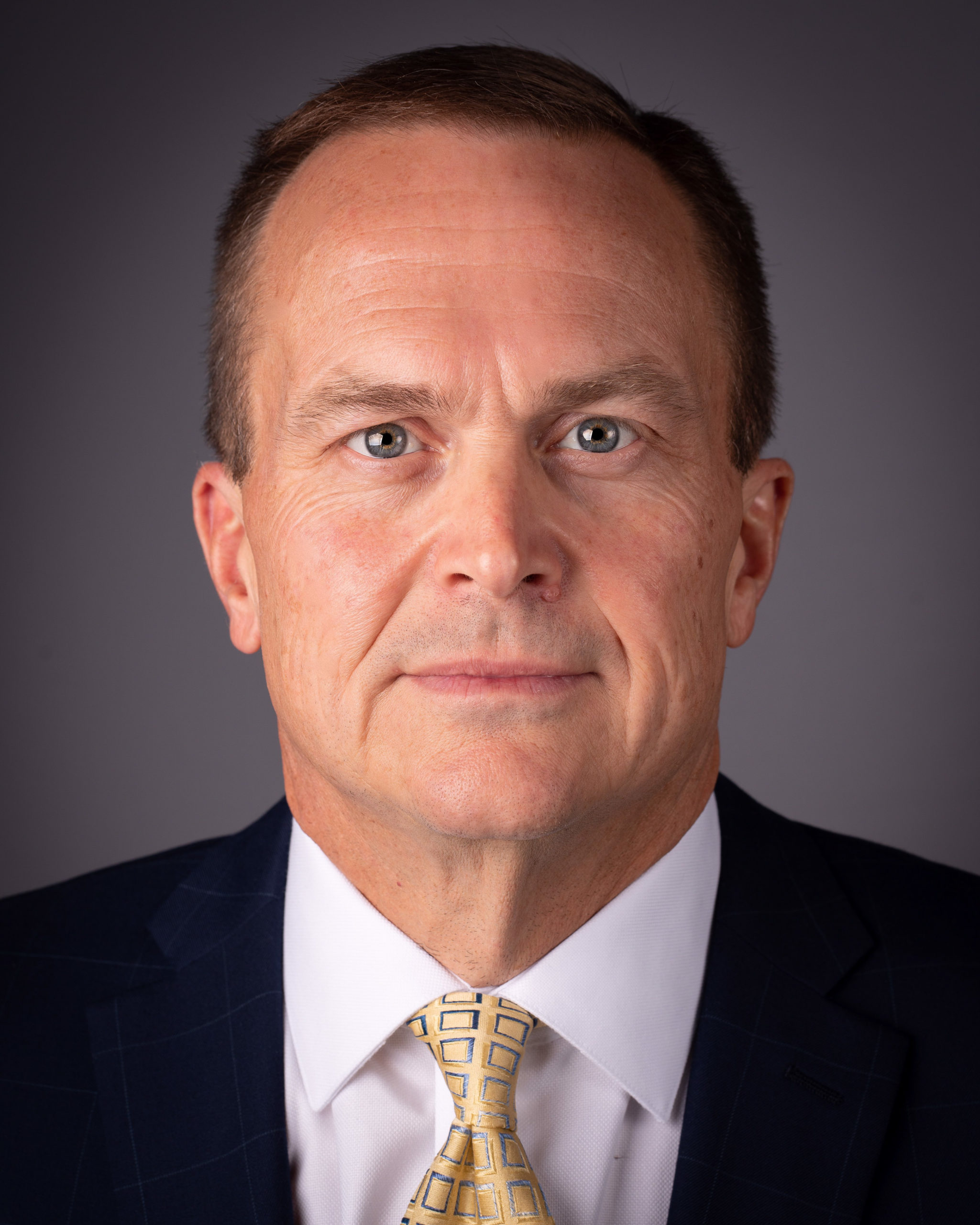 Now THIS is planning: When COVID-19 hit, Rob Broomfield says, UnitedHealthcare already had contingencies in place to relocate employees. "We didn't need to focus on planning, only on execution," says Broomfield, whose company provides health insurance for 440,000 people in this market. That came, he says, from a focus on established cultural principals of integrity, compassion, relationship, innovation and performance, allowing the company to focus on needs of members, clients and providers.
COLLEGE: B.A., Finance, University of Nebraska-Lincoln
PANDEMIC CHALLENGE: "Maintaining the stability of current relationships and putting an increased focus on quality and overall value, not just the lowest price today."
SILVER LININGS: "The pandemic has accelerated the speed by which people have adopted new ways to access health care, such as virtual visits and telehealth."
PERFECT WEEKEND: "Coach a couple of games or practice for my youngest son's baseball team, mow the lawn and then watch some football or baseball hanging out with friends."
FAVORITE CHILDHOOD TOY: "My bike–I put thousands of miles on that old Stormer BMX bike, riding all over my hometown with my buddies. Get up, leave the house and come back when the streetlights came on."
ULTIMATE DESSERT: "Homemade ice cream with a little hot fudge."
---
Peter Brown
FOUNDER/CHAIRMAN, GRASSMERE PARTNERS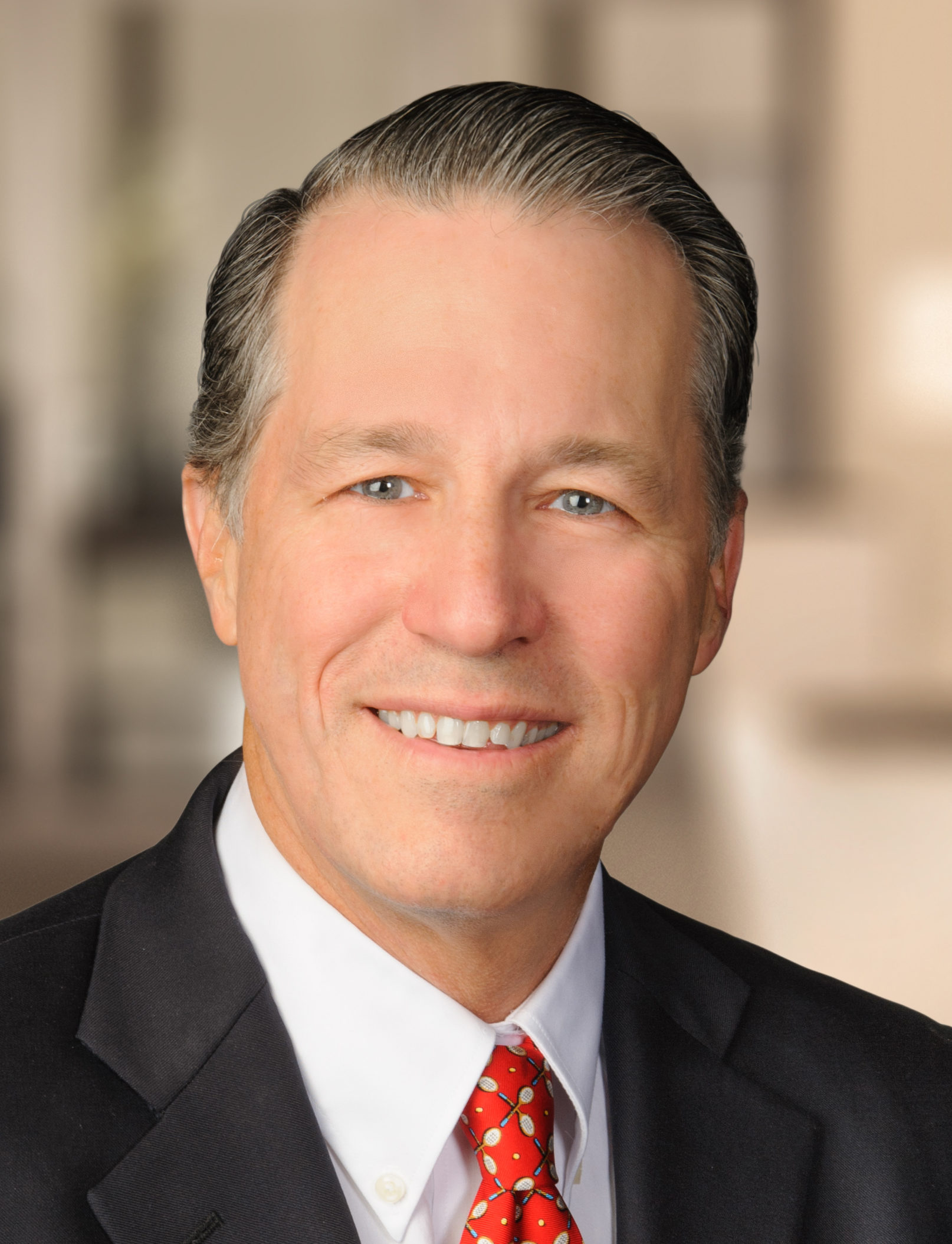 Peter Brown's company doesn't just invest money. It brings a lot more to the table, including operational insights and financial acumen that make Grassmere a true partner. The firm's diverse list of partner businesses includes companies producing wine, software, animal health, power technology, cinema, fine art, and more. And it is also home to the non-profit Grassmere Foundation, which invests in "people and organizations that are passionately focused on bringing good to society."
COLLEGE: B.S., Business Administration, University of Kansas
COVID IMPACT: "It has had a profound impact on the businesses that have to do with congregate activities (restaurants, movie theatres, other location-based entertainment venues, etc.). Businesses will be forced to operate at lower capacities, which could put pressure on the business models."
RESTORING PROSPERITY: "Quick and accurate testing, a known and successful treatment protocol, and a vaccine to prevent infection. To the extent that the public sector can drive quick and successful outcomes in testing, treatment and prevention, that is what is needed the most. Good safety practices are what the private sector can do most."
HOW TO BUILD MORALE: "Just reminding ourselves that there are tremendous resources being devoted to defeat COVID-19 and that every day that goes by, we are one day closer to a successful outcome…which will happen."
---
David Brain
CEO, BROWN COW CAPITAL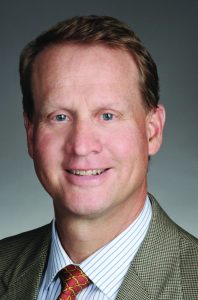 The dichotomy of COVID-19 in investment circles, says David Brain, is that "it increased opportunities because it has paralyzed so many, but at the same time it is made it very difficult to move things to finalization because of travel restrictions and uncertainty in the financial markets." Interesting insight from the founder and former CEO of EPR Properties, whose work now entails investment and asset management in energy, infrastructure and real estate projects.
COLLEGE: B.A., Economics; MBA, Freeman Graduate School of Business, Tulane University
COVID CHALLENGE: "Sustaining focus and convincing associates and we can still be effective in controlling our destiny. We are not just subject to a fate dealt to us."
COVID & CULTURE: "Definitely increased video calls and validated them to an extent I think they will remain a mainstay of communication and replace a lot of in-person meetings, particularly that involve travel."
SILVER LININGS: This year "has been a catalyst to accelerate the pace of technical change that was underway in many cases has moved us to a better level of productivity in the near future."
PERFECT WEEKEND: "Mostly golf and getting out and touring around the city in the convertible."
FAVORITE CHILDHOOD TOY: "A transistor radio; it could take me to a ball game or entertain with music."
---
Mike Brown
FOUNDER/CEO /CHAIRMAN, EURONET WORLDWIDE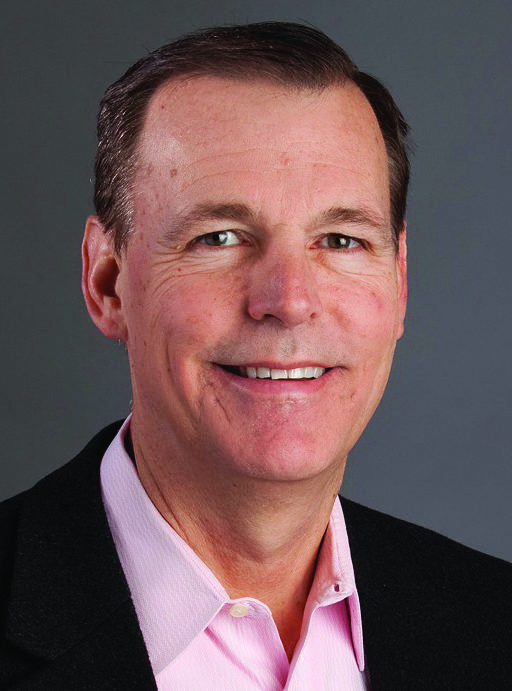 Mike Brown's penchant for entrepreneurship was already on full display back at the University of Missouri, when he and a college pal would drag a portable disco setup to DJ parties for Greek houses, dorm floors and weddings. These days, he's dealing with records of a different sort with the company he founded in 1994. The global electronic payments processing firm based in Leawood had record revenues—again—in 2019, passing $2.75 billion, and on track to easily beat that in 2020.
COLLEGE: B.S., Electrical Engineering University of Missouri-Columbia; M.S., Molecular and Cellular Biology, UMKC
ABOUT EURONET: The company operates a payment network of ATMs and point-of-sale payment sites, outsourced debit and credit card services, plus card software solutions. Serving 170 countries, Euronet processed 4.7 billion transactions last year, and nearly 39 billion since its founding.
BEFORE EURONET: Fresh out of college, Brown founded a company called Innovative Software, which later merged into Informix, producing advanced database software technology. At the time, he was going head-to-head with Bill Gates at a growing outfit called Microsoft. "He won some, we won some," Brown muses. "I learned a lot."
SAVVY INVESTOR: Brown was a founding investor of a company producing software for developers using Visual Basic and Visual C+++. Visual Tools was sold to Sybase Software in 1996.
---
Owen Buckley
PRESIDENT, LANE4 PROPERTY GROUP
Drive around the metro and it won't take you long to pass a LANE4 sign. Since Owen Buckley founded the company in 2006, it's become a mainstay on the commercial-real estate scene, primarily in retail spaces. In recent years, the group has completed over $500 million in development and acquisition of properties; that's in addition to a robust business in tenant representation and project leasing. His approach to the COVID era? "When the going gets tough, the tough get going."
COLLEGE: B.A., M.A., University of Kansas
COVID & CULTURE: "Teams do better when they are close and constantly tossing ideas around. That's a challenge during COVID, when we are also trying to be safe. It's temporary. All of us long for eye-to-eye/day-to-day collaboration. Meanwhile, we are honing other skills and learning new strategies that will have long-lasting results."
COVID IMPACT: "Technology was already moving fast. COVID is accelerating the pace. We are experiencing the efficiencies and searching for the opportunities."
SILVER LINING: "We like the old saying, 'Where there is turmoil, there is opportunity.'"
CRYSTAL BALL: "History tells us that recessions and tough times don't last forever."
ANOTHER ERA YOU'D VISIT: "About 200 or 300 years from now, so I could better understand today."
FAVORITE SONG/ARTIST: "Anything by James Taylor."
---
Mark Campbell
CEO, TRIUMPH FOODS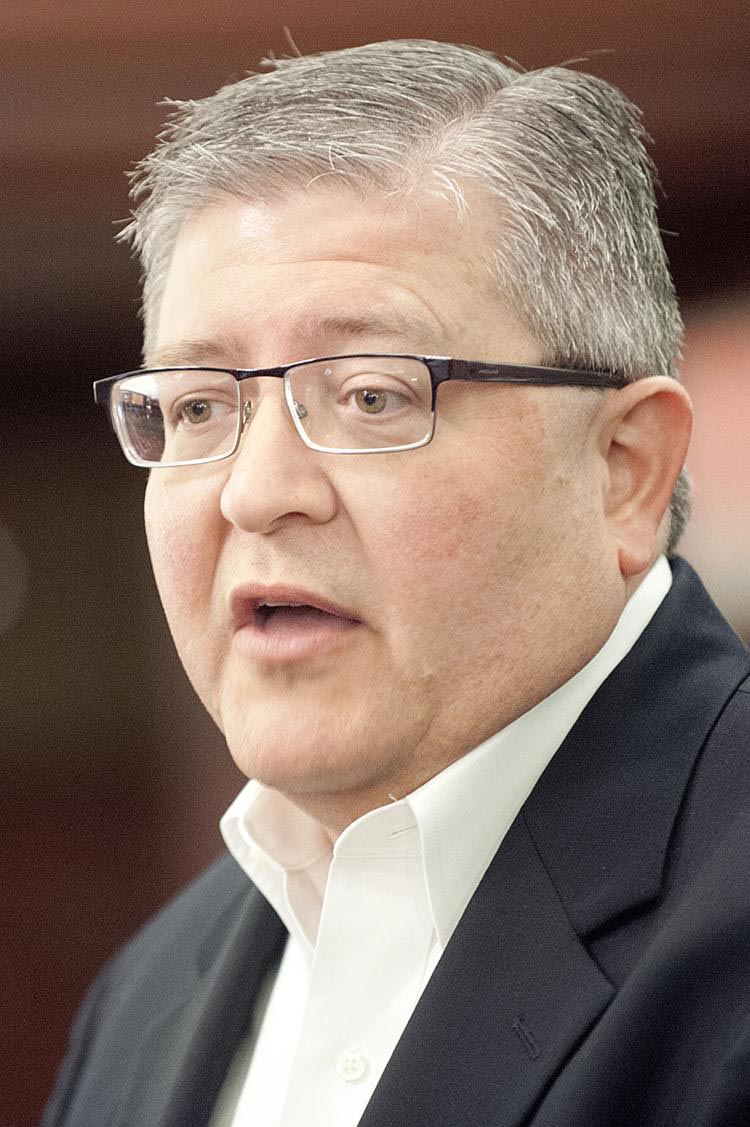 St. Joseph sits smack in the middle of America's Great Protein Value Chain, surrounded by millions of head of cattle, tens of hundreds of millions of chickens and turkeys—and lots of future pork products. The latter is where Mark Campbell makes his mark, leading 2,800 workers at the city's second-largest employer. Campbell started as chief operating officer there in 2004, and oversees a plant with about $1.6 billion in annual revenues.
COLLEGE: B.A., Accounting, Westminster College; MBA, Rockhurst College
COVID CHALLENGES: Like other packing plants nationwide, Triumph saw a wave of positive cases this spring, and responded by sending those employees home to quarantine, keeping them on the payroll. More than 90 percent of those who tested positive showed no symptoms.
QUOTABLE QUOTE: Of the testing for those at the plant, Campbell said succinctly in a video produced for employees, "Being swabbed wasn't much fun."
BIG NUMBERS: More than 6 million hogs are processed each year at the St. Joseph plant.
GIVING BACK: Under Campbell's leadership, Triumph has provided disaster relief by way of donations. This year it provided 40,000 pounds of fresh pork to Second Harvest Community Food Bank to flood victims, and last holiday season it gave 34,000 pounds.
---
Tim Chadwick
PRESIDENT/CEO, MMC CORP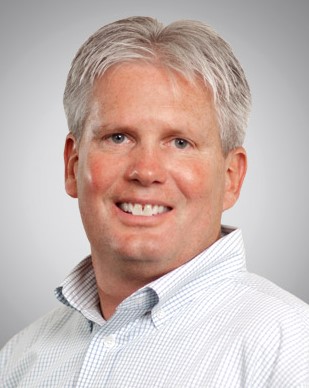 For Tim Chadwick, looking out for the team during a health crisis is Job One, but there's a more personal veneer to his work at MMC. "I basically grew up with this company, so I've been able to identify what I need to do to take care of our team and understand what they're going through," he says. "Having those relationships has helped me hopefully make the best decisions." He leads a construction-services behemoth with four operating divisions, 1,750 employees and nearly $800 million in revenue.
COLLEGE: B.S., Construction Science, Kansas State University
COVID & CULTURE: "Our company has such a family feel, so when we were forced to work from home, that part of our culture really shined through. Everyone was checking in on and rallying around each other to make the best of the situation and make sure everyone was doing well."
SILVER LININGS: "The events in 2020 have helped our team recognize the importance of social interaction, teamwork, and collaboration. Those things are easily taken for granted when you're used to them, but once they were taken away, we quickly realized face-to-face human interactions shape our social and work experience. I hope that we will always remember that."
FAVORITE CHILDHOOD TOY: "Daisy Red Ryder BB Gun."
ULTIMATE DESSERT: "Pecan pie."
FAVORITE MUSICAL ARTIST: "Chris Stapleton."
---
Emanuel Cleaver
U.S. REPRESENTATIVE, MISSOURI, 5TH DISTRICT
Seven terms into his U.S. House stint representing the Kansas City area, Emanuel Cleaver is coasting toward an eighth. The only thing unusual about his election prospects this time around is that he's not opposing the Republican he defeated every year since winning that first term back in 2004. His service in the Capitol followed 20 years at City Hall here—12 on the City Council, and eight as mayor, from 1991-1999.
FULL SCHEDULE: Cleaver, as befits someone with his House seniority, holds a number of committee seats and leadership positions: he's on the Financial Services Committee, chairs its subcommittee on national security, international development and monetary policy, and has seats on the housing, community development, and insurance subcommittees.
VOICE OF REASON: As cities burned across the nation in August, Cleaver did what few Democratic leaders have done this summer: he publicly called out trouble-makers infiltrating legitimate protests over race-based discrimination. "Dr. King," Cleaver said, "never lead a demonstration at night."
STRANGE BEDFELLOWS: Cleaver finds himself in the unusual position of being the more conservative member of the Missouri House delegation. Only two of the state's eight seats are held by Democrats, and this year, long-time House veteran William Lacy Clay of St. Louis was ousted in the Democratic primary.
---
Faruk Capan
FOUNDER/CEO, INTOUCH SOLUTIONS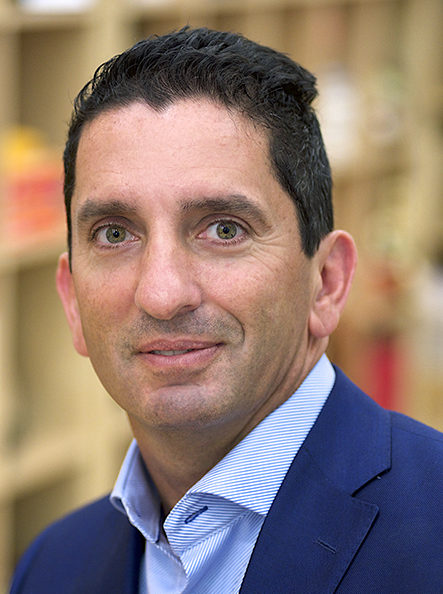 After earning his MBA at the University of Central Missouri, Faruk Capan secured an internship at a Kansas City pharmaceutical company—the former Marion Merrell Dow. The firm's founder, Ewing Kauffman, left an imprint with his values, entrepreneurial spirit and company culture. In 1999 he launched Intouch Solutions, a digital marketing firm that has been one of the region's biggest success stories, with 2019 revenues of $184 million.
COLLEGE: Marmara University, Istanbul, Turkey; MBA, Business Administration and Management, Central Missouri State University
A GIFT FROM HOME: Capan was raised in Istanbul, Turkey, and came to the United States to earn an MBA. His father's words—"Do only what you know and what you love,"—have guided him throughout his professional career.
FIXING IMMIGRATION: "The U.S. educational system previously attracted top talent from around the world; but current immigration policies make it difficult. The process needs to be simplified so that U.S. companies can hire the brightest minds, no matter where they come from. If Intouch can hire an American, we want to do that; but if the most qualified candidate is an immigrant, the process should make it easy to bring that talent in."
---
Bill Clarkson Jr.
PRESIDENT, CLARKSON CONSTRUCTION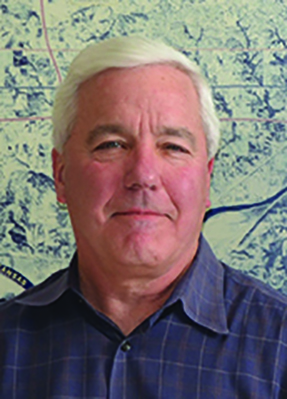 The largest infrastructure project in the history of Kansas City features one of the area's oldest construction companies. It's led by Bill Clarkson, part of Generation Six at a company that started in 1880, Clarkson Construction has long been a fixture in major infrastructure projects, and he now has the company aligned with Maryland-based Clark Construction and the Weitz Co. of Des Moines for the new $2 billion Kansas City International Airport.
SKILL SETS: Clarkson makes its mark on regional infrastructure in four key disciplines: highway construction, site development and grading, bridge construction and concrete paving.
IMPACT EVERYWHERE: The company's log book over the years includes more than 1,500 lane miles of pavement and more than 700 bridges. Among the latter were both the original Paseo Bridge in the early 1950s, and its replacement, the Kit Bond Bridge, which opened in 2007.
JUGGLING CHAINSAWS: The Johnson County Gateway project required Clarkson's team to manage construction of nearly 30 bridges in connecting Interstates 435 and I-35 with K-10 Highway.
GIT 'ER DONE: One of the most impressive examples of the company's expertise in action came with the multiple bridge replacement projects along Interstate 70 in Independence. Clarkson teams simultaneously demolished and cleared bridges on Pittman, Phelps and Chrysler roads in less than 48 hours. And they beat the clock on that work by a full 16 hours.
---
Peter Clune
PRESIDENT/CEO, LOCKTON COMPANIES
Peter Clune's 13-year trek through the leadership ranks at Lockton culminated this past spring when he succeeded Ron Lockton as chief executive for the world's largest private, independent insurance brokerage and benefits consultancy. After joining the company in 2006, overseeing St. Louis operations, he added major markets to his responsibilities as executive vice president, and in 2017 became COO and president of the U.S. operations.
COLLEGE: B.A., Accounting, University of Missouri-Columbia
THE ROAD TO LOCKTON: Coming out of MU, Clune started his career in the insurance sector with a stint at what is now the Miller Group, followed by a decade at the Zurich Insurance Co., where he eventually led sales, underwriting and claims teams for the company's western U.S. territory.
HOMETOWN INFLUENCE: Lockton employs more than 8,000 associates worldwide, with about 1,225 of them working in the Kansas City area.
BIG NUMBERS: Founded in 1966, the company has achieved a level of success almost unparalleled in business, with record sales every year of its existence. In 2019, that total hit $1.72 billion, placing Lockton at No. 21 among the Ingram's 100 list of the region's biggest companies.
BOARD SERVICE: Clune serves as vice president on the board of Brian's Fund, a non-profit dedicated to helping Catholic high schools in the area promote teen drug-abuse prevention.
---
Ramin Cherafat
CEO, MCCOWNGORDON CONSTRUCTION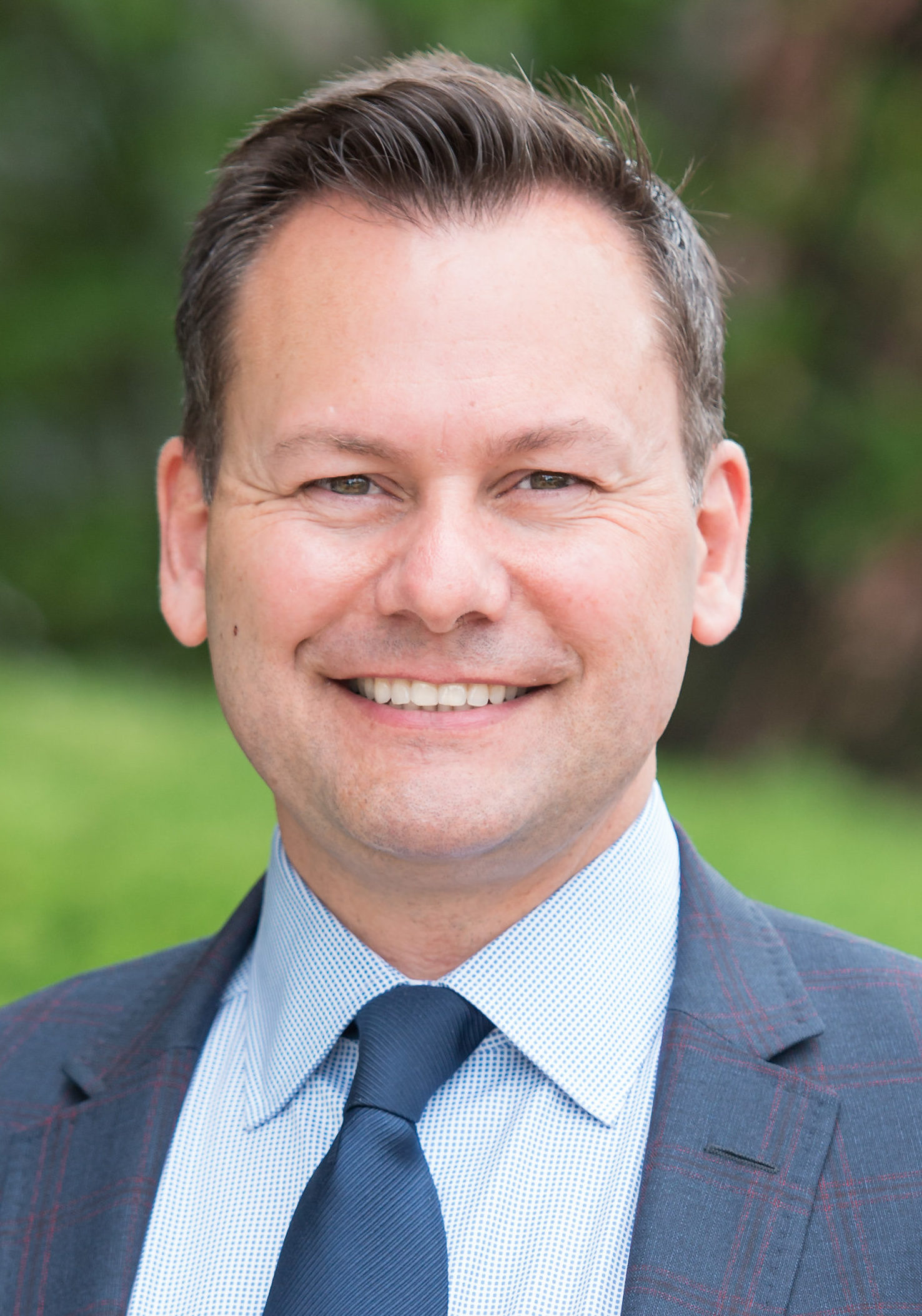 When the pandemic hit, McCownGordon did what builders do, they built—a plan. "We've used this time to start on our strategy and vision for the next 15 years," says Ramin Cherafat, who leads a company with nearly $600 million in revenues and 500 employees. "I think we'll look back in 5 years and be able to pick out several aspects of this pandemic that drove us to be more strategic and intentional about our growth plans."
COLLEGE: B.S., Construction Science, Kansas State University; MBA, UMKC
SILVER LININGS: "Managing through the pandemic has brought our leadership team, that was already very close, even closer, and after implementing the many changes and requirements as a result of COVID-19 so quickly, it's taught us that with a laser focus we can move faster to make significant decisions than in the past."
PERFECT WEEKEND: "Friday night, relax and unwind with a great bottle of wine and dinner with the family. Saturday, early morning workout, golf or family time, some reading and then dinner with friends or family. We love to entertain at our house and my wife is an amazing host. Sunday, early morning workout, reading and relaxing with the family."
FAVORITE CHILDHOOD TOY: "Skateboard. Hands down. Growing up, I spent my summers in Los Angeles and San Francisco: it was the thing to do there."
---
Dave Colo
PRESIDENT/CEO, MGP INGREDIENTS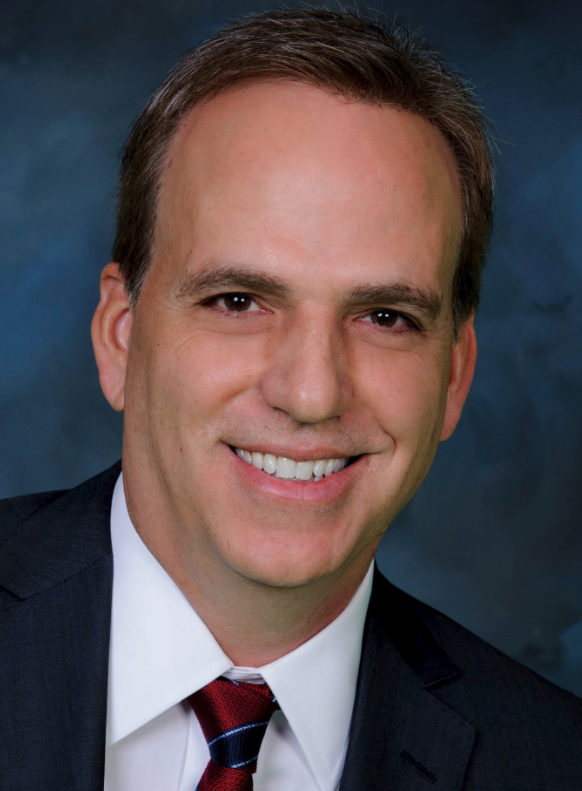 When it came time to find a successor to Gus Griffin at the helm of MGP Ingredients, the board of the Atchsion-based public company turned to both an industry insider—and one of their own. Dave Colo, who held one of those board seats since 2015, officially succeeded Griffin in June. In that role, he oversees a company with $362 million in 2019 revenues, focused primarily on production of alcohol products derived from grain.
COLLEGE: B.S., Agribusiness Economics, Southern Illinois University
BEFORE MGP: Colo has more than 30 years of extensive leadership experience in general management, operations and supply chain management within the food industry. His resume is filled with a sort of Who's Who of Food Production companies, including Canadian-based SunOpta, Diamond Foods, ConAgra Foods and Nestle-Purina Pet Care. He also is a past president of the American Dehydrated Onion and Garlic Association. Bonus points if you even knew there was an ADOGA.
SPRINGING INTO ACTION: The company pivoted quickly in the late winter and spring when it was clear that demand for industrial alcohol was about to skyrocket. It's a key ingredient in the hand sanitizers recommended for hand-washing in efforts to control the spread of the COVID-19 virus.
MORE THAN DRINKS: MGP, which will turn 80 years old in 2021, is a leading supplier of premium distilled spirits, specialty wheat proteins and starches for use in other food manufacturing lines.
---
Jon Cook
CEO, VMLY&R
Leading a global marketing/advertising agency, Jon Cook has had a rare perspective on a global pandemic. This one, says Cook, "forced brands to put a premium on their differentiation and articulate it clearly and creatively. And every brand is accelerating its ability to transact online quickly, safely and efficiently. We're fortunate to be able to help them achieve it." Indeed: the firm is the biggest agency in Kansas City, and has more than 3,000 team members serving major brands.
COLLEGE: B.A., Journalism, University of Missouri
COVID CHALLENGE: "As we learn a lot more about each other through Zoom calls … and meet spouses, significant others, kids, parents, pets—you name it—it's been important to discover what people do best in this new environment and give them the freedom to focus on their strengths."
SILVER LININGS: "We've never been more connected as a company—and we were very connected to start with. We will definitely carry forward lots of the programming we've developed during this time and I never want to lose the supportive and positive exchanges that happen in a Chat string during a live online session."
PERFECT WEEKEND: "Driving down I-70 to our family's cabin in the Colorado mountains and hiking into the woods within minutes of arriving."
FAVORITE CHILDHOOD TOY: "The largest collection of Star Wars figures in my neighborhood."
---
Abe Cole
MANAGING PARTNER, BKD CPAS & ADVISORS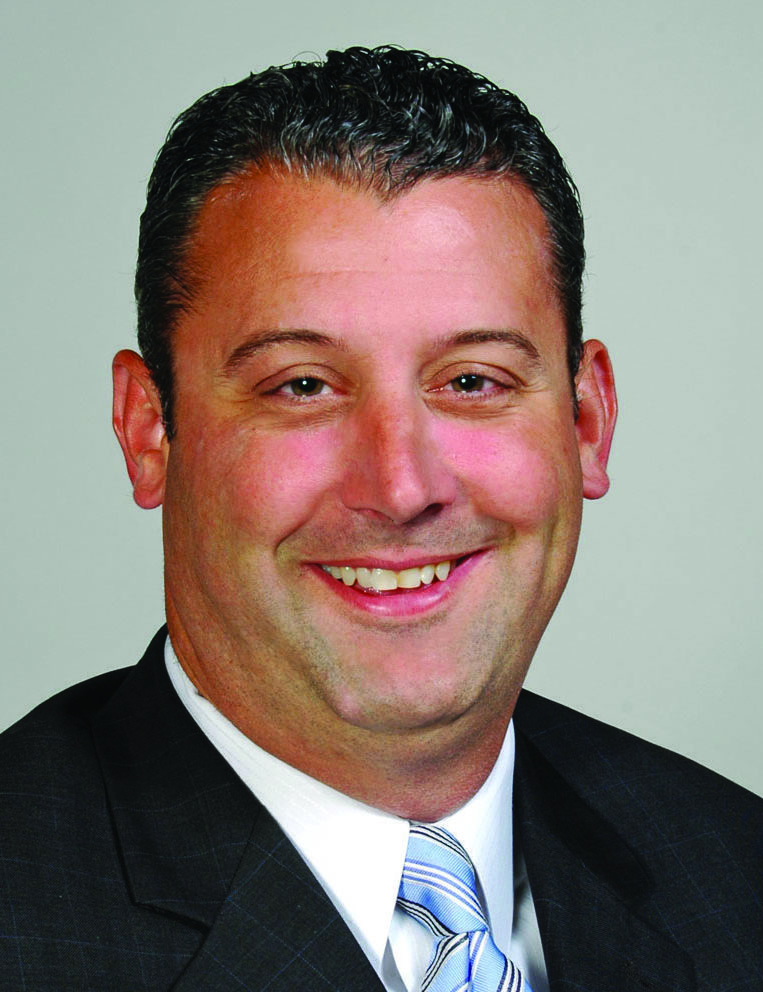 After five years of overseeing the Kansas City office for Springfield-based BKD, Abe Cole was elevated to managing partner for the firm's North Division last year, and remains based in this region. Cole, who grew up in Lee's Summit, joined BKD in 1996 after picking up his accounting degree, and has been there since. He became the office managing partner in 2014, when his predecessor, Barry Davis, was elevated to the role Cole inherited last year.
COLLEGE: B.S., Accounting, Missouri State University
BIGGER FOOTPRINT: Overseeing the North Division puts Cole in charge of a dozen BKD offices covering five states: Missouri, Kansas, Colorado, Iowa and Nebraska. Two satellite offices also report to him from St. Louis and Decatur, Ill. The firm has about 3,000 accountants in dozens of offices across the country.
MARKET MASTER: BKD has more CPAs on staff in Kansas City—186—than any other firm—local, national or global. It has a total of 235 professional staff members here.
WORK DISTRIBUTION: The firm says accounting services make up roughly 56 percent of business operations, with 35 percent devoted to tax work and 9 percent focused on consulting services.
---
Matt Condon
PRESIDENT/CEO, BARDAVON HEALTH INNOVATIONS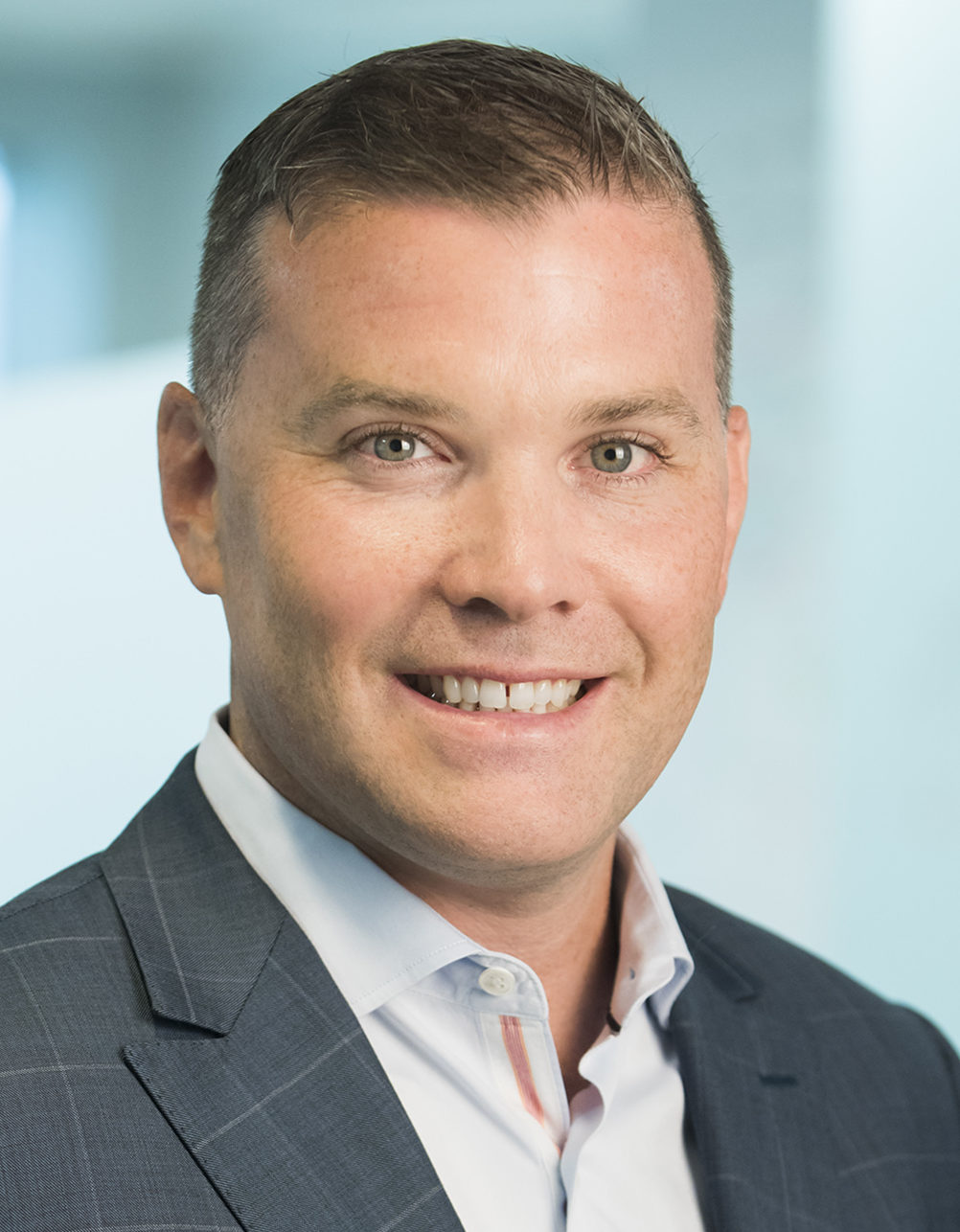 Don't buy into the gloom and doom of a pandemic-challenged economy. Matt Condon isn't. "In fact, we have been fortunate to continue to win new customers, grow our business, hire significant new team members so that we can deliver on quality care for injured workers," says Condon, one of the younger faces of regional business leadership. "Much like other companies, in 2020 we realized we cannot only successfully operate virtually, but we can actually grow."
COLLEGE: B.S., Kinesiology, Iowa State University; J.D., MBA, University of Toledo
ABOUT BARDAVON: It specializes in helping client companies manage workers-compensation issues, rehab and insurance with data-driven solutions.
COVID CHALLENGES: "The leadership at Bardavon knew that the most imperative thing was to keep our team members safe. … Making a choice to send everyone home to work remotely on March 13 was just the right thing to do. But… I look forward to the day when we are all together again."
COVID & CULTURE: "I think the crisis has actually driven us to truly focus on culture with an increased intensity. We have company-wide meetings every Thursday, hold virtual events hosted by our BARDevents team, and have virtual team building activities and initiatives hosted by Human Resources."
ULTIMATE DESSERT: "New York-style cheesecake."
---
Tim Cowden
PRESIDENT/CEO, KC AREA DEVELOPMENT COUNCIL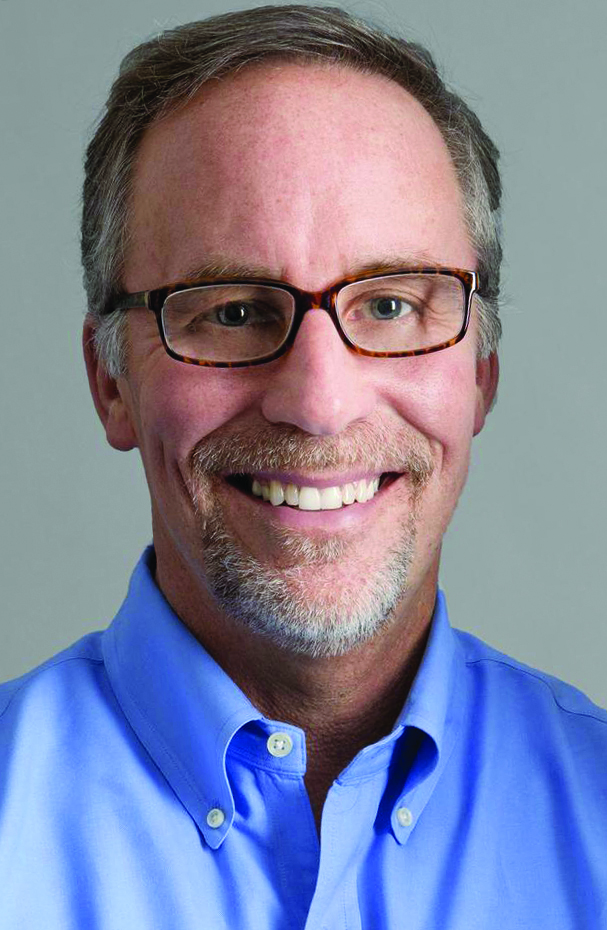 Even in uncertain times, Tim Cowden's faith in Greater Kansas City remains unshakeable: "This region is resilient, and the best of people always come out even stronger in times of challenge," he says. KCADC is playing a significant role in helping the 18-county Greater Kansas City region through the pandemic, serving as a clearinghouse for important information and resources businesses need in order to survive and thrive.
COLLEGE: B.A., Journalism, University of Oklahoma
PANDEMIC CHALLENGE: "With things changing so rapidly, I needed to be situationally aware and make sure our team felt informed, connected, focused and ready to execute our day-to-day during a really challenging time. It was important for me to stay positive, set aside my personal anxieties and help our team, our investors and our community see the end goal—the work we do is so important during a time like this."
COVID & CULTURE: "We've become even more agile in how we do business. We have greater intentionality in everything we do to meet the needs of our customers."
FAVORITE CHILDHOOD TOY: "My football—I grew up loving Oklahoma Sooner football."
ANOTHER ERA YOU'D VISIT: "I'd love to go back to when the jazz age was born, and KC earned its nickname as Paris of the Plains."
---
David Cooper
PRESIDENT/CEO, BETTER HOMES AND GARDENS KANSAS CITY
A pandemic test leadership skills in novel ways. For David Cooper, running one of the biggest residential realty firms in the region ($1.4 billion-plus in annual sales), it means looking inside and "keeping apprised of what's going on and maintaining a positive
attitudinal example," he says. COVID-19 has made it more challenging to show a home with social distancing, but demand outside of population-dense centers is soaring nationwide.
COLLEGE: B.A., University of Kansas
COVID & CULTURE: "We continued conducting business, but with the addition of virtual applications and the culture remains steadfast."
SILVER LININGS: "The resiliency of people through troublesome times."
CRYSTAL BALL: "A COVID-19 vaccine in 2021."
PERFECT WEEKEND: "Curled up with a good mystery."
FAVORITE CHILDHOOD TOY: "Anything cowboy."
ULTIMATE DESSERT: "Almond bar sheetcake."
ANOTHER ERA YOU'D VISIT: "The Roaring Twenties."
FAVORITE MUSICAL ARTISTS: "Andrea Bocelli, The Prayer, or Diana Ross, My Man, from Lady Sings the Blues."
---
John Cosentino
VICE PRESIDENT, COSENTINO FOODS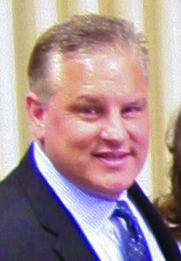 Since there's no working from home in the supermarket business, employees at every one of your local Cosentino's Food Stores sites has had their hands full recently. Not only did they accept the challenge, they "showed our customers that they can always expect our very best," says John Cosentino. The family business, one of the region's biggest names in grocery venues, has been building its reputation over more than 70 years.
PANDEMIC CHALLENGE: "It was important for me to be educated and on top of these daily modifications so I could communicate them effectively to my team."
CRYSTAL BALL: "The best we can do in 2021 is take each day as it comes and work hard for our customers. We are going to continue to provide a great in-store and online experience for all. I think the greatest thing is that I really believe in people and our community and city reminded me of this by showing me their incredible courage during this crisis."
PERFECT WEEKEND: "Will always be time spent with my family, watching my kids play sports, and playing an occasional round of golf."
FAVORITE CHILDHOOD TOY: "I was always very hands on and engaged as a child, so I don't know if I had a favorite toy, but I loved sports, so I would say a football would have been my favorite item."
ULTIMATE DESSERT: "Our market's freshly made, warm chocolate-chip cookies."
---
Dennis Curtin
REGIONAL OWNER, RE/MAX MID-STATES & DIXIE REGION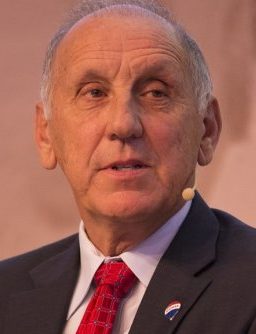 As the nation's first RE/MAX franchise owner, Dennis Curtin is used to history-making times. So when social distancing handed his team a bunch of lemons …, "We have always had a close personal relationship with our brokers and agents," he says. "We had to find ways to serve and interact in a socially distanced sort of way." The silver lining? "Attendance at our training sessions has doubled our normal in-person meetings since everyone was in lockdown mode."
COLLEGE: B.S., Business Administration and Marketing, Rockhurst College
PANDEMIC CHALLENGE: "Reassuring my membership that we collectively would be able to work through all this together without having person-to-person meetings. Usually in a crisis, one can call his team into a conference room and personally handle any fears or objections that might arise. Zoom has become my new best friend."
UNIQUE REAL ESTATE CHALLENGES: "We have implemented many safety measures from wearing masks to limiting the number of people in the homes that are for sale at any given time. In addition to safety, our biggest hurdle is lack of inventory. Historically low interest rates and COVID-19 have resulted in greater than normal buying activity, adding to an already short supply of housing."
PERFECT WEEKEND: "To be out in the garden working amid nature, followed up with a great glass of wine at the end of the day."
FAVORITE CHILDHOOD GAME: "Monopoly."
---
Keith Copaken
PRINCIPAL, COPAKEN BROOKS
At three generations in depth, and with a footprint of 5 million square feet of office and retail development and management, it's not too soon to use the word "dynasty" to describe the Copaken family impact on Kansas City. Keith Copaken is part of the leadership team at a firm that has been behind one of the most prominent, ongoing development success stories in the region: City Center Lenexa.
COLLEGE: B.A., Economics, University of Pennsylvania; Master of City Planning and Real Estate, University of California-Berkeley
GAME-CHANGER: At more than 2 million square feet, Lenexa City Center essentially created a new Downtown for the Johnson County suburb.
NOTABLE PROJECTS: In addition to Lenexa City Center, other key development projects for the firm include the regional headquarters for Grundfos Pumps, the Nordstrom store at Oak Park Mall, Plaza Colonnade in Kansas City and Renaissance Park in Overland Park.
CIVIC SOLDIER: Copaken has influential roles with some prominent area entities, including UMKC's board of trustees (chairing the governance committee and sitting on the real-estate committee), the board of directors for the Kansas City Area Development Council, the Urban Land Institute's Commercial & Retail Development Council, and he's a past chair for the Overland Park Chamber of Commerce.
---
Fred Coulson
FOUNDER/MANAGING PARTNER, FIVE ELMS CAPITAL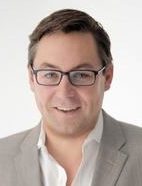 Fred Coulson has discerned a simple formula for investing success: find early-stage B2B software companies with applications that users love, back them with up to $40 million in private equity and venture capital, and let the games begin. It's a formula that continues to pay off for Coulson's team at venture-capital firm Five Elms, which over the course of four fund closings has orchestrated hundreds of millions in limited partner commitments.
COLLEGE: B.S., Business Administration, University of Kansas
GOOD CALLS: Coulson's team showed its ability to pick winners with previous backing of Spring Venture Group, one of the region's fastest-growing companies in recent years, SelectQuote and Smart Warehousing, among the more than two dozen in its current portfolio.
PREVIOUS WINNERS: Previous investments have led to an IPO (Forex Capital Markets), and acquisitions by KPMG, Groupon, Mercator and by other private equity firms.
INTERNATIONAL REACH: Earlier this year, Five Elms ventured abroad with a $30 million investment in the South African tech company Skynamo, which develops software applications for the manufacturing and distribution sectors.
---
Kevin Crutchfield
PRESIDENT/CEO, COMPASS MINERALS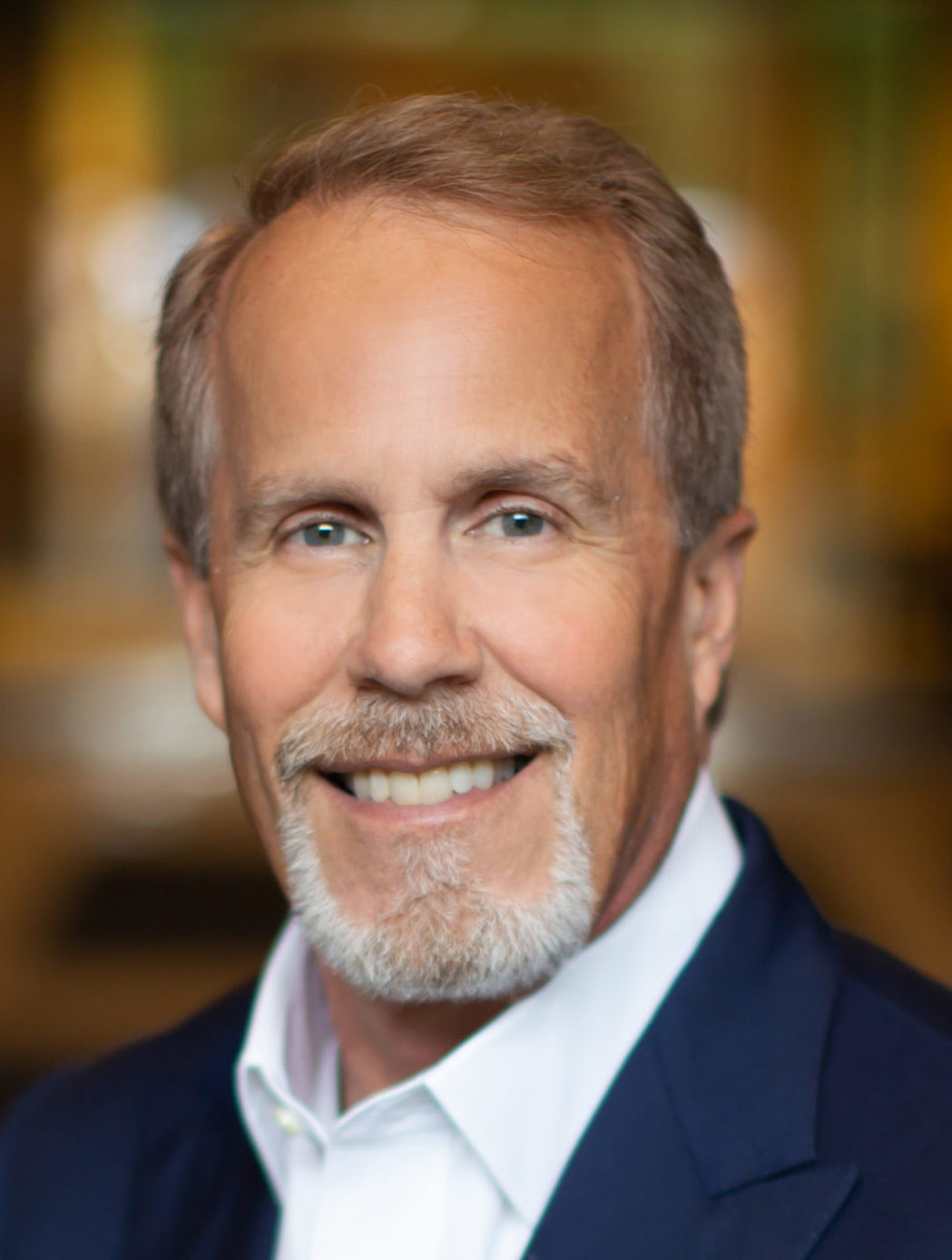 There's a good living to be made in the world of minerals. In 2019, Compass brought in nearly $1.5 billion in sales and more than $307 million in adjusted earnings. Less than two years into the CEO role, Kevin Crutchfield is stepping up to the plate as the strategic, organized leader of an essential business that provides raw and manufactured materials that support the transportation, pharmaceutical, agriculture, chemical, food and animal nutrition industries.
COLLEGE: B.S., Mining and Minerals Engineerin, Virginia Polytechnic Institute and State University; Executive Program, Darden School of Business, University of Virginia 
PANDEMIC CHALLENGE: "To identify solutions that protect the health and safety of our employees while also fulfilling our commitments as an essential business. … We implemented a number of new on-site protocols in order to continue operating and ensure business continuity."
COVID IMPACT: "Our mines and plants have implemented several safety measures to enable our sites to remain fully operational, from staggered shift times and restricted crew sizes, to extensive cleaning and restricted visitors. At our global headquarters here in Overland Park, we've enacted a temporary work-from-home policy. …We've made great strides in improving our organizational health."
PERFECT WEEKEND: "Doing some of my favorite outdoor activities, such as biking, hiking or shooting, and spending quality time with my three grown daughters."
FAVORITE CHILDHOOD TOY: "My favorites were always a mode of transportation—especially electric trains, boats, cars and trucks."
---
Dave Cummings
FOUNDER/OWNER, TRADEBOT SYSTEMS
At the intersection of entrepreneurship and tech-inspired innovation stands Dave Cummings. Consider: Before starting his own ventures, he worked for Cerner Corp., the region's biggest entrepreneurial success story in half a century. He then founded Tradebot, using computerization to upend equities markets with split-second trade execution. And from there, he created BATS Global Markets, which in 2016 was sold to CBOE for $3.2 billion.
COLLEGE: B.S., Computer and Electrical Engineering, Purdue University
TRADER DAVE: Cummings' career also included a stint as pit trader for the former Kansas City Board of Trade.
BATTING A BILLION: His BATS Global Markets foray was the first company in the history of Ingram's Corporate Report 100 to go from start-up (in 2005) to $1 billion in revenues, surpassing that milestone within just five years.
MORE THAN TRADING: In 2011, Cummings launched Tradebot Properties, which has invested in more than two dozen real-estate development projects covering more than 10 million square feet of space. And he doesn't discriminate against property types; the portfolio consists of industrial, multi-family, retail and land.
---
Pat Curran
FOUNDING PARTNER, C3 CAPITAL
Pat Curran and his organization are the money behind a number of promising companies, but there are limits as to the power of the purse. The founding partner of C3 Capital provide something extra with investments: Wisdom. "Our managers value our openness and ability to help them see their blind spots and overcome their obstacles—and we value their expertise in leading the company into new growth," Curran says.
COLLEGE: B.A., Stanford University; MBA, Northwestern University-Kellogg School of Management
SAVVY SELECTIONS: Among Curran's investments that have made a big splash are an ownership stake in Sporting Kansas City and majority stake in AirShare, offering fractional ownership of corporate jets.
WINNING WITH VARIETY: C3 Capital has also stepped in to back companies in such varied fields as health-care delivery, vehicle-servicing equipment, banking and restaurants.
EXECUTIVE HISTORY: Before getting into the capital markets full-time, Curran served as CEO for a paint manufacturer.
BOARD BARON: Curran has served on the boards of some of the biggest corporate brands in the region, including Lockton Companies and the formerly-KC-based Applebee's International.
---
Tim Danker
CEO, SELECTQUOTE INSURANCE SERVICES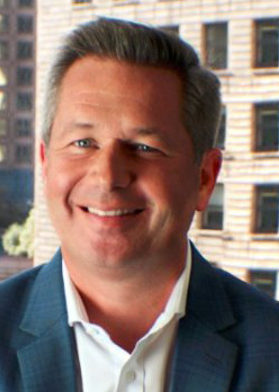 After co-founding and serving as CEO for the direct-to-consumer insurance brokerage, Spring Venture Group, Tim Danker brought his expertise to SelectQuote in 2012. The company helps millions of people find just the right insurance, fast. He excelled in several top jobs, eventually becoming CEO in 2017. During this uncertain year for many, SelectQuote is thinking growth, with an IPO totaling 28,500,000 shares of its common stock.
COLLEGE: B.A., Business Administration, University of Missouri; MBA, University of Kansas
PANDEMIC CHALLENGE: "We were able to mobilize approximately 1,800 associates safely to a fully work from home environment in less than seven business days with zero reduction in our capabilities. We also launched the first 100 percent fully virtual Initial Public Offering in late May, which essentially opened the IPO market back up."
COVID & CULTURE: "We've placed more emphasis on both formal and informal communication (virtual "Town Halls" and informal "Shout Outs" for great deeds). We've had lots of Zoom breakfasts or lunches to get to meet new associates … Even a Zoom Happy Hour."
PERFECT WEEKEND: "Definitely some combination of family and friends, eating and laughing. Mix in some sporting events (either my daughters' sports or the pros) and if I can wedge in some golf, a huge bonus."
---
Dave Deppe
PRESIDENT, UNITEDLEX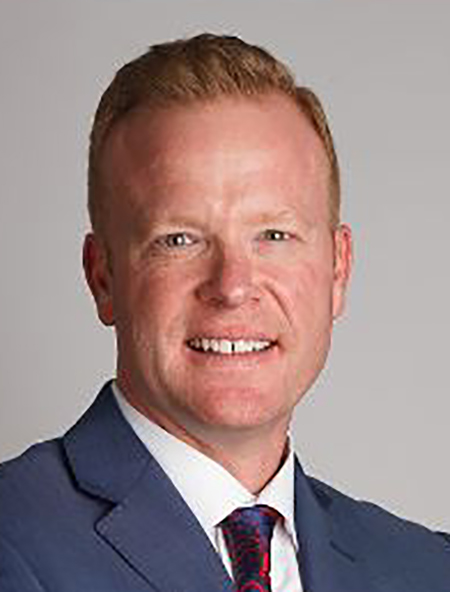 Not so long ago, word reached Dave Deppe that, in addition to founding and leading a global legal-services tech firm, he was also officially … an inventor. "We filed in 2013 and I honestly had forgotten," he says. "For a moment, there was a real sense of accomplishment." But not an altogether surprising outcome for this entrepreneurially-minded, motorcycle-riding globetrotter who is now adding clients around the world.
COLLEGE: Business, Nebraska Wesleyan; Criminal Justice, Bellevue University
SINGULAR FOCUS: When he's at work, he's at work. When he's on his cycle? "Left hand, clutch and indicators; right hand, front break and throttle; left foot, shift peg; and right foot rear brake. All four extremities work at the same time while keeping the eyes and mind focused on what's happening and what could happen. Thoughts of work are not welcome here."
WISH I'D KNOWN EARLIER: "That people seldom change at their core."
RISK-TAKER: United Lex wasn't Deppe's first start-up; he also owned and a legal discovery-services company that he eventually sold to Mutual of Omaha.
RETIREMENT, DAY ONE: "Pack a tail bag and head south until I can't ride any longer."
WHAT KANSAS CITY NEEDS MOST: "A new airport! And a drag strip south of 435."
---
Andrew Deister
PRESIDENT/CEO, RUSSELL STOVER CANDIES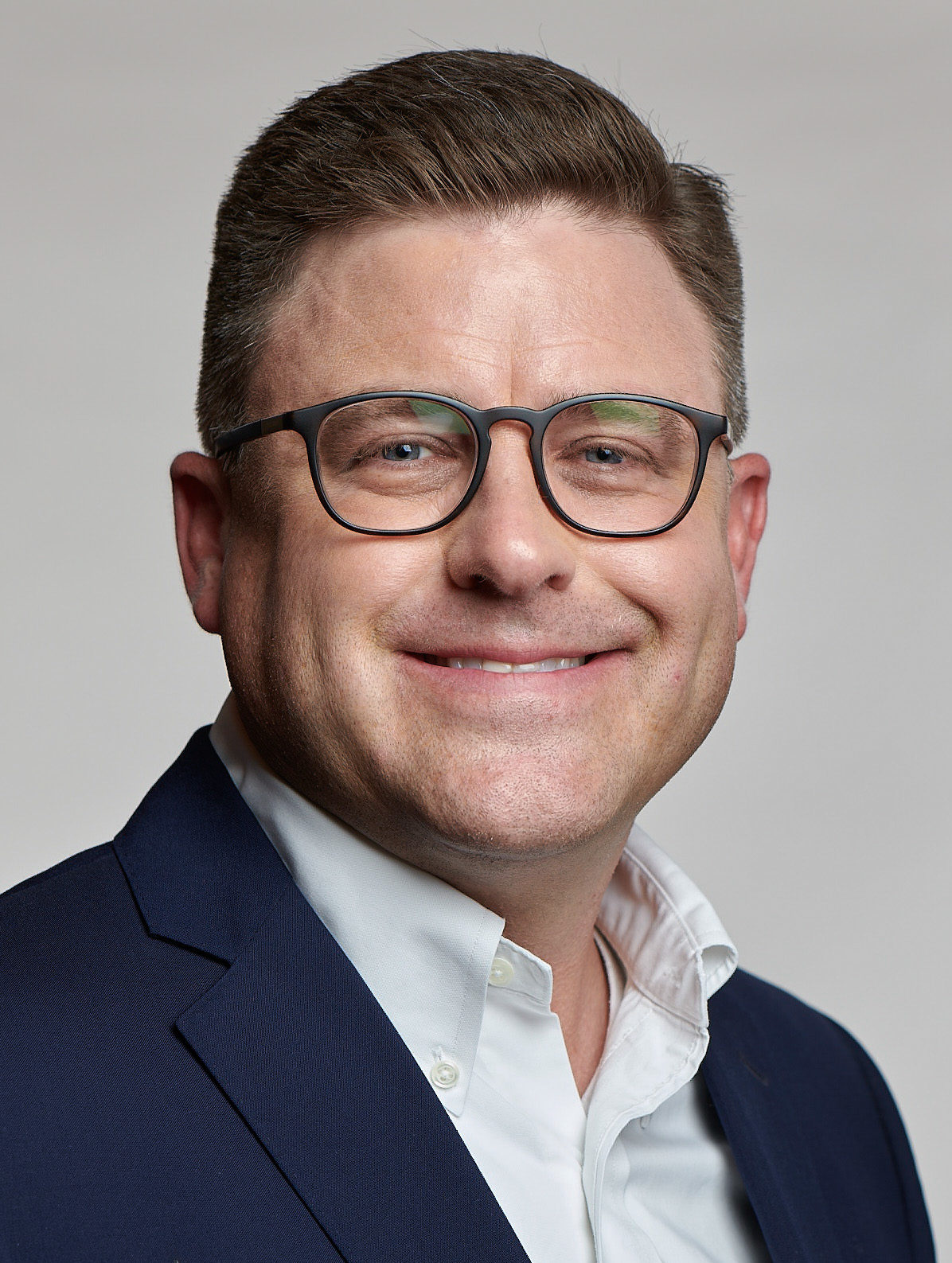 Andy Deister was perfectly at ease working with Navy nuclear reactors in a previous life, so when COVID-19 hit and evolving information was sketchy, he says, "I drew on past experience in the military and other organizations." That meant being prepared with a response team and plan, actions aligned with values, focused communications, and the agility to quickly adjust, all paying off for roughly 650 employees at the iconic candy-maker.
COLLEGE: B.S., Mechanical Engineering, Cedarville College; MBA, Fuqua School of Business, Duke University
COVID & CULTURE: The move to remote work "dramatically changed how we communicate, interact/sell to customers, work with vendors, create new items, etc. These changes also meant we needed to be more purposeful about listening for how our team is doing and being purposeful about how we interact. Our goal is to be stronger and better for having gone through Covid."
SILVER LININGS: "While there is such a thing as 'too much of a good thing,' the extra time, fewer outside activities and obligations has been a sweet time. We've had more family meals, bike rides, games and long talks than ever before. It has been a real blessing in disguise."
PERFECT WEEKEND: "Up early for coffee, news and catching up on admin. This allows me to enjoy the rest of the day, which ideally includes pickleball or nine holes of golf, a family activity (pool, sporting event, meal, etc.) and an evening with some good friends."
---
Rachel Dwiggins
KC MANAGING PARTNER, BKD CPAS & ADVISORS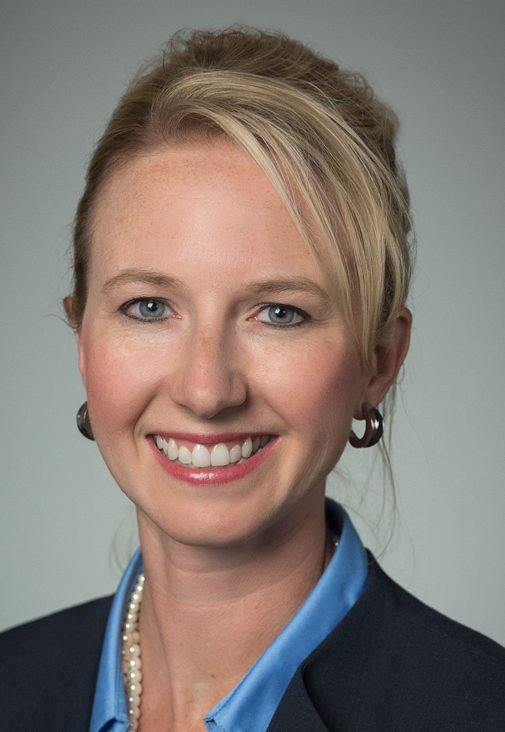 Rachel Dwiggins runs the Kansas City office for BKD—a company with some $695 million in fiscal 2020 revenues. And she transitioned to her job while the pandemic was going on, but says "we were able to get our team set up remotely in less than two weeks. The challenge then became keeping everyone connected and engaged. We have a great group of individuals who have lived up to the challenge. Communication has been key throughout the entire time, ensuring everyone knows what is happening."
COLLEGE: B.S., Accounting, Missouri State University
SILVER LINING: "I think people have become more adaptable. We have learned very quickly how to do things differently. People have also been communicating on a more personal level. Since virtual meetings are now held from people's homes, I've definitely met more children and pets of colleagues and clients than I would have otherwise."
CRYSTAL BALL: "2020 has been a challenge for a lot of individuals and businesses, but I've also seen a lot of resilience. I am hopeful that we get past the pandemic and come out on the other side stronger than ever. I think we will continue to see innovation as a key to growth."
PERFECT WEEKEND: "Laying on a beach, reading a good book, or watching my kids compete in something they love."
ULTIMATE DESSERT: "Definitely, ice cream."
---
John Dicus
PRESIDENT/CEO, CAPITOL FEDERAL SAVINGS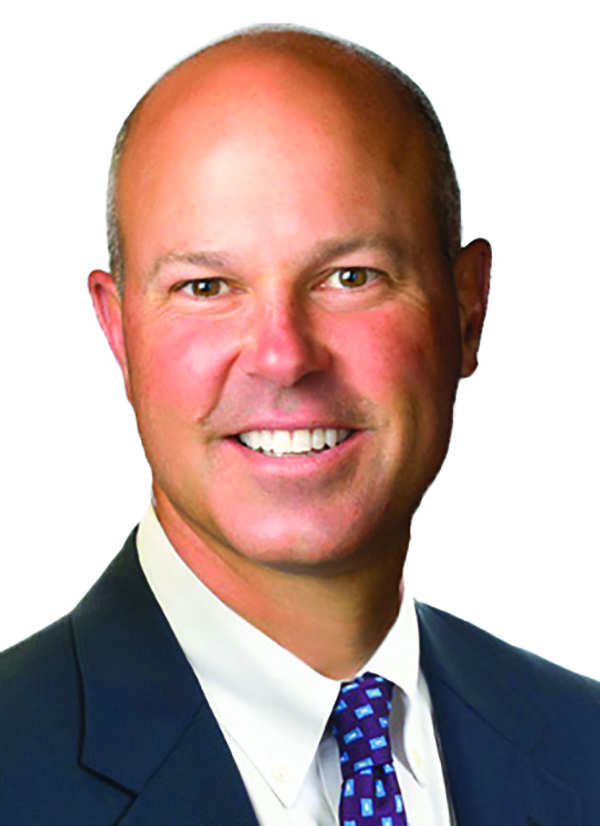 With total 2019 assets north of $9.3 billion, Topeka's CapFed is the biggest bank in Kansas. John Dicus started there in 1985, and worked in various roles before succeeding his father as CEO in 2003. Asked what 2020 has done to financing opportunities, Dicus shared good news: "Being a single-family residential len-der with low interest rates, our volume has been off the charts. On the commercial side, the PPP loans gave us new opportunities."
COLLEGE: B.A., Business, University of Kansas
PANDEMIC CHALLENGE: "The pace of decisions coming at you with the information constantly changing. We all were adapting the skills on the fly."
COVID & CULTURE: "Doing more online and electronically than we were before. Thankfully, we had the tools in place for our customers."
PERFECT WEEKEND: "Couple rounds of golf with buddies, a walk with my wife, mow the yard, a nice steak dinner with a good glass of tequila!"
FAVORITE CHILDHOOD TOY: "Basketball."
ULTIMATE DESSERT: "Apple Pie a la mode."
ANOTHER ERA YOU'D VISIT: "The Wild West days. I was always fascinated by that era from the movies I watched growing up."
---
Mark Donovan
PRESIDENT, KANSAS CITY CHIEFS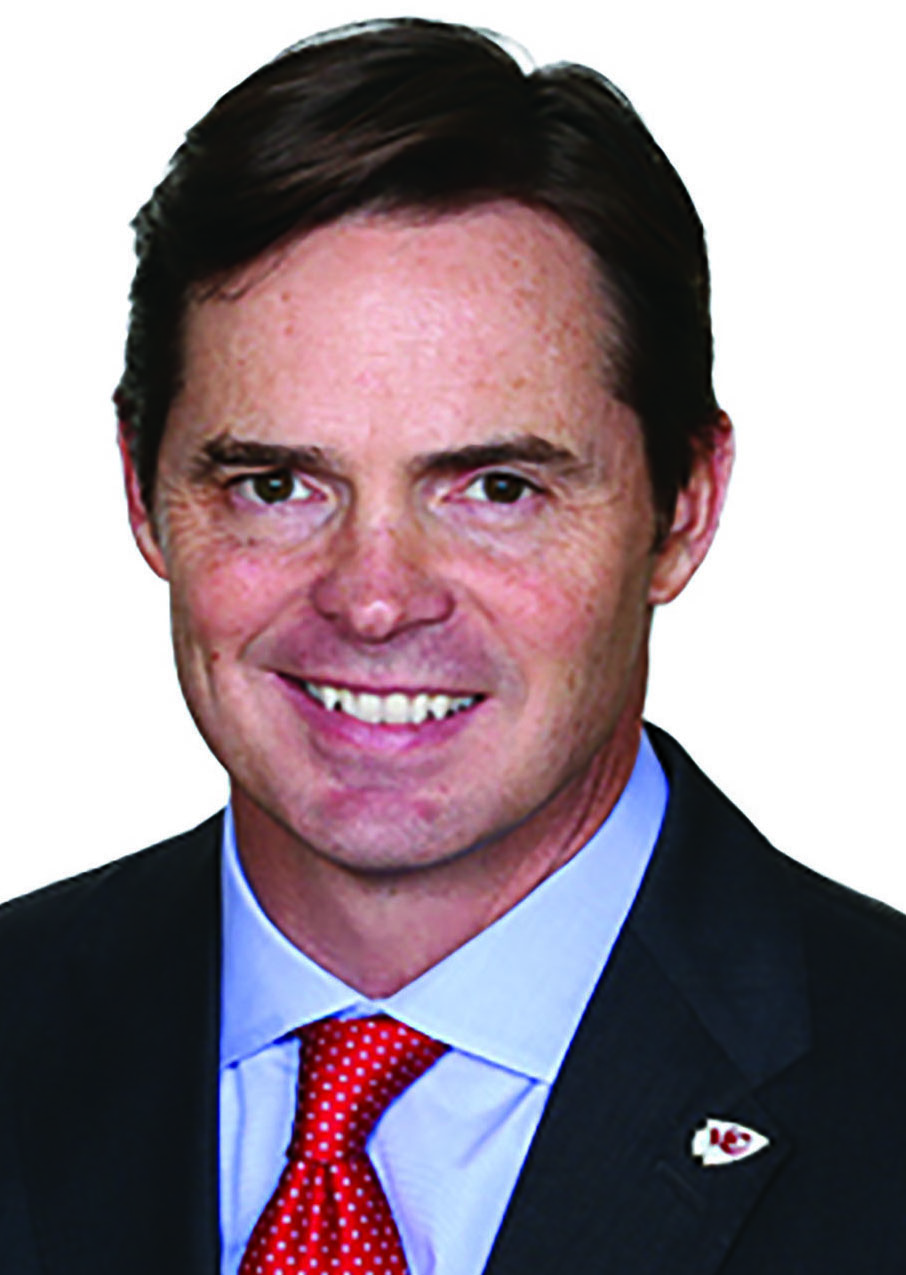 Only five people in the history of the Kansas City Chiefs have held the title of team president, and only two of those—Mark Donovan and the late, great Jack Steadman—could lay claim to running NFL-championship-caliber organizations. Steadman, of course, helped orchestrate the Chiefs' first Super Bowl victory; Donovan resumed the tradition for fans dreaming of a repeat for half a century.
COLLEGE: B.A., Organizational Behavior and Management/Political Science, Brown University
PHILLY-TRAINED: He's probably one of a comparative handful of Kansas Citians who can speak with authority on the Pat's-vs.-Geno's battle over cheesesteak supremacy in Philadelphia. Donovan spent six years with the Eagles, and rose to senior vice president of business operations before the Chiefs came calling.
LOCKED UP: In a harbinger of things to come for the team's key personnel (see: Patrick Mahomes' contract), Donovan signed a long-term contract last November.
ARROWHEAD DUTIES: In addition to overseeing the day-to-day and business side of the chiefs, Donovan runs Arrowhead Events, bringing non-Chiefs sports and entertainment to the stadium.
QB AT HEART: Donovan was the team captain for the Brown University Bears football team, playing quarterback for two seasons. Undrafted, he signed as a free agent for the New York Giants.
---
Dusty Douglas
PLANT MANAGER, GOODYEAR TIRE & RUBBER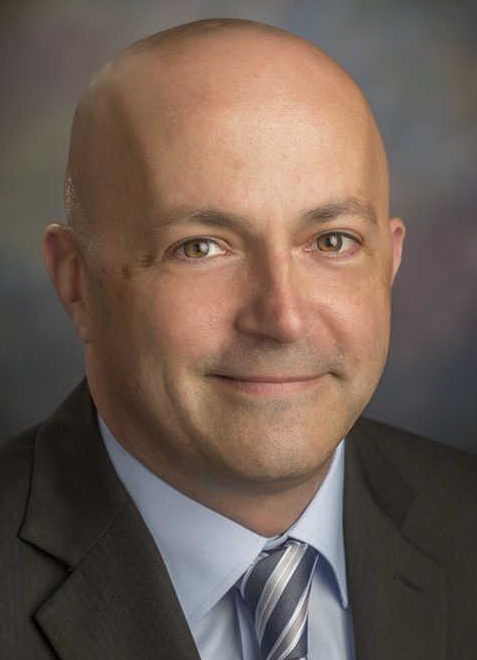 With roughly 1,500 workers at its Topeka plant, Goodyear is a major regional employer, and that work force is under the direction of Dusty Douglas, a veteran of nearly 30 years with the Akron, Ohio-based company. A native of Lockport, N.Y., Douglas came to Topeka in 2015 after a series of leadership roles, including director of strategic growth initiatives for Goodyear North America. He's also a member of the boards for the Kansas Chamber of Commerce and United Way of Greater Topeka.
COLLEGE: B.T., Mechanical Engineering, MBA, Manufacturing and Operations Management, State University of New York-Buffalo
OOOPS: The plant found itself in the middle of a PR disaster—with a presidential Tweet urging a boycott of Goodyear products—after an employee released a photo from a training slide earlier this year. It showed that Blue Lives Matter and MAGA hats or other political messages on shirts were unacceptable attire, while Black Lives Matter and LGBT-pride messages were OK. The company quickly backtracked on the law-enforcement aspect, but political party messages remain a no-no.
DID YOU KNOW: The plant has cranked out more than 2.5 million tires used by U.S. military Humvees. The largest tire it rolls out is 13 feet tall and weighs more than 6½ tons.
SCOUTING VALUES: Earlier this year, Goodyear received the 2020 Distinguished Corporate Citizen honors from the Jayhawk Area Council of the Boy Scouts of America.
---
Mark Dohnalek
OWNER/PRESIDENT, PIVOT INTERNATIONAL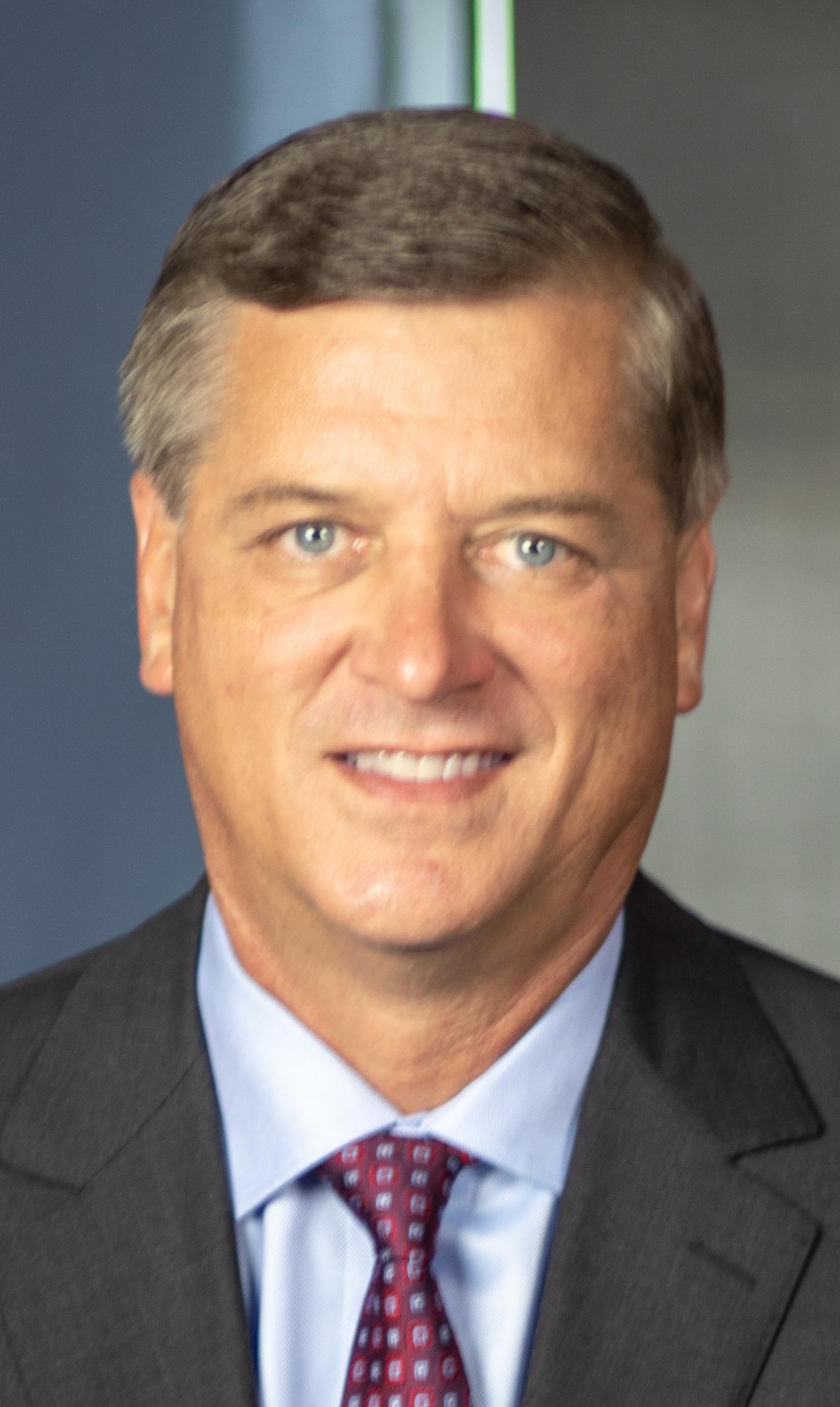 How big is Mark Dohnalek's portfolio of responsibilities? He leads an organization focused on engineering, manufacturing, global supply chain, industrial design, prototyping and regulatory compliance—and it serves a wide variety of industries. A busy guy, Dohnalek heads Pivot's global core business and various acquisitions in the U.S., U.K., and Asia. In less than a decade, Pivot has grown from 30 to over 600 employees, and added eight companies to its international portfolio.
COLLEGE: B.S., Economics, Cornell University; MBA, Keller Graduate School of Management
COVID CHALLENGE: "The need to lead with confidence and most importantly, staying with the vitally important notion of 'Adapt & Improvise.' If one did not constantly reassess and with the mindset of staying nimble, ready to improvise, based on the changing events in the field, you wouldn't have much hope in battling through these unprecedented challenges. The key skills were to stay flexible and focus on constantly re-evaluating the world as it changed."
PERFECT WEEKEND: "Attending a nice sporting event or golfing … and a nice dinner out."
ULTIMATE DESSERT: "Pumpkin or apple pie. A kolache is quite good, as well."
ANOTHER ERA YOU'D VISIT: "The late 1800's, in order to experience possibly the most significant time in modern history, going through the industrial revolution to seeing a man walk on the moon."
---
Case Dorman
PRESIDENT, FIORELLA'S JACK STACK BARBECUE
If there's one thing that brings a tear to Kansas City eyes, it's the thought of a beloved barbecue restaurant suffering in the COVID era. We're pleased to tell you, there's no reason to fear for Jack Stack; Case Dorman and team have things well under control. Dining-room business has been down, but drive-through and delivery volume at their five locations have tripled. They've also been focusing on their shipped products retail and wholesale businesses.
COVID & CULTURE: "If anything, it has reinforced and strengthened our company culture. We have really seen our team do their best work since the crisis struck."
SILVER LINING: "We have learned as a company that we can move much quicker and adapt to new technologies without having to perfect them before we implement them."
CRYSTAL BALL: "A vaccine in 2020 and a lot of built-up demand for experiences with family and friends in 2021."
PERFECT WEEKEND: "Travel to a new town or destination with my wife and exploring what makes it special."
ANOTHER ERA YOU'D VISIT: "The early 20th century. We still had a really strong family culture as a country and the Industrial Revolution, with all of the entrepreneurial energy and innovation, would have made for a fascinating era."
---
Dan Duffy
CEO, UNITED COUNTRY REAL ESTATE
Dan Duffy is going to need a bigger trophy case. The past year has produced even more awards for United Country Real Estate, a division of United Real Estate Group. The firm's embrace of innovation and rapid growth earned a spot on the Inc. 5000 fast-growth companies list, recognition from Franchise Business Review as Top Innovator and Top Franchise for Veterans, and a
Top 200 Companies nod from Franchise Times.
COLLEGE: B.B.A., Indiana University; MBA, Kellogg School of Business, Northwestern University
ABOUT UCRE: Kansas City-based United Country Real Estate is a network of more than 5,000 brokers in nearly 500 offices on four continents. It provides realty brokers with comprehensive marketing services, including internal advertising team and a buyer database with more than 650,000 contacts.
EARLY INNOVATOR: This is United Country's 95th year in business; it was founded in 1925 in Arkansas, and by 1928, it had produced the first national real estate catalog in 1928, which changed the industry forever. And it's still being published today, digitally and in print.
DIFFERENT PATH: Duffy took an indirect route to real-estate sales; early in his career, he worked on debt and equity capital market transactions in the mergers and acquisitions practice group Ernst & Young, one of the "Big Four" accounting firms.
---
Dow Draper
EXECUTIVE VP–EMERGING PRODUCTS, NEW T-MOBILE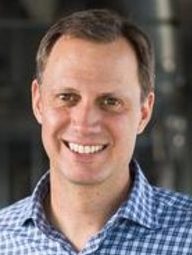 In the fiercely competitive telecom sector, Dow Draper is executive vice president of emerging products at T-Mobile, coming from the Sprint side after their $26.5-billion merger in April. "I've been very impressed with how the company has adapted to this challenging environment," he says, noting that the merger came just before COVID-19 hit. But with a new role and five brand new teams to run, "everything," he says, "was new for almost everyone!"
COLLEGE: B.A., University of Colorado; MBA, University of North Carolina's Kenan-Flagler Business School
COVID & CULTURE: "We spend a lot of time as a business unit finding ways to connect through our own town halls and even more informal activities. I try to have "virtual coffee" with my lead team at least every other week. There is no agenda. We just get together and talk."
SILVER LININGS: "Almost universally, I hear from friends and colleagues about the 'gift' of incremental time they get to spend with their family. I'm sure the kids don't always like it, but I know the parents do!'
PERFECT WEEKEND: "Being in the mountains … skiing, cycling or playing volleyball all day. Then capped off with a great dinner and an amazing bottle of wine with close family and friends."
FAVORITE CHILDHOOD TOY: "My bike or my turntable. Both were freedom. One physical, the other emotional."
---
Terry Dunn
FOUNDER, KC COMMON GOOD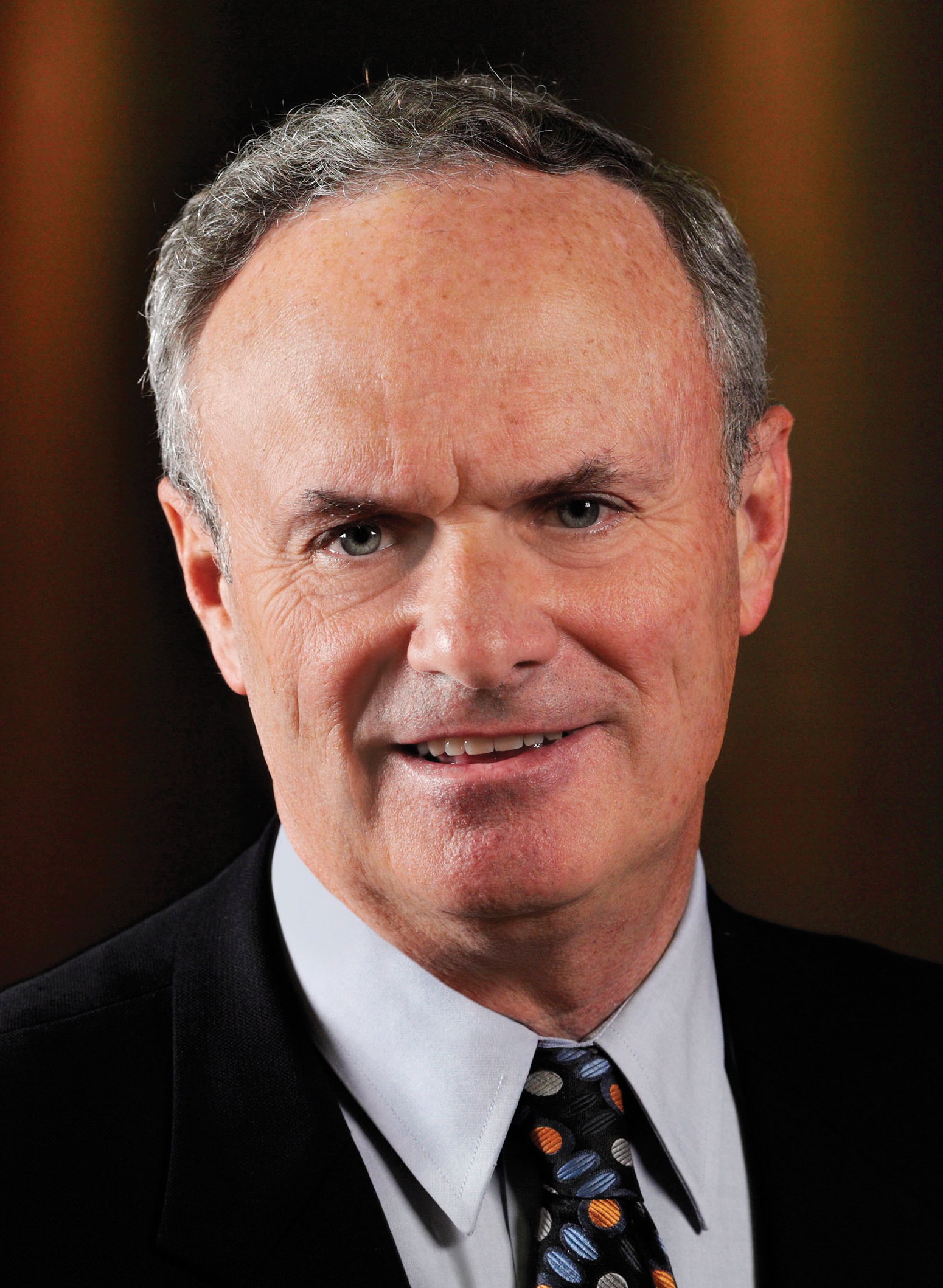 Terry Dunn spent 40 years building family-owned J.E. Dunn Construction into a multi-billion-dollar business, but since retiring in 2013, he's devoted his energies to pursuit of a passion that has as much impact, if not more, on this region. Well before social unrest over economic inequality burst into the national discourse, his KC Common Good initiative was exploring ways to "increase hope and opportunity "and to reduce violence and create an environment where citizens can live safely, securely and have access to real opportunities."
COLLEGE: B.S., Business Administration, Rockhurst University; MBA, UMKC
SECOND ACTS: Dunn is also founder of DD Ranch Leawood, which bills itself as "the business home for senior executives who have retired from major companies and are staying actively engaged as investors, directors and entrepreneurs in corporate, civic and charitable initiatives."
BATTERY RECHARGE: "I attend an early Mass and say a communal Rosary on a daily basis. I also work out with a trainer three days a week.".
FAVORITE HOLIDAY: "Christmas. It is a special season of the year for family and friends to come together to give thanks for our Faith."
RETIREMENT OUTLOOK: "I try to both live in and work in tight compartments. I close one door and open a future door to commit my time and passion. I live in the present, but am always looking to the future."
---
Tim Dunn
CHAIRMAN, JE DUNN CONSTRUCTION CO.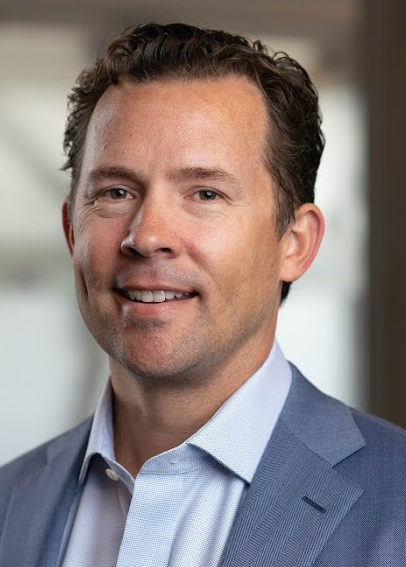 "It's much easier to step into a role when you have a high-performing leadership team and company," says Tim Dunn, and that's exactly what he stepped into last year when he succeeded his father, Steve, as chairman of the nearly 100-year-old construction company, Kansas City's largest. He's the fourth-generation leader of the company, which now operates in 20 locations nationwide, nearly 4,000 employees (1,750 in Kansas City) and did $4.26 billion in work last year.
COLLEGE: B.S.B.A, Accounting, University of Richmond; M.A., Entrepreneurial Real Estate, UMKC
A NUMBERS GUY: Dunn has risen through the ranks on the financial side and has been a key figure in its expansion history and, for the family, structuring its share of the ownership when they joined the local consortium that bought the Kansas City Royals from the Glass family last year.
EMBRACING CULTURE: "I continue to be amazed with the company's strong culture, commitment to do what's right, and the diverse talents across our entire company. It's beyond humbling to represent the family and company in that regard in my current role."
LESSONS LEARNED: "I've learned a lot from my grandpa, dad, and uncles in terms of experience and wisdom as they have seen the wild cycles that impact the building industry, but most importantly the perspective and dedication of a positive and constructive outlook about how we adapt, adjust, and come out stronger on the flip side of whatever the crisis is."
---
Peggy Dunn
MAYOR, CITY OF LEAWOOD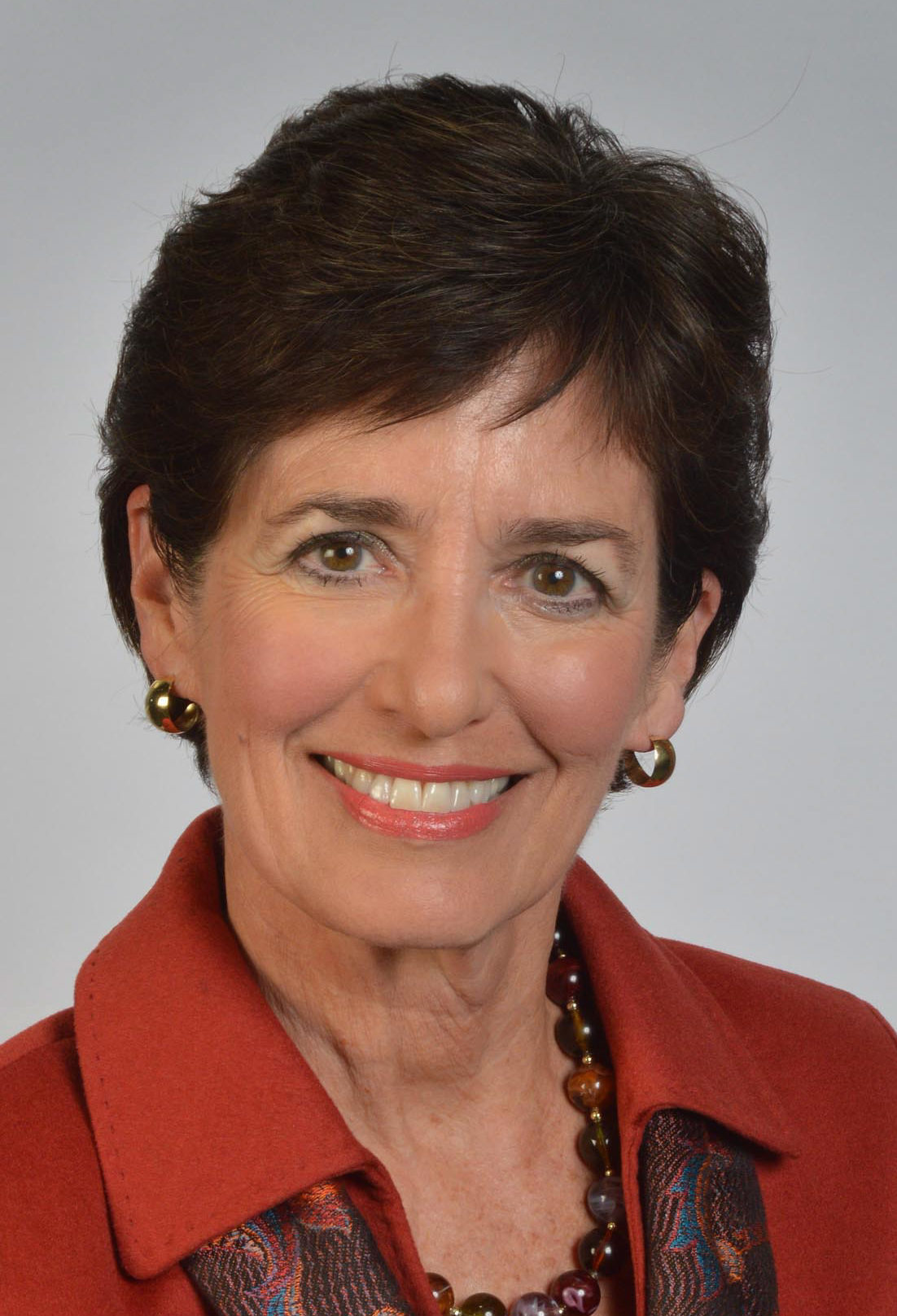 Some people may not like incumbents, but the good people of Leawood are quite fond of theirs. Since first taking office in 1997, Peggy Dunn has been re-elected five times. And she shows no signs of being bored by the job, having filed to run again. With all of her excess energy, she can also be found serving on various boards or otherwise supporting the efforts of some of the most high-profile philanthropic endeavors in the area.
COLLEGE: B.A., University of Missouri-Kansas City
PANDEMIC CHALLENGE: "The desire to keep people safe and healthy was the No. 1 priority. However, the shutdown of our economy was also a challenge for all who live and/or work in Leawood. Dissemination of any and all available information was keenly important, as was keeping a positive attitude about the new world in which we've found ourselves."
SILVER LINING: "I have been heartened by the outreach from others during this time of solitude. People are genuinely concerned about the health and well-being of those with whom they come in contact. Whether it's on the walking trails or in the grocery stores, individuals greet each other and ask how they are doing, illustrating that they care."
PERFECT WEEKEND: "A weekend shared with my husband, enjoying takeout from Joe's KC BBQ in Leawood, along with an MLB game on TV and a Royals' win, would be perfect!"
---
Steve Edwards
CHAIRMAN/CEO, BLACK & VEATCH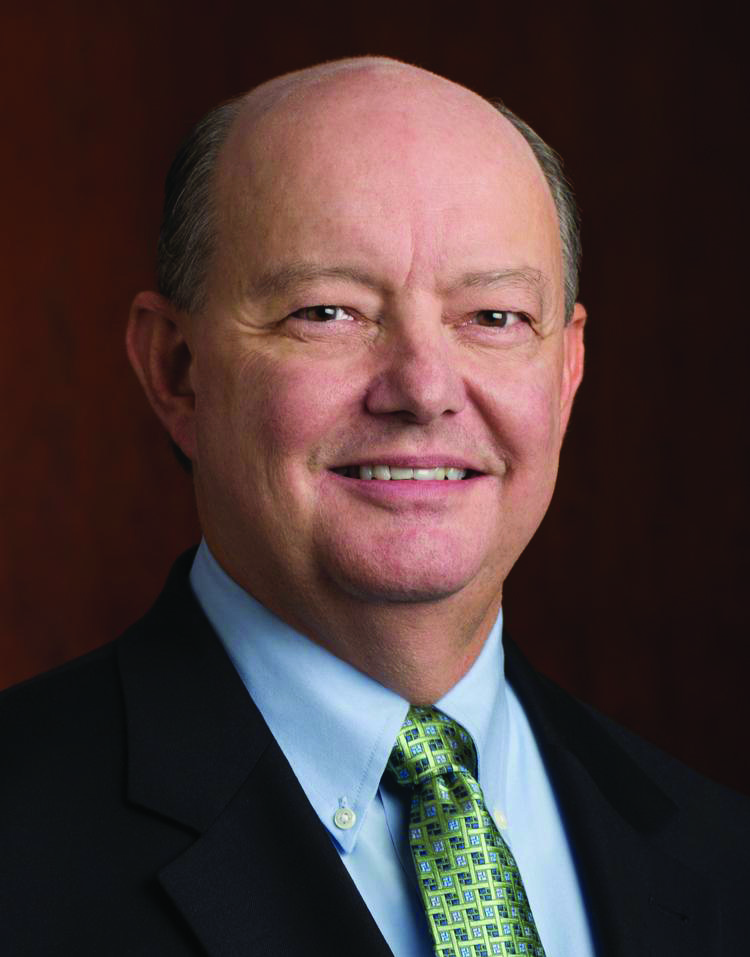 Time was, Black & Veatch was considered just an engineering firm. No more. In the nearly seven years since Steve Edwards became the top executive of this employee-owned global giant, B&V has only grown its influence in engineering, procurement, consulting and construction. He oversees more than 11,000 employees producing the infrastructure that runs the world: power plants, oil, gas and water, telecommunications, and security systems.
RECOGNITION: Engineering News-Record, which ranks firms by size, consistently puts Black & Veatch in its Top 10 for power generation, power delivery, water infrastructure development and telecommunications. It's the seventh-largest employee-owned corporation in the United States, according to the National Center for Employee Ownership.
CLOSER TO HOME: In the Kansas City region, B&V is No. 10 on the Ingram's 100, an annual list of the largest private companies in the region, with 2019 revenues of $3.7 billion.
PATH TO THE C-SUITE: Edwards established his executive bona fides for 35 years after joining the company in 1978, then made quick moves through of the top executive offices after joining the board in 2012, becoming COO in March of 2013, then moving to the CEO's role in November of that year.
---
Ed Eilert
CHAIRMAN, JOHNSON COUNTY COMMISSION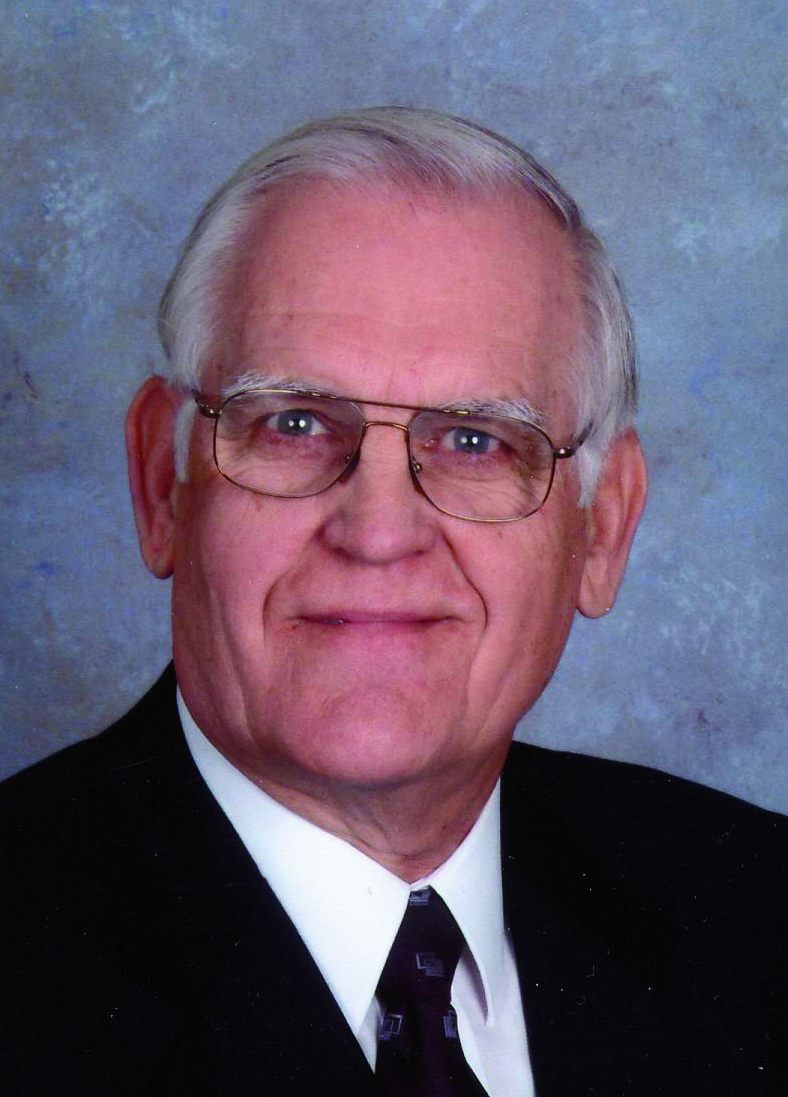 Most of Ed Eilert's adult life has been devoted to serving his community as city councilman, mayor, county commissioner and now as chairman of Johnson County's commissioners. This is his third time chairing the board for Kansas' most populous county. And in this go-round, with COVID a monstrous drag on business activity that supports tax revenues, Eilert cites "increased use of technology" as having the biggest impact on organizational change.
COLLEGE: B.A., Business Administration, M.A., Business Education. Emporia State University
PANDEMIC CHALLENGE: "The decision regarding a stay-at-home order and the ability to coordinate actions with professional public health advisors."
ON ENCOURAGING ENTREPRENEURSHIP: "Support educational opportunities and programs that provide training, re-training and mentoring support."
SILVER LINING: "We do have the ability to adapt to changes and challenges."
PERFECT WEEKEND: "Play golf and be with my grandkids."
FAVORITE CHILDHOOD TOY: "I grew up a farm kid, so it was my riding pony."
ULTIMATE DESSERT: "Fresh apple pie with vanilla ice cream."
FAVORITE MUSIC ARTIST: "Garth Brooks."
---
Bill Ferguson
PRESIDENT/CEO, CENTRAL BANK OF THE MIDWEST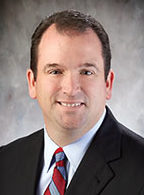 Bill Ferguson's banking operation serves 24 communities at 45 locations. And the word "serve" isn't taken lightly. He is fond of quoting the bank's motto, "Strong Roots. Endless Possibilities," which "reflects our long-standing commitment to the communities we serve and our devotion to delivering the high quality, innovative solutions that help our customers and communities navigate their financial lives." Central Bank of the Midwest is part of Central Bank group.
COLLEGE: B.A., University of Nebraska-Lincoln; E.M.B.A., Bloch School of Management, UMKC
PANDEMIC CHALLENGE: "Balancing the potential risks to our team and customers with our obligations as an essential service business in a rapidly changing environment. We took time to listen to our team and research the best answers to the challenges that kept popping up."
COVID & CULTURE: "The pandemic has only reinforced our commitment to relationships with our associates, customers and communities. The culture is built on deeply held values that guide and inform everything we do."
SILVER LINING: "The gift of having our children home for an extended period of time. We have been able to slow the world down a little and spend quality time at home."
FAVORITE CHILDHOOD TOY: "An old jukebox from the 60s we had in the basement that played 45s."
ULTIMATE DESSERT: "Vanilla ice cream with chocolate sauce."
---
Susana Eshleman
CEO, CHILDREN INTERNATIONAL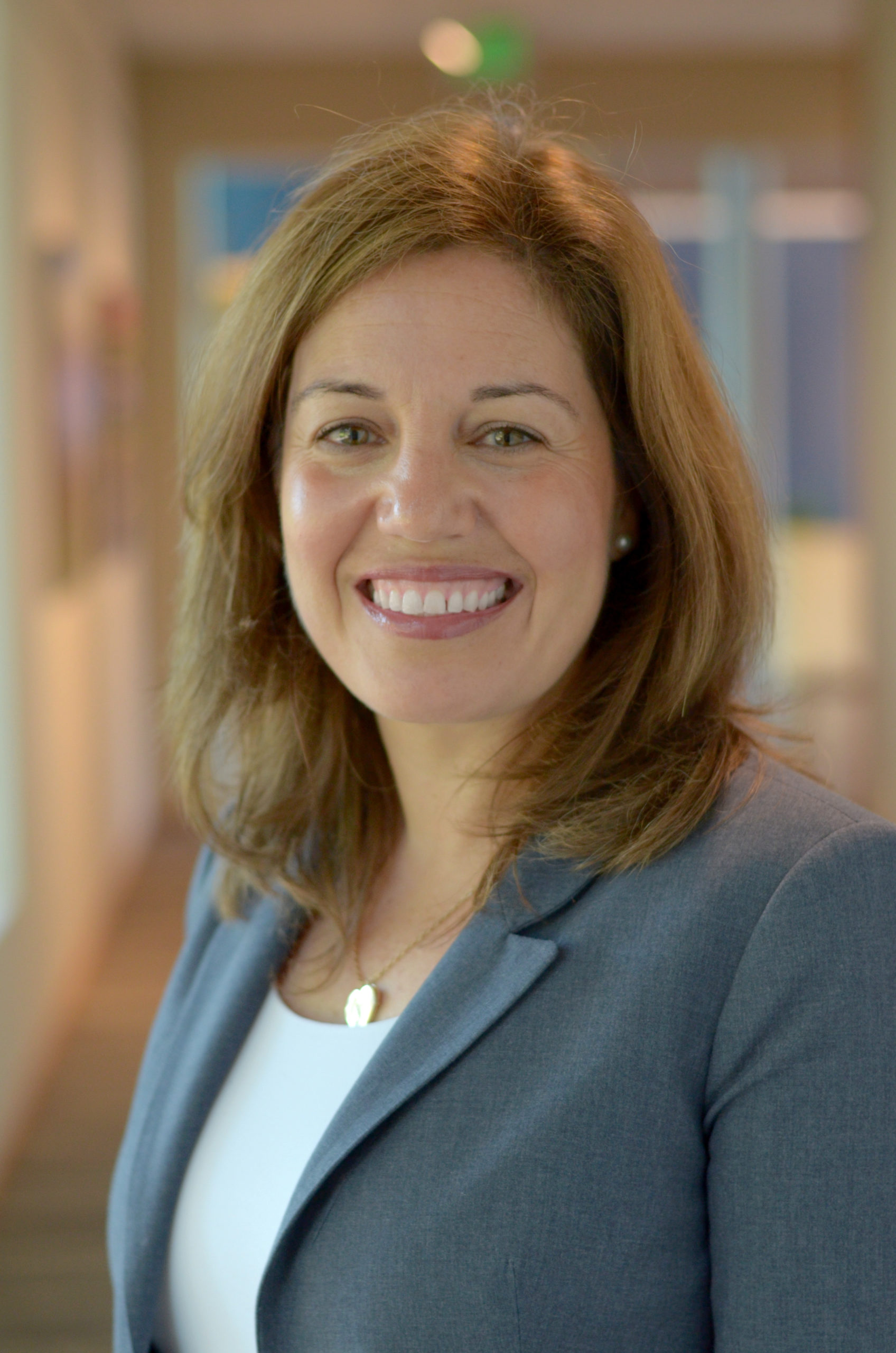 Susana Eshleman focuses every day on the welfare of children born into poverty. It's something she has cared about since her days growing up in Argentina, where she accompanied her grandfather to serve the poor. After a 16-year career at Hallmark—in marketing, strategy and management—she joined the board at CI, taking on her current role in 2014 and leading the effort to support programs for children and youth in countries around the world.
COLLEGE: Bachelor's, International Business and Management, University of Nebraska; MBA, Harvard Business School
PANDEMIC CHALLENGE: "To quickly move our entire team from the surprise of it and the natural tendency to want to do the same thing we were doing in this new reality, to embracing the opportunity and asking ourselves how to make the current challenge work for us to make us better. Early on, it was vitally important to me that we provide tools and resources to help our global teams."
COVID & CULTURE: "From distance-education to telehealth, to supporting emotional well-being in a crisis, we have learned new ways of working and to pivot at lightning speed."
SILVER LINING: "We are capable of far more than we thought was possible. I am confident the world will see many positive changes as a result of this crisis."
ANOTHER ERA YOU'D VISIT: "The current era, because I can use my few gifts and my influence for good."
---
David Feess
PRESIDENT/CEO, LIBERTY HOSPITAL
It's a bold mission statement, but nonetheless valid, when the New Liberty Hospital District, which operates as Liberty Hospital, declares that it "hopes to liberate health-care patients in northwestern Missouri." The 250-bed acute care hospital, under the watch of David Feess since 2011, is the biggest facility between the Kansas City area and the Iowa state line as you head up I-35, and it serves as an entry point in north-central Missouri's access to the region's quality health care.
COLLEGE: B.B.A., Pittsburg State University
BEFORE THE C-SUITE: Feess joined Liberty Hospital as assistant administrator of finance in 1987, and became assistant administrator of information and support services in 1990. In 2011, trustees picked him to succeed Joe Crossette as CEO.
HEALTH-CARE IMPACT: The hospital has more than 375 physicians and nurses, and more than 1,300 employees overall. It admitted nearly 7,600 patients last year, and generated nearly $669 million in revenues.
RECOGNITION: Last year, the hospital received an 'A' grade in the Fall 2019 Leapfrog Hospital Safety Grade, which rates how well hospitals protect patients from preventable medical errors, injuries and infections.
CIVIC: Feess has a seat on the board of directors for the Liberty Economic Development Corp.
---
Warren Erdman
EXECUTIVE VICE PRESIDENT, KANSAS CITY SOUTHERN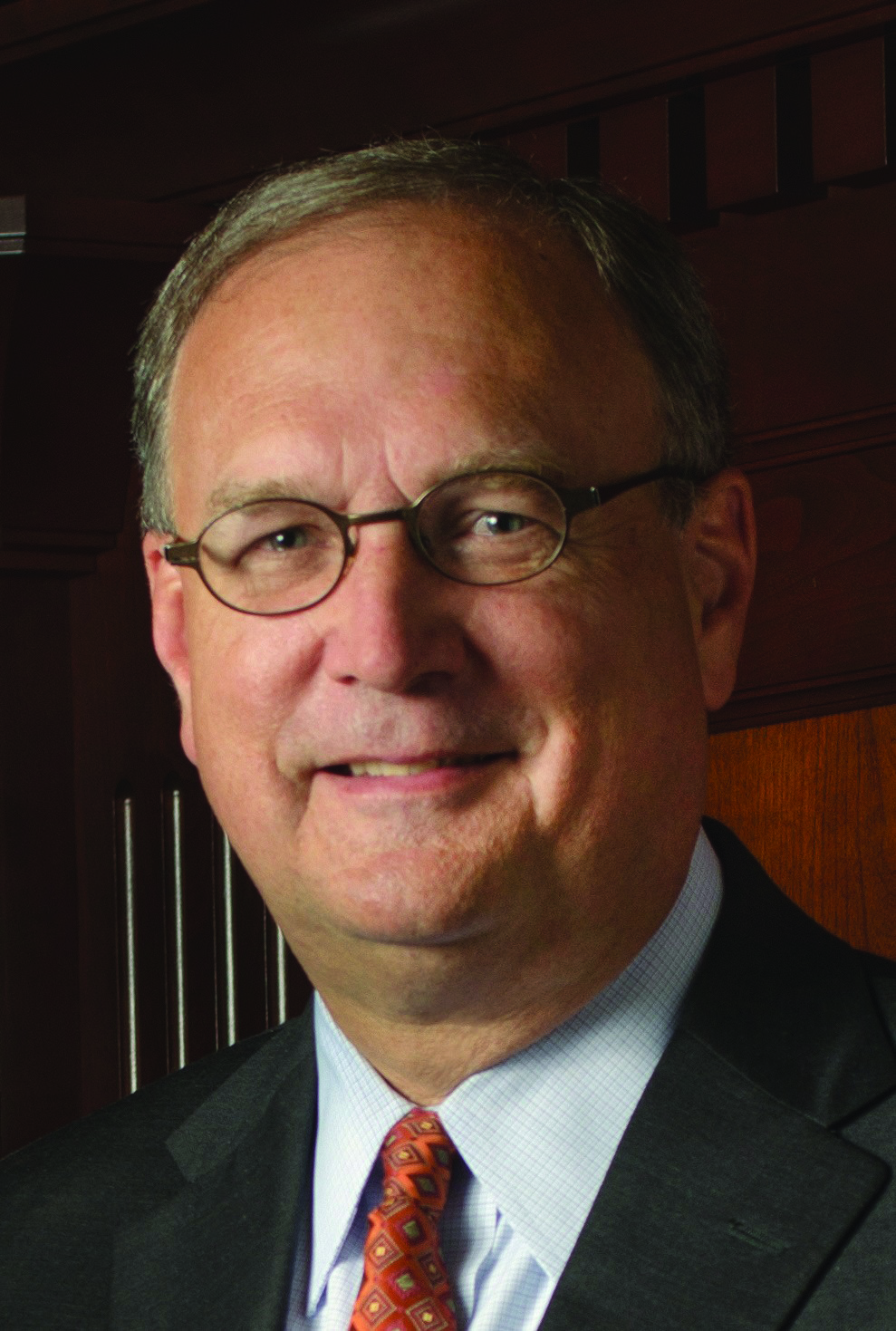 Warren Erdman has been spearheading corporate affairs effort for the company since 1997, and it's a significant contribution. The roots of Kansas City Southern stretch all the way back to 1887 and the Kansas City Suburban Belt Railway. Today, KCS has a network that stretches from northern Iowa all the way south to Mexico City. It's a shipping powerhouse with more than $2.8 billion in 2019 revenues (that's up from 2018, by the way).
COLLEGE: B.A., Westminster College
PANDEMIC CHALLENGE: "KCS must manage the impact of COVID-19 spread on its train crews and other essential train operations personnel, causing the company to be extremely proactive early in the pandemic toward steps to prevent spread of the virus at our company."
COVID IMPACT: "Many non-field, non-operational employees are working from home, as part of our anti-virus-spread program."
PERFECT WEEKEND: "Family and friends having fresh seafood and fun at the lake!"
FAVORITE CHILDHOOD TOY: "Model trains, of course!"
ULTIMATE DESSERT: "Tiramisu."
ANOTHER ERA YOU'D VISIT: "Late 1950s/early 1960s, when Americans invested in infrastructure and realized the importance of that for future prosperity."
---
Melinda Estes
PRESIDENT/CEO, SAINT LUKE'S HEALTH SYSTEM
Modern Healthcare magazine has called Melinda Estes one of the 50 Most Influential Physician Executives and Leaders in America. She oversees a network of 18 hospitals and campuses, and while 2020 has brought a lot to be sad about, Estes points out that there have been uplifting moments, as well: "It's been very rewarding to see and hear the stories coming from our teams
and patients about connection and healing," she says.
COLLEGE: B.S., Sam Houston University; M.D., University of Texas Medical Branch; MBA, Case Western Reserve University
PANDEMIC CHALLENGE: "As leaders, we've learned that to successfully respond to such a monumental challenge requires that we be nimble and decisive when it comes to finding the right solution for our patient's needs. I've always believed that it's essential to keep the patient at the center of every decision, and COVID-19 has only reinforced that. And we've seen the truth of it play out in every aspect of healthcare delivery: from IT to supply chain, down to the visitor guidelines."
COVID & CULTURE: "I think that's where we haven't changed at all—we've only doubled down. Saint Luke's has always prided itself on our culture of compassion and kindness."
PERFECT WEEKEND: ""Quietly relaxing on a beautiful beach or on some secluded tropical island." ULTIMATE DESSERT: "That's easy: anything with chocolate.
---
Jim Ferrell
PRESIDENT/CEO, FERRELLGAS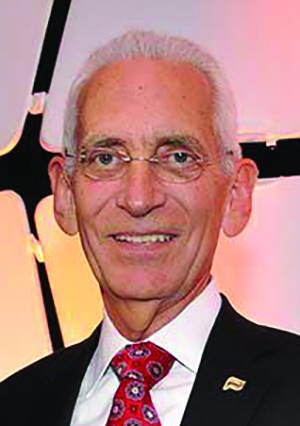 Just out of college, Jim Ferrell wasn't sure which path to take. He came home to help his father's struggling propane business, only to find that salvaging it would take far more time and effort than he thought. He stayed on, developed a profitable acquisition strategy, and built the nation's second-largest propane-services company. But he never forgot his roots, telling LP Gas that "when you start out with absolutely nothing, you don't forget that."
COLLEGE: B.A., Business, University of Kansas
INDUSTRY GIANT: In 2012, Ferrell was one of nine men who made up the inaugural inductees when LP Gas magazine created the Propane Hall of Fame to celebrate the centennial of the propane industry. He's also a past president of the World LP Gas Association and a former chairman of the Propane Vehicle Council.
PIONEER: In 1994, Ferrell pioneered the concept of a master limited partnership structure, taking the company public. It held a spot for more than 20 years on the New York Stock Exchange.
BRANCHING OUT: Ferrell is also behind Ferrell Capital, which pursues private-equity opportunities in real estate, banking and health-care services.
CHARITABLE IMPACT: Among the local charities that benefit from corporate philanthropy at Ferrellgas are the Children's Center for the Visually Impaired, the Dream Factory of Kansas City, the Leukemia & Lymphoma Society, Harvester's-The Community Food Network.
---
Wesley Fields
MANAGING PARTNER, BRYAN CAVE LEIGHTON PAISNER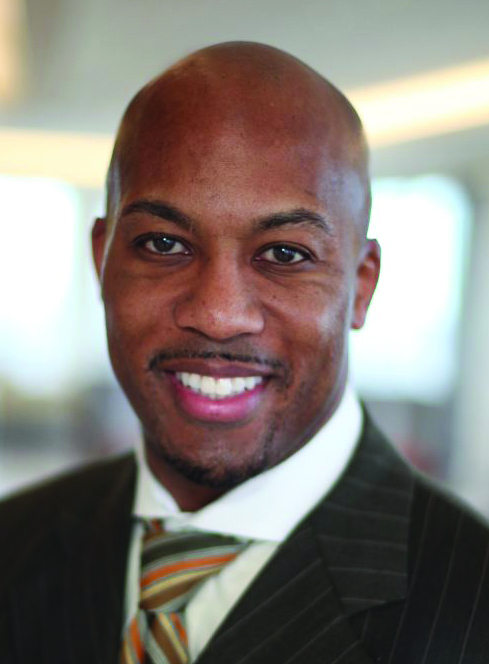 It didn't take Wesley Fields long to turn heads when he joined the Bryan Cave law firm fresh out of the University of Virginia School of Law. Professional awards came quickly for Fields, who comes from a family of lawyers. After 20 years of structuring development and public infrastructure projects, he became managing partner of what is now Bryan Cave Leighton Paisner, leading an office with 60 of the firm's more than 1,500 lawyers nationwide.
COLLEGE: B.S., Political Science and African-American Studies, Yale University; J.D., University of Virginia
BUSINESS LAW FOCUS: In addition to the development and public infrastructure work, Fields has deep experience in business law, covering joint ventures, M&A, consolidations, and business sales.
PUBLIC INTERFACE: For more than 15 years, Fields has served as lead counsel to Kansas City's Tax Increment Financing Commission. In that role, he's been part of drafting the legal framework for more than 100 development and infrastructure projects.
SERVICE/RECOGNITION: Fields has a rich history with civic and philanthropic causes, serving organizations that include the Southern Christian Leadership Conference's local chapter, the boards for Research Medical Center, Harvesters-The Community Food Network, the Leukemia & Lymphoma Society, and Friends of the Zoo.
---
Mike Frazier
PRESIDENT/CEO, REECENICHOLS REAL ESTATE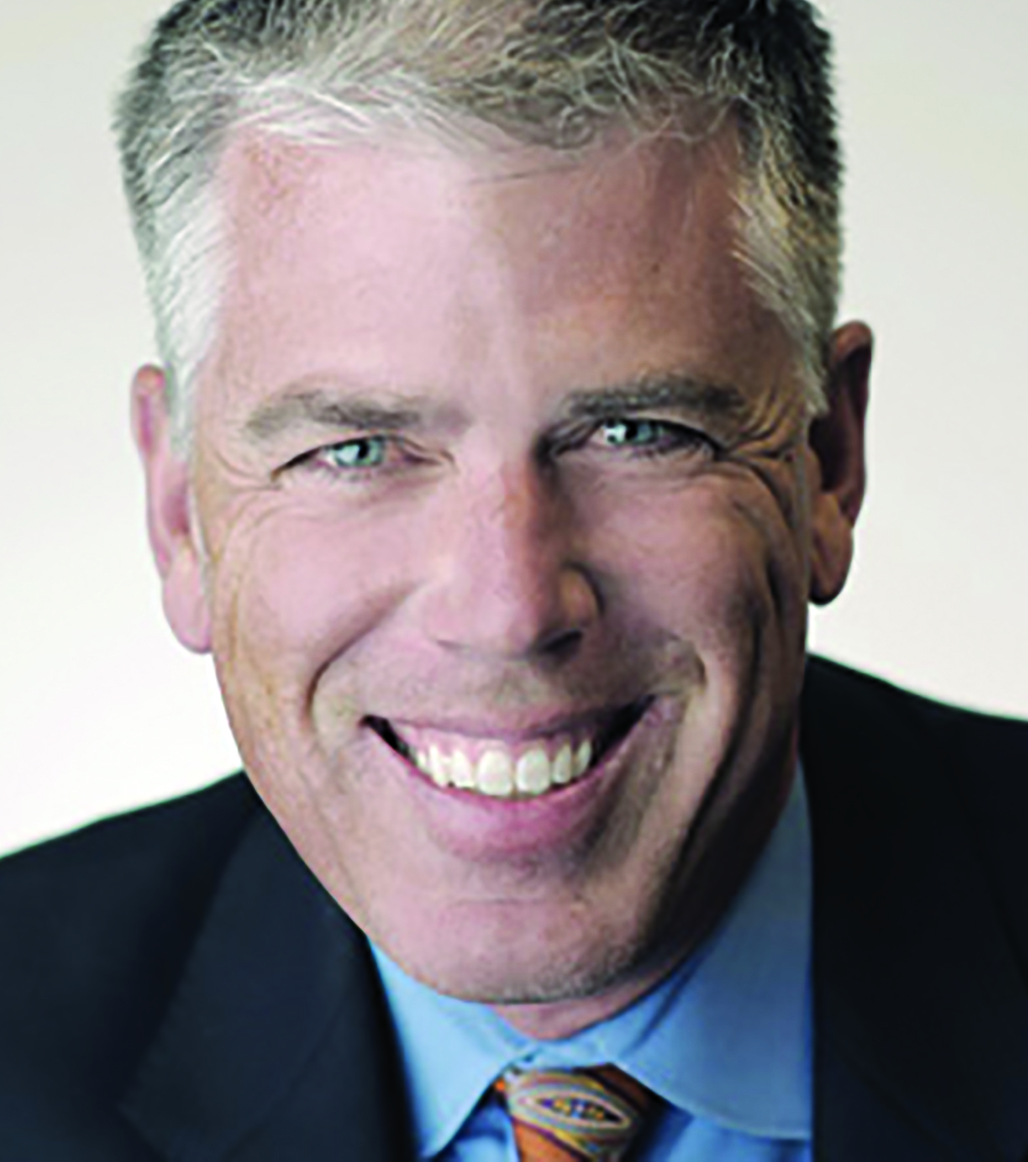 Some say real-estate people are in a funk, but suggest that to Mike Frazier: "With record low interest rates, our sales have sky-
rocketed, with no signs of slowing down in 2021,"says the top executive at the region's largest realty firm. "Through it all, we maneuvered in a way that our service never fell short and we thrived in very uncertain times." He also sees blue skies ahead, with coastal interest in this region signaling good things for 2021 growth.
COLLEGE: B.A., William Jewell College
PANDEMIC CHALLENGE: "Throughout the pandemic, information changed by the hour. The biggest challenge was determining what information needed to be acted upon immediately and what could wait. It was imperative that we remain calm through the chaos."
COVID & CULTURE: "This crisis has showcased the resiliency of our team. In order to keep our processes going smoothly, safely and healthily, most of our staff moved to remote work, without skipping a beat or letting quality fall by the wayside."
SILVER LININGS: "We are a tighter, better organization. The pandemic required us to re-think our service strategy and streamline our processes and communication to deliver better customer service."
PERFECT WEEKEND: "With my family and friends. A round of golf or just relaxing with either of our grown children who live outside the metro is always special."
---
Bill Gautreaux
PARTNER, MLP HOLDINGS/KANSAS CITY ROYALS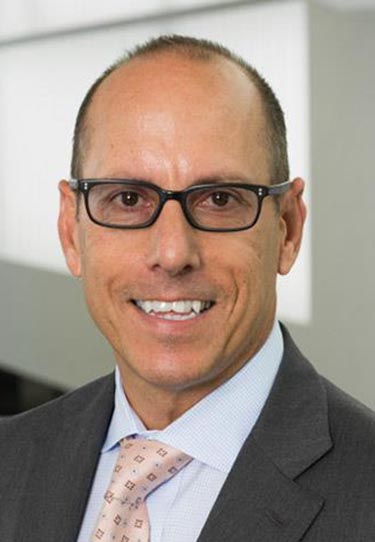 Fossil fuels have done all right by Bill Gautreaux, but really—is there any line of business entrepreneurship that has the same cachet as saying "I own part of a pro baseball team"? Gautreaux's long-time business affiliation with John Sherman provided instant inclusion in last year's efforts to assemble investors to buy the Royals from the Glass family. Gautreaux got on board, along with two dozen other prominent figures from the region.
COLLEGE: B.A., History, William Jewell College; Oxford University
PANDEMIC CHALLENGE: "The suddenness of the event. Absolutely no time to prepare. Strategic things that have been in process for years have to be set aside immediately. Reversal of fortunes for individuals and some companies. Like anyone, I get comfortable with the status quo. I have a need to understand the environment and to adapt."
COVID & CULTURE: "Culturally, people are on edge, but there is also a sense of excitement and wonder about positive changes. For many, there is also great misfortune and not much to be excited about. There is more empathy."
PAUSE FOR CONCERN: "Some have been hit hard and people have died. The country is politically divided. Overall, it is hard to be positive about 2020 as a society. (But for things like equity and inclusion), "we may be able to look back on this as a positive turning point."
---
Dave Flickinger
EXECUTIVE VICE PRESIDENT, KIEWIT ENERGY GROUP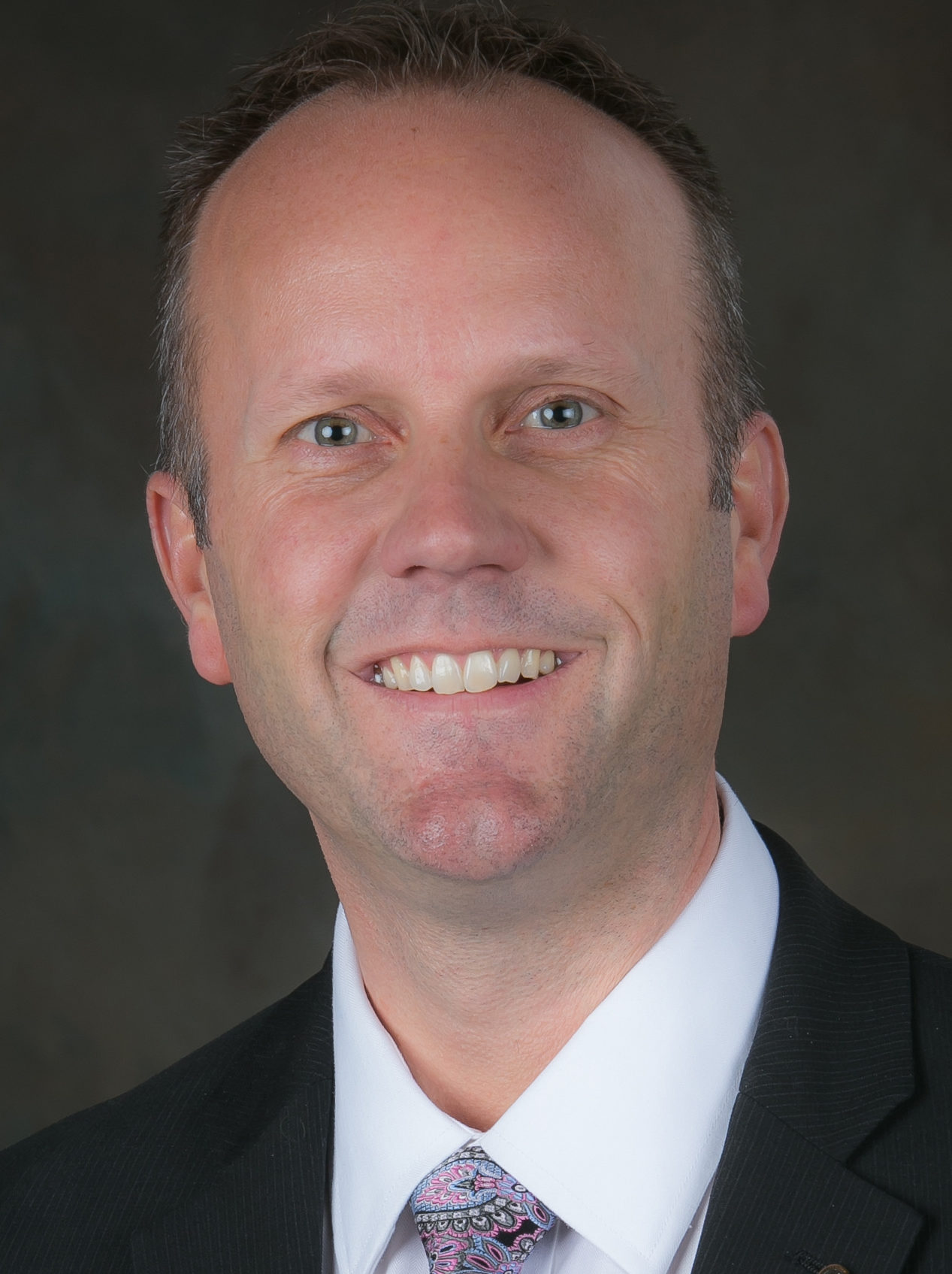 To his role overseeing the national power division for Omaha-based Kiewit Corp., Dave Flickinger brings more than 25 years of broad executive and engineering expertise. The firm's Kansas City operations are headquartered in Lenexa, where Flickinger's crew oversees work in power generation, transmission and distribution. Last year, that produced a tidy $2.99 billion in billings, making it one of the 20 largest private businesses in the Kansas City region.
COLLEGE: B.S., Civil Engineering, Pennsylvania State University
VERSATILE PLAYER: During his time with Kiewit, Flickinger has honed his skills in air-quality-control upgrades, transmission and distribution, and fossil fuel generation.
POWER SOURCE: The power division's recent scope of work includes a $5 billion liquified natural-gas plant in Calcasieu Pass, La., and the $1 billion Blue Water Energy Center in East China, Mich.
KEY EMPLOYER: The Lenexa site has a little more than 900 of Kiewit's 22,000-member work force, but that location generates roughly one-third of the company's annual billings.
NEW DIGS: Last year, Kiewit took the wraps off its new Lenexa offices, a six-story complex totaling nearly 182,000 square feet with a 1,300-stall parking garage. It's a key piece of the Lenexa City Center project to build a new "downtown" from the ground up in recent years.
---
Cameron Garrison
MANAGING PARTNER, LATHROP GPM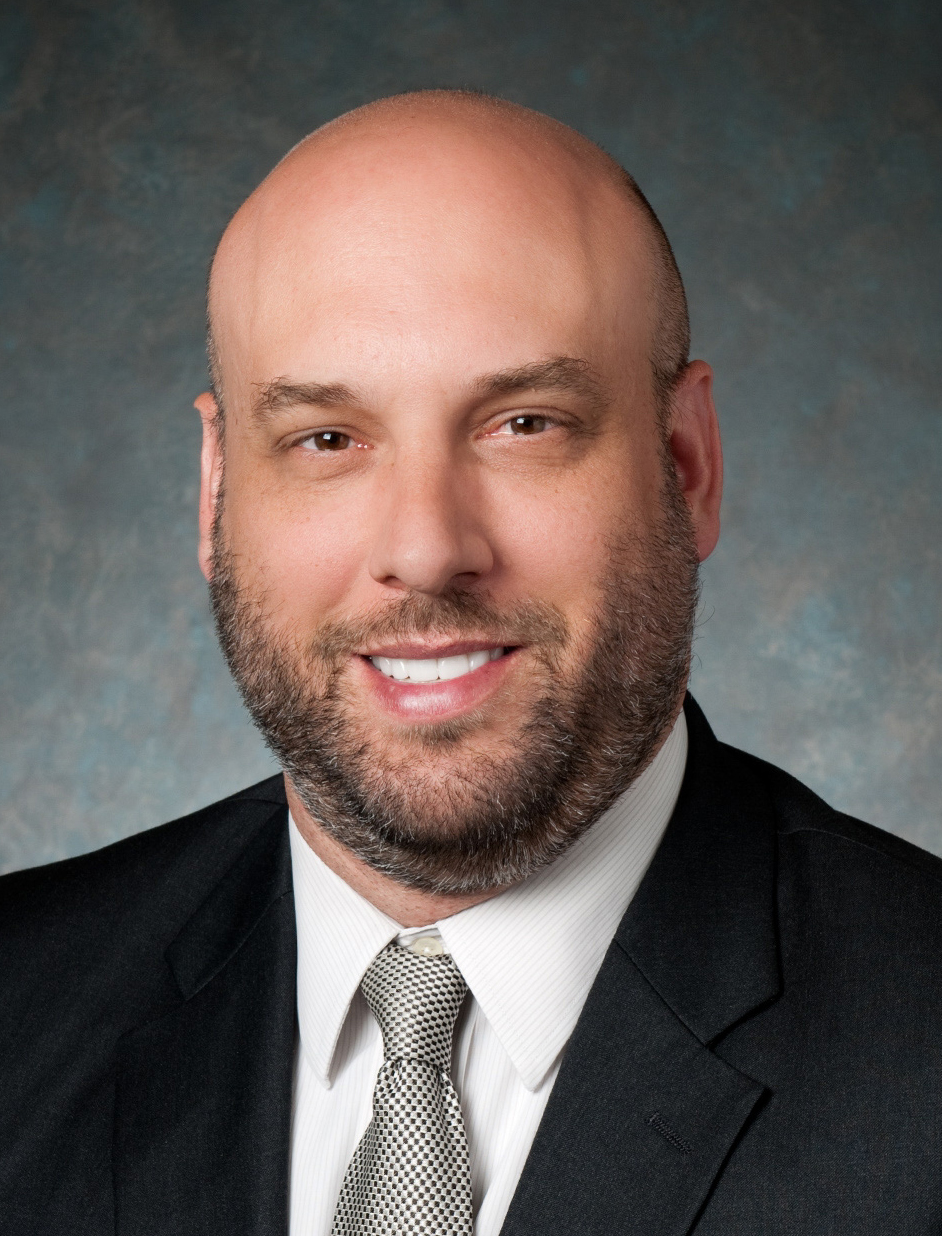 No, that's not Cameron Garrison's face in the dictionary under "optimist"—but it could be. Consider: "We completed a combination on Jan. 1 that nearly doubled the size of our firm," he says. The pandemic, prevented face-to-face meetings with new colleagues, but Zoom filled the gap. "I believe this has accelerated our integration far beyond what would have been possible in normal circumstances," says Garrison, who has 135 lawyers in his office.
PANDEMIC CHALLENGE: "Ensuring that we did everything we could to protect the health and safety of our people while keeping our business running efficiently. … I relied on our organization's greatest asset—our tremendously talented team—to ensure that we accomplished that goal."
COVID & CULTURE: "We have much greater flexibility than we realized in how we deliver premium client service. By embracing different ways of practicing law, we have been able to identify myriad ways that we can be more efficient in the way that we operate."
PERFECT WEEKEND: "Quiet time with my family, preferably on a beach, in the mountains, or by a river."
FAVORITE CHILDHOOD TOY: "A basketball."
ULTIMATE DESSERT: "My daughter's triple-layer chocolate cake, with the bottom layer being a triple fudge brownie. We keep telling her she needs to start a bakery and just sell those cakes."
---
Esther George
PRESIDENT/CEO, FEDERAL RESERVE BANK OF KANSAS CITY
Nearly 40 years after joining the bank, and nearly a decade after taking the top executive's spot, Esther George has carved out a reputation as the No. 1 inflation hawk for the 12-district system's board of governors. But there's more to her work than tracking CPIs. "My job … is really to engage closely with all parts of the economy in my region," she told Yahoo Finance. "And we have never done that more than we have during the last five months."COLLEGE: B.S./B.A, Business Administration, Missouri Western State University;
MBA, UMKC; Stanford Graduate School of Business
REASONS FOR HOPE: "We came into this with a strong economy," George said of the current downturn. "We had historically low unemployment. And that positions us better, I think, when we look at how we come out on the other side. So assuming we get the policy mix right, assuming that the medical issues can be addressed, I think the economy is well-positioned to be able to recover."
LOCAL PRODUCT: George was born in St. Joseph and grew up on her family's farm in Buchanan County, nearby the town of Faucett.
ABOUT THE FED: She leads a work force of more than 2,000 employees for the 10th district, including those at the main office here and branches in Denver, Oklahoma City and Omaha.
DID YOU KNOW: Only one state—Missouri—is home to two of the Fed district headquarters.
---
Carl Gerlach
MAYOR, CITY OF OVERLAND PARK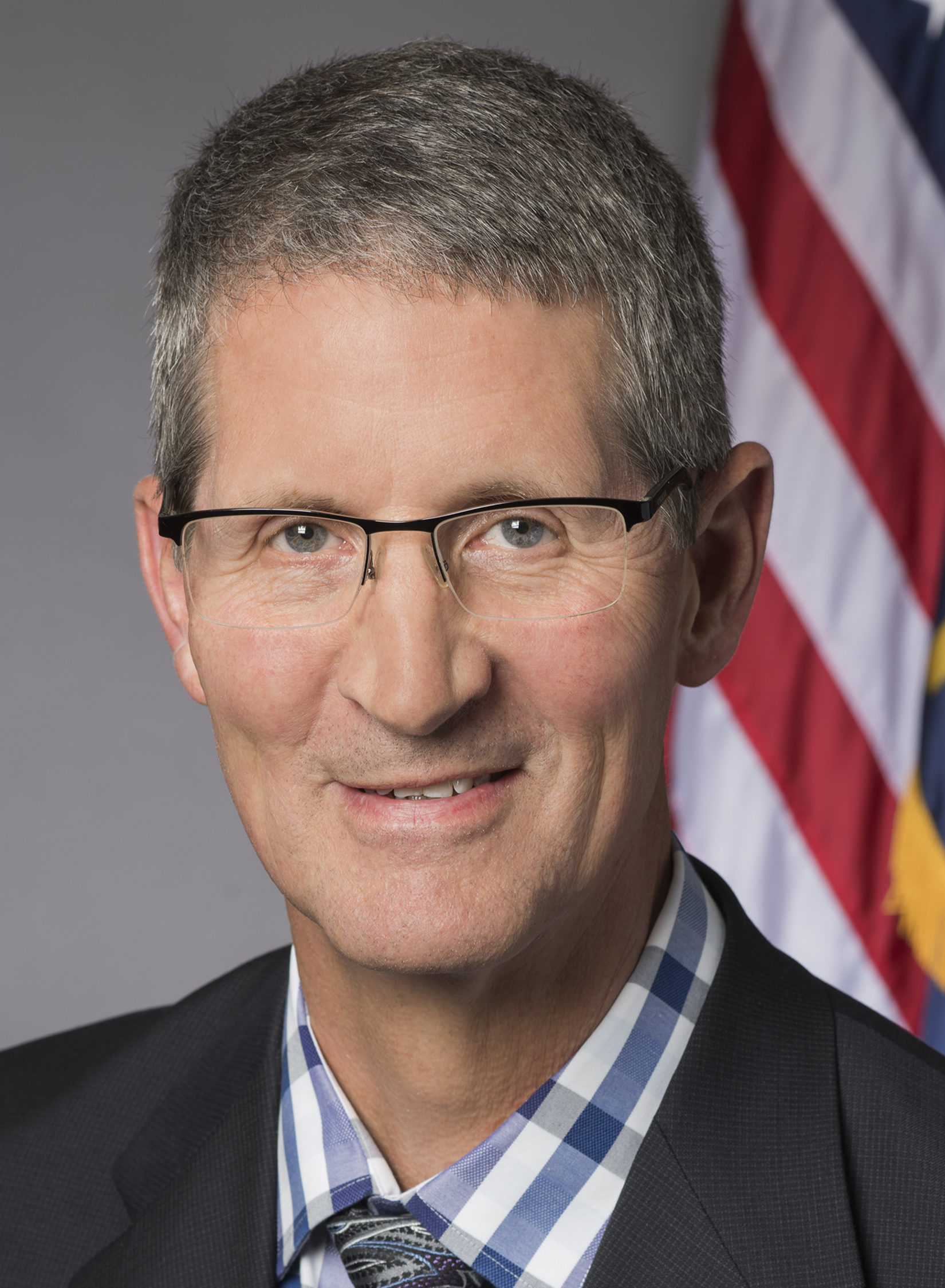 This four-time K-State basketball letterman knows how to operate during a changing game, a skill that has come in handy during the COVID era: In working with other cities to protect public health, says Carl Gerlach, "it was challenging to ensure all policy makers were working with the same information and data. Times of crisis often remind us that we are stronger when united, and this pandemic is no exception."
COLLEGE: B.A., Business Administration, Kansas State University
COVID IMPACT: "The pandemic illustrated how strongly our residents rely on local government. We have to look for ways to do more with less resources and remain responsive to our community's needs. We also had to re-evaluate the way we provide services and take advantage of how technology can allow us to do this efficiently and effectively."
SILVER LINING: "The way local government communicates, engages, and interacts with our constituents has steadily evolved over decades. The pandemic accelerated many changes out of necessity, we have strived to adapt and accommodate residents' changing needs and expectations."
PERFECT WEEKEND: "Spending time with my family, we treasure our many weekends together at the lake; maybe a round of golf thrown in as well."
FAVORITE CHILDHOOD TOY: "Basketball."
---
Doug Girod
CHANCELLOR, UNIVERSITY OF KANSAS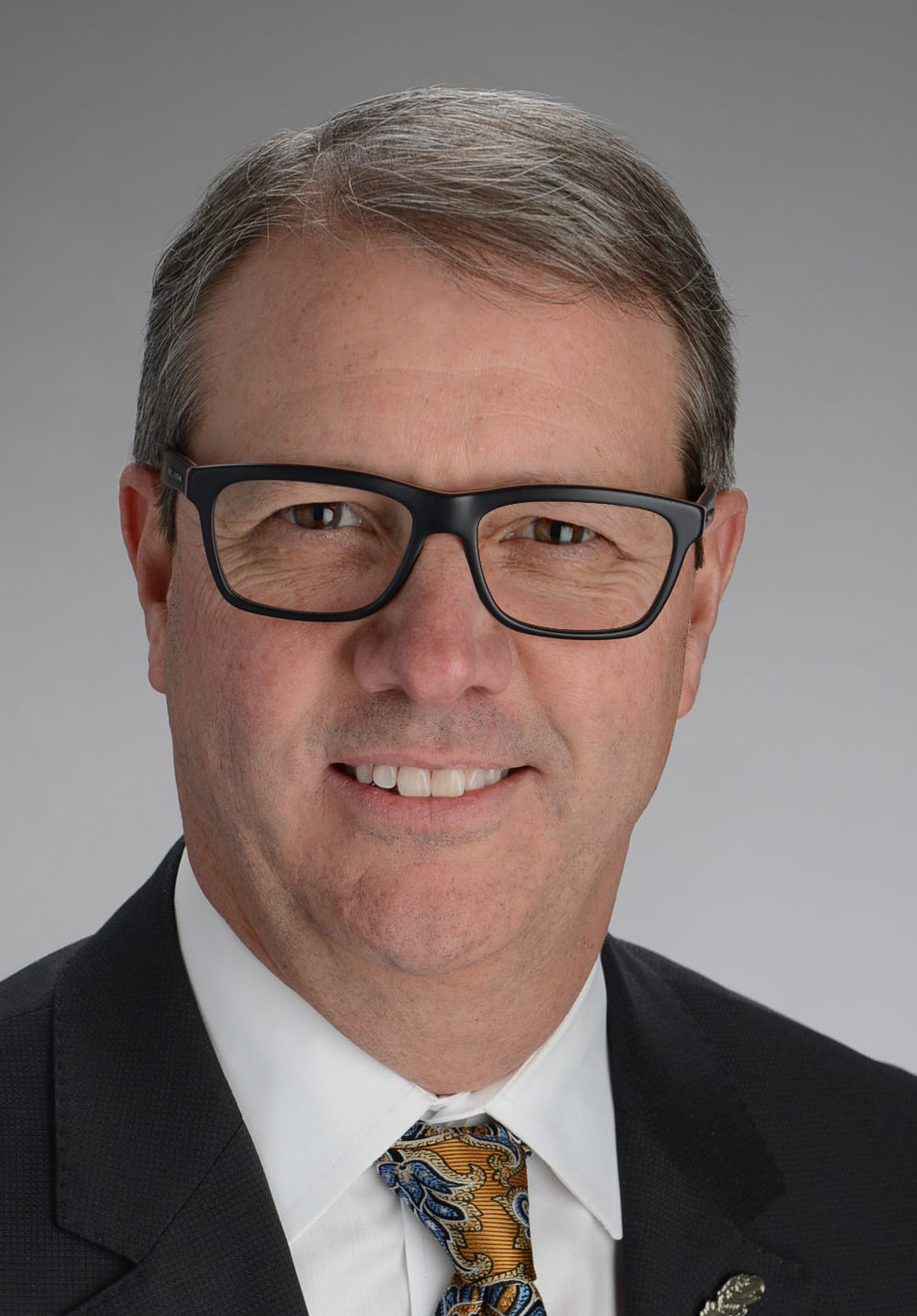 With thousands of employees and tens of thousands of students under his watch, Doug Girod has had a six-month crash course in crisis management on a scale that few executives must confront. COVID-19 quickly cut a $30 million swath in the university's budget. Now he's managing fall re-opening for one of the region's premier research institutions, with more than 20,000 students on the Lawrence campus and thousands more in Kansas City and Wichita.
COLLEGE: B.A., University of Calif.-Davis; M.D., University of Calif.-San Francisco
INSULT MEETS INJURY: It was bad enough when cancellation of March Madness cost KU a likely Big XII tournament championship. But the subsequent decision to kill the NCAA Tournament itself denied the country's No. 1-ranked basketball team a chance for its first national championship since 2008. Now, it's heading into a football season with an opening game that will be played without fans in the stands.
BEFORE ACADEMIA: Girod is a head-and-neck surgeon by training; he joined the University of Kansas Medical Center faculty in 1994, and since then, he took on the additional challenge of academia and gradually rose in its ranks to chancellor of the university. He became executive vice chancellor of the medical school in 2013 and was hired for his leadership role, overseeing all of KU, two years ago. Revamping the institution's budget model was among his accomplishments.
---
Greg Graves
CHAIRMAN, UNIVERSITY OF KANSAS HEALTH SYSTEM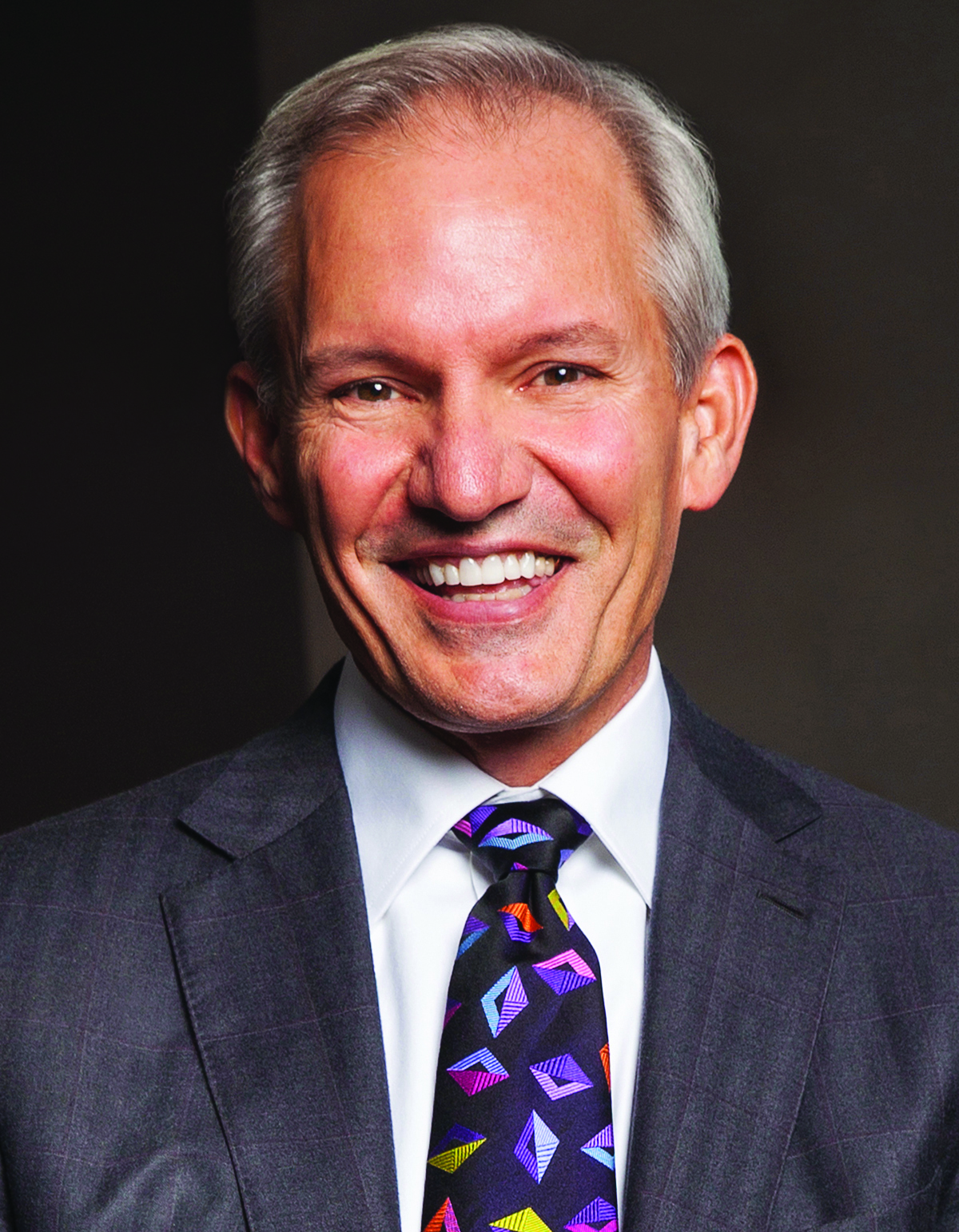 After his leadership days at Burns & McDonnell, Greg Graves invoked his inner Dylan Thomas: He refused to go quietly into the good night of retirement. Instead, he continues work on his ranch south of the city, and serves in multiple key roles with regional business and philanthropic entities. Perhaps the most prominent of those is the University of Kansas Hospital Authority board, where Graves is chairman and a big-time fund-raiser.
COLLEGE: B.S., Mechanical Engineering, South Dakota School of Mines
OTHER BOARD ROLES: Graves is also lead independent director for UMB Financial, which has more deposit market share than any other bank—local or national—in Kansas City; he's vice chair on the board of TechAccel, technology accelerator startup here); he chairs the building and grounds committee for Barstow School, and he chairs the endowment campaign organizing committee for the University of Kansas.
FLEDGLING AUTHOR: Next April will mark publication of Create Amazing: Turning Your Employees into Owners for Explosive Growth. And this book will draw heavily on personal experience. When he became CEO at Burns & McDonnell in 2004, the engineering firm had about $420 million in annual revenues. After 12 years of his leadership, that figure had grown nearly seven-fold, to $2.87 billion.
---
Lisa Ginter
CEO, COMMUNITYAMERICA CREDIT UNION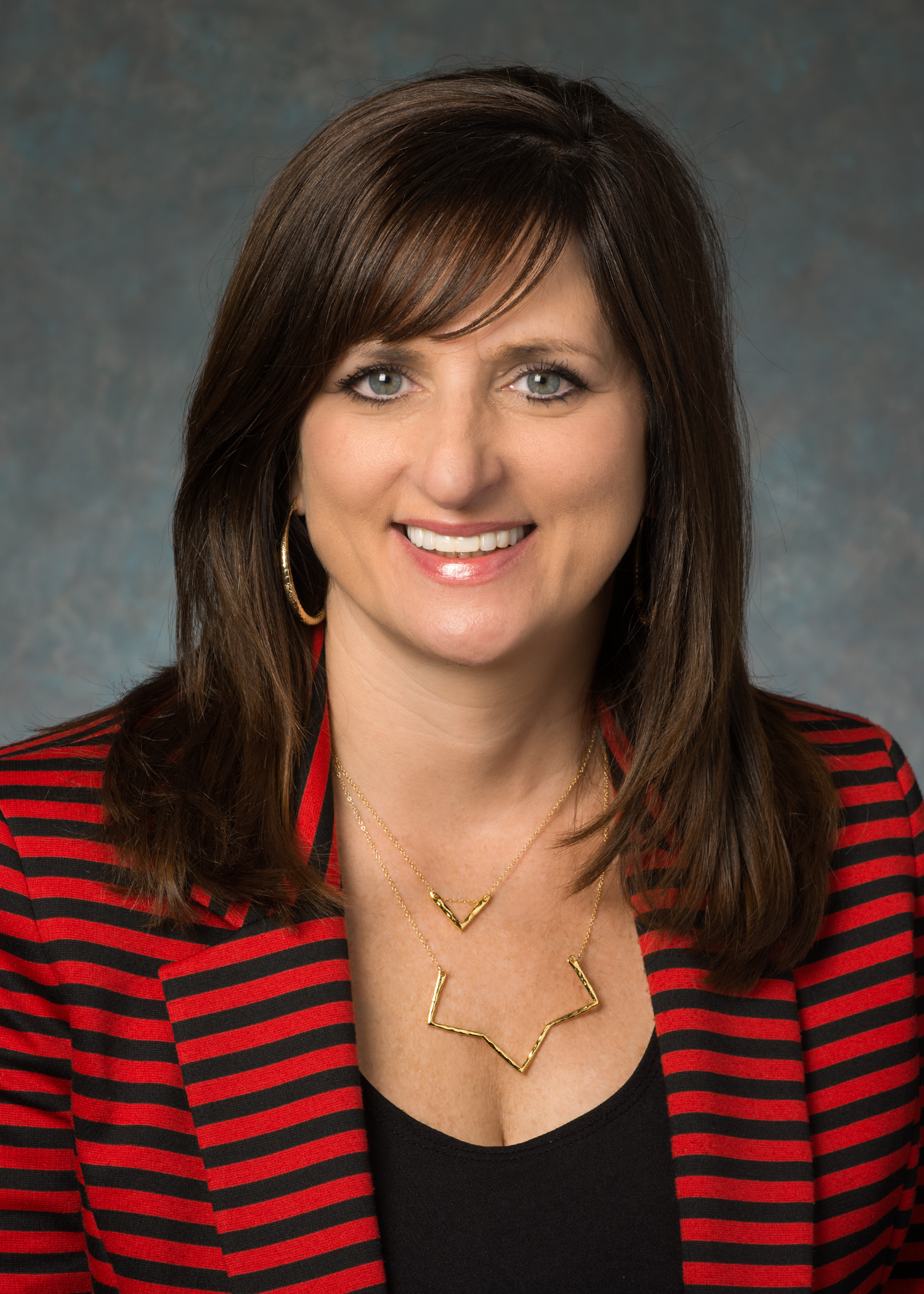 For Lisa Ginter, this year's biggest challenge has been "serving as financial first-responders and pivoting quickly to ensure there was no change to the member experience" during the pandemic. Since 2015, she's led the region's biggest credit union, with assets of $2.6 billion, 230,000 nationwide members and about 800 employees. "We learned we can be incredibly nimble as long as we stay focused on members first," Ginter says.
COLLEGE: B.S./B.A., Accounting, Rockhurst University
COVID IMPACT: "We have not seen any impact on lending to-date, and in fact, we continue to support our members with mortgage loans that are in high demand across Kansas City. We do see that adequate savings, long-term financial planning, and the ongoing support of our small business community have never been more important."
SILVER LININGS: "We've become hyper-focused on doing what we do best: people helping people."
PERFECT WEEKEND: "I love spending time with my family, including my two amazing granddaughters. When we're relaxing at the lake and cheering on our local teams, I'm in my happy place!"
ULTIMATE DESSERT: "I love Italian cookies and deserts, as I come from a big Italian family."
ANOTHER ERA YOU'D VISIT: "My childhood! I had a wonderful (and active!) upbringing as one of 10 siblings. I would love to revisit that happy time and spend more time with my parents."
---
Brett Gordon
CHAIRMAN, MCCOWNGORDON CONSTRUCTION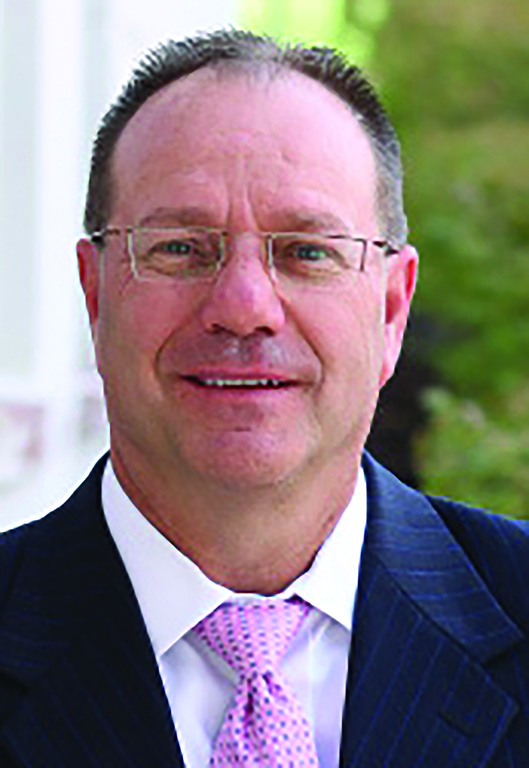 It's hard to turn around in Kansas City without seeing something Brett Gordon's company has had a hand in. Among the most recent projects in the company's storied career: Garmin's headquarters expansion, the Children's Mercy Research Institute, and the 21C Museum Hotel. A tour through their portfolio will show you many familiar sites around town. From health care to hospitality, from federal to philanthropy, this is one versatile contracting company.
COLLEGE: B.S.. Construction Management, Colorado State University; MBA, Finance, Rockhurst University
PANDEMIC CHALLENGE: "Trying to keep 60-plus projects up and running while adapting to multiple state, county and city varied rules and regulations. We had to be very flexible and adaptable, to not only keep everyone safe, but to make sure we're working within the different jurisdictional rules."
COVID & CULTURE: "At the end of the day, we are still a construction company and most of the work is done hands-on: you cannot remotely set a beam, weld a joint or drive a nail. That being said, some of the management and coordination can be done remotely, again you have to be flexible and figure out the best ways to be productive. Culture is more difficult to maintain, the messaging has to be more specific and pushed out to the associates."
FAVORITE CHILDHOOD TOY: "Building blocks, Lego and Tinker Toys. Go figure!"
---
Sam Graves
U.S. REPRESENTATIVE, MISSOURI, 6TH DISTRICT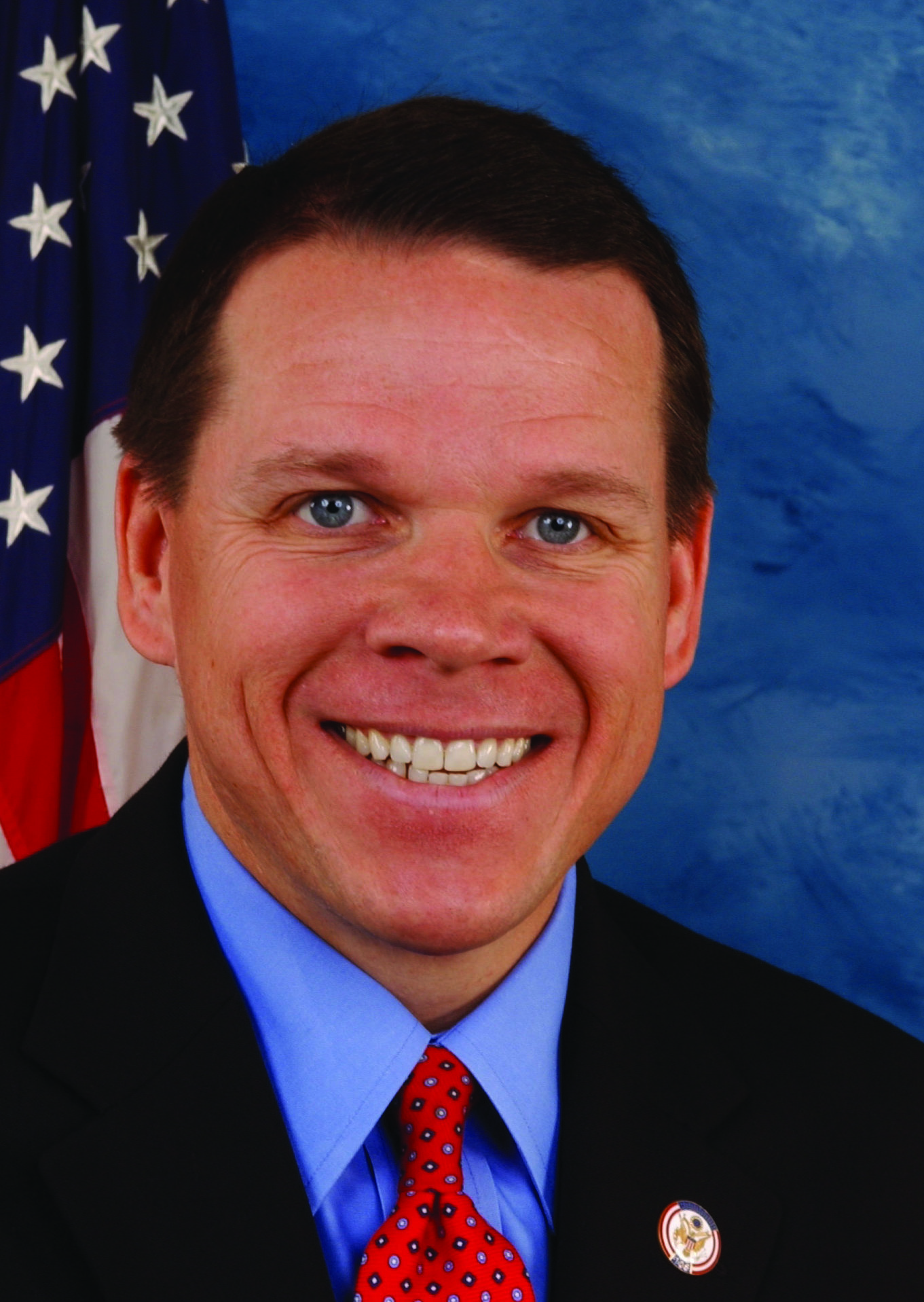 A generation ago, Sam Graves fought his way into the U.S. House of Representatives with a roughly 51-47 percent voting edge over Democrat Steve Danner. Since, then, Graves has consistently piled up 2-1 margins over most every challenger, his worst showing was by "just" 22 points over Kay Barnes in 2008. The district he serves runs river to river, Missouri to Mississippi, and covers all or part of 35 counties from the Iowa state line to north-central Missouri.
COLLEGE: B.A., Agronomy, University of Missouri-Columbia
NATIVE SON: Graves is a sixth-generation family farmer from Tarkio is in his 10th term and is a ranking member of the House Transportation Committee and is also on the House Committee on Armed Services. He's a Jefferson City veteran as well, having served in both the Missouri House and Senate.
JUST SAYING NO: Graves, as ranking member on the Transportation and Infrastructure subcommittee, was an ardent opponent of a $1.5 trillion measure that passed the House this summer, citing proposed changes in non-transportation regulations. "This bill is a terrible bill that will never become law," he declared. The Senate has yet to act on the full measure.
UP NEXT: Gena Ross, an instructor from Kansas City Kansas Community College, won the Democratic primary in June and will be on the November ballot against Graves.
---
Chris Giuliani
CEO, SPRING VENTURE GROUP
Spring Venture Group claims a unique combination of sales, marketing and technology, and it's all working—in a big way. Under Chris Giuliani's leadership, the company's rapid growth has been noted by various business publications, including Ingram's. They use metrics to get to the truth of what constitutes real value in the insurance sector. In their words: "Our advisers use an unbiased approach to deliver real value to every client's individual needs."
COLLEGE: B.A., University of Missouri; B.F.A., Baker University
PANDEMIC CHALLENGES: "We have a very strong, collaborative culture. Our challenge was ensuring this was maintained without regular, in-office interaction. Before we moved to working from home, we outlined a plan to increase our communication and leverage new ways to engage and collaborate across our teams. This focus on increased and improved communication keeps us informed, and most importantly, helps us stay connected."
COVID & CULTURE: "This will change the way we do business long-term, specifically with working from a centralized office. We have been very productive from home, so we anticipate offering a combination of work-from-home, in-office, and hybrid work options for our team members."
SILVER LINING: "An increased amount of family time. We are usually are on the run with two active kids, and we enjoyed the chance to slow down and spend time together."
---
Don Greenwell
PRESIDENT, THE BUILDERS' ASSOCIATION of KANSAS CITY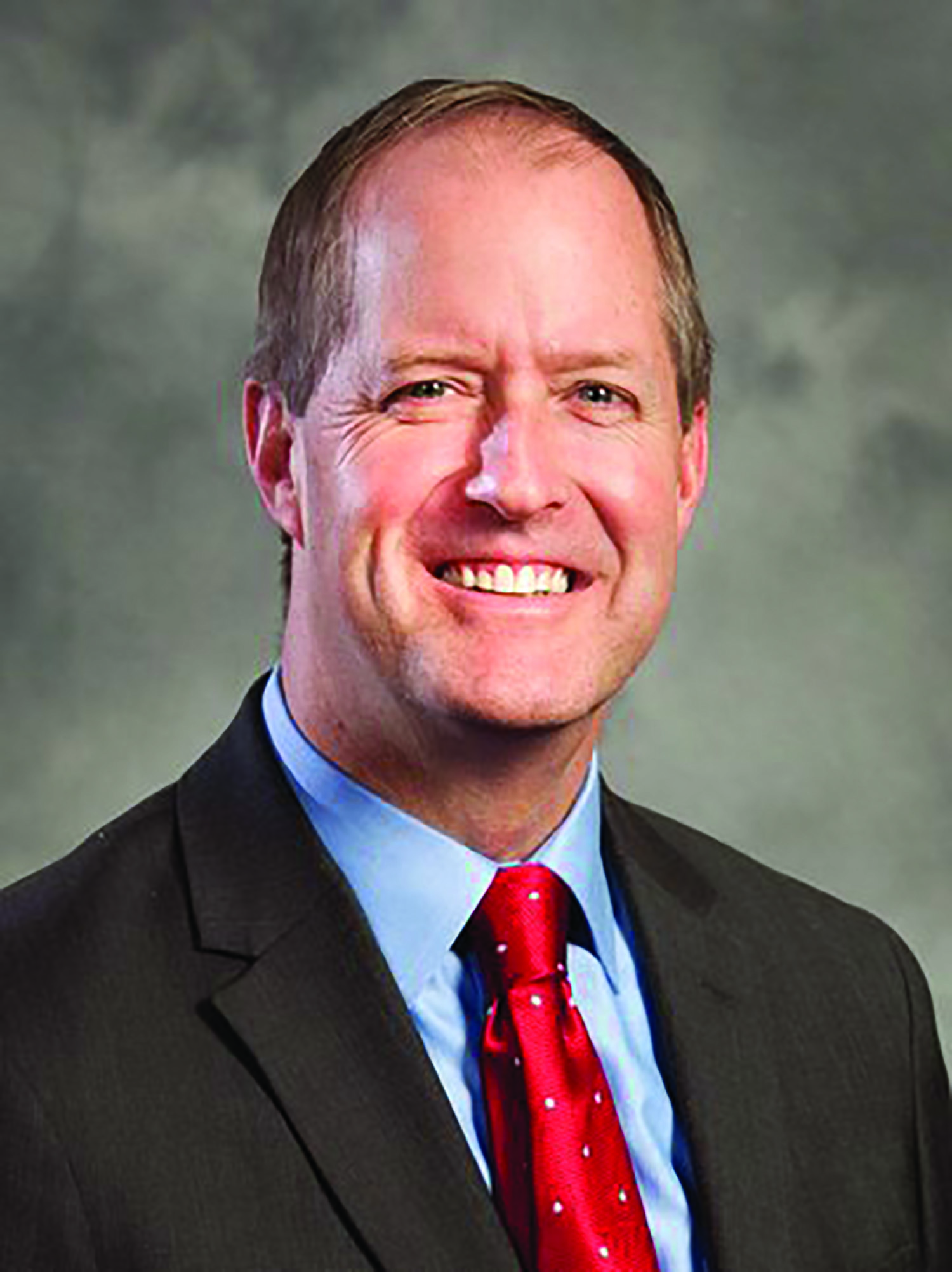 Building professionals throughout the region rely on Don Greenwell to gather and move crucial information—a big challenge this year: "In the beginning, it sometimes felt like drinking out of a fire hose of data, so finding short, effective ways to communicate has been crucial," he says. That includes extensive collaboration with health, safety and human resource professionals, business owners, labor representatives and public officials, he says.
COLLEGE: B.A., Finance, University of Missouri-Columbia; J.D., University of Missouri, Kansas City School of Law
PANDEMIC CHALLENGE: "As leaders, our top priority is to protect the health and well-being of people, and with construction industry people being deemed essential workers, that is certainly a leadership challenge. The challenges are accelerated, of course, by all the unknowns."
COVID IMPACT: "We have been intentional in finding ways to come out of this stronger on the other side. Our services operate more efficiently on technology platforms, and our staff team is more interconnected and culturally collaborative."
PERFECT WEEKEND: "Working with the earth (Editor's Note I: You don't say …)"
FAVORITE CHILDHOOD TOY: "A Tonka bucket crane." (Editor's Note II: See above …)
ULTIMATE DESSERT: "Berries, straight up."
---
Wendy Guillies
PRESIDENT/CEO, EWING MARION KAUFFMAN FOUNDATION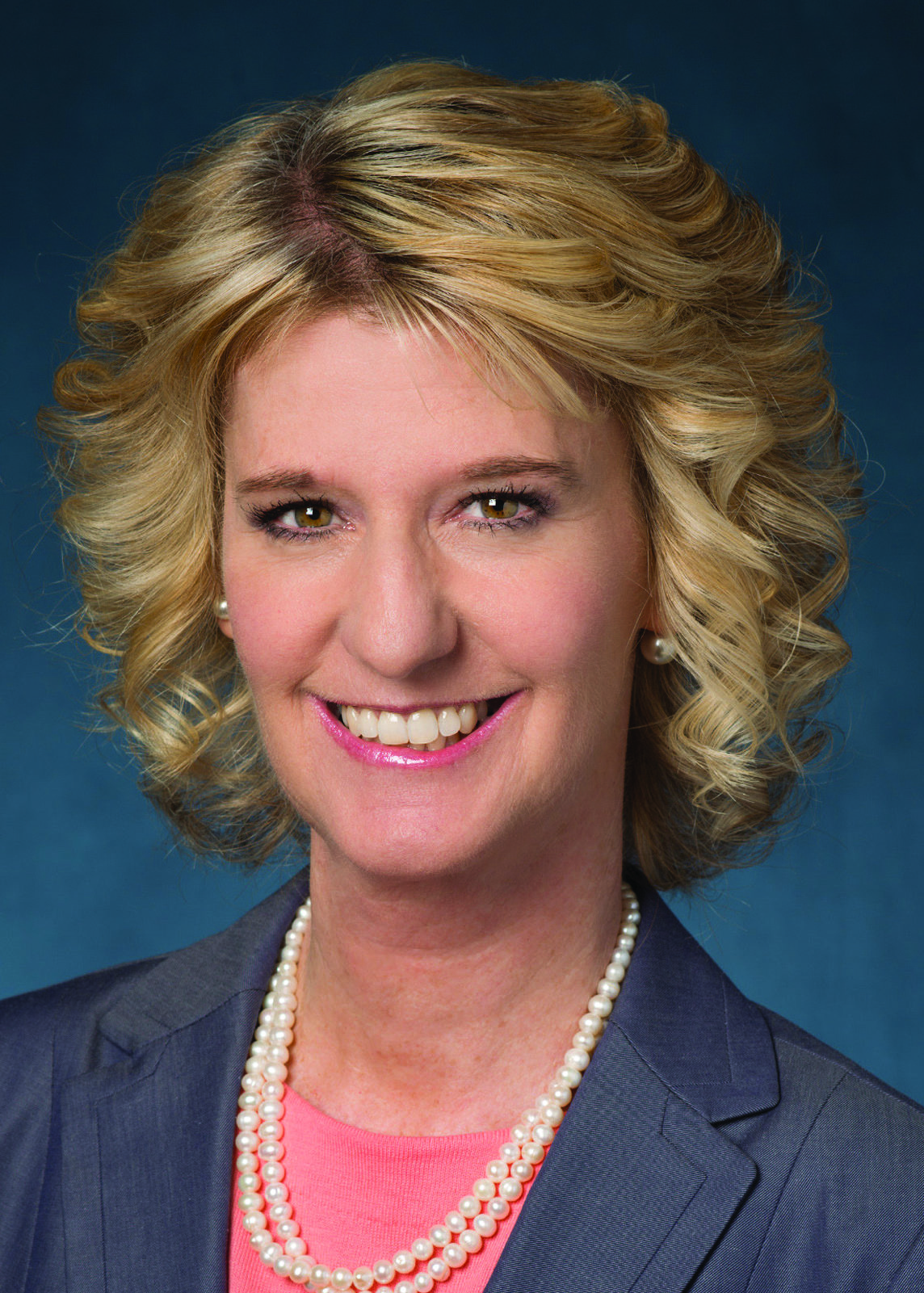 Among the great social advances of 1966—including Batman and Star Trek—was something far more significant for this region: the Ewing Marion Kauffman Foundation. It is one of the largest private foundations in the United States, with more than $2 billion in assets. Wendy Guillies leads a team focused primarily on improving education and boosting entrepreneurship in Kansas City and beyond with support programs and ground-breaking research.
COLLEGE: B.A., Journalism, University of Nebraska-Lincoln
PANDEMIC CHALLENGE: "How to respond most effectively to the overwhelming need. For guidance I drew on my go-to instinct to listen to and trust my colleagues who were closer to various pieces of the work and the community."
COVID & CULTURE: "Fortunately, we are able to do most all functions remotely, but that doesn't mean we haven't been challenged. Many associates are juggling child care and family obligations while working and we all miss being with each other."
SILVER LINING: "People are getting outside more. Walking. Sleeping eight hours. Spending more time with their families at home. Hopefully much of this sticks when we're on the other side."
PERFECT WEEKEND: "Sunshine, no pressing work to do, a long walk, making a great dinner at home, a good movie. Pretty boring, but my kind of wonderful."
---
Marc Hahn
PRESIDENT/CEO, KANSAS CITY UNIVERSITY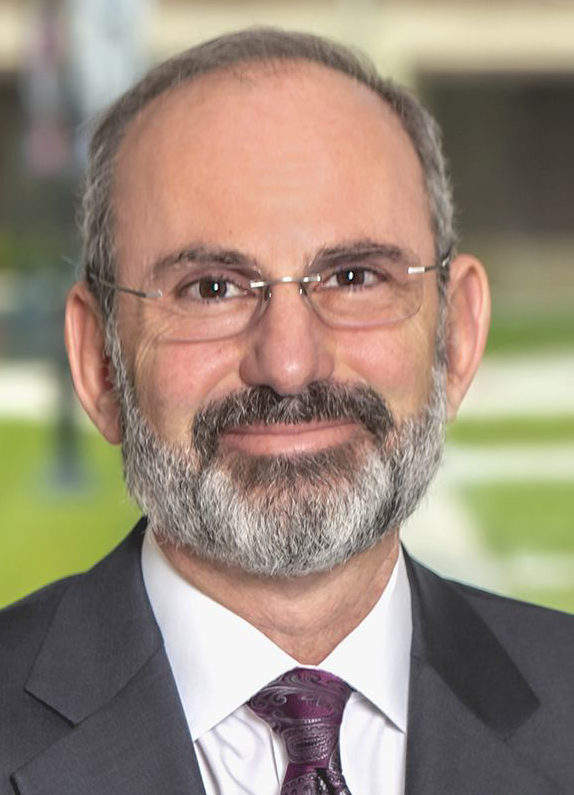 Give Marc Hahn full marks for courage; how many people do you know would time-travel from this age to visit an even bigger threat? If he could, says the CEO of Missouri's biggest medical school, he'd go back to "the Spanish Flu Pandemic of 1918, to see how they were able to get Americans to follow Public Health guidelines—like mask wearing!" Hahn has overseen KCU, with more than 1,700 enrolled future doctors, since 2013.
COLLEGE: B.S., Biology, Syracuse University; D.O., Des Moines University
PANDEMIC CHALLENGE: "Maintaining the day-to-day operations of the university was critical as we quickly transitioned to a virtual environment in March. This was made easier because of intentional planning over the past five years. … But as a physician, my first concern was for the safety and well-being of our students, faculty and staff; and that has driven all of our decision-making for KCU."
COVID & CULTURE: "This crisis has led to closer collaboration and camaraderie with the university team. People have rallied around our mission statement: Improving the well-being of communities we serve."
SILVER LININGS: "We have realized we can do things differently. We can work from home at times. We can utilize experts from afar using technology. We will rethink our utilization of space. When the pandemic is over we will go back to normal, but it will indeed be a new normal!"
---
Nathaniel Hagedorn
FOUNDER/CEO, NORTHPOINT DEVELOPMENT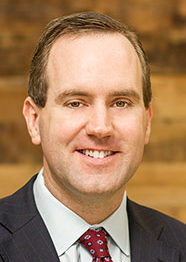 "Any time there is change, there is opportunity," says Nathaniel Hagedorn, who has created a great deal of it commercial realty since founding NorthPoint in 2008. The firm has developed 88 million square feet of logistics properties since 2012, with 317 industrial clients. "Big market adjustments like this unfortunately create a lot of losers," he says, "but it also creates an equal amount of opportunity for winners, as well."
COVID CHALLENGE: "The biggest tool we used … was to be very transparent with our team members on everything that was going on and what steps we were taking to ensure the businesses continued success."
COVID IMPACT: "Our culture is so important to the success of our company and we have found working from home to be a real challenge to on-boarding and training 70-plus new team members who have joined the firm through the pandemic or recently before the work-from-home mandates were put in place. Ensuring that we can bring those team members into our culture and ensure they are integrated into our culture and the 'NorthPoint Way' have been critical and it has taken a lot of effort on our team leaders to support our new associates."
SILVER LININGS: "Fortunately, our firm is focused on industrial real estate and with the boom of e-commerce things have been booming so it is hard to keep up with all the demand."
---
Don Hall Jr.
EXECUTIVE CHAIRMAN, HALLMARK CARDS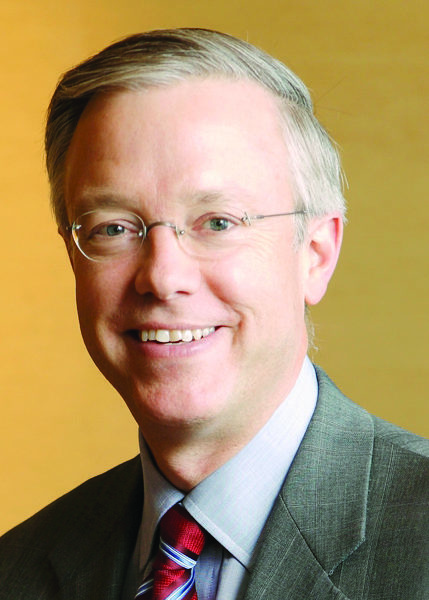 Hallmark's mission—creating meaningful moments to help people live more caring and connected lives—was never more on point than in the spring, says Don Hall, Jr. "We gave away 4 million Hallmark cards. People all over the country sent them to loved ones and friends, just as a reminder that someone out there was thinking of them during these difficult times," says the executive chairman for Hallmark and its board of directors.
COLLEGE: B.A., Economics/Literature, Claremont-McKenna College; MBA, University of Kansas
PANDEMIC CHALLENGE: "In a word … resilience. The challenges from COVID have accelerated every existing trend and required a candid reassessment of everything you do, an intentional focus on innovation and collaborative problem solving in the moment.."
PERFECT WEEKEND: "Being able to connect with family and friends, now mostly by Zoom, but looking forward to the time when it can be accompanied with a beer and barbecue in-person or at some of Kansas City's wonderful venues."
FAVORITE CHILDHOOD TOY: "My favorite toy was a camera … and it still is."
ULTIMATE DESSERT: "Chocolate anything or my Mom's recipe for an apple pie."
FAVORITE SONG: "Considering the number of birthday cards we make here in Kansas City, I'd have to say: Happy Birthday to You!"
---
Adam Hamilton
FOUNDER, CHURCH OF THE RESURRECTION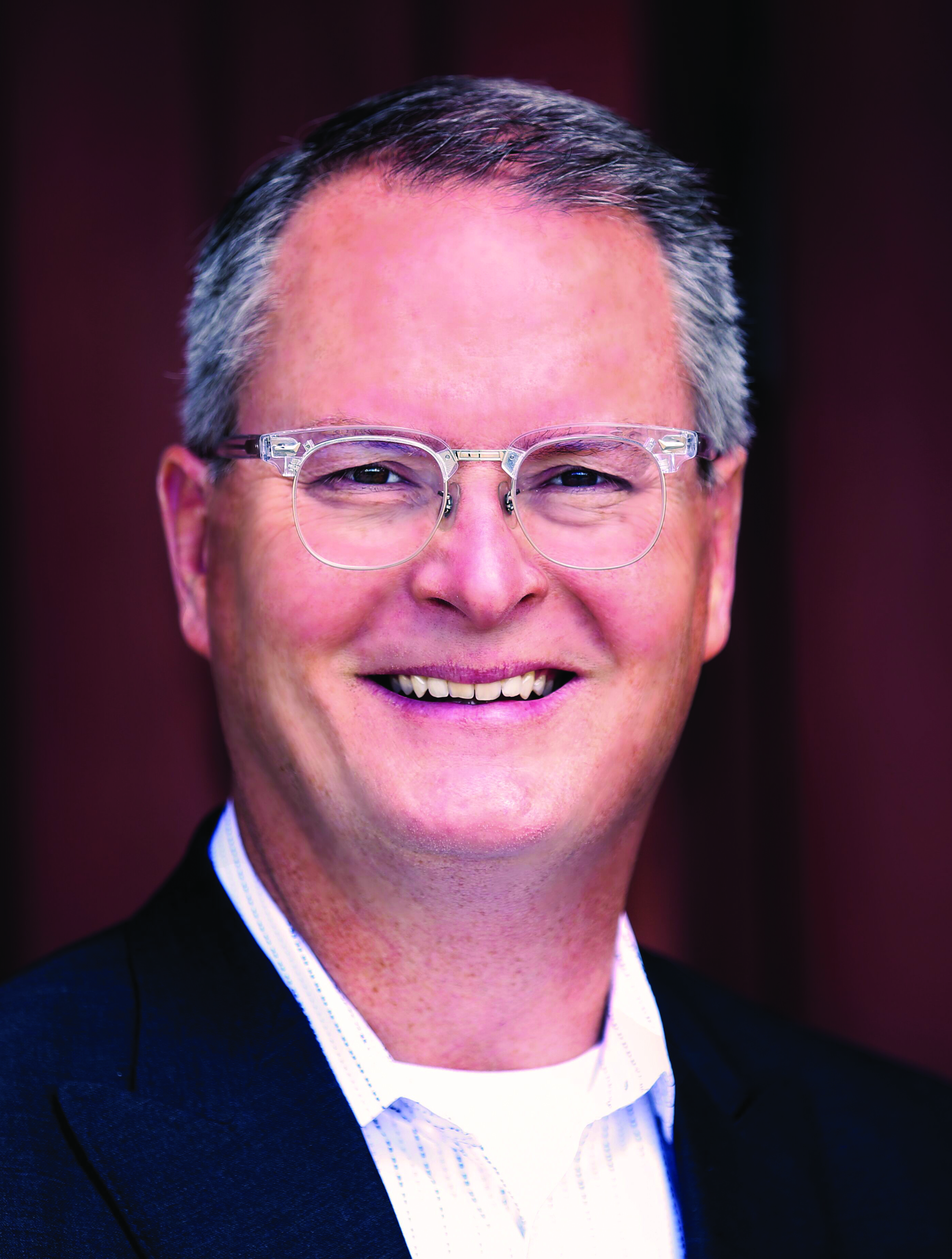 Pandemics grant no faith-based exemptions. Adam Hamilton felt that at the onset of COVID, when the biggest Methodist congregation in America had to shutter its in-person worship services. The Leawood church pivoted to sustain. His team had to "reschedule weddings and funerals (including 10 for members) and recreate them in digital format or a way that was safe and socially distanced. At the same time we knew there would be a significant in-crease in needs inside our congregation and within the community."
COLLEGE: B.A., Pastoral Ministry, Oral Roberts University; M.Div., Perkins School of Theology, Southern Methodist University
COVID RESPONSE: "We felt compelled to mobilize our members to increase our food donations to area food pantries and to offer grants to area social service agencies. We placed a major emphasis on contacting our members and seeing how we could provide support. Our worship team created a terrific online worship experience and we also began broadcast on television for those who struggle with technology. We mobilized to provide encouragement to health care workers at all of the Kansas City area hospitals."
SILVER LININGS: "With our doors closed for five months now, we actually did more ministry in the community than during any similar period of time in our history. We also saw our worship attendance increase by 150 percent and had thousands of new people begin worshiping with us.
We were forced to make changes we should have made long ago—some we hadn't even thought of."
---
Vicky Hartzler
U.S. REPRESENTATIVE, MISSOUR, 4TH DISTRICT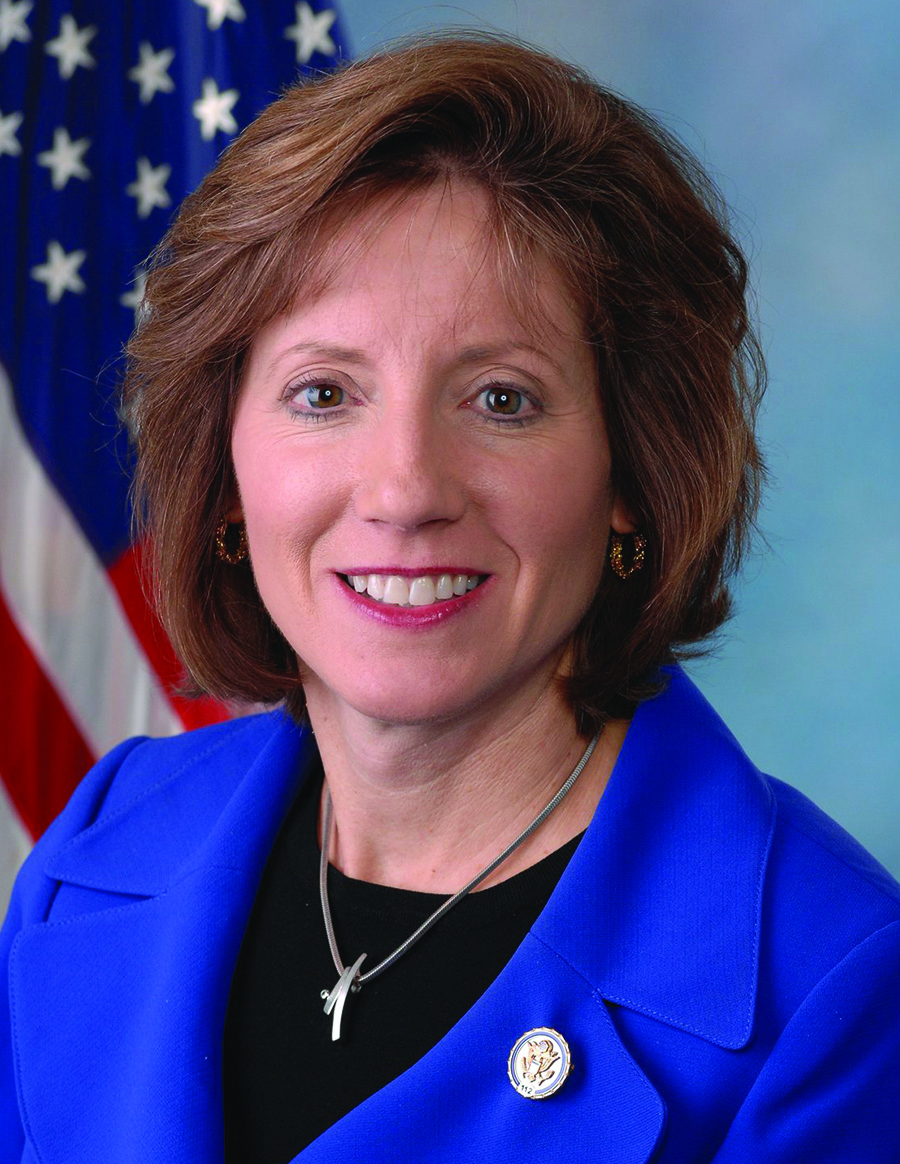 Ten years ago, a former high school teacher with experience in the Missouri General Assembly did the unthinkable: Vicky Hartzler defeated 17-term incumbent Ike Skelton for Missouri's 4th District seat in the U.S. House. The 50-45 margin, it turns out, was the low-water level in her support. Since then, she's cruised to re-election four times, and the closest call was a 25-point win in 2012.
COLLEGE: B.S., Education, University of Missouri; M.S., Education, University of Central Missouri
HOMETOWN PRODUCT: Raised on a farm near Archie, Hartzler taught home economics in nearby Belton for 11 years before the political bug bit with three House terms in Jefferson City.
IN D.C.: Her committee assignments for the 116th Congress that wraps up this year: Agriculture (with subcommittee seats on Biotechnology, Horticulture, and Research and on Livestock and Foreign Agriculture), and Armed Services (with subcommittee seats as ranking member on Tactical Air and Land Forces, and on Seapower and Projection Forces).
CHANGING TIMES: Realignment in 2010 had something to do with it, but a broader political shift in Missouri over the past generation has also been reflected in the 4th District's voting history. Skelton, who died in 2013, won his final term in 2008 with 66 percent of the vote; just two years later, Hartzler held him to 45 percent.
---
Harry Herington
CEO/CHAIRMAN, NIC INC.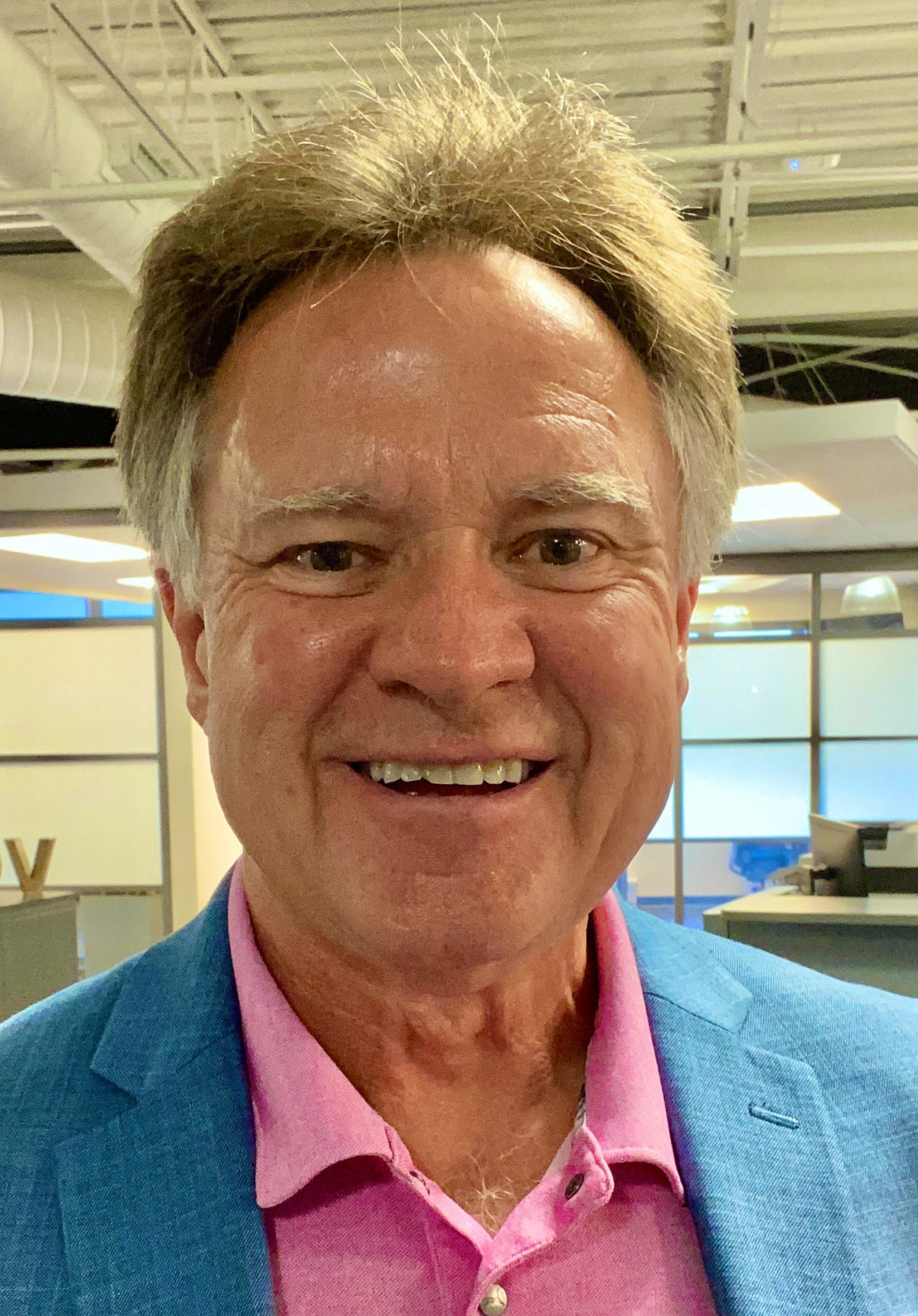 It's not a stretch to say government at every level has had a busy time of it in 2020. Harry Herington's company specializes in providing eGovernment solutions that help individuals and businesses access government services on-line. NIC has become a nationally respected company, with total 2019 revenues of more than $354 million. It manages digital government solutions in
31 states, as well as for the federal government.
COLLEGE: B.S., Wichita State University; J.D., University of Kansas School of Law
PANDEMIC CHALLENGE: "The growing fear of employment, wages and benefits. These are real concerns and leaders need to have empathy for employees and their families worried how the next 30 days to 12 months were going to affect them. As a company, we realized these were real fears and needed to be addressed as quickly as possible."
NEXT FOR TECH: "Touchless interaction. There was already a serious drive to more mobile business interactions, however COVID-19 has taken that focus to an entirely new level."
SILVER LINING: "2020 has not been all bad. I had two grandchildren born this year. I would also remind everyone that the Chiefs won the Super Bowl in 2020."
PERFECT WEEKEND: "A weekend at the lake with minimal cell coverage with my wife, children and grandchildren. Fun in the water, barbecuing and an evening by the fire sharing stories."
---
Dave Harrison
PRESIDENT, VANTRUST REAL ESTATE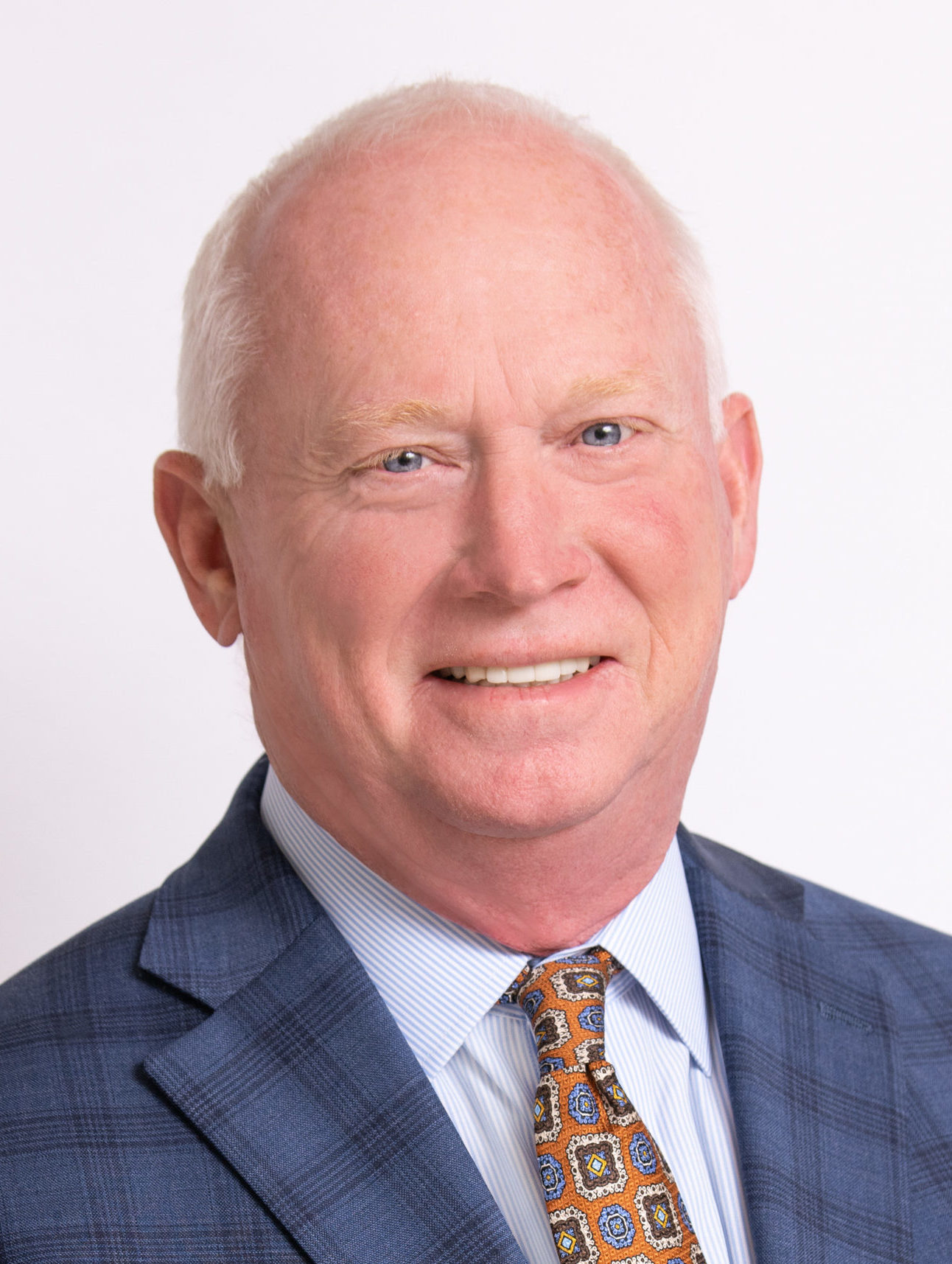 David Harrison's fingerprints are on some of the most visible commercial properties you can find not just in Kansas City, but across the country, in states like Texas, South Carolina, Indiana, Kentucky and Ohio, to name a few. He leads a firm that has been responsible for the 2300 Main office complex, the 49th and Main office tower topped with UMB's logo, the Wyandotte County headquarter of Dairy Farmers of America, the 51 Main luxury apartments, and others.
COLLEGE: B.S., Business Administration, Rockhurst College
THE PATH TO VANTRUST: Nearly three decades into his commercial realty career, Harrison has logged stints with Opus Northwest's commercial real estate development arm, his own foray into firm ownership with Caymus Real Estate, and since 2012 with VanTrust Real Estate.
BUILDING ON VESATILITY: VanTrust builds office, industrial, multifamily, retail, institutional, governmental, hospitality and recreational properties. On top of that, it provides real-estate services such as acquisition oversight, development, asset management, design and construction.
ON TAP: Adding additional strength to area logistics, VanTrust is the developer of the $35 million Congress Logistics Center 634 near KCI. The 634,000-square-foot distribution facility will include 63 dock doors, 36-foot clear height, insulated tilt walls, four drive-in doors and on-site trailer storage.
LEGACY ROOTS: The Van Tuyl's success goes back to Cecil Van Tuyl's prominence in auto sales.
---
Darren Hawkins
PRESIDENT/CEO, YRC WORLDWIDE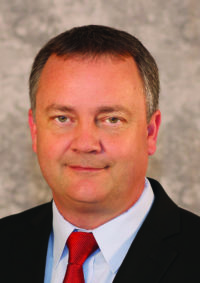 YRC is a $4.9 billion company and its six powerhouse subsidiaries and 32,000 employees at 384 service facilities throughout North America, and it moves more than 20 million shipments annually for more than 250,000 customers. Especially these days, Darren Hawkins considers his job a privilege: This year has been, he says, a solid challenge to keep all employees safe while delivering to every community in America."
COLLEGE: B.B.A., Marketing and Supply Chain Management, The University of Memphis
COVID IMPACT: "The pandemic has no bias. It has created turmoil across all channels of the North American supply chain."
SILVER LINING: "Americans realizing how important protecting our national supply chain is to their daily lives. It will be awhile before anyone takes getting what you need in a timely fashion for granted."
PERFECT WEEKEND: "Faith, family & friends."
FAVORITE CHILDHOOD TOY: "Hot Wheels."
ULTIMATE DESSERT: "My wife's strawberry cobbler with homemade ice cream."
ANOTHER ERA YOU'D VISIT: "Not sure, but I would skip 2020!"
---
Mark Hinderks
MANAGING PARTNER, STINSON LLP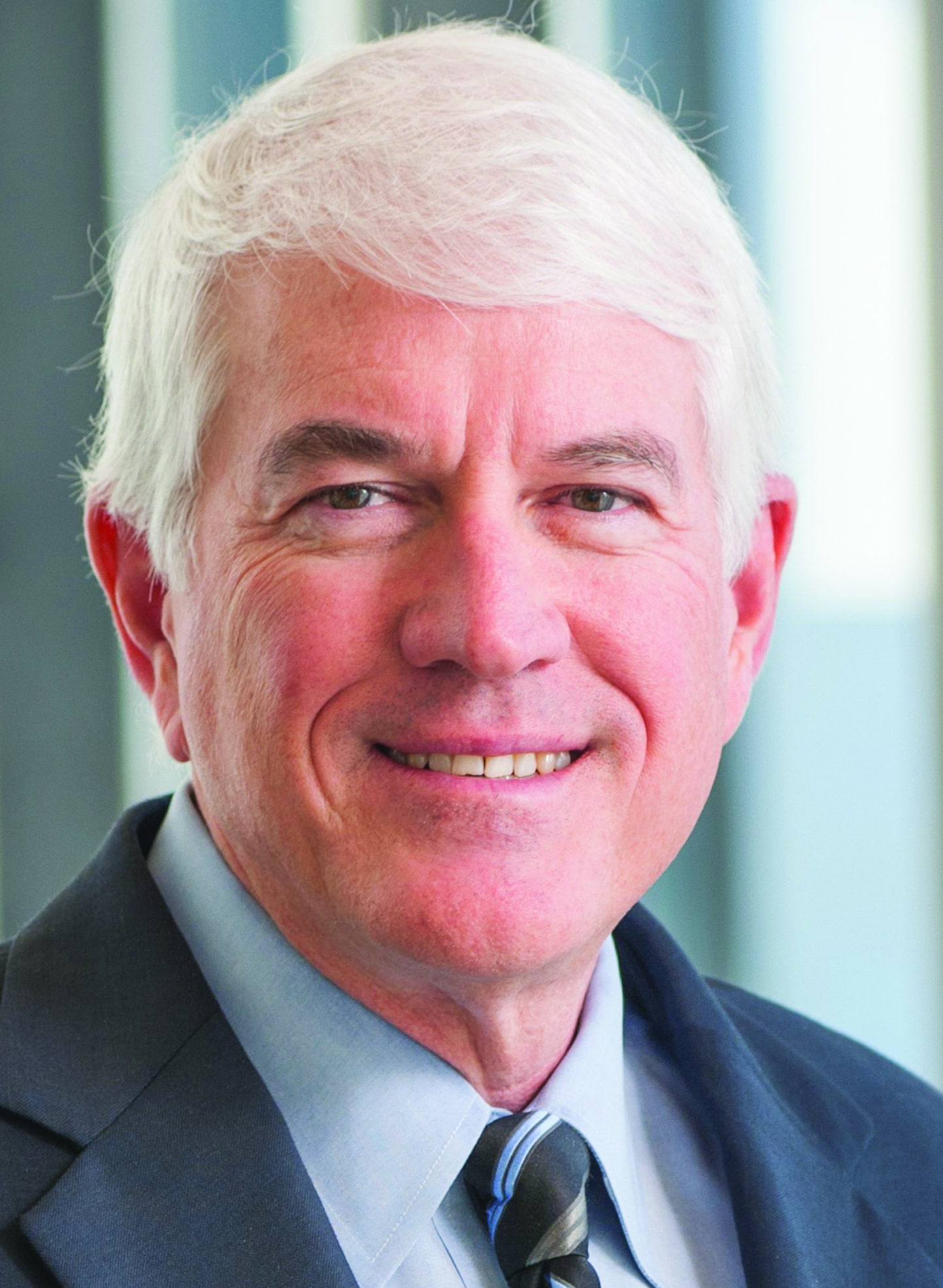 The most important day in the history of 140-year-old Stinson LLP, Mark Hinderks believes, is tomorrow. That's one of his guiding principles as the managing partner for a firm that has grown impressively during his 10 years of leadership. In that span, he helped orchestrate three mergers that have produced a firm with nearly 500 lawyers in 13 locations across the nation with what he calls a "one-firm" team without geographic or artificial divisions.
COLLEGE: B.A., Political Science, Economics (summa cum laude), J.D., University of Kansas
TRIAL-TEMPERED: Hinderks is no stranger to big cases; he was one of the firm's top trial lawyers before taking on the executive duties. Often, those cases involved bet-the-company matters with eight- and nine-figure outcomes. He was inducted as a Fellow of the American College of Trial Lawyers while still in his 40s.
OTHER DUTIES: He previously served as general counsel for the firm, and currently is a member of its executive committee and board of directors.
ETHICS & PHILANTHROPY: Hinderks co-founded and presents "Ethics for Good," which uses humor, skits and real-world scenarios in stage productions to teach legal ethics to lawyers. To date, it has raised $750,000 to benefit charities and legal scholarships.
MAN WITH A PLAN: Once asked what he would do on his first day of retirement, Hinderks succinctly told us: "Nothing."
---
Mike Heitmann
CEO, GARNEY CONSTRUCTION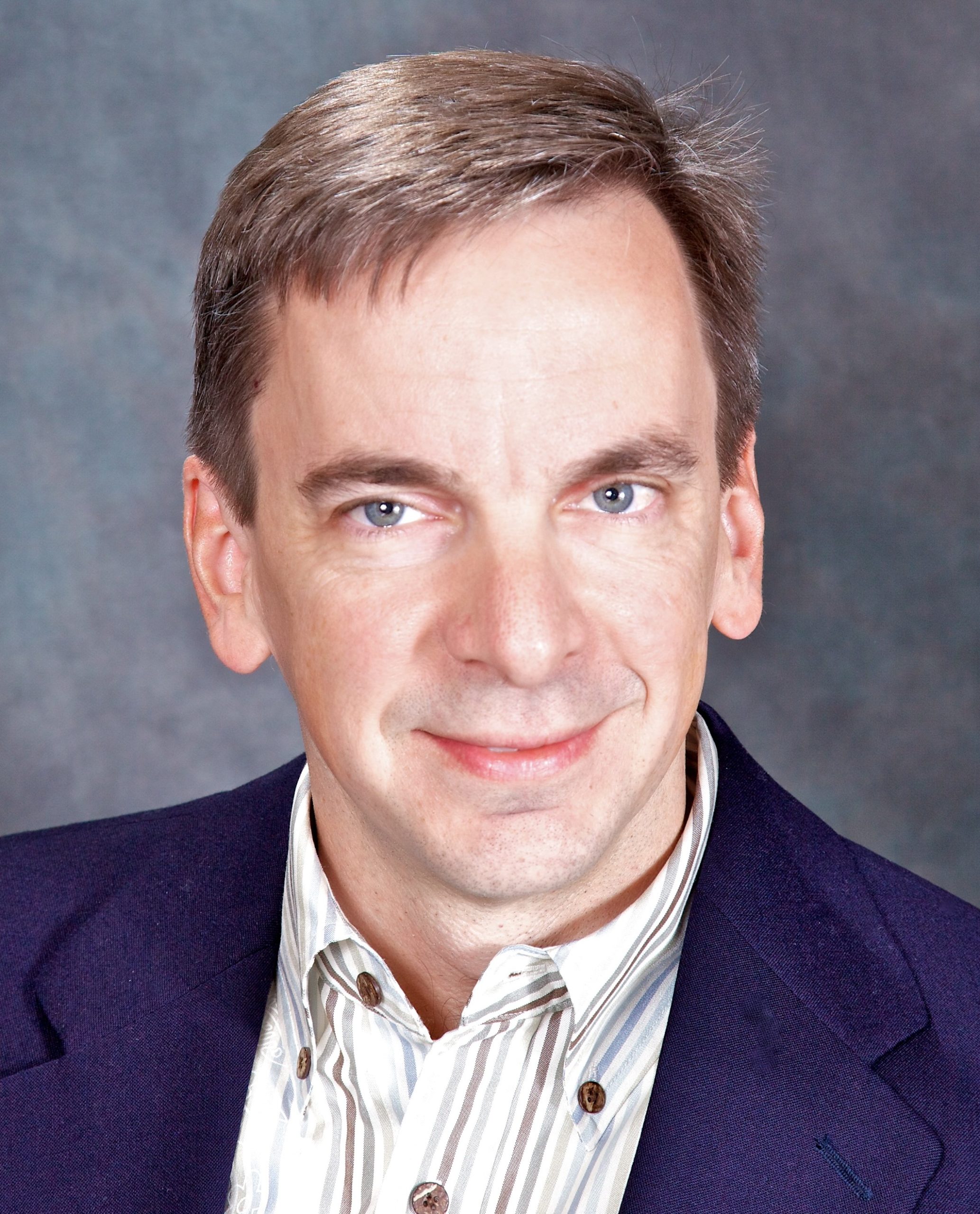 Since 2011, Mike Heitmann has been at the helm of a company he has called home since 1990. Garney Construction is yet another success story in the history of employee ownership. Charles Garney sold a 30 percent stake in the company to employees in 1986 and the remaining 70 percent in 1995. Garney boasts $1.1 billion in annual revenue as one of the nation's biggest water-infrastructure contractors.
COLLEGE: B.S., Architectural Engineering, The University of Kansas
PANDEMIC CHALLENGE: "Determining whether to shut down projects or continue building them. Ensuring the safety of our employees while maintaining continuity of business. Being honest with everyone that we didn't know what was ahead of us."
COVID & CULTURE: "Majority of office staff working from home. Almost all travel canceled. All events are virtual. For some employees it has been tough; however, other employees are thriving. We feel our culture is still very strong."
IN THE FIELD: "PPE requirements, entry protocol, and small team groupings have changed the means and methods of building our work. Fortunately, the impact to productivity has been minimal."
SILVER LINING: "Long-term, we should see less travel for our management, more efficient meetings, and overhead savings."
---
Karen Hogan
VICE PRESIDENT/GENERAL MANAGER, TURNER CONSTRUCTION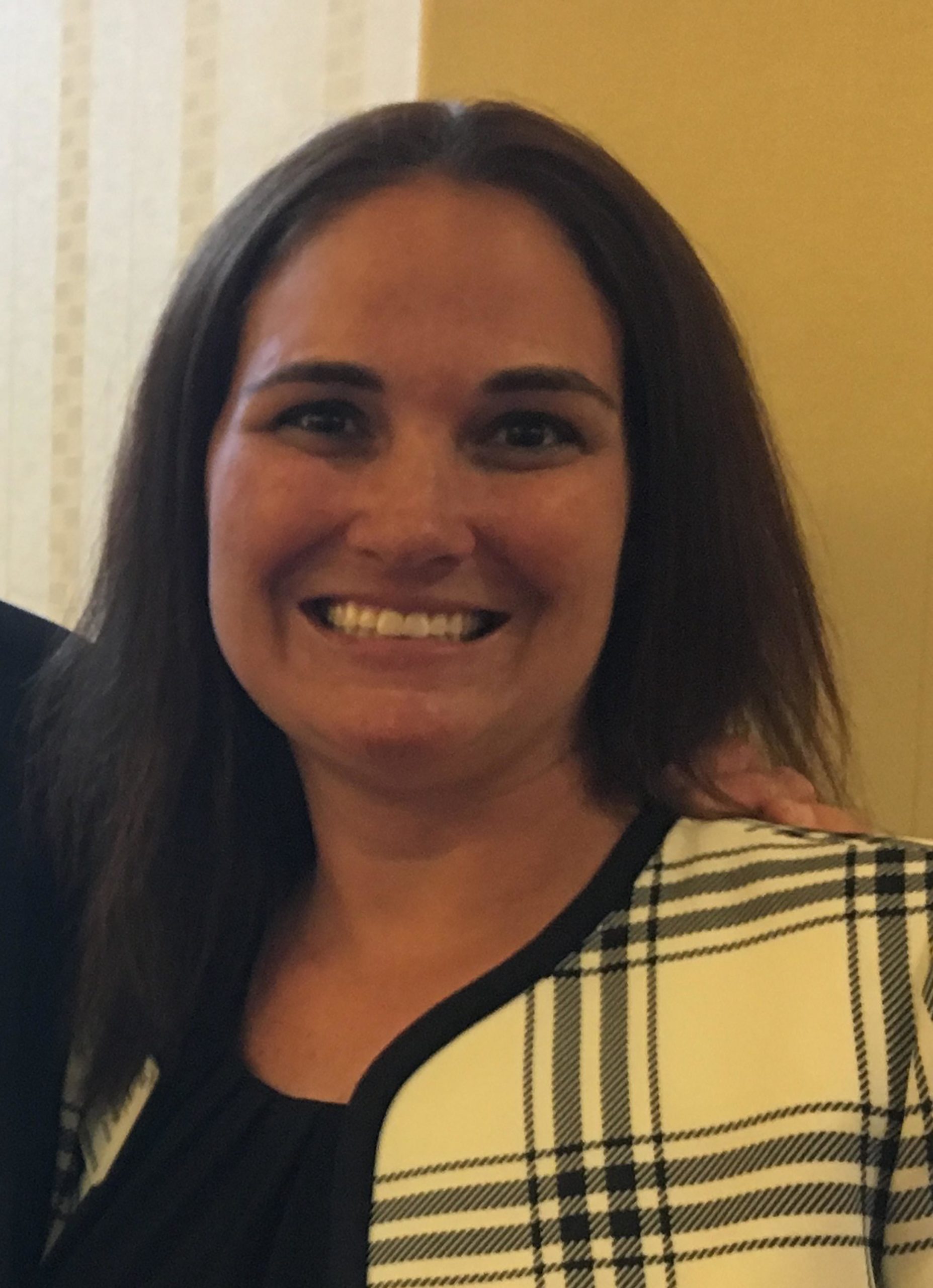 Turner has offices in 25 states and a global reach in 20 countries, completing $12 billion of construction on 1,500 projects each year. Bringing in the Kansas City share of those earnings is Karen Hogan's job—a role she stepped into just one month before the pandemic hit. A 16-year veteran of the company, you've seen her work around town—such as the Hyatt Crown Center hotel, and the phase three renovation of the National WWI Museum and Memorial.
COLLEGE: Missouri University of Science and Technology
PANDEMIC CHALLENGE: "Learning to manage a hybrid of staff, either remote or on active job sites, while aligning my leadership style was definitely a challenge. I knew it was imperative to find creative ways of maintaining connectivity, sharing ideas and resources, and being sounding boards for each other. Being transparent and over-communicating became our keys to success."
SILVER LINING: "People look at life differently. They realize the importance of family and spending time together, looking for creative ways to have fun and to interact with their communities."
PERFECT WEEKEND: "With a 10-year-old and 7-year-old, that would be baseball, soccer, volleyball, soccer—repeat! Then a little pool time in the summer or a bonfire in the backyard, making s'mores with the kids and my husband."
FAVORITE MUSIC: "I honestly listen to anything. But my playlist, appears to be full of '80s songs."
---
Stan Holm
PRESIDENT/CEO, OLATHE HEALTH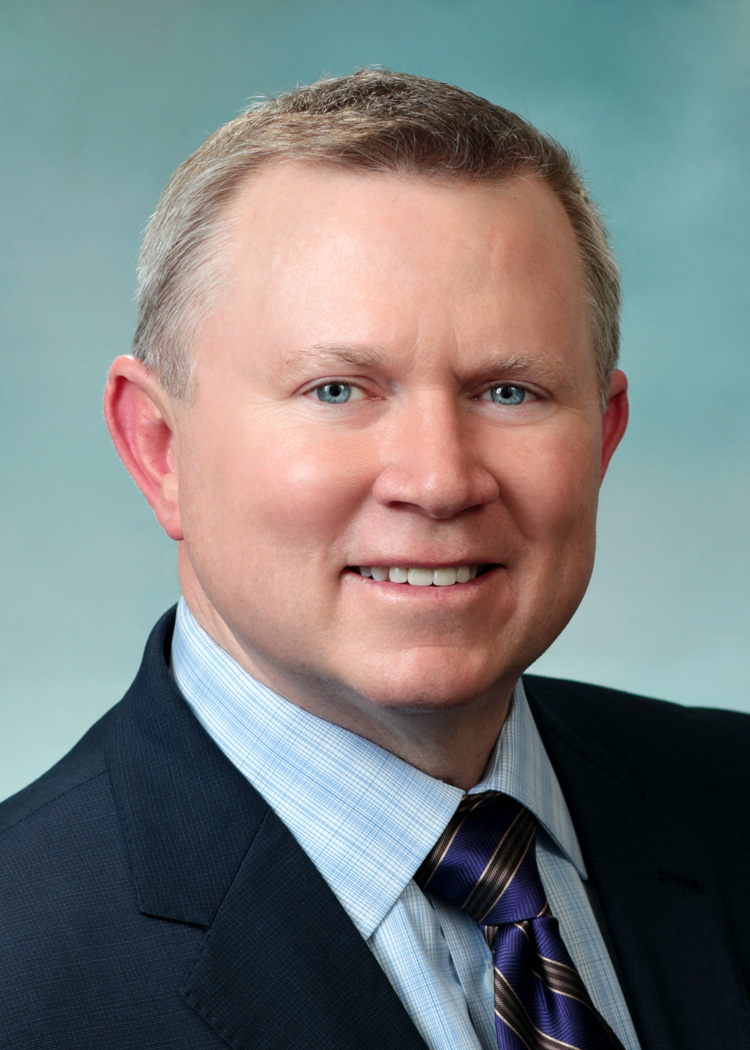 The two medical centers and 60 clinics of Olathe Health went into the COVID era well-prepared to serve five Kansas counties and various communities. But what came next proved touching for Stan Holm: "The outpouring of support from our community during the pandemic, which has lifted the spirits of our associates and providers. This includes heartfelt thank you notes, donations, drive by parades, fly overs, sidewalk chalk messages and more."
COLLEGE: M.S., Health Care Administration, University of Oklahoma Health Sciences Center
PANDEMIC CHALLENGE: "Trying to make decisions based on limited and frequently changing information and accurate data. In many situations, I was the incident commander. I drew upon the skills of remaining calm and having the flexibility to adjust to the changing plans."
COVID & CULTURE: "Anytime you go through a crisis, and you are at the center of it, a bond is created among associates and providers in the organization. You build incredible trust, and loyalty is stronger than ever. We have also had the ability to expedite innovation."
SILVER LINING: "Observing people's heads, hearts and hands coming together as intensely as they did during the pandemic was something very special to observe."
FAVORITE CHILDHOOD TOY: "A bat. Growing up, I loved to play baseball."
ULTIMATE DESSERT: "Ice cream. I would pass by cake, cookies, pies and brownies to get to ice cream."
---
Michael Hoehn
PRESIDENT, AUTOMATIC SYSTEMS, INC.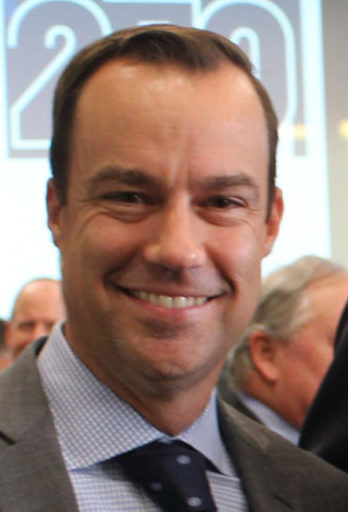 If you've ever seen an automated system moving big things or huge volumes of items around a storage facility or factory, you've seen the kind of vital role Michael Hoehn's company plays in manufacturing. ASI provides essential services to the automotive, baggage handling, industrial, general bulk handling, parking, automation, steel mill, warehousing, distribution, power plant and foundry sectors.
COLLEGE: B.S., Business (Finance and Accounting), Georgetown University
PANDEMIC CHALLENGES: "Moving all our office staff to remote work while keeping fast-moving projects on track was a major challenge. The tech was the (relatively) easy part, thanks to our great IT team. But making sure everyone feels connected—minimizing the sense of isolation—was and remains our biggest challenge. One solution has been to increase internal communications with a regular cadence. For example, I started writing a daily e-mail to all employees in mid-March and I'll continue it indefinitely. I wouldn't have started that without COVID."
COVID & CULTURE: "It's given us the opportunity to be more intentional about many of the cultural things we do naturally in-person. On-boarding, training, professional development and project tracking are all easier in person, so we've had to dedicate more time and resources to make sure these areas remain great experiences for our team members."
---
Paul Holewinski
PRESIDENT/CEO, DICKINSON FINANCIAL CORP./ACADEMY BANK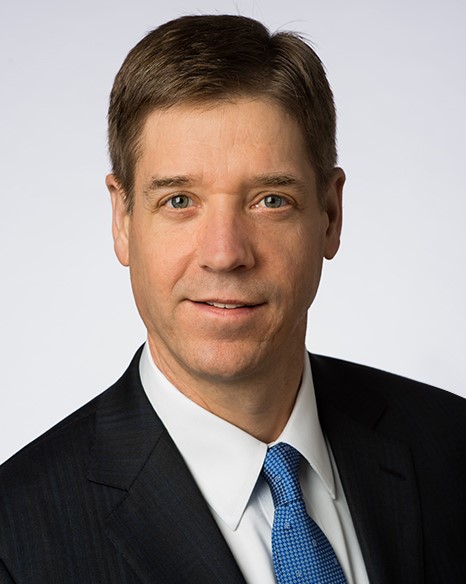 With the 2019 acquisition and rebranding of KCB Bank into Academy Bank, privately-held Dickinson Financial's holdings reached the $2 billion range. Paul Holewinski has said that bringing KCB on board was important, both in terms of financial success and in restoring a significant footprint for the company in the Northland. Dickinson is also proud to operate Armed Forces Bank, which serves active and retired military and civilian customers in all 50 states and across the world.
COLLEGE: B.S., Finance, Saint Louis University; J.D., MBA, Saint Louis University School of Law
PANDEMIC CHALLENGE: "I struggled with finding my edge and leadership cadence working remotely. I had to adjust my approach when it became clear our team would not be in person for some time, so I leaned on some lessons learned during the financial crisis regarding associate engagement and getting everyone on the same page."
SILVER LINING: "Client acceleration of adopting self-service options for routine banking transactions, greater appreciation for being together with people and family dinners."
PERFECT WEEKEND: "Golf, a long run and a weekend on the water."
FAVORITE CHILDHOOD TOY: "Big Wheel."
ULTIMATE DESSERT: "Bananas Foster."
FAVORITE SONG/ARTIST: "Sunday Bloody Sunday, U2."
---
Jason Hooper
PRESIDENT/CEO, KVC HEALTH SYSTEMS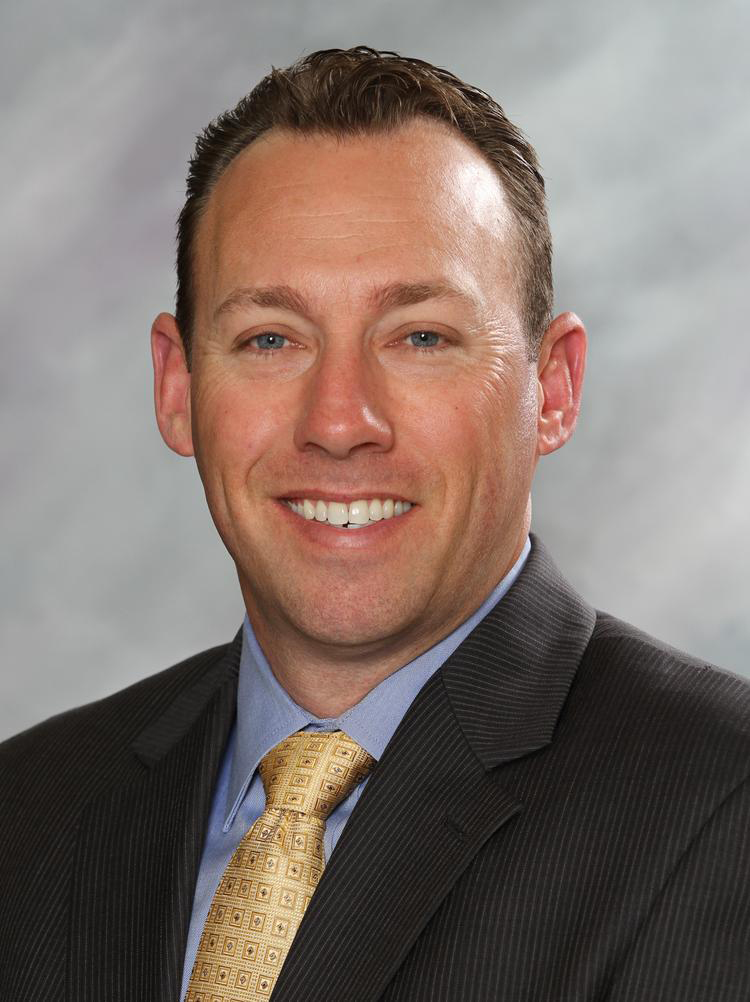 The need for behavioral healthcare and child welfare services has driven KVC's revenues from $125 million in 2015, just as Jason Hooper took the top role, to nearly $175 million last year. He manages one of the region's largest non-profit organizations, with more than 1,600 employees and 35 locations in five states. It's been a tough year, he acknowledges, but "for KVC team members, it's always about helping children and families in need."
COLLEGE: B.A., Baker University; M.S.W., University of Kansas
COVID CHALLENGE: "Dealing with constantly changing information, uncertainty and evolving health threats. But the ability of our employees to be adaptable, patient and to prioritize the safety and well-being of the families we serve has provided a great roadmap for navigating the pandemic."
COVID & CULTURE: "By shifting to a virtual world, our service delivery, connection with team members and engagement with stakeholders drastically changed. We were concerned how this might impact our personal connectedness, but our team members have shown tremendous resilience and grace throughout the pandemic. In fact, we believe we have connected more deeply, and more effectively with one another during the pandemic than ever before. Our resolve and commitment to our mission has only strengthened during the pandemic."
FAVORITE CHILDHOOD TOY: "Without a doubt, it was a Spider-Man wrist web-shooter."
---
Darcy Howe
DIRECTOR, KC RISE FUND / CEO, KCRISE CAPITAL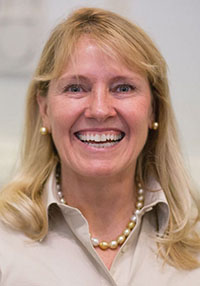 When it comes to the health of this region's investment climate, angel investor and venture capital czarina Darcy Howe says, "the big question is, how are companies faring?" From her view, things are good. "Collective revenue of our portfolio companies was higher June 30 than March 1," she says. "And more jobs in that period. And the average wage is two times the Kansas City average. The KC economy benefits from these innovators who choose to build in the region."
COLLEGE: B.S., Marketing, Kelley School of Business, University of Indiana
REASONS TO HOPE: "New business formation has been in a decades-long decline. After the 2008 downturn, businesses created included Instagram, Airbnb, uber and Zoom. State, local and federal legislators need to prioritize removing barriers to allow new business formation. Innovation will explode."
SILVER LININGS: COVID-19 "has accelerated paradigm shifts toward technology that entrepreneurs have been building."
CRYSTAL BALL: "I'm a lifelong optimist. Every year brings positive things all around us. Stop looking for the negative and contribute to the positive."
---
Heather Humphrey
SR. VP-GENERAL COUNSEL, KANSAS CITY POWER & LIGHT/EVERGY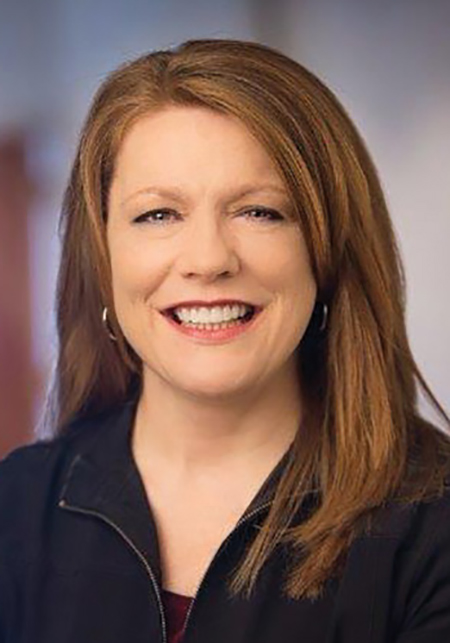 In many ways, says Heather Humphrey, the pandemic of 2020 "turned conventional leadership models on their heads, with no way to connect in person and the health risks of simply running our businesses the way we have for years. It really created the opportunity/challenge of leading in new ways." An important message from a key figure at the region's primary electric utility, where Humphrey wears multiple leadership hats.
COLLEGE: B.A., University of Missouri-Columbia; J.D., Washington University School of Law; MBA, Bloch School of Management, UMKC; Tuck Executive Program, Dartmouth College
COVID IMPACT: "I think much of the conventional wisdom about how to best to conduct business has changed for good. Flexible work schedules and remote meetings will no longer be the exception. And business travel will take several years to rebound to pre-COVID levels."
PERFECT WEEKEND: "No laundry, no cooking and no yard work—just a beautiful and newly sanitized VRBO by a lake within driving distance."
FAVORITE CHILDHOOD TOY: "A pink stuffed lamb I got at an amusement park when I was in preschool. I dragged that around for more years than I can say."
ULTIMATE DESSERT: "Does wine count?"
ANOTHER ERA YOU'D VISIT: "The future. … I want to know what happens next."
---
Sam Huenergardt
CEO, ADVENTHEALTH MID-AMERICA REGION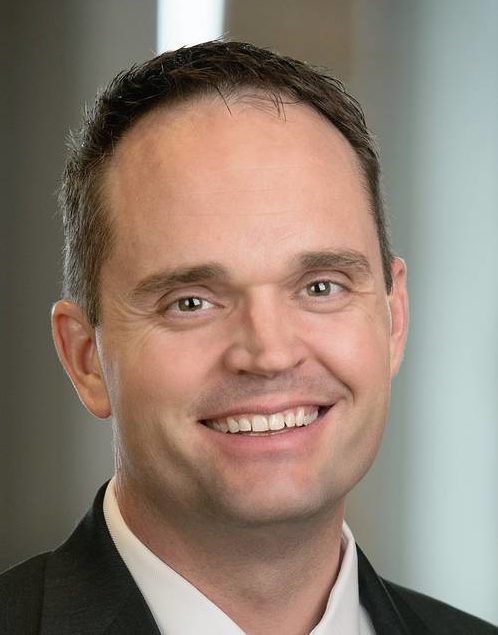 Sam Huenergardt leads a health system with 22,000-plus hospital admissions a year and north of 170,000 annual outpatient visits. As you might expect from a CEO in faith-based health care, he focuses on the positive. "Health care isn't known as a nimble industry," he admits, "but we've adapted quickly to offer virtual care and keep up with constantly changing recommendations for caring for COVID patients and preventing further spread of COVID."
COLLEGE: B.B.A., Accounting and Finance, Union College; M.B.A., Baker University
PANDEMIC CHALLENGE: "We instituted Incident Command—a military-like hierarchy meant to take quick and effective action, but realized that isolated structure was not effective long-term. We began hosting weekly live video updates and sending daily emails to all team members, detailing everything from our PPE supply to our COVID patient count. We were very transparent when we were stretched and were able to explain the "why" behind decisions that were being made."
SILVER LINING: "Our nursing and clinical teams have stepped up to provide amazing care in 2020. I know they've been scared and overwhelmed, but they come here every day and change lives. While we've restricted visitors, they've played the role of family member, friend and companion for many patients. They've learned to communicate with patients' families virtually or by phone. They've prayed and held hands with scared patients while they themselves were facing a deadly virus."
---
Clark Hunt
CHAIRMAN/CEO/CO-OWNER, KANSAS CITY CHIEFS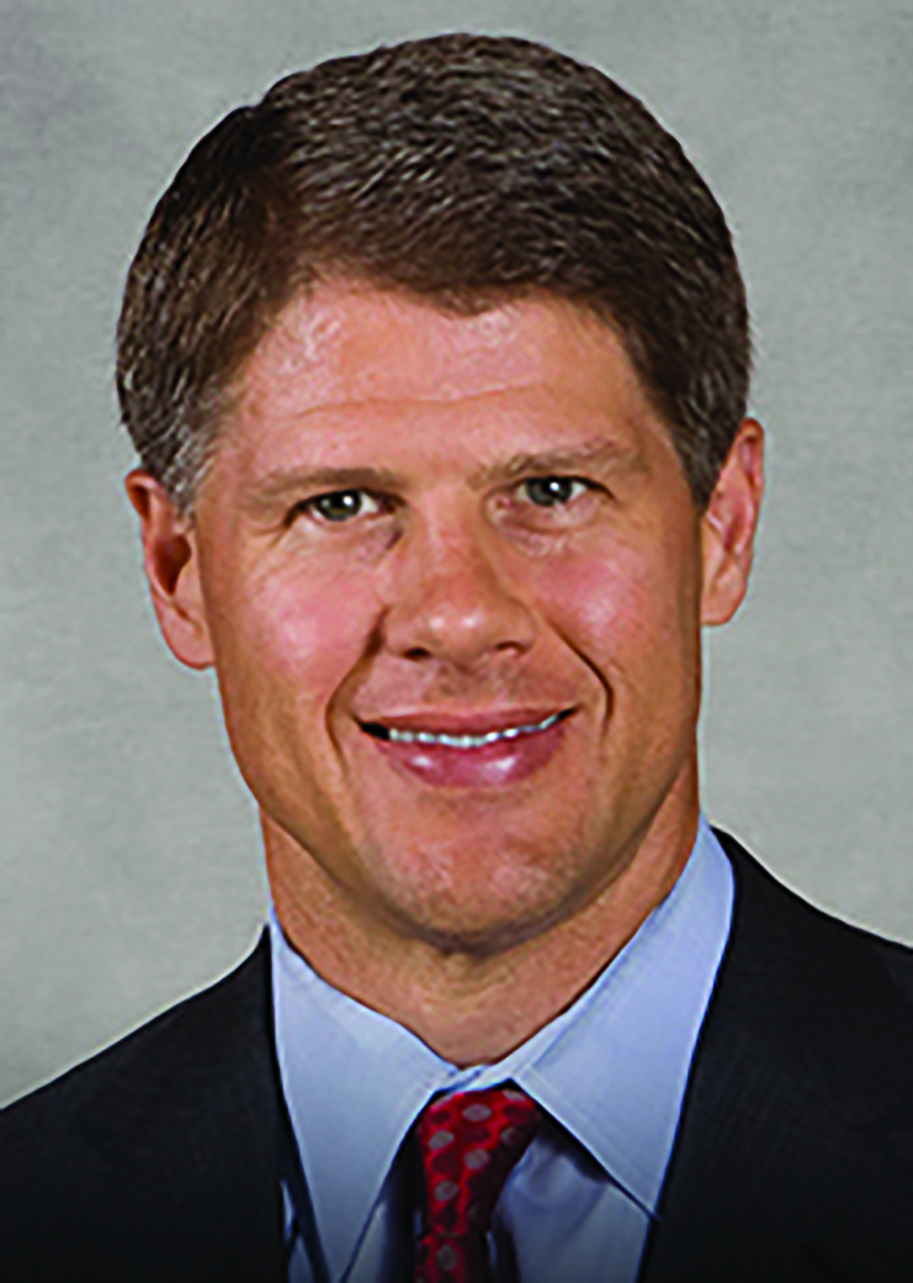 He was just shy of five years old when the Kansas City Chiefs won Super Bowl IV, so you'll forgive Clark Hunt if he didn't appreciate then just how lofty an achievement his dad's football team had turned in. Fifty years later, under his wing, the team delivered one of the most significant sporting successes this city has seen since that January day in 1970. The 31-20 victory over San Francisco in Super Bowl LIV was the crowning moment for Hunt after nearly 20 years with the club.
COLLEGE: B.A., Business Administration, Southern Methodist University
NOTABLE QUOTE: "Our fans are the foundation of the Chiefs. Our goal is to provide them with a team that can consistently compete for championships and the best gameday experience in the National Football League," Hunt says.
SKIN IN THE GAME: The Hunt family ponied up $125 million for the $375 million renovation of Arrowhead Stadium, a project that wrapped up in 2010.
NOT JUST FOOTBALL: Hunt was a founding investor-operator in Major League Soccer, serving as chairman of Hunt Sports Group and FC Dallas. The family also founded the Kansas City Wizards, now known as Sporting Kansas City.
COVID-SCHMOVID: One of Hunt's signature activities is his involvement with the annual Chiefs Charity Game, normally one of the preseason contests. They've designated the final home game of the 2020 season to the cause. Over the years, the game has raised $13 million for various charities.
---
Marco Ilardi
CEO, V2 VENTURES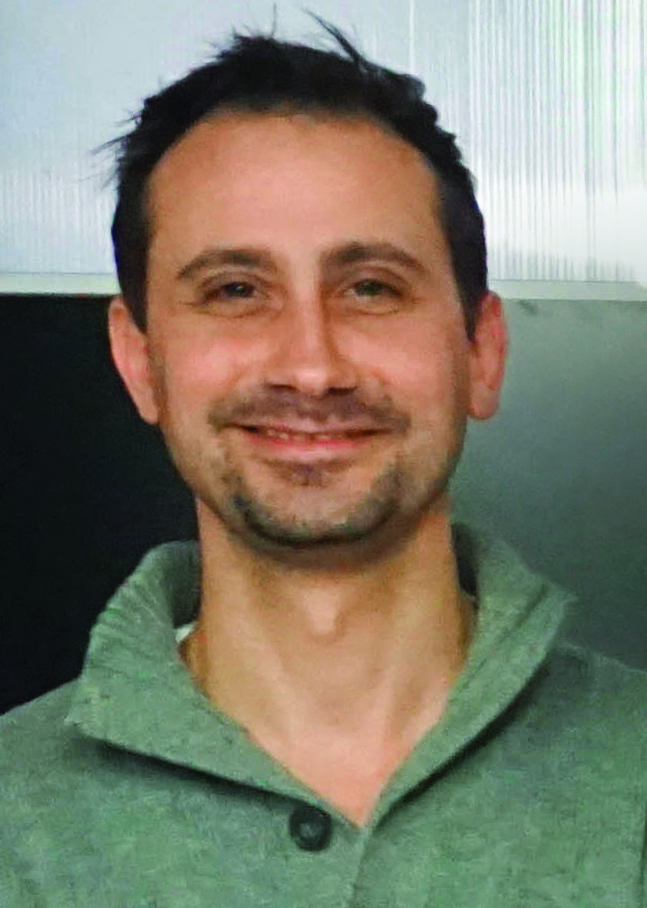 V2 Ventures specializes in adapting to and supporting the needs of up-and-coming businesses so, in a way, the pandemic has played to their strengths, says Marco Ilardi: "As an organization with offices and team members in many locations, we needed to provide a framework that could be adapted for each city, state, business, team member, as well as their families to keep everyone as safe as possible while maintaining the ability to operate the business."
COLLEGE: M.A., Business Administration, Truman State University
COVID & CULTURE: "We have always strived to provide flexibility and autonomy for our team members, but since COVID-19 we have provided even more flexibility depending on individual needs. I believe that will change the way we think about our policies and practices going forward."
SILVER LININGS: "I believe that most people have taken the opportunity to spend more time enjoying their family. I know we have had to change the activities we were used to sharing together and come up with new ones. It has been great to have an opportunity to see my girls every day."
FAVORITE CHILDHOOD TOY: "My bike was the most impactful in my life. It was my ability to explore new areas of our neighborhood and see friends who lived too far away to walk."
---
Cliff Illig
CO-FOUNDER, CERNER CORP.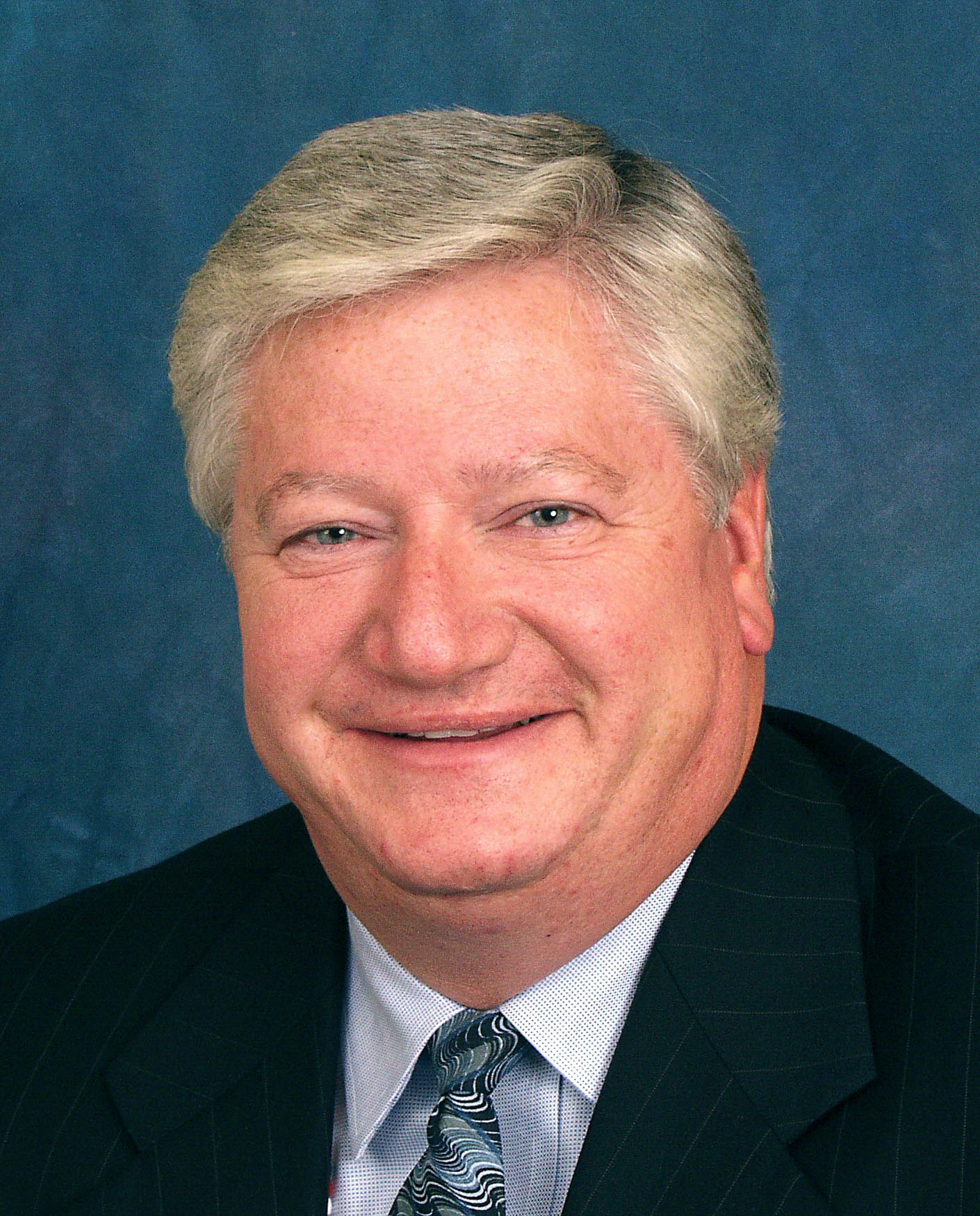 The pantheon of Kansas City business titans with names like Hall, Bloch, Kauffman, Hunt and Helzberg would not be complete without Cliff Illig. The massive wealth he created by co-founding Cerner Corp. with former Arthur Andersen colleagues Paul Gorup and the late Neal Patterson has allowed him to invest in a wide range of business interests, including his ownership stake in Sporting Kansas City, and to become a mentoring figure for countless dreamers who hope to follow his path.
COLLEGE: B.A., accounting and business administration, University of Kansas
END OF AN ERA: Gorup retired in 2015, and Patterson died two years later. Illig's retirement last year from Cerner's board marked the end of the founding leadership's role with Cerner. He left behind him the largest private employer in the Kansas City region, a public company with 2019 revenues of $5.7 billion.
BOARD HISTORY: Illig has been a long-timer member of the Executive Committee of the Heart of America Council of Boy Scouts of America. He's also part of Stowers Research Management for the Stowers Institute for Medical Research, where he was a board member.
STILL ACTIVE: Not one to be relegated to trout streams or golf courses in retirement, Illig is active on the AAE Speakers circuit as an authority on technology.
---
Joe Jeffries
PRESIDENT/CEO, WESTLAKE ACE HARDWARE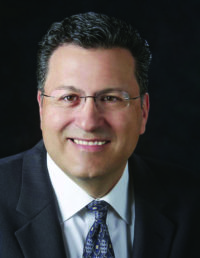 Once upon a time—1905 to be exact—a fellow named Westlake bought a interest in a hardware store. After a few decades of expansion, the Westlake group joined Ace Hardware, eventually becoming the largest Ace dealer in America. Today, Westlake operates more than 130 neighborhood stores throughout the country. Joe Jeffries first arrived at Westlake in 2014, with a super-strong retail resume in hand. After serving as COO, he took over as Westlake CEO in 2018, leading it to $372 million in revenues last year.
PANDEMIC CHALLENGE: "Balancing high business demands with the needs and safety of our associates and customers were the most significant leadership challenges we faced. I leaned on our core values, specifically Respect, Teamwork and Service. These combined with an enhanced sense of empathy guided me daily."
CRYSTAL BALL: With 12.75 percent growth in revenues last year over 2018, "we anticipate demand to stay strong, with some slight regression."
SILVER LINING: "We have been blessed to be deemed essential and to be part of the Home Improvement/Hardware retail sector."
FAVORITE CHILDHOOD TOY: "Any basketball that had air in it."
---
Mandeep Johar
CFO, ASCEND LEARNING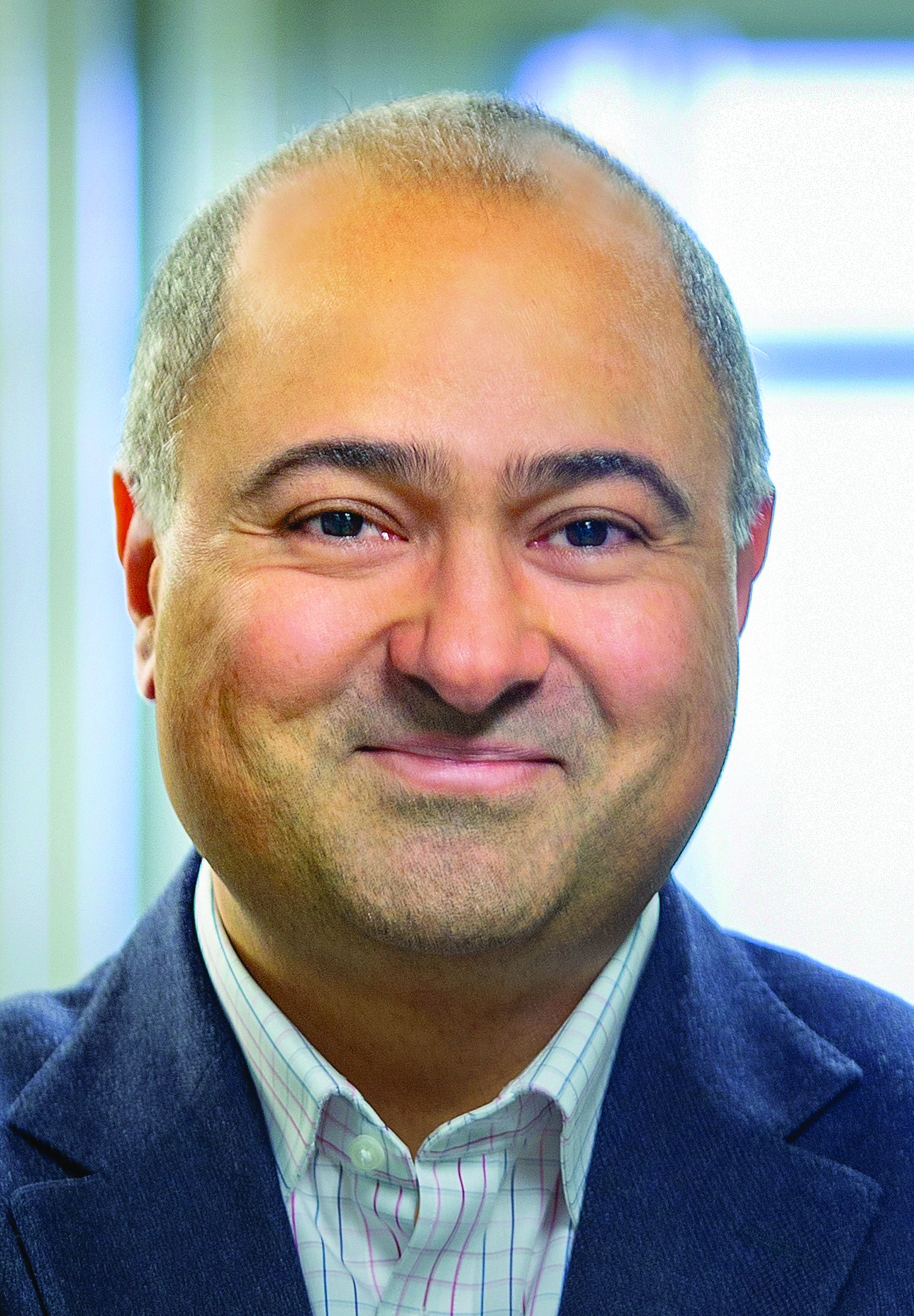 On the path to $500 million in annual revenues, Ascend Learning has dispersed some offices in its executive suite to distant locations, but the company's headquarters remain here, and Mandeep Johar is the ranking executive. Johar was flagged for success early in life, recruited to the India's prestigious Doon School, then came to the U.S. for his collegiate education. He's now working for an educational-services powerhouse that produces instruction and training materials for the health-care and fitness professions.
COLLEGE: B.S., Economics, Muskingum University; MBA, Northwestern University-Kellogg School of Management
PAYROLL POWER: Ascend had 438 employees in the Kansas City area, and 1,369 overall.
BEFORE ASCEND: Johar spent 24 years with the General Electric Co., much of that time in leadership roles in both the U.S. and Europe, wrapping up that tenure as CFO for an $11 billion business segment focused on power and renewable energy.
EMPLOYEE PERKS: In its quest for talent, Ascend boasts employee benefits that include 401(k) program, informal office attire, tuition reimbursement, bonus program, workout facilities, to name just a few.
---
Jeff Jones
PRESIDENT/CEO, H&R BLOCK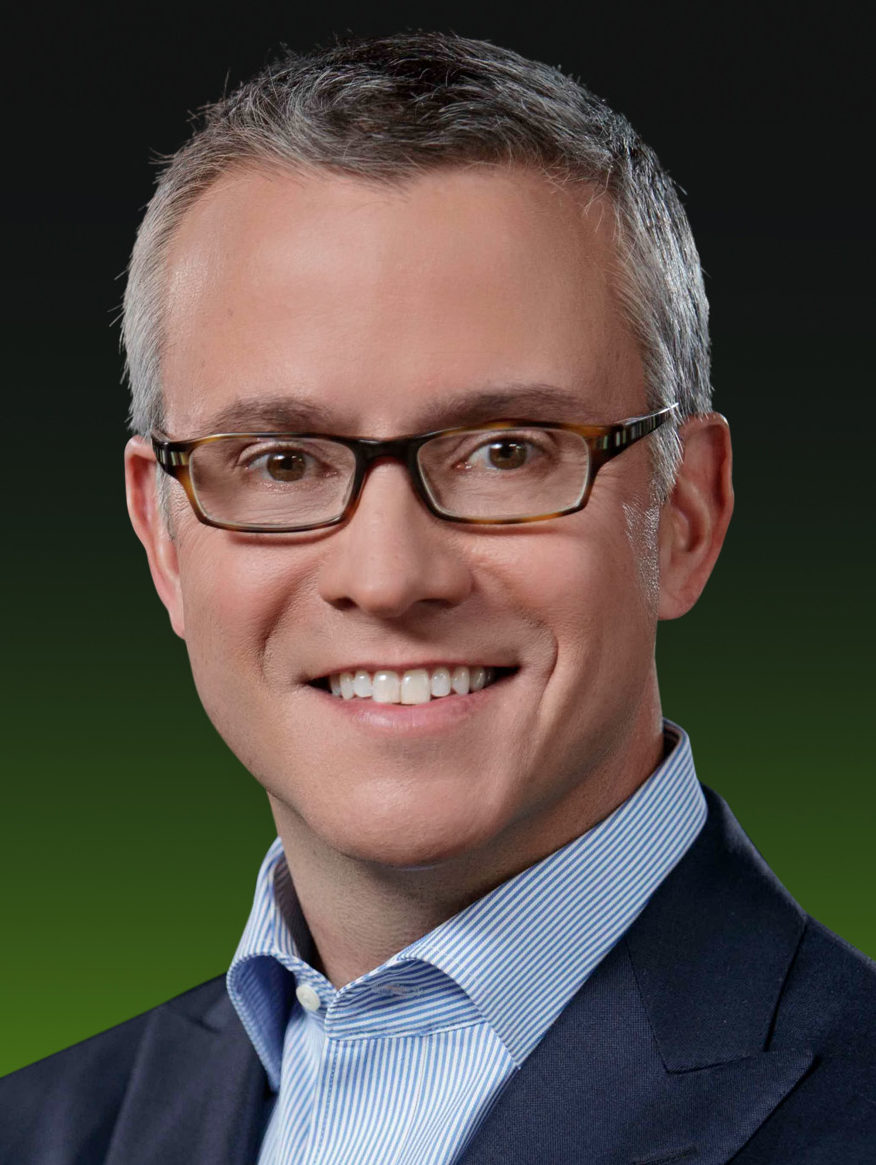 The red alert for COVID-19 spread in the U.S. came just weeks before April's tax filing deadline for tax-preparation giant H&R Block. But leaders inspire their companies to meet challenges. At H&R Block, "we pivoted many aspects of our business model–almost literally overnight—in mid-March," says Jeffrey Jones. "During a crisis like the pandemic, companies are evaluated based on how they live out their purpose. To endure and be effective, you must respond in ways that are true to your purpose."
COLLEGE: B.A., Communication, University of Dayton
COVID IMPACT: "We were in the middle of the tax season when COVID hit and had approximately 1,400 customer service agents answering customer calls across 10 different call-center locations. Within just a few weeks, we had 85 percent of the agents working from home. Within days, we pivoted to a primarily drop-off model nationwide to support social distancing in our offices. We even piloted in three cities a 'pick-up' model allowing clients to schedule for an H&R Block associate to pick up their tax documents from their home and then prepare the tax return remotely."
COVID IMPACT: "A lot of my time at home has been working–leading H&R Block through the business crisis caused by the pandemic–but I'm using my time differently. I've been prioritizing well-being even more, committing to taking mental-health breaks during the day and walking 20-plus miles a week to recharge."
---
Roy Jensen
DIRECTOR, UNIVERSITY OF KANSAS CANCER CENTER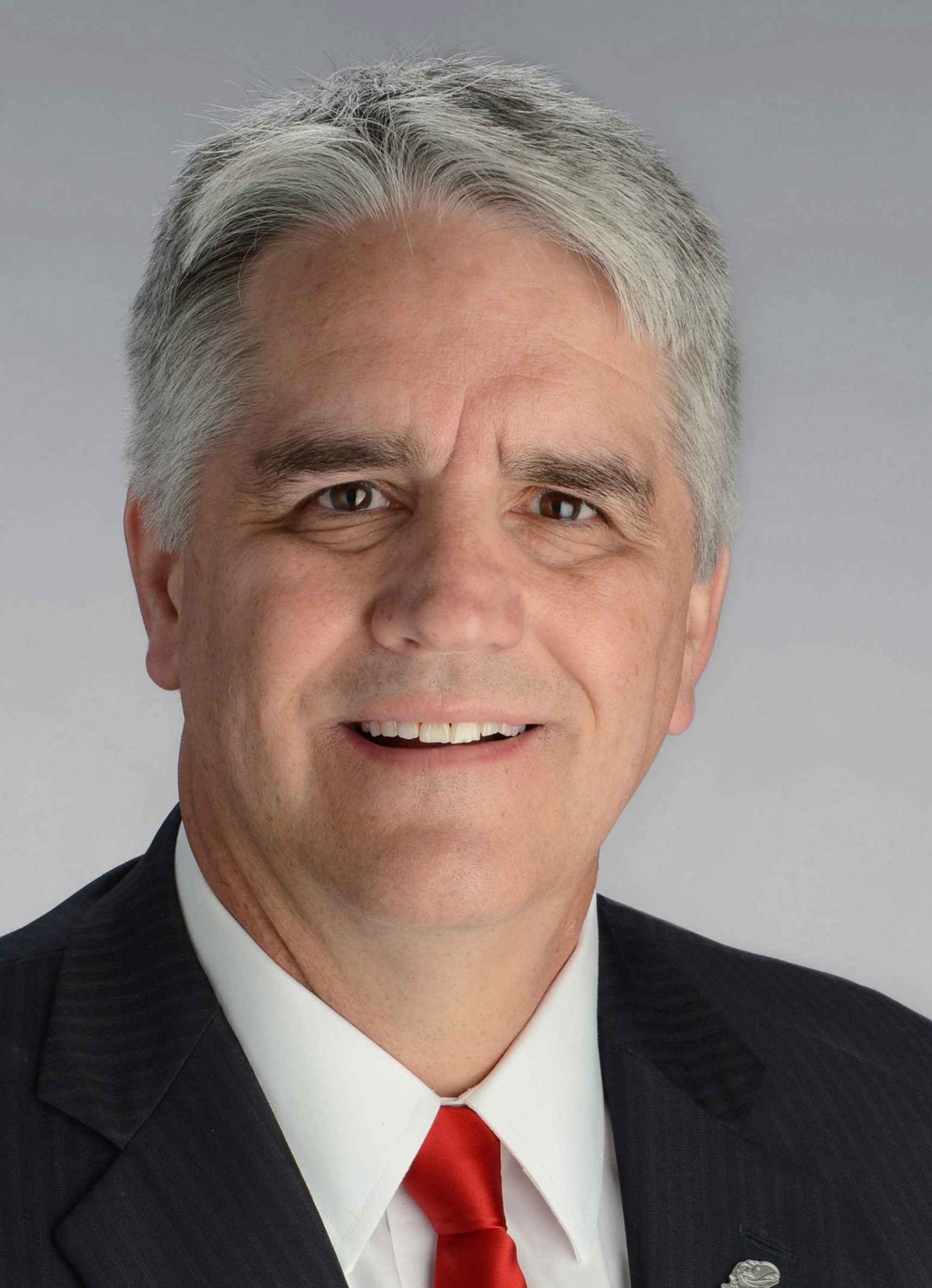 In the fight against disease, Roy Jensen lives and breathes data. So COVID-19 has been a real curve ball. "Figuring out how we could carry on with the essential aspects of our clinical research and treatment programs with very little data to go on, especially early in the pandemic," presented unique challenges to his team says Jensen, who led the successful attainment of NCI cancer center designation for the organization in 2012.
COLLEGE: B.S., Biology/Chemistry, Pittsburg State University; M.D, Vanderbilt University School of Medicine
COVID & CULTURE: "It is hard to maintain an esprit de corps if you are physically isolated. So, we basically had to find a way to stay focused and united in purpose despite being isolated."
WHAT SUSTAINS MORALE: "Re-focusing on the mission and understanding that despite the new complexities our patients were depending on us to get the job done."
SILVER LININGS: "The floodgates for telemedicine have been opened and hopefully will not be slammed shut. Also, many barriers have been broken down in regards to working from home."
PERFECT WEEKEND: "All of my sons, daughter-in laws, and grandchild in the house."
ANOTHER ERA YOU'D VISIT: "Five hundred years into the future. I would love to see what cancer care looks like when we have it all figured out."
---
Russell Johnson
PRESIDENT/CEO, LMH HEALTH
Local product Russell Johnson grew up in Merriam, graduated from Shawnee Mission Northwest and went on to amass 30 years of senior leadership in health care before LMH Health came calling in 2016 in its search for a new chief executive. Sandwiched between the Topeka market and Kansas City's wealth of health-care assets, LMH Health is a key employer in a college town, has more than 1,500 employees and admits roughly 8,000 patients a year, generating about $950 million in revenues.
COLLEGE: B.S., Management/Economics, University of Tulsa; M.A., Health-Care Administration, Washington University
THE ROAD TO LAWRENCE: Johnson had previously served as senior vice president Centura Health System in Englewood, Colo. His career started at a hospital in Cedar Rapids, then took him to the VA in Iowa before he came home to Saint Luke's Northland and a stint in Texas.
INDUSTRY INFLUENCER: Johnson held a seat on the American Hospital Association's board for three years, earning its Shirley Ann Munroe Leadership Award recognizing the accomplishments of a small or rural hospital leader who has improved health-care delivery in their communities through innovative and progressive efforts. Currently, he's a Fellow of the American College of Healthcare Executives and a Rotary International Paul Harris Fellow.
---
Laura Kelly
GOVERNOR, STATE OF KANSAS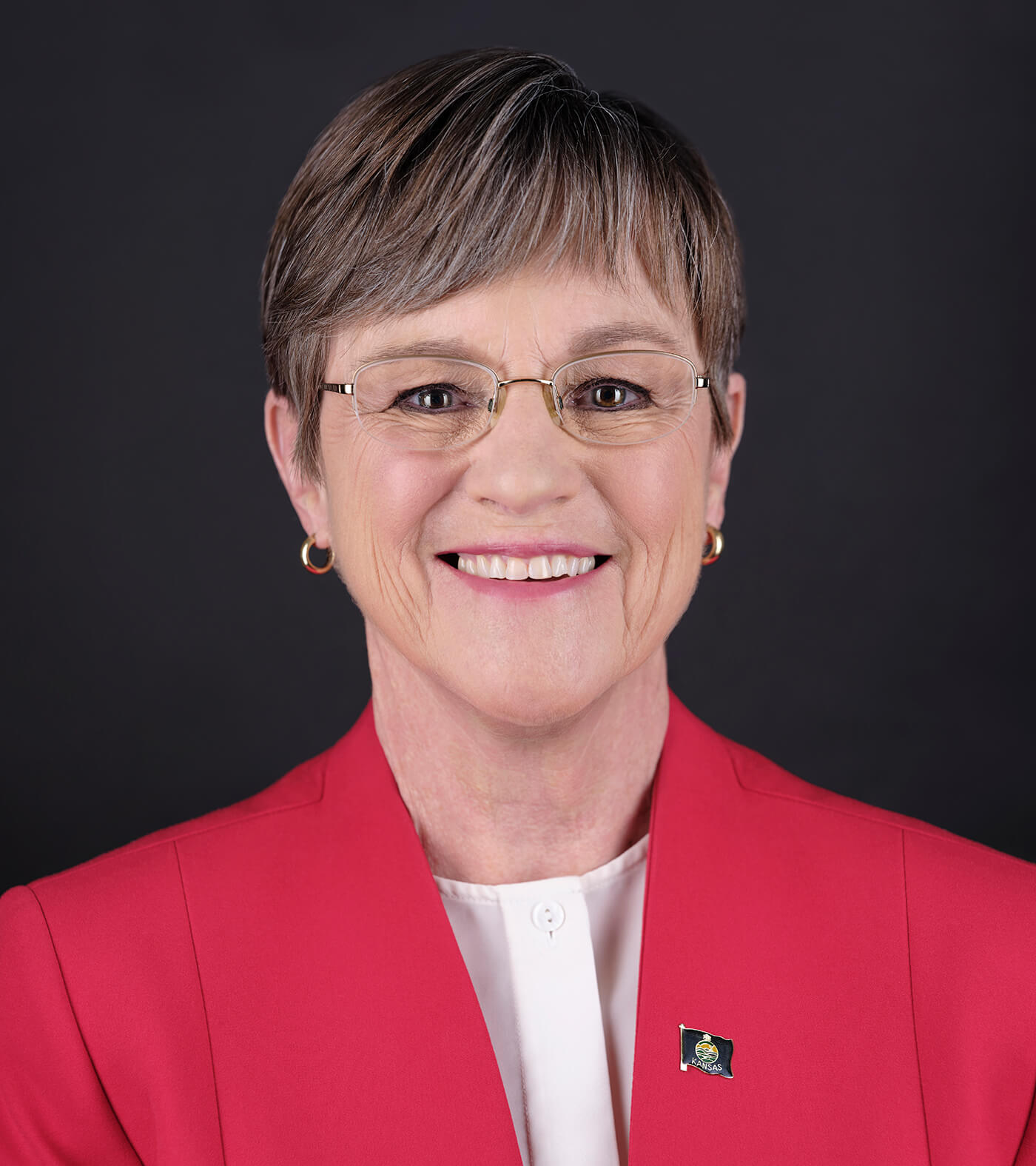 Laura Kelly manages a $17 billion enterprise, bigger than the revenues of any company, public or private, in the Kansas City region. She took office early last year after her 2018 election, and in her first State of the State address, cited achievements that include increased school funding, foster-care reforms, eliminating the dip into transportation funding to close budget gaps elsewhere, and establishing an office dedicated to improving rural economies.
COLLEGE: B.S., Psychology, Bradley University; M.S., Therapeutic Recreation, Indiana University
SERVICE-ORIENTED: Kelly says that growing up in a career military family taught her the importance of service, integrity and accountability. As a result, her life's work before politics focused on children and family issues. She's a big believer in the role that a thriving park system plays in promoting the state's quality of life.
CAPITAL ROOTS: In 2004, Kelly was elected to the Kansas Senate, representing the Wichita area. Significantly outnumbered by the Republican majority, she served as ranking minority member on the Ways and Means Committee, which controls much of the state budgeting process.
LEGISLATIVE PRIORITIES: Kelly says she stands for fiscally responsible, balanced budgets that still reflect the priorities of Kansas communities: schools, health care, roads and public safety.
---
Bill Johnson
GENERAL MANAGER, KC BOARD OF PUBLIC UTILITIES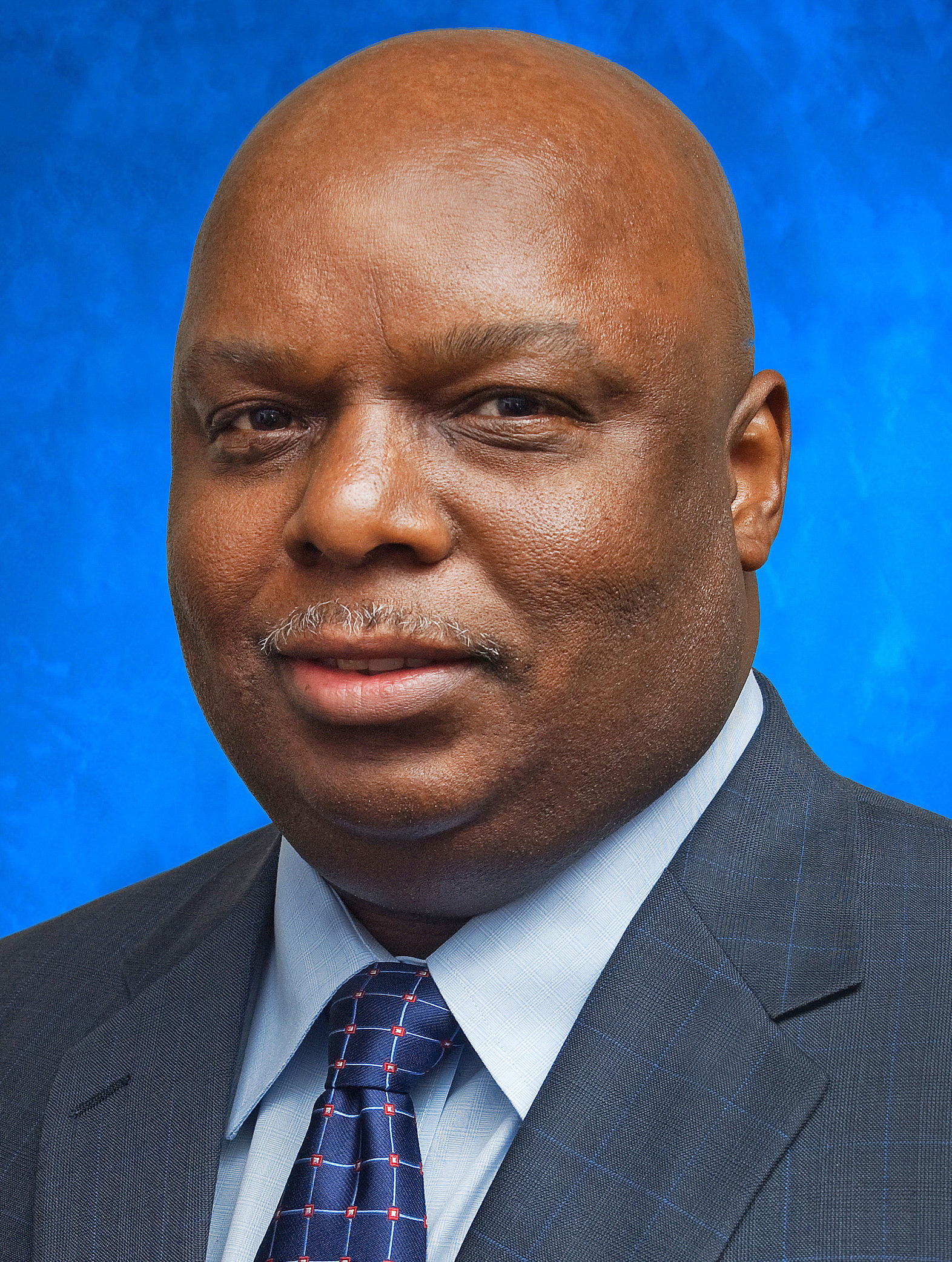 When we say Bill Johnson is a power player, we mean that quite literally: He leads a municipally owned utility that provides more than 116,000 customers with either electricity or water, or both, in Wyandotte County. He's a nearly 40-year veteran of the Board of Public Utilities, which generates revenues of $356 million a year and employs nearly 550 people.
COLLEGE: B.S., Business, MBA, Ottawa University
GROUND UP: From an entry-level position, Johnson has worked his way to the leadership ranks. Previous posts included overseeing the electric operation and technology divisions, covering power transmission and distribution, engineering, IT, telecommunications, and fleet maintenance.
INDUSTRY CHOPS: Johnson is a past president of Kansas Municipal Utilities and a board member for the Kansas City Kansas United Way, and past board member of the Boys & Girls Club. He is a member of the American Public Power Association and the Rocky Mountain Electric League, and past President of the Kansas-Missouri chapter of the American Association of Blacks in Energy.
HONORS: Among his career-achievement awards, Johnson has earned the distinguished "Black Achievers Award" from the Southern Christian Leadership Council and the "Black Man of Distinction Award" from the Friends of Yates.
---
Mark Jorgenson
COMMUNITY BANKING PRESIDENT, U.S. BANK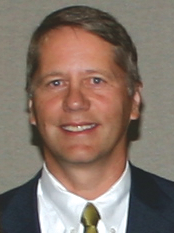 Mark Jorgenson leads the national community-banking wing for U.S. Bank, the nation's fifth-largest, with some $547 billion in assets. In that role since 2016, and after nearly 30 years of leading the Kansas City market operations, he has been impressed by the people he serves in these challenging times: "Our customers have demonstrated a tremendous amount of resilience and flexibility. This has led us to collaborate on new and exciting solutions that are now being delivered in digital fashion."
COLLEGE: B.A., Economics/Business Administration, Coe College; MBA, Washington University
PANDEMIC CHALLENGE: "When the SBA/U.S. Treasury rolled out its PPP initiative. While its intentions were admirable, the 'rules' of engagement changed on nearly a daily basis, causing our customers and frontline personnel a number of challenges which eventually were met (we have funded over 100,000 PPP loans across our footprint)."
PERFECT WEEKEND: "Spending time with family, maybe get in a little golf, and perhaps some reading—mostly fiction, but sometimes biographical non-fiction."
ULTIMATE DESSERT: "Lemon meringue pie!"
ANOTHER ERA YOU'D VISIT: "We live in exciting and interesting times, now. I would not trade that for anything."
FAVORITE MUSICAL ARTIST: "Steely Dan."
---
Jonathan Kemper
FORMER VICE-CHAIRMAN, COMMERCE BANK
The world of day-to-day banking is well in Jonathan Kemper's rear-view mirror, but there's no doubting the influence he continues to exert with commerce—small "c"—in the Kansas City region, and Capital-C Commerce, where he remains on the board of Commerce Bancshares. When he retired in 2018, he left behind a regional bank with $24.4 billion in assets, nearly 4,700 total employees, and the No. 2 market share for deposits in the metro area.
COLLEGE: B.A., MBA, Harvard University
INDUSTRY VETERAN: Though he's part of a family with regional banking roots that run six generations deep, Kemper wasn't gifted his place in the hierarchy after he got out of Harvard. He did time in both New York and Chicago, working for such prominent financial-services entities as Citicorp, the Federal Reserve Bank of New York. His banking career, outside of Commerce, included time on the Federal Advisory Council, advising the Federal Reserve Board of Governors on policy and regulation.
CIVIC CHAMPION: Kemper has a long track record of civic engagement, with service on boards for the Kansas City Public Library, the Truman Library and the Civic Council, among others. He's also co-trustee of the William T. Kemper Foundation, and has served on the boards of the Downtown Council, Pembroke Hill School, Tower Properties and the Kansas City Design Center.
---
Sandy Kemper
FOUNDER, C2FO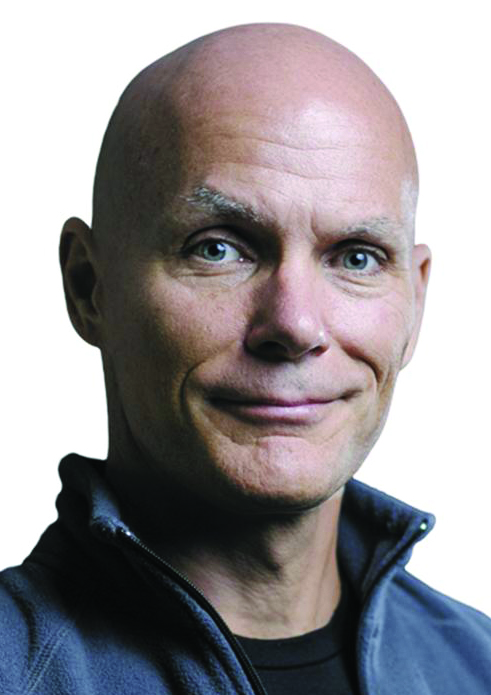 Kansas City is a white-hot market for fintech firms, but the blazing center of that heat is the brainchild of former UMB CEO Sandy Kemper: C2FO. Founded in 2008, as the nation's financial system teetered on collapse, the company matches corporate clients around with the world with their own customers—no third parties involved—creating a low-risk platform to improve cash flows for those with accounts receivable, and allow those with payables to do so at a discount.
COLLEGE: B.A., American History, Northwestern University
GAME-CHANGER: Until C2FO came along, Kemper has said, there existed "no scalable mechanism to discover the right cost mechanism for accounts payable and accounts receivable to be paid." Nowhere. The entire world was an untapped market.
GLOBAL REACH: More than 1 million companies worldwide, with annual sales of $10.5 trillion, are part of the firm's network.
INSTANT HIT: A decade after its founding, Kemper reported that C2FO had produced average quarterly growth of 41 percent.
QUOTABLE QUOTE: "We believe working capital is water for commerce. It's as important to business as water is to biological life," Kemper says. C2FO, then, was created to fulfill "the potential to open the floodgates of liquidity for businesses around the world."
---
Mariner Kemper
PRESIDENT/CEO/CHAIRMAN, UMB FINANCIAL CORP.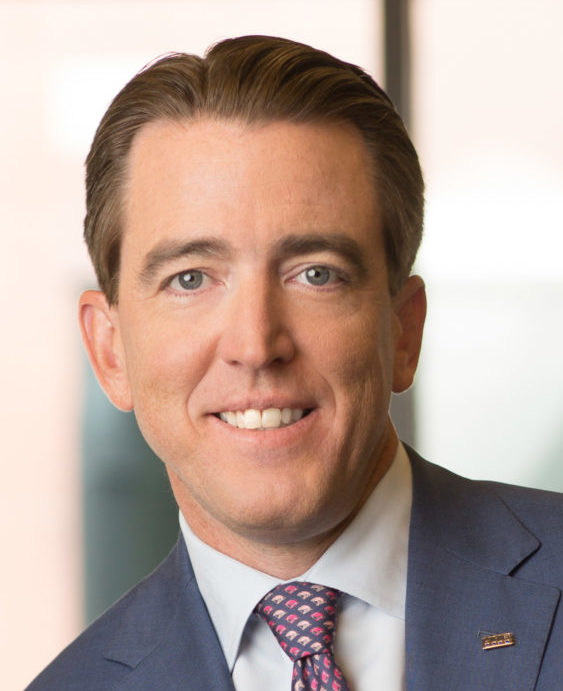 Mariner Kemper is the steward of a financial services legacy that stretches back more than 100 years and multiple generations. The parent of UMB Bank is both a regional and national powerhouse with $26 billion in assets and just over $1 billion in annual revenue. A big believer in giving back, UMB's combined total for sponsorships and donations was more than $2.5 million and UMB associates logged nearly 22,000 hours of community involvement.
PANDEMIC CHALLENGE: "Our biggest challenge has been training, coaching and ensuring we are keeping an open line of communication within our teams. We have the added benefit that our leadership team has been together for a very long time and have been through other financial crises such as the market crash in 2008 and subsequent recession."
COVID & CULTURE: "As a team, I have found that we are stronger than we were before the pandemic. We have made a conscious effort to communicate more with both our teams and our customers while we practice appropriate safety measures."
SILVER LINING: "Being able to work from home has given me the opportunity to see my family more, which has been a silver lining for all of us."
FAVORITE CHILDHOOD TOY: "Millennium Falcon."
ULTIMATE DESSERT: "Strawberry rhubarb pie."
---
Paul Kempinski
PRESIDENT/CEO, THE CHILDREN'S MERCY HOSPITAL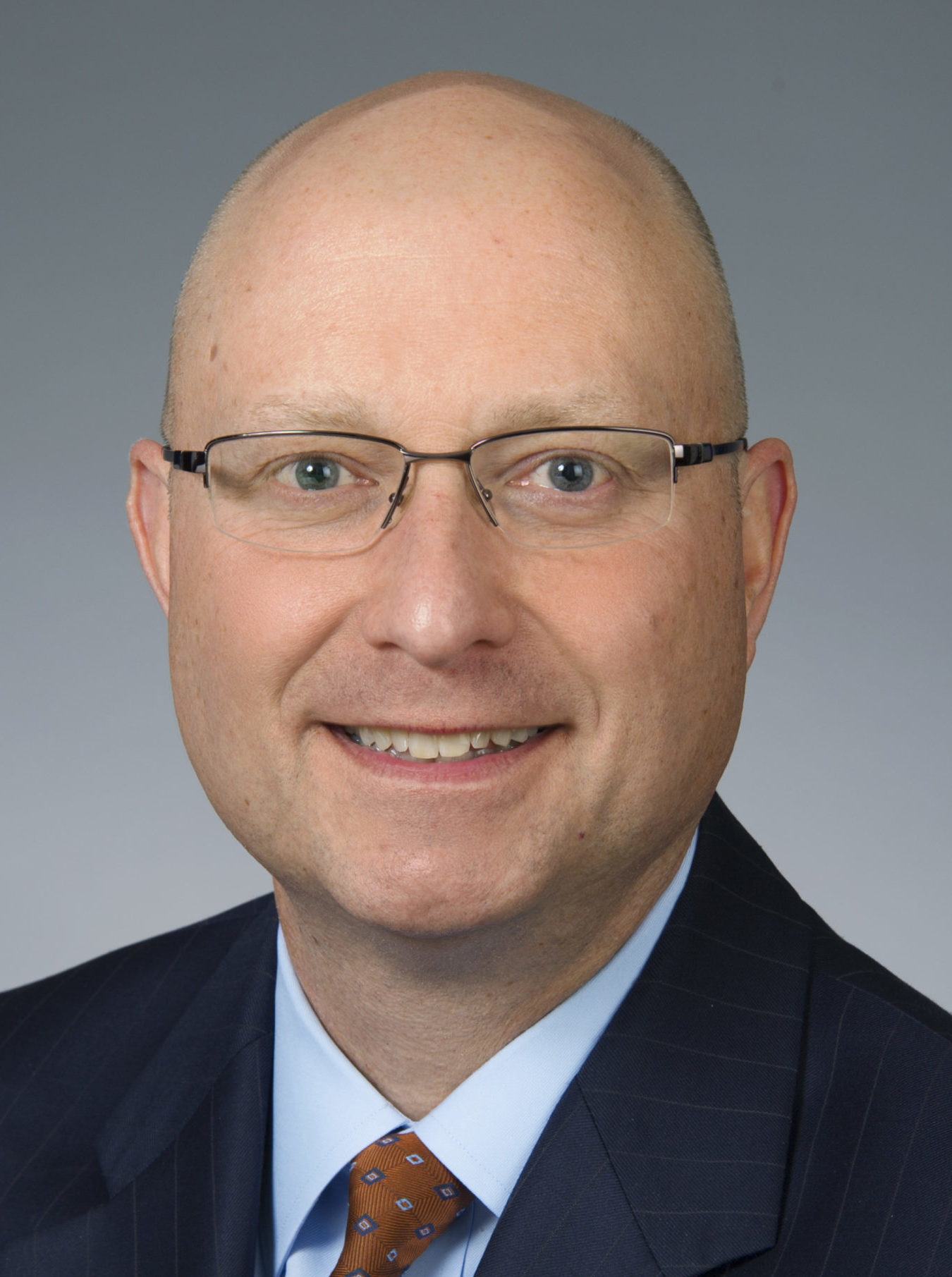 A global health crisis has compelled Paul Kempinski to draw on every bit of experience from three-plus decades in health care.
Of the year's biggest challenge, he said, "having to make difficult decisions impacting our employees, while maintaining optimism about the future, our strategies, and our vision." Noting the value of transparency and visibility to maintaining morale, he offers this advice: "Social distancing should not mean leadership isolation."
COLLEGE: B.S., Health Planning and Administration, Penn State University; M.S., Health Systems Management, Rush University
COVID IMPACT: "We are much more agile and nimble, as we've had to make important decisions quickly, sometimes within hours and days."
SILVER LININGS: "Children playing outside in their backyards, as opposed to being locked into their phones and devices."
PERFECT WEEKEND: "Quality time with my wife, a round or two of golf and some dinner with friends."
ULTIMATE DESSERT: "Homemade chocolate-chip cookies and a big glass of milk."
---
Robert Kenagy
PRESIDENT/CEO, STORMONT VAIL HEALTH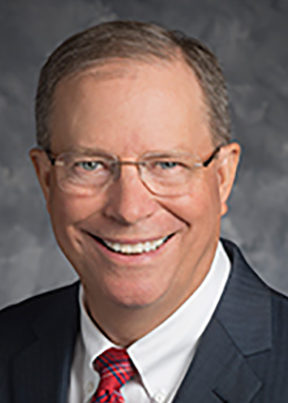 For Robert Kenagy, health-care leadership during a time of pandemic must continue to emphasize safe and compassionate care. At Stormont Vail Health, "we found new ways to safely serve our patients through electronic visits while implementing changes to our practices and facilities to ensure a safe environment to deliver our elective services," he says. "Throughout the pandemic, we have delivered urgent and emergent service without interruption."
COLLEGE: B.A., Business Administration, Wichita State University; M.D., University of Kansas School of Medicine
SILVER LININGS: "The learnings and changes to our facilities will facilitate our service offerings into the foreseeable future. We are proud of our reputation in our region for excellent health care and the support we provide to our rural partners."
GOOD CALL: With his business degree in hand, Kenagy started his career in his hometown of Wichita, working for Boeing Co. It was then the city's largest employer. But he changed his mind, earned his medical degree, and his path was set.
THE PATH TO TOPEKA: In a 38-year medical career before he took his current position at Stormont Vail Health, Kenagy worked in both the Wichita and Tulsa hospital markets.
ABOUT STORMONT VAIL: The main hospital admitted more than 23,000 patients last year.
---
Scott Kincaid
PRESIDENT, KINCAID GROUP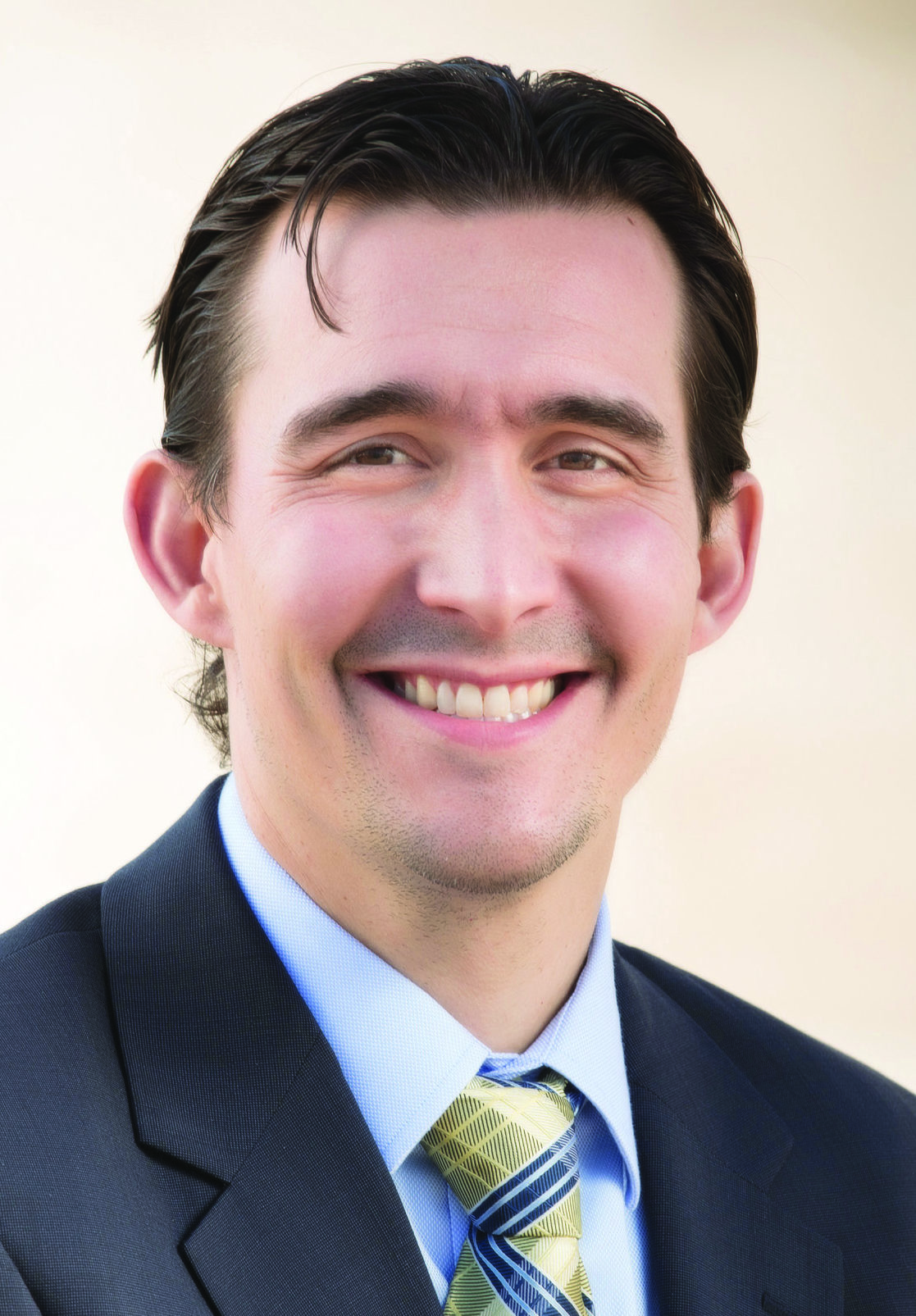 Family, Safety, Service, and Respect. Those are the core values that define the Kincaid Group, a still-diversifying enterprise that has spread its wings from its earliest days providing bus services for student transportation. The family-owned group of businesses led by Scott Kincaid now has dealings in motor coach, ready mix, auto dealership, digital security, and IT sectors, employing nearly 2,000 people and generating 2019 revenues of $272 million.
COLLEGE: B.S., Business Administration, University of Tulsa
DRIVING SUCCESS: The company's roots go back to when it's founder—Scott's father, Don Kincaid—started driving a bus at the age of 17. In 1976, he founded School Services and Leasing with a fleet of 17 buses, eventually building that into a 3,500-vehicle enterprise serving school systems in seven states.
DIVERSIFYING: The company's lineup of businesses today: American Digital Security, DS Bus Lines, DS Bus Lines South, Kincaid Coach Lines, Kincaid Information Technology, Kincaid Ready Mix, Midwest Bus Sales, State Line Nissan.
NEW DIGS: The company recently moved to its new headquarters, an 80,000-square-foot building in Bonner Springs to serve as home for the KC-area operations. In addition to office space, it includes an 18-bay service garage, workout facility for employees, outdoor patio and entertainment area.
---
Dale Klose
REGIONAL PRESIDENT, KANSAS CITY, PNC BANK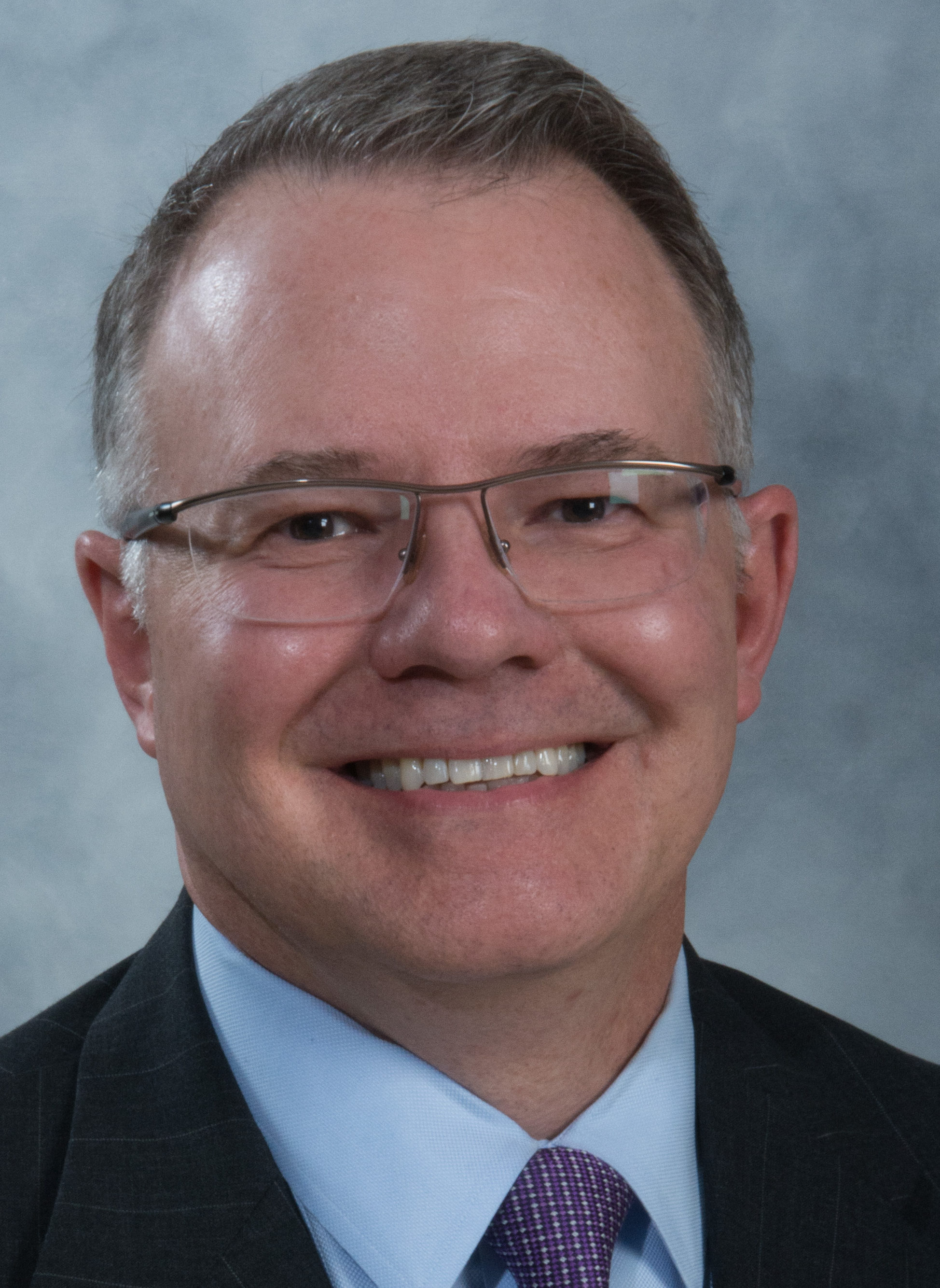 In a sector grounded in relationships, the pandemic has been a disaster on a different level. "I think it's that the corporate and consumer banking environment will be different in the future," says Dale Klose of PNC bank and its 600 area employees. That will compel banks to connect with customers in new ways. "In the meantime, we continue to offer financing to corporate and consumer clients. It's important we stay close to clients during this time to support their financing and banking needs."
COLLEGE: B.A., Business/Managerial Economics, University of Pittsburgh; MBA, Baldwin Wallace University
PANDEMIC CHALLENGE: "Working in a virtual environment creates different challenges, opportunities. With advances in digital meeting technology, listening skills, recognition, and sharing of best practices, we're able to stay close with each employee's well-being and engagement in a genuine and focused way."
COVID & CULTURE: "I value PNC Bank's strong culture. A significant component is defined by day to day, face to face interactions that take place among employees. Going into the pandemic our organization developed strong ties between employees which helped to keep people connected. However, with newer employees and interns, it's been difficult for them to experience our culture and learn without the opportunity to have personal interactions with their managers and colleagues."
SILVER LININGS: "We've all experienced the strong sense of community during this time that makes KC such a wonderful place to live and work. It's been great to see how the business and non-profit communities have come together in such a powerful way."
PERFECT WEEKEND: "Getting outside and seeing friends and family makes for a perfect weekend…socially distanced of course!"
FAVORITE CHILDHOOD TOY: "Legos!"
ULTIMATE DESSERT: "Chocolate lava cake."
FAVORITE MUSICAL ARTIST: "Van Morrison."
---
Michael Kiley
PRESIDENT/CEO, SECURITY BENEFIT CORP.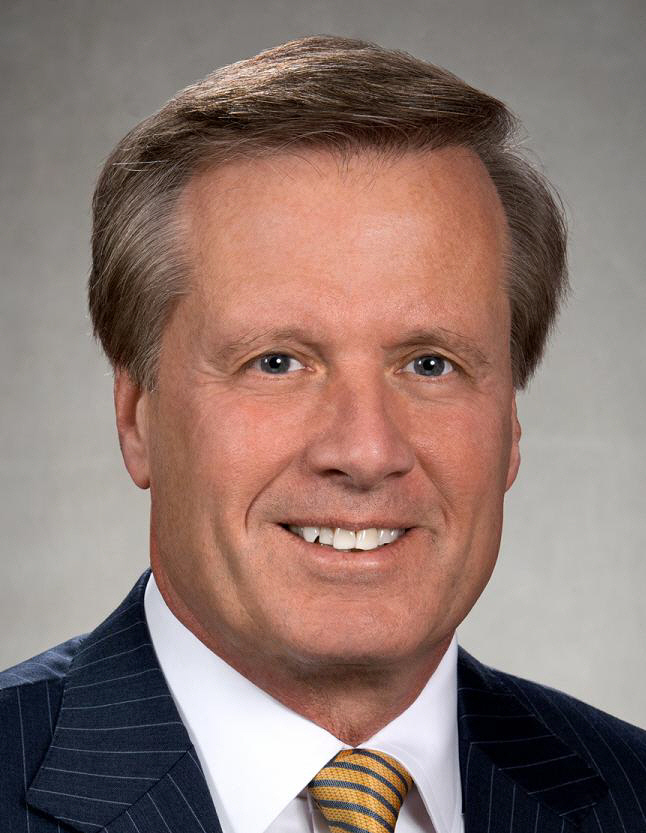 He heads a company that started out 128 years ago, as a fraternal insurance provider called Knights and Ladies of Security—11 people who chipped in a dollar each. Today, Mike Kiley oversees a retirement-focused, financial planning organization with $41.1 billion in assets under management and a belief that "everyone deserves an opportunity to achieve financial well-being." As for taking on the COVID era, he reminded us: "This is not our first pandemic; we were around in 1918! "
COLLEGE: B.A., Holy Cross
PANDEMIC CHALLENGE: "How to keep employees safe and healthy, while continuing to focus on serving the needs of our clients. We took decisive action and adapted, shifting to remote working for nearly all of our people. By tapping into that kind of thinking, and leveraging the diversity of our work force, we ended up thriving in this environment. We are stronger now than we have ever been, and while the rest of our industry is struggling, we are experiencing record sales numbers."
COVID IMPACT: "With the restrictions on travel and gatherings, we had to rely more heavily on our digital resources and step up the pace of our outreach. We looked for ways to deliver more value with each contact and found that it resonated with customers. Our culture hasn't changed a bit. Our core values of strength, innovation, and excellence continue to define and distinguish us to this day."
---
Greg Klein
PRESIDENT/CEO, INLAND TRUCK PARTS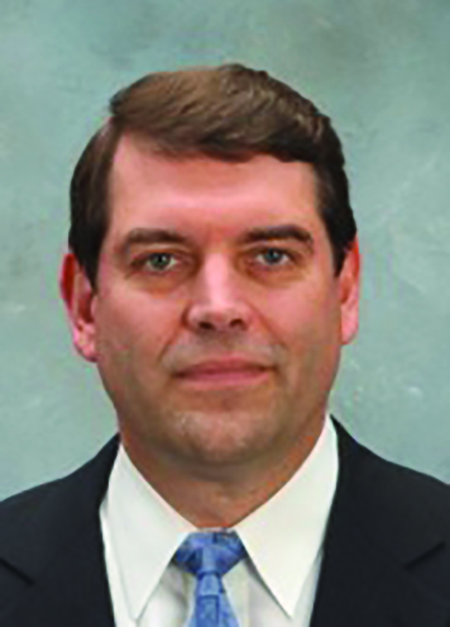 While he was happy to see Inland—established in 1944—deemed an essential business this year, Greg Klein says that came with challenges: "We had to determine how to best protect the health and safety of our employee-owners. Asking, 'How would I want to be treated if I were in their shoes?' It made the right choices easier to identify." He credits the loyalty fostered by Inland's employee-owned business model as key to keeping the business healthy.
SILVER LININGS: "There's an old saying that a rising tide lifts all boats, but when it goes out, you find out who's been swimming naked. We just finished the longest economic expansionary period in modern history, so there will undoubtedly be some people out there without swimming trunks. While economic downturns can be destructive, like a rain downpour, they can wash away some of the weaker competitors messing up the market with short-term strategies."
PERFECT WEEKEND: "Time spent with family and friends is always a welcome break. When that time is spent at a mountain cabin, that is even better."
FAVORITE CHILDHOOD TOY: "Anyone who has seen A Christmas Story knows a BB gun is critical for the development of a young boy growing up out in the wild, wild west."
ULTIMATE DESSERT: "German chocolate cake made from a recipe handed down for many generations on my wife's side of the family."
---
Ann Konecny
CEO, FOLEY EQUIPMENT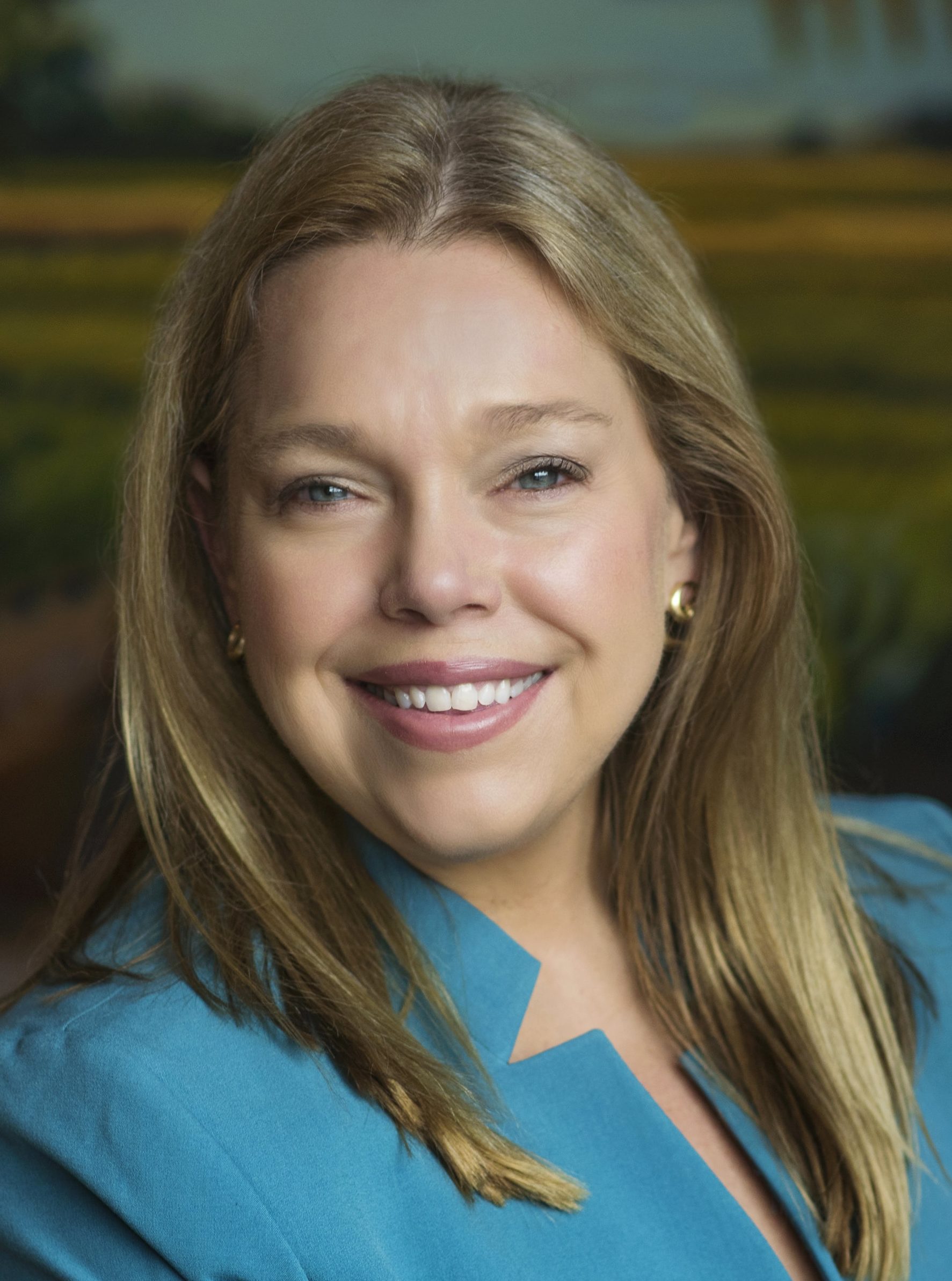 If you think heavy equipment is a man's game, think again. Ann Konecny runs the business her grandfather started, and it's bigger than he could have dreamed. Officially certified as a Women Business Enterprise by the National Women Business Owners Corporation, this essential-services company sells, rents and repairs many of the big machines you see on web sites in Kansas and Missouri, especially those used in construction and infrastructure projects.
COLLEGE: B.A., Finance & Economics, Wichita State University
COVID & CULTURE: "It is certainly an opportunity to be agile, which is important to us culturally, even when we are not in extraordinary times. Technology like video conferencing has a much bigger role which will continue to some degree even after this is resolved."
SILVER LINING: "More time with my family. Better clarity on what is important vs. busyness/noise."
PERFECT WEEKEND: "With my family, doing something outside."
ULTIMATE DESSERT: "Yes!"
ANOTHER ERA YOU'D VISIT: "The future. I would love to see what is invented and how things work out, as well as check in on my descendants."
---
John Kornitzer
FOUNDER/CEO, KORNITZER CAPITAL MANAGEMENT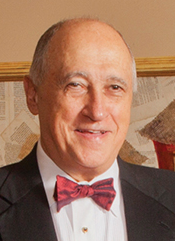 With well more than $6 billion in assets under management for more than 1200 individual and institutional investor clients, John Kornitzer has long been one of this region's most prominent—and most successful wealth managers. His firm based in Mission also founded and advises Buffalo Funds, with about $4 billion more in assets. The comprise 10 no-load mutual funds that many Fortune 500 companies use to support their 401(k) plans.
COLLEGE: B.S., Business Administration, St. Francis College
CIVIC CHAMPION: With significant financial donations to non-profit arts organizations like the Kansas City Ballet and the KC Repertory Theater, and honorary board recognition for the Kansas City Jazz Orchestra, Kornitzer is a highly respected—and valued—player on the region's philanthropic stage.
IN THE GENES: Kornitzer's daughter, Nicole, is showing off plenty of Dad's investing prowess, too.
Citywire analyzed the performance of 16,000 portfolio managers worldwide, and she was among the Top 20 females for the second consecutive time—one of only seven women to earn that distinction.
---
Kevin Kramer
MARKET CEO, BOK FINANCIAL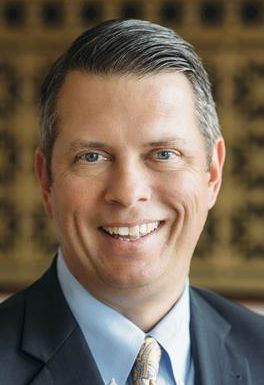 Many of you will remember Kevin Kramer's operation as Mobank. In 2019, it was rebranded to align with parent BOK Financial—a $38 billion regional financial-services company with $78 billion in assets under management and administration. Also in 2019, Kramer returned to Kansas City to take over as the bank's CEO for the Kansas City market. He's a Kansas City banking veteran who has held executive positions at Bank Midwest and UMB Financial Corp.
COLLEGE: Business Administration, Benedictine College
PANDEMIC CHALLENGE: "Leading a team without having direct contact, staying connected while not in the same room was a challenge. I had to focus on creating connection in a virtual environment using technology, humor, and a focused plan to keep the team engaged and well informed."
COVID & CULTURE: "Culture is always stronger when we're together, but we've seen new virtual programming come in like Town Halls with BOK Financial executives and virtual happy hours that have been popular. The Town Halls will stay on rotation even when we're 100 percent back in the office. Forming and building on relationships is key to our culture and it is always top of mind for me."
PERFECT WEEKEND: "Any future weekend that does not include the thought 'Do I have my mask?' whenever I leave the house."
FAVORITE CHILDHOOD TOY: "Evel Knievel Stunt Cycle."
---
Dan Krueger
ENGINEERING FELLOW, HONEYWELL FM&T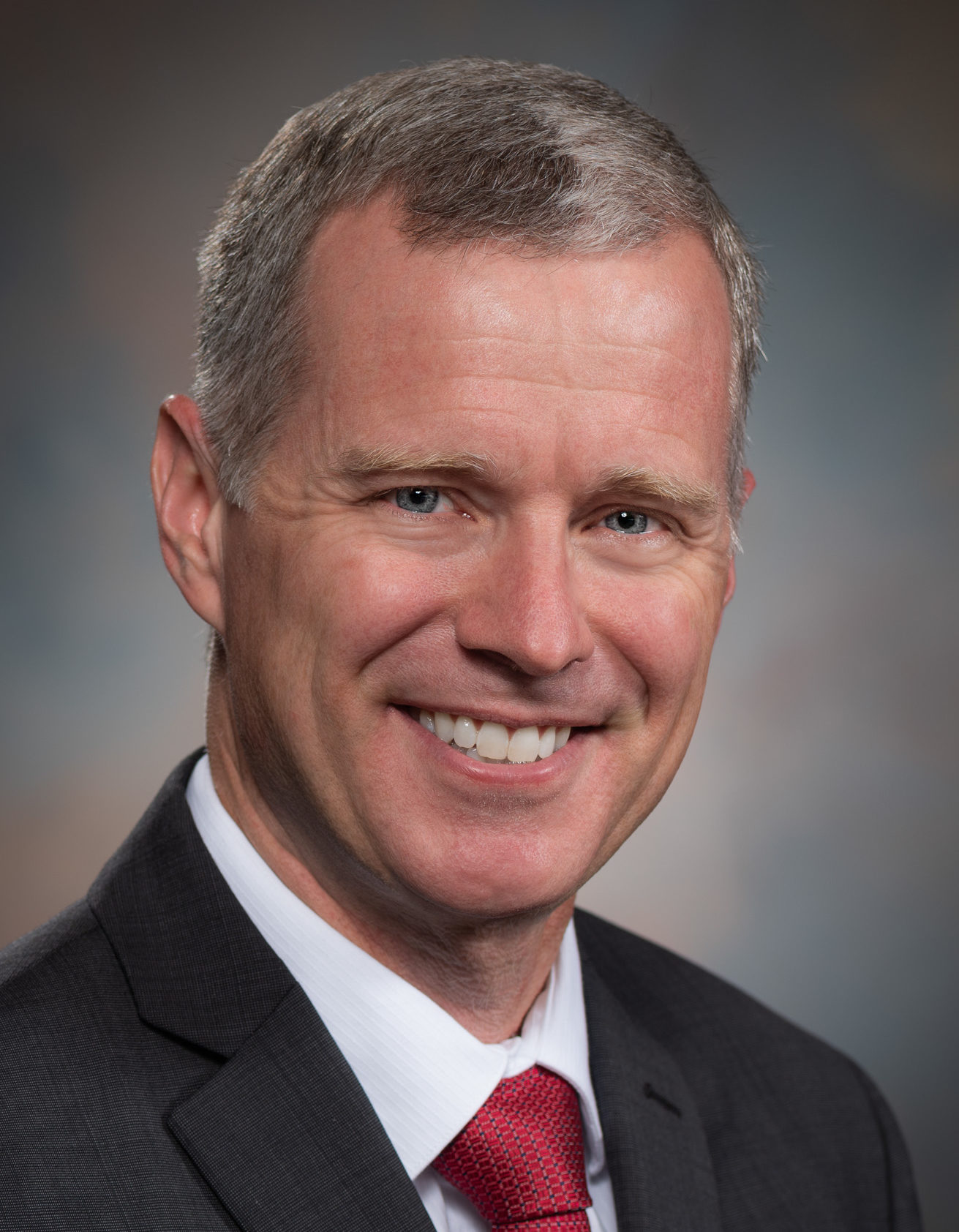 Dan Krueger is a prime example of what a high-quality education can do in the right hands: With degrees in mechanical, aerospace and ceramic engineering, he's been a long-time presence at Honeywell's Federal Manufacturing & Technologies sites in the Kansas City region. There, he leads the Electrical Products Center of Excellence, which manages and operates the Department of Energy's Kansas City National Security Campus and has 5,000 employees in KC and Albuquerque.
COLLEGE: B.S. Ceramic Engineering, University of Missouri–Rolla (now Missouri S&T); M.S. Mechanical and Aerospace Engineering, University of Missouri–Columbia
HIGH IMPACT: Krueger joined Honeywell in 1998 oversees R&D of electronics-related technologies across 10 focus areas, ranging from radio frequency and radar technologies to printed electronics. On his watch, R&D has grown five-fold, and intellectual property has more than tripled.
SILVER LININGS: "The challenges we have faced so far in 2020 have helped us get more adept at using remote and virtual tools to conduct business that have created increased efficiencies. We've also come to value the importance of being present in person and our 'real-life' interactions with our families, work teams, customers, and stakeholders."
ANOTHER ERA YOU'D VISIT: "I'd pick the future. Maybe 100 years from now, so I can experience commercial space flight, travel to Mars, and see the family and community legacy our generation leaves."
---
Mel Lagarde
PRESIDENT, HCA MIDWEST HEALTH
Mel Lagarde oversees the largest collection of health-care assets in the region, so if you're not able to find one of his providers or facilities, you're not paying attention. HCA Midwest has more than 150 locations, including eight hospitals, 85 physician clinics, urgent care and specialty surgery centers, all backed up by a network of more than 2,000 physicians and providers. The hospitals' combined 1,541 beds account for nearly 30 percent of this market.
COLLEGE: B.A., Economics, M.A, Public Health, Tulane University
HEALTH-CARE POWERHOUSE: The system's hospitals had estimated revenues of more than nearly $10 billion and admitted more than 75,000 patients in 2019.
ON THE TUBE: As with other providers, HCA Midwest has invested heavily this year to increase its telehealth-services footprint.
COVID-19 PHILANTHROPY: The philanthropic arm of parent HCA Healthcare, HCA Healthcare Foundation, announced in the spring that it would donate more than $1 million in grants to local community organizations nationwide to aid in COVID-19 relief efforts. Locally, that translated into $75,000 to support the YMCA of Greater Kansas City. That will supplement the $1.2 million that, on average, HCA Midwest Health doles out in charitable contributions.
---
Ray Kowalik
CHAIRMAN/CEO, BURNS & MCDONNELL
Ray Kowalik's company dared COVID-19 to stop them—and COVID lost. "We built a power plant in the middle of the pandemic in the hottest of hot zones," he says. "Our site team did an amazing job pulling together new policies and procedures on the fly." A believer in culture, he looks forward to people returning to the office: "I've noticed people become more comfortable leaving the house after they experience the new way of business in the office or job site."
COLLEGE: B.S., M.S., Engineering, University of Missouri-Columbia
PANDEMIC CHALLENGE: "The stress put on everybody has been enormous. Everyone wants answers that don't exist. And the environment is constantly changing. Since emotions and thoughts vary so widely, it's impossible to have a message that everyone can rally behind."
COVID & CULTURE: "You can't build culture working from home. Plus, business is tough in many markets now. Our current environment isn't sustainable. I think many people don't understand that."
SILVER LININGS: "Our marketing costs have plummeted, which has helped offset our lower revenues. We are learning better ways of conducting business that are more cost effective. I think many of those can continue even post COVID."
PERFECT WEEKEND: "A nice fast boat ride to lunch, time in the water with family and friends, followed by a nice steak dinner with a great bottle of wine."
FAVORITE CHILDHOOD TOY: "SSP Smash-Up Derby cars. I even get excited remembering them now."
---
Lisa Krigsten
Managing Partner, Dentons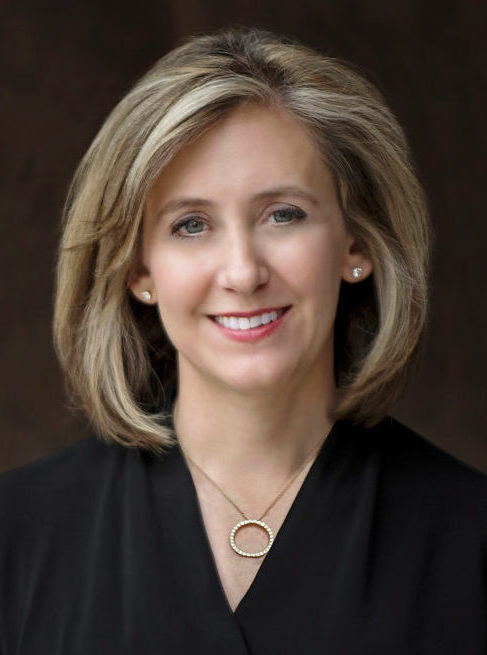 Leading the local office for the world's largest law firm, Lisa Krigsten oversees a platoon of nearly 55 lawyers (33 at partner level), specializing in business law, including banking, energy, insurance and employee benefits. An Iowa native, she worked in Washington for a decade at high levels in the Justice Department, then came back to the Midwest in 2009. She has private-sector experience in bet-the-company litigation and federal regulatory law.
COLLEGE: B.A., University of Kansas; J.D., University of Iowa College of Law
PANDEMIC CHALLENGE: "The most significant challenge—and most gratifying task—has been keeping cohesion in our firm without reliance on physical proximity. We have learned new ways to relate to one another and, in doing so, have developed deeper and more productive relationships."
SILVER LININGS: "The pandemic has accelerated some reinvention in how we provide legal services. Our lawyers have really focused on finding creative, immediate, and cost-effective solutions for our clients. We know our clients even better, given that we can talk with them via a video platform quite easily, and that has meant we can find solutions for them more quickly."
PERFECT WEEKEND: "I have started baking during the pandemic. The perfect weekend now involves tackling a new recipe with some fresh, locally grown ingredients from the City Market."
ANOTHER ERA YOU'D VISIT: "100 years in the future. With tech, medical, and social advances that are occurring, it would be exciting to see the world that is yet to come."
---
Bill Krueger
PRESIDENT-COMMODITIES/RISK, THE ANDERSONS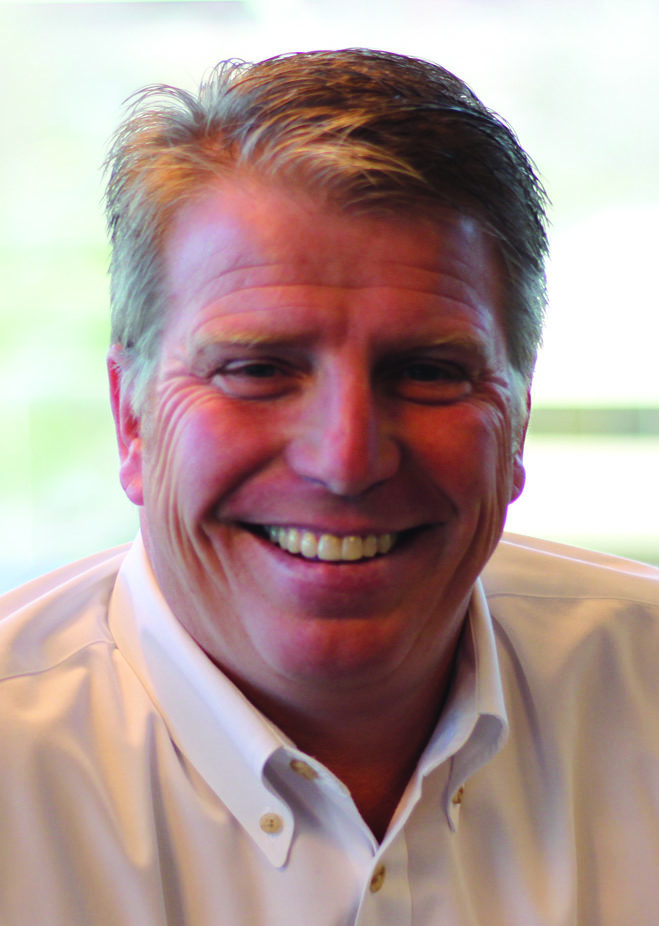 Midwestern farmers keep America's breadbasket full of grain, and Bill Krueger is instrumental in getting it to market, having moved billions of bushels in his day. In addition, he was the point man for a $300-plus-million-dollar deal to create his current organization with the sale of Lansing Trade Group to The Andersons, a diversified, four-business agriculture firm with deep family roots that make it a natural addition to the Kansas City business scene.
COLLEGE: B.A., Ag Business, University of Nebraska
PANDEMIC CHALLENGE: "Trying to keep employees calm and focused on the task at hand."
COVID & CULTURE: "Like many companies, we have had to become efficient using Microsoft Team, Zoom and Ring Central. Our business initially struggled with demand destruction but is now back to pretty much normal."
CRYSTAL BALL: "The election will be a big determinant, along with the lasting effect of COVID."
SILVER LINING: "Our company has proven we are nimble and innovative in areas we did not expect, such as online meetings with customers."
PERFECT WEEKEND: "A round of golf and enjoying the Lake of the Ozarks."
FAVORITE CHILDHOOD TOY: "Baseball and glove."
---
Mike Kulp
PRESIDENT/CEO, KBP FOODS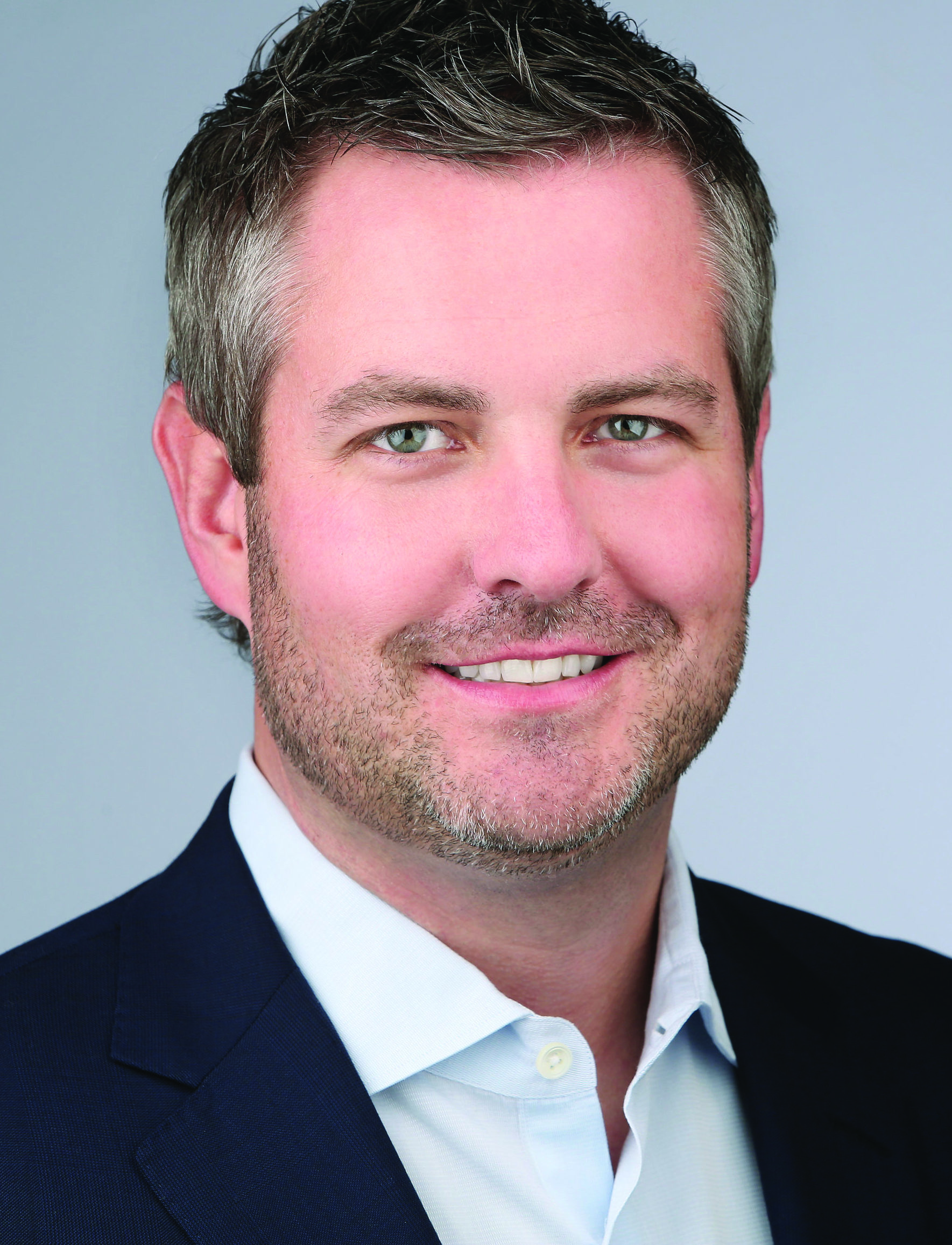 Mike Kulp leads a KFC and Taco Bell powerhouse, taking it from $7 million to over $600 million in annual sales. KBP operates in more than 20 states, employing more than 12,000. In these COVID days, he is particularly moved by the way his far-flung work force has risen to the occasion: "Our social sites were flooded with photos of KBP employees connecting with and serving their local communities. I can honestly say I've never been more proud of our people."
COLLEGE: B.A., Business Administration/Marketing, Colorado Mesa University
PANDEMIC CHALLENGE: "Maintaining morale among our teams and continuing to be an employer of choice. Health and safety remain a top priority for our organization, and we are making decisions on a daily basis that prioritize the well-being of our people."
ON INDUSTRY TRENDS: "Like many others, we have seen increasing demand for all things digital and delivery. We are also seeing a shift toward group occasions vs. individual meals. Contactless and convenience are king."
PERFECT WEEKEND: "A relaxing weekend getaway with my family."
ULTIMATE DESSERT: "I'll take a great tequila on ice or a great red wine over dessert, any day."
---
Mark Laney
CEO, MOSAIC LIFE CARE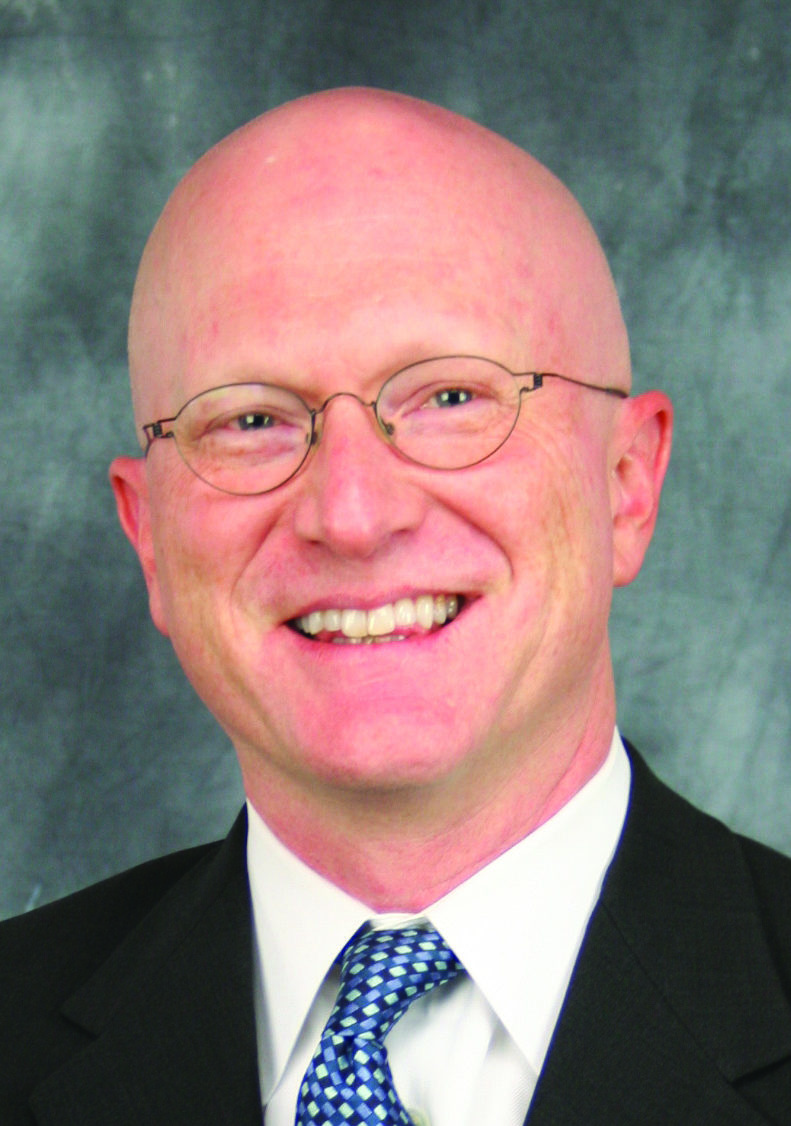 When the former Heartland Health system launched its search for a new chief executive in 2009, it went in search of some big-time talent. The search committee got what it was after in Mark Laney, rated by Becker's Hospital Review as one of the 30 Best Physician Leaders of Hospitals and Health Systems. With 17,000 patient admissions in 2019 and revenues of more than $1.2 billion, Mosaic is the 8th-largest hospital in the Kansas City region.
COLLEGE: B.A., University of North Texas, M.S., Medical Management, University of Texas-Dallas and University of Texas-Southwestern, M.D., University of Texas Medical Branch-Galveston
BEFORE MOSAIC: For 20 years, Laney served Cook Children's Health Care System in Dallas, including eight years as the president of the Cook Children's Physician Network. His fellowship in pediatric neurology was at the Mayo Clinic.
COVID CHALLENGES: Like most every other hospital system, Mosaic encountered huge financial challenges during the pandemic, prompting decisions to close the child care and education center and reduce staff (especially with senior administrators). It was a painful concession to a greater obligation, Laney told employees: "We have a duty and an obligation to our neighbors in northwest Missouri to be good stewards with our finances to ensure Mosaic continues to be here for generations to come."
---
Jeff Krum
PRESIDENT, BOULEVARD BREWING CO.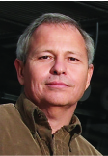 Jeff Krum studied adaptive reuse of buildings while in college, and a few years afterward, he helped put some of that knowledge to work. An early investor in a fledgling microbrewery, Krum helped transform not just an empty building on Southwest Boulevard, but an entire market for beer-lovers. After providing financial guidance to founder John McDonald, Krum joined the staff at Boulevard in 1994 and became president after the regional brewer was sold to Duvel-Moortgat in 2013.
COLLEGE: B.A., Economics, Haverford College
NUMBER-CRUNCHER: Krum was Boulevard's CFO for 20 years, then became vice president of corporate affairs in 2014 and president in 2016.
DUAL DUTY: He's also president of Boulevard's sister operation, Brewery Ommegang, in Cooperstown, N.Y, and Duvel Moortgat USA, the parent's national sales organization. Combined, the two breweries make Duvel the nation's fifth-largest craft brewer.
CIVIC CHAMPION: Krum has seats on the boards of the Kansas City Streetcar Authority, the Downtown Transportation Development District and the Kansas City Economic Development Corp.
---
Brad Lager
PRESIDENT/CEO, WILLIAM E. HERZOG ENTERPRISES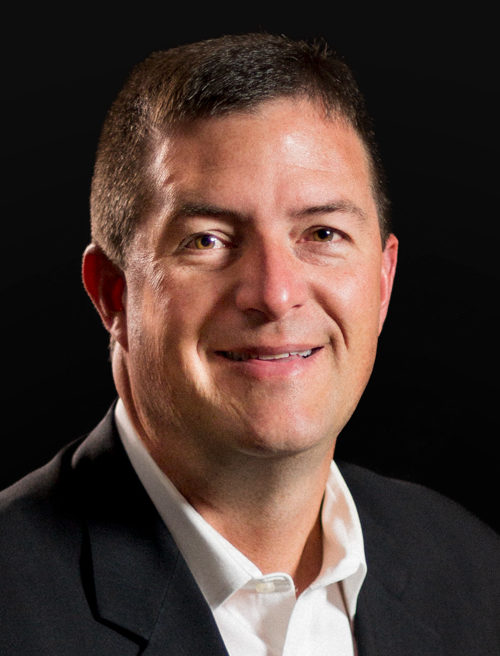 Brad Lager leads a company that started in 1969 as a local asphalt-paving operation. Today, it's a leading private rail and heavy/highway contractor with seven divisions and more than 2,300 employees. Each of its companies was deemed an essential business, and Lager says that "in the end, we were reminded that a common-sense approach and simple good hygiene practices really do solve most challenges placed before us."
COLLEGE: B.S., Computer Management Systems, Northwest Missouri State University
COVID EFFECTS ONSITE: "The largest impact for Herzog has been on our front line crews where they are being required to use mask in the hot and humid weather which if not properly managed causes other safety issues (such as fogging safety glasses, etc.)."
SILVER LINING: "The challenges of 2020 have forced us to re-think our approach to many activities, really understand why we do things in a certain way and challenge each other to find better ways."
PERFECT WEEKEND: "A perfect weekend for me is on our cattle farm with my family."
FAVORITE CHILDHOOD TOY: "Anything that used remote radio controls."
ULTIMATE DESSERT: "I love chocolate and almost anything that has chocolate in it."
ANOTHER ERA YOU'D VISIT: "The industrial age because it changed the world, much like technology is changing the world today."
---
Gordon Lansford
PRESIDENT/CEO, JE DUNN CONSTRUCTION CO.
Under the leadership of the largest construction company based in Kansas City, 2019 was a banner year: The employee-owned company easily surpassed the $4 billion revenue mark for the first time in its nearly 100-year history. Lansford became CEO in 2014, the first person outside the Dunn family to take the helm of a company that has been involved with a high percentage of the major construction projects throughout the region over the years. He came to JE Dunn after working as a CPA with KPMG.
COLLEGE: B.A., Accounting and Business, Baker University
BOOM: The $4.26 billion in revenues last year was a whopping 18.98 percent increase over 2018, and it placed the company squarely in the Top 10 of the region's largest private enterprises, at No. 7.
ON THE PAYROLL: JE Dunn now has roughly 4,000 employees at its 20 offices nationwide, with 1,750 of them at the Kansas City headquarters.
RECOGNITION: The company continues to rack up awards for best-employer practices, earning Deloitte's US Best Managed Companies honors just this year.
SERVANT LEADER: Lansford has a robust history of civic engagement, with a resume that includes board duties for the American Royal, the Greater Kansas City Community Foundation, the Greater Kansas City Chamber of Commerce, among numerous others.
---
Mark Larrabee
PRESIDENT/CEO, ARVEST BANK

Mark Larrabee oversees the regional operations for an Arkansas-based bank with assets of more than $20 billion. And COVID isn't keeping them from serving customers, he says. "We are experiencing record levels of loan demand across all of our business lines," Larrabee says. "While a large segment of customers are experiencing unemployment and will suffer as a result, mortgage refinancing is freeing cash flow for a huge swath of the population."
COLLEGE: B.S./B.A., Finance, University of Kansas; MBA, Finance, University of Missouri-Trulaske College of Business
PANDEMIC CHALLENGE: "Reminding our front-line associates that our mission was unchanged and even more important than ever. How we were serving clients was changing, but our clients still needed our solutions. This required constant communication (always a good thing)."
SILVER LINING: "I think people are beginning to realize that the pandemic is not going away any time soon and are adapting to the circumstances at hand. It appears that a vaccine is in promising stages and that is the key to being able to fully recover."
PERFECT WEEKEND: "With my wife, at our home in the Flint Hills, to catch up on reading while enjoying some adult beverages and cooking."
FAVORITE CHILDHOOD TOY: "I loved the freedom that my bike provided."
---
Carlos Ledezma
OWNER, CABLE DAHMER AUTOMOTIVE GROUP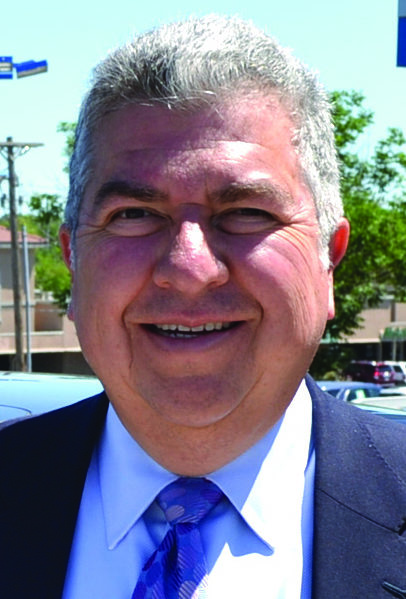 Bit by bit over nearly three decades, Carlos Ledezma has acquired pieces of the Cable Dahmer enterprise, and today he has a market-leading presence with seven locations around the area, flying the brand flags of Buick/GMC, Cadillac, Chevrolet and Kia. Cable Dahmer Auto Direct, in Independence, is its used outlet. Ledezma came to the area from Texas in 1994 as a consultant to area auto dealerships.
QUICK STUDY: Ledezma had only been in town for two years, working for the organization, when founder Jerry Dahmer made him a partner. Ledezma went on to acquire his first dealership in the group in 2002.
AUTOMOTIVE FAMILY: Amanda Ledezma, Carlos' daughter, is the general manager of Cable-Dahmer Chevrolet. His sister, Sylvia Ledezma Flores, is head of human resources for the company.
GIVING BACK: In 2017, Ledezma received the Heartland Corporate Citizen of the Year Award from the Truman Heartland Community Foundation for volunteering hours and financial support to about 50 organizations in the area.
CORPORATE GROWTH: With revenues of $564 million in 2019, Cable Dahmer came in 48th place on Ingram's Top 100 Privately Held Companies list this year. That, by the way, was a tidy 30.2 percent year-over-year increase in sales volume.
---
Jim Lewis
PRESIDENT/CEO, SECURITY BANK OF KANSAS CITY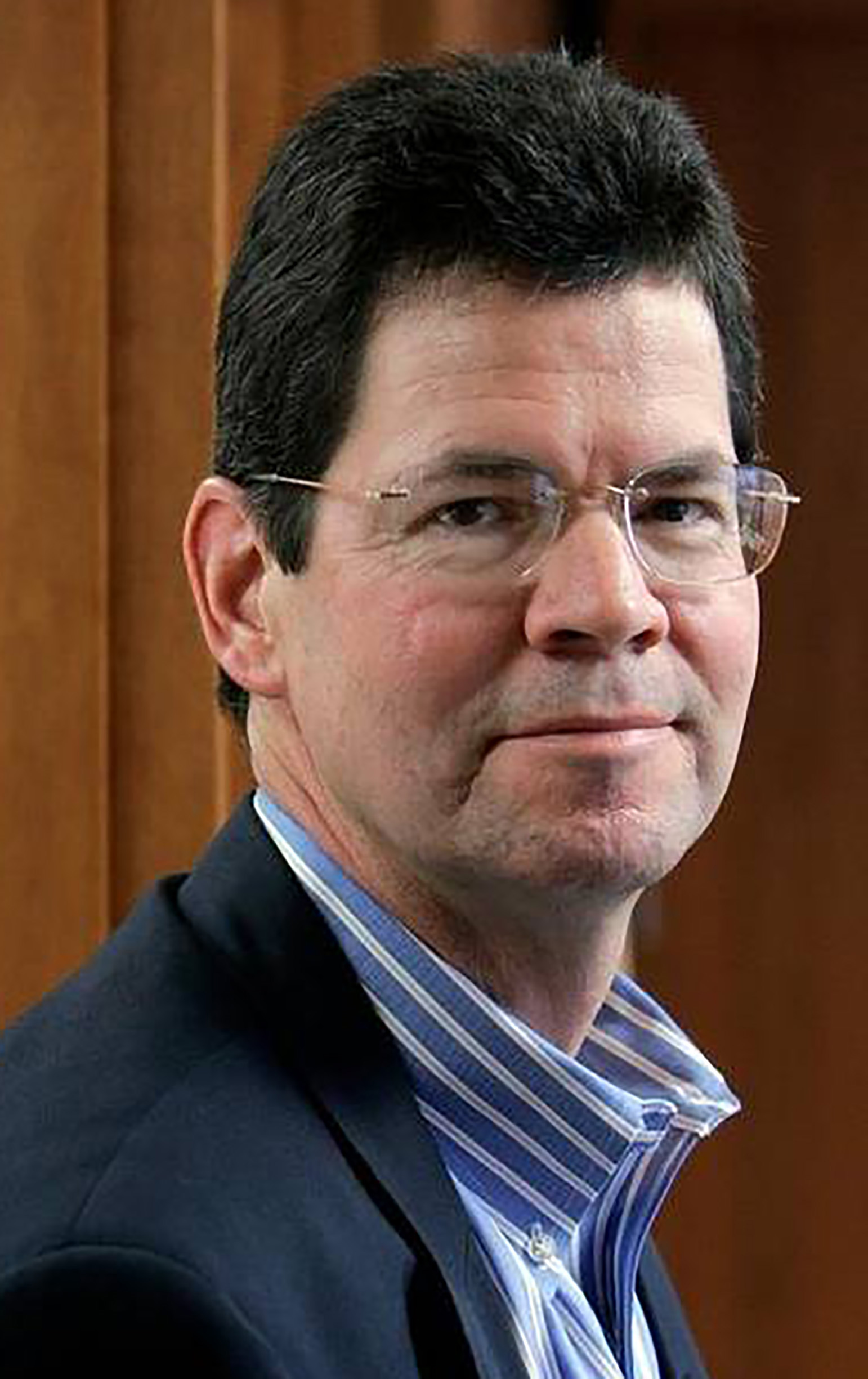 Talk about good calls: When Jim Lewis helped orchestrate the combination of seven area banks into a single entity in 2016, the restructured Security Bank of Kansas City instantly roared up the chart of the biggest banks in the region. As of this year, it's among the Top 10 locally headquartered banks, with nearly $3.4 billion in assets. Lewis has been with the bank for four decades, most of that in senior leadership roles.
COLLEGE: B.S., Computer Management Systems, Northwest Missouri State University
STILL GROWING: Last year, the bank saw double-digit growth, increasing its assets by 12.11 percent.
FIGHTING GIANTS: In the ferociously competitive Kansas City banking market, Security Bank holds its own against with deposit market share, going up against much larger national and regional banks. At No. 6 in the market, with a 3.84 percent share, Security trails only the Kemper empires (Commerce and UMB), national giants Bank of America and U.S. Bank, and Capitol Federal, the largest in Kansas. Pretty rare company.
ON THE PAYROLL: With 524 employees, the bank is also one of the largest private-sector employers based in Wyandotte County.
---
Sandra Lawrence
BOARD MEMBER, EVERGY/WADDELL & REED/ASHS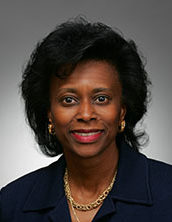 To list every organization benefiting from Sandra Lawrence's guidance would quite literally fill this entire space. Let's just say she's putting the experience garnered during her years in administration at Children's Mercy, and from a highly diversified education, to excellent use. And it seems we're not the only people noticing her, these days: The National Association of Corporate Directors recently named her a member of its Directorship 100, the most influential corporate directors in America.
COLLEGE: B.A., Psychology Statistics, Vassar College; M.A., Architecture, Massachusetts Institute of Technology; MBA, Real Estate/Finance, Harvard University
KEEPING BUSY: "My passions continue to be on the public boards of Evergy, Ivy and Waddell and Reed's Trust, and American Shared (where I am now Chair of the Audit Committee); as well as the non-profit boards of the Hall Family Foundation and our region's chapter of National Association of Corporate Directors. In this new phase of my life, I really appreciate having the time to fully immerse myself in the work of these great organizations."
SILVER LININGS: "Instead of social unrest, I recognize this as social activism, indicating the climate of a push for positive change; a time of hope and optimism. We finally have an opportunity to create remedies that are targeted and measurable, and a world that is just."
ANOTHER ERA YOU'D VISIT: "The future, so I could see the results of the change we're creating."
---
Joyce Lee
VICE PRESIDENT, U.S. PET HEALTH, ELANCO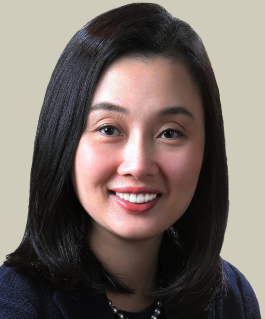 It's been a big year for Joyce Lee, who as able to pull off the neat trick of switching companies without having to move to a new office. With Indiana-based Elanco's $6.89 billion acquisition of Bayer Animal Health last month now complete, she's on board with her new employee's executive committee and overseeing a production and research facility that is a key regional asset in the animal-health corridor.
COLLEGE: B.B.A., Baylor University, MBA, Jacksonville University
ON HER RESUME: She's held leadership roles in multiple commercial and global functions, including general management, strategy, sales, marketing, outcomes research, R&D, engineering, manufacturing and information technology.
ALL-STAR LINEUP: Lee has worked for some of the biggest names in animal health; her tenure at Bayer came after a stretch at Zoetis, where she served as executive vice president and area president of Latin America and Canada, and helped the parent manage its IPO and spin off from Pfizer in 2013.
ANIMAL-HEALTH POWER: The sector has emerged over the past decade as a regional economic powerhouse; local and international companies with operations between Manhattan, Kan., and Columbia, Mo., generate an estimated 60 percent of global revenues in that discipline.
---
Dave Lockton
FORMER CHAIRMAN, LOCKTON COMPANIES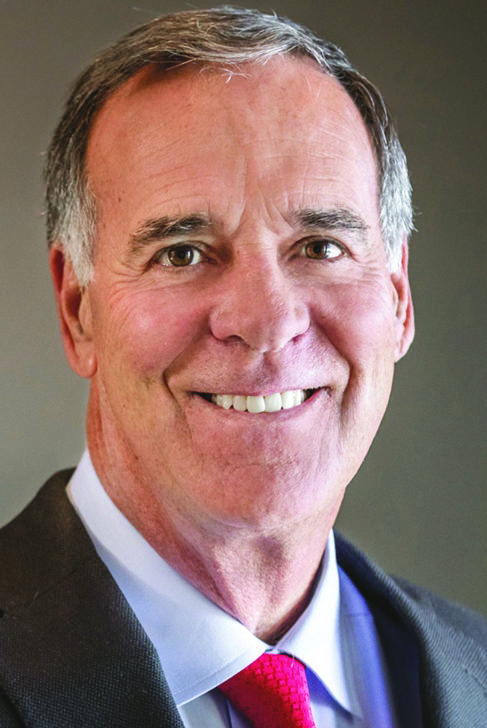 When you look across the breadth of David Lockton's career, which officially wrapped up early this year with retirement, it's almost
impossible to believe what one leader can accomplish in a lifetime. A decade after his brother, Jack, founded a one-man insurance brokerage operation, David Lockton signed on as the company's ninth employee. That was in 1976. Five years later, he became president; in 1989, CEO. The company he leaves behind had 2019 revenues of $1.72 billion and 5,600 employees around the world.
COLLEGE: B.A., Business Finance, Kansas State University
STAYING IN TOUCH: Even as chairman of a billion-dollar entity, Lockton himself retained a portfolio of clients because he believed it would keep him connected with the processes that shaped the success of his associate brokers.
SINGULAR STATUS: The company today is the world's largest privately held independent insurance brokerage, with an extensive service line in employee benefit consulting.
RECOGNITION: David Lockton needs a big trophy case to house the varied recognition he's received over the years, from such varied non-profit organizations as the Boy Scouts, Cystic Fibrosis Foundation and Multiple Sclerosis Society, and business recognition for insurance-sector and civic influence, as well as entrepreneurship—he earned the EY Entrepreneur of the Year Lifetime Achievement Award in 2017.
---
Ron Lockton
CHAIRMAN/CEO, LOCKTON COMPANIES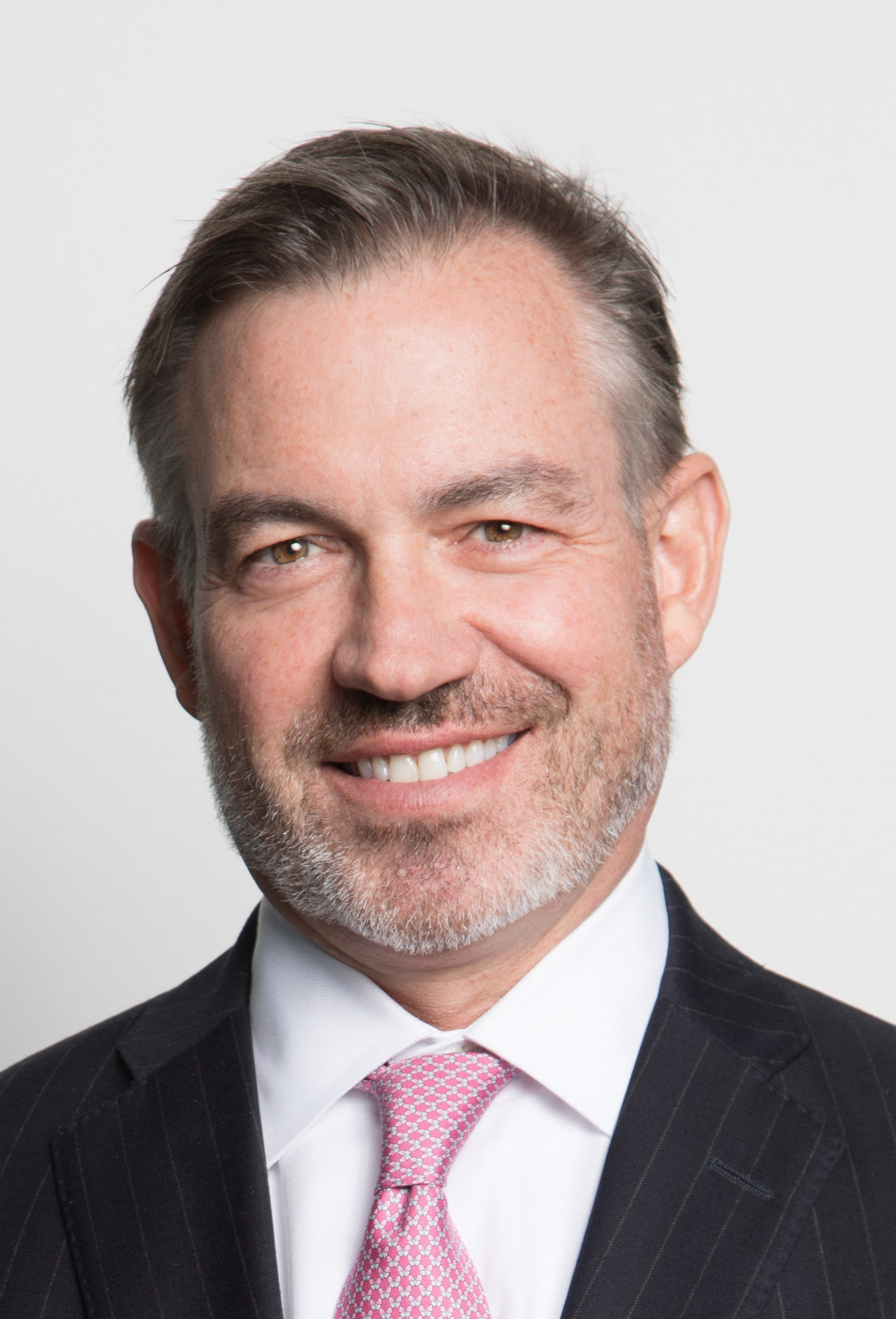 The CEO of the world's largest privately held insurance brokerage feels a special duty in the age of COVID: "The insurance brokerage industry has seen a shift towards clients valuing our advisory services in support of the transaction. When there is uncertainty in the world, businesses need even more advice." The company's family ownership, he says, allows for that level of service without having to account to shareholders for the time being put into it.
COLLEGE: B.S., Economics, University of Kansas
COVID & CULTURE: "We've had to adapt and make changes in many areas of our business, however it is too early to tell what changes will be permanent. The crisis has us looking at everything from our real estate needs to how we live and work to how we communicate with our Associates and clients."
SILVER LINING: "There have been several silver linings. One of the best is that we have had time to spend more time with family in this slower paced environment. It has given us more time to really connect."
PERFECT WEEKEND: "A weekend get-away with family and/or friends to my family's ranch in the Kansas Flint Hills."
ULTIMATE DESSERT: "The perfect chocolate chip cookie!"
---
Greg Maday
CHAIRMAN/CEO, SPECCHEM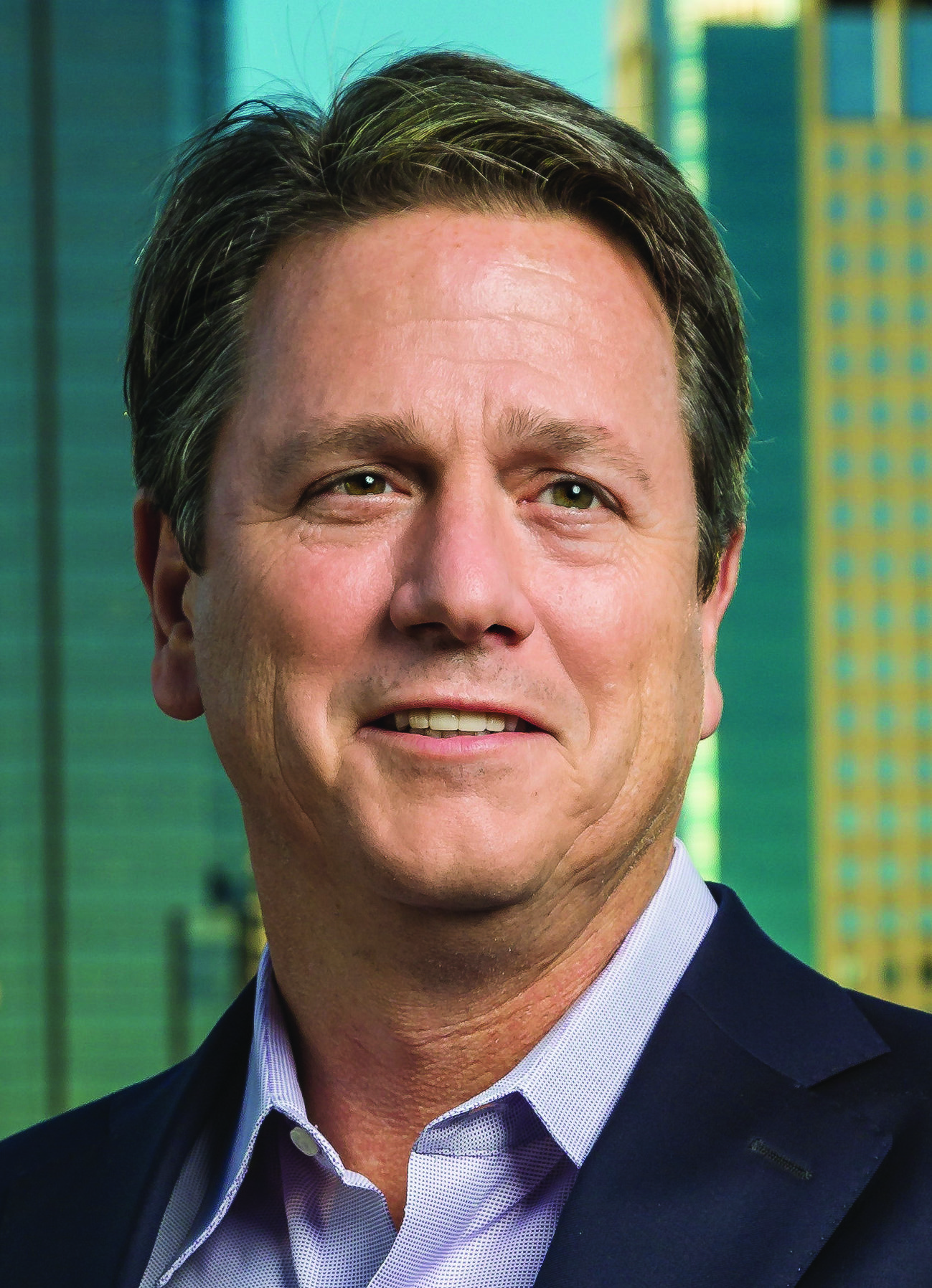 Executives from about 225 companies are recognized in the Ingram's 250 each year, and they represent many distinct company cultures. For Greg Maday, they global pandemic has produced a shared experience: "Culture is difficult to create when separated," he says. "We did our best to keep our culture and company spirit alive via zoom calls and events." His SpecChem is a provider of industrial coatings and other construction materials.
COLLEGE: B.S., University of Missouri; Harvard School of Business
COVID CHALLENGE: "Making sure our team stayed safe, yet informed. Staying connected from distances became critical. Zoom and Team meetings became the norm."
SILVER LININGS: "Having my young adult children home was a blessing."
PERFECT WEEKEND: "Game of golf, dinner with friends, church then Sunday afternoon in the office."
ANOTHER ERA YOU'D VISIT: "I wouldn't want to go back…would go to the future."
FAVORITE MUSICAL ARTIST: "Thomas Rhett…best entertainer."
OTHER INTERESTS: Maday, the picture of serial entrepreneur, is part of the Sporting Kansas City ownership and has multiple investment ventures.
---
Patrick Mahomes
QUARTERBACK, KANSAS CITY CHIEFS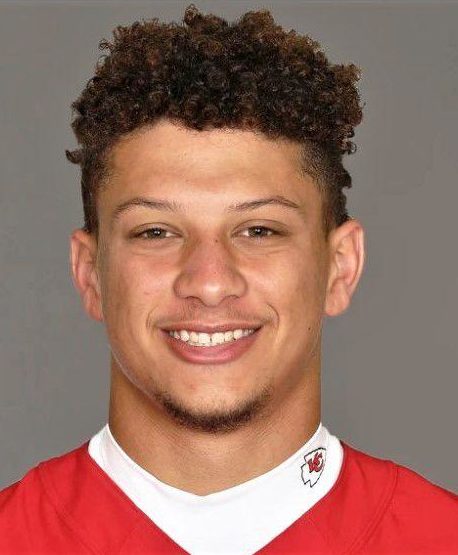 One might think that Patrick Mahomes joins this list of executives by virtue of wangling the richest contract not in just the history of the National Football League, but all of professional sports. One would be wrong. Already, the gun-slinging quarterback has leveraged a chunk of that $503 million, 10-year deal with the Chiefs to join the ownership group for the team across the parking lot at Truman Sports Complex: He became part-owner of the Royals in July, a nod to his lifelong interest in baseball.
COLLEGE: Texas Tech University
DIGITAL HOMECOMING: His alma mater had to cancel traditional graduation ceremonies this year, but Mahomes was invited to deliver a live-streamed commencement address for graduates of Texas Tech in May. The topic? Overcoming unexpected challenges, naturally.
COMING OF AGE: He won't turn 25 until this month, but Mahomes already owns several sporting firsts: He's the youngest owner in pro franchise history. He's the youngest MVP in Super Bowl history for his fourth-quarter heroics against San Francisco in February (and youngest to win both the award and the game itself), and third-youngest to win league MVP honors (2018).
MUSIC TO OUR EARS: In the run-up to his record-setting contract extension, Mahomes came through with the sweetest 10 words most Kansas City football fans have ever heard: "I want to be a Chief for a long time."
---
Quinton Lucas
MAYOR, KANSAS CITY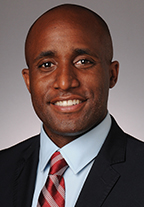 As mayoral gigs go, they don't come with quite the levels of challenge that Quinton Lucas saw in the year since he took office last August. The confetti had barely settled on the Chiefs' Super Bowl victory parade in February when COVID-19 hit, compelling the city's 36-year-old top executive to devise an on-the-spot shutdown strategy to help contain the virus. Then came late May riots ostensibly staged as social protests over racial disparities.
COLLEGE: B.A., Washington University; J.D., University of Kansas
BATTERY RECHARGE: "Talking to family, getting to catch up with them—the people who know you and keep you humble. I don't think there's anything better."
HISTORICAL DINNER COMPANION: "Malcom X. I think it would be interesting to know more about that conversation between non-violence, how you could actually agitate in a certain way vs. do you want to be more violent, more active? I just find him and his time very interesting."
FAVORITE HOLIDAY: "I love Christmas because there's lots of music, lots of stuff to do, and it makes winter a whole lot better. Taking some time to slow down, spend time with family and count my blessings is always an important reset heading into the new year."
RETIREMENT, DAY ONE: "Start my two-month vacation."
---
Mike Maddox
PRESIDENT/CEO, CROSSFIRST BANK
For a college basketball star turned banker, "nothing but net" takes on a whole new meaning. Mike Maddox has been netting major success ever since leaving KU with an NCAA championship ring—first as a lawyer, today as President/CEO at CrossFirst Holdings, where second quarter 2020 assets were reported at $5.5 billion. CrossFirst arrived on the scene in 2007 and now has seven full-service banking offices primarily along the I-35 corridor in Kansas, Missouri, Oklahoma and Texas.
COLLEGE: B.A., Business, J.D., University of Kansas
COVID IMPACT: "Our Bankers demonstrated their commitment to the business community, working long hours to process PPP loans for our clients. These loans served as a lifeline for business owners, their employees and families, and our local communities."
SILVER LINING: "The resilience we've shown in the last few months is inspiring—from leaning into digital banking and taking it to new levels and to finding new, virtual ways to give our clients the extraordinary services they expect."
PERFECT WEEKEND: "Grilling out with good wine, surrounded by the people I love."
FAVORITE CHILDHOOD TOY: "My Big Wheel!"
ULTIMATE DESSERT: "Hands down, Key Lime Pie."
FAVORITE SONG/ARTIST: "I love music! Michael Jackson is definitely one of my favorites!"
---
Paul Malir
PRESIDENT/COO, TRANSYSTEMS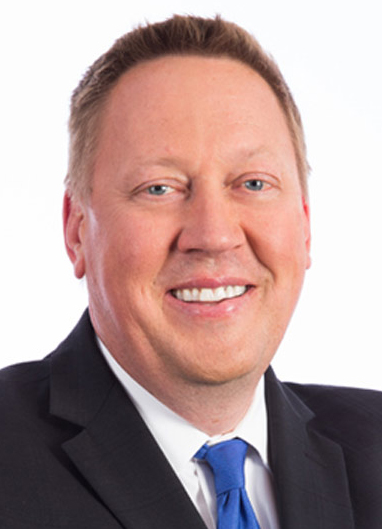 Paul Malir presides over a Kansas City-based company with a dozen offices from the Pacific to the Atlantic, focused on engineering projects in the infrastructure space, as the name implies. Founded in 1966, the company also offers architectural planning, design and construction services, all with a goal of moving goods and people from Point A to B. The company is 100 percent employee-owned, and has about 750 on staff, roughly 150 of them in its Crown Center headquarters.
COLLEGE: B.S., Civil Engineering, Kansas State University; MBA, University of Kansas
HANGING STEADY: The company has consistently reported revenues of about $200 million, which this year was good for No. 77 on Ingram's list of the region's Top Private Companies.
COVID RESPONSE: As the pandemic of 2020 unfolded, Malir and CEO Rick Morsches penned a note to clients to let them know that, for the foreseeable future, face-to-face meetings were being canceled in favor of teleconferences and Web-based get-togethers. It also suspended all air and inter-city rail travel across the country.
EXPERTISE: The company operates in a number of engineering spaces, including aviation, bridge design, freight rail, ports and waterfronts, highway and public transit.
---
Peter Mallouk
PRESIDENT, CREATIVE PLANNING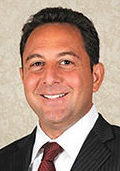 For years, Peter Mallouk has focused his Creative Planning team on organic growth, adding thousands of clients and billions of dollars in assets under management in the process. The past 18 months have seen an acquisition spree, adding at least 10 firms into the fold. Most recently for Mallouk, now a part-owner of the Royals, it was TrueWealth, an Atlanta firm with $1.6 billion in AUM that pushed Creative Planning's total past $55 billion.
COLLEGE: B.A., University of Kansas; MBA, J.D., University of Kansas
PANDEMIC CHALLENGE: "In early March, I committed to our team that regardless of how long this continues, there would be no pay cuts and all jobs would be guaranteed. This allowed our team to not have to worry about their households and they could focus on meeting our client's needs."
COVID & CULTURE: "It was an easy decision to send everyone home early, and to continue to provide flexibility to everyone. Everyone has stepped up to meet the obligations of their role, and our clients are being well served. For me, it magnified things we already believed to be true: hire the right people, empower them, invest in technology and do the right thing for each other."
SILVER LINING: "All of us are becoming more nimble, paying more attention to each other, and accountability is the new reality. All are good things."
PERFECT WEEKEND: "A quick family trip to a great American city or beach."
---
Bill Massey
PRESIDENT/CEO,PERFORMANCE CONTRACTING GROUP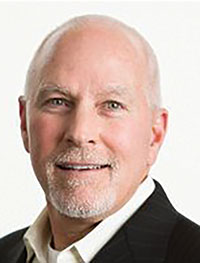 From hospitals, to entertainment venues, to houses of worship, university buildings, science facilities, casinos, residential properties and more, Bill Massey and Performance Contracting's nationwide team create venues that bring people together. And they do it from a base right here in KC. Among their many entertainment venue projects, you'll find Kauffman Center for the Performing Arts, education-focused performance venues and the amazing Star Wars: Galaxy's Edge at Disneyland. Performance is consistently ranked among America's Top 10 Specialty Contractors.
PANDEMIC CHALLENGE: "While we were fortunate to be able to continue work in the area, it wasn't without its challenges. Safety is our top Core Value, so early on in the pandemic, we took action to protect on-site personnel, including distancing, masks, sanitation stations, among other initiatives."
COVID & CULTURE: "Things may look a little different with many employees working from home, but our culture remains the same, focusing on people, strategy, and execution. If anything, changing the way we work has taught us a lot about ourselves; as individuals, teams, and an organization."
SILVER LINING: "That at the end of the day, we'll get through these unprecedented times. As a company, and as Kansas City as a whole, we have the strength and resolve to overcome adversity."
---
Ashley McClellan
PRESIDENT/CEO, RESEARCH MEDICAL CENTER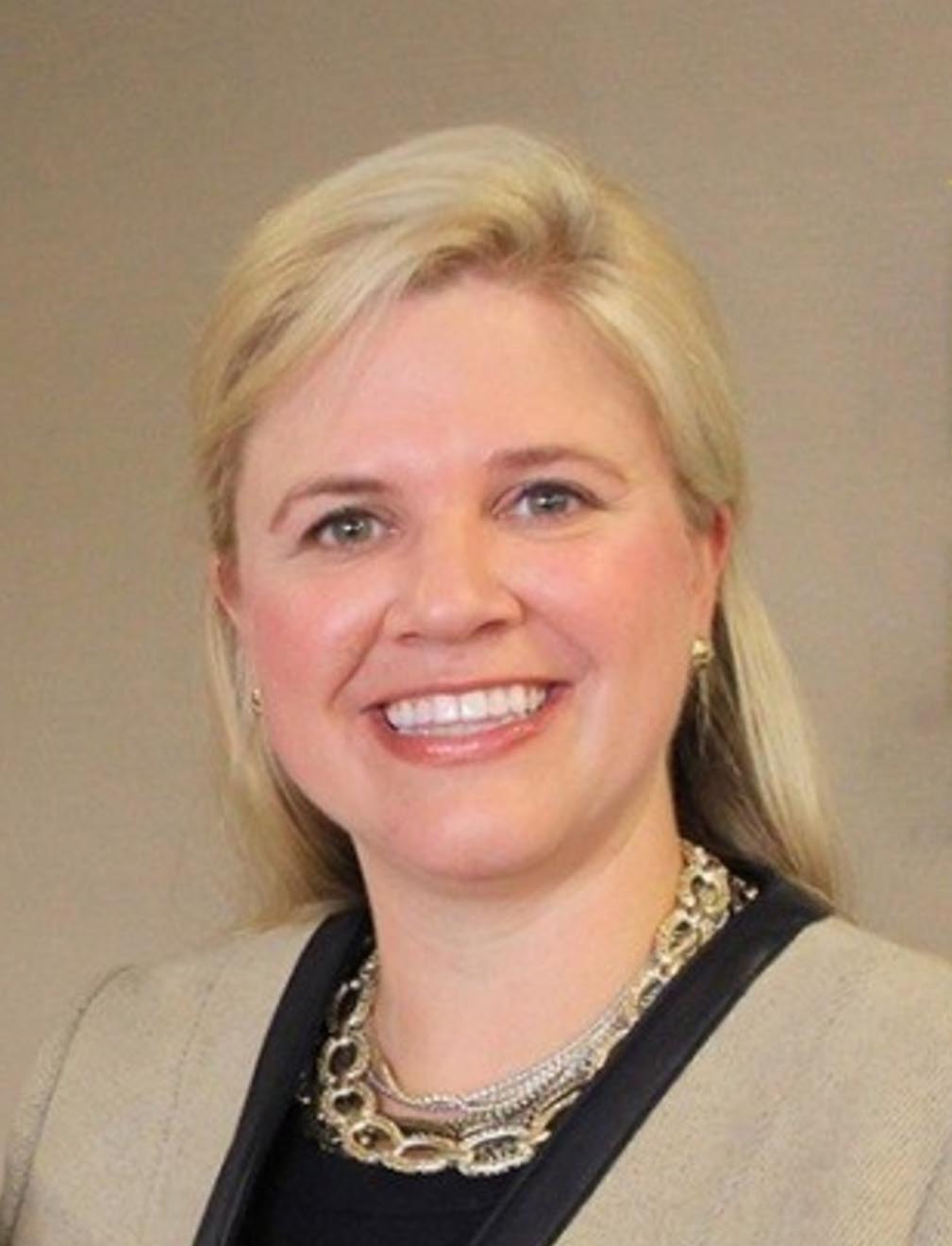 Ashley McClellan is an Overland Park native who spent the bulk of her career in Texas before HCA Midwest Health summoned her last year to replace Jackie DeSouza in the leadership role at its flagship medical center in the Kansas City market. At Research Medical Center, she leads a team that routinely treats more than 20,000 admitted patients each year and generates more than $3 billion in revenue.
COLLEGE: B.A., Spanish, MBA/MHA, Texas Woman's University
BEFORE RESEARCH: McClellan joined the parent HCA Healthcare in 2006, and has held executive positions at various hospitals. She was the CEO of the Woman's Hospital of Texas in Houston before moving to Kansas City.
IMPACT: From its campus east of Brookside, Research plays a key role in providing health-care services within the urban core. It also has key programs in organ transplantation and treatment of stroke and cardiovascular diseases. The 590-bed hospital counts more than 600 physicians and 600 nurses among its providers.
HONORS: The American College of Healthcare Executives, which counts McClellan as one of its fellows, recognized her in 2018 with its Robert S. Hudgens Memorial Award for young health-care executive of the year.
---
Matt Malott
PRESIDENT/CEO, MULTIVAC U.S.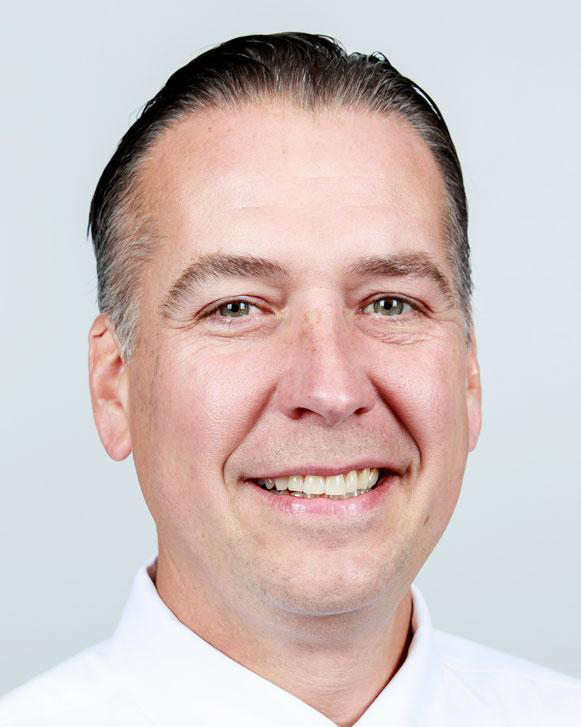 Business developments routinely emphasize Kansas City's role in logistics, and that showed up again over the past year as Matt Malott's team at Multivac witnessed the ground-breaking on its new 33,000-square-foot logistics center. "Our owners see the importance to invest in a new Logistics Center in Kansas City, both for our customers and for Multivac as a global organization," said Malott, a former sales exec who took the leadership role in 2018.
COLLEGE: B.S., Marketing Management, Park University
MULTIVAC VET: Malott has been with the company for more than 30 years. He oversees about 230 employees at the Northland facility, the bulk of the company's 365 U.S. workers.
BIG NUMBERS: Last year, Multivac U.S. generated $237 million in sales, good for No. 70 on the Ingram's 100 list of the region's largest private companies.
ABOUT MULTIVAC: Based in Germany, the company provides industrial packaging systems for companies around the world, food-production sites in particular. The Kansas City site is its only North American production facility, but it has regional offices throughout the U.S.
---
Ken McClain
PARTNER, HUMPHREY, FARRINGTON & MCCLAIN
People in need of ace help with personal industry law come to what many might think an unlikely place to find a powerhouse law firm with a national reputation. Since 1986, Ken McClain has racked up more than $1 billion in awarded verdicts and negotiated settlements. He has pioneered litigation against asbestos suppliers, the tobacco industry and artificial-butter flavoring manufacturers and suppliers in the microwave popcorn industry.
COLLEGE: B.A., Graceland College; J.D., University of Michigan Law School
PANDEMIC CHALLENGE: "The main issue was the safety of our employees. The skill that was most helpful was putting myself in our staff's position and doing the best for them.
COVID & CULTURE: "We are allowing many employees to work remotely, to prevent infection but to allow us to continue to provide service to our clients."
SILVER LININGS: "I think it has sped the adoption of many technologies that existed but were unutilized, like Zoom conferencing."
FAVORITE CHILDHOOD TOY: "GI Joe."
ULTIMATE DESSERT: "Watermelon."
ANOTHER ERA YOU'D VISIT: "Napoleon. Europe. The era changed the face of Europe and ushered in the 20th century."
---
Madeleine McDonough
CHAIR, SHOOK, HARDY & BACON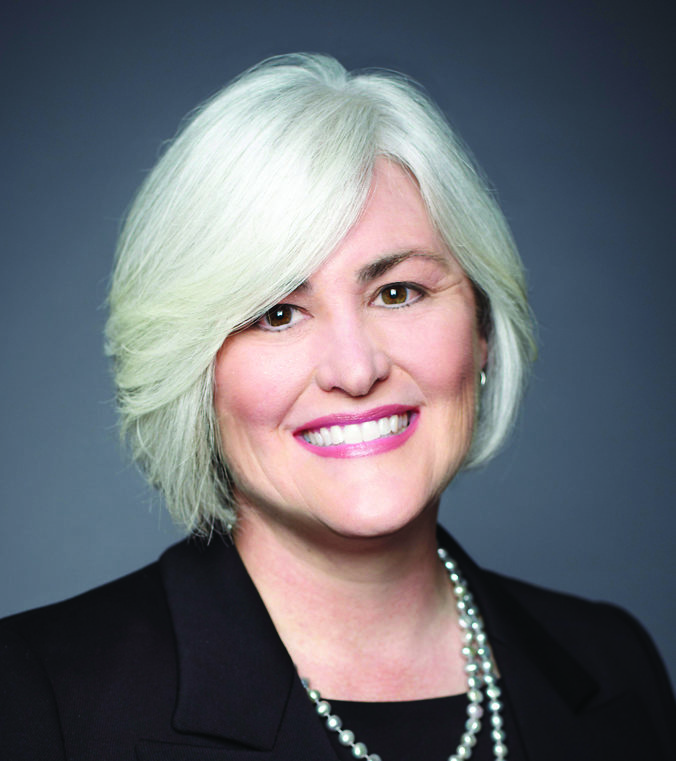 Shook, Hardy & Bacon long ago established its position as the biggest hometown law firm in the Kansas City market, with nearly 300 of its 585 lawyers working from the firm's headquarters in the Crown Center complex. And at the top of the firm is Madeleine McDonough, who began her five-year term as chair in 2017. She's a legal powerhouse in her own right, serving multinational companies in the pharmaceutical, animal health, medical device, food, cosmetics and beverage sectors.
COLLEGE: B.S., UMKC School of Pharmacy; J.D., University of Kansas School of Law; LLM, Global Health Law, Georgetown University Law Center
DEEP INSIGHT: When it comes to pharmaceutical cases, McDonough has almost always had a head start on opposing counsel: she's a former clinical pharmacist in her own right, with career experience at a large teaching and research hospital.
BROAD CLIENT BASE: McDonough has played a key role in the firm's ability to cultivate clients in the Big Pharma realm; each of the world's 10 biggest pharmaceutical companies worldwide has engaged the firm's legal services at some point.
LEADERSHIP IN ACTION: She has co-chaired Shook's practice groups in agribusiness and food safety, as well as life sciences and biotechnology, and was named to the executive committee for four 3-year terms.
HONORS: Adding to her long list of industry recognition, Corporate Counsel/In-House Counsel magazine last year gave McDonough its Women, Influence & Power in Law Award for Innovative Leadership, and the National Law Journal named her one of the nation's top-50 Litigation Trailblazers & Pioneers when it introduced that first class in 2014.
---
Marc McEver
DEALER-PRINCIPAL/FLEET MANAGER, OLATHE FORD LINCOLN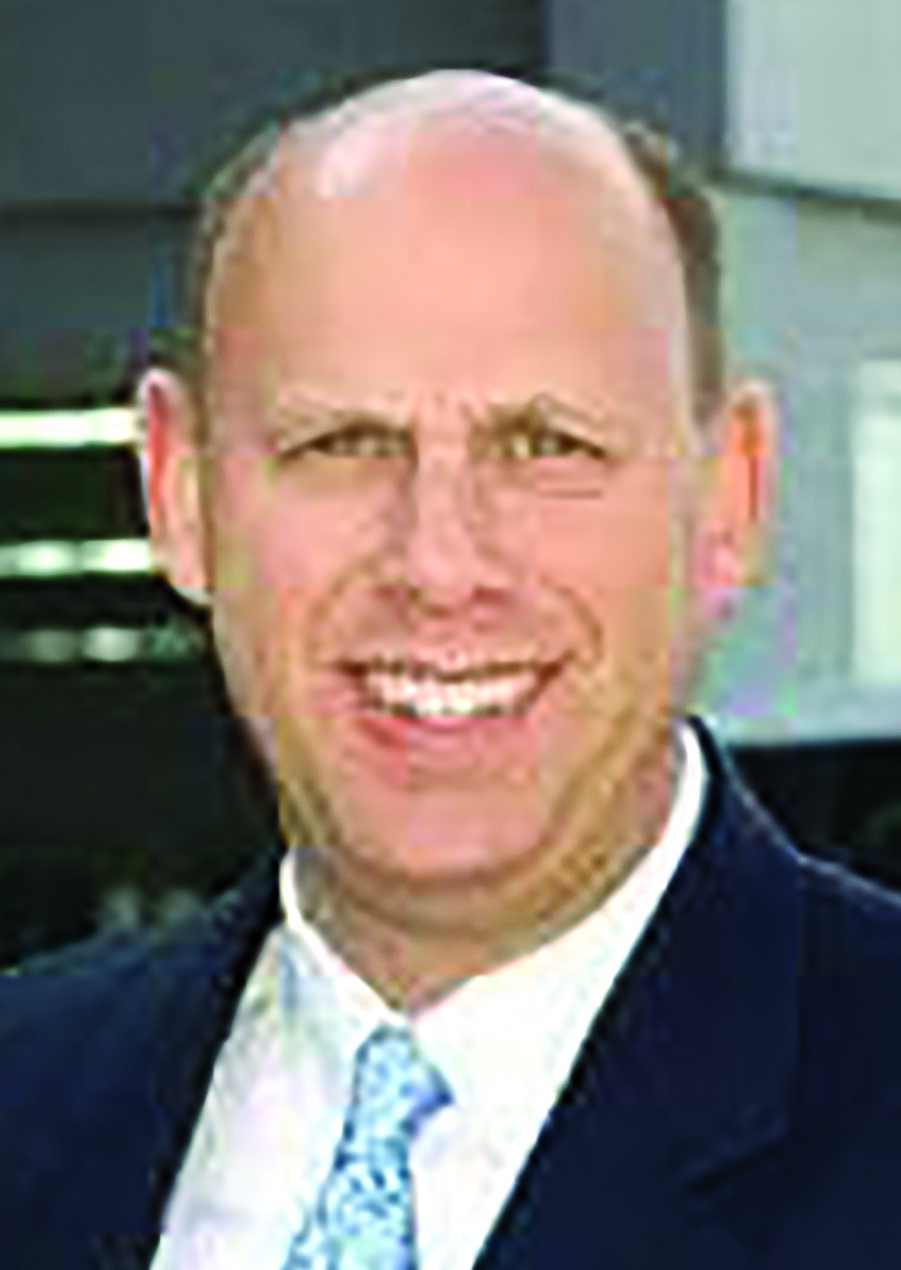 Marc McEver went to work at award-winning Olathe Ford when he was 19, so he's seen a lot in his career. But perhaps nothing has surprised him more that the silver lining he has seen in the COVID era: "Olathe Ford RV has had a banner year!," he says. "Who could have never predicted the biggest year ever would come out of this?" The dealership, with $616 million in sales last year, never had to close its doors, and didn't see a single case of the virus out of 315 employees.
COVID & CULTURE: "Because we are such an in-person business, (the impact was) not as much as one might think. We are continuing to work on the long-range plans and realize more is coming."
CRYSTAL BALL: "We will survive this as we have done many other events in my lifetime. It will be different and, in some ways, better than before. I will certainly be washing my hands more often!"
PERFECT WEEKEND: "A pool party with my clan of 14 and an early Sunday morning tee time."
FAVORITE CHILDHOOD TOY: "Motorcycle."
ULTIMATE DESSERT: "Bananas Foster."
ANOTHER ERA YOU'D VISIT: "Late 1800s to see the American Indians, but only for a visit. I really believe we are living in the best years of all time. I would have not done well without heat and electricity."
FAVORITE SONG/ARTIST: "Born in the USA. I sang it all the way home from Cleveland on 9/11."
---
Trey Meyer
PRESIDENT, MIDWAY FORD TRUCK CENTER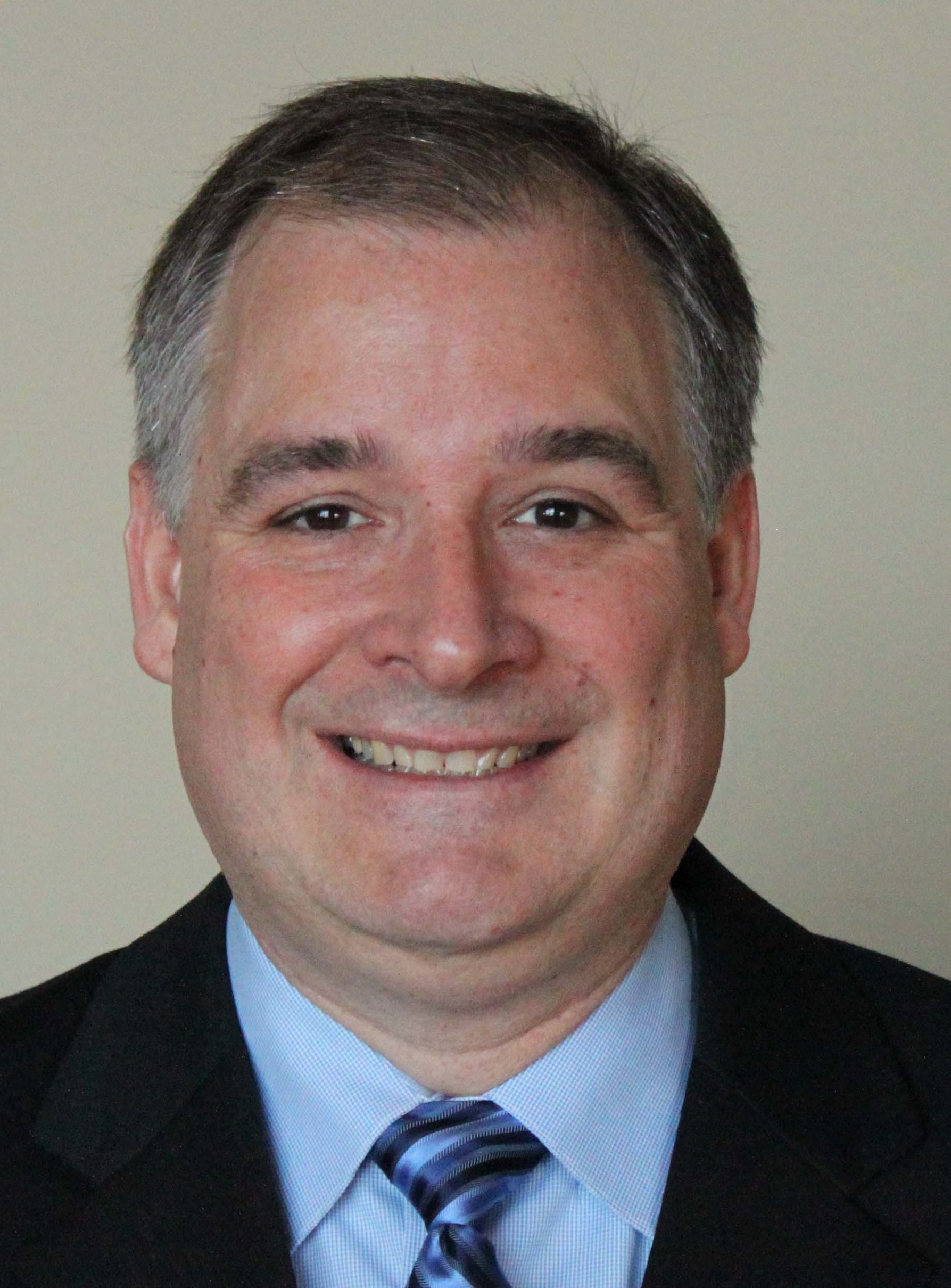 With running a nationally known destination for companies looking for commercial trucks—an operation with 2019 revenue north of $772 million—you might expect Trey Meyer to find his perfect weekend to involve a hammock. Not exactly. As far as 2020 is concerned, he describes that weekend this way: "In this environment, it means everyone is healthy and there are no new policies to decipher and implement. A weekend without some new change is welcome!"
COLLEGE: B.S., University of Kansas
PANDEMIC CHALLENGE: "Open as an essential business, keeping everyone focused on safety and providing them a consistent message has been challenging. As safety recommendations have evolved over time, I've continually drawn on those around me to help keep our 250 partners updated. Regular communication with our people has been vital to them knowing the company's status as well as what actions will help keep them healthy."
SILVER LINING: "It has forced us to become innovative and flexible in a number of areas. Many of these new efficiencies will carry through even after the pandemic has passed."
FAVORITE CHILDHOOD TOY: "Lego."
ULTIMATE DESSERT: "Vanilla ice cream, loaded with toppings."
FAVORITE SONG/ARTIST: "Pink Floyd."
---
Bruce Miller
MANAGING DIRECTOR-AMERICAS/SENIOR PRINCIPAL, POPULOUS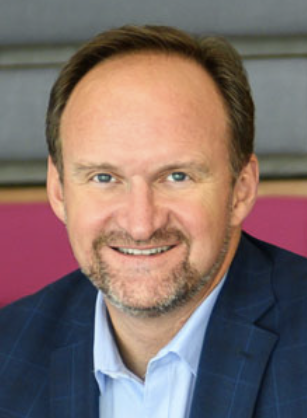 Populous is a KC-based architectural firm that has been instrumental in amplifying the stadium experience for sports fans around the world. In 35-plus years, it has done more than 3,000 projects and designed over $40 billion worth of space. Bruce Miller, who has spent his entire career with Populous, was has been recognized by Sports Business Journal among the best young talent in sports business.
COLLEGE: Bachelor of Architecture, University of Cincinnati
PANDEMIC CHALLENGE: "Adapting to the constantly changing circumstances was very difficult. Being fluid and flexible were key to maintaining clarity of thought and outlook."
COVID & CULTURE: "We are now 370 virtual offices. Our clients have adapted to us being available every day by video call. Less frequent face-to-face meetings. Our staff travel is down by 90 percent over the last five months. We have encouraged our teams to have daily check-in video calls, and we have a weekly all-staff Town Hall to keep people informed and as connected as possible."
SILVER LINING: "Every crisis is a chance to get better. Staying focused on improving every day has been critical this year."
CRYSTAL BALL: "Optimism remains after five months of pandemic. I expect a strong but gradual rebound of the economy after the election heading into 2021."
---
Mike Merriman
CHAIRMAN, FINANCIAL HOLDING CORP./AMERICO LIFE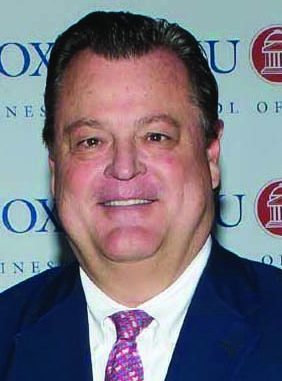 Michael Merriman is perhaps best-known for his role with Americo Life, and for good reason: It's one fo the largest private, independent insurance groups in the country. But Americo is just one subsidiary in the multi-faceted FHC, of which Merriman has long had a major interest. The companies other holdings have in recent years included hotels, gas exploration, mortgage lending, cemetery ownership, real-estate investments and development and more.
COLLEGE: B.A., Business Administration, Southern Methodist University
EXTENSIVE REACH: Just one of FHC's entities—Kansas City Downtown Hotel Group—includes 196 separate companies. One of those is the Downtown Marriott at 12th and Wyandotte, the city's largest hotel in terms of rooms.
INSURANCE HEAVYWEIGHT: With more than 659,000 insurance policies in force (good for $32.7 billion in coverage), Americo flexes its muscle in the insurance space, where it has more than$6 billion in assets.
VERSATILE PLAYER: Americo itself is the parent of various niche insurance companies, including United Fidelity Life Insurance, College Life Insurance Company of America, Great Southern Life Insurance, National Farmers Union and Investors Life Insurance.
---
Bill Miller
PRESIDENT/CEO, WELLSKY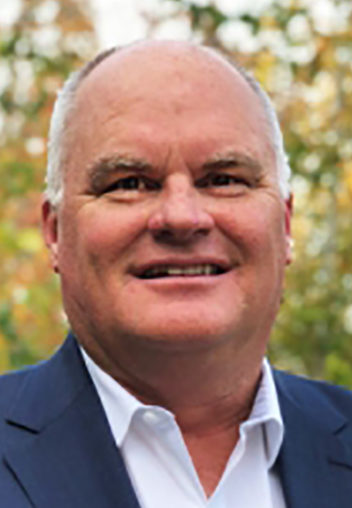 Bill Miller is not unlike a traffic cop, but he's working at the intersection of health care and technology. To his leadership role at Lenexa-based Wellsky, Miller brings a long history of successful executive leadership in the health-care technology space. The company, he says, stands "at the forefront of innovation that will eliminate the fragmentation that exists in health and community care," serving as a trusted partner with IT tools to help them succeed.
COLLEGE: B.A., Economics, M.A., Urban Planning-Public Policy, University of Kansas
BEFORE WELLSKY: Miller was previous CEO of OptumInsight, part of the health-services platform for UnitedHealth Group. There he led a team that produced record revenue growth and expanded margins while transforming the health services market. He also did a stint at Cerner Corp., where he rose to senior vice president of technologies, with global responsibility for the company's managed services, outsourcing, and technology services business units.
BY ANY OTHER NAME … : Before it rebranded as Wellsky in 2018, the company was known as Mediware Information System. It provides technology solutions for a broad swath of health-care disciplines, including blood banks, home-health agencies, hospices, rehab facilities, and aging-related public-sector entities.
BOOM: Between 2018 and 2019, revenues jumped more than 15 percent, to $342 million.
---
Paul Neidlein
MIDWEST DIVISION PRESIDENT, JE DUNN CONSTRUCTION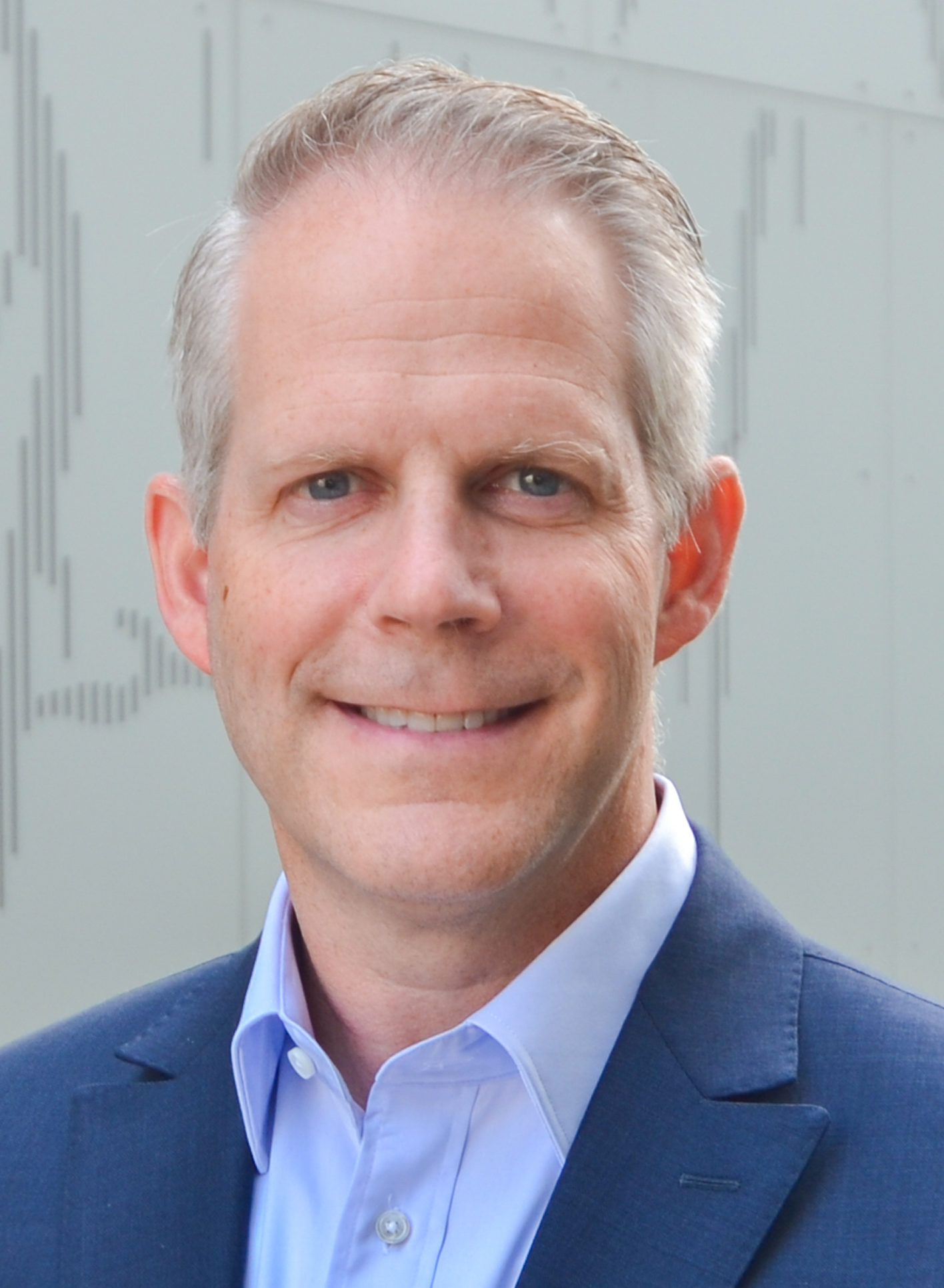 Take a look around and you'll easily find a lot of the work Paul Neidlein's group has built around Kansas City. COVID-related delays and cancellations, he says, are causing hiccups in the local building market, but he's hopeful for a quick bounce-back once an effective vaccine comes along. He adds, "When you layer in the opening of our new airport, and hopefully a continuation of the great momentum in and around our downtown, the KC area remains poised for continued steady growth."
COLLEGE: B.S., Architectural Engineering, University of Kansas
PANDEMIC CHALLENGE: "It was critical to remain calm, stay positive, and over-communicate to our people when the pandemic really started to hit home in mid-March."
COVID & CULTURE: "Since so much of our work is spread around job sites in KC, the region and around the country, we were already somewhat used to managing remotely—which frankly benefited us in this quick transition. However, we know that our culture is really rooted in our teams' interpersonal connections—both internally with each other and with our clients and partners."
PERFECT WEEKEND: "If I could combine a round of golf and a day at the lake with an amazing grilled steak with my family and friends, that would be it."
FAVORITE CHILDHOOD TOY: "Lego. Maybe its cliché for the construction guy to say, but I guess that's a reason for the cliché."
---
Jonathan Mize
PRESIDENT/CEO, BLISH-MIZE CO.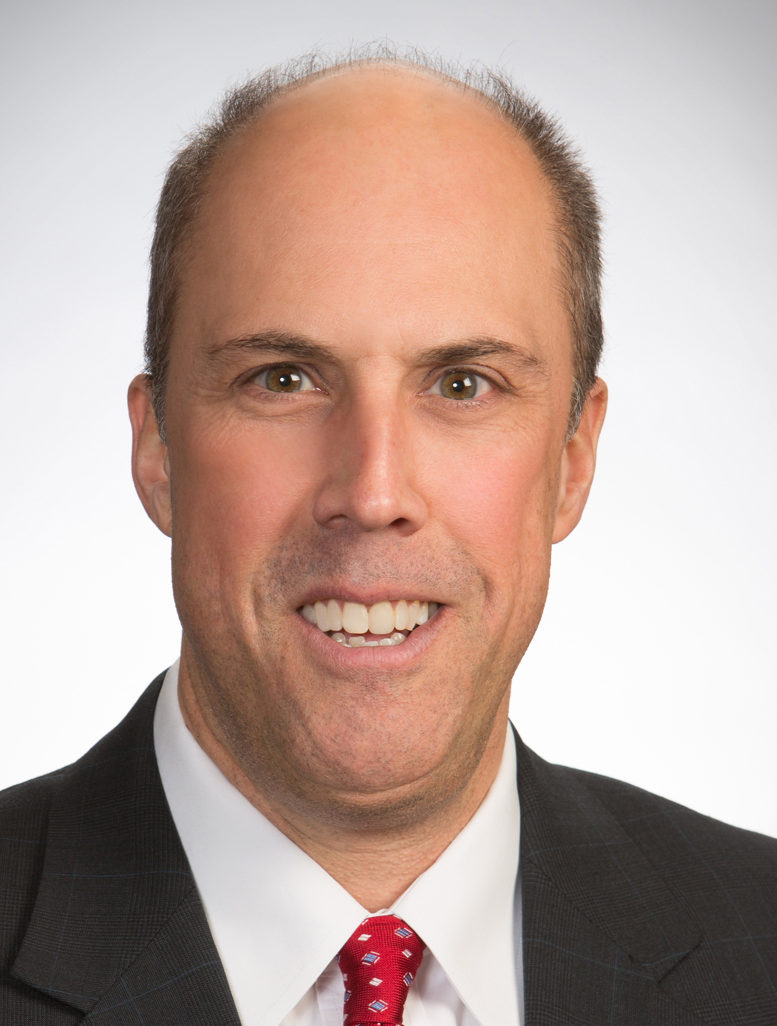 The family business Jonathan Mize leads will mark a big anniversary in 2021: 150 years of meeting the Midwest's wholesale hardware needs. When people were building the frontier, the Mize family was there. He's glad to be there for customers today with a business deemed essential: "We've been working since the beginning, back in early March, and business has been very strong. Continuous open communication has been key to our culture during this time."
PANDEMIC LEADERSHIP CHALLENGE: "Getting involved with new procedures, informing customers, and various employee concerns. If any skill was used, it would be listening and just being available."
CRYSTAL BALL: "Under five generations of family management, we've seen and been through a lot. Today, we have continued concerns about the supply chain—products coming in from our vendors, demands from customers—and the unknown effects of the 2020 election."
PERFECT WEEKEND: "Spending time with my family; enjoying the outdoors."
FAVORITE CHILDHOOD TOY: "Tonka Toys."
ULTIMATE DESSERT: "A good chocolate-chip cookie."
ANOTHER ERA YOU'D VISIT: "Early 1950s. It seemed like a good time for growth and fun."
FAVORITE MUSICIANS: "Eagles."
---
Dayton Moore
GENERAL MANAGER, KANSAS CITY ROYALS
Nobody in pro baseball, from the players to the executive offices, ever bargained for a season like 2020, but Dayton Moore is doing his dead-level best to salvage a pandemic-shortened season and get the Royals back on track for playoff contention. He knows what it takes, having steered the team to back-to-back World Series in 2014 and 2015 (and, absent the curse of Madison Bum-
garner, perhaps back-to-back titles).
COLLEGE: A.A. Garden City Community College; B.S., Physical Education/Health and M.S., Sports Administration, George Mason University
ROYAL LOYAL: Moore has been general manager since 2006, bringing the team back from a series of epic disasters on the field. He steered the boat at The K under the Glass family ownership and is doing the same now for John Sherman's local ownership group.
HONORS: For those back-to-back championship runs, Major League Baseball recognized Moore as its Executive of the Year for both 2014 and 2015. And well-deserved, too: The World Series championship was the team's first title since 1985.
WHERE THINGS STAND: The rebuilding, alas, continues: As of mid-September, the team was just 15-28 on the truncated season, 11½ games out of first in the AL Central. We're expecting a bright future for the Royals and a shot at the penant in 2021.
---
Todd Muenstermann
PRESIDENT/CEO, DURVET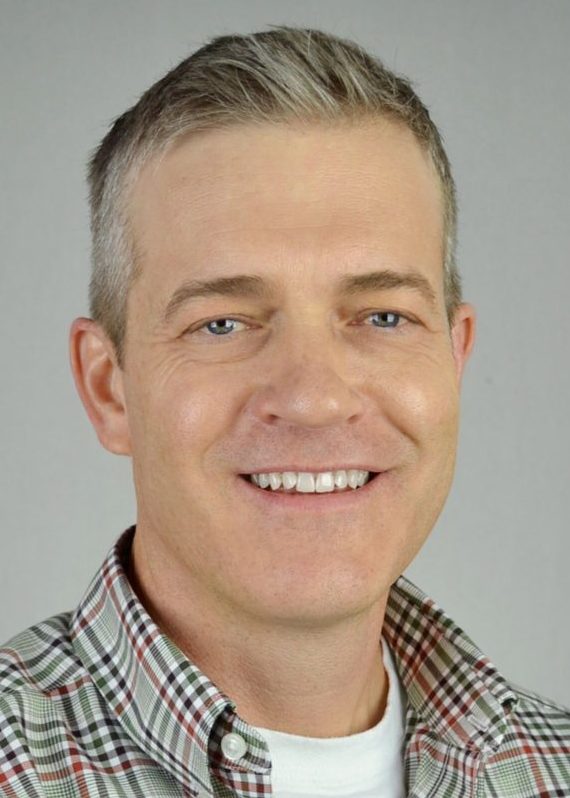 Todd Muenstermann has been in the world of animal health and nutrition for the better part of three decades, and all that experience is dedicated to leading a company that was a game-changer in over-the-counter animal health when it arrived on the scene 50 years ago. Durvet's dual manufacturing/distribution business model, serving the needs of livestock, equine and pet owners has led to big growth, doubling in his time there.
COLLEGE: B.S./B.A., Marketing, Management, University of Central Missouri
PANDEMIC CHALLENGE: "The first three or four weeks—just trying to make sense of what was really happening, trying to anticipate what might happen, and keeping employees well informed and reassured that we were going to do what we needed to do to keep everyone safe and working."
COVID & CULTURE: "Having half of our team remote is tough and not ideal, in my opinion. We can't do our normal employee lunches, birthday and anniversary celebrations, and we all miss seeing our colleagues in-person. Video is a great tool but it can never replace a handshake, high-five or a hug! I don't believe our culture has been negatively impacted at this point but I do have concerns that if this persists for too long it could have a harmful impact."
PERFECT WEEKEND: "An early morning in a deer stand, coffee and second breakfast around 11 am (I'm a fan of breakfast food). Family and friends fill the afternoons and evenings."
---
Frank Monahan
KC PRESIDENT/GENERAL MANAGER, CIGNA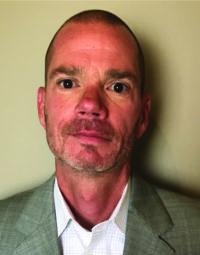 In 2004, insurance giant Cigna turned to Frank Monahan to lead the market that includes Kansas City, and the avid distance runner has navigating that course ever since. His territory covers both Kansas and Nebraska, and the company insures more than 220,000 people within that area. Cigna's revenues last year came in at $153 billion, reflecting the massive merger with St. Louis-
based Express Scripts in late 2018.
COLLEGE: B.S., Finance, LaSalle University
INDUSTRY INSIDER: Before coming to Cigna, Monahan was with Aetna for 11 years, and he has a combined three decades of experience in the industry, most of it in executive capacities. He previously worked for a pair of Blue Cross network members, Premera Blue Cross and Capital Blue Cross.
EYE ON GROWTH: One of Cigna's bigger local initiatives in recent years was the 2016 rollout of a Medicare Advantage plan that includes most of the area's largest health systems and more than 1,200 primary care physicians and specialists.
PUSHING AWARENESS: The company's efforts to promote wellness, and help control insurance costs in the process, include working with the City of Shawnee on its employee-wellness program, called Shape Up Shawnee. It entailed regular seminars, individual nutrition coaching and on-site fitness facilities at City Hall.
---
Gary Morsch
FOUNDER, DOCS WHO CARE/COVID CARE FORCE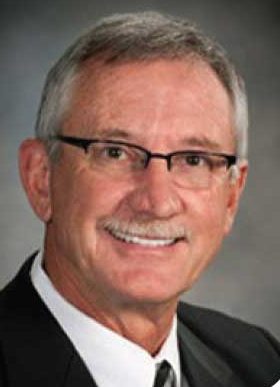 When sudden-onset paralysis struck the nation's economy and some areas of the northeast saw hospital swamped with COVID-19 cases, Gary Morsch didn't hesitate. He quickly assembled the infrastructure for a rapid-response medical team, drawing on physician contacts from decades in non-profit health care, then led a team of a dozen physicians to New York, the hardest-hit region, for two weeks in March, providing physician relief at hospitals there.
COLLEGE: M.D., University of Oklahoma College of Medicine
COVID FORESIGHT I: "Remain prepared for a surge. I'm pessimistic because of the way some politicians are handling things; there are too many who don't seem willing to pay the price for what needs to be done. I know it's a high price, one no human being ever thought he'd have to pay, to stay home, perhaps lose their job, face bankruptcy. It's a medical, social and economic disaster."
COVID FORESIGHT II: "The health clinics in this country have been underfunded for years.
This will catch everybody's attention."
NON-PROFIT WARRIOR: Long before the pandemic, Morsch was focused on health care and humanitarian relief around the world with Heart to Heart International and Docs Who Care. The two programs, based in Olathe, swing into action after natural disasters both within the U.S. and overseas.
---
Tyler Nottberg
CHAIRMAN/CEO, U.S. ENGINEERING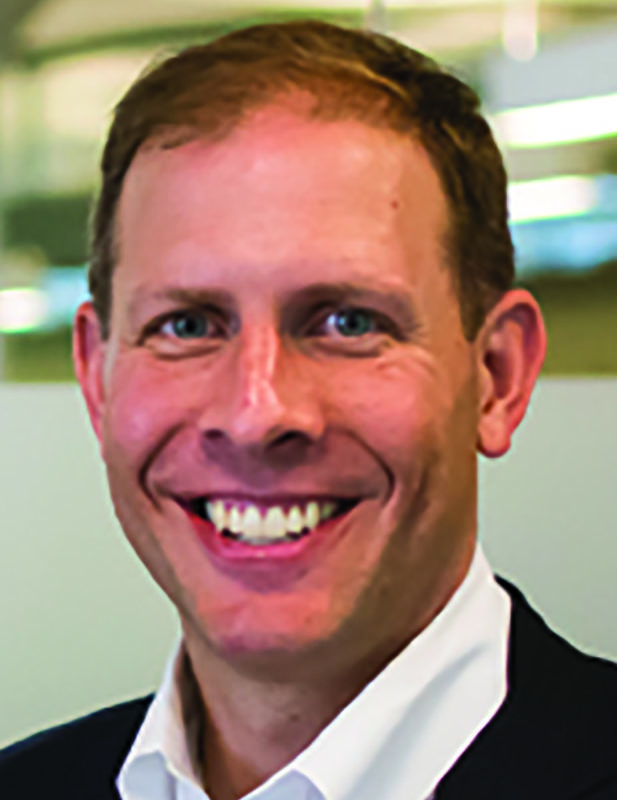 Tyler Nottberg was still in college when cancer came calling for his father, Skip. But Dad left behind something that still benefits the both the Kansas City region and the nation's engineering sector nearly 25 years later: long-term vision. Tyler started his career in England and Washington, he says, but his father "had the foresight to create a plan that allowed me to come back and get engaged in U.S. Engineering, where he leads 1,100 employees.
COLLEGE: B.A., Middlebury College
STAYING POWER: Nottberg is the fifth generation of his family to lead U.S. Engineering, which was founded in Germany in 1893.
BEFORE THE C-SUITE: Nottberg previously served as co-founder of the legal, economic and regulatory affairs practice at business-education network Gerson Lehrman Group. After coming back to U.S. Engineering, he served as a project engineer, project manager and vice president before taking the helm.
EARLY LESSONS: When working at the Sinclair gas station in Fairway as a youth, he says, customers were free with what he calls "pithy life advice from: 'Promptness is a sign of respect,' 'Optimize your choices around generosity,' 'You are what you do, not what you say,' and of course, 'Most of the time, when something's wrong, it's the Fetzer valve.'"
---
Tim Murphy
EXECUTIVE CHAIRMAN, MHC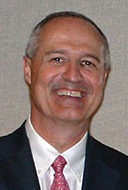 Ever wonder where long-haul truckers get their magnificent machines? A lot them come from Tim Murphy's company—the largest privately-owned heavy/medium duty truck dealership network in North America, with 122 locations across 19 states. Dealing primarily in new Kenworth and Volvo trucks, MHC also offers a great variety in their used-truck sales. MHC has been a frequent winner of Kenworth's North American Dealer of the Year Award.
COLLEGE: B.A., Business Administration, Spring Hill College
PANDEMIC CHALLENGE: "Being a designated essential business, we had to develop safety protocols to keep our team members safe while making sure we kept our trucking customers on the road. Our customers were vital to assuring that food and supplies were kept on the shelves for everyone."
HOW'S BUSINESS? "We serve customers in 19 states and most all our markets are doing pretty well. Our vehicle sales will be down over a record 2019, but still a very respectable year in 2020."
LESSONS LEARNED: "How our team was able to act, institute safety protocols and really pull together to take care of each other and our customers. Communication and teamwork were paramount. Our team is second to none and they really proved what can be accomplished in difficult times."
PERFECT WEEKEND: "Time at Lake Lotawana with our kids and those very special grandkids."
---
Rex Newcomer
PRESIDENT/CEO, D.H. PACE COMPANY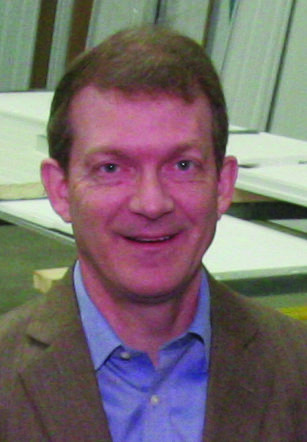 This family-owned company went into uncertain times of 2020 well-prepared: 2019 sales were up 23 percent, clocking in at $677 million. Rex Newcomer's team also entered four new U.S. markets and made acquisitions in five states. In the annual report, he wrote, "Our organization is well-positioned to weather the storm and emerge as an even stronger competitor, just as we did after the 2008-09 recession."
PANDEMIC LEADERSHIP CHALLENGE: "Communicating clearly and promptly to our employees what we knew from the health-care authorities, so we could jointly take precautionary steps and work with them to deal with the concerns and fears arising from all the ongoing unknowns."
CHANGES/EFFECTS IN THE FIELD: "With most of our office employees working from home, quickly adopting remote meeting technology was critical. In the field, developing safe working guidelines and securing adequate PPE supplies was our biggest challenge."
SILVER LINING: "Economic slowdowns are a great opportunity to tune up the business by emphasizing the need to be fast, flexible, and relentless in focusing attention on a few key business objectives to withstand the downturn and emerge as a stronger competitor."
PERFECT WEEKEND: "Chiefs, led by Patrick Mahomes II to win another Super Bowl."
ULTIMATE DESSERT: "Tartufo, an Italian ice-cream dessert."
---
Gayle Packer
PRESIDENT/CEO, TERRACON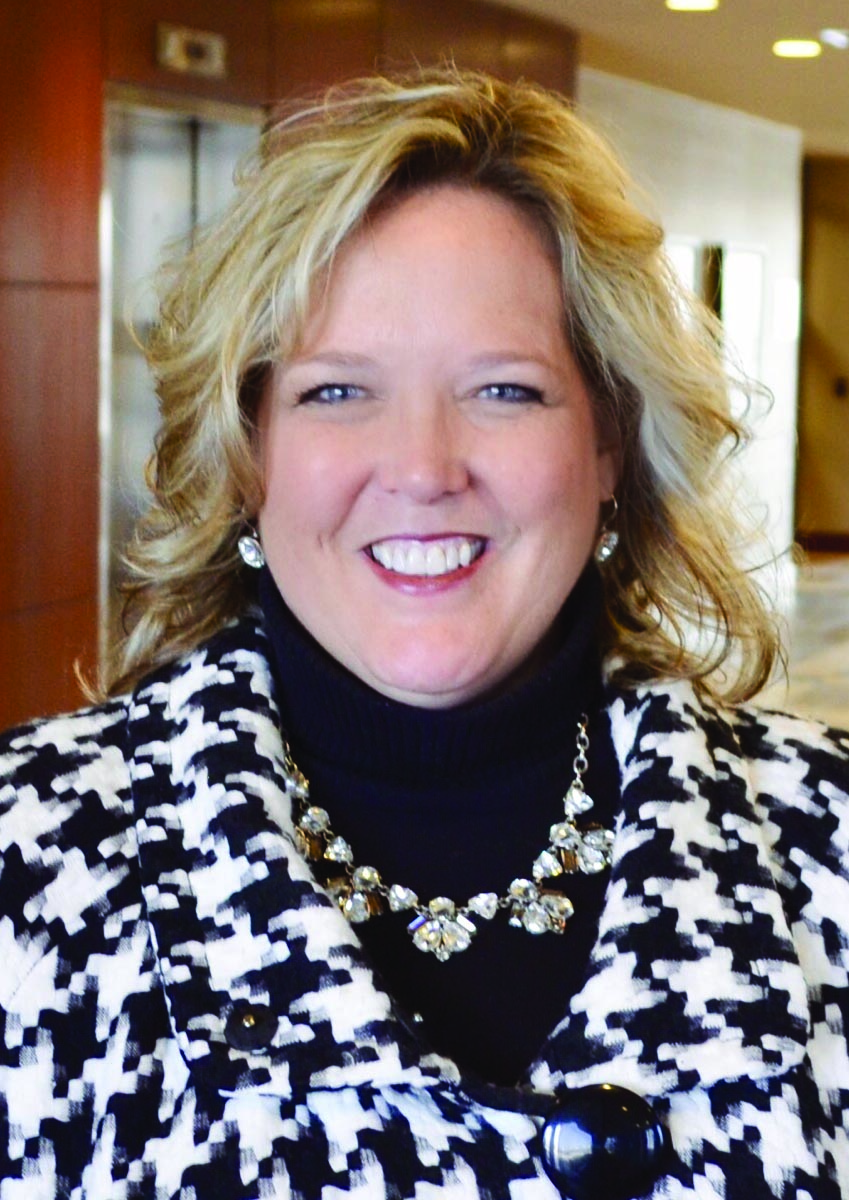 Shhhh …. Hear that? It's the sound of shards being ground underfoot at Terracon, the biggest engineering firm to see the glass ceiling smashed, and Gayle Packer is the one who wielded the hammer. In fact, of the 25 largest engineering firms in this region, she's the only woman in the driver's seat. She's leading a team of nearly 5,000 employee-owners at more than 150 offices around the country, doing more than $800 million in business as of 2019.
COLLEGE: B.A., Political Science, B.S., International Studies, M.S., Agricultural Economics, Ohio State University; J.D., University of Minnesota Law School; LLM, Agricultural Law, University of Arkansas Law School
ABOUT THE FIRM: Founded in 1965, the firm specializes in environmental, facilities, geotechnical, and materials services, and ranked No. 22 this year on Engineering News-Record's list of the Top 500 Design Firms in the U.S., including No. 1 for its asbestos and lead abatement work.
ONE FOOD YOU WOULDN'T LIVE WITHOUT: "Fermented grape juice from Napa."
SHOPPING SPREE: In her prior role as chief administrative officer for the firm, Packer drove the acquisition and integration of 50 companies in the U.S.
---
Kathy Nelson
PRESIDENT & CEO, KC SPORTS COMMISSION & FOUNDATION
A year ago, Kathy Nelson said, what Kansas City needed most was "a Super Bowl victory parade!" Done. The top executive pushing organized athletics, professional and amateur, for this region is now hip-deep in resolving COVID-related cancellations and other impacts. How? "I leaned in on my skills of maximizing peoples talents and my strength of being flexible and adaptive," she says. "I over-communicated and listened to our team."
COVID & CULTURE: "All of our events have either moved to a virtual setting or canceled completely. That upsets our culture of teamwork, our creativity and our goal setting. Working in sports allows us the ability to show our resiliency as our daily business is now focused on adjusting and conquering the next problem."
PERFECT WEEKEND: "Sitting on our lake dock enjoying the company of friends and family."
FAVORITE CHILDHOOD TOY: "My Chatty Kathy doll and our homemade sport award medals we created for our neighborhood track meets held in our backyard."
ULTIMATE DESSERT: "Anything chocolate."
ANOTHER ERA YOU'D VISIT: "The Roaring '20s. The music, the dancing, new gadgets, new cars, everything I read about that era makes me smile. I believe I would have enjoyed sharing my creative thoughts during that time period."
---
Jesper Nordengaard
CEO, HILL'S PET NUTRITION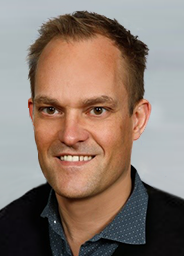 Jesper Nordengaard replaced Peter Brons-Poulsen last year at the helm of one of Topeka's biggest companies: Hill's Pet Nutrition, a $2.7-billion division of Colgate-Palmolive. One of his first big tasks upon arrival was to help break ground for a new $20 million, 25,000-square-foot nutrition facility focused on small dogs—another addition to this region's arsenal of assets that lead the world in animal-health care products and services.
COLLEGE: B.A., Marketing, Copenhagen Business School
THE HILL'S MANDATE: "We are always investing in research and development to serve the nutritional needs of pets as well as learning from veterinarians, customers and caregivers through their experiences," Nordengaard says. "This is how we fulfill our mission to transform lives."
CHANGING CONSUMERS': More than half of dogs in the U.S. are small and miniature, and the percentage is growing, the company says. Small stomachs mean they graze throughout the day, rather than eat one or two big meals like larger dogs. And because of their higher mass-specific metabolism, pound for pound, small dogs eat more than big dogs.
THE HILL'S STORY: The company was founded more than 75 years ago when a veterinarian named Mark Morris designed a dinner product to treat the kidney infection in a dog that belonged to a traveling salesman. It worked, it caught on, and the rest is history.
---
Lenora Payne
CEO/FOUNDER, TECHNOLOGY GROUP SOLUTIONS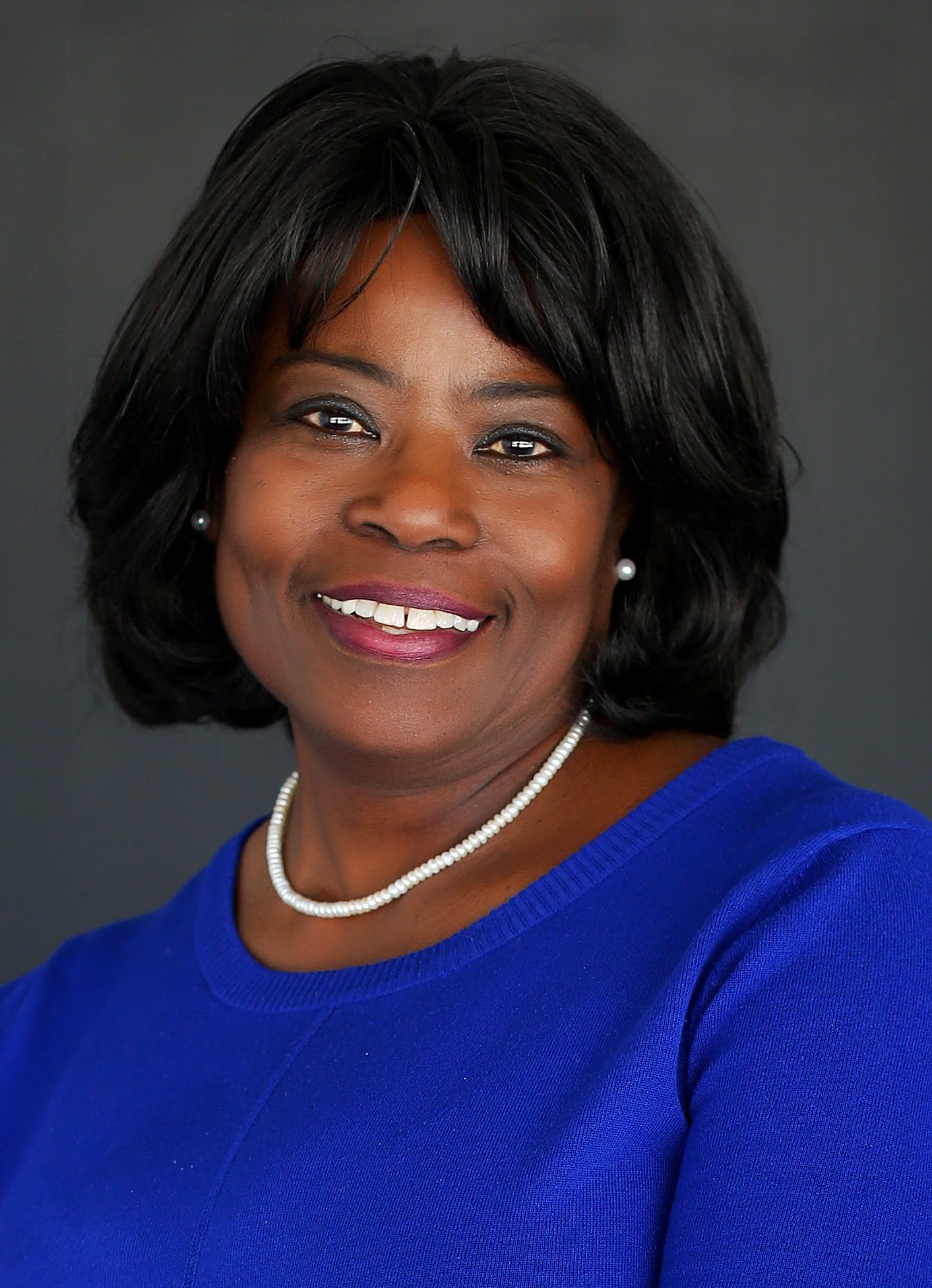 Lenora Payne first popped up on Ingram's radar in 2011, when her fast-growth Technology Group Solutions made the Corporate Report 100. Two years after its 2005 founding, it was clearing $4.5 million in revenue, a tidy sum for a company yet to experience real growing pains. Fast forward nearly a decade, and her IT services company is among the biggest minority-owned firms in the region; last year's revenues have surged to nearly $117 million, more that doubling in the three prior years.
CONSISTENT PERFORMER: Six times between 2011 and 2016, TGS earned recognition as one of the region's 100 fastest-growing companies. After a two-year pause to digest that growth, it's been back on the CR100 in each of the past two years. It also has claimed a spot on the Ingram's 100, the biggest private companies in the region.
RECOGNITION: Payne herself was recognized for her leadership in business as a member of the Women Executives-Kansas City class of 2013.
LOOKING BACK: "The first few years were very, very difficult," Payne told Ingram's. "Starting a company is hard. A lot of people think oh, that's easy; it's not. When you get that first purchase order and you don't have the finances to buy the product or deliver the services—if you don't succeed, you fail."
KEYS TO SUCCESS: "You can't give up. You're never satisfied. You've got to be on top of the tech or you won't succeed."
---
Tom O'Grady
PRESIDENT, HNTB CORPORATION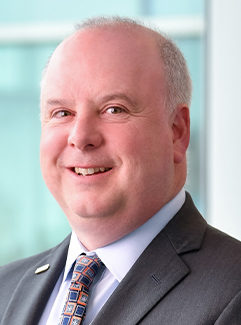 Having established his leadership credentials as president of HNTB's Central Division for seven years, Tom O'Grady was elevated to the role of corporate president in 2015, overseeing what is now a billion-dollar infrastructure-design company based in Kansas City. In nearly 30 years with the design firm, O'Grady has also led its Houston office and its south-central district. He's responsible for more than 70 offices across the nation.
COLLEGE: B.S., M.S., Civil Engineering, Vanderbilt University
BROAD BACKGROUND: On his way to the C-suite, O'Grady developed a broad set of relationships working with various state departments of transportation departments and transit agencies, airports, counties and municipalities.
INDUSTRY ADVOCATE: O'Grady casts a long shadow in the engineering world, with membership in the American Society of Civil Engineers, American Council of Engineering Companies, Civic Council of Kansas City and the Greater Kansas City Chamber of Commerce, among others.
ESOP ENGINE: The firm became employee-owned in 2000, and is one of the 40 largest employee-owned enterprises in the U.S., with 3,400 employees.
KC HISTORICAL NOTE: In 1975, the firm then known as Howard Needles Tammen & Bergendoff entered the sports-design world by acquiring Kivett & Myers, which pioneered the design of modern sports stadiums with its work on the Truman Sports Complex.
---
Patrick Ottensmeyer
PRESIDENT/CEO, KANSAS CITY SOUTHERN RAILWAY
Blame it on Bank of America: Had it not ranked Kansas City Southern as its top performer in the transportation sector this year, Patrick Ottensmeyer wouldn't have to fend off the question that always arises about high-performers: Is it for sale? According to industry experts, no,—and won't be. Ottensmeyer, Railway Age's 2020 Railroader of the Year, leads a Class I railway with 6,000 miles of track in the U.S. and Mexico.
COLLEGE: B.S., Finance, Indiana University
COVID-19 RESPONSE: Ottensmeyer and his team swung into action to address costs during the COVID-19 slowdown, more than offsetting the expected dip in revenues. And on the management side, this essential business with 7,000 employees had just 10 positive cases by late June—six the U.S. and four in Mexico. Now that's crisis management.
UNIQUELY POSITIONED: With rail lines that access the Gulf of Mexico (in U.S. and southern Mexican waters) as well as the Pacific at Lazaro Cardenas, KC Southern is capable of handling ship-to-rail freight from around the world. USMCA, successor to NAFTA, will add leverage to that status.
EVER VIGILANT: Ottensmeyer told Railway Age this year that, as the nation's smallest Class I carrier, "we've got to be on our toes because we're surrounded by companies that are much larger than we are. Complacency would be very troublesome for our company."
---
Roshann Parris
FOUNDER/CEO, PARRIS COMMUNICATIONS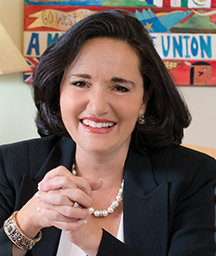 The roster of clients Parris' team represents is a Who's Who of companies synonymous with KC. The Chiefs, KU and Mizzou, Kaufman Cen-
ter and AMC, JE Dunn and Burns & McDonnell, Cerner and Stowers Institute. Virtually all are in need of the firm's communications acumen: "We work deeply in the crisis space," Parris says. "The rapid-fire three-part wave, beginning with the pandemic, which plunged us into economic instability, followed by the social justice movement, created intense client issues that kept our team working 24/7. We leaned into our divide-and-conquer protocols, ensuring that we treated every crisis as though it was the only one in front of us."
COLLEGE: B.A., Indiana University; MBA, University of Kansas
COVID & CULTURE: "In a word: intentionality. Culturally, the pandemic brought us together with our colleagues, clients and our community much with greater intentionality. Instead of pushing through one more groundhog week, we budget time to Zoom, to connect, to strategize, and to dive deeply into the virtual world around us. In the absence of in-person meetings, we've found creative ways to connect with our clients and our community, toward reminding them how much we value our partnership."
SILVER LINING: "Without question, there has been a heightened focus on relationships, and on the practice of gratitude. There is a 'there but for the grace of God' culture that implores us to appreciate each other more deeply, and to cultivate a focused sense of what really matters."
PERFECT WEEKEND: "Long walks with our three Golden rescues, Zooms with our grandkids, Sunday family brunch (creme brûlée French toast), dinner cooked entirely on the grill, and time around the fire pit with friends."
FAVORITE CHILDHOOD TOY: "Etch-a-Sketch. Mom reported she could barely get me to let go of it."
ULTIMATE DESSERT: "Since childhood, nirvana has been pure chocolate layer cake wrapped in chocolate chips—ideally, warm—with a scoop of vanilla ice cream."
ANOTHER ERA YOU'D VISIT: "Truly, I just can't wait to see what's next. I'd love a crystal ball that doesn't reveal everything, but that creates a window into the future. I can't wait to see where technology takes us. What medical advances can make possible. What our leadership runway looks like over the next quarter century. And what our kids and grandkids are capable of doing to create a more just society for us all".
FAVORITE SONG/ARTIST: "Favorite artist, year after year: James Taylor. Favorite song: For Good (Wicked)."
---
John Olander
COO, BURNS & MCDONNELL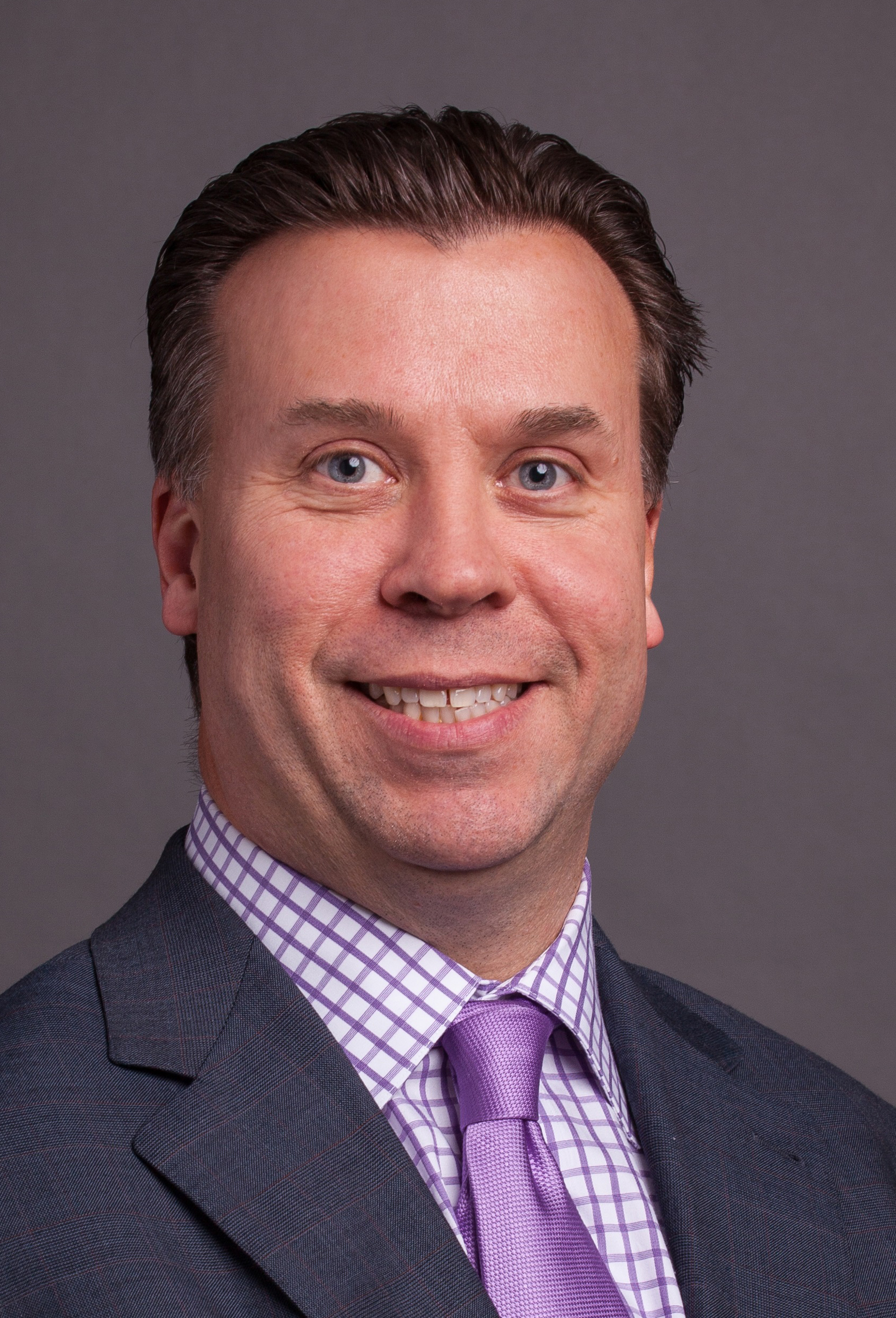 For more than 120 years, Burns & Mac didn't have a COO. Then they gave John Olander the post in 2018. He must be doing a bang-up job; this year alone, the company appeared on 17 "top" lists for a wide variety of engineering and design specialties. That includes a No. 1 ranking in Transmission and Distribution, an area Olander oversees personally. He has been with the company since 1991.
COLLEGE: B.S., Engineering, North Dakota State University; MBA, University of Kansas
SILVER LINING: "Connecting face to face—even via video—is still valuable to collaborate on work and build relationships. Plus, there is a new level of connection that develops from meeting in someone's kitchen, watching their families make a cameo or seeing their pets. We all have benefited from that softer side of humanity and we're getting through it together."
PERFECT WEEKEND: "Pre-pandemic: one with absolutely nothing on the calendar. In-pandemic: one with anything on the calendar."
FAVORITE CHILDHOOD TOY: "In our neighborhood, it was usually some form of non-lethal weapon, often homemade."
ULTIMATE DESSERT: "Carrot cake. It comes with the bonus of another serving of vegetables!"
ANOTHER ERA YOU'D VISIT: "2019—things were pretty good, back in the day."
---
Bob Page
PRESIDENT/CEO, UNIVERSITY OF KANSAS HEALTH SYSTEM
Becker's Hospital Review has called Bob's leadership, "transformational." And we agree. He has devoted nearly a quarter century to improving healthcare in this region, joining University of Kansas Hospital in 1996, becoming CEO in 2007 and leading a remarkable turnaround of a hurting institution. On Bob's watch, UKHS has risen to recognition as the region's premier academic medical center and winner of numerous accolades, including slots on prestigious lists of hospital excellence.
COLLEGE: B.A., Accounting, Illinois Wesleyan
PANDEMIC CHALLENGE: "We had to shift our focus to what was in our control, what has always driven our organization—our five-star formula of service, quality, people, growth and sustainability. We secured our staff by not instituting furloughs or layoffs, we focused on patient and staff safety and we built upon our commitment to transparency."
ON HEALTH-CARE MORALE: "Health-care professionals are typically not the first to ask for help or support. They are used to being the ones with answers. I am proud of the work we have done to provide a wide array of resources for our physicians and staff to stay resilient during what has become a longer race than any of us ever anticipated."
PERFECT WEEKEND: "Plenty of sleep, golf with my wife, hanging out with friends and family and grilling out."
---
Rosie Privitera Biondo
PRESIDENT, MARK ONE ELECTRIC CO.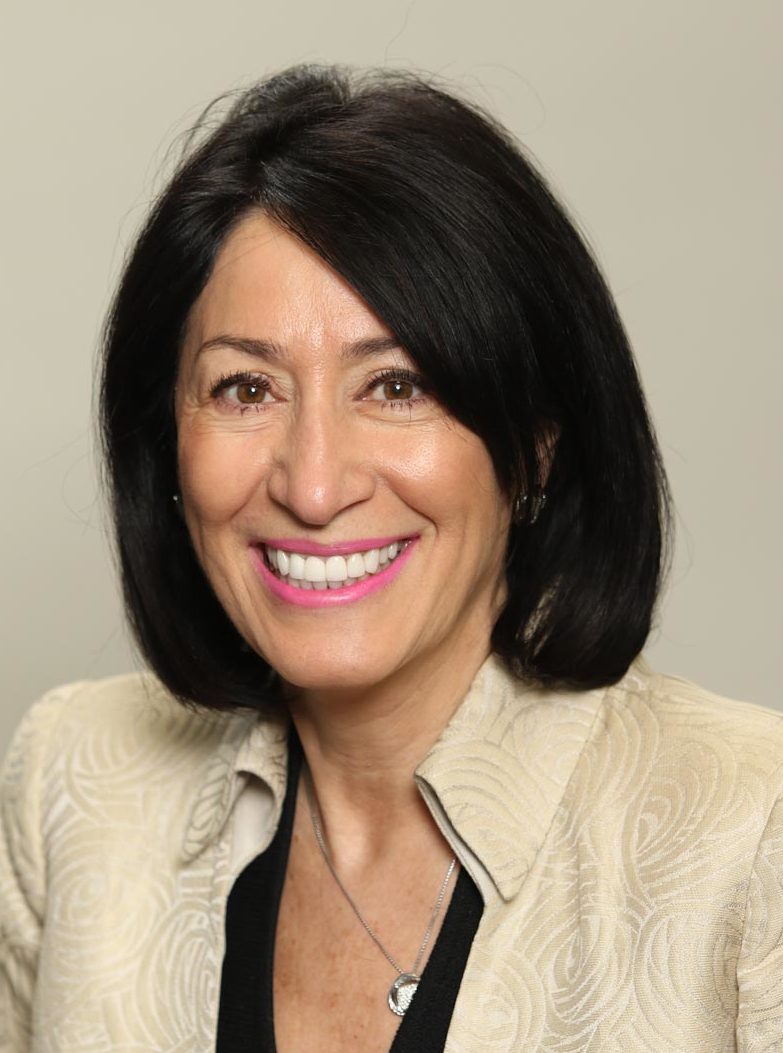 After more than a quarter-century in the lead role for one of the region's most prominent family-owned businesses, Rosie Privitera Biondo had seen it all. Well, almost all. When the pandemic hit, the company faced a significant challenge, she says, from "not being prepared to work from home and the expense to get it going quickly." But they pulled together, she says, proving that "we have a can-do team, so the culture did well" at a company with $70 million in annual revenue.
CIVIC IMPACT: She has her fingerprints on a wide range of civic, industry and philanthropic initiatives. Her past and present roles include co-chairing the Kansas City Area Development Council board, president of CREWKC (for women in executive roles in construction), president of the national Women Construction Owners & Executives, and United Way's board of trustees, to name just a few.
SILVER LININGS: They are out there, she says, emphasizing the need to "have faith and be hopeful.
PERFECT WEEKEND: "Outdoor exercise, sunshine and good food."
FAVORITE CHILDHOOD ACTIVITY: "Biking."
ULTIMATE DESSERT: "Fresh berries with cream."
ANOTHER ERA YOU'D VISIT: "I am good with my era."
FAVORITE SONG/MUSICAL ARTIST: "So many to choose. I like so many different sounds. Two are IlVolo, Lady Gaga."
---
Clifton Pemble
PRESIDENT/CEO, GARMIN INTERNATIONAL
Cliff Pemble bought into the vision of founders Gary Burrell and Min Kao before the rest of the world had ever even heard of Garmin, back in 1989. As he once told Forbes magazine, "I was there on Day Two." Under Pemble's leadership, the company has pivoted from one of the world's largest makers of vehicle GPS systems to one of its most powerful brands in the wearable-tech space, offering products for runners, swimmers, golfers and more.
COLLEGE: B.S., Math/Computer Science, MidAmerica Nazarene College
BEFORE GARMIN: Pemble was a software engineer at AlliedSignal, where Burell and Kao had worked before jumping off—Allied wasn't sold personal-navigation equipment for drivers.
RAPID-RESPONDER: In 2007, vehicle GPS systems accounted for nearly 75 percent of Garmin's revenues. By 2013, the year Pemble became CEO, that had fallen below 50 percent. He quickly pursued opportunities in wearable tech, and while vehicle units are down to 14.6 percent, outdoor and fitness products have increased more than five-fold, more than 52 percent of 2019 sales.
SHAREHOLDER VALUE: Garmin's stock had fallen by two-thirds before Pemble took the CEO's reins, but has since climbed from about $40 a share to $103.46 by the start of September.
GROWING IN PLACE: Garmin has completed Phase I of a $200 million expansion, and broke ground this year on Phase II; they will add room for 1,400 more workers at the headquarters.
---
Mike Perry
PRESIDENT/CEO, HALLMARK CARDS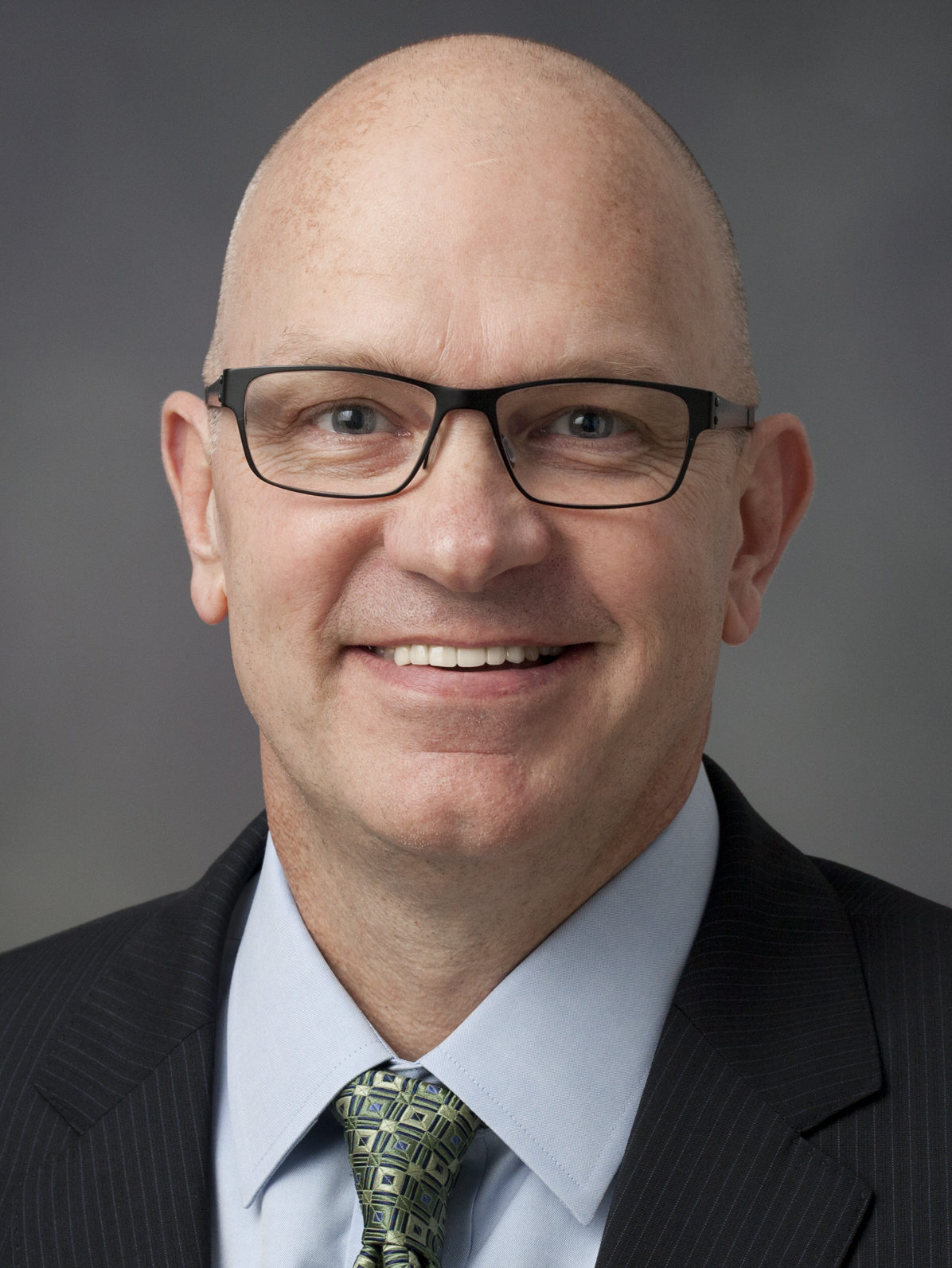 More than greeting cards: Hallmark has a diverse portfolio of businesses generating $4 billion in revenues annually. Mike Perry took the lead at the company last year—just ahead of COVID. In true Hallmark fashion, he found some emotional insight in the experience: "This time of social distancing has reinforced for me the important role our brand plays in people's lives. The need for genuine human connection is more critical now than ever before."
COLLEGE: B.S., Business Administration, University of Missouri-Kansas City
COVID & CULTURE: "What's changed is the way we work together. I believe we've always had a close, collaborative work environment and working from home has challenged us to think of how we can collaborate while being physically apart."
SILVER LINING: "The overwhelmingly positive response we received when we gave away 4 million cards earlier this year reaffirmed that what we do matters and we are fulfilling our promise to help people live more caring and connected lives, filled with meaningful moments."
PERFECT WEEKEND: "I like a quiet weekend that includes a Saturday night get-together with friends. That's not something I can do right now, but we'll get back there."
FAVORITE CHILDHOOD TOY: "Crayola Crayons, of course!"
ULTIMATE DESSERT: "Ice cream. Just about any flavor will do!"
---
Tim Petty
MARKET PRESIDENT, KANSAS CITY/OKLAHOMA, US BANK
A 20-year veteran of U.S. Bank—and before that, Bank of America—Tim Petty found much of what he was looking for when he came to this region. In fact, if there's a drawback to living here, he says, it's that the city is too humble. What it needs, he says, is to "share with others why it is such an incredible place to live and raise a family." He oversees market operations for a bank with $3.4 billion deposits, making it the area's fourth-largest by that measure.
COLLEGE: B.S., Accounting/Finance, Kansas State University; Graduate School of Banking, University of Colorado
BATTERY RECHARGE: "I love the outdoors and spending time hiking in the mountains, a national park or just camping at a local lake."
HISTORICAL DINNER COMPANION: "Abraham Lincoln. I really respect his ability to lead a nation through one of the most difficult and divisive times in history. It would be interesting to get his thoughts and ideas on today's challenges."
FAVORITE HOLIDAY: "Christmas—it is such a wonderful time of year and spending time with family is so important to me."
RETIREMENT, DAY ONE: "Take a trip to a national park and reflect on how blessed I am and what God wants me to do with the remaining time he has given me."
---
Jeanette Prenger
CHAIRMAN/CEO/PRESIDENT, ECCO SELECT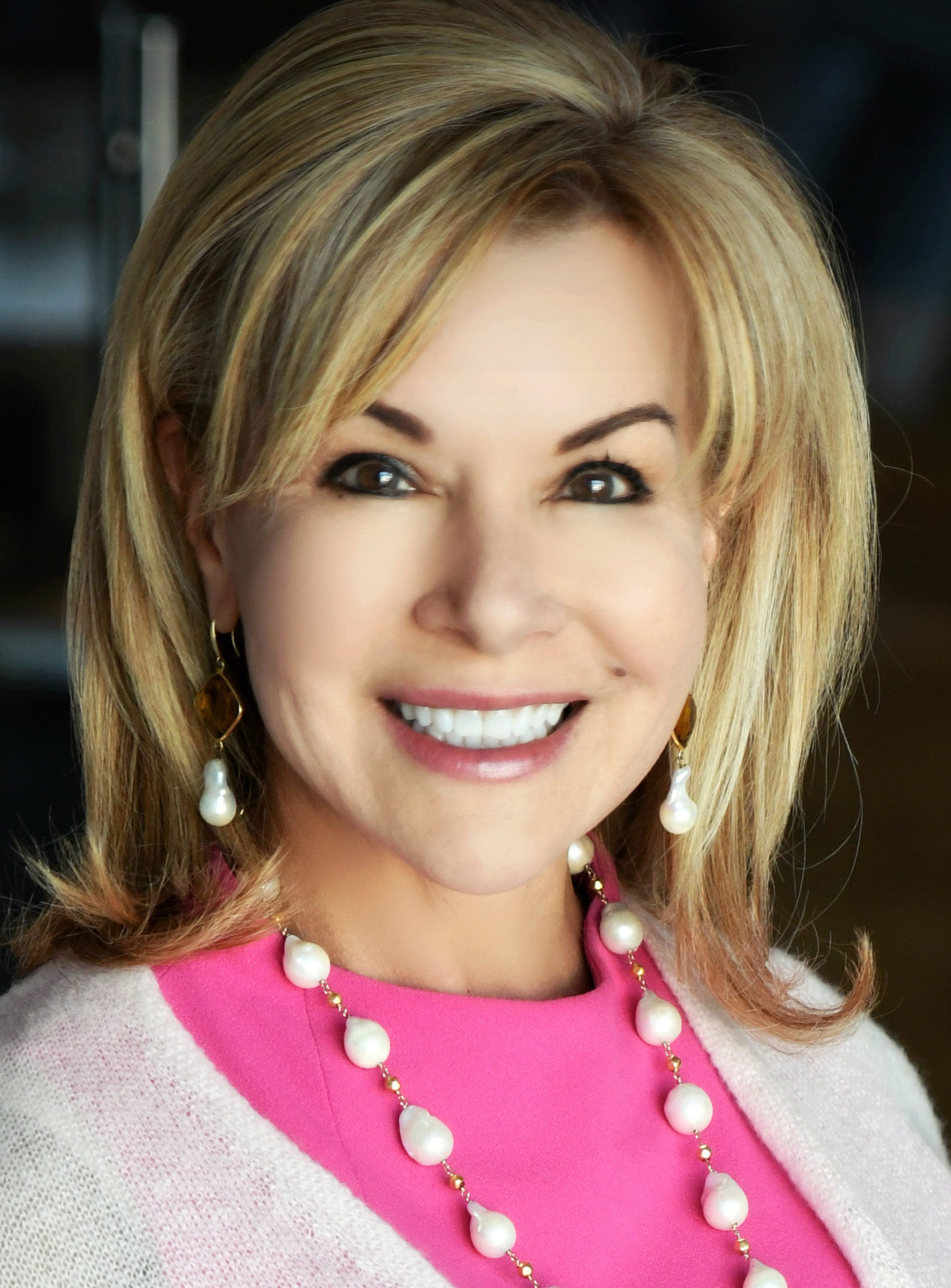 Earlier this year, Enterprising Women magazine recognized Jeanette Prenger for the growth at ECCO, which has been providing IT consulting and talent-finding services to commercial and government clients since 1995. Her IT resume includes work for Russell Stover, the Federal Reserve Bank, TWA and Sprint, to name a few. Her career has shown her a diverse range of business needs that she and her team stand ready to serve, every day.
COLLEGE: B.S., Management Information Systems, Park University
PANDEMIC CHALLENGE: "It was obvious with a pending shutdown of our economy that our revenue, as well as our clients', would be negatively impacted. We knew we had to conserve cash. (The PPP loan) option became very viable. It bought more time to survive this pandemic."
CRYSTAL BALL: "Between a vaccine, protocols for handling this virus and our resilience as a country to get to where we were pre-COVID, we will see surges in some of the industries that we serve."
PERFECT WEEKEND: "Entertaining at home on the lake with my family, friends and dogs. I love watching the grandkids swim and fish."
FAVORITE CHILDHOOD TOY: "A doll that was dressed in a typical Spanish costume. The costume was bought when we lived in Mallorca, Spain. I've had the doll since I was 5."
ULTIMATE DESSERT: "Anything with a scoop of great ice cream on top."
---
Stephen Penn
KC MANAGING PARTNER, KPMG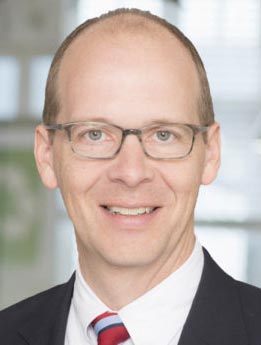 "I've always had great timing!" Stephen Penn declares wryly, noting his ascension to managing partner just three months before his office had to close down in March. But "it created a huge opportunity to think differently, to rally our people, and yet instill a bit of calm and assurance." In leading the region's second-largest accounting office, he says, "I'm sure I stumbled a few times, but…the key is remaining positive, humble, and candid."
SILVER LININGS: "It was definitely dinner time–my family was home for dinner every night, followed by old family card games. With two children–a high school senior and junior this past spring—the time shared over dinner and board games was precious and fleeting."
FAVORITE CHILDHOOD TOY: "My bike. From my tricycle to my first bicycle, I spent most of my childhood free time riding bikes in the yard, around town, or where ever I could go on two wheels."
ULTIMATE DESSERT: "That's a trick question—the ultimate dessert is obviously any dessert before meals."
ANOTHER ERA YOU'D VISIT: "I guess I'm supposed to say biblical times… but life was too hard then! So I'll go with the 1860's–I've always been fascinated by Lincoln and that time period, maybe because of all the haunting photographs we see from that era. I would love the chance to meet those people and get behind those photographic stares.
---
Tammy Peterman
KC PRESIDENT, UNIVERSITY OF KANSAS HEALTH SYSTEM
In a year of public health crisis, the region's largest hospital is, appropriately, led by a skilled executive and skilled care-giver: Tammy Peterman. "We say it all the time—we will be stronger when we're on the other side of this pandemic—but truthfully, we're already stronger as a team," declares this former nurse. "We've worked for years to build a culture capable of providing great care and service in a team-driven environment."
COLLEGE: B.S., M.S., M.S.N., University of Kansas
PANDEMIC CHALLENGE: "The ongoing change we were dealing with. Guidelines, restrictions, new information—things were changing daily and sometimes multiple times a day and we had to make real-time adjustments. We worked quickly to develop a communication plan and strategy—and we're still doing it today."
COVID IMPACT: "This has made our culture even stronger. Our staff believe in our culture and know they are supported in the work they do to provide the best care for patients."
SILVER LININGS: "We have learned to operate at a very different speed, because we had to. Our teams implemented a robust telehealth platform. We designed and built several areas to support patients and staff in record time. And within days we moved over 2,000 staff home to work."
FAVORITE CHILDHOOD TOY: "A bicycle."
ULTIMATE DESSERT: "Homemade ice cream—you can't beat it."
---
Michael Rainen
PRESIDENT, RAINEN COMPANIES
Mike Rainen has overseen the development of many award-winning properties. And he takes care of what he builds. Rainen self-manages those through his Keystone Property Management division. As to the challenges of 2020, he says, "I think they are yet to be fully seen, but clearly, since people have been able to successfully work from home, it is likely to reduce office demand to some degree."
COLLEGE: B.A., Finance, University of Texas
PANDEMIC CHALLENGE: "Keeping my team and our residents focused on staying safe through this pandemic. The skill I drew upon was sincerity. Nothing complex. People want to know that they are being heard, and their interests are being considered and aligned with the company's interests."
PERFECT WEEKEND: "Sailing to some port with family and friends."
FAVORITE CHILDHOOD TOY: "My erector set. I have always loved building."
ULTIMATE DESSERT: "Warm-centered chocolate cake with raspberry and sauce. The best ever was Classic Cup's but, unfortunately, they are no longer around."
ANOTHER ERA YOU'D VISIT: "This is the best time to be alive. Change is happening daily and it is so exciting! Next-best time will be 50 years from now, in 2070."
---
Julie Quirin
COO, SAINT LUKE'S HEALTH SYSTEM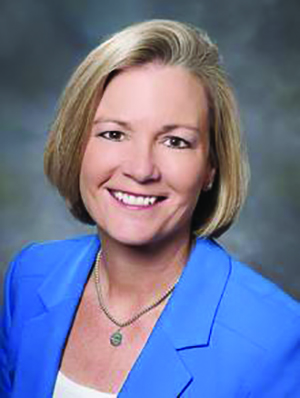 Julie Quirin has been with Saint Luke's since 2002, and had been running the system's Overland Park presence when she earned her systemwide role in 2015. She has played significant roles in the development and growth of the system's many capabilities. She's also a member of the Buena Vista University Hall of Fame (apparently, she has basketball and softball skills, too). With 12,500 employees and nearly $4 billion in revenues, the system is the region's fourth-largest private company.
COLLEGE: B.A., Business/Corporate Communications, Buena Vista University; M.A., Organizational Communication, University of Kansas
PANDEMIC CHALLENGE: "Managing our systemwide response in a rapidly changing environment. Starting in late February, we began to apply guidance to clinical areas, deploy resources and redesign multiple processes including deferral of elective procedures, visitation policies, personal protective equipment approach, and implementing our own internal COVID-19 testing platform."
SILVER LINING: "The use and rapid adoption of technology has always been part of the health-care experience. However, this health crisis has accelerated this process to new levels."
PERFECT WEEKEND: "I enjoy being outdoors—preferably around a body of water large enough to have a lot of fish waiting to be caught. After a successful day on the water, I love to cook up my catch for family and friends."
---
Joe Reardon
PRESIDENT/CEO, GREATER KANSAS CITY CHAMBER OF COMMERCE
With deep roots in public service, Joe Reardon heads up an organization that started as the Commercial Club back in 1887 to—as one a member put it— "make Kansas City a good place to live in." And the organization has been making good on that goal by being there for Greater KC every step of the way, ever since. Today, the Chamber advocates for more than 2,250 companies with more than 300,000 employees across the Greater Kansas City region.
COLLEGE: B.A., Political Science, (summa cum laude), Rockhurst University; J.D., University of Kansas School of Law
PANDEMIC CHALLENGE: "Taking the work of the Chamber virtual. I was most concerned for our Chamber team working remotely. It has been amazing to see how well all our team has performed during the pandemic. I am proud of their work and what the Chamber has been able to accomplish during this time."
COVID & CULTURE: "We are continuing to explore how we can convene Kansas City virtually around critical issues and add value to all that is going on. We have had some success in our virtual convenings, which has been great."
CRYSTAL BALL: "I am hopeful we see a vaccine and a path to more normalcy in how we interact with each other in 2021; that certainly will allow business to be more dynamic and grow."
---
Beryl Raff
CHAIRMAN/CEO, HELZBERG DIAMONDS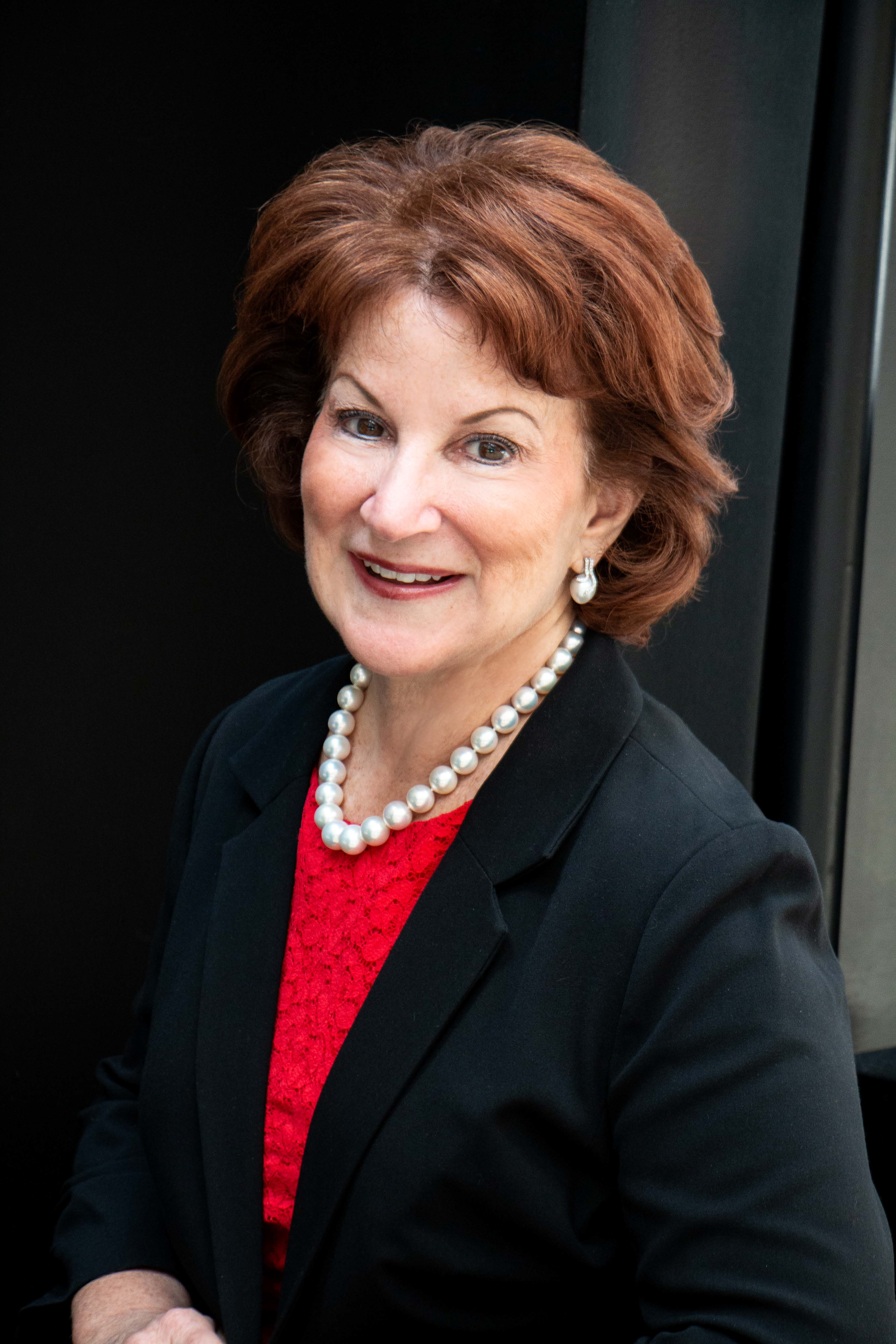 In April, Beryl Raff marked 11 years leading Helzberg. She's come a long way from being an executive trainee at Macy's. After close to 20 years there, she moved to the leadership role at Zales. She then came to the attention of Warren Buffett, who personally chose her to lead his more than 200 Helzberg Diamonds stores in 36 states. Helzberg is part of Buffett's larger Berkshire Hathaway retailing group, which brought in $16 billion in 2019 revenues.
COLLEGE: B.A., Business Administration, Boston University; MBA, Drexel University
PANDEMIC CHALLENGE: "Finding ways to keep our store associates safe and healthy but still able to sell jewelry which is, by definition, a high-touch interaction."
COVID & CULTURE: "Our metrics indicate that productivity has remained high even though the vast majority of our non-store associates are working remotely. Despite being apart, it has brought the team closer and enhanced our family-like culture."
SILVER LINING: "Our e-commerce team's efforts have become an even higher priority than before, and they have risen to the occasion to continue engaging and serving customers.."
PERFECT WEEKEND: "Lately, a perfect weekend has included a road trip for a short stay in a well-sanitized small hotel (with great Wi-Fi) while dining in an outdoor venue or two."
FAVORITE SONG/ARTIST: "Of late, Bobby McFerrin's Don't Worry, Be Happy."
---
Joe Ratterman
FOUNDER, HOPE IN THE STREETS/WORSHIP WAGON
When he was still young executive, Joe Ratterman once told an interviewer, he had a revelation about the concept of giving back after they retire: "What if that day never comes?" So when his life's labors positioned him to retire from BATS Global Markets in 2015, he maintained a full schedule with his piloting work at Angel Flight Central, building a pair of non-profits to provide food and spiritual nourishment to the homeless, and service on non-profit and business boards, including the rapidly growing C2FO fintech firm in KC.
COLLEGE: B.A., Math/Computer Science, University of Central Missouri
VISIONARY: Ratterman was one of 13 founding employees of BATS, a global stock exchange that reached the billion-dollar revenue mark just six years after it was founded in 2005. It was sold in 2016 to Chicago Board Options Exchange—CBOE—for $3.2 billion.
SWITCHING GEARS: A high school teacher, remarkably enough, once told young Ratterman that there would be no job market for computer programmers before he could get out of college.
OTHER STOPS: He served as chief technology officer at Knight-Ridder Financial, then Reuters, before moving to LabOne for a short stint preceding his return to the securities industry. That move, to Tradebot Systems, set the stage for his work with BATS. The trading platform went from startup to handling a billion shares a day, overtaking NASDAQ's volume as a trading platform.
---
Steve Reintjes
PRESIDENT/CEO, NORTH KANSAS CITY HOSPITAL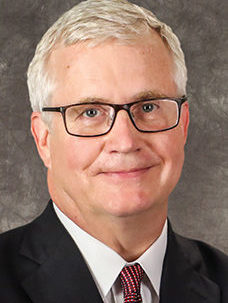 New Year's confetti was still being cleaned up across this region when North Kansas City announced that one of its longtime providers in neurosurgery, Dr. Steve Reintjes, would take on the lead executive duties for the medical center and is physician network subsidiary. It was a role, he said, that would mesh perfectly with his career as a provider: "We are an organization led by a purpose–to provide hope and healing to every life we touch," he said upon taking the new role.
COLLEGE: B.S., Georgetown University; M.A., Philosophy, M.D., University of Kansas School of Medicine
ENGAGED: In his 30 years of working with the hospital, Reintjes has served as director of spine surgery and president of its medical staff. Outside the hospital, he's a board member for BioNexus KC and Midwest Transplant Network.
STANDING OUT: Reintjes was among the earliest honorees of Ingram's Top Doctors recognition program, earning that distinction in 2001, the program's fourth year.
ABOUT NKCH: With 451 beds, $1.85 billion in revenues and more than 20,000 patient admissions each year, its the fourth-largest hospital in the Kansas City region. The Meritas Health physician network operates 30 sites in Clay and Platte counties, offering primary and specialty care.
PAYROLL POWER: With nearly 2,600 employees, including 326 physicians and 727 nurses,
the municipally owned hospital is one of the biggest employers in the Northland.
---
Bob Regnier
PRESIDENT/CEO, BANK OF BLUE VALLEY
This has been a tough year on many levels, but Bob Regnier and team were actually given cause to celebrate. Through its parent company, Heartland Financial, Bank of Blue Valley was named a Forbes Best Bank of America. Merged in 2019 with Heartland's Morrill & Janes Bank and Trust Co., Bank of Blue Valley boasts $1.3 billion in assets. With more than 45 years in the banking business, Bob Regnier is still showing them how it's done.
COLLEGE: B.A., Kansas State University; MBA, University of Missouri-Kansas City
PANDEMIC CHALLENGE: "Reduction in face-time with employees, customers and the public. There is no passive substitute. You need to have a planned outreach program for all sectors. It can be uncomfortable and feel forced sometimes, but it is the only viable alternative."
COVID & CULTURE: "We have all gotten used to WFH. I did not believe it would work, but has proven to be a workable alternative."
SILVER LINING: "I have seen several clients work creatively to open new opportunities for revenue and work to reduce their operating costs, which will benefit them in the future."
PERFECT WEEKEND: "Errands, projects, reading, and dinner with friends."
FAVORITE CHILDHOOD TOY: "Riding my bike around the neighborhood."
ULTIMATE DESSERT: "Sharing a Skyscraper with my grandkids at Winstead's."
---
Ora Reynolds
PRESIDENT/CEO, HUNT MIDWEST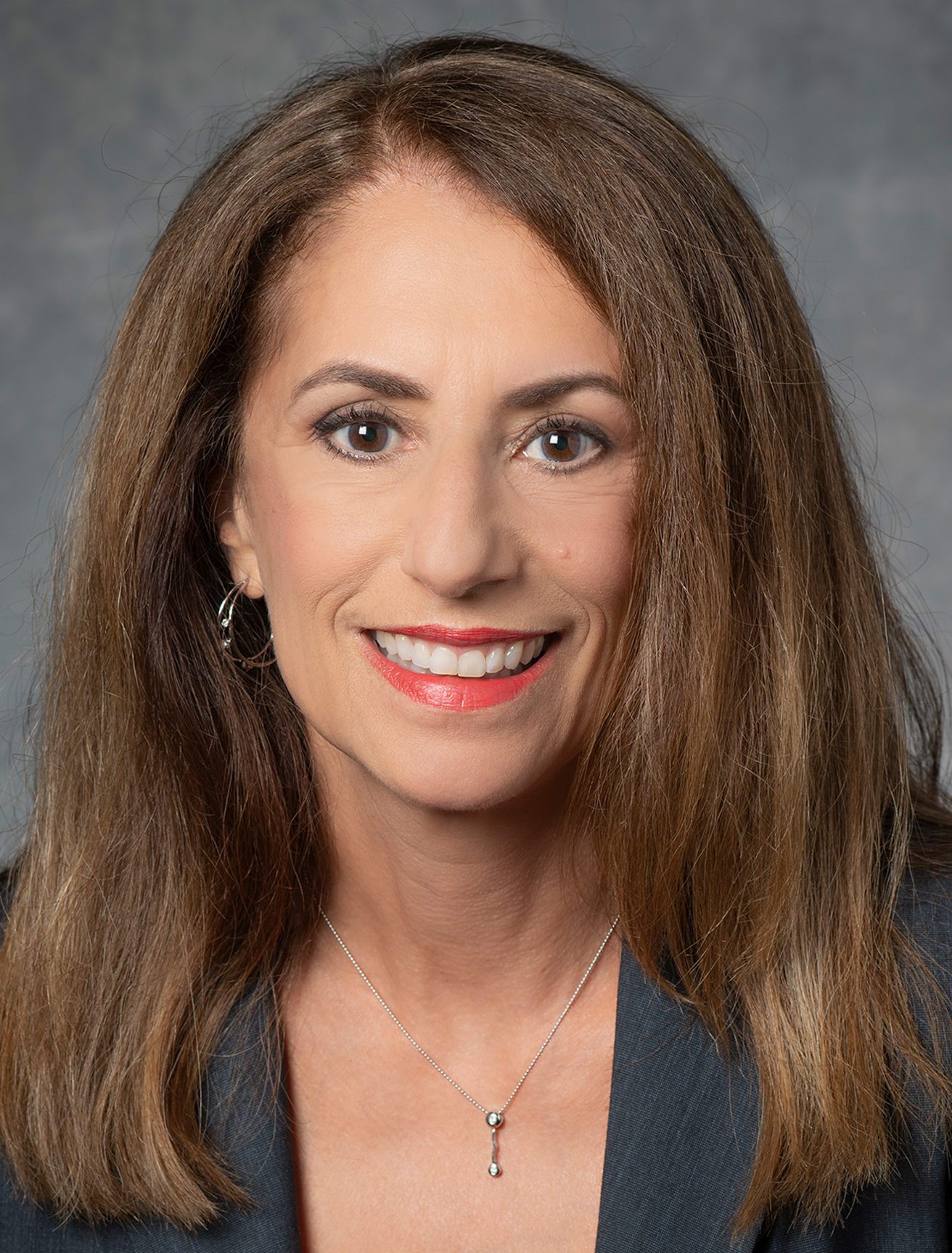 Ora Reynolds can read signs of growth even amid a global economic slowdown. "On the industrial side, there are a lot of tailwinds—eCommece, online shopping, changes in supply chain where it's important to have just-in-case inventory, as opposed to just in time. That will change where our products are coming from, how much is warehoused and where," she says. Keen insight, stem-
ming from three decades of work in that sphere, including development of SubTropolis and its 6.5 million square feet of space.
COLLEGE: B.S., Finance, Indiana University, Bloomington
SILVER LININGS: "For a number of us, it's adding three hours of time to the day with no commute. And some people, like me, even learned to use the copier, fax and scan functions from home."
COVID & CULTURE: "There was definitely a recognition that we need to be able to balance productivity and culture. I used to be able to just walk around and talk to people, but now have to schedule a Zoom meeting or a team call to have that collaboration. In most cases, we're as productive or even more productive working remotely. But we had to keep the collaboration and the culture in place, using tech more efficiently, and everything from DocuSign to Sharepoint."
PERFECT WEEKEND: "A day at the pool with a good book, dinner with friends, and a Broadway show at Starlight. But that was pre-pandemic, I guess."
ULTIMATE DESSERT: "Anything chocolate."
---
Greg Righter
PRESIDENT/CEO, BERKEL & COMPANY CONTRACTORS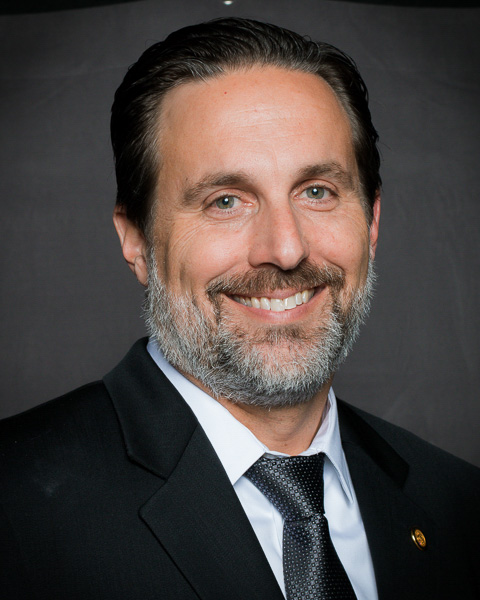 Founded in 1959, this Bonner Springs foundation-construction specialist is led by Greg Righter, whose team generated $263 million in work last year. The 100-percent employee-owned contractor has laid foundations for some of the country's most sizable developments, including high rises, stadiums, hotel-casino resorts and power plants. Righter succeeded Alan Roach in the leadership role in 2017.
COLLEGE: B.S., Pre-Engineering, Furman University; B.S., Civil Engineering, Clemson University; M.S., Civil Engineering, Georgia Tech
CLOSE TO HOME: One of the company's operating units, Berkel Foundation Systems, won the contract to be prime contractor on the foundation for the single-terminal design rising from the ground at Kansas City International Airport.
GOING DEEP: The company specializes in deep foundation work, but also develops retention systems and makes ground and soil improvements to projects.
A WIDE REACH: Based in Bonner Springs, the company has a national footprint that includes offices in the Atlanta, Baltimore, Houston, Nashville, Orlando and San Francisco.
---
Charles Renner
PARTNER, HUSCH BLACKWELL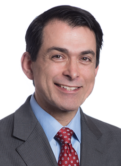 As a go-to guy in development/financing law at Husch Blackwell, Charles Renner has seen first-hand this year the impact on infrastructure, civic buildings, commercial and multi-family and public private partnerships. "If there is a national truth to the current situation," he says, "it is that state and local governments are in the midst of high financial stress." The financial impact of COVID on municipal and state budgets is hard to overstate, he says.
COLLEGE: B.A., Political Science, University of Missouri-Kansas City; J.D., UMKC City School of Law
PANDEMIC CHALLENGE: "In those first weeks, we undertook a team and individual strength assessment and then built a short-term group action plan around each person's key strengths. This is not an exercise I had initiated before and wish I had."
COVID & CULTURE: "Our reliance on technology to keep us connected to each other and our clients, has increased ten-fold. This period has forced some of us to embrace those tools much more than we ever had to before. But, the bigger impact, in a positive way, has been with our firm culture. When this moment began, it was evident that selflessness can crowd out panic."
PERFECT WEEKEND: "In a boat, on a lake, under the sun, with my family."
FAVORITE CHILDHOOD TOY: "My Millennium Falcon and Star Wars Action Figures. I wish I had held on to them."
---
Michael Riggs
CEO, JACK COOPER HOLDINGS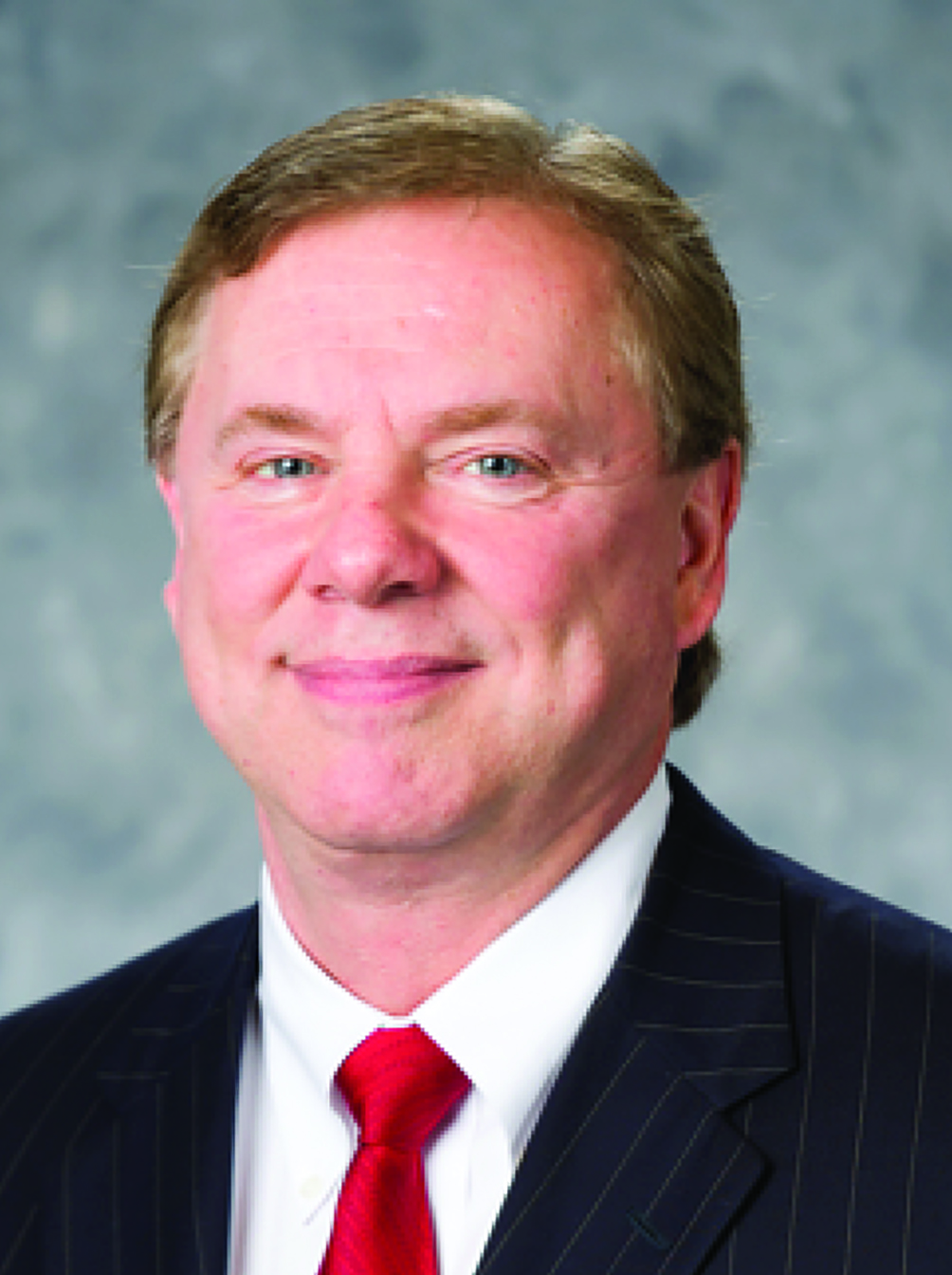 With annual revenues north of $500 million, Jack Cooper Holdings is ranked by Transport Topics among the 100 largest trucking firms in the country. You can credit Michael Riggs for the growth that got the company back on track to attain that status; he bought the struggling company in 2009 and has built its work force up to more than 3,000. Jack Cooper Transport specializes in hauling vehicles from their assembly plants to dealerships nationwide.
COLLEGE: B.S., Business, Kettering University; MBA, Harvard Business School
WELL-TRAVELED: Riggs has 20 years of experience in the trucking industry, but before that had two decades of executive experience in manufacturing.
REALISTIC RESULTS: Faced with a company-killing pension-program structure, Riggs had no choice but to take Jack Cooper into bankruptcy court last year. Under his leadership, union workers voted 68-32 percent in favor of pension restructuring. Now, he told Automotive Insider earlier this year, the company has the balance sheet, cash and liquidity to get back on track for growth to $1 billion in revenues by 2025.
INDUSTRY ACCOLADES: Riggs is a member of the American Trucking Association's executive committee of the American Trucking Association, and chairman of the Auto Carriers Conference. He has also been recognized with E&Y Entrepreneur of the Year honors for the Midwest region (2013).
---
Fred Ross
PRESIDENT, CUSTOM TRUCK ONE SOURCE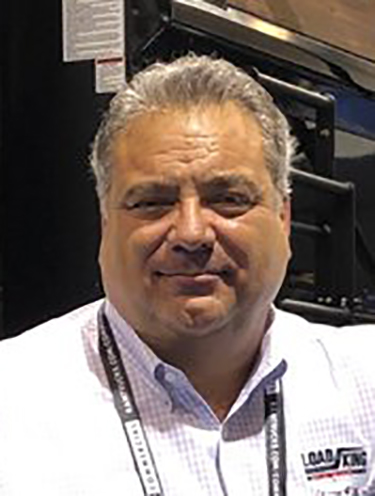 Meet Fred Ross, heading up perhaps the newest billion-dollar enterprise in the Kansas City market. Custom Truck surpassed that milestone in 2019 with sales from its extensive line of muscular trucks and construction equipment. The Ross family has worked overtime to turn the company into a national power, providing the tools that heavy construction companies need to build and repair America's infrastructure.
ALL IN THE FAMILY: Ross and five siblings founded the company in 1996, and the initial payroll had 15 names on it. To reach $1 billion in sales, he says, "creates a tremendous sense of pride that's almost surreal. Sometimes it's hard to picture where we started and where we've landed at this point. I never thought that I would be the founder and CEO of a billion-dollar company. When I was going through school and growing up, that was never a thought on my mind."
POWER EMPLOYER, TOO: The company's work force has grown more than 100-fold, with 1,700 workers in all. About 650 of them work at the headquarters on the site of the former Armco Steel plant, and 100 more are expected to be on staff by year's end.
NEXT STOP: Global domination? Well, perhaps not, but Custom Truck is definitely branching out, with expansion last year into Mexico, Canada and South America.
---
Jim Rine
PRESIDENT/CEO, UMB BANK
Things are good at UMB: Lending is up 10 percent to $1.2 billion, average deposits are up 13.7 percent to $19.3 billion. And Jim Rine says the financing efforts are still going strong, even in this climate: "We were able to quickly adapt our business operations, provide access to leadership, and make decisions efficiently and effectively," he says. "We also had a strong pipeline entering 2020, so we have still been able to grow during these times."
COLLEGE: B.S., Finance, Missouri State University
PANDEMIC CHALLENGE: "The most important skill I've used during this time is communication. It's imperative we communicate clearly and directly with our associates and customers to let them know we are here to help protect and serve everyone associated with UMB."
SILVER LINING: "Our team has showed how resilient they are, as well as their willingness to do whatever it takes to get through this. Likewise, we have seen the same from our customers. The other silver lining is realizing how much relationships still matter."
PERFECT WEEKEND: "On a mountain or a beach surrounded by friends and family."
FAVORITE CHILDHOOD TOY: "My Big Wheel."
ULTIMATE DESSERT: "J. Alexanders carrot cake."
FAVORITE SONG/ARTIST: "Led Zeppelin."
---
Tom Sack
PRESIDENT/CEO, MRIGLOBAL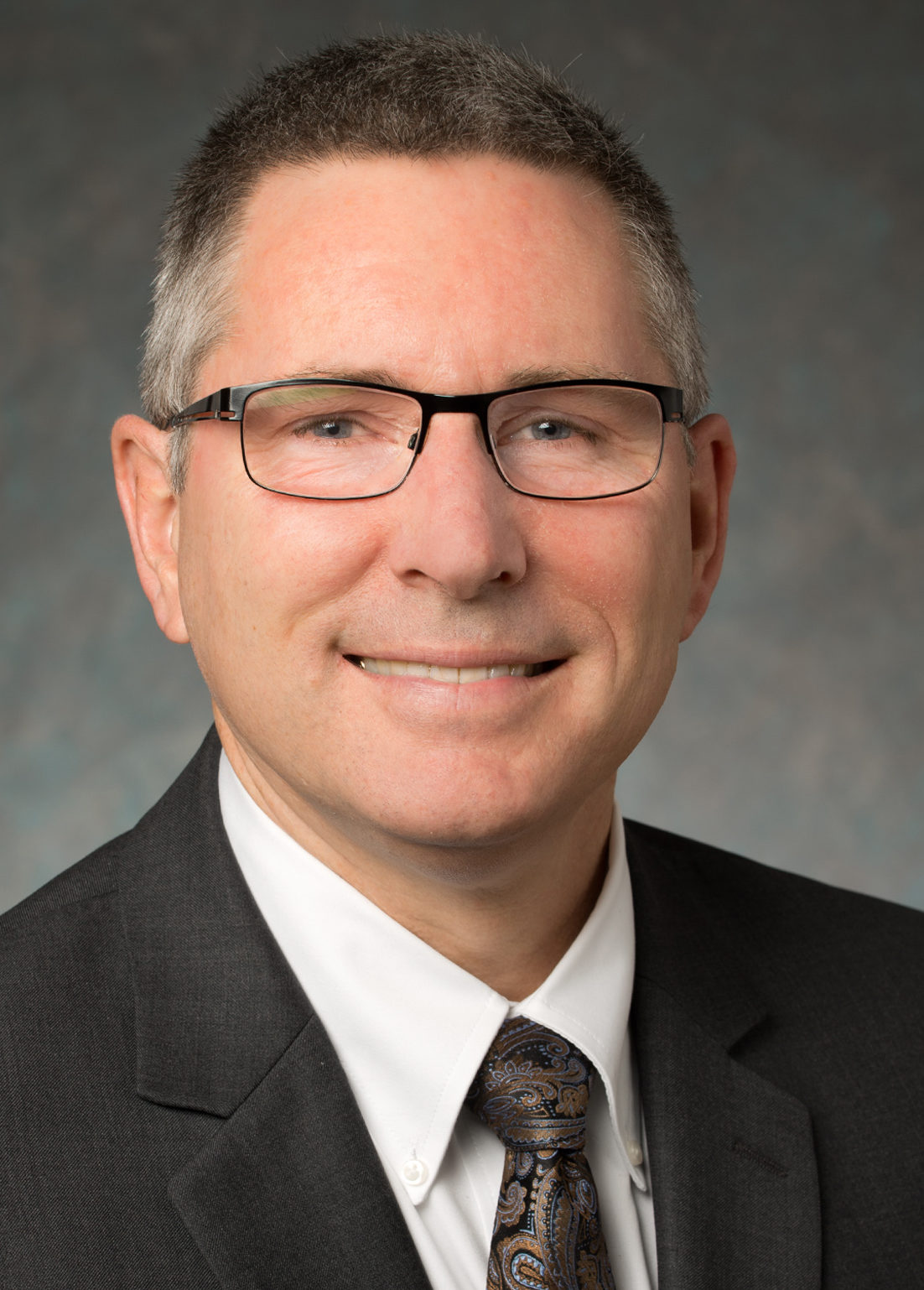 The same company that developed the candy-coating process for M&Ms back in the 1950s is now deeply engaged in the fight against COVID-19. All companies are dealing with COVID in one way or another this year, but Tom Sack and the team at MRIGlobal are closer to it than most. "The call to fight the coronavirus came to our front door," he says. "The challenge became keeping our front-line staff safe while conducting COVID-19 related research services in our laboratories."
COLLEGE: B.S., Chemistry Rockhurst University; Ph.D., Analytical Chemistry, University of Nebraska-Lincoln
CRITICAL EXPERTISE: "We reached out to our own infectious-disease experts, who provided the necessary guidance to maintain safe operations. These experts are now working in our community to assist schools and universities, along with others, to get students back in the classroom with safety protocols in place."
OUTLOOK: "If we can field effective COVID-19 vaccines by early 2021, I envision 2021 business conditions to show improvement over 2020."
PERFECT WEEKEND: "A fun night out with my family, a couple of long bike rides, and a jam session with my band."
FAVORITE CHILDHOOD TOY: "Slot cars."
ULTIMATE DESSERT: "Carrot cake."
FAVORITE SONG/ARTIST: "My favorite musical artist is Neil Young."
---
Andrew Sareyan
PRESIDENT/CEO, ANDREWS MCMEEL UNIVERSAL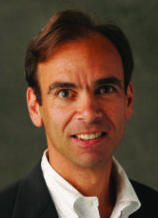 This versatile leader in the publishing sector found that "work-from-home is a pretty radical change for AMU. For a creative organization, hallway serendipity and collaborative fellowship are important ingredients to success," says Andy Sareyan. Video, and values, closed the communications gap, he says, and "in fact, in many areas, this environment has generated even more creativity and confidence that's led to positive directions that will last well beyond COVID."
COLLEGE: B.A., Middlebury College; MBA, Stanford University
PANDEMIC CHALLENGE: "The most overused word of the year was 'unprecedented,' but this crisis was exactly that. … That puts most leaders in a strange and challenging spot. The best advice I followed was to acknowledge right away that this was a time best-suited to listening to one another and trusting each other to find the best path forward."
CRYSTAL BALL: "Strong rebound for all. New ideas abound."
PERFECT WEEKEND: "Hiking in the mountains followed by a nice dinner and a bottle of wine by an outdoor fire."
FAVORITE CHILDHOOD TOY: "A ball and a wall."
ULTIMATE DESSERT: "All of them. (sugar problem)"
ANOTHER ERA YOU'D VISIT: Some time in the future. Maybe the 2060s?
FAVORITE MUSICAL ARTISTS: "All of them (but opera)."
---
Frank Ross
BUSINESS DEPARTMENT CHAIRMAN, POLSINELLI
The age of COVID has meant less work for some, or no work at all. Not so for Frank Ross, whose team has been challenged by what he calls "the immense and immediate need to support our clients and their employees with their CARES Act needs. It was non-stop and intense for about eight weeks. … The issues tied to keeping deals alive and deal issues tied to acts of God and material adverse effects have created non-stop work for us."
COLLEGE: B.S., Kansas State University; J.D., Washburn University School of Law; LLM., Georgetown University Law Center
PANDEMIC CHALLENGE: "Dealing with the anxiety and worry of our employees about their own personal health and the health of their loved ones, their worry and concern about effectively serving our clients and the worry and concern about how we can make this 'new normal' work. The only skills I have that helped me serve them are those you get from how you deal with your own family during times of stress, worry and anxiety. You listen, be transparent, be available, you show true concern and you show some humor."
PERFECT WEEKEND: "Having friends and family over for a great dinner with some terrific wine."
ULTIMATE DESSERT: "A plate of fresh figs with some great cheese and a glass of wine."
FAVORITE SONG/ARTIST: "What a Wonderful World, sung by Louis Armstrong. Nothing better!"
---
Phil Sanders
CEO, WADDELL & REED FINANCIAL
Phil Sanders holds the reins at one of America's oldest financial planning firms, founded in 1937 by Chauncey Waddell and Cameron Reed. Both men were veterans of World War I. Today, the company they began reported $70 billion in assets under management for 2019 and net income of $137 million. How dedicated is the company to this city? Earlier this year, it signed a lease for a new corporate headquarters in the heart of Downtown.
COLLEGE: B.A., Economics, University of Michigan; MBA, University of North Carolina-Charlotte
COVID & CULTURE: "I believe it has made us more confident, nimble and agile as an organization. We have also accelerated the deployment of certain technology initiatives that should make us more competitive going forward."
SILVER LINING: "On a personal level, the extra time spent with family has been a true blessing, especially with two new grandchildren in the fold. Also, Zoom calls with my extended family, since I have seven brothers and sisters."
PERFECT WEEKEND: "Given the nature of our industry, I enjoy downtime when I can get it.
So, relaxing or hanging out with family and friends always recharges me."
ULTIMATE DESSERT: "I typically don't have much of a sweet tooth, but a scoop of chocolate mint ice cream is tough to resist."
---
Philip Sarnecki
MANAGING PARTNER, NORTHWESTERN MUTUAL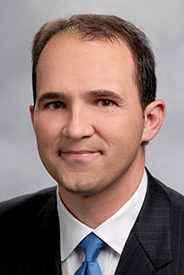 COVID hasn't been holding this powerhouse Northwestern Mutual affiliate back: Its insurance business is up 12 percent year-to-date, and the investment side is up 14 percent. And why not? Northwestern Mutual has helped clients survive decades of challenges to their success—through depressions, downturns, and two World Wars. As for Sarnecki, he has been part of the Northwestern Mutual organization since his days as an award-winning college intern.
PANDEMIC CHALLENGE: "The unknown. There is obviously no playbook for what we're going through. I think the reality is you draw a little bit on all of your skills, experience and knowledge. Delegation and trusting your key people has been vital."
IMPACT ON INVESTING: "Interest rates remain low, which makes access to capital very cheap. Many companies are suffering, which makes them acquisition targets and in need of capital."
SILVER LINING: "I think companies are making choices between needs and wants that will make them operationally more efficient in the long run. They're discovering less-expensive ways of doing some of the things they've done in the past."
PERFECT WEEKEND: "Hanging out at home with the family and/or watching my kids swim, play baseball, basketball, etc."
FAVORITE SONG/ARTIST: "Can't go wrong with a good Andy Williams song."
---
Ryan Schaar
CEO, AMPLY MEDIA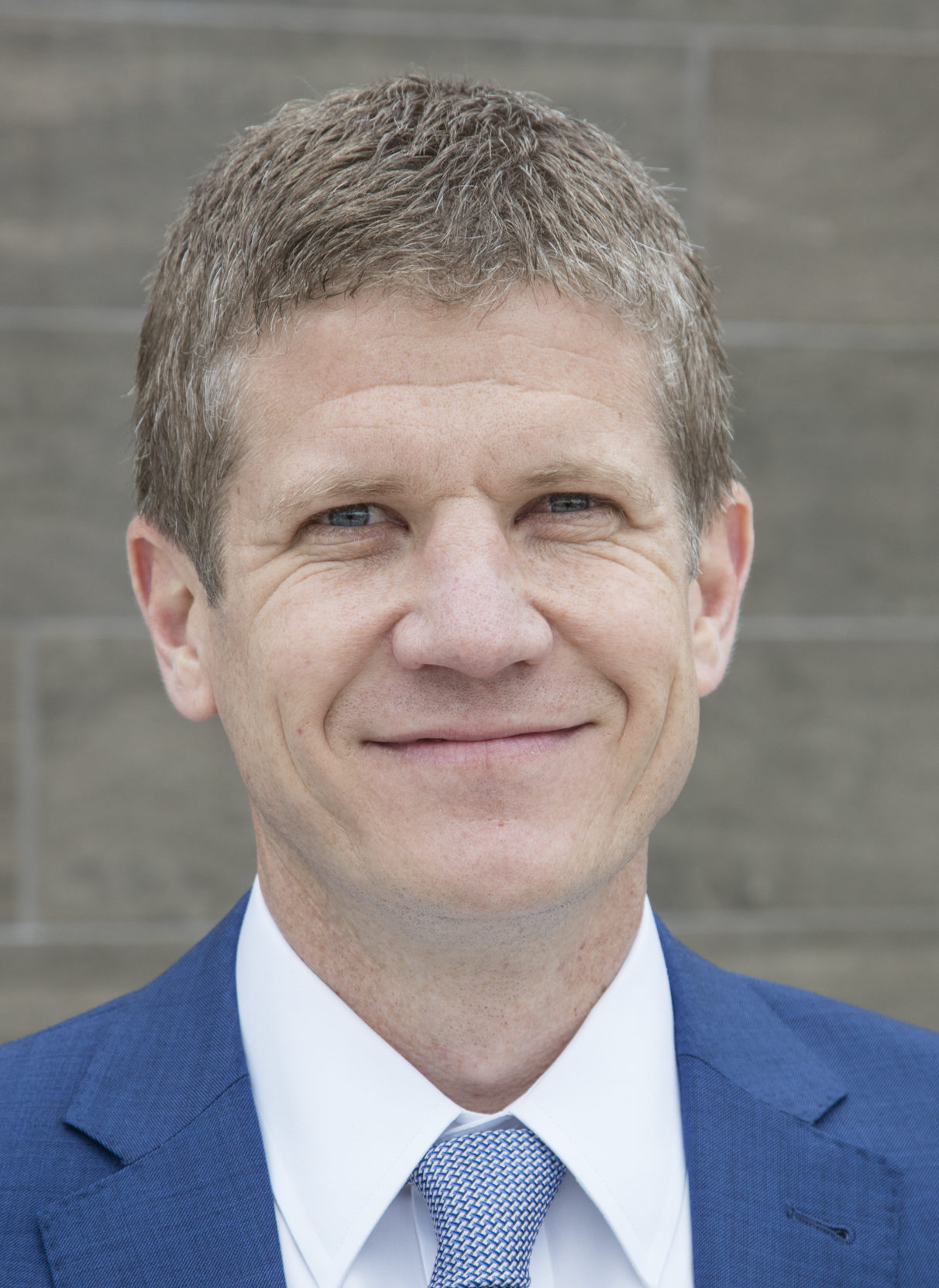 The fast-growing media outfit Ryan Schaar leads creates fresh content for a network of Web sites it runs. His team puts out more than 1,000 pieces of original content per month to an audience of 64 million monthly active users. Keeping a finger on the pulse of trending online topics, Amply tailors its content to its various audiences while making sure everything they put out works seamlessly on whatever device you're using to view it.
COLLEGE: B.S., Finance and Accounting, Wichita State University; MBA, DePaul University, Charles H. Kellstadt Graduate School of Business
PANDEMIC CHALLENGE: "Instilling confidence in our people that we will persevere if we think of this as a market dynamic that will open up new opportunities for us."
SILVER LINING: "We all learned more about each other as people and how we can help each other adapt to significant changes to how we get through a day. Many people were juggling working from home, teaching their children, learning how to be safe, etc. And we all pulled together to adapt to these changes while continuing to drive the business forward."
PERFECT WEEKEND: "Morning with my wife, two young daughters and a cup of coffee before heading to the golf course, come home and play tennis, soccer, or search for super hero princesses outside with the girls. We would then find a patio for dinner. … That's the perfect Saturday."
---
Neal Sharma
PRESIDENT, DEG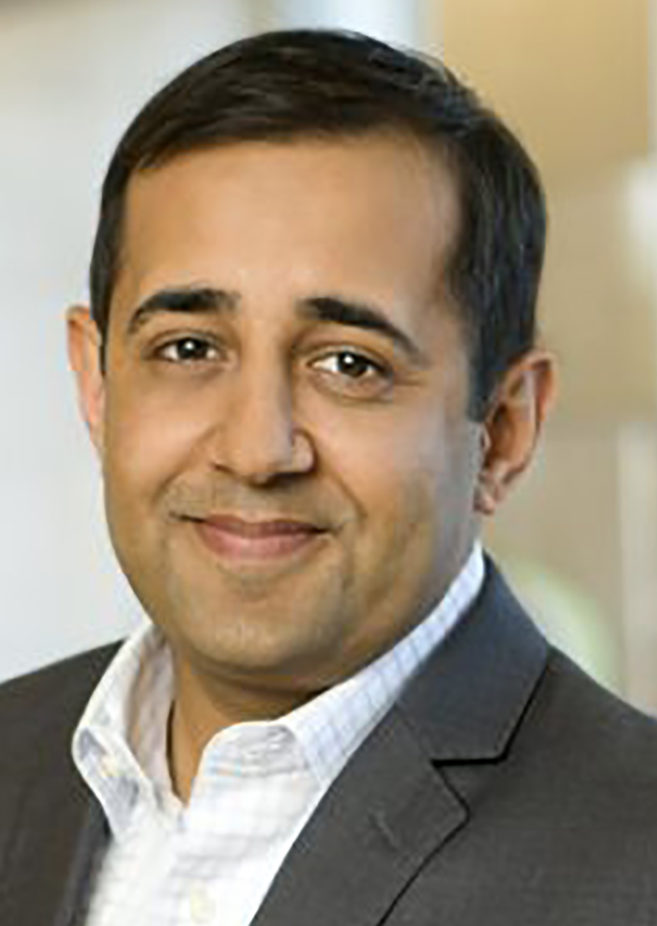 Sometimes, the tag "influencer" is stretched to the breaking point at this point in the evolution of digital communication. Not so with Neal Sharma. A generation after founding Digital Evolution Group—now DEG, an Isobar company after its 2019 sale to Japan's Dentsu—Inc. Magazine has named his enterprise among its "25 Companies That Are Changing the World." Sharma has also been a Central Midwest Finalist for the E&Y Entrepreneur of the Year award.
COLLEGE: B.A., Communication, Legal Institutions, Economics, and Government, American University; MBA, University of Kansas
ABOUT DEG: It's a full-service digital agency that provides clients with strategy, creative, and technology services filling all media channels. Last year, revenues hit nearly $69 million, and it has more than 320 employees—all of whom had to be relocated to remote work environments after the pandemic of 2020 set in last March.
BOARD BARON: Sharma, a fierce advocate of entrepreneurship, is the co-chair of KC Rising, a civic initiative focused on developing a skilled work force to bring high-paying jobs to the region. He's also an executive member of the Kansas City chapter of the Young Presidents' Organization, and sits on the boards of MRIGlobal and Advancement Board for the University of Kansas academic medical center. He's also a fellow of the Helzberg Entrepreneurial Mentoring Program.
---
John Sherman
CHAIRMAN/CEO, KANSAS CITY ROYALS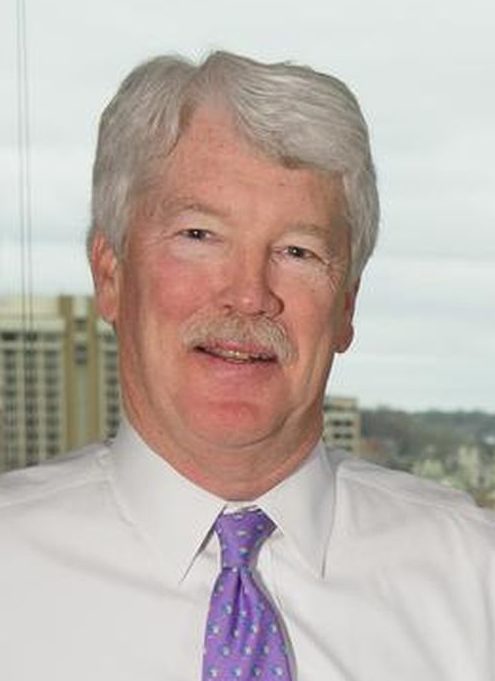 Who better to buy the hometown baseball team than an entrepreneur with a 40-year history here? A history with a rich past in the city's civic and philanthropic communities. John Sherman is now on the job at The K, with a pandemic summoning his entrepreneurial spirit: "We stayed deeply connected to our fans, and while we couldn't stand with them for the seventh-inning stretch, we found new and creative ways to deliver Royals baseball into their homes. "
COLLEGE: B.A., Business, Ottawa University
PANDEMIC CHALLENGE: "To be decisive, but thoughtful—to take time to carefully understand the impact of each move. Having been through a number of business crises over time, I drew on past experiences, and on the right people in the right roles around me."
A MESSAGE FOR FANS: "Our team—leaders, players and staff—are all being really cautious, but our message is clear: We can't wait for the day when we can welcome them back to cheer on the Boys in Blue."
FAVORITE CHILDHOOD TOY: "As a kid, I left the house every summertime day with three things: my ball, my bat and my glove. Every day."
ULTIMATE DESSERT: "The Twix ice cream bars Aramark puts in my suite at Kauffman Stadium."
FAVORITE SONG/ARTIST: "I grew up with the Rolling Stones and the Beatles."
---
Brent Shafer
CEO, CERNER CORP.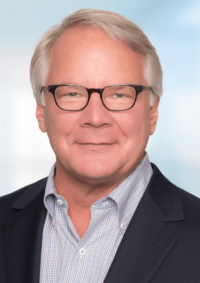 Job No. 1 for many executives is taking care of employees in a crisis—and it's a big job for Brent Shafer with the region's largest private-sector work force. At the COVID onset, "we had to quickly ensure we could function as a company," he says, "making sure our technology was available, robust and flexible for providers." Done: "In just four days, we were able to take our global workforce, 27,000 associates across 30 global offices, to virtual workspace."
COLLEGE: B.A., Communication, University of Utah
COVID & CULTURE: "Our associates have always had a sense of purpose, but this … has been a unifier. Associates feel connected more than ever to what they're doing to advance health care."
SILVER LININGS: "You never fully understand how a company will handle a pandemic until after its entered that time. Cerner was able to respond quickly, and we now see how flexible we can be for our associates and our clients. We've been able to keep our health system's technology in sync while also providing a more flexible workplace for our associates, driving increased satisfaction."
PERFECT WEEKEND: "As John C. Maxwell once said, 'family and friendships are two of the greatest facilitators for happiness.' That's how I spend my perfect weekend—with family and friends."
FAVORITE CHILDHOOD TOY: Schwinn Stingray bike, an American classic. As I spent hours riding, I always imagined it was a Harley Davidson roaring down the neighborhood streets."
---
Brenda Sharpe
PRESIDENT/CEO, REACH HEALTHCARE FOUNDATION
Brenda Sharpe's quarter-century career in the non-profit world includes numerous civic appointments, most recently with the newed Kansas Health Leadership Alliance to develop and support sound health policy. She also co-chaired ForwardOP, contributing to a community visioning process for Overland Park. Founded in 2003, REACH focuses on helping uninsured and medically underserved people in six local counties of Missouri and Kansas.
COLLEGE: B.A., Human Development and Family Studies, M.S., Counselor Education, Kansas State University
PANDEMIC CHALLENGE: "The lack of a coordinated federal response commensurate with the magnitude of a national health emergency. … I drew upon longstanding, trusted relationships in an attempt to rapidly coordinate our work to secure desperately needed PPE, create greater access to testing and treatment, and shore up critical health-care safety net infrastructure."
PERFECT WEEKEND: "A trip to the lake on a sunny day, floating on a boat and reading a good book."
FAVORITE CHILDHOOD TOY: "A deck of cards or any board game."
ULTIMATE DESSERT: "Crème brûlée with a shave of dark chocolate on top."
FAVORITE SONG/ARTIST: "I'm Alive by Kenny Chesney and Dave Matthews. I hope they play it at my funeral."
---
Charlie Shields
PRESIDENT/CEO, TRUMAN MEDICAL CENTERS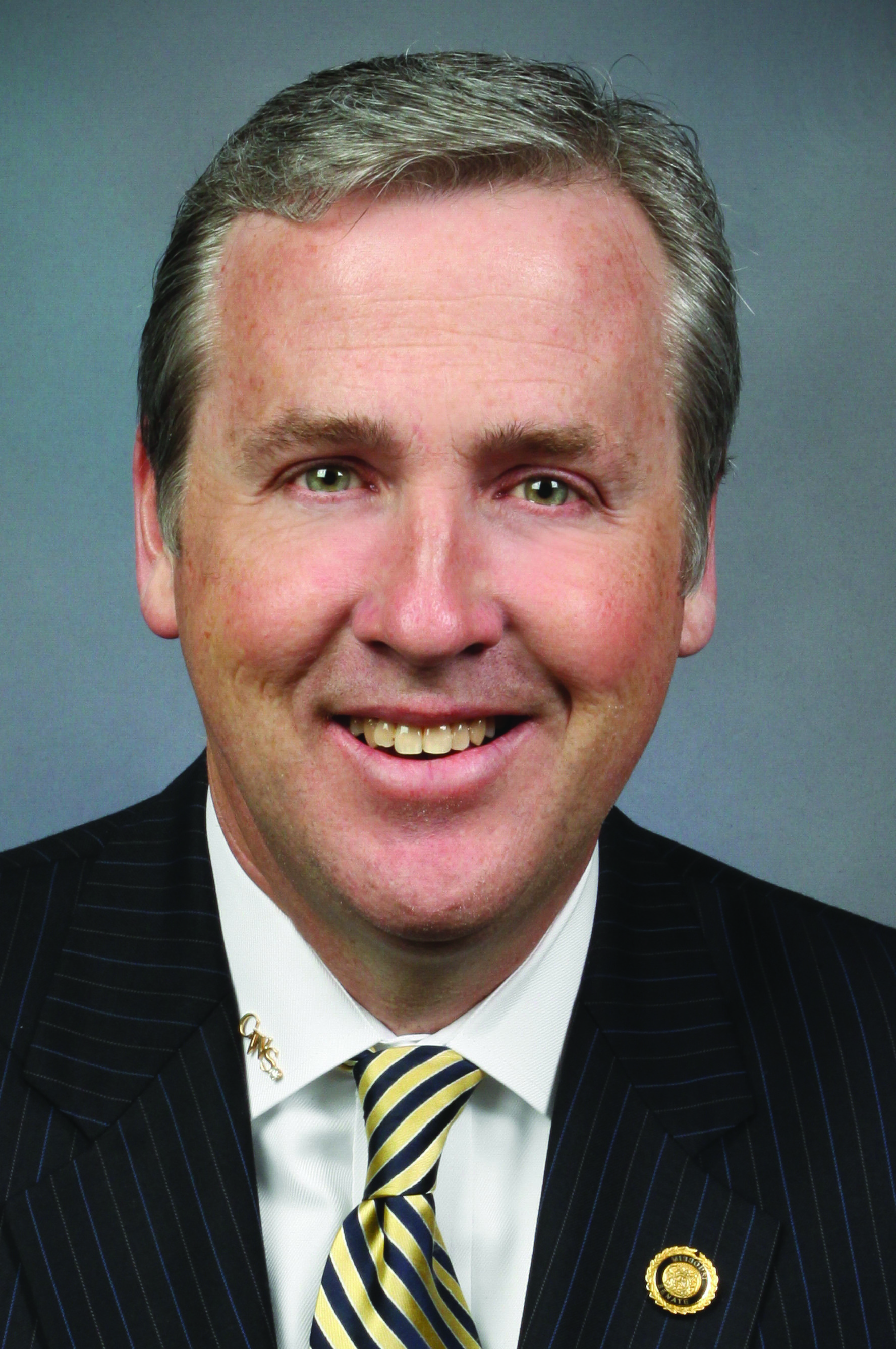 Drawing on several decades spent in both health care and government, Charlie Shields brought a calming voice to the coronavirus fray of 2020. "Rarely are things as dire as they might seem in the moment," says Shields, whose hospitals have a combined 550 beds generating nearly $1 billion in annual revenue. "I made sure employees knew their jobs were secure and leaders knew we would make it through this, and come out stronger on the other end."
COLLEGE: B.A., Marketing; M.B.A., University of Missouri-Columbia
PANDEMIC CHALLENGE: "Almost overnight, our revenue fell by as much as 60 percent in some areas, and we were spending unprecedented amounts of money on gearing up for a predicted surge."
SILVER LINING: "Knowing we can move faster than we ever thought, and the sense of teamwork within the organization. Having fewer outside meetings has meant time for much better communication within the leadership team. I'd also add the pandemic has helped the community understand what makes TMC essential and so valuable to the metro."
PERFECT WEEKEND: "Fly fishing with my wife in a cold stream, cooking trout by campfire, and getting away from it all for a few days."
FAVORITE CHILDHOOD TOY: "A toy tractor. Little did I know, decades later, I'd spend my weekends on a farm with real tractors, having just as much fun."
---
Greg Silvers
PRESIDENT/CEO, EPR PROPERTIES
As tough as the pandemic has been on movie theaters and theme parks, it's been just as challenging for their landlords, who almost immediately were stiffed on rent payments when many businesses shut down in March. That's where EPR Properties felt the sting, but thanks to its pre-COVID position under Greg Silvers, the company had $500 million in cash on hand and access to a $750 million line of credit to weather the storm.
COLLEGE: B.S. Systems Engineering, Tennessee Technological University; J.D., University of Kansas School of Law
WELL-POSITIONED: The pandemic won't last forever, and when it winds down, EPR will be prepared to capitalize, Silvers told investors earlier this year. "Once the country emerges from this pandemic, we believe the demand for affordable out-of-home entertainment will be stronger than ever, as people re-engage, socialize and enjoy the experiences that our properties provide," he said.
BUSINESS BREADTH: EPR Properties is among the comparatively few public companies in the Kansas City area, but it casts a wide shadow. It has $6.7 billion in total investments covering 369 locations, and more than 200 tenants in 44 states and Canada.
FUN CENTRAL: Among its holdings are movie theaters, ski and beach resorts, casinos, museums and fitness centers. It also has interests in private schools and early-childhood education centers.
---
Jeff Simon
MANAGING PARTNER, HUSCH BLACKWELL
Jeff Simon has an office to run, with more than 135 lawyers for a growing firm, but his own area of legal expertise, complex commercial litigation, "has seen massive changes in the wake of the pandemic," he says. The veteran lawyer sees a tsunami of legal work stemming from business interruption. But overall, he says, "the mix of work has shifted post-COVID. Clients are dealing with issues that are new to them, things like force majeure provisions and pandemic-related liability assessments."
COLLEGE: B.A., English, J.D., University of Missouri
COVID IMPACT: The St. Louis native also sees more work for insurance litigators. "There has been a great deal of economic dislocation related to the pandemic, and figuring out who will bear the brunt of that will likely fall to the courts. There will be insurer-insured disputes, landlord-tenant disputes, supplier contract disputes, and so on. Basically, any kind of business arrangement interrupted by COVID will see things play out in litigation."
ON MEDIATION: "There will be an uptick in mediation, along with a more general uptick in litigation. After all, it is in the interest of creditors and counterparties to see their business partners survive and thrive, and when they can facilitate that, most will do so. The harder call is when you're dealing with a business partner in terminal decline, where COVID is the event that pushes their operations into an untenable position. For mediation to work, there has to be a viable business, and that's not always the case."
---
Rich Smith
PRESIDENT/CEO, HENDERSON ENGINEERS
Rich Smith has a lot on his plate, overseeing a Lenexa engineering specialty firm whose revenues leaped an astounding 35.21 percent in 2019. But he knows the drill, having been with the company for most of his 30 years in that line of work, including the leadership role since 2013. That entails oversight of 11 offices nationwide, and large-scale projects on the order of the Kansas City Convention Center renovation, KC Live! in the Power & Light District, and the mixed-use Park Place, in Leawood.
COLLEGE: B.S., Mechanical Engineering; M.S., Architectural Engineering, the University of Kansas
FAMILY ROOTS: The company is celebrating 50 years in business in 2020. It was founded in 1970 by Fran Henderson, whose son Duane succeed him and eventually turned the reins over to Smith.
ABOUT HENDERSON: It has 525 employees in the Kansas City area, and 830 overall, and it provides mechanical, electrical, and plumbing design services, along with fire protection, architectural lighting, technology and sustainable services.
COPING WITH COVID: Earlier this month, Smith was the featured act as his alma mater launched its Career Accelerator Lecture Series. But he didn't get to shake any hands—his views on management and leadership strategies were delivered to students in an on-line format.
---
Chase Simmons
CHAIRMAN/CEO, POLSINELLI PC
Chase Simmons can look back on quite a career at Polsinelli—one he started as a summer associate more than 20 years ago. Today, he leads a team of 900 attorneys in offices nationwide. The firm started out serving clients in business and real estate, Simmons' areas of specific expertise. More recently, the firm has branched out into health care, financial services, real estate, intellectual property, middle-market corporate, labor and employment and business litigation.
COLLEGE: B.A., Political Science, Southern Methodist University; J.D., University of Georgia Law School (cum laude)
PANDEMIC CHALLENGE: "The demand to react not only to our firm's immediate needs, but also supporting our lawyers and how they needed to react to our clients' immediate needs. … It was important to me to let our firm's experts put their skills to use, and not let hierarchy get in the way."
COVID & CULTURE: "The pandemic has given us a unique opportunity to dig deep into operational issues and challenges that we have never dealt with before. It has given us a much better understanding about our clients' businesses and challenges for the future."
PERFECT WEEKEND: "A beach and my wife and daughters."
FAVORITE CHILDHOOD TOY: "A tennis racket."
ANOTHER ERA YOU'D VISIT: "February, pre-pandemic, when things were much more 'normal.' "
---
Brad Skinner
PRESIDENT/CEO, MILBANK MANUFACTURING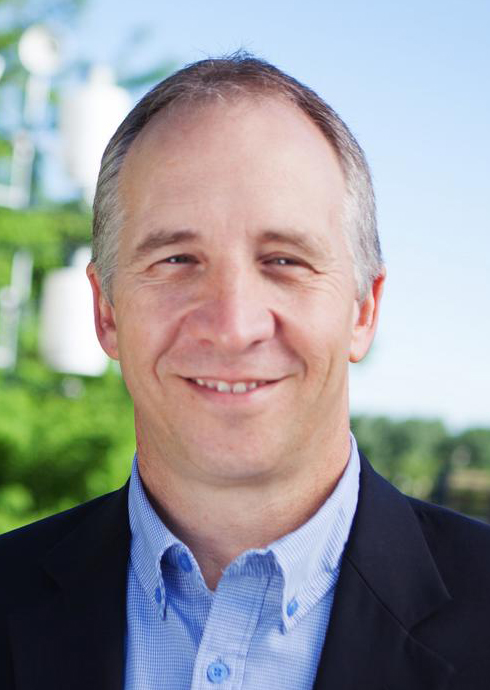 Brad Skinner is two years into the top executive's role at Milbank, a national supplier of electrical components, largely for industrial use, and he brings to those duties a well-rounded background that includes both the sales side and the manufacturing processes. He's been with the Kansas City company for 34 years, and is now primarily responsible for driving growth and innovation there.
COLLEGE: Park University
COVID RESPONSE: After quickly pivoting to ensure employee safety, the company used its manufacturing muscle to help the fight against COVID-19, sewing cloth face masks and producing face shields. To protect workers, it installed Plexiglas shields between work stations and relocated others to improve spacing.
FAMILY FOCUSED: The family-owned business has been precisely that to Skinner over the years, Skinner said upon becoming CEO. "Milbank has been like family to me. I have been fortunate to work in many areas of the business throughout my career and cherish the legacy of this company."
WATTAGE WIZARDS: The company makes instruments to measure electricity and electrical signals in residential and commercial applications. Among them: meter sockets, pedestals, meter mains and breakers, service pedestals, power sockets, and air-conditioner disconnects.
---
Rick Smith
PRESIDENT/CEO, DAIRY FARMERS OF AMERICA
There are big companies in Kansas City, and then there is Dairy Farmers of America. For more than a decade, this dairy marketing cooperative has been the clear No. 1 in terms of revenues generated, most recently, crossing the $15.8 billion mark for 2019. Driving the bus—or the milk truck anyway—
is Rick Smith, a longtime New York state dairyman who took on leadership duties in 2006.
ABOUT DFA: It was created in 1998, after the merger of four larger co-ops, one of which included Smith in its leadership ranks.
IN KANSAS CITY: After years of operating from an office building near KCI, the company relocated to Kansas City, Kan., where it built a new headquarters building near Village West. If you haven't seen it, trust us: It's one of the coolest office spaces in the region (and was thusly recognized by Ingram's in with a May 2018 cover story.
PAYROLL POWER: Now with more than 400 employees in KC, DFA has nearly 7,000 nationwide, all working on behalf of nearly 15,000 members. They represent 8,500 farms in all Lower 48 states.
INDUSTRY CHOPS: Smith is a director on the boards of National Milk Producers Federation, National Council of Farmer Cooperatives and the Innovation Center for U.S. Dairy, and he is chairman of the Global Dairy Platform.
---
Brian Sloan
PRESIDENT/CEO, WACHTER, INC.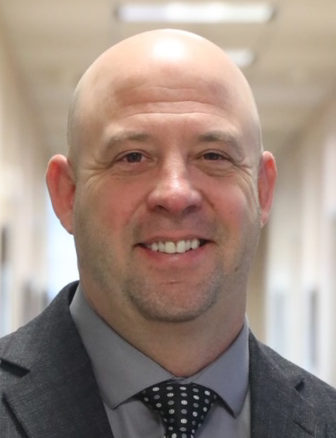 With $281 million in 2019 revenues, Wachter is in the business of combining state-of-the-art technologies and weaving together electrical, data, security, communications and automation tech into integrated solutions that help businesses operate more efficiently. Brian Sloan, a one-time electrical apprentice who came to the CEO's chair in 2018, oversees an operation with 1,400 employees and a presence in 12 states, including the company headquarters in Lenexa.
PANDEMIC CHALLENGE: "To adjust to this new reality at breakneck speed. Wachter went from having only a handful of remote office employees to everyone in the office working from home with literally a few hours' notice."
SILVER LINING: "It has made the family unit tighter and I feel the same way about the company. It has taught us to set aside our petty differences and work harder for the greater good. I believe with the proper leadership a crisis should bring us together."
PERFECT WEEKEND: "Just being surrounded by friends and family as much as possible."
FAVORITE CHILDHOOD TOY: "Bike."
ULTIMATE DESSERT: "Oreo Blizzard."
ANOTHER ERA YOU'D VISIT: "Late 1930s early 1940s, during World War II. I feel that was a time, as an American, you could help make an impact on the world."
---
David Smith
PRESIDENT/CEO, ASSOCIATED WHOLESALE GROCERS
David Smith, leading the region's second-largest private company, says there's a difference between management and leadership. Management, he says, "is defining and controlling the execution of tasks and activities, which are certainly important in running a successful business. … Leadership, then, is influence, motivation, and enabling others to achieve organizational success." AWG supplies goods to more than 3,800 supermarkets across the country.
BATTERY RECHARGE: "Nothing helps me charge my batteries more than being with our member-retailers. Their passion and vision gets me charged up and ready to take on the next hill. I feel very blessed to serve them and they make us better at what we do."
BEST BUSINESS DECISION I EVER MADE: "I was blessed in 2009 to have the opportunity to take on a project that would be the beginning of the first ever new (green field) Division. The odds of success were stacked against us but I saw great potential. They allowed me to select my team and lead the entire project which involved building the business base as well as the new physical plant. In 2013 we were able to achieve the mission objective with flying colors. The end result of this decision has become our largest wholesale Division and the greatest success story of our company's 93 year history. The decision for me was easy, because it seemed to be a real winner. Accomplishing what followed required much more and all of that credit goes directly to my fantastic teammates."
---
John Snyder
NATIONAL CHAIR, REAL ESTATE, DENTONS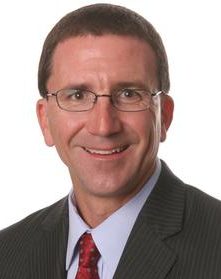 Before taking to his current job, John Snyder spent nine years leading Dentons' Kansas City office. Today, as national chair for real estate at the world's largest law firm, he manages more than 130 lawyers and professionals in 25 cities. In the COVID-19 era he lasers in on client needs: "The long-term effect of the pandemic to the real-estate industry will be permanent, which gives rise to numerous legal issues that Dentons is ready to tackle."
COLLEGE: B.A., Economics and Political Science, Illinois Wesleyan University; J.D., University of Kansas School of Law
COVID & CULTURE: "Dentons has offices in many major cities that rely heavily on public transportation. Some of those offices were completely shut down due to stay-at-home orders and similar governmental restrictions. Accordingly, we have re-evaluated the delivery of legal services, not only during the pandemic, but how it will evolve post-crisis."
SILVER LINING: "Increased virtual communication that never took place prior to the crisis. There is enhanced dialogue among practice groups."
PERFECT WEEKEND: "A long bike ride or a run, complemented by family time and yard work.We moved out to the country (approx. 17 acres) about three years ago and there are endless projects around the house."
---
Pete Smith
CHAIRMAN,MCDOWELL RICE SMITH & BUCHANAN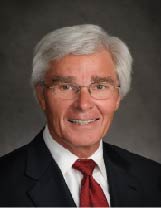 The world reels amid a global health threat and economic shutdown, and Pete Smith doesn't flinch: "Our culture is to play the hand that we are dealt and move forward. That is what we did this past spring," says the chairman at McDowell Rice. Specializing mostly in business litigation, commercial transactions, bankruptcy, financial restructuring and labor and employment law, this business law legend has both legal and business experience to draw on.
COLLEGE: B.S. Accounting, University of Kansas; J.D., University of Missouri-Kansas City School of Law
PANDEMIC CHALLENGE: "Keeping all of our staff paid during the two-month shut down. I have been operating this business for the past 44 years and have needed to revise our budget and activities to accommodate one crisis or another several times, learning to keep my eye on the ball and make decisions with the long term in mind."
COVID IMPACT: "The extent to which contracts, or leases, are unenforceable because of the doctrine of impracticability of performance."
SILVER LINING: "We have become more efficient."
PERFECT WEEKEND: "Mornings on my motorcycle; afternoons with my wife."
FAVORITE CHILDHOOD TOY: "Baseball bat, glove and ball."
---
Rick Smith
CHIEF, KANSAS CITY POLICE DEPARTMENT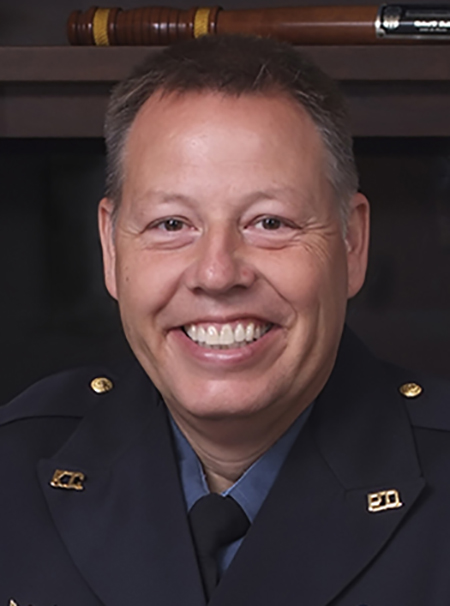 Chief Smith has been on Kansas City's thin blue line since 1988, coming to the chief's position in 2017 with excellent perspective on the entirety of police life and the role public safety plays in the business climate. He recently reported a homicide clearance rate of 70 percent, 8 points above the national average, and attributes KCPD's success in part to the extra resources available through the Justice Department's Operation LeGend.
COLLEGE: Bachelor's, Criminal Justice, Park University; Master's, Criminal Justice, UCM
PANDEMIC CHALLENGE: "The uncertainty in the beginning, followed by a wide spectrum of engagement from the work force. As the pandemic unfolded, there was much confusion hampering the decision-making process. Looking back, there was so much fear that drove early policies."
COVID & CULTURE: "Officers live in a culture of 'officer safety' but that now must include prevention for COVID-19. We have made videos, conducted training, and communicated more on this topic than any other in recent memory."
PERFECT WEEKEND: "Spending time with my family, playing with grandkids and cooking something on the grill."
CHILDHOOD TOY: "Big Wheel with a front tire worn so bad there were holes in the plastic wheel."
FAVORITE SONG: "If I had to choose, I would say The Wreck of the Edmund Fitzgerald."
---
Brad Sprong
NATIONAL TAX PRACTICE LEADER, KPMG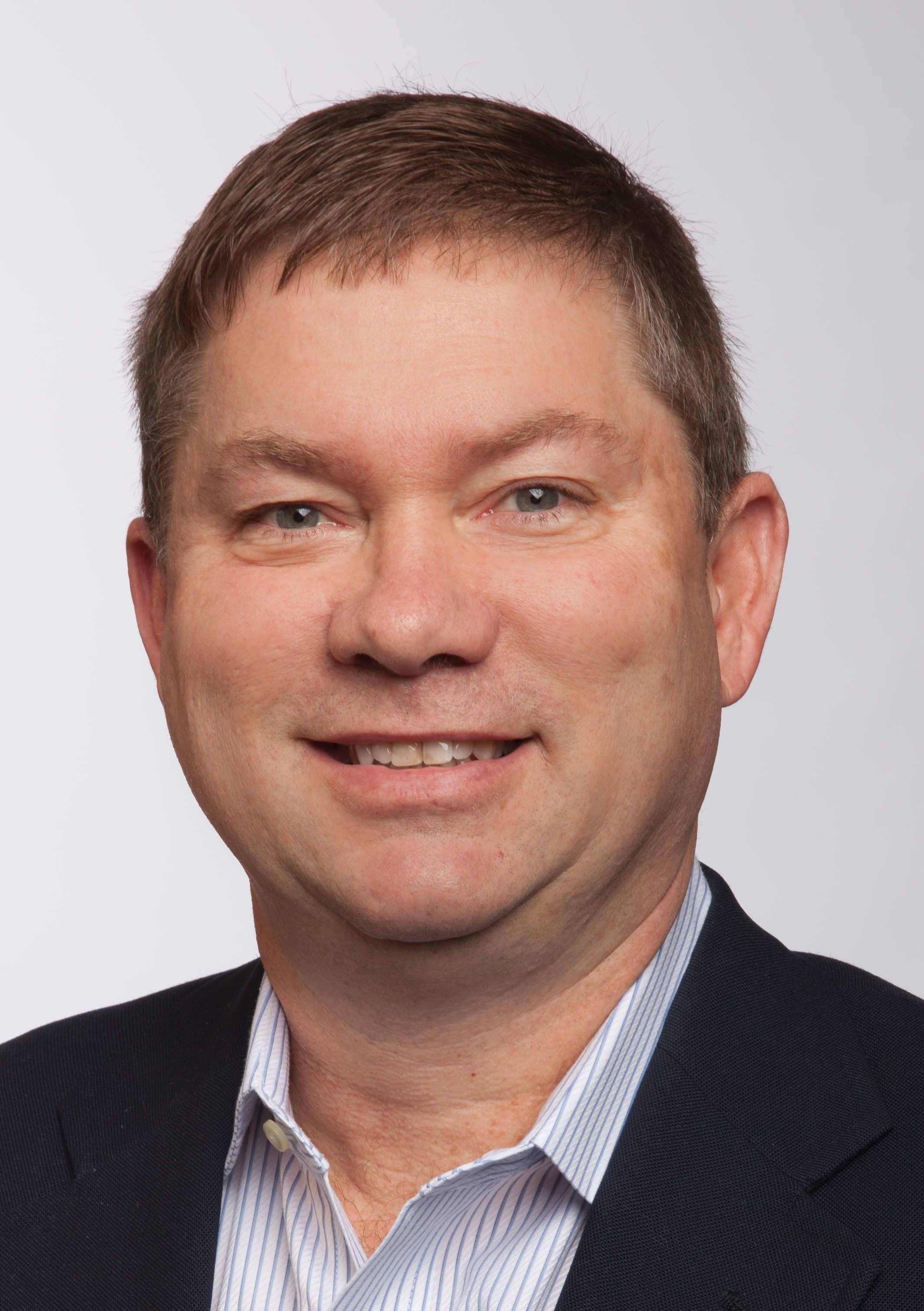 Brad Sprong believes it's important to focus on helping people stay successful, professionally and personally, in a challenging time: "We all have many personal demands on our time when working from home, the two main skills are understanding and prioritization. Knowing unexpected items arise regarding children and other items at home, a leader has to be understanding and help everyone prioritize what is most important for the team to be effective."
COLLEGE: B.S., Accounting, William Jewell College
COVID IMPACT: "Building new client relationships is a challenge, as is finding opportunities to immerse new employees in our company culture when so much work is being done remotely."
CRYSTAL BALL: "A mixed bag. It will be very challenging for hospitality, commercial real estate and consumer transportation industries, such as cruises and airlines. But it will provide a strong climate in health care, farm-to-table, on-line retail and home delivery services."
SILVER LININGS: "Not really. Our younger professionals and children—especially those with less means—are not having the experiences necessary to enrich their lives."
PERFECT WEEKEND: "No lockdowns. No riots. No opinion news shows."
FAVORITE CHILDHOOD: "Red Ryder BB gun. What else?"
ULTIMATE DESSERT: "Bananas Foster"
---
Tom Spencer
SENIOR VP-BUSINESS DEVELOPMENT, SE2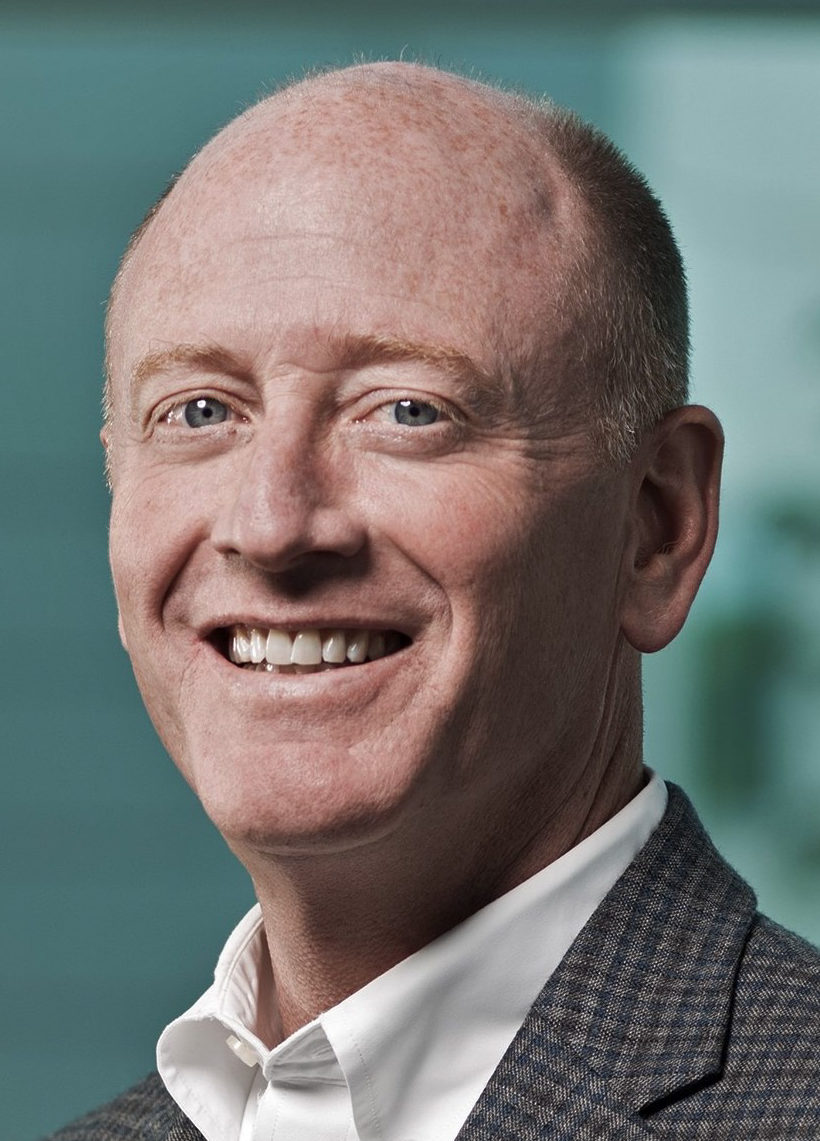 Tom Spencer was a go-to member of the team that Security Benefit Corp. turned to when it assembled the SE2 concept, providing tech and third-party administration services to the insurance industry. From a startup with a handful of employees, it has grown to employ more than 2,000 associates and further burnish the organization's financial-services credentials. The job keeps him busy: On average every 12 months, SE2 says it helps launch 10-15 new products and 180,000 new apps, generating more than $15 billion in new premiums.
COLLEGE: B.A., University of Missouri-Columbia
EXPERIENCE: Spencer has a track record of more than 25 years in the financial services and insurance
industry, working with some of the nation's largest insurance companies to upgrade their tech tools.
BEFORE SE2: Spencer has worked with or served as consultant to some big names in the sector, including DST, GE Insurance Solutions, UnitedHealthcare and TIAA.
HOBBIES: Travel, hiking, fly-fishing and golf
REGIONAL IMPACT: The company's growth, and that of its parent, is a significant piece of the long-term strategy set by economic-development officials in Topeka and Shawnee County to boost the fintech presence there.
LONG REACH: Nearly two dozen client companies of SE2 administer more than 2 million insurance policies, and have more than $100 million in assets.
---
Robert Steer
CEO, SEABOARD CORP.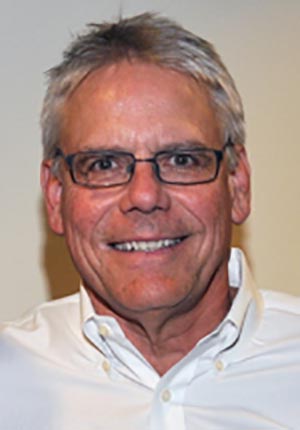 The region's largest public company has endured both crisis and tragedy this year: First, the same pain everyone else felt with the pandemic, then on a unique level, the loss of 67-year-old Steve Bresky, who died unexpectedly in July. He was the third-generation leader of the global agribusiness, energy and shipping giant, and with his sudden loss, the company turned to long-time exec Robert Steer as its next chief executive, while retaining his duties as CFO until that position can be filled.
IN-HOUSE VETERAN: Since 2011, Steer has been Seaboard's executive vice president and chief financial officer, and has been with the company for 35 years.
KC'S BIGGEST: With Sprint Corp. fading into history this year, Seaboard became the region's largest public company. It had 2019 revenues of $6.8 billion, and has interests in pork and poultry production, processing, cargo shipping, commodity merchandising and flour and feed milling.
COMPANY FIRST: Steer's appointment marks the first time since the company's founding in 1918 that a member of the Bresky family won't be in the top leadership post.
HUMBLE BEGINNINGS: Otto Bresky founded the company with purchase of a flour mill in Atchison 102 years ago. His son, Harry, took the reins in 1967 and Steve Bresky followed in 2006.
---
Erin Stucky
PRESIDENT/CEO, BLUE CROSS AND BLUE SHIELD OF KANSAS CITY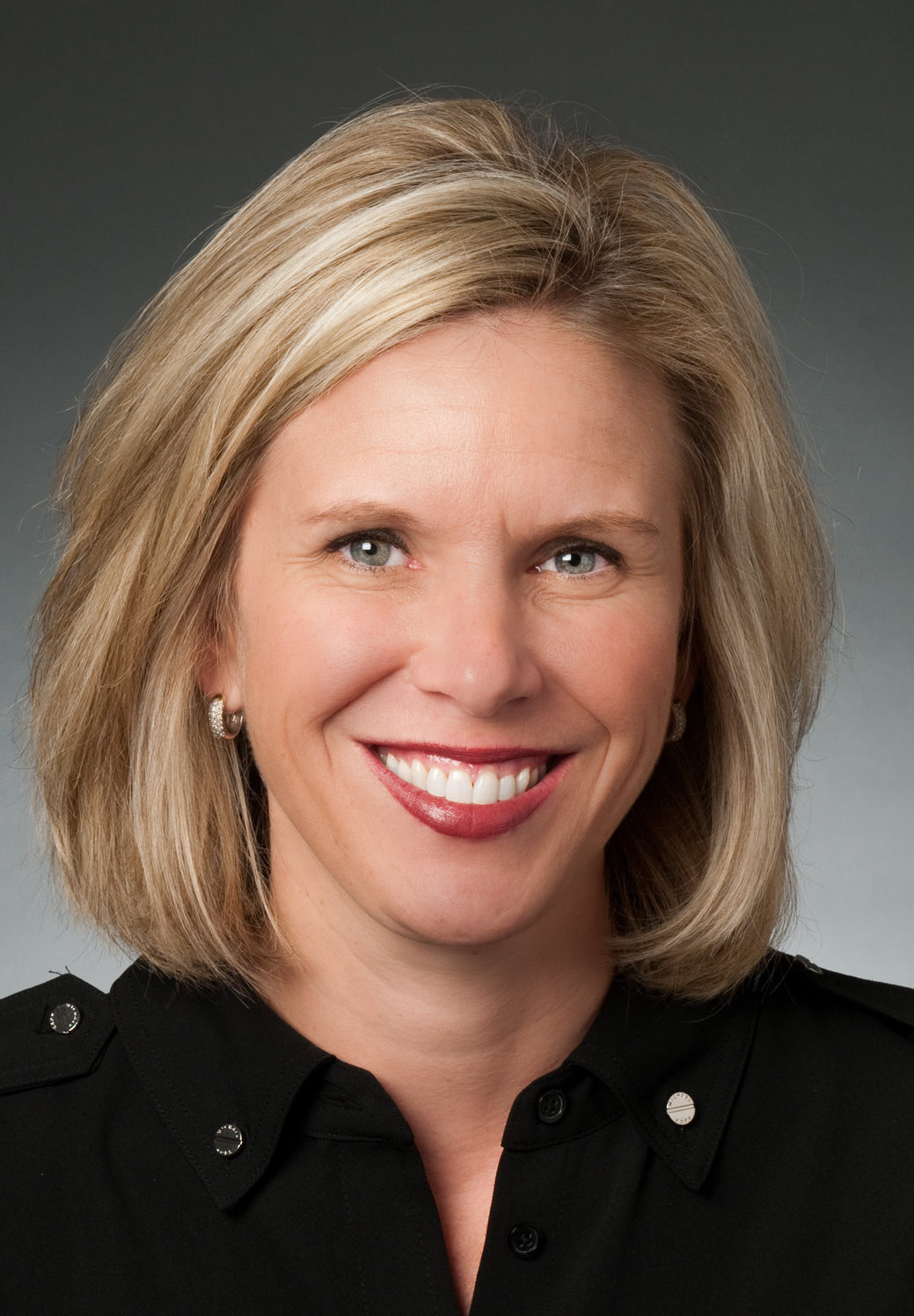 Since June of 2019, Erin Stucky has led the area's largest health-benefits provider, so she was settled in—barely—before COVID-19 hit. Now, a big part of her job is helping other companies deal with it, too: "Business leaders are faced with difficult decisions about the future," she says. "Most of our partners remain committed to offering health-care benefits for their employees.
In these times, we are seeing increased interest in telehealth services and in behavioral health support."
COLLEGE: B.S., Education, University of Missouri-Columbia
PANDEMIC CHALLENGE: "An unprecedented impact on our members and the local community, and we drew on our agility to activate several initiatives. We quickly offered education about coronavirus so our members could keep their families safe. We committed nearly $18 million in financial relief to employers, members, and health-care providers who experienced unexpected hardships due to COVID-19. We are providing accessible testing and we covered certain COVID-19 tests with no cost share for Blue KC members. Safeguarding our workforce was another leadership priority."
PERFECT WEEKEND: "Weekends for me are about recharging, so I can be the best version of myself for my family and for Blue KC. I enjoy spending time with my family and friends, and our weekends typically involve our kids' sporting events."
---
Kent Sunderland
Chairman, Sunderland Foundation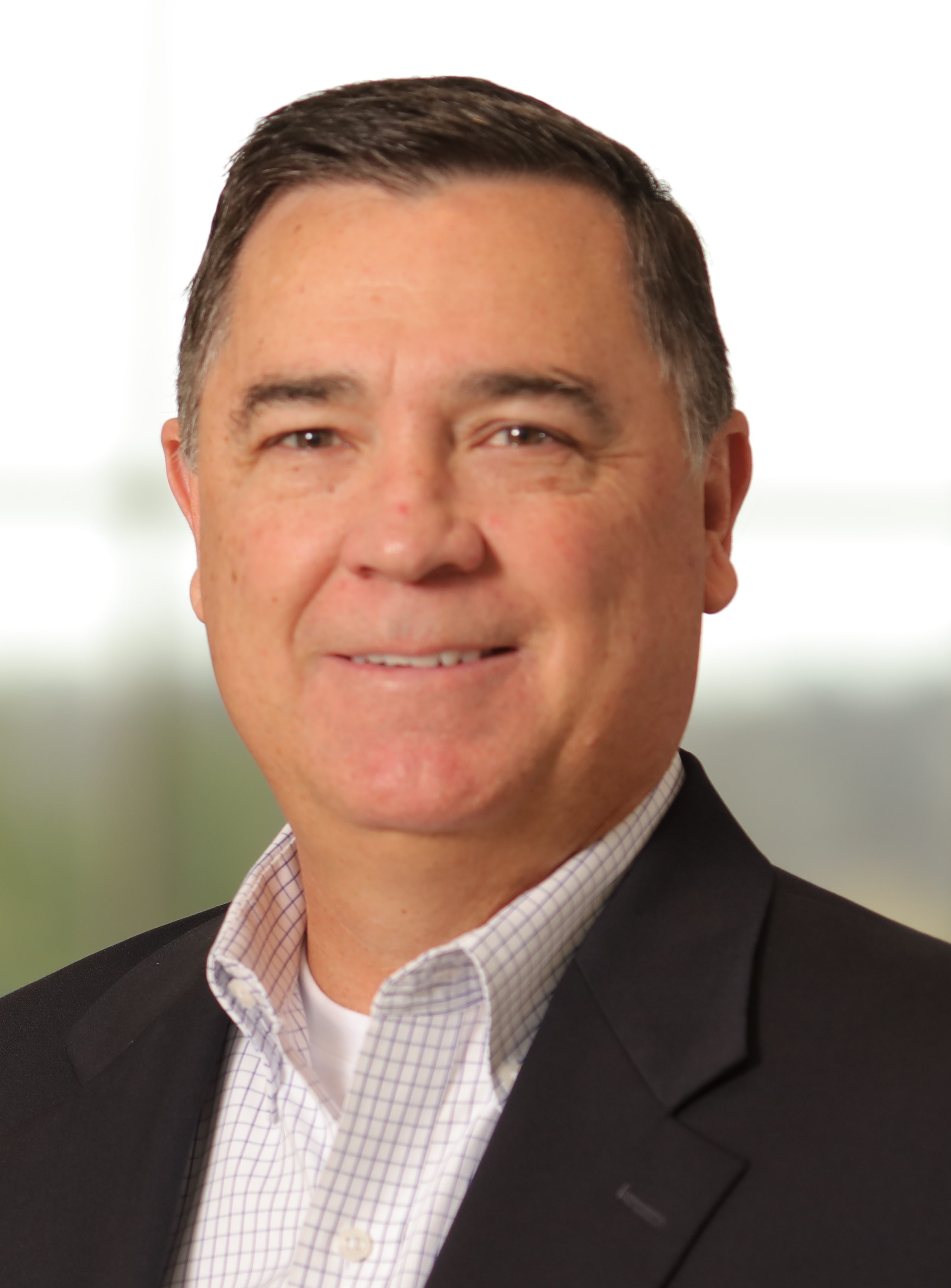 It was a quick pivot to another line of work, but not an unfamiliar one: Kent Sunderland, who spent 35 years in the cement-production business with the family's Ash Grove Cement Co., stepped away with the sale of the business in 2017. But he'd long been involved in the family's foundation, and set about that task full-time. "New assets were coming back to the foundation, so that would be our full-time career: becoming philanthropists."
COLLEGE: B.S., Business Administration, Trinity University
ABOUT THE FOUNDATION: With the $3.5 billion sale of Ash Grove to an Irish business affiliate, the family poured huge sums into a foundation that was already nearly 75 years old. As of last year, it had more than $1.5 billion at its disposal for grant-making.
INSTANT IMPACT: Kent and his brother, former CEO Charlie Sunderland, were recognized in 2018 as Ingram's Philanthropists of the Year after a series of game-changing donations in this region. Two of them: $75 million for the Children's Mercy Research Institute, and $66 million to help the University of Kansas complete its Cambridge Tower construction/expansion project.
LASER FOCUS: The foundation has a finely-tuned strategy for its philanthropy, supporting construction projects like those that involved Ash Grove's interests, as well as educational facilities (especially for higher education), human services and youth-focused groups, and arts and cultural organizations.
---
Anne St. Peter
CO-FOUNDER, GLOBAL PRAIRIE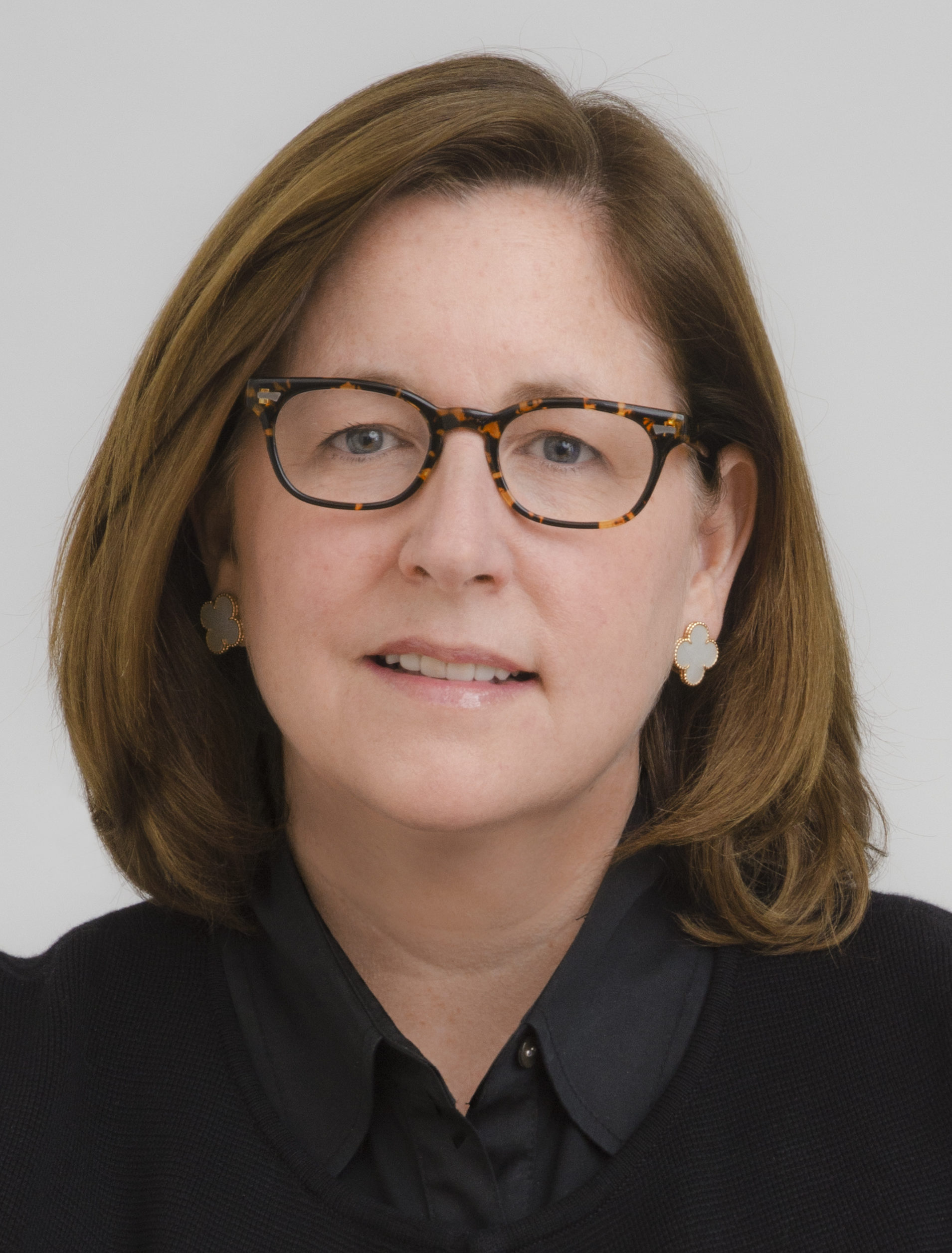 From mask-wearing to social distancing, the idea of doing right by others is a big part of life these days. And that's what Anne St. Peter's entire marketing/communications firm is all about. Global Prairie helps clients market efforts to do good through their products and services as a Certified Benefit Corporation. That means meeting rigorous standards of social and environmental performance, accountability and transparency.
COLLEGE: B.A., Political Science, Wellesley College
PANDEMIC CHALLENGE: "When COVID-19 hit, we drew upon the skills we learned in 2008-2009. We never lost faith that we would prevail and that the end of this chapter would be a defining moment for our team, much like the recession we faced when we launched."
COVID & CULTURE: "The events of 2020 have confirmed our belief that business should be a force for good in the world. … (There's) a heightened awareness that we as business leaders must focus our efforts on important issues such as human health, environmental preservation, and social equity."
PERFECT WEEKEND: "Outside, ideally near the water, with family and friends."
FAVORITE CHILDHOOD TOY: "Wooden building blocks."
ULTIMATE DESSERT: "Birthday cake, as much for the celebration that comes with it as for the dessert!"
---
Brent Stewart
President/CEO, United Way of Greater Kansas City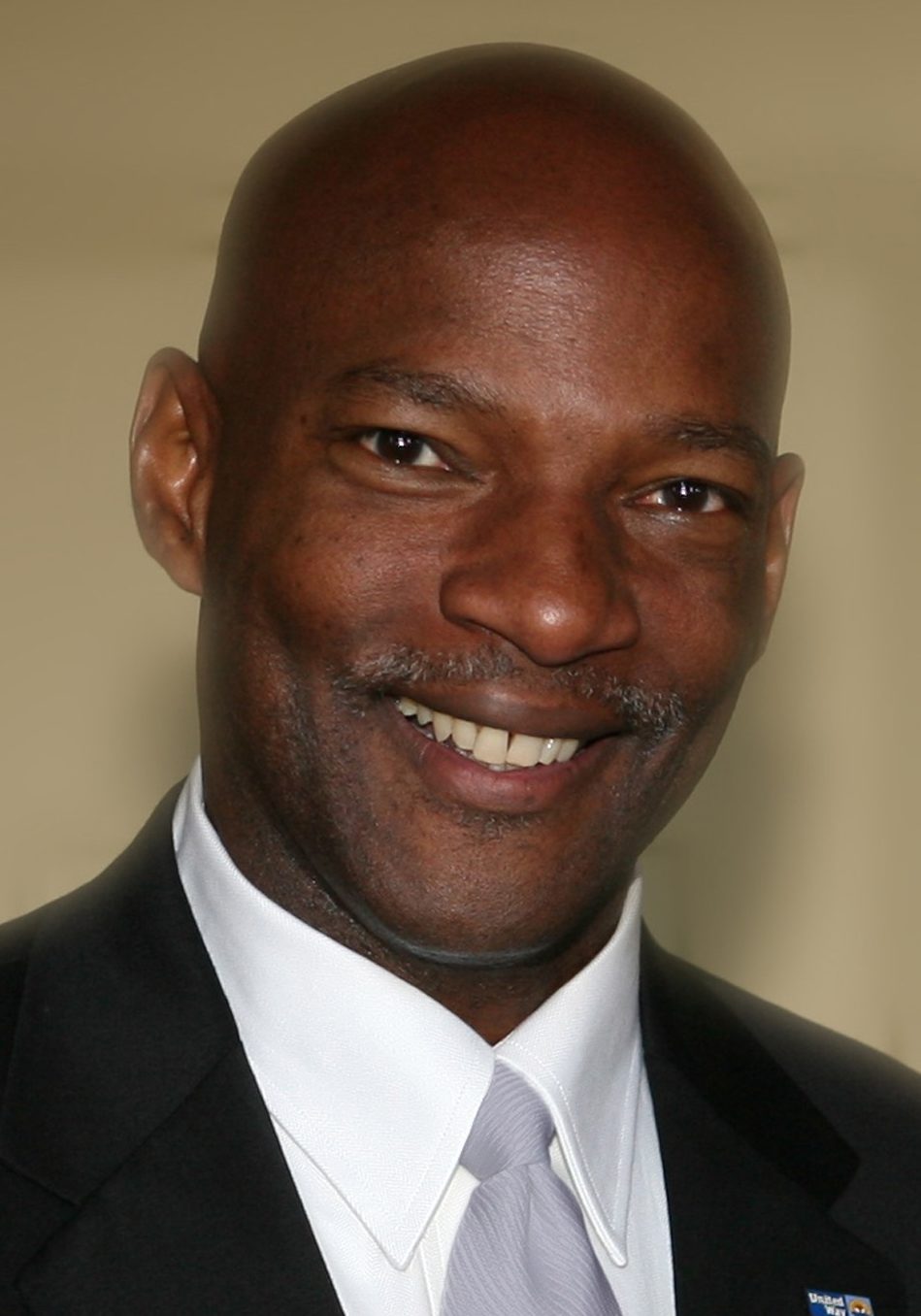 Three decades in the non-profit sector will wrap up when Brent Stewart retires at the United Way on Dec. 31. He goes out the way he came in: meeting needs. COVID-19 created new urgency to provide food, shelter, and clothing as the economy crashed. "Those needs grew exponentially overnight," he says, and were met in part by aligning with the Greater Kansas City Community Foundation, MARC, and LISC to create an $18 million recovery fund.
COLLEGE: B.A., Political Science, Howard University; M.A., Regional Planning, Penn State University
COVID & CULTURE: "Not only have we successfully adapted to virtual meetings, but we have also been successful in conducting several events, training, and planning sessions virtually."
COVID IMPACT: "As our business model relies heavily on generous giving at the workplace, there has been a precipitous decline in giving due to the loss of jobs in the region caused by COVID 19."
SILVER LININGS: "The way we are responding as a community to the COVID-19 pandemic should serve as a reminder of what can be accomplished when we come together. The pandemic has re-affirmed our role in the community and our responsibility to serve. Our collective work is life-changing, in some cases, lifesaving for individuals and families in our Kansas City community."
PERFECT WEEKEND: "Attending a live music at an outside venue with an ice-cold beer."
FAVORITE SONG: "Sam Cooke's A Change is Gonna Come is at the top of my list" in this social climate.
---
Patrick Stueve
Partner, Stueve, Siegel and Hanson
In state and local courts nationwide, the founding partner of this boutique litigation-services law firm has secured more than $2 billion in jury verdicts, arbitration awards and settlements, primarily in bet-the-company, antitrust and food and agribusiness cases. Fearless against corporate conglomerates and their counsel on the other side of the courtroom, Patrick Stueve has pursued claims against behemoths national and global business giants.
COLLEGE: B.A., Economics, Benedictine College; J.D., University of Kansas
LOCAL BOY MAKES GOOD: Stueve is a Prairie Village native, one of nine children who says his football-playing days at Bishop Miege High School and Benedictine College helped show him the value of organizing teams around individual strengths.
SHUCKED: Stueve was co-lead counsel in what's believed to be the largest agricultural settlement in U.S. history—$1.5 billion—that resolved thousands of cases nationwide against Syngenta over its genetically modified corn seed.
RECOGNITION: National Law Journal designated Stueve an Elite Boutique Trailblazer for advancing the use of contingency-fee business litigation. His commercial-trial acumen has earned him a spot in the prestigious International Academy of Trial Lawyers Association, Best Lawyers in America "Lawyer of the Year" honors for antitrust and bet-the-company litigation, and Top 100 Super Lawyers for Missouri/Kansas.
---
Greg Swetnam
Director, Office Brokerage, Kissinger/Hunter & Co.
With Kansas City roots stretching back to 1879, Kessinger/Hunter has developed properties in 26 states and even countries in Europe, managing $2 billion in real estate, including 20,331,038 square feet in the U.S. and abroad. As director of Office Brokerage, Greg Swetnam oversees all facets of that niche. He's an award-winning member of his profession who has been in the leasing and sales specialty since 1983, but his world is changing rapidly in an era of social distancing.
COLLEGE: B.S., Agriculture, University of Missouri
PANDEMIC CHALLENGE: "The complete shutdown of business countrywide/worldwide created so much uncertainty and doubt, especially in trying to stay upbeat for a company and office department with new hires. The main thing I drew from was the continual need to communicate, good and bad."
COVID IMPACT: "I am 100 percent sure that opportunities will arise from all the unknown. People and all our clients will most definitely adjust, some will prosper and some will not, but regardless, business will continue and so will the need for office space."
PERFECT WEEKEND: "A long, aggressive bike ride, a round of golf with my best friends, occasionally sleeping in at least one morning, and spending time with my wife and family—I am truly blessed when it happens!"
FAVORITE CHILDHOOD TOY: "A bicycle. It is my best adult toy, as well!"
---
Daryl Sykes
Plant Manager, Ford Motor Co.-Claycomo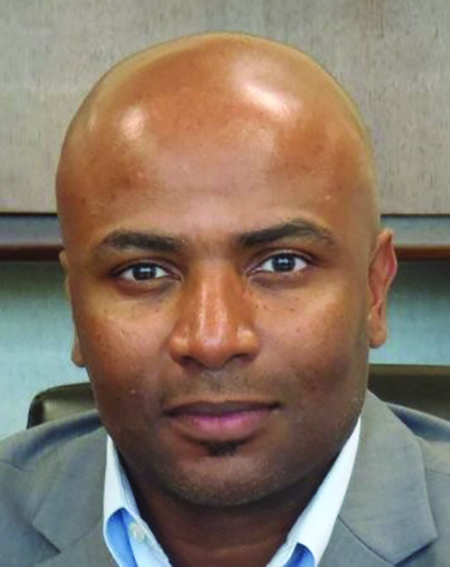 The COVID-19 nightmare impacted a lot of companies in a lot of different ways, but few in management roles carried the burden that Daryl Sykes shouldered when the pandemic broke out. The Ford Motor Co. Claycomo assembly plant experienced some on-again, off-again production as employees returned to work and minor outbreaks of the illness interrupted operations on output of the most popular vehicle in the U.S., the Ford-150 pickup truck.
COLLEGE: B.S., Accounting/Finance, Ohio State University RAMPING UP: With time lost to COVID-19 in the spring, the company has sliced the Claycomo plant's annual two-week summer shutdown for maintenance by half, looking to meet continuing demand from consumers.
PAYROLL POWER: When work stops at the Claycomo plant, the regional economy feels it: Ford has about 6,900 employees on the hourly payroll (and 7,200 overall), producing the popular F-150 as well as the Transit cargo van.
MORE UPGRADES: In its most recent negotiations with the United Auto Workers, Ford proposed investing $400 million plant upgrades at Claycomo, a move that local labor leaders said would prove significant for the regional economy. Within the past decade, the plant went through a $1 billion overhaul that doubled employment.
---
Darren Taylor
President/CEO, GEHA
Patrick Mahomes may be the public face of GEHA marketing efforts, but Darren Taylor calls the plays. This year has been an especially challenging game that required quick changes to the playbook for this federal-employee insurer. "GEHA announced expanded medical benefits to our members that cover COVID-19 testing, treatment, and—when available—a vaccine," he says. "We also expanded our coverage for telemedicine, which we saw increased usage of during the time period when provider offices were closed."
COLLEGE: B.S., Accounting, Truman State University; M.B.A., Baker University
PANDEMIC CHALLENGE: "Balancing the need to maintain business continuity and high service levels for members with GEHA's desire to prioritize employee and community safety. …I've relied on my ability to remain calm and resist the temptation to overreact, while offering clear, decisive direction."
COVID & CULTURE: "We went from a predominantly in-office staff with some remote workers to an entirely virtual work force. For the health and safety of our employees and communities, GEHA will remain in our remote work environment at least through 2020.".
SILVER LINING: "Much of what has happened in 2020 has allowed us to accelerate the pace of some very positive changes. Things we wanted to get to before, like facility planning, work force of the future, proactive care management and virtual enrollment events."
PERFECT WEEKEND: "Quiet time at home with several long walks or an activity like camping or fishing. Anything that gets us outside and puts social distancing as a priority."
FAVORITE CHILDHOOD TOY: "A football, baseball, basketball—anything related to a sporting activity."
ULTIMATE DESSERT: "My mom's homemade cinnamon rolls and a glass of very cold milk."
FAVORITE SONGS: "Current favorites with positive themes are Everything's Gonna Be Alright, Most People Are Good and Thunder."
---
Jonathan Thomas
President/CEO, American Century Investments
Great leaders, it's been said, possess great vision. Mark that category off for Jonathan Thomas, president and CEO of American Century Investments since 2006. Last year, we asked him what the Kansas City area needed most. His response? "A Super Bowl win!" Jonathan Thomas has been president and CEO of American Century Investments since 2006, after only one year as the wealth-management company's chief financial officer.
COLLEGE: B.A., University of Massachusetts; M.B.A., Boston College
COVID & INVESTING: "So far, the pandemic has showed the importance of adhering to a long-term, disciplined investment plan. For those who abandoned their investments in March and April, they have missed out on a historic market recovery."
SILVER LININGS: "While the pandemic does not discriminate and all of us have been touched in some negative fashion by the virus, it has also brought opportunities for many to spend more time with family, friends and loved ones and re-center on the important elements of life."
INVESTING POWER: American Century currently has about $177 billion in assets under management, the lion's share of it coming from investment companies.
---
Paul Thomas
President/CEO, North American Savings Bank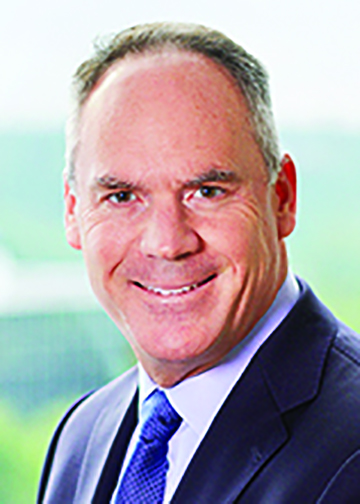 To the arsenal of executive tools Paul Thomas wields at NASB, maybe a slingshot would be appropriate. After all, as a publicly-traded bank in this region, Thomas and his team wade into battle every day with some very big Goliaths. Among area-headquartered banks, for example, Commerce and UMB have roughly 11 and 10 times this Grandview bank's $2.6 billion in assets. Almost every other bank based in this region is privately owned.
COLLEGE: B.A., Business Administration (Finance, Banking and Real Estate), MBA, Trulaske
College of Business, University of Missouri-Columbia
NO LITTLE ENTERPRISE: NASB also boasts deposits of $1.85 billion, and its assets ae enough to secure 12th place on Ingram's list of regionally-based banks.
FINANCIAL STRENGTH: The bank's return on assets of 3.88 percent year-to-date is twice the comparable period in 2019—and more than three times the 1.16 percent average for banks with more than $1 billion in assets, according to the FDIC.
VERSATILITY: In addition to traditional banking and mortgage products NASB offers conventional, FHA, and VA loans as well as non-recourse and bank-statement loans for self-employed borrowers.
THE ROAD TO GRANDVIEW: Thomas served six years as CEO and chairman of CBES Bancorp in Excelsior Springs before joining NASB in 2003.
---
Polly Thomas
President, Employee Services Organization, CBIZ 
CBIZ is a leading U.S. provider of accounting, insurance and other professional consulting services, and Polly Thomas plays an important role in the Kansas City operation. Imagine how busy she is with client companies who are facing employee benefits challenges in the COVID era. Among the areas she specializes in for clients: strategic benefit planning, population health management, wellness programming, self-funding, onsite health centers, change management and health-care reform.
COLLEGE: B.S., Physical Therapy, University of Missouri-Columbia
PANDEMIC CHALLENGE: "Adjusting on the fly as additional facts became available. Communicating regularly to our associates and involving our team in the planning made the necessary transitions smoother."
COVID & CULTURE: "We have learned that there is a lot more we can do remotely and that we are even more collaborative than pre-COVID."
ON INDUSTRY TRENDS: "Most companies are eager to preserve benefits for their employees even amid necessary furloughs. Some organizations have implemented more innovative or disruptive strategies in order to preserve benefits or avoid reductions in headcount."
SILVER LINING: "We are more appreciative of time together and simple things and human connections."
---
Qiana Thomason
President/CEO, Health Forward Foundation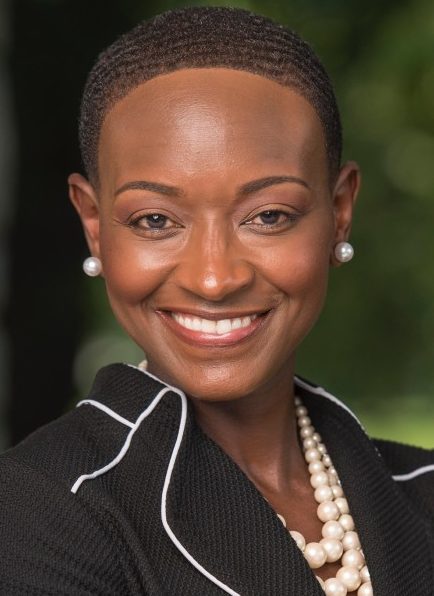 When she took the leadership reins at one of the region's biggest health-focused non-profits early this year, it wasn't just a professional interest driving Qiana Thomason. There was a personal side to it, as well. She'd seen the ugly side of health care herself as a former member of the vast class of the uninsured. "I am embracing this leadership opportunity as a true 'homecoming,'" said Thomason, a long-time executive with Blue Cross Blue Shield of Kansas City.
COLLEGE: B.A., Social Work, Florida A&M University; M.A., Social Work, University of Kansas
MISSION STATEMENT: "To improve the health and well-being of people living in marginalized conditions."
ABOUT THE FOUNDATION: At its inception, the organization was known as the Health Care Foundation of Greater KC. It was created when the for-profit HCA system entered the market in 2003, with roughly $400 million in funding to address concerns about loss of access to health care among the city's neediest.
PRIORITIES: When she accepted the position, Thomason said her first six months would focus on "listening, learning, and getting to know my new team, board, and the Community Advisory Committee. I look forward to meeting with stakeholders from our partner communities spanning from Iola, Kan. to Lafayette, Mo.."
MEDICAID SUCCESS: Thomason's behind-the-scenes work is credited with setting the stage for this summer's vote to expand Medicaid in Missouri. HONORS: Thomason was a member of Ingram's 40 Under Forty Class of 2013.
---
Bob Thompson
Partner, Bryan Cave Leighton Paisner
You might say Bob Thompson works at the intersection of law and lunch—along with breakfast, dinner and snacking. The farmer-
turned-lawyer has spent three decades litigating major business lawsuits, but his interests have never strayed far from those aligned with the family spread back in Vernon County, or agriculture more broadly. In addition to his work for BCLP, Thompson is active on multiple fronts with ag groups.
WHY LAW? We asked him that once, and Thompson replied succinctly: "I was going broke raising corn." To the point: "I enjoy business and I the strategy of complicated transactions and lawsuits.".
LEGAL EXECUTIVE: In addition to his legal caseload and partner status, Thompson served a stint as managing partner of the Bryan Cave firm for six years and was on the firm's executive committee.
MILESTONE MOMENT: Thompson was elbow-deep in resolving the bankruptcy of Farmland Industries nearly 20 years ago, but the case made a lasting impression for him. "The Farmland bankruptcy was up there," Thompson said. "We assisted the client in the sale of over $2 billion in assets and every creditor was paid in full. It was pretty much 24/7 for two years."
KEYS TO SUCCESS: "The secret is not to take yourself too seriously. Our clients are smart and sophisticated business people. We're there to serve and share some of the judgment and observations from experiencing similar situations . It's about solving their problem, not showcasing your talents."
---
Paul Thompson
President/CEO, Country Club Bank
His father, Byron, built Country Club Bank and Paul Thompson now leads the $1.9 billion financial enterprise. The COVID era has created opportunities, he said, but challenges, too: "Because we often could not meet in person with our clients, we ramped up our adoption of technology such as the full implementation of digital signatures and meeting virtually through Zoom meetings—just two of many such changes," he says.
COLLEGE: B.S., Finance, Creighton University; M.B.A., Rockhurst University
COVID IMPACT: "The PPP program was large in scale and demanded quick implementation. … Adjusted for the size of our bank, I believe that we made more PPP loans than any other bank in our market—increasing our loan portfolio by 20 percent."
SILVER LINING: "Although we were less present to one another physically, we were communicating
with our associates more often, more widely and more extensively. … It also provided some newer members of our team the opportunity to display their own aptitude and leadership abilities as well."
PERFECT WEEKEND: "Spending time with my children, grandchildren and extended family in a cooler, less humid place like Colorado or Michigan and definitely some golf in the mix."
FAVORITE CHILDHOOD TOY: "I'd say the 10-speed bike I received for my 11th birthday. It gave me a whole new sense of independence."
---
Mike Valentine
President/Ceo, Netsmart
Mike Valentine's leadership was formed by entrepreneurship—he founded, then later sold, an IT company early in his career—as well as corporate-world experience, having served as COO for a little health-care software enterprise you might have heard of—Cerner. In 2011, he was summoned to New York to take on a flat-lined behavioral-health specialist, and within a year had moved it to Overland Park. That set the stage for monster growth. Last year alone, sales were up more than 30 percent, to $462 million.
COLLEGE: B.S., Industrial Engineering, Kansas State University
HIRING BOOM: Netsmart now has a work force of more than 2,000, roughly five times its staffing after the move to the Kansas City area. Much of that has been organic, but Valentine has been the architect of key acquisitions that have also driven growth.
EXPERIENCE JUGGLING CHAINSAWS: Valentine is no stranger to rapid growth; in his 13 years with Cerner, the company surged to $1.7 billion in revenues, with 10,000 employees worldwide.
BOARD ENGAGEMENT: On the corporate side, he's on the boards of directors for Streamline Health Solutions and Blue Cross and Blue Shield of Kansas City. His philanthropic and civic commitment has led to board seats with the American Heart Association, American Royal, Kansas State and the Wildscape Foundation.
---
Dirk von Holt
President, TVH Americas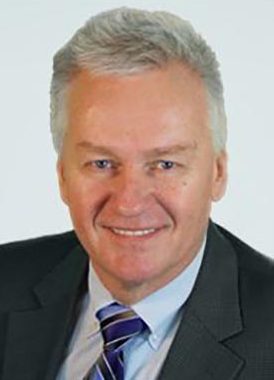 When Els Thermote at TVH got the call to return home to the company headquarters in her native Belgium, the Kansas City region lost a dynamic leader who had overseen enormous growth at a family-owned global business for nearly
20 years. Not to worry: Into the rotation stepped Dirk von Holt, a longtime veteran of the materials-handling special-
ist firm.
STRATEGIC HANDOFF: von Holt has been with TVH since 2005, largely in sales and marketing roles, then was named president in early 2019 as the company set the stage for the eventual transition. Last fall, he assumed command of the Americas operating unit.
ACHIEVEMENTS: Last year, he told Forkliftaction News—yes, there is such a thing—that he was especially proud of his work to expand the distribution center network to provide one-day ground shipping to 92 percent of the industrial truck population in North America.
CONTINENTAL FOOTPRINT: TVH operates 16 distribution centers in the U.S., Canada, Mexico and Brazil, employing nearly 1,100 people. Slightly more than half of them work in Olathe at the sprawling North American headquarters, which underwent a massive, 250,000-square-foot expansion that began in 2018 and includes a day-care center, on-site restaurant and coffee bar.
---
Brenda Tinnen
Senior Vice President/General Manager, T-Mobile Center
Among the most heart-wrenching examples of COVID-19's impact on business—and there are many—is what Brenda Tinnen has endured managing the region's premier venue for large-capacity events. With mass gatherings off the table, the doors closed at the Sprint Center in the middle of the Big XII basketball tournament, and remain that way. In the meantime, it's taken on a new brand, with completion of T-Mobile's merger with Sprint.
ONE OF A KIND: Tinnen is the only manager of the 19,000 seat indoor arena since it opened in 2007.
POWER RESUME: She's a native of the Kansas City region who headed out in 1988, working in high-profile venues nationwide, with stops in Houston, Los Angeles and Phoenix. Since signing on with Los Angeles-based AEG, she's been hosting some of Kansas City's most memorable sports and entertainment events.
EARLY START: Tinnen's first exposure to the industry came by helping her mother in the ticketing office of the Kansas City Athletics.
WAITING IN THE WINGS: Some big-time acts, including Elton John, Cher and Roger Waters, have been put on hold during the pandemic, and fans are waiting to see if the center will be able to keep them in the fold after the long-awaited reopening.
---
David Toland
Secretary of Commerce, State of Kansas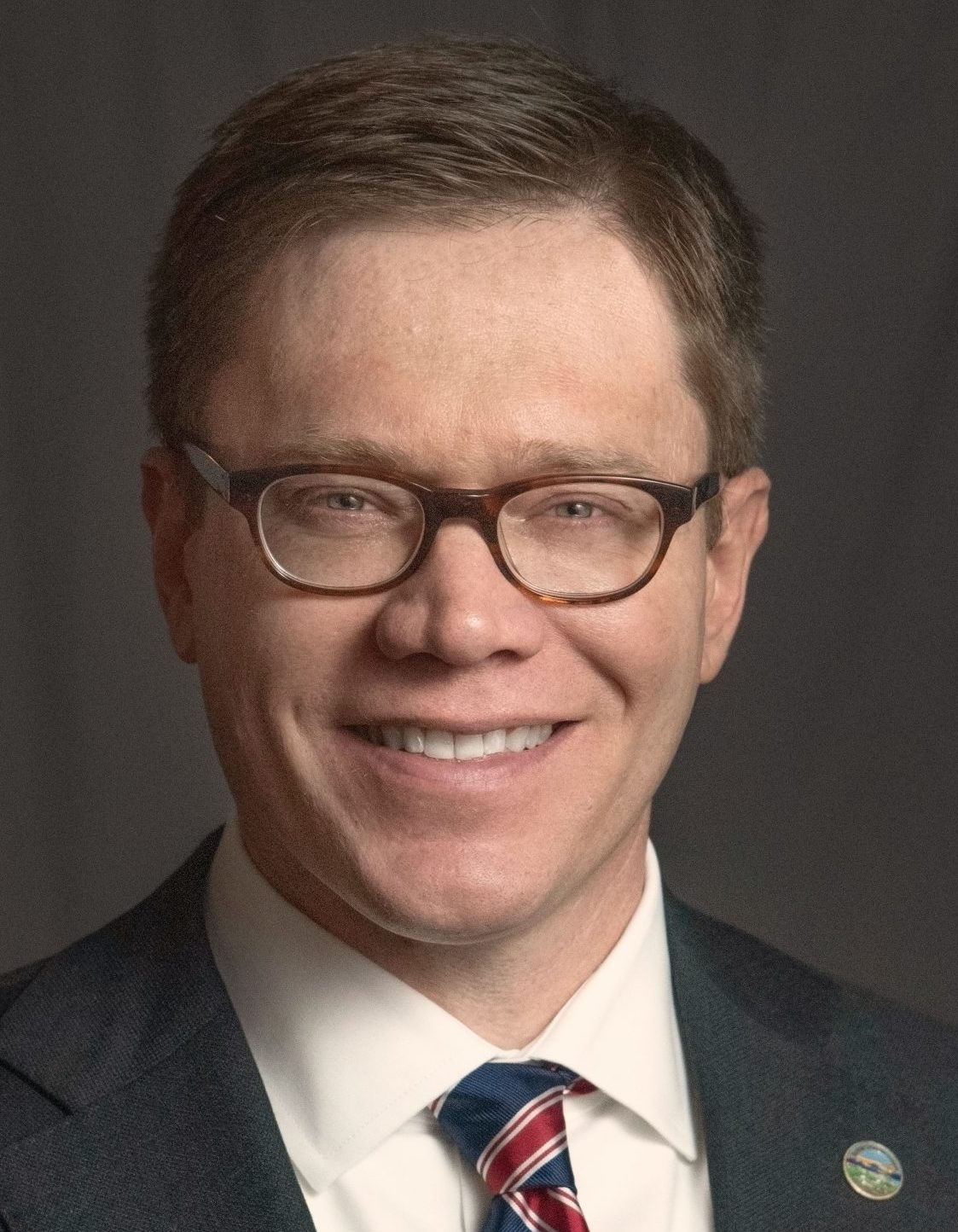 Go back seven generations of Kansans, and you're into the infancy of the state itself. That's the depth of roots David Toland brings to work as Gov. Laura Kelly's Secretary of Commerce, where his role and the department's, he says, "is to make the business case for Kansas as the nation's best place to live, work, visit and invest." He's already made sweeping changes, with strategic reforms to boost domestic and global trade and boost business recruitment.
PANDEMIC CHALLENGES: "Truthfully, we didn't see leadership challenges, we saw opportunities—
everywhere. That included sometimes having to pull back on the reins of my team running incredibly hard and fast. There's no better scenario you can have as a leader."
COVID IMPACT: "We cut some processing times from 30 days down to two days. It had always been possible, but we'd never had the catalyst. I've always said we would move at the speed of business at Commerce, and we've consistently done that."
FAVORITE CHILDHOOD TOY: "Tinkertoys. They encouraged kids to use their imaginations and build new things–which certainly fits my world still today."
ANOTHER ERA YOU'D VISIT: "I've always wanted a time machine. Whenever my son asks what superpower I'd like, I always say time travel. Largely because I can't pick just one era to visit: there is something interesting we can learn from each one."
---
Tucker Trotter
President, Dimensional Innovations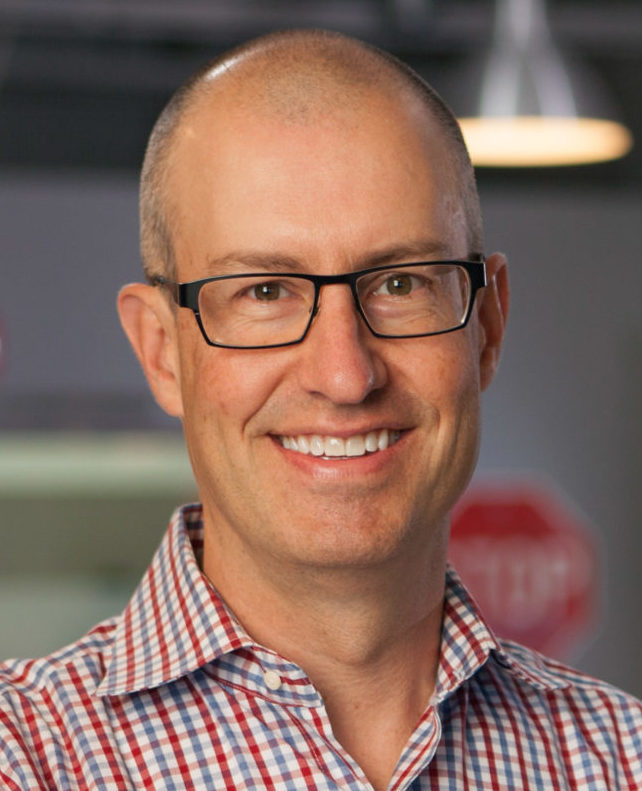 The firm he founded in 1993 creates large-scale design concepts in settings that draw huge crowds: stadiums, fieldhouses and other venues. So Tucker Trotter's vision starts with the user's experience. "The work we do impacts millions," says the CEO of this Merriam-based company. "We are focused on creating remarkable experiences and developing them requires both understanding and empathy for the individuals that interact with our spaces."
COLLEGE: B.A., Industrial Design, University of Kansas
DESIGN IMPACT: "The work that is most rewarding for me is seeing a child interact with our technology in a children's hospital. He or she may be experiencing health struggles or illness,
yet they're smiling, having fun and forgetting about the situation they're facing."
EARLY INFLUENCES: "My parents, step-parents and grandparents were incredibly influential.
I spent a significant amount of time with my Grandfather McCoy, who was not only an accomplished surgeon but an amazing woodworker and craftsman."
KC CREATIVITY: "There are many aspects that define the Kansas City area entrepreneurial mindset, but the ones that resonate most are grit, determination, a strong work ethic and the willingness to try something that hasn't been done before. Kansas City has so many incredibly talented people doing amazing and creative work—I'm inspired and motivated by it on a daily basis."
---
Randy Vance
Chief Operating Officer, Sunderland Foundation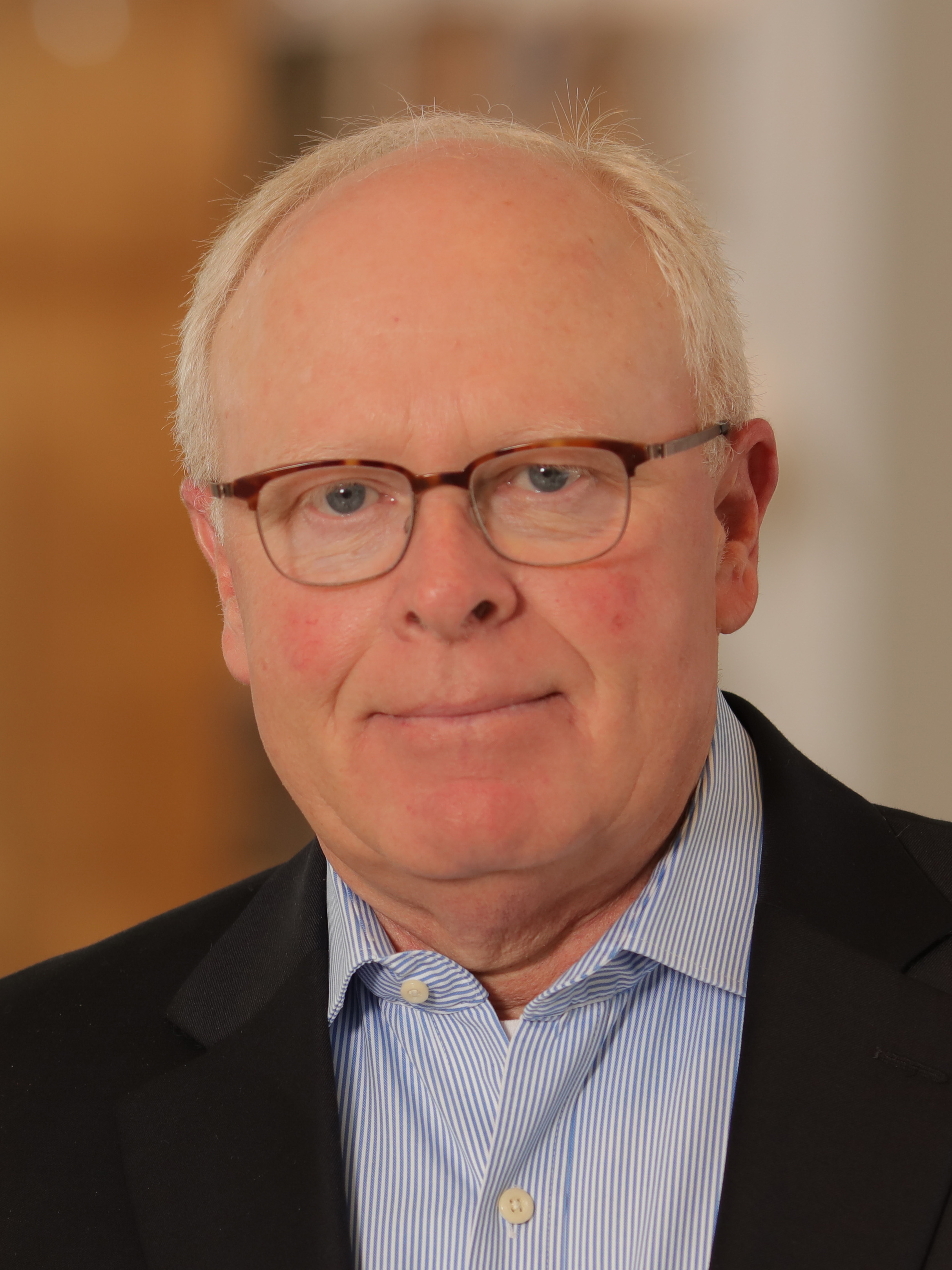 Randy Vance had the distinction of being both the first non-Sunderland to lead Ash Grove Cement Co., and the last CEO before the family enterprise was sold to an Irish conglomerate in 2017. But he didn't stray far from the proceeds of the sale he helped organize: Most of the money went into the Sunderland Foundation, which overnight became one of the region's top non-profits in terms of assets. Kent Sunderland brought Vance on board there after the sale, and he runs day-to-day operations as COO and president.
COLLEGE: B.A., Business Administration, MBA-Finance, UMKC
SHORT TENURE: Vance had been with Ash Grove for six years, rising from CFO to president and COO, before assuming the top spot. But he held that for just two months before the $3.5 billion sale o CRH was announced.
THE ROAD TO ASH GROVE: Previous career stops included roles with Hostess Brands, Interstate Bakeries, Farmland Industries and Commerce Bank.
PROUD HISTORY: The fountain from which the family's current philanthropy flowed was a 135-year-old leader and pioneer in the cement industry. It produced portland and masonry cements used to build America's highways, bridges, commercial and industrial complexes, single- and multi-family homes—more than 8.2 million tons of it in 2016.
---
Patrick Whalen
MANAGING PARTNER, SPENCER FANE
Patrick Whalen heads up quite a team. Just recently, 79 Spencer Fane attorneys were slated for inclusion in the 2021 edition of Best Lawyers in America; the publication is also recognizing nine Spencer Fane attorneys as Lawyer of the Year in their respective fields. Whalen himself has been recognized as one of the top 30 intellectual property lawyers in the country and one of the top 100 lawyers in the country overall. He's also a well-known speaker and writer on his specialties.
COLLEGE: B.A., University of Kansas; J.D., University of Texas School of Law-Austin; M.B.A., University of Texas-San Antonio
COVID & CULTURE: "We've spent a good amount of time thinking outside the box when it comes to learning new ways to work together in a world where in-person meetings, events, and travel are radically minimized."
NOTABLE 2020 LEGAL ISSUES: "In the first phase of the pandemic, the most significant legal issues centered on workplace and contracting (e.g. force majeure) matters. In the second phase, we've seen an escalation in workout, restructuring and bankruptcy issues, as well as disputes and financial matters.."
PERFECT WEEKEND: "Simple formula: faith, family, friends & fitness."
ULTIMATE DESSERT: "Anything with dark chocolate."
---
Keith White
President/Ceo, Wireco Worldgroup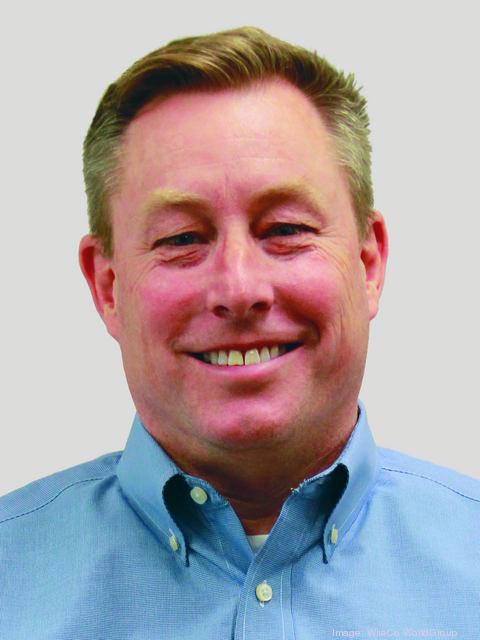 The middle years of the past decade were tough on WireCo WorldGroup, as economic slumps in its foreign markets weighted heavily on revenues. But after a pop of nearly 25 percent in 2019, and a significant bump the year before that, the industrial-cable company is back on track on bearing down on $1 billion in sales. Into that rosier picture stepped Keith White, who became CEO last year after a career in executive roles, most recently with Kiewit.
COLLEGE: B.S., Physics, U.S. Naval Academy LOCAL FOOTPRINT: While it has a comparatively lean work force of 200 at the Prairie Village headquarters, the company has more than 4,100 employees at locations around the world.
CAREER STOPS: In addition to his work at Kiewit, White was president of an air-filtration operating unit of Parker Hannifin Corp. and before that, president of the industrial group for Clarcor Corp. and the energy division of General Electric.
SEIZING THE MOMENT: "This is an extraordinary opportunity to become part of a world-class industrial company," White said upon his hiring at WireCo. "I was attracted to WireCo's well-respected, market-leading, brands globally synonymous with delivering premium quality to its customers over decades."
DIVERSE PRODUCT LINE: Pick an industrial application that requires steel cable, heavy-gauge wire or synthetic rope, and you're likely to find it in WireCo's extensive catalog of products.
---
Debbie Wilkerson
President/CEO, Greater KC Community Foundation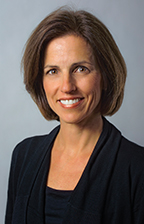 People in Kansas City who have financial resources to share turn to Debbie Wilkerson and her team for help in making the most of their charitable giving. The foundation—the region's largest, with more than $3.2 billion in assets—houses more than 4,000 charitable funds established by individuals, families and businesses to support the causes that are important to them. It's among the top 1 percent of more than 700 such groups in the country.
COLLEGE: B.A., Psychology, University of Kansas; J.D., University of Kansas School of law
PANDEMIC CHALLENGE: "The challenge and opportunity was working with the United Way, MARC, and LISC to create the KC Covid-19 Response and Recovery Fund. It was new territory for us. It took collaboration, stamina, trust, and focus."
COVID & CULTURE: "We love our time together in the office, but this has been good for us to build our remote work skills. Inclement weather days used to be tricky. Now they will be a piece of cake!"
SILVER LINING/2020 EFFECT ON FUNDING: "Donors gave at a record pace from their DAFs during 2020. It was fast paced and inspiring."
PERFECT WEEKEND: "College kids popping home as a surprise. I love having all our birds back in the nest. Having them all home was another silver lining of 2020."
ULTIMATE DESSERT: "Chocolate Blackout Cake from Dolce Bakery."
---
Bridgette Williams
Executive Director, Heavy Constructors Association of Kansas City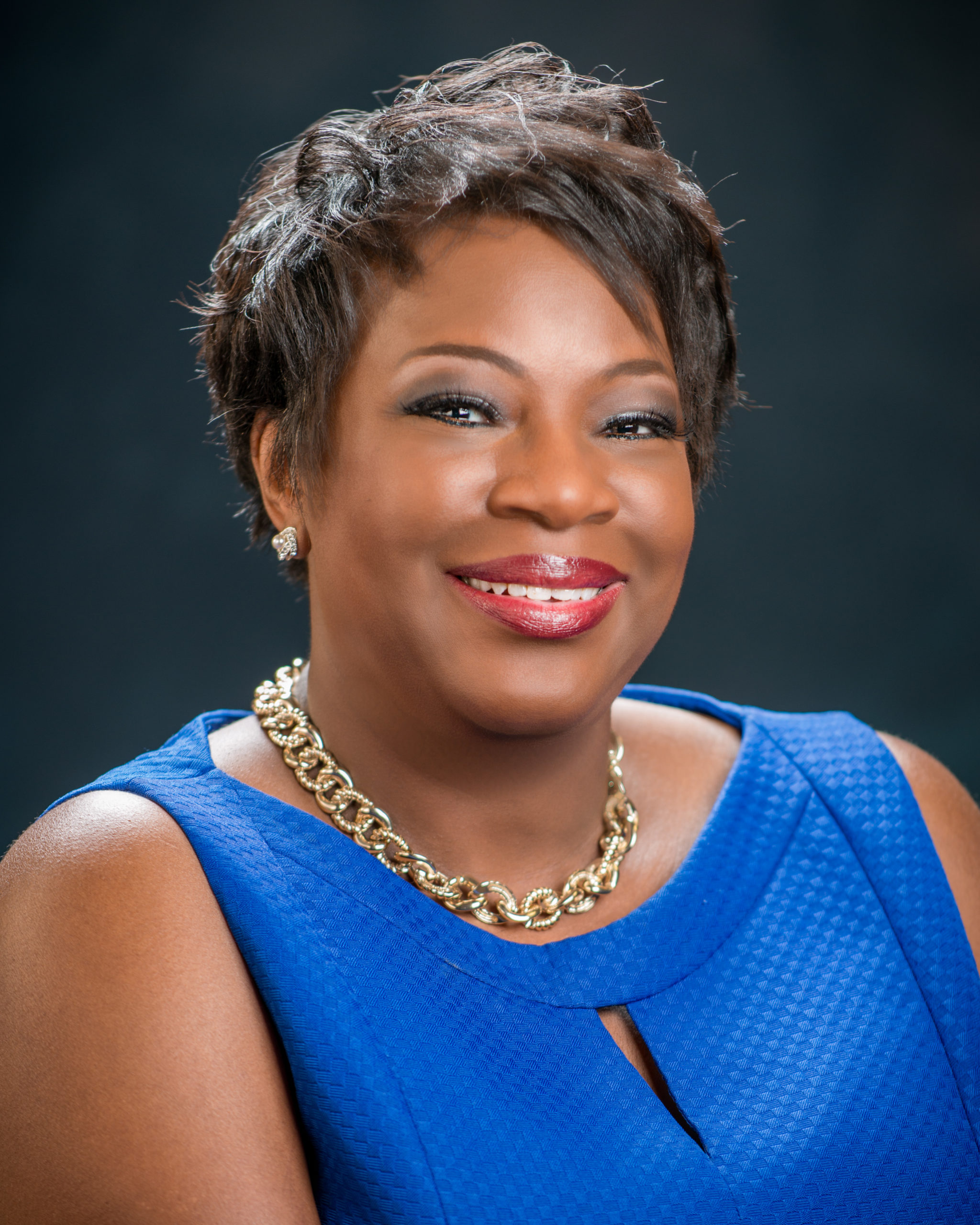 Bridgette Williams takes pride in "proving over and over again that I could handle the challenges of male-dominated industries." Advocating for "the heavies" in construction, she says, means "having had the patience, commitment, and ability to surround myself with people who don't think like me, and will not tell me what I want to hear, but have my best interest and the interest of the organization at heart." 
COLLEGE: B.A., Communication, Pittsburg State; B.A., Liberal Arts, Ottawa University; MBA, Helzberg School of Management, Rockhurst University
TRAILBLAZER: She's the first female, and African American, to head up the Heavy Constructors Association of Kansas City, a position she's held since 2017.
BUCKET LIST NO. 1: To help facilitate cooperation among local, state and federal governments in order to create a long-term plan to make and keep our fast-decaying roads, bridges and highways safe to drive on.
No. 1 PASSION/HOBBY: "My family and my work are my passions, in that order." I love advocating for the people of this community, to help bring them better, safer infrastructure." Favorite Book or Movie: Endurance: Shackleton's Incredible Voyage, by Alfred Lansing Food you wouldn't live without: Bacon
---
Chad Williams
Chairman/CEO, QTS, Inc.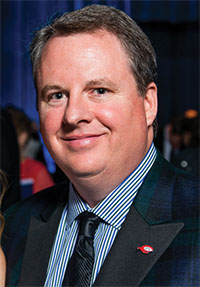 In 2005, Chad Williams founded Quality Technology Services, and within eight years had it positioned for an initial public offering. Since then, it has gone from $21 a share to the current $64 on the New York Stock Exchange, yielding a market capitalization of nearly $4 billion. The company bills itself as one of the nation's biggest and fastest-growing data center service providers.
NATIONAL FOOTPRINT: QTS operates 25 data-center facilities, covering a combined 6 million square feet of space.
BEFORE QTS: Williams brought CEO-level experience to his new venture after leading QGC, a holding company with interests in commercial real estate, design-build development, commercial interiors and vehicle and technology leasing.
BOARD SERVICE: He's on the board of the US Dream Academy, which focuses on issues to improve the lives of children whose parents are in jail or prison.
---
Julian Zugazagoitia
Director/Ceo, Nelson-Atkins Museum of Art
The mental-health aspects of a pandemic are coming to the fore. So quality-of-life issues are of paramount importance, health-professionals say. Julian Zugazagoitia couldn't agree more: "With 5,000 years of history within our walls, with different cultures far and near, a museum and its works help put our place in the world in context and envision a more positive tomorrow," he says. He's led one of the region's crown jewels of the arts since 2010.
COLLEGE: Diplomé de l'Ecole du Louvre, Art History, Ph.D., Philosophy, Aesthetics from the Sorbonne, Paris IV
COVID IMPACT: "There is no sector worldwide that has not been affected by the pandemic, and the cultural world is no different. As I write this, The Nelson-Atkins Museum of Art is preparing to reopen, but I still have a lot of concerns—not only for the dramatic impact that it has had on the museum, but also the impact it continues to have in the arts and on artists, especially those in the performing arts who depend on the public to have their art come alive."
SILVER LININGS: "The opportunity here for the museum is to continue bringing to everyone, free of charge (but now with mandated time slot reservations and wearing a mask), the possibility of seeing works of art that are uplifting, inspiring, and soothing for these times."