The run-up in college costs has outstripped inflation in recent decades, but administrators are seeking innovative solutions--and citing the need to focus on the value of the product.
Children born in 1996, when Congress authorized creation of federal 529 college-savings plans, will likely start their final year of high school this fall. Those whose parents took advantage of the tax-deferred plans will have a cushion when the tuition bill comes due.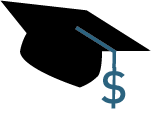 They'll need it: Various measurements place growth of college tuition at four times the rate of overall inflation since 1970. The effects of that have been far-reaching:
Elected officials at state and federal levels have called for policies and programs—some financed by even higher tuition—to close a diploma gap between wealthier families and those in lower economic strata.

Students have taken on increasingly heavier debt burdens, to the point where aggregate college loan debt in the U.S. now exceeds credit-card debit. On average, a new college graduate enters the job market owing $17,000 for school loans.

Faculty members have been pressed into additional duty, such as picking up extra courses or being pressed to help hold down salaries by finding outside income.

University officials have embraced fundamental changes—innovations like differential pricing structures for degrees that have higher fixed costs built in, such as instruction in the hard sciences, compared to the lower costs of liberal-arts majors.

And, in a policy thrust that turns a longstanding pricing model on its head, the governors of Texas and Florida have challenged their higher-ed hierarchy to construct programs that generate degrees at a total tuition cost of no more than $10,000.
Despite all of that, financial-aid professionals say, the returns that students will realize from bachelor's degrees still rank among the best investments they'll ever make. Nancy Merz, director of financial aid and scholarships at the University of Missouri–Kansas City, says it's important to put that expense into context. "If you're here four years and you borrow $17,000 or $18,000, that's the cost of a reasonably low-priced automobile," she says.
"At the end of four or five years, you have to replace it, but if you invest that money in education, at the end of four or five years, you have the diploma or degree and you go up from there. Whenever somebody balks at having to borrow, you have to just say it's a great investment because you're investing in yourself."
Nick Prewett, her counterpart at the mother ship in Columbia, notes that "a student with a bachelor's degree, over the course of a lifetime, earns $1.2 million more than someone without that degree. So the cost of that investment, even if you're at $100,000 in loans, it's getting a 10-times ROI, and that's still definitely worthwhile."
The challenge, he said, is knowing how to correctly apply credit as a tool. "Someone looking at a degree in English may not be as productive as one getting a degree in biomedical engineering or something more specialized," he said. "That's where you're seeing the return on investment."
And the fact is, plenty of tools can help parents and students manage those costs if they'll take a long-term view. Among those are diligence through the K-12 process to ensure that college credits can be earned in high school advance-placement courses; use of community college to earn basic credits at significantly reduced rates; maxing out on summer and intersession courses to shorten the room-and-board horizon; a better understanding of direct aid options like federal Pell Grants, scholarships and university-specific awards; and more sensible approaches to college loan programs.
In other words, there are plenty of vehicles to help avoid paying the full sticker price. But it's probably not a good idea to start asking about financing tools when Rush Week rolls around.
And one more bit of perspective offered by financial-aid administrators: Many of the figures behind scare headlines you see related to college costs are often overstated because they include on-campus room and board—expenses that aren't incurred by virtue of enrolling in college. Whether you're in school or not, you're likely to be paying rent, eating and incurring other expenses.

Early Starts
The most fundamental way to add-ress college costs is by setting aside money every year. That's a snap. While regular savings accounts are helpful, there's an even more powerful tool: A 529 savings plan, named for the section of the federal tax code that authorized these tax-deferred plans. Money accumulates and grows tax free and is subject to tax only when withdrawals begin to cover the costs of higher education.
One of the most effective ways to lower overall college costs is through effective use of Advanced Placement courses, especially those that generate college credit. Some don't, but still allow students to skip lower-level coursework in college, giving them a head start on the coursework needed for a degree. For those that do offer college credit, a student capable of picking up 30 credit hours' worth of AP classes in high school has effectively cut the total costs of a bachelor's degree by 25 percent. Another way to look at it: It basically makes the first year of your master's degree studies free.
One more thing: Colleges don't really like to deal with dropout rates. They have huge incentives, in fact, to see that freshmen leave with degrees in a few years. Taking AP courses, says the college board, not only signals academic commitment on the student's part, the grades earned in AP classes are by far the largest single determinant in getting into the school of your choice: Admissions officials say good AP grades carry nearly as much weight as extracurricular activities and work history, successful interviews, counselor/teacher recommendations and essays—combined. And they carry more weight than class rank, grades in all subjects or admission test scores.
Closer to Home
Even if they haven't maxed out on AP coursework, students can save considerable sums by attending a community college while living at home. The cost of a credit hour at Johnson County Community College, for example, was $84 this fall. Half an hour west on K-10, the University of Kansas is charging $293. Keep in mind: KU was among the Princeton Review's 150 Best Value Colleges in the U.S. this year, but a $209 difference over 30 to 60 credit hours is a sizable one.
If the $10,000-degree structure proposed in Texas and Florida becomes a successful model, it will likely emerge because community colleges had a role, educators say.
"Community colleges will be the first destination for many of these students," says Marilyn Rhinehart, retiring vice president of Johnson County Community College. "They can earn a two- year degree to transfer to a university or to enter or move up in a career field."
The advantages of starting in community college, she said, are more than just financial. "We often cooperate with other community colleges in the Kansas City metropolitan area, and developing
and implementing such cooperative agreements and degrees will be more the norm." And community colleges pride themselves on being nimble in anticipating changing needs of its community, she said, which will be increasingly important as market share among families increases.
As for the way the dynamic will change the institutions themselves, "partnerships with business/industry and other educational institutions (including P-12 districts) that naturally require collaboration and cooperation will be the norm," Rhinehart said. "Community colleges increasingly will be recognized as the engines for work-force and economic development, regardless of a students' educational goals."
That will require community colleges to run fast to stay ahead of trends, she said, rather than respond to them. "Public and government demand for accountability will increase," she said, and it will be imperative for students to do more research on institutions than ever before in advance of selecting a college.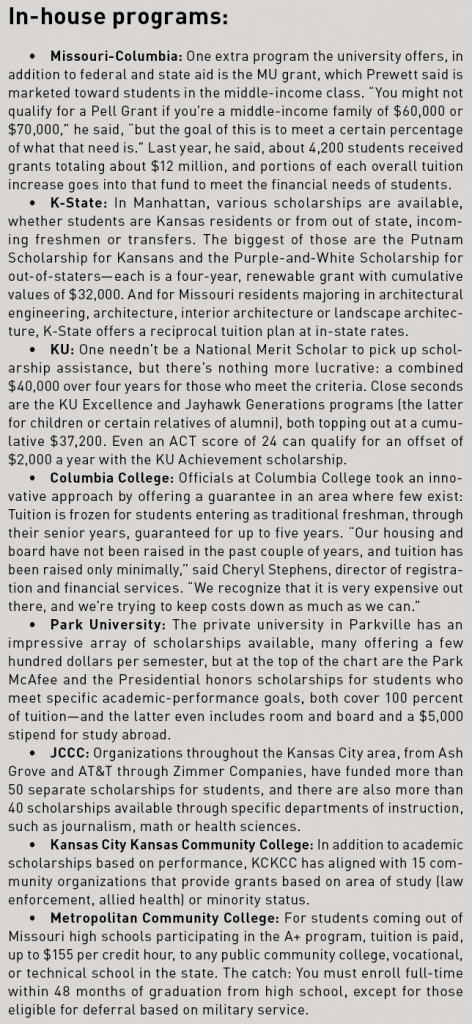 Grants/Scholarships
You have to look pretty hard to find a federal program that isn't spending considerably more today than it was a decade ago. So in that respect, Pell Grants don't stand out. For individual students, however, they make a huge difference: The maximum amount of these education jackpots is $5,500 a year. Though advocates for ever-higher spending on education say the Pell is shouldering just a fraction of the overall college costs it handled upon inception in 1979, the amounts involved can be significant pieces of the funding puzzle. And more students are relying on them, too: This year, 9.1 million students received average awards—these don't have to be paid back—of $3,828. That's up from 3.9 million in the 2000–01 academic year.
But the largesse doesn't stop with the federal government. Missouri and Kansas both have grant programs—awards through Missouri's Bright Flight program, meant to keep top students in-state, topped out at $2,000 this year, and was just one state vehicle for direct aid. Kansas has a number of programs as well, including the Kansas Comprehensive Grant, with a ceiling of $3,500 for private-college aid ($1,500 for state universities).
Student Loans
And, of course, there are the much-maligned student loans. But those are like any other lines of credit, say financial-aid professionals: Used wisely, they can produce significant long-term returns. Used like Dad's credit card after a frat-house toga party, they can produce … consequences.
That's why, UMKC's Merz said, financial literacy is so important for so many with college aspirations.
"The message we want to convey is that I want to help you be successful and help you find the aid, and there is enough aid for everybody to go to school and graduate," she said. "But we still run into people who have never heard of FAFSA or won't go on-line because they're afraid everything they do there is going to cost them money. It's Financial Literacy 101, and we continue it here at school. We go into the residence halls to talk about credit cards and how to manage a debit card. There are a lot of things people don't understand, even about that."
Most of which, of course, can be addressed with a little education.