String of KC-area Midwest Health senior living facilities among first to resume in-person visits
---
---
Midwest Health, one of the Kansas City area's largest assisted and independent living providers in the region, has opened all five of its local Homestead Senior Living communities in Johnson County, Kan.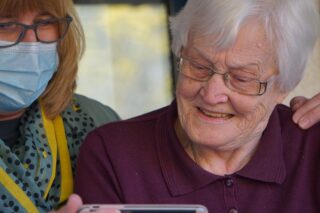 Topeka-based Midwest Health owns around 65 senior living communities across five states, the bulk of which are Homestead facilities in Kansas. States where Midwest Health operates include Iowa, Kansas, Missouri, Nebraska and Oklahoma.
It has been nearly a year since residents in nursing homes and senior living facilities across the U.S. have seen friends and loved ones face-to-face. For Homestead residents, it has been 11 months.
Since March of 2020, most visitations have been limited to virtual visits due to COVID-19 concerns.
Last week, Homestead of Shawnee was one of the first assisted-living communities to offer COVID-19 vaccinations to their residents and opened up to visitors on Feb. 8. The second opening occurred this week on Monday, at Homestead of Lenexa.
Three other Homestead communities in Olathe and Overland Park were set to open to visitors today.
"Sharing this news with residents and family members was simply wonderful," Dell Weidner, executive director of Homestead of Lenexa, said in a news release. "Residents and family members have been waiting a long time to sit next to one another and have a face-to-face conversation in the comfort of their home. You can't imagine how much this means to them."