MORE THAN A DECADE AFTER KANSAS CITY ASSUMED A HIGHER NATIONAL PROFILE IN LIFE SCIENCES, A NUMBER OF FACTORS ARE COMBINING TO CREATE UNPRECEDENTED OPPORTUNITIES FOR RESEARCH, DEVELOPMENT AND COMMERCIALIZATION IN TRANSLATIONAL MEDICINE
Wayne Carter runs through a mental checklist of the life-sciences, research and commercialization assets at work in the Kansas City area and comes to this conclusion: "We are at an inflection point where we're beginning to bring asset together and leverage them across the region."
---
We're trying to link these assets together to Capitalize on them and accelerate what they're doing in translational research, and accelerate the time from bench to bedside." -Wayne Carter, CEO, Kansas City Area Life Sciences Institute
---
The likes of Children's Mercy Hospital, the Institute for Advancing Medical Innovation at the University of Kansas Cancer, the Stowers Institute, UMKC and others are pushing Kansas City forward as a center of translational medicine, says Carter, president and CEO of the Kansas City Area Life Sciences Institute.
Those assets, he said, are "absolutely world-class," and are coalescing right now in ways that can lead to new drug therapies, new companies to produce them, and new jobs for the region. "Ultimately," he said, "once you have that kind of critical mass, you're looking to build on that and link those assets and tie things together. We're trying to link these assets together to capitalize on them and accelerate what they're doing in translational research, and accelerate the time from bench to bedside."
Thirteen years after the Stowers Institute opened, giving the region a huge boost in life-sciences research stature, the number of organizations involved in research fields has grown and matured. From initial disparate focuses on specific interests—cancer at one research center, heart disease at another—the key players have forged new collaborations that are making the region's research centers more than the sum of their parts.
Scott Weir, who heads the IAMI at KU Med Center, said the history at that facility was a good example of how far those efforts have come, both through the work at the institute since it was founded in 2006, and under Roy Jensen, director of the KU Cancer Center.
"Historically, the School of Pharmacy here was one of the top pharmacy programs in the country, based on NIH funding, consistently in the top four," Weir said, "There was a lot of great research done that led to drugs coming into the market. But that was research done on the Lawrence campus; none of those were ever tested on patients at the Medical Center.
Jensen's arrival, he said, signaled a new era in collaborative efforts. "Discovery and development is a team sport," Weir said. "It's football, not golf. You have to create multi-disciplinary teams."
Emerging Opportunities
One of the biggest potential developments in translational medicine that could be leveraged here, those involved say, has to do with so-called orphan drugs. Those experimental treatments are targeted at diseases with fewer than 200,000 patients at any one time. The vast majority, though, have far fewer subjects—in some cases, only a handful, or a few dozen. Historically, pharmaceutical companies have been unwilling to invest the huge sums needed for drug development and approval—costs that run well over $1 billion, and treatments for the smaller populations can't produce the sales volume needed to recover development costs.
The payoff for this region could be enormous—global sales of orphan drugs now represent a $50 billion market, and sales in that area have been rising by more than 20 percent annually for years, according to estimates from various professional medical journals.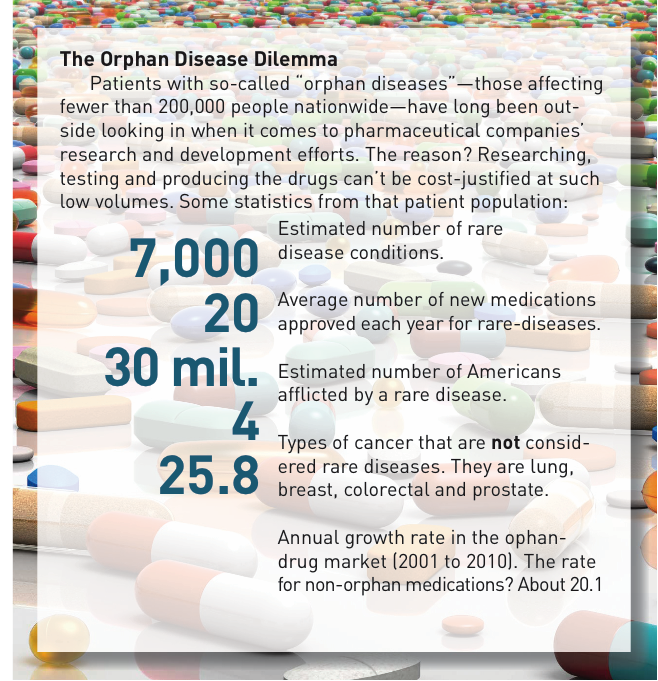 The U.S. Food and Drug Administration has added extra horsepower to that trend, relaxing some of the restrictions on orphan-drug development. That alone can slice years off the current 12–17 year timetable for commercialization. The benefits for developers include not just tax incentives, but a longer time frame to market the products free of competition—seven years, as opposed to the normal 5-year window.
Patient-advocacy groups have responded by raising hundreds of millions of dollars to help research institutions subsidize the cost of developing orphan drugs; Weir cited one study by the Milken Institute that said those contributions had gone from $10 million in 2000 to more than $500 million last year.
"That's a trend that I think is really exciting and is certainly something we're right in the middle of," he said.
The possibilities are almost limitless, those in the field say. Even as other metropolitan areas seek to distinguish themselves as research centers, there's simply no shortage
of orphan diseases to explore. "All blood cancers fall into that category," Weir said, "and there are only four cancers that don't today—breast, lung, colorectal and prostate. All of the others fall into the rare disease category."
But his institute is not alone in trying to take advantage of these emerging opportunities. "We're really trying to establish our reputation in the rare-disease space, and when I say 'we,' it's KU, my program, Children's Mercy, Stowers and the Kauffman Foundation," he said. "We're really trying to build a reputation that the region has all of these assets and we're able to work well together and able to make a difference."
Collaboration Central
Carter said the key to making that collaboration effective was the wealth of information and expertise across the region—and not just with research into human illnesses. "I'd like it to be stronger, because I do see such a great opportunity to rapidly accelerate what's on the human side by leveraging what we do with animal health here."
Therein lies an opportunity unique to the Kansas City region. From Manhattan, Kan., in the west to Columbia, Mo., in the east, the region is populated by companies that account for nearly a third of the $19 billion market for animal-health products, research and development. That will only increase when the long-planned National Bio and Agro-Defense Facility is built in Manhattan; the billion-dollar project is expected to rapidly add to development of research and the corporate spin-offs needed to commercialize it.
"No place in the world has anything like that," Carter said, "and to not leverage those as best we can—it would be a shame for us to let that opportunity slip by. We're capitalizing on it, trying to grow that, and NBAF will continue to help build the animal-health corridor, and that's really good."
The area's wealth of strong human health and animal-health research efforts occurring concurrently will pay additional dividends, particularly where researchers are probing questions that can be transferred from one discipline to the other.
"I don't have a crystal ball, but I think what this region is doing is probably right, balancing both right on the human and the animal side," Carter said.
Research on the human side, he said, "is far in excess of the animal health number, so it would be foolish to ignore either one. What we're really trying to do, as opposed to either/or, is ask how can we integrate the two. That helps us differentiate ourselves."
Perhaps the best example of that, those involved say, is Likarda, a startup that began out of a University of Kansas-based effort to study diabetes in cats, then developed a cell structure that can be transplanted to cure the disease. "That will benefit not only the veterinary patients, but hopefully we'll figure out how to accelerate the same approach for using those cells to treat human diabetes," Carter said. "It's just a beautiful approach of how to leverage one to help the other, and it's a win for animals, people and the region."
The Funding Puzzle
Commercialization professionals at the Kansas Bioscience Authority say the biggest challenges to moving life-sciences research forward is a familiar one: Access to capital. That can make it harder to get projects the funding they need for startup, but it has an upside, as well.
"With venture capital, it forced the entrepreneur to get really sharp and to really tighten up their plans," said Tom Krol, who focuses on human health issues as a director of commercialization. "There are a lot of initiatives out there right now growing the entrepreneur  community and trying to connect with various sources of capital.
Still, he said, funding available today is only about half that investors were putting into life sciences efforts before the economic downturn began a few years ago. But the greater Kansas City market overall is in roughly the same position as peer communities, whether they're in the hunt for dollars or the search for the next big breakthrough.
"I think we're mirrored with the rest of the country in terms of what could be researched," he said, "and like the rest of the country, we're seeing more cancer-related research coming to KBA. He also noted that while Kansas City is No. 29 in population as a metro area, "we have one of the highest concentrations of contract-research organizations in the country—we're among the top 15 clusters in the United States. More than 90 companies around the region do contract work for pharmaceutical and biotech companies," with running about 6-8 percent a year.
The best part about where Kansas City is right now as a region, Krol said, is that "there are multiple ways to win."
"Even though it takes $1.5 billion and 12 years to get to market with a new drug, there are other ways: We can do reformulations of existing drugs, we can do orphan drugs, we can do medical devices, we can do animal health, which has a shorter and easier track. And there are some new chemical entities being developed here.
"I think we're in a pretty good position."