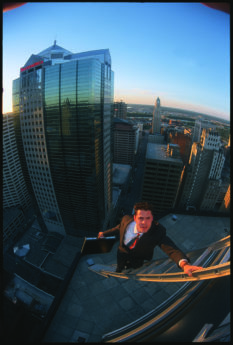 Fast growth is a two-edged sword. Some can't cut it, but those able to wield it properly have become become pillars of
regional business.
More than a third of a century later, it's almost impossible to look at the first Corporate Report 100, published back in 1986, without mixed emotions.
On one hand, you had companies that would go on to become titans of business in Kansas City. In those days, many were emerging from their early scaling efforts on the path to national prominence, and in some cases, even global status: Sprint Corp., Lockton Companies, DST Systems, Jack Cooper Transport. Some like Waddell & Reed Financial had long since become national brands.
Through the close of the 20th century and into the next, those were the kinds of names that instill a sense of civic pride, knowing Kansas City could be fertile ground for game-changing companies in diverse business sectors.
Then you see the names that trigger a sense of poignancy, the corporate brands that were "ours"—if there is such a thing in business—and have faded into history. In a few cases, they simply outgrew Kansas City on their path to national prominence; while we can claim historical ties to them, the relationship just isn't the same as with Helzberg Diamond Shops, before Warren Buffet came a-courting and made it another gem in his Berkshire-Hathaway collection. Or DST, acquired last year by SS&C Technologies Holdings of Connecticut and no longer traded on the New York Stock Exchange. Or, of course, Marion Merrell Dow, the company that grew out of the late Ewing Kauffman and his legendary vision. Three years after his Marion Laboratories made that inaugural list, he sold two-thirds of it to form Marion Merrell Dow, which later was lost in a global pharma potpourri of names like Hoescht, Aventis and Sanofi.
And then there are those that simply went away, like Payless Cashways. Watching its decline over the years was a bit like passing the scene of an auto accident—in some ways, tragic, yet holding a morbid fascination. In 1985, the baseline year for that first CR100, Payless had far and away the biggest top line of any in that roster, more than four times the numbers of Marion Labs or United Telecom, which went on to become Sprint. The $1.39 billion in sales at Payless that year would translate into $3.37 billion today, which would rank it among the biggest private companies in the Kansas City roster of business stars.
Instead, from 194 stores in 22 states, it withered away following  a disastrous, debt-infused stock-buyback plan intended to ward off a hostile takeover. The day before terrorists made Sept. 11 a date to live in infamy, a bankruptcy court ordered Payless liquidated.
Interestingly enough, more than a fifth of the first field came from vehicle sales. And again, some of those names have emerged as the strongest players in that space in this region: Olathe Ford, Dick Smith Ford, Molle Chevrolet, Blue Springs Ford and Westfall GMC Truck.
And some are now distant memories, like Art Bunker Porche-Audi, Major Cadillac, Jack Roach Cadillac, or, after a run of nearly 60 years, Don Stein Buick. They were part of a different world, where anxious teens in tow with wary parents had to scope out the possibilities dealership-by-dealership, rather than finding their ideal match on-line and going there to cut a deal. Some embraced the technological changes and thrive today. Some didn't, and don't.
This being Ingram's, where we celebrate all things related to business growth and individual achievement, we think it fitting to look back at the evolution of the companies that made it through the long haul. Word of caution: Getting bigger has not necessarily translated into greater profitability, or even a guarantee of long-term survival. And nowhere is that more apparent than in the story of the No. 1 company on the 1986 CR100.
United Telecom/Sprint
The forerunner of Sprint Corp. posted $267 million in revenues in 1985, and its growth put it atop the first CR100 and firmly established the company as a superstar of commerce here.
If federal regulators sign off on the deal, the longtime crown jewel of commerce in Kansas City—its biggest company, its biggest employer, its biggest influencer—will become part of an enterprise based in Bellevue, Wash., T-Mobile. Still billed as a merger—it may be in a legal sense, but analysts say there was no other way forward for Sprint—it would leave the Kansas City area with a "co-headquarters" structure at the Overland Park campus originally designed for 14,000 employees when it opened a generation ago. Today, Sprint has slightly more than 6,000 working there, and it surrendered its status as the region's largest private-
sector employer to our CR100 all-time frequency leader Cerner Corp. three years ago.
It was a long, impressive ride for a telecom giant that sprang from a seed planted in 1899 in Abilene, Kan. Back then, it would have been impossible to envision that Brown Telephone Co. would one day evolve into a Kansas City company with $34.5 billion in revenues at its peak. Things took a big turn south in 2005. In a deal generally regarded today as one of America's greatest merger failures, Sprint acquired Nextel for $35 billion, but couldn't mesh the cultures or the technologies. By 2013, it had abandoned the Nextel network and was left holding
a bundle of debt.
A white knight emerged about that same time, with Japan's SoftBank Group acquiring a 70 percent stake in Sprint, eventually raising that to 84.1 percent heading into the T-Mobile deal, announced in April 2018 and potentially wrapping up this year.
Lockton Companies
Founded in 1966, Lockton Companies today is the world's largest privately owned, independent insurance brokerage, offering risk-management and business-benefits consulting around the planet. That's a long way from its inception in a spare room at the home of a young Jack Lockton. The passage of time—along with the company's spectacular growth—often obscures just how young he was, only two years removed from earning his degree in economics at the University of Missouri-Kansas City.
Global growth has turned the revenue arc sharply higher over the past decade, making Lockton a far cry from the $6.7 million company it was in 1985, when it made the first of 18 CR100 appearances at No. 36.
But the youngster with a ferocious appetite for sales set in motion a company that hit $343 million in revenues in 2004, the year of his untimely death.  It would go on to crash through the $1 billion barrier in 2013, and was still setting records in 2018, at $1.57 billion, becoming a key employer, vital corporate citizen and robust philanthropic supporter for the region.
Jack Cooper Transport
Nearly a century after Kansas City's allure for vehicle manufacturers inspired a new a carrier for General Motors' cars rolling out of the Leeds Assembly Plant, Jack Cooper Transport is a major national player in that space. It is the largest over-the-road transporter of light-vehicles in both the U.S. and Canada, hauling for both domestic and overseas automotive manufacturers. In 1985, it had the fourth-highest revenues among the CR100 companies, at $125.2 million, and made it to No. 26 on the list. Though it no longer reports its top-line figures for the general public, various trade journals have estimated 2018 the top line at between $581 million and $667 million.
Earp Distribution
In 1954, the year before a fellow name of Ray Kroc acquired a hamburger chain from the McDonald brothers in California, Don and Marie Earp began selling meat to restaurants, hotels and institutional users in the Kansas City area. The Earps couldn't have known it at the outset, but they were destined to cross paths with Kroc's emerging behemoth of a fast-food chain. That came in 1972, when Earp Meat Co. started deliveries to McDonald's sites in Wichita. Volume built rapidly from there, and by 1985, revenues reached $85 million, with growth just good enough to earn a spot inside the first CR100 at No. 90. Today, operating as Earp Distribution, the company serves hundreds of McDonald's sites across Kansas, Missouri, Iowa, Oklahoma and Nebraska, along with Chipotle stores in the Midwest. It operates out of a 184,000 square-foot facility in Edwardsville.
Waddell & Reed
With $96.4 million in revenues for 1985, Waddell & Reed (still based on the Missouri side at that point) was closing in on its 50th anniversary, enjoying its national reputation as one of the first investment companies to begin offering something called mutual funds. That proved to be a milestone year for the company as it hit $5 billion in assets under management and clocking in at No. 61 on the 1986 CR 100. Just a few years later, it relocated to the former TWA training center in Overland Park and—things moving in circles, as they tend to do—it's now exploring the possibility of crossing back into Kansas City. Including with its Ivy Funds unit, the company has $103 billion in assets under management.
Olathe Ford Sales
The CR100 program has adopted increasingly rigid reporting standards over the years, but at its inception, rounded numbers were commonplace. Olathe Ford's $20 million in stated revenues for 1985 produced growth good enough for a No. 75 ranking then, but that figure just hinted at what was to come. Originally formed in 1965 as Crawford-Cantrell, Inc., it became Olathe Ford Sales in 1974. Today, under co-principal dealers Sam Mansker and Marc McEver, Olathe Ford Lincoln is among the Top 100 Private Companies in the region, knocking out $592.7 million in 2018 for its sales of new and used
vehicles, parts and service.