Throughout Missouri and Kansas, universities saw a sharp increase in international enrollment figures from 2007 to 2015. From a sample of 11 top universities in both states, total international enrollment rose from roughly 9,800 in the fall of 2007 to approximately 21,000 for the fall semester of 2015.  Just a year later, however, that figure fell by roughly 1,000 international students, the start of a troubling trend overall: Between 2015 and 2017, nearly 3,000 fewer international students were enrolled in those regional universities, according to data gathered via the IPEDS Data Center, the Open Doors Report and the Kansas Board of Regents.
Not all schools experienced declines—some, in fact, are still seeing notable increases in these key enrollments. But enrollment officials are keeping watchful eyes on the trend, because those students paying full out-of-state tuition can be a key revenue source at a time when public support continues to be a challenge for universities. And beyond the dollars involved, campus executives say, a healthy international enrollment infuses a cross-cultural experience that can't be replicated for students, regardless of their home country—an aspect that has taken on greater importance in an ever more global economy.
Among those seeing decreases are the University of Missouri-Columbia, the University of Central Missouri, Northwest Missouri State, Kansas State, Wichita State, Pittsburg State and Emporia State. Vince Altum, the director of the Office of International Education at Wichita State, said the drop in international enrollment there had cut into tuition revenue. Consequently, the university has altered recruitment strategies and now offers more scholarships for new students. "International students represent about 10 percent of our student body, so they have a significant impact on our budget," Altum said. "Because of the dip in degree-bound enrollment, our tuition revenue dropped approximately $900,000 in fiscal year 2018."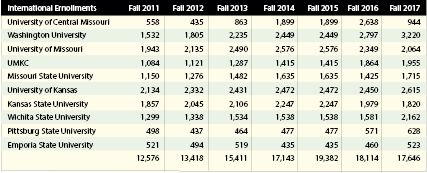 University officials point to various factors for the overall decline. Among them: a recent perception that the U.S. government no longer welcomes international students, fears that H-1B visa qualifications might change, and increasing visa denials for residents of certain countries. Then, too, universities in other countries are making strong bids to recruit those students.
Countering that, the University of Kansas has maintained a stable count, and some schools have experienced steady increases in international enrollments, especially at Washington University in St. Louis, UMKC and Missouri State University. Charles Bankart, associate vice provost for international programs at KU, cited many of the same recruiting/retention challenges that Altum identified. "There is no one reason," he said. "Visa denials and enhanced scrutiny of visa applications from young people wanting to earn an education abroad will lead to some people making the decision to study elsewhere. Certainly, competition for international students is increasing exponentially with countries like Canada, Australia and the UK going to great lengths to attract the world's talent to them and retain that talent."
Brad Bodenhausen, the associate vice president of international education and training at Missouri State, credited the university's programs for non-degree seeking students from the school's international partner universities. These programs focus on disciplines such as biotechnology, communications and agriculture.  Aside from developing academic programs, MSU also has its English Language Institute that has been in operation for more than 20 years.  "The institute continues to offer intensive English instruction to help international students meet the university's language proficiency requirements," Bodenhausen said. "In addition, ELI provides supplemental courses to support students already enrolled in academic programs at Missouri State."
At UMKC, Joy Stevenson, director of international affairs said increases in international students flowed from recruitment strategies, research projects and an improved system for processing applications. Additionally, she said, academic departments at UMKC have created internship opportunities at both local and national levels for its international students. Recruitment staff also work with governmental agencies to support the educational costs of international students as well as put services in place for cultural adaptation and academic readiness. And like MSU with its English Language Institute, UMKC has the Applied Language Institute.
Out of the 11 universities in the sample, international enrollment drop-ped roughly 8 percent from fall 2016 to fall 2017 alone. Although it may be difficult to discern precise reasons for the precipitous enrollment drop, its ramifications are consequential.  In addition to the financial piece, other students lose the exposure to cultures different from their own, which university executives say can hold back personal growth. What's happening regionally contrasts with national trends, with universities overall posting a 7.1 percent increase from 2015-16. Because of that, campus executives say, it's imperative that leaders in Missouri and Kansas work toward improving the underlying appeal for international students, or risk losing out on critical economic-growth opportunities to other states.