FRESH APPROACHES IN TRADITIONAL BUSINESS SECTORS can be as disruptive as new technologies themselves. Getting there, though, could require a cultural shift for executives focused on the day-to-day of business.
"If there's already a name for what you're trying to do, you're not really innovating.  . . .  Real innovators should be doing something all the 'experts' think is stupid."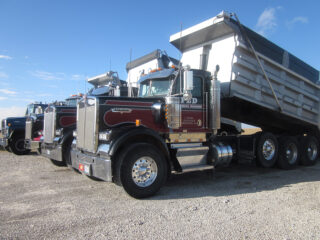 High-Energy Idea: This fleet of trucks from PLD Material Hauling has achieved 20-25 percent increases in fuel efficiency by using Modifuel, an innovative formulation from Kansas City-based Fuel Kinetics.
---
---
"It happens very slowly, and with little things, like a product that goes out the door that wasn't invoiced. But as the company grows, you find barriers over time, all of them self-imposed." — Thom Ruhe, vice president of entrepreneurship, Kauffman Foundation
---
—Author/entrepreneur Jim Manzi, quoted on Powerlineblog.com
That guidance might be what you get by boiling the definition of innovation down to its essence. And it comes—not surprisingly—from a man who made his fortune in the technology sector. For technology, like the life sciences, is a highly visible field that prides itself on innovation, and in those venues, new ideas lead to tangible evidence of growth, from lab breakthroughs to spinoffs, start-ups and entire new industries.
Innovation, though, isn't solely the province of those working in white lab coats and clean rooms. If you stop and look around the Kansas City region, you'll find business owners and executives pushing to take their organizations into new directions, shattering decades-old business models to introduce new efficiencies, or dabbling in products and services that produce added value for consumers and business clients. You can find examples in fields as disparate as real-estate sales, energy or electrical components.
But what separates high fliers, even in legacy businesses, from companies that started out strong before hitting a growth wall, battling both unstable sales and uncertain prospects? In a word, culture.
A commitment to innovating may help launch a new company, but "as it grows and goes through multiple iterations of leadership changes, the needs of the company change," says Thom Ruhe, vice president for entrepreneurship at the Kauffman Foundation. "Early on, they're all chief cook and bottle washer, but as they get larger and have money, they can trade that for time by hiring specialty people to do special things.
"As that happens, the challenge is that the culture, the creativity cycle that was largely responsible for the creation of company, gives away to a wealth-protection mode," Ruhe said. Once those owners have something vested, he said, and income streams to protect, too many organizations start changing. "It happens very slowly," Ruhe said. "And with little things, like a product that goes out the door that wasn't invoiced. But as the company grows, you find barriers over time, all of them self-imposed."
A key tool to breaking down those barriers—or preventing them from going up in the first place—involves more than just hiring the right people with the necessary drive and commitment and then, as we've often heard, getting out of their way. It also entails listening to them, Ruhe said. 
One of his favorite examples of that dynamic in action is Title Boxing Club, now made up of more than 50 boxing-themed fitness clubs and franchises that are spreading like a virus. 
 "It started as a small supply house and grew into a massive supplier of everything related to boxing," Ruhe said. Within that setting, an employee recognized that there was an aerobic benefit to the boxing workout regimen, "so they put together a gym that looks like a boxing workout area, with speed bags, heavy bags, and turned it into a workout place."
From one franchise in 2008 to several hundred by 2014, "and all just because of this idea that came from an employee," Ruhe said. "That's how you keep things going from an innovation standpoint—you need leadership that is open to it and says, 'We'll take that chance.' It's not from some huge, secret, trademarked, copyright/patented intellectual property; it's a simple notion of let's put a place together with big bags, padded floors and jump rope in a boxing motif, and—voila!—they're franchising all over the country."
So what does that look like in other sectors? Here are some examples of companies that blew up the existing models and or approaches in long-standing business lines and are reaping the benefits of that thinking today.
Platinum Realty
Not many business sectors can trace their roots back to the end of humankind's hunter-gatherer lifestyle, but right around the dawn of agrarian societies, fixed domiciles began to take on enormous social value. A short drive through suburban Kansas City shows that trend is still going strong: Somebody's building, and somebody's usually buying.
Scott DeNeve got in on that at age 22 and spent a couple of years trying to sell houses the conventional way, as an agent representing a large brokerage. The portion of his commission that went directly to the broker-owner for that privilege struck him as exorbitant, and in 2005, he launched his own brokerage. Platinum Realty was founded with a compensation structure that allowed agents to keep more of their hard-earned commissions. Coupled with a no-debt mentality that forsook glamorous offices and furnishings, DeNeve set in motion the wheels that would become one of the region's fastest-growing companies by 2011, about the same time Inc. magazine recognized Platinum as the fastest-growing real estate company in the nation.
But if the model held so much promise, why hadn't it been successfully executed before? "I guess it's fair to state that it had been tried before," DeNeve said. "Years before. Our competition, when we started, there was already an existing agency offering a revolutionary compensation program." But it was the act of coupling that innovation with another new approach that would allow Platinum to take off. "It was all about how we were structured, keeping costs reasonable, all about building the agents network first, then getting the overhead."
Debt in business, he said, can trap you, so he found ways to leverage technology to more efficient uses. "The technology helped with keeping costs down," he said. "We started with a 120-square-foot office, two desks and a round table. The only thing impressive about it was the College Boulevard address."
He found inspiration in a book about innovative thinking. "At first, your critics will discredit you," DeNeve recalls, "then they'll say your idea will never work, and third, they'll tell others that you will be too far behind." But the Platinum model is proving its worth—DeNeve now boasts affiliations with 600 agents. "There is change in the industry," he said. "The role of the
agent is changing. I'm not saying it's because of what we do; I'm saying it because it's what we believe in.
"When you look at brick-and-mortar realty offices, we have that now, but we still don't believe in cubicles and paying for square footage for people to come and sit around. The wave for real estate is more virtual, not in the sense of no office, but of sales people on the move. From anywhere in the world, we have the perception of being in front of the client."
For that reason, he says, "whether we're the company changing the compensation rule for agents or not, I think there is going to be a huge shift in the way homeowners can find homes. The traditional model, for 100 years, where it was successful, I call them dinosaurs: They were big, they were powerful and they had a mean bite," DeNeve says. "But eventually, they went extinct."
Fuel Kinetics
Tim Tierney's father worked for Cities Service Gas Co., and Tim followed into a career in hydrocarbons with degrees in mechanical engineering from Wichita State. Fossil fuels are a legacy business
that runs all the way back to coal and peat moss, but the advent of the oil industry in the mid-1800s led the way for new applications that changed the world. Like the internal combustion engine.
The basic premise—spark ignites fuel source, producing power for locomotion—has remained fixed for nearly 200 years. Tierney's quest for innovation led him to found Fuel Kinetics, but not out of a desire to build a better gas-burning mousetrap. He was looking to change the fuel itself.
That's what led to Modifuel, a formu-lation that is not an additive, but a carbon-based compound that changes the very nature of diesel fuel itself, increasing the efficiency of its combustibility. The results, demonstrated in testing by the Wichita Fire Department, showed gains of between 15.3 and 50.4 percent in vehicle miles-per-gallon. It's a simple response to changing market conditions, says Tierney.
"Regulators are requiring less pollution, but demanding that end users and taxpayers pay the tab" for higher MPG ratings, he said. Because of that, his team at Fuel Kinetics "strongly believes that if consumers are offered an affordable fuel that also generates less pollution, they will enthusiastically support its usage."
The potential market, he said, is enormous. "According to U.S. Energy Administration, the current over-the-road diesel fuel consumption in the U.S. is almost 240 million gallons per day and gasoline is more than 500 million gallons per day," he noted. Among its biggest clients, the company is working with railroads, shipping companies, big cities and waste management operations throughout the U.S. and overseas," he said.
The biggest challenge for that, in a world awash in fuel formulations, additives and other compounds, "was simply establishing credibility with both private industry and the EPA," Tierney said. "While fuel is a significant consideration of many businesses, a myriad of additives exist in the marketplace that seem to add problems, not solve them."
Modifuel was designed to do one thing: improve fuel efficiency. That's all. It is itself made up of hydrocarbons—no biocides, detergents, or dispersants, no metals, ethanol, alcohols, soy or sulfur.
It was a novel approach to a longstanding problem. "It seems that everyone wants to be second and not many want to be first," Tierney said. But field tests and early clients alike have validated the performance—a local concrete and materials hauling company has averaged better than 20 percent savings with its fleet of dump trucks since 2010, Tierney said.
If he could anything about trying to achieve such an innovation and getting it to market, he said, it would be to "have a more realistic appreciation of the time required to carry out the tasks at hand, particularly the unwieldy aspects of government regulations."
Western Extralite
Western Extralite, a supplier of electrical components and data communications systems, was born of innovation. "Our innovation really starts with our roots," says Tom Isenberg, president of
the company founded in 1938 by his grandparents. "They started selling a very innovative product, the first commercially available inside-reflector light bulb.
It had silver on the inside of the glass." 
Up to that point, lighting something up required reflectors on the outside of a bulb, like an old flash camera, he said. From that foundation, the company has grown across three generations of family ownership to deal in more than 13,000 electrical and data-com products. "But we also continue to try and be innovative, both in the products we sell and how we apply those to our own business," he said. 
The best example: Two years ago, Western Extralite made the largest single solar investment by any company in the state of Missouri. But not for a client: They put new solar panels on their six Missouri locations. They also erected the Midwest's first solar wall at their facility in Manhattan, and built their new site in Lawrence to silver-LEED standards. "We recently put LED lighting on the exterior of our building, the headquarters in the West Bottoms, and made changes in the lighting in our warehouse, upgraded it, and our energy savings is approximately 75 percent," Isenberg said. 
What advantage has all that produced? "I think it allows us, in a very, very competitive business to be as efficient as possible. Look, we have no lock in any of the markets we're in; there are more and more competitors all the time. In addition to allowing us to use our facilities as showcases, employing energy-saving technologies enable our company to  hold down cost increases or make investments so we can survive and thrive in the future." 
The key was looking at the company's products as more than a means for increasing sales. In electrical circles, Isenberg said, "the changes are the largest in the LED lighting world. There really is a shift, and I think we're certainly benefiting from it, both as a seller and a consumer." 
The push to make those changes within the physical plant was part C-suite in origin, he said, "But a lot of it was bubbling up through the organization. There are certainly some things I brought to the table, but the majority of it was someone in our organization saying, 'Hey this makes sense.' " 
That is what it takes to make a successful organization—"a good interchange between people and an open environment where everybody is on the lookout to make improvements," Isenberg said. "You're looking at it not for technology's sake, but consistent with what it takes to make the organization itself more successful."
Where It All Starts
As these examples have shown, and as Kauffman's Ruhe noted, the drive to remain innovative generally runs in one direction: "It comes from the top down," Ruhe said.  "The ethos of organization is represented in the incentives offered to employees. You absolutely get the kind of behavior your incentives are designed to produce—intention be damned.
"It takes a special talent at the executive level to recognize that within an organization, and even be receptive to that," Ruhe said. 
"Too many people in leadership roles have one impression of what the organization is like, and whether that reflects the actual situation is incidental," he said. "They need to find reasons for the stalling, and provide incentives for the kinds of behaviors that will drive the organization forward."