Manufacturing has been undergoing sweeping change since man invented the wheel. Now, demographics and technology are quickening the pace of that change.
Headlines, by their nature, are often rooted in developments that most of us might not consider good things. So a pair of them that emerged in recent weeks, regarding a couple of high-profile names on the regional manufacturing scene, might have created some unease about the overall health of that sector here, or that Kansas City is adding to a national trend of a sector in decline.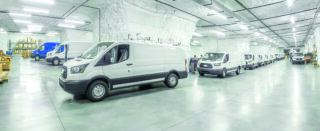 Roll the Line | Ford Transit vans getting their interiors upfitted in the Hunt Midwest underground facility's Automotive Alley section, where more than a dozen auto suppliers have set up shop.
---
To which those who know what they're talking about—people who don't write headlines—have one word in reply: Bunk. 
Assessing recent news that Harley-Davidson and Procter & Gamble would shutter their plants here, with the potential loss of nearly 1,000 jobs combined, Narbeli Galindo of the Economic Development Corporation of Kansas City offered some badly-needed perspective.
"When you look at the creation of jobs in manufacturing in this area, we're up about 5,000 in the past five years—about 1,000 a year," said Galindo, the EDC's director of international affairs. In her role, she sees not only growth in manufacturing, but manufacturing connected to buyers in a global market. The chances are good, she said, that many of those displaced by plant closings could wind up with other jobs, and soon.
Just this year, Honeywell announced that it would follow up last year's hiring of roughly 150 manufacturing workers with 450 more jobs, many of them in fields like assembly, welding and tool-making, along with electrical technicians and machinists. That's part of a push to upgrade elements of the nation's nuclear stockpile, a 20-year initiative with the promise of long-term employment.
What's happening at Honeywell, and at the vehicle-assembly plants for Ford and General Motors, and in the production wing of the animal-health corridor and countless other ways, reflects broad growth in manufacturing output. But counter to historical trends, major advances in manufacturing technology mean that employers need far fewer physical bodies—and the ones they do need are sig-nificantly better educated than preceding generations.
That's a seismic shift that will reverberate throughout the sector for years to come. "The U.S. economy is on the verge of the successful integration of artificial intelligence and machine learning," said Ernie Goss, an economist who teaches at Creighton University in Omaha. "For a number of years, corporations have stumbled along with artificial intelligence and machine-learning applications showing the many ways to fail or experience limited success," he says, but "these less-than-successful trials will usher in successful implementations."
Those national trend lines are wrapped up in a regional package of manufacturing diversity that helps insulate this region from sharp employment swings when a plant announcement does come. The Mid-America Regional Council, for example, counts 13 distinct manufacturing disciplines among the business sectors it tracks, and they are responsible for roughly 80,000 jobs in the metro area.
Years of board service with the Kansas City Industrial Council have given engineering executive Mike Lally an up-close education into the breadth of that diversity. "The thing I've learned is that across the six historical areas that grew up along the Missouri River, the Blue River, Turkey Creek and others is the incredible amount of employment opportunities," said Lally, vice president for Olsson Associates in Overland Park. "And these are significant companies, with significant payroll generation and they are really good jobs."
While facilities like the Leeds auto plant and Armco Steel are long gone, "there are some really cool businesses, like Clay and Bailey or Moly-Cop," Lally said, "and a whole host of other companies that are manufacturers, distributing things related to the auto industry, just a lot of interesting businesses in there."
So where are the jobs? According to federal census data and MARC, roughly 2,000 companies fill that space, which reflects the small-business nature of most of those companies, given the average of about 40 employees each.
Fabricated metal accounts for the biggest single chunk of employment, generating parts that can be used across a wide range of industrial settings, with roughly 13,000 jobs. Transportation equipment ran second, at roughly 10,000, while food, printing-related concerns and machinery accounted for about 6,500 to 7,000 each. The rest of the region's manu-facturing makeup entailed computers/electronics, chemicals, non-metallic mineral products, furniture, electrical components, plastic/rubber products, wood products, with about 5 percent of employment falling under the miscellaneous category.
More important than those numbers alone is the multiplier effect attached to each, with each communications-equipment job responsible for generation 2.87 additional support jobs at vendors and other companies, and all others generating more than 1.82 other jobs, up to 2.61 for surgical supplies.
"Overall, there's been a slight uptick in employment, but we're  probably never going to get back to where we were in the '70s', when a much larger share of the population worked in manufacturing," said Jeff Pinkerton, senior researcher for MARC. In the context of the Harley and Proctor & Gamble news, he said, it's worth noting that while manufacturing employment may not be growing as fast as we'd like, "it is growing faster here than the nation as a whole. "So if there's a community that's able to absorb that loss, it is Kansas City," he said.
Somewhat more optimistically, the Federal Reserve Bank of Kansas City's December Manufacturing Survey reported that activity in the sector continued at a solid pace. "Factories in our region remain upbeat about hiring and capital spending as we head into 2018, following strong growth in recent months," said Chad Wilkerson, vice president and economist for the bank.
That doesn't mean the sector is without challenges, such as higher prices for raw materials (a potential precursor to significantly higher inflation than Americans have become accustomed to), technological advances, and the growing poten-tial for competition from abroad. Perhaps foremost among those risk factors, though, is what's happening with the work force.
"When you talk about the work force and people coming in, impending retirements go hand in hand with that," said Donna Gordon, managing director for the Kansas City Manufacturing Network. "We had a meeting last April on the Silver Tsunami, and people signed up were asked to provide a percentage of work force by generation—it was all over the map. Some have a fairly large contingent of young workers, but some have a large percentage of Baby Boomers and they're saying, 'Gosh, what do we need to do to bring this next generation on-line?'"
It is not merely a matter of replenishing bodies; the Boomer and Millennial cohorts are roughly the same size, but separated by two to four decades of practical workplace experience. 
"In blue collar, there are a lot of young people moving in," said Robert Zahner, vice president of the metal fabrication company Zahner. "What's lost is a lot of talented people that can do some extremely sophisticated things with their hand skills, welding, soldering, finishing—that's a lot more difficult to replace."
Technology can close some of that gap, he said, and union job training also helps. But for specialty producers, that training is more global in skills, and less specific to the company's tasks and products. "It has to be coupled with experience," he said.
At Dimensional Innovations, the fast-growing design and fabrication firm for themed building interiors (think high-end locker rooms or corporate displays and entryways), there's no shortage of willing labor—the challenge is adapting it to the work product. "We are seeing more qualified people; we think the work force is getting stronger," said Jason Grove, president of DI Sign. "We have confidence in the surrounding education, trade schools, and universities in the area. Our thing, really, is we have a hard time in manufacturing overall, finding and hiring people who do exactly what we do so there's lots of on-the-job training."
The key, then, he said, is finding the right underlying skills and training to task, especially with jobless rates hovering around 3.5 percent regionally.  "It's a more competitive hiring marketplace," Grove said. "A few years ago, we relied more on the temp labor market, but have found over the past couple of years that we need to do more direct hires, that people looking for work have more options."
At Columbia Packaging Group, president and CEO Marc Radasky stressed the need for the right cultural fit in manufacturing. But education, too, is important, he said. "We want bright people in our business who always strive to be better, to grow themselves. We don't necessarily look for a  person who has been in packaging their whole life."
A lot of bright people out on the manufacturing floor don't have college degrees, he said, but they are problem-solvers. "They have innate critical-thinking skills. We look for those skills."
Each of those perspectives are driving a message from the National Association of Manufacturers, whose president and CEO, Jay Timmons wraps up the fourth annual State of Manufacturing Tour with a stop in St. Louis later this month.
 "Across America, the nature of work is changing, and the types of jobs we're creating are shifting,' Timmons says. "Innovation is transforming the way manufacturers operate, and there is an urgent need for talented and skilled men and women on our shop floors and in our facilities working as coders, technicians, craftspeople, designers, marketers and so much more."
Kim Inman, CEO of the Missouri Association of Manufacturers, said the sector has a task on its hands spreading that type of message. Fresh off the association's annual meeting in Springfield this month, she said executives in that space are brimming with optimism. The global economy is heating up, cor-porate tax rates are coming down at the federal level, and regulations are being pared back by the Trump administration.
"The tax reform itself will allow them to be more competitive internationally," Inman said. "That's going to be a big one. Because the nation has seen a steady erosion of blue-collar jobs in middle-class income territory, it hasn't been beating the employment and career-potential drum as loudly as it should have, she said. But that's about to change.
"Manufacturing hasn't gone through this in a long time because we cut so much in the sales, business development and marketing areas," Inman said. "Now, we're having to look at those items again, and to gear up for growth they're seeing"—growth will depend on addressing those work-force challenges, as well as cost containment, regulations, managing energy and other factors.
"Manufacturers are unlike some industries in that they're  affected by everything," said Inman. "I challenge people in a room, are you aware of just how much manufacturing impacts your individual life? My challenge to them is to look around room and find one item—just one—that was not manufactured."