Originally set to begin June 22, the "Phase Out" stage of Kansas Gov. Kelly's Ad Astra reopening plan has unofficially been placed on hold.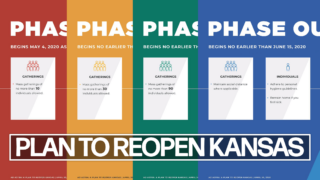 Kelly and the Kansas Department of Health and Environment advised communities across the state of Kansas to remain in Phase 3 of the plan, recommending an extension of at least two more weeks.
New case numbers continue to climb in certain areas of the state, prompting Kelly and the health department to make the announcement.
The decision to follow the recommendation, however, rests with local officials, according to reporting by the Associated Press.
"Though many Kansans and communities have been social distancing, wearing masks, and working hard over the past few weeks to mitigate the spread of the virus, we have unfortunately seen an increase in disease spread," Kelly said in a news release.
As of Tuesday, Kansas saw 12,465 cases and 259 deaths statewide.
The number of cases reported by the Kansas health department rose 17% or by more than 1,800 over the previous two weeks, according to the Associated Press.
The state saw its daily average for new coronavirus cases increase by about 50% over the previous two weeks, from a daily average of 96 new cases to about 145, according to Johns Hopkins University. The state's rate of positive test results also climbed from 3.6% to 5.5%.
The main difference between Phase 3 and the "Phase Out" stage is that Phase 3 limits mass gatherings to no more than 45 people, according to the Associated Press. The "Phase Out" stage merely urges social distancing but does not limit the size of crowds.
"After consulting with Secretary Norman's team at KDHE, I have decided that our state is not ready to move into the final phase of the 'Ad Astra' plan until July 6, 2020, at the earliest," Kelly said in the release.
For communities that choose to stay in Phase 3, the following key highlights remain:
Mass gatherings of more than 45 individuals are not recommended;
All education, activities, venues and establishments may operate and are recommended to follow all public health guidelines;
On-site staffing has no recommended restrictions;
Nonessential travel may resume, provided travelers follow KDHE travel and quarantine guidelines for travel to high-risk areas.