IN A REGION AS BIG AND DIVERSE AS KANSAS CITY, WHETHER IT'S VALUE, CULTURE, EDUCATION, RECREATION OR FAMILY, THERE IS SOMETHING THAT RESONATES WITH EVERY RESIDENT AND SAYS, 'THIS IS HOME.'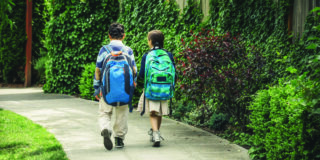 A Sense of Home | The little things, like seeing the kids heading off to a neighborhood school in the morning, fill most every corner of Kansas City and its thriving suburbs, and affirm that life here is indeed good.
---
The Midwest is home to more than 65 million people—nearly a third of the nation's population—and Kansas City is certainly a gem within the heart of the Midwest, home to some of the best food, entertainment and business in the region and country. But what makes people stay? What keeps people returning in increasing numbers, choosing to make Kansas City their home?
Several factors influence those decisions to either stay, either in the sprawling suburbs or in the urban center, but almost all can be traced to this region's outstanding quality of life. Quality of life is a broad concept that means something different to nearly each resident. From the wealthiest citizens to those in the blue-collar roles among the working class, each measures his quality of life and overall satisfaction differently, depending on day-to-day work and responsibilities, income, and even age, among other factors.
Among those factors are cost of living, quality of education, career opportunities provided and general safety. And then there are entertainment and cultural options, a little further up Mr. Maslow's scale. What is available for individuals and their families to do together in their free time? What is the nightlife like? Are there an array of restaurants, theatres, museums, etc. for civilians to choose from? What is the affordability and accessibility of these things? Fortunately, Kansas Citians need not look very far for answers to these questions.
The convenience and ease of getting around the city is second to none anywhere in the country, with average commute time registering in at around 20 minutes—that's half of the average reported New York commute time. Education ranks as one of the most important factors in quality of life to residents, and Kansas City is home to an abundance of K-12 public school districts as well as some first-rate private schools and ample number of distinguished post-secondary education options.
Public safety is not something to be taken lightly, and for residents of most cities in the area, there is a tight and orderly system of security for residents. Aside from crime committed primarily in older core neighborhoods—issues that nag at every large American city—Kansas City provides an overall safe community for residents, and those well-regulated safety measures have contributed to long-term growth in the region for the past 60 years. Kansas City has established a dedicated task force that works diligently to provide residents and visitors with a peace of mind knowing they are safe, whether they be here long or short term.
The region also can proudly boast of being one the most affordable places to buy a home in the nation, a factor that helps keep residents and their families gro-unded here.
As generations turn over, there is a rise of younger people making a return to the area, choosing to continue to make the Midwest their home. Part of this is due to that reasonable cost of housing, but the low cost of living here leaves people with more money to spend on the things they enjoy doing, making for some happy people.
Even residents may be surprised to find just how much there truly is to do in Kansas City, from the restaurant and bar scene at Power & Light and in Westport, to more family-friendly activities and events for all ages including those found at the Nelson-Atkins Museum of Art, Crown Center and Union Station. The wide variety of activities, many of which people may be surprised don't require them to empty their wallets, gives residents and their families the opportunity to enjoy spending time together in a city that humbles itself on being an open space for all.
Aside from the notoriously unpredictable weather, the greater Kansas City area is a comfortable place to live, proudly home to some of the greatest people and businesses from all around the globe. And it's no wonder—in a city like Kansas City, who wouldn't choose to stay?