Whichever type of person you are, however you like to spend your time and whatever type of local atmosphere you prefer, kansas city has everything you need to live a great life.
What exactly is "quality of life," anyway? It probably means something at least a little different to each of the 2.5 million-plus people who live in the Kansas City metro.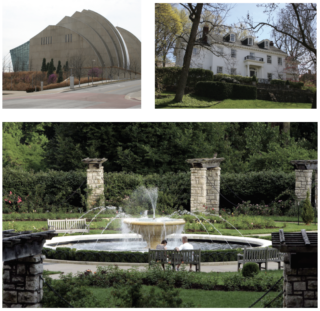 Fundamentally Sound | Quality-of-life considerations in the Kansas City region are addressed by the wide variety of institutions, organizations and attractions. From top-tier universities to a world-class performing arts center, from outdoor recreational opportunities and varied weather to scenic boulevards, parks and fountains, Kansas City has much to offer.
---
Like any major urban area, Kansas City has plenty of residents whose lifestyles most of the rest of the population can't begin to fathom. The wealthiest Kansas Citians tend to be down-to-earth folks, but they probably measure their quality of life differently than do the people who keep their companies going day in and day out. Let's look at those "regular folk" concerns.
Quality of life involves a lot of factors that are combined differently depending upon who you are and what your idea of an ideal place to live is. What's the traffic like? How are the schools?  What's the cost of housing? How does the price of groceries compare to elsewhere? What is there to do in your free time? Are their nice parks? Is their decent nightlife? What about cul-tural opportunities like museums, music and theatre? 
Those are just a few of the questions you might ask. Kansas City is proud of saying that the answers to all of them are very, very positive.
Some Essentials
As Yogi Berra might have said, "Wherever you're going, you need to get there." And getting there is never very difficult in Kansas City. The region has more highway miles per capita than any other city in the world. Average commutes tend to clock in at less than 20 minutes, with people in the area spending about 50 hours less time commuting than other Americans, on average. New Yorkers spend twice as much time commuting than the people in the Kansas City area.
Schools were also mentioned above. The region is dotted with great K-12 public school districts, many top-notch private schools and plenty of excellent post-secondary options.
Public safety is another common quality-of-life consideration. Like any other urban center, Kansas City has some older core neighborhoods that have concerns, but the safety and security of its suburbs have been a significant factor in the growth the region has seen over the past 60 years.
Cost of living, evidenced especially by the affordability of housing, is another big plus in Kansas City. Costs are so low that Kansas Citians have both more time to do the things they want to do and more money with which to do them.
Some Nice Extras
As a business publication, our editors run into a lot of people whose professional lives have moved them and their families to Kansas City from elsewhere. There's no hard statistic to quote, but a very large percentage of those people have said something along the lines of, "I knew Kansas City was here, but I had no idea how much there WAS here. This is a great place to live." (see Why KC? on page 10-11)
Now, as is the case with "quality of life," people measure "great place to live" on their own terms. We're going to try, however, to touch on a few commonalities.
Let's start with the restaurant scene. And let's get barbecue on and off the table, right away. Kansas City barbecue is legendary and you could make a pretty good hobby out of locating and trying all the various purveyors in the region. But there's more to Kansas City than its famous local delicacy.  There is no better place on earth to enjoy a steak than Kansas City and you'll find a delicious and diverse range of fine and casual dining options throughout the 16-county area. Bon appetit!
The arts are also well represented in Kansas City. There are world class museums, such as the Nelson-Atkins Museum of Art, nationally recognized theatrical organizations and cultural venues such as the Kaufmann Center for the Performing Arts. Place like Sprint Center and various local stages bring in popular performers from all ranks of the entertainment industry, and sports fans can take an easy ride to the Truman Sports Complex to enjoy the Kansas City Chiefs and the 2015 World Champion Kansas City Royals.
Another thing about Kansas City. It's beautiful. The city was planned by people of vision, who understood the value of wide boulevards, flowing fountains and plenty of green space. The people who went on to build the city's thriving suburbs took many of those lessons to heart.
Perhaps the best-kept secret about Kansas City is the small-town style of living many of its communities have been able to maintain even amid tremendous growth. Towns both big and small have been able to maintain local shopping and entertainment areas that give them local flavor all their own.
Now, let's finish up by talking about the weather. If you're looking for a year-round climate, we hope you find one. But if you enjoy the change of seasons and want to experience all four, Kansas City is the place for you. Summer and winter can each bring some extremes, but rarely anything that stops the town in its tracks. As for spring and fall in Kansas City—they offer some of the finest days you'll find anywhere.