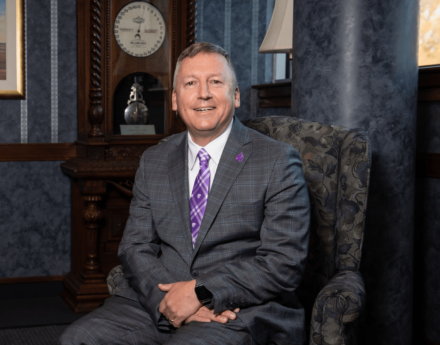 Q: What made the K-State opportunity the right fit for you at this point in your career?
A: I've been strategically thinking about my career for long time. Fifteen years ago, when I was a part of the Food Systems Leadership Institute, my mentor and I drew a diagram of what my career path could look like. There were a lot of branches to the tree, but one solid trunk was the goal to be president at a land-grant university. My path to get the from Purdue to department head at Ohio State to Dean at North Carolina State was done to prepare me in the best way possible to be president at a land-grant university.
Q: Why is the land-grant aspect so significant?
A: The land-grant purpose is what really drove me to Kansas State. The integration of research, teaching, reaching out with a global impact, the community at K-State are all important. There have been some recent hires in upward administration who have come to Kansas State to work in a vibrant community with so many opportunities. It's a great chance to launch K-State forward.
Q: Can you address some of those opportunities?
A: Certainly, starting with the low-hanging fruit, the connection between K-State Biosecurity Research Institute on campus and NBAF (the $1.25 billion National Bio-Agro Defense Facility opening in 2022). Kansas State has been known for a long time for expertise in biosecurity in food systems. I've already begun outreach out to upper administrators at the institute to talk about what this can mean for a new partnerships. It allows Kansas State to attract incredible faculty, staff and new students because of this one-of-a-kind new facility. With strong partnerships with USDA and others, the goal is to build federal and state relationships and finding ways to win-win. That's where synergism comes in, and that enables you to do things that you thought were not possible in the past.
Q: Your predecessor, Gen. Richard Myers, is leaving with a new initiative rolled out last week, the Kansas Economic Prosperity Plan. Have you had a chance to review the scope of that?
A: At the 50,000-foot level. What excites me about it is the forward thinking about Kansas State and the university system, and the three pillars: enhancing the student experience with accessibility and affordability, and the two others based on the economy, job creation, partnerships, working with industry, and creating the talent pipeline needed for industry. I believe that's why I was an attractive candidate, because many of the things I've done at N.C. State were built on opportunities to grow the economy, create jobs and involve the faculty in research innovation and get students into that talent pipeline.
Q: Up to and throughout the pandemic, higher education funding in Kansas seems to be perpetually challenged, with respect to state funding. What concerns do you have about where public funding is in Kansas overall and for K-State in particular?
A: I think the trend in state funding is consistent around the country. The past 10 years at N.C. State, we've had a 28 percent cut to our state budget. I certainly worry about the concern for supporting higher education and the mission of teaching and extension, but also about being relevant to the state's needs. If we can identify how to do things that are important to the state, grow a mechanism to create jobs and attract people to the state, if we're more relevant, we have a better chance at seeking recurring or short-time funding to support the needs of the college to benefit the state. My job to is to think about all the potential resources to help—state, federal, competitive grants for research, philanthropy and fund-raising, with the goal balance and help grow each of these strategically. The great advantage is that, as a land-grant, we're the only kind of university that touches all 105 counties.
Q: Especially with NBAF opening adjacent to campus next year, what do you see as the biggest opportunities that can impact the K-State mission?
A: There's nowhere else in the world that will have that kind of capacity. Our question is, how do we build a better partnership with the USDA and other partners, how do we better partner with industry, build out the Animal Health Corridor that NBAF will be a part of. That future can be whatever we want it to be, but it all starts with synergistic partnerships and figuring out what makes most sense. There's no question it will be a magnet for opportunities and industry, and a magnet for great talent.