The second-generation leader of a 40-year-old company reflects on an insurance/benefits, industry awash in change, succession planning for clients, and his own move to leadership.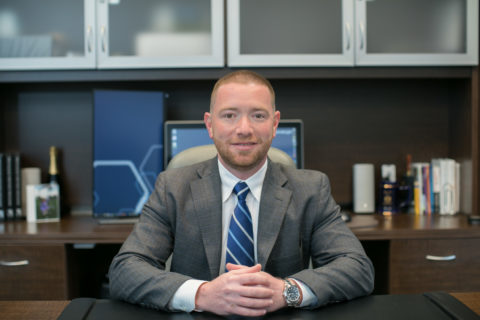 Q: Let's talk a bit about the state of things in the employer insurance and benefits world: Did 2020 prove to be a good environment for you all, or a challenge (and why?)
A: Obviously, the biggest component was COVID-19. We used it as an advantage to improve client service, similar to when the Affordable Care Act first came out. Everyone from staff to sales folks stayed up to date, tried to be the most educated person in the room with those developments. It definitely helped with both clients and prospects this year.
Q: How so?
A: Up until renewal time, we were advising them on things other than health insurance, and that was different for us, but it was a great opportunity to learn more about our clients. We did a lot to help, beginning with how to safely run a business, what equipment they needed to buy, worked with attorneys on employer liability and how to set up a safe workplace. A lot of that was never done in the employee benefit world before, but it was a great service to our clients. That turned into advising clients on the ever-changing landscape legislatively. When the first regs came out, advising clients on all the new rules for furloughing employees, unemployment benefits, and all those types of changes. There were a lot of questions from business owners.
Q: What other impacts did you feel as an organization?
A: That kind of transformed us into advising on the Paycheck Protection Program and government stimulus. There were a lot of clients looking at that, particularly in the hospitality industry. We had counsel from our attorneys at Stinson and a lot of help from numerous accounting firms. We became experts in helping these businesses stay open during the pandemic and use every resource available to them. As most people know, 2020 was really a low claims year overall as a country, because not a lot of people went to the doctor or got out of the house for a big portion of the year. That was a double-edge sword battling underwriters; did people miss procedures they needed, and would they come back later, in even worse health? On the positive side, we were fighting for our clients, saying "no, that's a broad assumption without a ton of merit, the claims should speak for themselves and loss ratios need to be accounted for."
Q: So, like a lot of businesses, you found opportunity amid the chaos.
A: We found that it presented a unique sales strategy to become experts in whatever changes happen in the industry. When those things happen, some companies will take a wait and see approach, or they are watching whatever political show on TV or reading the paper and they'll go with that stance, or you can do what we do: take both sides, play it down the middle, get as much expert opinion as we can and advised our clients. That's worked for us.
Q: What about internally? How did the pandemic affect operations?
A: We had already set up remote capabilities, so we had just switched platforms and trained our staff in the months before. We were very prepared for that. We'd grown a ton over the past few years, so we had put in new structures and we were ready for it. 
Q: A lot of business leaders we talk to say they have continuing concerns over the cultural impact over the past year. How about your firm?
A: This was our 40th anniversary as company in 2020. We had a lot of in-person client events that we've had to reschedule. We're a company that's used to all being in the office together. Teamwork has been one of our biggest core values, and all the sudden, you have to remotely make an appointment to see each other. After a few weeks, we got used to it, and in some ways, really good at it. It's amazing how much more we're able to talk and have meetings, department meetings, preplanning sessions, just because of the availability of everyone when we're remote. It's a lot harder to coordinate when you have to be there in person. The same goes for clients—it was really easy to get on Zoom or a Teams meeting, go over everything. We did that more frequently vs. having to find scheduled time. Culturally, it was a big change. 
Q: Anything else shaking up the sector?
A: It's been a big year for tech for our industry. Admittedly, demographically we're an older industry; we love paper as an industry. This forced us to do some meetings on-line, that is what we can carry forward into the future. We have always had the ability to talk to employers and clients, but now we are able to take that down to the employee level. Before, it was an in-person group meeting, and there was a lot to covered there, but people would get to ask some questions. Now it's all off-site, done remotely, and we have a chance to talk one on one and explain benefits in greater detail. Everyone became an expert at Zoom/Teams/etc. 
Q: What about client companies where owners had been looking to sell in 2020? Did you see any impact on transactions there?
A: We do employee benefits as our bread and butter, but a huge part of our business is financial services, executive life insurance and 401(k) so we deal with that subject a lot. We are experts in how to use those life insurance policies for this very reason. On one level, it was a bad year if you had to let employees go or furlough them, you may have had a drop in sales, particularly in the hotel and restaurant businesses. It was a very volatile year. That was a negative. On the positive side, interest rates were so low, and they probably offset each other. If you had a sale in the works, you likely went ahead and did it; our clients did. They did change plans and probably had some people staying on longer, but with rates so low, we still saw our fair share of companies being sold. 
Q: Were those sellers getting the asking price, or have to alter their sale timeline?
A: We had multiple clients in that exact situation—they sold their company earlier than they'd expected, had a lump sum of their hard-earned money, and wanted to continue working, but no longer with a retirement plan through the company. So we were helping them through life insurance and on the financial and retirement planning aspects. We actually had a number of clients in that situation. They sold for less than they needed, hoping to find a consulting job  and we helped get that cash into some retirement vehicle. 
Q: Did the events of 2020 change the nature of brokerage work itself—new kinds of risk-management tools, new types of employer benefit needs (as with COVID-testing policies, new risk exposure from remote work, etc.)?
A: Absolutely. But this was a long time coming, and I think 2020 just forced us to bring things to the forefront. It really brought home the fact we are consultants, and we counsel employers on every aspect of their business. The benefits part is huge;  life, key man and succession planning is huge. But now we're also helping HR with compliance issues, reporting issues, ACA, taxes, advising on PPP loans and requirements. It's a big difference It's a change, but something we'd ben trying to move over to for a long time. So now we're talking about what goes with all of that, executive compensation, salaries, vacations—everything plays into it. Rather than play in one end of the sandbox, we take a total look at each company and their unique needs. There is also the tech part; our industry has vastly improved automated administration, making a better employee experience. 
Q: You all had to go through precisely this succession dance about 8 years ago when your father, Duncan, turned the company over to you. Looking back on it, did that go according to plan, or would you have changed some things?
A: We did a lot of planning on for this. My father ended up selling MGI to me and other key MGI partners.While I'm the majority owner,  I have four integral partners, particularly our Vice President & Chief Marketing Officer, Scott Sachse. They were more than instrumental in helping with the change. Our company specifically, we all knew what was happening, it was no secret. I started at the bottom, then headed departments, then was COO and eventually CEO for that last year while my father was chairman. We were very blessed for two reasons. One, I grew up in the business, and had a lot of time to plan how I saw the company growing. Second, and most important, I had very supportive partners who helped with the transition so it wasn't just all on my shoulders. 
Q: You've had some pretty significant growth since the transition, haven't you?
A: Since the transition and buy-out, we've more than doubled our number of associates. It's a different company. In the beginning, our main goal (or challenge) was to keep the culture my Father had established for more than 20 years. Now we have transformed into having four highly efficient departments: mid-size market employee benefits, large group employee benefits consulting, and our executive life insurance and 401(k) teams … creating an entirely different set of dynamics and opportunities.
Q: How significant has it been to go from a single owner structure to shared ownership?
A: It is important for us to have experience in our ownership roles, and for each of us to have a stake in the success of the company. We are partners in the truest sense. We all have unique skill sets, and everyone does their part to ensure we are successful.