Marc Hahn is president and chief executive officer of Kansas City University.
Q. How has health-care instruction changed since COVID-19?
A. COVID-19 changed all education in a dramatic way and it did so with a speed no one thought possible. We have learned that we can teach medical and health science education in ways we never imagined. Yet confronted with this pandemic, within a matter of days our on-campus classes transitioned to virtual learning. Our third- and fourth-year students who were performing clinical clerkships alongside physicians in hospitals and clinics swiftly converted to online modules. KCU was one of the first universities in Missouri to transition to web-based classroom teaching effective March 11.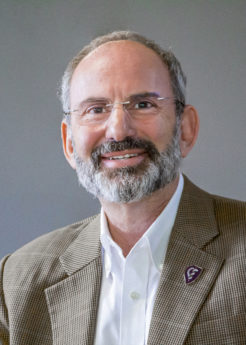 KCU's immediate response to the COVID-19 pandemic allowed us to deliver a full curriculum to all students at both of our campus locations, in Kansas City and Joplin, including third and fourth-year students performing clinical clerkships across the US and globally. This early response allowed every fourth-year student to stay on track for graduation on May 9 and all other students to progress to their next level of education.
Q. What steps are you taking for clinical instruction?   
A. Our faculty have been extremely adept at embracing technology to deliver instruction remotely. We have relied upon the ability to teach remotely for several years as our professors have lectured in real time simultaneously between our Kansas City and Joplin campuses. Third- and fourth-year osteopathic medical students are prepared to begin their clinical clerkships as scheduled in July and August. We will continue to take safe and measured approaches following the science as we make decisions regarding their safety and well-being.  We recognize that we must be flexible and nimble in adapting to the changes that are to come.
Our recently completed Center for Medical Education Innovation is a one-of-a-kind teaching facility equipped with virtual reality and augmented reality technologies. The preparation for the opening of that facility prepared members of our faculty and staff to easily adopt online technologies to continue our various curricula.
Q. What are your main concerns about the virus right now? Enough testing?
A. Testing, testing, and more testing.  We cannot fight an enemy that we cannot see.  We must test for the virus, but over time, we must also test for the antibodies to the virus.  We need to understand the penetration of the disease in the community and recognize who may have had the disease, and who may have some degree of durable immunity. If we recognize an individual with the disease, they need to be isolated and treated, and contact tracing to quarantine those the patient had direct contact with in the community.  We must use science to guide us, and be prepared for a second or third wave of this pandemic.  Additionally we must better plan for the next pandemic, for it is coming whether it is 100 days from now or a 100 years.
Q. Why did you decide on a tuition freeze for students?
A. It has always been a priority for KCU to keep the cost of education as low as possible for all of our students, and ties to our vision to be one of the most student focused health science universities in the nation. KCU has remained one of the ten least expensive private medical schools in the U.S. Especially now, we recognize the added financial hardships that many of our students and their families are facing because of the COVID-19 pandemic. By freezing tuition we want to offer a measure of comfort and support by easing the financial burden our students are experiencing during this difficult time.
Q. How will COVID change health care going forward?
A. The payment for telehealth services by both government and private insurers will transform the face of health care forever.  The technology has existed, physicians and patients have all embraced the concept but with refusal by many payers to cover those services, it has only experienced limited adoption.  Obviously, many services need to be in person; however others can be handled in a way that is timelier, quick in duration and with less stress to the health system and patient alike.