Q: What made this role, at this time, the right fit for both you and the University?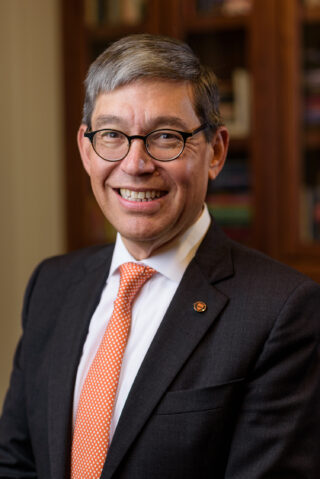 A: From my perspective, I was really excited by the growth, momentum and dynamism of OU. Most private colleges are struggling; they are averse to risk and change. For many, they are just managing the decline. OU, under the leadership of Kevin Eichner, has embraced change, has been extraordinarily entrepreneurial, and has focused on building a pioneering business model in higher ed. I consider myself an academic entrepreneur at heart.
Q: And what do you bring to the task?
A: From their perspective, I believe it was my breadth of experience, at the big state university at KU, at a private reserach institution in Southern Methodist in Dallas, and my depth in fund-raising and enacting new academic and support programs, promoting diversity and accountability.
Q: The last piece is a bit of a challenge, given the lower graduation rates of economically disadvantaged groups, isn't it? Can higher ed play a role to deepen the pool of prospective students, or is that just a K-12 responsibility?
A: Universities have a huge role in expanding number of eligible students. There are huge numbers of bright, ambitious kids across the Midwest who really don't know what the possibilities of higher ed are. When you look at that horizon of opportunities, they see only the community college down the road, not a four-year school that can position them for even greater success. So being present, getting out into those communities, talking to families, talking to students about higher education, whether that's at Ottawa or somewhere else, we need to show what it can offer them and how it can change their lives.
Q: Do you have a to-do list already drawn up?
A: I do not. My philosophy is that a president's vision and the community's need to be completely aligned. And Ottawa is a complicated community: residential campuses in Arizona and Kansas, adult education, global on-line, so Job One for me is to learn about the institution and listen. My plan is to work with them over the coming year to chart the course, and that will be an inclusive and broad process. We have to have a common strategy and vision for the school. Given all the changes ahead, we have to have a clear plan. Other thing for sure I'll be doing is trying to amplify our message to the world. OU is a hidden gem, one with a number of stories to tell. I see myself getting up on a soap box, telling folks about just what a special place this is, and how transformative the experience here can be.
Q: What longer-term challenges for OU, private higher education and higher ed overall do you consider most disruptive within the next few years?
A: I think we all realize the elephant in every room in higher ed is demographics. The declining numbers of high school graduates coming up will be difficult for the larger industry. I think we are well-positioned, with a diversified business model, to weather the storm, but it's something that none of us can ignore.
Q: And beyond demographics?
A: Political transition is another that issue can't be under-estimated. The free community-college proposals on the table will be a net good for society, but would present adjustments to many four-year institutions. I worry about other changes, with things like charitable deductions, or the specter of taxes on university endowments. There's always a time of uncertainty with a new sheriff in town. And higher ed, like the rest of the economy, hasn't faced an inflationary period in a long time. I'm concerned that we'll be in that situation sooner than later. Even though it seems like we're enjoying a strong recovery from the pandemic, I'm a bit concerned about our ability to manage that.
Q: How will Ottawa University continue to leverage the ways that advancing technology for 24/7 learning might be competing with traditional notions of college as a destination and residential experience?
A: You hit the nail on the head with that. OU has done a good job compared to the vast majority of American universities in diversifying its offerings to meet the needs of students where are right now. Between our campuses and online and adult ed, we offer urban and rural, on-line and face-to face learning, graduate and undergrad studies, liberal arts and professional studies, serving tradition age groups and non-traditional. We're perfectly placed for the changes that lie ahead. But that doesn't mean we can be complacent—none of us knows what students want coming out of pandemic. Is it a herald to a mass return to class on campus? Or more likely, more people want to retool. I've been struck by the number of people whom the pandemic made think about their priorities in life, about the jobs have now, and about the ability to have the life they want to live in the future. I think there will be a lot of demand for people to return to school, in an online setting, seeking credentials that will change the course of their careers.