Q&A With … Doug Girod
The chancellor for the University of Kansas assesses the challenges of reopening the campus, remote learning, tight finances and what might have been for KU basketball in 2020.
---
---
---
"The adoption of technology being enforced in this pandemic will probably be more of a long-term adoption of those techniques." — DOUG GIROD, CHANCELLOR UNIVERSITY OF KANSAS
---
>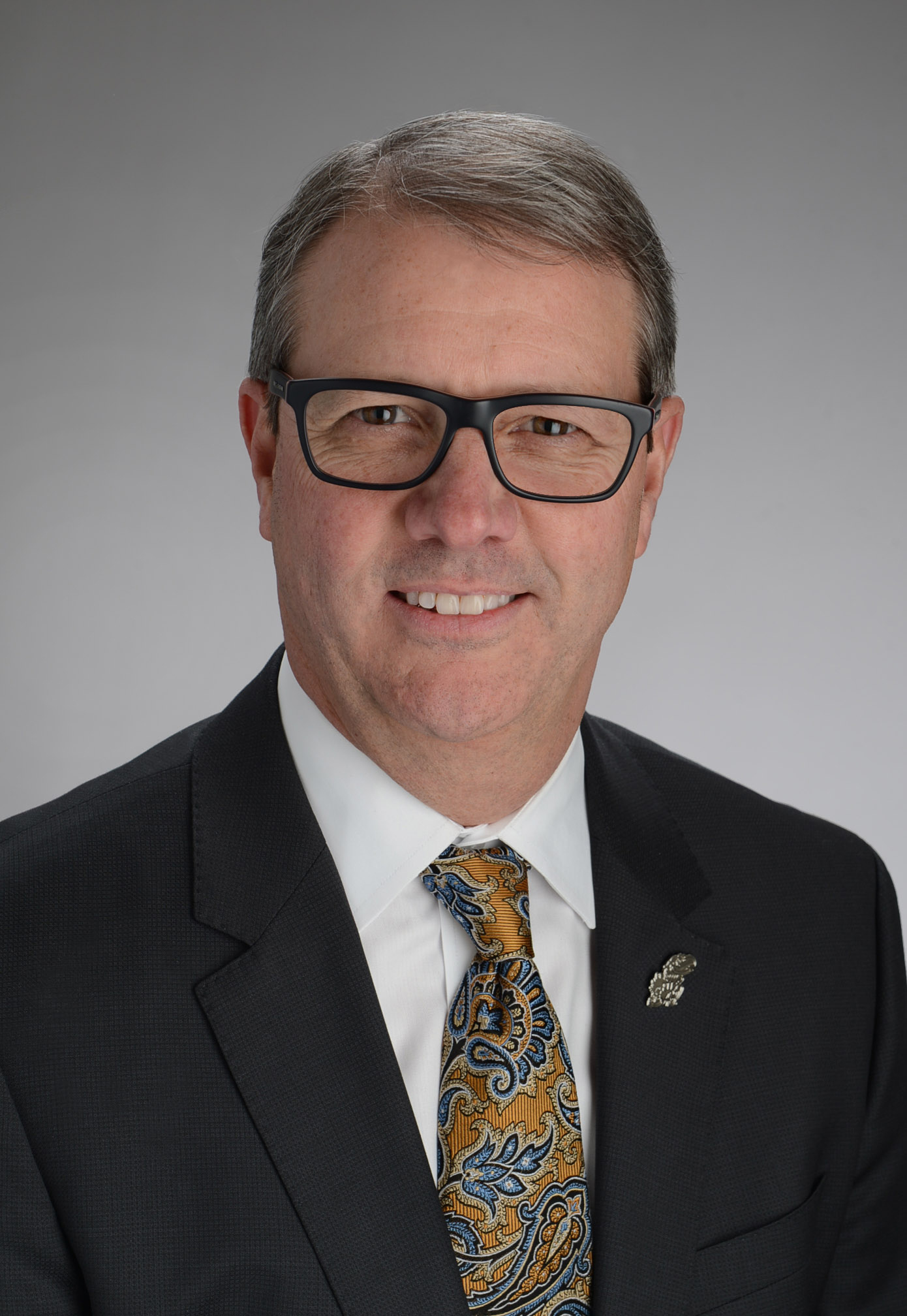 Q: Where is KU in terms of preparation for the fall semester?  
A: We've started to reopen right now focusing on our research enterprise and getting our researchers and our graduate students back. We already made a commitment to be online for the summer semester not knowing how the timeline was going to play out, and now we'll slowly welcome people back as we get them back over the course of the summer. But we're working pretty aggressively on our plan to open in the fall, and we absolutely plan on being open then. 
Q: Will that entail some significant changes? 
A: It's certainly going to look different than our normal fall. We're working with the University of Kansas Health System and Lawrence Memorial Health to help us map out the safest way to do that and what it means to be in a classroom. This involves tackling what to do about masks, social distancing, staggering classes to reduce the number of people in the hallway, figuring out how to break larger sections into smaller ones. We'll probably have to reassign our class schedule and may be looking and evenings and maybe weekends to accommodate all of the classes in smaller capacities. We may do portions of it remotely and other portions of it in person, so it's going to be a hybrid. 
Q: How will that be received?  
A: Quite honestly, we know that some of our students may not feel comfortable coming back, so we're trying to make sure we can accommodate them. Some of our international students aren't going to be able to get back, and the same goes with some of our out-of-state students. Forty percent of our students are out of state and international, so we're trying to figure out how we can accommodate everybody and still deliver the face-to-face and personal experience, which is what students are telling us they want.  
Q: What did you learn from the spring experience? 
A: We learned to do something that we didn't think we could, which was to get everything into a remote format in a week and a half, which is pretty remarkable, and everybody worked really hard at it. It was more difficult for some than others. We were already using remote technology for some of the courses, and others can't be as easily adapted as our other courses. If you're running a studio for design or performance with dance, those things are a little bit harder to figure out how to do, but people worked hard to make it happen. The technology held up pretty well. And the students held up pretty well, also. They didn't love it, and it became very clear that they have a new appreciation for why they love being here. 
Q: In what ways?  
A: Being in a classroom with our world-class professors is on the list, but it's probably not at the top of the list. They really value the professional development, the co-curriculur activities, student government and various student organizations, as well as events like performing arts and sports, and their new friends and colleagues. That's a very big part of the college experience that they love. It's very much what they want to get back to as much as they possibly can. The faculty also certainly missed having the interaction with their students, and we shut down much of the research enterprise, which is very frustrating, as was figuring out how not only to do your classes, but how to do your finals that's remote. And that obviously created some challenges. We learned we can and will need to do it better in the future.
Q: What will that future look like?  
A: A reliance on technology as more of a part of higher education is going to be part of the mix. Already about two-thirds of our students were taking an online class when they were here anyway, so it's been in the mix. But the adoption of technology being enforced in this pandemic will probably be more of a long-term adoption of those techniques, so we'll see what that looks like and how to maximize that for student flexibility and progression. It's been quite a ride. 
Q: I assume that budgetary problems are also a tough go as well? 
A: The hardest part of that is the unknowns. Everybody's trying to plan for an unknown future. If we knew what it was, it would be a lot easier to plan for it. We've already witnessed significant losses this semester with housing, parking and dining. We lost all of the events that got cancelled that produced revenue. And there are a lot of services that we provide. We have a unit here that does K-12 testing for over 30 states. That obviously got cancelled, and that's 350 employees.
Q: How about the impact on your research efforts?  
A: With the shut down of research, you don't bring in research dollars if you're not conducting the research, so it stops that revenue flow instantly, and yet we still have all of the people. We want all of the people and don't want to lose ground there. It hit every one of our revenue streams. Being a big comprehensive research university with six campuses, it adds up to about 18 percent of our budget. We're reliant on ourselves for most of our budget. Just like any other business, when all of those revenue streams take a hit, we feel it pretty significantly. We're trying to project what happens over the next year, and there are obviously the same concerns, with enrollment being the biggest unknown. We've got 40 million people out of work, and with the virus still being present, people are going to have to make some value judgments. None of us knows what that means from an enrollment perspective, which is probably  the biggest variable for us. Obviously, state revenues are way down. So, while we have a low state budget going into this year, there are adjustments being talked about going into this year. We know something is going to happen, but we don't know what. There's that unknown, as well as how we can get our research program back up and running and get that flow going again. 
Q: Any indications yet of how big a hole has been blown in the budget?  
A: Our middle-case scenario is probably a $120-million deficit over the spring and for all of next year. It certainly could be better than that if everybody shows up and the fall semester goes well and we don't have major disruptions and the governor doesn't shut us down again. So, it could also be worse if all of those things happen. We're trying to plan for the middle ground and hope for the best.  
Q: Could online enrollment possibly make up for some of the budgetary gap? 
A: It will. We're going to see a group of students that only have that option. They're not going to be able to get here for whatever reason, either health or travel problems. There's no question we'll have more online. Whether that additive or replacing what we have is going to be a big question. And over the summer, we're going to be figuring out what our pricing strategy is around that and also how we create more community for the online folks and how we can gauge our advising. We took all of that online as well, including advising, counseling, mental health and career services. We took all of that online, but it's not the same, particularly when you do it that quickly, so we're hoping we can figure out how to do that more robustly for those who aren't on campus. But we're really counting on a majority of folks being back on campus. 
Q: The loss of sports, which seems like a bit of an afterthought right now, must be one of the toughest revenue hits? 
A: Losing the Big 12 Tournament and the NCAA Tournament was a fairly significant revenue hit, most of which plays out next year, not this year. Frankly, what saved us, if you can call it that, was the cancelling of all sports, so we weren't traveling teams all over the place, and that savings largely offset what we lost in revenue through the spring. We're working hard with the conference to figure out what a football season looks like and trying to model what we can do inside a football sta-dium with appropriate safety issues. But the Allen Field House is the hardest thing to think about. It's not a place where you can socially distance. That might be one of our bigger challenges. But hopefully we can get football up for a decent season. 
Q: There has been talk about student-stimulus packages. Is that something KU is participating in? 
A: We got some money through the CARES Act, and it came in two installments, and the actual number for KU was about $15 million. The $7.5 million that we already received was directed toward students. We have already dispersed a vast majority of that through a combination. Some of it went to the medical center because they are professional students, and it was a different methodology, but we have spent a large amount of it for Pell Grant-eligible students and sent it out to them. We also created an emergency fund for people to apply to. That $7.5 million has already been spent for students as it was intended. The other $7.5 million coming to us is more institutionally based. We haven't gotten the guidance yet on what we're allowed to use it for, but we think we might be able to use it to offset some of the housing and dining losses.