JP Morgan Chase & Co. has started its expansion into the Kansas City area. Last week was the official opening of a retail branch in Leawood, and another location, on the Missouri side in Kansas City, will open at 7701 State Line Rd. next year. In all, Chase plans to have about 20 locations in this market over the next few years, with 200 employees. 
The branches, which are ground-up developments, will have cardless ATMs and offer consumer lending, as well as other traditional retail and business services. We recently interviewed Kiley Sidman, Chase's new Market Director for Banking in Kansas City, about the bank's local expansion efforts.
Q: Do you have a specific year you'd like to reach 20 branches, such as by 2025?
A: There are more branches coming to the Kansas City region and we're looking at a timeline of a period of about five years. There are a lot of moving pieces as we roll out the new branches, so there isn't a specific date that we can confirm for completion.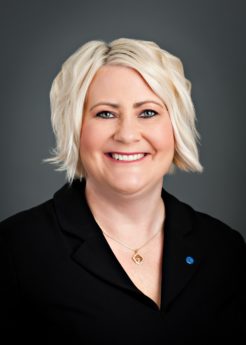 Q: What parts of the metro are you targeting, radius wise? How far will you go out of the city center?
A: The really wonderful thing about this is that Chase is being very thoughtful about the locations. We are taking our time and assessing the communities where we are needed and where it is beneficial for us as well. You will see us all over the communities across the metro region. We're looking for the right spots that will serve our customers. Approximately 30 percent of branches will be in low-to-moderate income communities.
Q: Are there any areas where you see the demand for more than one branch, such as Overland Park?
A: Again, Chase is being very thoughtful about the strategy and we want to ensure that our banking is accessible to the citizens across the metro. 
Q: Why is now a good time to start opening these branches in the KC area? 
A: It's an exciting time of economic growth in this region and Kansas City is definitely a spot where we've wanted to be, although we've already had a middle market presence here for about 6 years. We already had a customer base in Kansas City – about 364,000 consumer customers and 16,000 business customers – and what we're learning as we open up branches in new areas is that there has been a pent up demand from customers. We have a great story to tell customers and we want to bring all the benefits of Chase to customers.
Q: Why did the company decide to enter the market this way through organic growth instead of acquisitions?
A: Entering the market organically allows us to place branches strategically and in accordance with the community need.
Q: The KC market has significantly more banking institutions than other metros of its size. Does that make your expansion strategy different here from other locales?
A: Every market we enter is unique in its own way. We're taking a thoughtful approach in Kansas City as we evaluate the community's needs and identify locations that offer convenience and make sense for our branch and ATM network.