A name change has already taken effect for the grounds that once housed the headquarters of Sprint Corporation.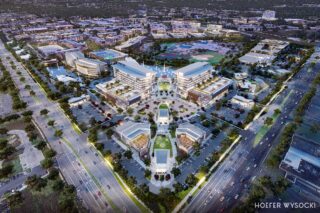 Rendering courtesy of Hoefer Wysocki.
---
New property owner, commercial real estate firm Occidental Management Inc., announced the campus' name change in 2020, which was made effective Jan. 1, 2021.
"Aspiria reflects an innovative and transformative destination – one we are eager to watch take shape. The project is of a grand scale on the global stage, and we needed a name and brand that was representative of an environment with limitless options," CEO and chairman of Occidental Management, Gary Oborny, said in a December news release.
The most recent activity for redevelopment of the property surfaced this week as the real estate firm presented preliminary development plans to the City Planning Commission of Overland Park. 
Another plan had previously been submitted to the city in mid-September 2020.
Occidental Management is looking to rezone the 207-acre campus to a planned mixed-use district with the new name, Aspiria.
Plan changes made since the September submission, Occidental Management decreased its planned square footage for new office space from 1.44 million to 1.1 million square feet.
With existing office and commercial space leftover from Sprint, the Aspiria campus will have around 5.07 million square feet of office space.
Near the offices will be a combination of property use which includes multifamily units, a hotel and retail space.
Overall, the campus would include 6.34 million square feet of built and planned development. A portion of that space -around 72 acres – will remain undeveloped for the purpose of green space.
The commission did not vote on the rezoning request earlier this week but did push the measure to the commission's March 8 meeting to for continued review.