Although redevelopment of the Aspiria campus in Overland Park is still in the works – and over a year's time away from completion – the mixed-use campus has already locked in its first tenant.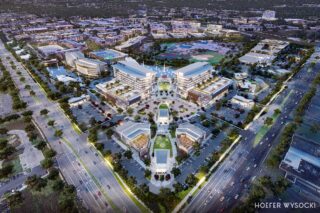 Rendering courtesy of Hoefer Welker (formerly Hoefer Wysocki)
---
Leawood-based architecture firm Hoefer Welker (previously Hoefer Wysocki) has signed the first office lease for Aspiria, former grounds of Sprint Corp.'s headquarters before the company's merger with T-Mobile.
Consisting of 207 acres, the rebrand to Aspiria by the property's new owners, Occidental Management Inc., will turn the acreage into a "live, work, play" development.
Hoefer Welker is also architect for Aspiria at large, and is involved in designing its future office space on the campus. The company intends to relocate from its current Leawood, Kan. offices to Aspiria in March 2023.
The start of 2021 has already seen an increase in office market activity as well, Hoefer's signed lease on the unfinished development an example of that.
According to Hoefer Welker, the company currently has around 120 employees in the Kansas City area alone and expects to grow its employee count by at least 20 percent over the next two years.
For the firm, its new lease could provide space ranging from 25,000 square feet to 35,000 square feet, depending on how much space it needs further down the road.
Posted 02/22/2021