Orscheln Farm and Home sells in $297M cash deal
---
---
Missouri-based and family-owned Orscheln Farm and Home has been acquired in a $297 million all-cash deal.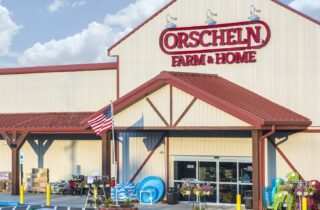 Image courtesy of Orscheln Farm & Home
---
The decades-old company was bought by rural lifestyle retailer Tractor Supply Company, which will add 167 Orscheln stores across 11 states. 
"For more than 60 years, my family, our Orscheln Farm and Home employees and I have been committed to serving the needs of rural communities across the Midwest," Chairman and CEO of Orscheln Farm and Home, Barry Orscheln, said. "I am very proud of all that we have accomplished over this time. I am confident that with Tractor Supply our stores will be well-positioned to continue Orscheln's tradition of taking care of our customers and communities for the next phase of growth."
Orscheln locations will aid Tractor Supply in gaining more ground across the Midwest. As of Dec. 26, 2020, Tractor Supply had 1,923 stores in 49 states.
According to a news release from Tractor Supply, the company intends to fund the acquisition through existing cash on hand.
"This is an exciting step for Tractor Supply as we expand our footprint in the Midwest with the high-quality assets of Orscheln Farm and Home," Tractor Supply's President and CEO, Hal Lawton, said. "We have always had great respect for Barry Orscheln and the team at Orscheln Farm and Home for the strong connection they have with customers in the communities they serve, along with their industry knowledge and capabilities."
Posted 02/24/21