Still under development, the Liberty Logistics Center located in the Northland in Liberty, Mo. at U.S. Highway 69 and Liberty Parkway will soon welcome a new tenant.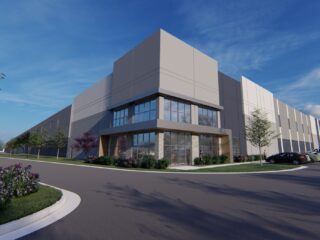 Tennessee-based Kenco Logistics Services LLC has decided to open operations in the industrial park, and plans to begin a 295,000-square-foot new warehouse and distribution center.
Site development and construction on the 62-acre center began in August 2020 by developer Lane4 Property Group Inc.
Liberty Mayor Lyndell Brenton said in a Monday release from the Kansas City Area Development Council that Kenco Logistics' new operation reinforces the city's status as a growing Midwestern logistics and distribution hub.
"While Liberty Logistics Park is still under construction, we believe our community values, location and 'can do' attitude are the differentiators that attract new businesses, like Kenco Logistics, to Liberty," he said.
Kenco Logistics' new operation becomes the latest supply-chain success in the Kansas City region, which in the last five years has seen e-commerce and distribution companies invest $1.8 billion in occupying 16.7 million square feet, creating more than 10,200 jobs in the process. 
"The KC region's central location and access to a skilled workforce are key drivers of a successful e-commerce strategy," KCADC CEO Tim Cowden, KCADC said in the release. "The KC SmartPort team and our partners in Liberty continue to elevate our region's competitive advantages to position KC as a leading logistics hub."
The latest Liberty Logistics Center plans include two much smaller industrial buildings — 80,000 and 132,500 square feet.