Thriving new business sectors emerge from a vibrant startup ecosystem in

 

the Kansas City region.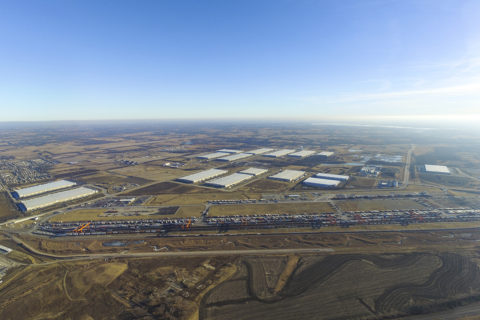 Inflection points that can change the economic profile of an entire metropolitan area—real inflection points—are rare, but potentially transformational. And there's a chance, emerging from the global pandemic of 2020, that Kansas City is fast approaching just such a point.
Why? Because this region is positioned to capitalize on recovery in some truly unique ways.
By early spring of 2021, almost exactly a year after the onset of the pandemic locally, overall unemployment rates fell to 3.7 percent in Kansas and 4.2 percent in Missouri—very nearly where they were before the greatest economic downturn since the Great Depression. Meanwhile, in coastal states and some of the nation's biggest population centers, jobless rates continued to be twice those levels, or more.
In short, the bistate region isn't just rolling up its sleeves; it's already back to work. What creates the inflection point is whether the two states will leverage their recovery to become stronger than they were before last year's downturn. And increasingly, say business-development experts, that will require this region to fulfill its true potential in some key areas—the tech sector, animal-health research and production, logistics and distribution.
It's a rare opportunity, economists says, because of the pent-up demand revealing itself in global supply-chain disruptions, because of increased consumer savings rates with so much discretionary travel and spending put on hold, and because of record levels of stimulus from the federal government that—if one judges by GDP—has had the desired effect.  A boom is coming. How big will it be? And is Kansas City poised to claim its share of that with more and better assets within its entrepreneurial ecosystem?
In a recent KC Tech Council analysis of the region's economic potential, RSM senior manager Davis Nordell crafted a preface saying that "Kansas City is poised to establish itself as a major innovation hub in the Midwest and U.S. as tech talent and innovation spreads inward from the coasts." In fact, according to Nordell, research has shown that "the region has experienced a measurable uptick in venture capital and private-equity investment in tech companies, with nearly $15 billion in capital invested in regionally-based tech companies since 2017."
Every urban area has some form of start-up ecosystem. The elements that define Kansas City's are both physical and, for want of a better word, spiritual. We have an impressive collection of institutions and programs dedicated to supporting entrepreneurship: The Kauffman Foundation, UMKC and its Small Business & Technology Development Center and its schools of business and engineering, life-sciences focuses with BioKansas and the Missouri Biotechnology Association, tools like KC SourceLink, the Missouri Technology Association, more than a dozen various incubators and a growing segment of venture-capital funds.
But the area has something else going for it too, and that's an entrepreneurial strand of DNA that can be traced back to figures like Ewing Kauffman and Henry Bloch. Among the region's most iconic entrepreneurs, each was also famed for being easily approachable by would-be entrepreneurs seeking the benefit of their experience, and their wisdom. Countless C-suite executives have embraced that mentoring philosophy. Twin that up with a decidedly Midwestern level of openness and hospitality, start-up executives say, and you have more than just an ecosystem—you have a culture.
"I would say our entrepreneurial spirit and being very scrappy" define this region, says Maria Flynn, the former CEO of Orbis Biosciences, who helped orchestrate that exit and is now managing director for TechStarsKC. "We're good at helping each other; there's an openness for collaboration and making introductions, which is really important. Obviously, there are pockets of health-care technology and animal health that we can build on, and being in the middle of the country helps."
One feature that defines the two-state area is the presence of two major metro areas with distinctly different cultural and business climates: Kansas City and St. Louis.
"You often hear of Kansas City as being the easternmost western city, and St. Louis being the westernmost eastern city, and that's true," says Nick Franano, who has launched a number of medical-device companies, including Artio Medical. "Having lived in both, I feel Kansas City is more entrepreneurial, more open. And some of that is our history: 150 years ago, people went west looking for opportunity, and people here are descended from those who came looking for the next big thing."
None of which, says CEO Jeff Shackelford of the Enterprise Center of Johnson County, is to suggest that the ecosystem here is without flaws.
"We need more very-early (proof of concept) support for early-stage entrepreneurs, need more entrepreneurial mindset training for young (high school, college) people; need much more state involvement—both Missouri and Kansas—in supporting early-stage entrepreneurs and start-up ventures," Shackelford says. 
While some key aspect of that infrastructure are evolving it's "not quickly enough," he says. "States need to move quickly to use CARES funds to drive economic recovery." Further, the two states must be willing to provide more proof-of-concept and early-stage funding, he says, because that role is "best-filled by public sector, as it is higher risk and typical angel/institutional investors typically invest further down the line."
Nonetheless, a certain optimism pervades the ranks of executives who live that nexus between start-up, scale-up, tech and innovation.
"We continue to see new companies choosing this region," says Ryan Weber, CEO of the KC Tech Council. He cites the massive 5.5 million-square-foot Golden Plains Tech Park planned for the Northland, which, at $8.2 billion, would displace Cerner's Innovations campus as the largest development in the state's history. That project, by Black & Veatch subsidiary Diode Ventures, will dramatically up this region's presence in the tech sector.
"Kansas City is in the middle of the country, and that's one of the great assets nobody can take away," Weber said. "With the way Internet fiber is connected—running along roads and rail, here we are middle of the country with the highest concentrations of road, rail and fiber. I expect to see a lot more growth in that sector. With that, the growing need for cybersecurity, I think that's going to be a big part of our lives going forward. It's constantly evolving."
One thread of the silver lining in a global pandemic is a newfound realization in American business that talent in many cases can be acquired from almost anywhere on the planet in this new age of remote working. That can cut both ways: Kansas City could lose talent to out-of-state employers, but companies here are now more able to access employees from far-flung locations, too.