Missouri Gov. Mike Parson headlined a list of dignitaries who gathered Friday for the ribbon-cutting of a new CVS retail distribution center, which will add more than 360 jobs to the Kansas City area.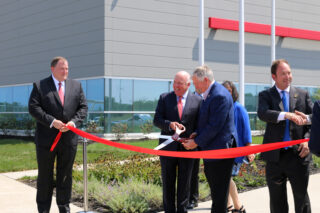 Gov. Mike Parson cuts the ribbon at the new CVS Distribution Center in the Northland on Friday, Aug. 24.
---
The facility, covering 760,000 square feet, is already receiving product; the first shipments out will occur in October.
The center offers ways for Kansas City to grow economically and in its role as a nexus for logistics. Thomas Moriarty, health and chief policy and external affairs officer for the company, said it would help CVS grow and improve as a business.
"Opening this new facility here will allow us to reduce the driving distance to our stores, and thereby reduce our carbon emissions as well," Moriarty said. "Additionally, the high quality work force in this region gives us the opportunity to grow our network of talented colleagues who are passionate about serving our company's purpose of helping people on their path to better health."
Joining Parson and Moriarty for the event were Platte County Presiding Commissioner Rob Schieber and Kansas City Councilman Dan Fowler. Each  addressed the role the center will play in the region's burgeoning distribution sector.
"This is a celebration of the Northland, which continues to grow and be a hub for new investments as our city enjoys absolutely incredible momentum," Fowler said.  "With the development of Twin Creeks, a better KCI, historic investment in infrastructure, development and repairs, the Northland isn't simply an economic driver, but it's a place where our people can live, work and play."
And though this new facility gives Kansas City a reason to celebrate, Parson also suggested that it's but one more step in a long road still ahead.
"Two things I'm going to focus on as the governor of the state of Missouri are infrastructure and work force," he said. "Those are two of the main reasons this company is here. But we have to do better. We've got to work harder."