New COVID-19 restrictions announced for KCMO
---
---
As a rise in COVID-19 cases sweeps the region, a number of city and county governments have made the decision to update guidelines and implement new restrictions.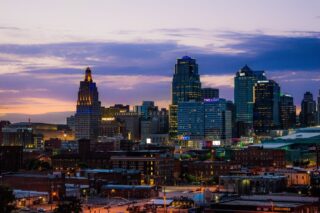 Kansas City, Mo. joined the list Monday, the city's mayor, Quinton Lucas, announcing revised "Safer at Home" COVID-19 guidelines.
The announcement was made at City Hall around noon by Lucas, who was joined by Kansas City Health Department Director Rex Archer and Emergency Medical Services Medical Director Erica Carney.
"Our Safer at Home guidelines are based on recommendations from health leaders in Kansas City, in Jackson, Platte and Clay Counties in Missouri, and Wyandotte and Johnson County in Kansas," Lucas said.
Lucas went on to urge Kansas City residents to limit their activity and conduct work remotely, Archer adding that the additional measures would help prevent COVID-19 from getting further out of control in the city and surrounding region.
In Monday's announcement, Carney spoke briefly on hospital capacity in the area, claiming the city's hospitals are experiencing unprecedented capacity. "Slowing down the rate of infection must be everyone's top priority," Carney said.
New guidelines in Kansas City, Mo. include:
All indoor gatherings are limited to 10 people maximum.
Restaurants, taverns, and all other venues, including wedding and other event spaces, shall close at 10 p.m., require social distancing between different parties, and limit the number of occupants indoors to no more than 50 percent of building occupancy. Indoor and outdoor patrons at these facilities must be seated, and also masked at all times except when actively eating or drinking.
Indoor and outdoor parties are limited to a maximum of 10 people and parties shall be spaced with no less than six feet of distance between themselves and individuals from any other parties.
Restaurants, taverns, and bars must immediately report known COVID-19 cases to the Kansas City Health Department.
Masks must be worn in all indoor spaces with more than one person per room, and outdoor spaces where social distancing cannot be maintained.
Patrons of gyms, fitness, and recreational centers, including city, school, and other publicly-owned and managed facilities are required to wear masks at all times, and these establishments are limited to no more than 50 percent capacity.