The Nelson-Atkins Museum of Art
4525 Oak St.

Wed.-Sun. 10 a.m. to 5 p.m

Free

www.nelson-atkins.org, (816) 751-1278
No, there is not a supersized badminton match transpiring. You're looking at one of the most famous sights in Kansas City: the Nelson-Atkins Museum of Art. In 2007, after the Bloch Building opened adjacent to the main museum, Time ranked the Nelson-Atkins No. 1 in its list of the nation's top 10 architectural marvels. Not only does the museum boast comically sized shuttlecocks, it houses an impressive collection of Chinese artifacts, abstract paintings and breathtaking photography. It's easy to spend hours admiring every piece this museum has to offer, and it's all for free (although we do suggest donating to the museum for providing wonderful artistic value to the local area). Park in the decently sized garage, and have a meal at the Rozelle Court or grab coffee at Quay Coffee.
Kauffman Stadium
If you're visiting Kansas City during baseball season, going to a Royals game is a must. The Royals' 2015 World Series victory unified the city in a remarkable way, and there's no better way to celebrate your visit than by checking out a sport Kansas City is known for: baseball. If you don't have much money to spare, upper-level seats are always affordable and provide a pleasing view of the royal-blue stadium. As expected, there are souvenirs galore that are perfect for casual and die-hard baseball fans alike. Kauffman Stadium is also right next to Kansas City's home to pro football, Arrowhead Stadium. If you're visiting during football season, be sure to check out a Chiefs game. But be wary if you're bringing children; Chiefs games tend to lean on the wild side.
Kauffman Center for the Performing Arts
1601 Broadway Blvd.

Box office open daily

Free tours are available with a reservation

www.kauffmancenter.org, (816) 994-7200
The Kauffman Center for the Performing Arts is not only one of the most recognizable buildings in Kansas City's skyline, but it is also a recent addition. The center was designed by world-famous architect Moshe Safdie, who gave it an idiosyncratic look. Privately funded, it made its debut in 2011 as an attraction for those interested in the performing arts, including music, dance and theater. The Kauffman Center is home to the Kansas City Ballet, the Kansas City Symphony, and the Lyric Opera. There are two theaters in the Kauffman Center: Muriel Kauffman Theater and Helzberg Hall. Aside from classical performances, you can also catch performances of modern music at this venue. If you're in Kansas City, you really should check out both Kauffmans.
First Fridays
On the first Friday evening of every month, residents congregate in Kansas City's Crossroads Arts District and walk from gallery to gallery to admire art, shop and eat. There are also tons of events happening at First Fridays, and they vary from month to month. If you're interested in arts and culture, consider this a quasi-art-fair. Admission is entirely free, unless you want to purchase some artwork from the countless vendors on the sidewalks. Parking might become hectic, but the KC Streetcar provides free and convenient transportation.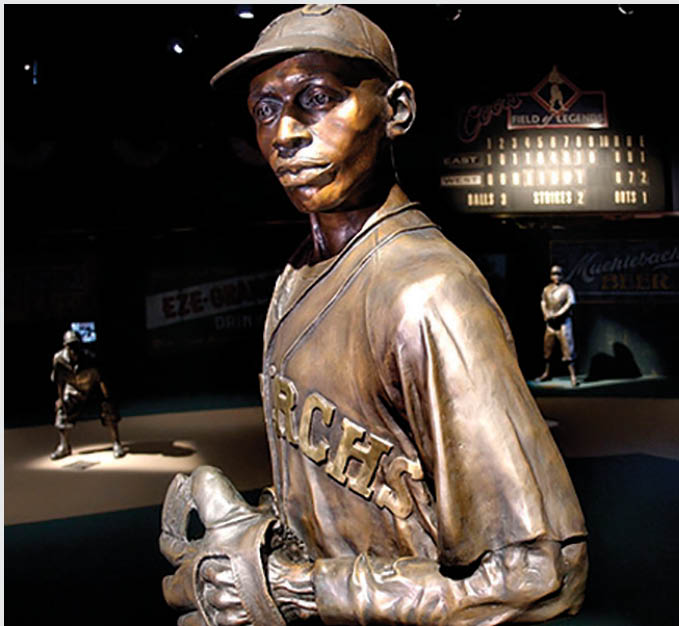 Negro Leagues Baseball Museum
1616 E. 18th St.

Tues.-Sat. 9 a.m. to 6 p.m., Sun. noon to 6 p.m.

$10 for adults, $9 for seniors, $6 for children

www.nlbm.com, (816) 221-1920
Kansas City has recently become an area of attention for baseball geeks with the Royals' 2015 World Series championship. If you're visiting Kansas City and a massive baseball fanatic, you should absolutely visit the Negro Leagues Baseball Museum. You can learn about the greats such as Jackie Robinson, look at various artifacts and historic photographs, and peruse the museum's extensive gift shop. The Negro Leagues Baseball Museum is entertainment and education in one package, making it the perfect place to take your children or visit with a friend for an unforgettable experience.
American Jazz Museum
1616 E. 18th St.

Tues.-Sat. 9 a.m. to 6 p.m., Sun. noon to 6 p.m.

$10 for adults, $9 for seniors, $6 for children

americanjazzmuseum.org, (816) 474-8463
If you have the Negro Leagues museum on your agenda, you shouldn't forget to visit its next-door neighbor, the American Jazz Museum. It's in a fitting location: 18th and Vine, which is perhaps the most important spot in Kansas City for the cultivation of 1920s jazz. At this museum, you can check out rare artifacts, photographs and even watch live jazz performances. Given jazz's historic roots in Kansas City, a visit to the American Jazz Museum is a necessity.
National World War I Museum and Memorial
2 Memorial Dr.

Tues.-Sun. 10 a.m. to 5 p.m.

$16 for adults, $14 for seniors, $10 for college students with ID, $10 for youth 6-18, free for children under 6

www.theworldwar.org, (816) 888-8100
Across the street from Union Station is the nation's only World War I museum. This is unequivocally one of Kansas City's most engaging and educational museums. When you enter the building, you can look through the glass floors to see flowers honoring soldiers who died serving during the war. From a historical standpoint, WWI can be a bit confusing, but this museum is highly competent in breaking down subject material and adding an emotional touch. You can learn about trench warfare, battle tactics and various war technologies in this stellar exhibition. There is also the Liberty Memorial, that tall pillar rising high above Kansas City's skyline to honor those who served in the war. There is a platform nearby the pillar that provides what is arguably the best view of Kansas City, as well.
Arvest Bank Theatre at The Midland
1228 Main St.

Box office Mon.-Fri. 10 a.m. to 5 p.m. with extended hours on show days

Price varies

www.arvestbanktheatre.com, (816) 283-9900
In the heart of Downtown, Arvest Bank Theatre at The Midland boasts some of Kansas City's best concerts and events. It seats a capacity of 3,200, which is the perfect size for someone who wants to see a semi-famous band in a setting smaller than an arena and larger than a bar. It's right next to the Power &Light District, which is one of Kansas City's main entertainment districts, brimming with bars and restaurants. Some upcoming concerts include Sting and Shaggy, Death Cab for Cutie, and John Prine.
Union Station
30 W. Pershing Rd.

Open daily 6 a.m. to midnight

Free, but price depends on exhibit

www.unionstation.org, (816) 460-2000
Similar to the Kauffman Center for the Performing Arts, Union Station is widely regarded as one of Kansas City's most iconic buildings. Union Station may require multiple trips because there is so much to do here. There are seemingly endless educational exhibits to visit, gift shops and an entire section for children called Science City, which is an entirely different beast of its own. This historic building was used as a way-station for travelers during World War II. In 1945, Union Station hit a record of 678,363 travelers, most of which were U.S. armed forces personnel making their way back home. You can even still catch a ride on a train here.
Country Club Plaza
4706 Broadway Blvd.

Hours vary by shop and restaurant

countryclubplaza.com, (816) 753-0100
Modeled off of Kansas City's sister city Seville, Spain, The Country Club Plaza is one of Kansas City's largest shopping centers. If you're looking for a fun night out and have some money to spare, this is the place for you. The Plaza has a fine selection of high-end restaurants, clothing and apparel retailers,  home stores, and even a movie theater. There are also cozy coffee shops to satisfy that caffeine craving, and if you're visiting during the holiday season, the storefronts will be decorated with the colorful and festive Plaza lights. Additionally, there are several luxurious hotels in the  Plaza area if you're hoping to stay close to this expansive shopping center.