Aegion Corp., based in Chesterfield, Mo., announced this week it is selling to New Mountain Capital, a New York investment firm.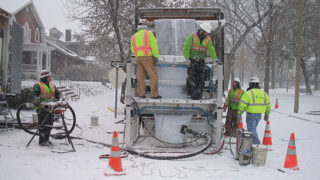 Image courtesy of Aegion Corp.
---
The infrastructure pipeline rehab company will go the New Mountain in a deal valued at $963 million and will make Aegion a private company.
New Mountain will acquire all outstanding Aegion common stock for $26 a share in cash, a premium of 21 percent over its Feb. 12 closing stock price of $21.45. The transaction is expected to close in the second quarter.
"We are pleased to reach this agreement with New Mountain, which is in the best interests of Aegion stockholders and enables them to realize immediate value at a significant cash premium for their investment," Stephanie Cuskley, chairwoman of Aegion, said. "Following a comprehensive evaluation of potential value-creation opportunities with our independent advisors over the last several years, the board unanimously approved this transaction with New Mountain, which has a proven track record of supporting businesses through investments in R&D and capital expenditures that recognize the value of achieving differentiated long-term growth."
"As a private company, we will have the resources and long-term approach to build on our progress and further enhance our differentiated portfolio of technologies." Aegion President and CEO Charles Gorden said. Gordon announced in July 2020 plans to retire, though he will remain with the company through the completion of the transaction.
Officials said "there is no expectation" to relocate Aegion's headquarters away from the St. Louis metropolitan area and that New Mountain, "expects to maintain Aegion's significant presence in its field offices around the world."
The transaction is being financed through a combination of equity from affiliates of New Mountain and debt being provided by a combination of Jefferies, Credit Suisse and Deutsche Bank Securities Inc.
The Aegion board has recommended that the company's stockholders approve the proposed merger. Upon completion of the deal, Aegion will become a privately held company and shares of Aegion common stock will no longer be listed on any public market.