Mayor Quinton Lucas announced Friday that masks will be mandatory beginning Monday for everyone entering businesses and other public places in Kansas City.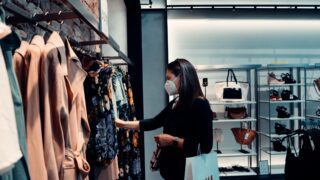 The mandate came after several daily reports of increasing new COVID-19 cases in the Kansas City area and in Missouri.
"Our country's leading health and scientific experts have indicated in no uncertain terms that mask-wearing is the most effective way to curb the spread of COVID-19," Lucas said. "Case numbers in Kansas City continue to rise, and we are taking all steps we can to ensure public health and safety."
As of Monday mid-morning, Missouri has reported 20,575 confirmed cases and shows an 8.4 percent increase statewide over the last seven days, according to the Missouri Department of Health and Senior Services.
When entering businesses masks will be required for both visitors and employees, or for anyone in a public space where six feet of separation is not feasible, according to a news release from the City of Kansas City, Missouri website.
Also effective Monday is the percentage capacity limits as required by Mayor Lucas's Eighth Amended Order, which will be eliminated except for taverns and bars, according to the release.
"We are keeping a close watch on our cases and hospitalizations but know widespread mask-use is one essential way to slow COVID-19 and keep Kansas City businesses open," Kansas City Department of Public Health Director, Rex Archer, said.
The actual number of people who have been infected is likely higher because many people have not been tested, and studies suggest people can carry the virus and not feel sick, according to a news release from the Associated Press.
The requirement will remain in place until at least July 12 and Mayor Lucas will review the current mask order, updating as needed prior to its July expiration.