Kansas City's Federal Reserve District which encompasses the western's portion of Missouri, all of Kansas and other territory stretching into Colorado, Nebraska, Oklahoma Wyoming and New Mexico, shows manufacturing at a steady incline in March.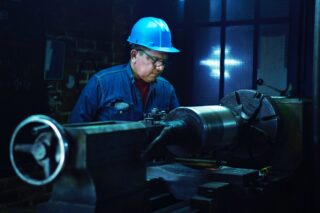 Manufacturing activity in the central part of the U.S. expanded in March at a faster pace than the previous month, according to survey from the Federal Reserve Bank of Kansas City.
The Tenth District Manufacturing Survey's composite index was 26 in March, up from 24 in February. The was above economist's predicted 25.
The index takes into account factors such as production and employment. March marks the tenth consecutive month in which the index remains in growth territory.
Manufacturing activity growth was driven by durable goods plants for primary metals, machinery, transportation equipment, furniture, and miscellaneous manufacturing, the Kansas City Fed said.
The composite index is an average of the production, new orders, employment, supplier delivery time and raw materials inventory indexes. Month-over-month, indexes for shipments, new orders, and order backlog expanded at a faster pace in March and supplier delivery time was very high as well. Growth in production and employment remained positive, but slightly slower than in recent months.
The production index went down to 23 from 26 the previous month, while the volume of new orders increased significantly to 37 in March from 16 in February.
The employment index fell to 17 from 21, supplier delivery time increased to 41 from 40, and raw materials inventory index fell to 11 from 16 the previous month.
Prices paid for raw materials remained very high, and the index continued to hover near historically high levels.
Prices received for finished products also increased further from a month ago and a year ago. Moving forward, district firms expected prices for both raw materials and finished goods to rise more over the next six months, the Kansas City Fed said.