Front row (l-r): Scott Anderson, Riley Drive Entertainment (Ignite and Saints); Terry O'Leary, EPC Real Estate Group; Chip Corcoran, Renaissance Infrastructure Consulting; Dennis Eskie, Eskie + Associates; Blake Schreck, Lenexa EDC; Mayor Mike Boehm, City of Lenexa; Ken Block, Block Real Estate Services and Multifamily Group. Back row (l-r): Greg Gunderson, Park University; Jennifer Goeke, PGAV Architects; Kem Anderson, Riley Drive Entertainment; Shane Smeed, Park University; Ryan Baldwin, Hyatt Place/RHW Hotels; Keith Copaken, Copaken Brooks; Erin Merrill, Eskie + Associates; Kyle McQuiston, JE Dunn Construction.
Walkability. Density. Sustainability. Community. A sense of place.
One hears all the buzzwords of modern development used in projects small and grand, but in the end, many of those efforts amount to tinkering around the edges of communities with long-established identities.
     So it's fair to ask: Is it really possible, with those developmental concepts in mind, for a city to truly reinvent itself?
     If the city is Lenexa, Kansas, getting to the answer—it's "Yes," by the way—is more than a rhetorical exercise. For rising out of the ground today across more than 200 acres at 87th Street Parkway and Renner Boulevard is a new heart of the city, Lenexa City Center. It's a commercial and civic monument to the values of vision, perseverance, determination and collective will.
When it is fully built out over the next decade, it will be a new base for the city government, a magnet for recreational, restaurant and retail consumers, and home to thousands of residents in high-density settings and workers in modern office and retail settings. It's the heart of a city, in the heart of Kansas City's suburbs.
Like many towns in mid-America, Lenexa's original downtown area, popularly known as Old Town, sprung up in a 19th-century community development model: a small commercial strip across from the railroad tracks. Now, the city is in the middle of the most profound downtown transformation ever undertaken by a community in the Kansas City area.
And it's happening today because the city's leaders, back in the 1990s, summoned residents to forge a shared vision. Lenexa City Center today doesn't precisely match that early vision—rather, it has improved on it, broadened it, and added depth to it.
"When we started this nearly 20 years ago, Zona Rosa hadn't been thought of, or Park Place, either," said Lenexa's mayor, Mike Boehm, referencing two highly successful and highly prominent retail and commercial developments in the Northland and neighboring Leawood. But neither of those lifestyle-center developments, impressive as they are, combines quite the range of uses incorporated into the vision, design and construction of City Center. "Suburban residents want the same amenities that are common in more urban environments, which includes access to local shops and restaurants in a pedestrian friendly environment, and the Lenexa City Center development provides residents amenities that are typically associated with an urban core," comments Scott Anderson of Riley Drive Entertainment, as well as Saints and Ignite Wood Fire Grill. "We believe a significant part of the attraction of City Center will be the unique concepts that cannot be found in other areas of the metro." 
Remarkably, this is a development that ran headlong into the real-estate downturn that began a decade ago, creating conditions that many municipalities and development professionals might simply have walked away from. But through the determination of the city's leadership, and the commitment of its development partners, Lenexa City Center is coming to life.
 "We were probably a little early, but if we hadn't bought the ground and held it, City Center would be something else," Boehm says. "We're getting the rooftops, the demographics and income levels in western Lenexa, Cedar Creek, and Shawnee that will support this."
No developer would try to find a silver lining in a cloud like the one that formed over the heads at the Copaken Brooks development firm when they secured rights to develop the city's land in 2007, at the dawn of the Great Recession. But in the decade that followed, the fundamentals of development—the very definitions of New Urbanism and mixed use—were undergoing an evolution of their own, and that has worked to the benefit of City Center and Lenexa.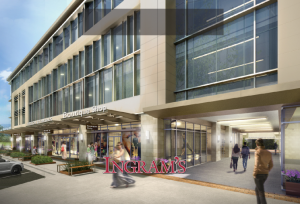 "What one might have thought of as mixed use and New Urbanism in the mid-2000s is different than what one thinks of today when you hear those terms," says Keith Copaken, a principal at the Kansas City firm. "And the concepts have evolved for the better."
There exists today, he says, a "sub-urban model, emphasis on 'sub-,' because it's not the urban model, and it's not the suburban model," he says, "It's a form of place-making that fits a suburban context but is not a series of independent uses. Rather, it's a series of mixed uses that are joined together either horizontally or vertically, or sometimes both."
What distinguishes Lenexa City Center, then, is that it's not a collection of office buildings that happen to sit next to apartment complexes that happen to sit next to retail sites, but a cohesive community in which the constituent elements have vital relationships to one another.
The Vision
The vision that produced Lenexa City Center became official city policy on Aug. 19, 1997, when the City Council adopted a resolution, signed by the late mayor, Joan Bowman, directing staff members to begin work on a series of strategic initiatives to launch the project. But even before that, more than a decade of work at City Hall was needed to engage residents in a series of town-hall meetings, task-force gatherings and steering-committee sessions, all of which helped set the edges and give some structure to that vision.
In direct terms, that proclamation declared that "showing commitment to a superior quality of life and respect for the natural environment, Lenexa will provide an atmosphere where people desire to live, work, and play. Our unique villages and parklands, residential, commercial and industrial developments will reflect a community in which the heritage of the past and the pride of the present are preserved for citizens of the future." 
 "The mayor brought together a group of individuals with varied backgrounds and a mixture of citizens who have been involved for a number of years along with citizens volunteering for the first time in the community," Vision 2020 Steering Committee chairwoman Cindy Green wrote in a letter to the City Council when the proclamation was adopted. 
More than 2,500 volunteer hours went into the production of Vision 2020, drawing from task forces focused on education, community spirit, commercial development, infrastructure and transportation. Their visions and goals, Green wrote, "will see the City of Lenexa into a new century and we will continue to be a community that is a great place to work, live, and play."
It was a pivotal moment.
Indeed, such visions and goals are part of what it takes to make a great city. "Great American cities celebrate civic life by investing in and building civic architecture that dignifies each citizen and reinforces our democratic ideals," says Michael Schaadt, a principal at PGAV Architects. To PGAV, it was an investment opportunity too good to pass up. "The opportunity to participate in a project that promoted these foundational concepts is such a powerful way was of immediate appeal to us."
"The city's vision was crucial," says Copaken. "They acted on that vision by assembling almost 70 acres of contiguous ground on the southwest corner of Renner and 87th. That is unique."
What's not unique, Copaken says, is that "any major development today takes public investment and public involvement. There are very few major developments that don't, and Lenexa has been a real partner in this endeavor, because they do have a common goal and vision, which allows us together to navigate changing markets and changing user preferences—and in real estate, nothing stays static. Everything is changing, all the time."
Those involved in the process understand that with the passage of time comes change in taste and interest, and are sure to keep in mind those core ideas and attitudes that will allow proper change as needed and maintain long-term interest and involvement in the growing community of Lenexa. "The area will continue to change for the better as we see increased interest in living in this community," says Bill Larson, President of Block Multifamily Group. "We want every resident to feel like they live in a truly special place."
Chandler Thayer, COO of RHW Hotels, says they, too, kept that same thought in mind when planning the layout and design of the new Hyatt Place. "The optimal scenario is to design an environment where people are able to work, play, dine and stay. The Hyatt Place and Lenexa Conference Center is a beautiful, inviting addition to Lenexa City Center that provides a perfect combination of all those things for anyone coming to the area," she says. "The Hyatt Place and Conference Center was designed for versatility. We have the ability to handle unique requests and make each function memorable."
Chip Corcoran, whose Renaissance Infrastructure Consulting, along with Dennis Eskie of Eskie & Associates, was behind projects like Ignite Wood Fire Grill restaurant, the Hyatt Place Hotel & Lenexa Conference Center, and the parking garage for B.E. Smith's headquarters building, all across Renner Road to the civic campus's east, commended both the city's vision and the determination to see City Center through.
"Maintaining their commitment through that vision over almost two decades is pretty admirable, particularly with facing the recession, and at a time when development pretty well halted everywhere," Corcoran said. "The city was able to withstand that and keep their focus on the vision and to get the engine going again as the recession ended."
Next up for Corcoran's firm is work in what's known as the North Village, just across 87th Street Parkway from the civic campus. That includes a SpringHill Suites by Marriott, and an office building with more restaurant space still to come.
The city settled on 87th and Renner Boulevard, three miles west of its current City Hall complex near Quivira Road, because growth in Lenexa indicated that this would be the center of the city in the coming decades. It began assembling the land and brought Copaken Brooks on just in time for the onset of the Great Recession, when development across the nation hit a wall.
Lenexa, though, wasn't letting go of the dream, and by 2010, the vision had taken root. Then it began to blossom. "It was a team effort with a BIG T," Michael Schaadt with PGAV Architect reminds people. "The vision of City leadership, steady guidance of the Project Steering Committee, experience and commitment of City Staff, the input of the Community and Citizens, and the talents of Owner's representative Carr Baier Crandall, our team of design and engineering consultants, construction manager and builder JE Dunn Construction, and the local construction sub-contracting community, all made it happen."
Around the Center
The city has shifted its emphasis on the various quadrants that make up the overall development, taking a more holistic approach to promoting City Center. But a geographic breakdown still provides a useful construct for understanding how the various pieces of the project, which now encompass more than 200 acres around the four corners of the 87th and Renner intersection, come together to form that whole.
The most important context for appreciating what City Center offers to retailers and employers seeking office space is the nearly unparalleled access. Downtown Kansas City is the nexus for interstates that cross the region, but the Lenexa site is framed by multi-lane interstate-level highways. It lies adjacent to I-435 and sits just north of K-10, and not far east of K-7, two major state highways. Around the bend on I-435 is I-35, the NAFTA Superhighway, which helped inspire many of the business parks in Lenexa.
"Study the demographics, the population, the income, the growth in the area," Eskie says. "Then look at the highway system, with 300,000 cars a day passing within 2 iles of City Center. On top of that, he said, "Lenexa is way ahead of the curve in terms of development—they've already put in the infrastructure, the roads and utilities that already jump K-7 to the west. That's where developers follow—they follow infrastructure."
Much of the development to date has taken place on 69 acres at the southwest corner of 87th and Renner, starting with the opening of LifeTime Fitness in 2010 and the 240,000 square-foot building that would become headquarters for Perceptive Software, later Lexmark, in 2014.
This quadrant includes the $75 million Len-exa civic campus, slated to open July 31, for which the city is both the owner and developer. This will be far more than just a place to conduct official city business; it will promote civic life with a public market occupying the first floor of a new City Hall, sporting everything from artisanal foods to a coffee shop, and other retail uses. It also will be home to a recreation center with indoor aquatic and fitness facilities, as well as Park University's 41st campus, and it will have a parking garage with 500 free public parking spaces.
"We saw mixing of civic uses at other successful mixed-use downtowns we visited across the country. At Frisco Town Center in Frisco, Texas, there is a library in the building with City Hall, it gives that long-term courthouse downtown feel, as opposed to a large shopping center on the edge," Boehm said. "We're going to be there a long time, and it will bring a lot of people to the area."
Another exciting element opening in the midst of downtown is the campus of Park University. "For years Kansas City area residents have asked the question, 'when will Park University open a campus in Johnson County?' We are now pleased to respond definitively with, 'Fall 2017!'" says Park University Vice President and COO, Shane Smeed. The planned curriculum at the new location will also pave the way to making Park University in Lenexa a potential model campus for its other locations. "Park plans to offer both undergraduate and graduate degree programs at our Lenexa campus, with an emphasis in Business, Criminal Justice and Public Administration. In addition, Park University also plans to offer a graduate certificate in Nonprofit Leadership." Smeed continues, "This location is a strategic fit for the university, it also fits with our mission for providing accessibility for lifelong learning." 
While the economy was part of the delay, when Lenexa committed to the new City Hall and Rec Center, Boehm said, "the world stood up and took notice. Those buildings show we're committed. That public investment set the table with the roadways and other infrastructure investment, but when we put this building up, it garnered a lot of attention from the private sector."
Across from the Lexmark facility is Renner89, a 20,000-square-foot collection of retail and hospitality venues, designed by Klover Architects, that include Saints Pub + Patio on the first of its two floors.
Nearby, overlooking Canyon Farms Golf Club, is The Domain at City Center apartments, developed by EPC Real Estate. These 200 loft-style luxury units range from $1,095 a month for a studio up to $2,095 for a 2-bedroom, 2-bath unit covering more than 1,600 square feet. Also near the city's civic complex will be a 40,000-square-foot branch of the Johnson County Library, a $21 million project that will replace the older Lackman Road branch by 2019.
EPC is also developing The District at City Center, across the street from the civic campus, featuring 175 market-rate apartments, along with 35,000 square feet of retail/restaurant, and 45,000 square feet of office. 
Mike McKeen, EPC's president, said Lenexa City Center presented an opportunity to work on projects that aligned with the company's developmental values. "The District embodies EPC's vision to create the experience of community, convenience, and connectivity," he said.  "People from each use of the District have the ability to interact and connect. Residents can walk to the corner restaurant for happy hour and connect with friends getting off work from the same building.  The mixed-use urban environment is where people from all demographics want to interact."
Another unique feature that is expected to draw visitors from across the state and region is the Shawnee Mission school district's Aquatic Competition Center, a $20 million project that includes a natatorium with seating for 1,500, on land donated by the city. Combined with the new library, Boehm said, the civic campus "has two more public purposes that give it all its stick-to-it-iveness."
To the east is a smaller pocket of land straddling Renner Boulevard and Interstate 435, but already home to the Hyatt Place Hotel and Lenexa Conference center. This 125-room hotel includes 14,000 square feet of conference space with a capacity of nearly 500, and it was designed with Lenexa's specific needs in mind. "Olathe may compete with Overland Park," Boehm said of the two larger cities that border Lenexa, "but we're not that size, so we wanted to take care of our people and some others with this conference center. It's specifically to serve our residents and not be bigger than that."
Adjacent to the hotel property is the headquarters of B.E. Smith, which specializes in professional recruitment for the healthcare industry. That building also houses the Grand Street Café, the Johnson County expansion of the popular fine-dining Plaza-area restaurant. A multitenant office building, whose precise dimensions are undefined at this point, is planned just to the north.
The site is also home to another fine-dining option to open its doors in the City Center region: Ignite Wood Fire Grill, a contemporary Midwestern themed restaurant that builds its menu around steaks, seafood, and other rotisserie meats.
Just north of a large block of land still available for development at the northeast corner of the 87th and Renner intersection, Block Multifamily Group has come in with a pair of apartment projects. EdgeWater, and WaterCrest at City Center. The latter offers 306 units of luxury living, with rents ranging from $1,015 for a 776-square foot, one-bedroom, one-bath unit, up to the sprawling Fitzgerald floor plan, 1,530 square feet covering two bedrooms and two baths, and topping out at $2,418 a month. EdgeWater, in a similar fashion, sports 276 luxury units with private poolside cabana, 24-hour canteen and a fitness center with round-the-clock availability. One-bedroom units start at $1,095, but a massive 2,006-square-foot option tops out at $3,223 a month.
"Unique is overused, but this project truly is," Dennis Eskie said. "It's a quality project, and to see it becoming a reality, we've been real honored to be a part of it." The particular appeal, he said, was its density and walkability.  "It's very people-friendly for those in the apartments who want to walk to shopping, entertainment or a restaurant. One of the keys with the apartments is empty-nesters, who are choosing to sell their homes and don't want as much property they have to take care of." Nearly a third of the rentals in the area fit that profile, he said.
The volume of multifamily springing up around the City Center region puts a twist on traditional development strategy, which holds that retail follows rooftops. That's proving to be the case here, but few involved saw multifamily as the source of those rooftops.
"We were surprised by the volume of apartments," Copaken said. "Originally, we envisioned a heavier emphasis on retail. But as e-commerce has evolved, the retail component has been resized accordingly, with an emphasis on restaurants, entertainment and recreation."
That's fine, he said, because retail and office need residential, too. "They ultimately derive their value from residential, and residential has been the driver, not just at City Center, but in the industry the last five-plus years."
Across from the civic campus is an area that Boehm said is getting a lot of attention now. "The WestEnd apartments got there early, and helped make it very dense, very urban," Boehm said.  He compared it to the multifamily structures that ring the Country Club Plaza. "We all know and like the Plaza and what it offers, but it's the density and population nearby that makes it. If you have to drive in every day, it doesn't make the place. Outsiders drive in, but the locals make it work, so we had to get the densities on site, and our partners have helped."
As Block Multifamily Group did with another luxury apartment site, WestEnd at City Center features granite countertops, stainless steel appliances, in-unit laundry, high ceilings with fans and window coverings, for starters, the 309 one-, two- and three-bedroom units are already nearly filled. The complex includes a pool, fitness center, business center clubhouse, off-street parking and other amenities, with rents starting at $821 per month for 729 square feet.
Like other complexes going up, Boehm said, WestEnd has an attraction that few apartment developments can offer: Almost immediate access to Shawnee Mission Park, the largest public green space in Johnson County. "There's the big lake, pet trails, biking—you can't drop that down anywhere; it's already there," he said, a tangible asset that few places can offer.
Dubbed the North Village, this quadrant is also pegged for a new Lenexa Hills Elementary School, for those who rent by choice, but still have young children at home. Across 87th Street from the school site is Penrose Place, featuring a 125-room Springhill Suites hotel, and 15,000 square feet of retail, the first phase of which is now under construction. That quadrant also includes the planned North Reserve Park, which proposes 26 tech-integrated "smart' single-family homes.
Moving Forward
As the site continues its steady, measured march toward completion, it continues to build on something every significant project needs to succeed: Momentum.
"Momentum is key in anything, whether it's sports, business, or real estate," Copaken says. "The City Center area, which includes all four corners, is important, because as the area becomes validated by the market—as users go there, be they small or large users—as the sites get validated by the market, it's important to take advantage of that, to keep the momentum going. That is key."
Lenexa City Center as it exists today, he says, "is vastly different than five years ago, when you would take a prospect there and they could envision the potential. Now, they can see the potential and see the built environment and the place-making that's going."
The emerging City Center of today speaks volumes about Lenexa, its residents and its leadership, Copaken says. "We are 630,000 square feet into a 2-million-square-foot project, and although we had a recession in the middle of that, everybody held true to the vision and we are on pace to fulfill that vision."
A project of this scale, Corcoran says, doesn't move forward by happenstance. But to marry the vision with the realities of a changing market requires a special skill set.
"One of the things we realized is mixed use, a lot of times, it is going to be done in two or three years," he said. But not at City Center. "This is long-term, and evolutionary, and it's tied to a vision that the city has formulated and held themselves to."
Boehm, too, gives credit to those who inspired Lenexa City Center, some of whom didn't live to see their dream realized.
"We were blessed with people who had long-term vision, and we've tried to remain true to that," he says. "There has been lots of support and encouragement over the years—when it stalled for a while, no one growled and said 'You spent all this money, and for what?' But we knew we had a good idea and a great location. We didn't just want another big-box retail strip or another lifestyle center. We wanted something better," Boehm says. "And we're going to have it."