America's heartland is an emerging star of shipping.
Let's connect some U.S. logistics dots, and we'll make the first one the tiny burg of Lebanon, Kansas.
From there . . . 
• Los Angeles to Kansas City spans 1,617 miles.
• Seattle to Kansas City covers 1,836 miles.
• New York to KC—1,192 miles.
• Miami to Kansas City is a 1,494-mile trek.
If you're drawing a mental map in your head as those lines intersect, you'll come reasonably close to Lebanon, officially recognized as the geographic center of the United States.
And that means if you're starting from the central location of the Sunflower State, the shortest distance between you and most any other destination city is—well, a lot shorter than crossing the country from any of those other locales. 
Simply put, Kansas is in the middle of everything—85 percent of the nation is just two days' travel time by highway. And therein lies the rationale for making Kansas home to distribution, warehousing, and logistics operations for anyone doing business nationwide. 
That's one reason why online retailing giant Amazon.com has roared up the list of the largest private-sector employers in the Kansas City region, now with more than 5,000 people on the payroll at four mega warehouses in the area. 
It's not alone. An estimated 7,000 companies in the state take advantage of the logistical assets they enjoy being located in the heart of America. It gives them the ability to reach customers faster and more efficiently. Among those assets are highways, railroads, air cargo, and—believe it or not in a landlocked state, waterways.
The depth and breadth of logistical infrastructure account for 117,000 jobs in the transportation, warehousing, and wholesale trade sectors, making that one of the biggest job generators in Kansas. 
Highways
More than 140,000 miles of roads and high-quality, four-lane (and wider) interstates bisect Kansas from east to west (mainly Interstate 70) and generally south-central to Kansas City (Interstate 35). Those tie in with other regional interstates that allow trucks to flow out of Kansas to the Pacific or Atlantic coasts within three days' travel time.
Connecting the two largest markets—Wichita and Kansas City—I-35 is a conduit for freight moving into the nation's core or to and from America's two biggest trading partners, Canada and Mexico. With the former NAFTA trade pact now replaced by USMCA, the Sunflower State has enhanced stature within the North American economy. I-35 and I-70 intersect in the Kansas City area, which means trucks leaving Kansas can quickly and efficiently reach international ports on both coasts. 
And there's plenty of traffic moving on those roads: The state Department of Commerce tracks more than 1,000 private carriers, 350 intrastate for-hire carriers and 9,500 Kansas-based motor carriers with intrastate, and/or interstate operating authority licensed in Kansas.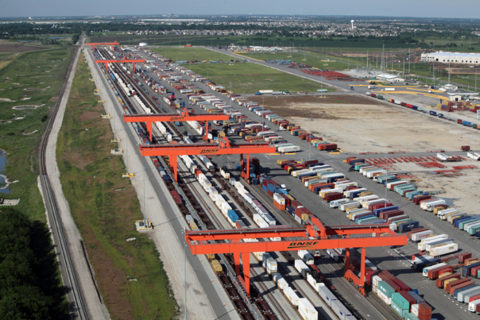 Rail
With four Class I and 11 Class III railroads operating inside its border, Kansas boasts the nation's sixth-largest rail network, a grand total of 4,675 miles (more than half of which, 2,723, are Class I lines). Those steel lines serve intermodal facilities and logistics parks that continue to build out million-square-foot warehouses on a spec basis—and that speculation almost always pays off with a signed tenant lease before construction is even finished. 
In tandem with those operations, transloading facilities merge the economy of rail transport with the flexibility of highway trucking. You'll find 15 of those transfer points across the state, allowing cargo to move from Mexico to Canada and from coast to coast.
It's worth noting that the late-2021 merger of Kansas City Southern Railway into Canadian Pacific Railway has created a system of cross-continental rail flow, both east-west and north-south, that no other rail company can match.
Air
Kansas City is home to an international airport bristling with cargo shipments, while Wichita has a national airport that also sees a significant share of its flights coming from freight operations. Dwight D. Eisenhower National Airport in Wichita has daily cargo departures to major U.S. hubs, and the airport itself is home to more than 70 businesses, including FedEx, UPS, and DHL. And it's not just about access; quality plays a part in that infrastructure, as well, and the Wichita airport was recently ranked No. 3 for Best Small Airports by USA Today.
The regional crown jewel of aviation is Kansas City International Airport, a travel and transport hub for the four-state area of Kansas, Missouri, Iowa, and Nebraska. KCI is known for moving more air cargo each year than any other air center in a six-state region. Its capacity is sure to increase within the next year as a rebuilt single-terminal configuration replaces Kansas City's front door to the world.
Statewide, Kansas counts roughly 140 public-use airports and, as the Commerce Department folks like to say, "No community in the state is more than 30 miles from a public-use airport."
That's why there's such a long list of carriers serving Kansas, including Airborne Express, Air Cargo Carriers, Baron Aviation, BAX Global, Central Air Southwest, EGL, Emery Worldwide, Kitty Hawk, Planemasters, UPS, and the U.S. Postal Service. 
Inland Waterways
A surprise to most everyone who doesn't live in this landlocked state, Kansas has access to inland waterways that can get freight moving to the Mississippi River, then on to the Gulf of Mexico. It counts nearly 125 miles of Missouri River frontage, and that pathway supports eight commercial terminals in cities like Atchison, Leavenworth, Lansing, and Kansas City. To the south, the Arkansas River picks up depth after its journey from Wichita, allowing shipping from Oklahoma's Port of Catoosa, about 50 miles from the state's southern border.
Other Assets
Two Foreign Trade Zones serve the state; one in Kansas City, the other in Wichita. Nine Kansas counties are included in the Kansas City area: Atchison, Douglas, Franklin, Jefferson, Johnson, Leavenworth, Miami, Shawnee, and Wyandotte. But the critical mass isn't limited to that side of the state line. Just across the state line is the Kansas City, Mo., zone, one of the largest in the nation. How large? It has more space and handles more volume than peer zones in bigger markets like Chicago, Dallas, Denver, Minneapolis, and St. Louis. 
To the south, Wichita's FTZ covers a seven-county footprint: Butler, Harvey, McPherson, Reno, Saline, Sedgwick, and Sumner. Both territories provide advantages for shippers because foreign trade zones exempt their users from paying duty or federal tax while goods remain in the zone or are exported.
LPKC, Gardner
Get to know that monogram because it's fast becoming one of the nation's premier destinations for logistics companies. This 3,000- acre inland distribution hub sandwiched between the suburban Johnson County cities of Gardner and Olathe is an intermodal facility served by BNSF Railway. 
It is the only full-service facility of its kind in the western two-thirds of the U.S. and thus is a vital link in the supply chain that covers domestic and international shipping. It now has more than 14.4 million square feet of new distribution facilities, with plans to add huge volumes of speculative and build-to-suit facilities.
Among the other logistics parks in the state, you'll find:
Kansas Logistics Park, Newton. Serving south-central Kansas, this is a 400-acre site served by a pair of Class I carriers— BNSF and Union Pacific. Watco Companies, which operates short-line rail in Kansas, also connects here. KLP has direct rail access to the Port of Catoosa and spur interstate access between Wichita and Salina, plus to U.S. 50 running to the Kansas City area.
Kansas Enterprise Industrial Park, Hutchinson. This 117-acre span has a rail spur switching served by Hutchinson Transportation. It connects to BNSF Railway, which runs to LPKC in the Kansas City market, with an open switching agreement with Union Pacific.
El Dorado West Industrial Park. Made up of a pair of sites, each with more than 100 acres, this facility in western El Dorado is zoned light industrial and has access to I-35—the turnpike entrance is just a mile away—and K-254 into Wichita and K-196.  Rail service includes spur opportunity to the Union Pacific branch line, which serves each of the two main parcels. 
Harlan Industrial, Topeka. BNSF serves this 107-acre site, which is zoned light industrial and is just minutes off the vital I-70 corridor, as well as I-470 around Topeka and I-335 connecting to Emporia, where it meets I-35.  
Central Crossing, Topeka. Designated as a Foreign Trade Zone, this 15-acre facility is zoned light industrial and also enjoys quick access to the Topeka interstate grid with a direct rail connection to the BNSF line. 
Great Plains Industrial Park, Parsons. This former U.S. Army ammunition plant arose from an inspired civic effort to replace that casualty of military cutbacks. That created this massive, 6,800-acre site in southeast Kansas. With rail service from Union Pacific and a privately owned water-treatment plant, it also has quick access to U.S. Highway 40 (west to Wichita) and I-44 to St. Louis and Oklahoma City.