With the skyline of Kansas City rising up behind them, Kansas City University leaders and donors broke ground today on a $33 million project. The Center for Medical Education Innovation building, or CMEI, has been in the works since 2015, when the university received a $30 million HUD Choice Neighborhoods grant to revitalize and transform The Paseo neighborhood that lies adjacent to campus.
The university was also able to raise enough money to qualify for a $1 million challenge grant from the J.E. and L.E. Mabee Foundation, which helped seal the future of the new construction. And the future is exactly what the CMEI will bring to medical students in Kansas City.
"Not only will it redesign medical education for Kansas City University, but this will be a signature building for KCU," said university President Marc Hahn.  "This investment is important not only for the city, but it's important for this neighborhood."
Part of the reason that KCU was able to get the HUD grant was by redeveloping land once occupied by the Capri Motel. In its heyday during the 1950s, the Capri was a bustling sojourn for musical acts playing in the city. It devolved into a dilapidated building that police labeled a "magnet for crime."  KCU purchased the land, demolished the hotel and started work on developments to improve that area.
J.P. Smith, a KCU alumnus and current chairman of the board of trustees, believes the construction of the CMEI is crucial for the neighborhood but also for the future of the medical industry. "Trying to make something future-proof is impossible, but nonetheless, this positions us to see the next wave in how we train doctors and healthcare professionals," he said.
"What we are talking about is impacting the healthcare of this community and really, of the nation," said Darrin D'Agostino, the executive dean of the College of Osteopathic Medicine and vice president of Health Affairs at KCU.  "The way I look at it is anything we create, anything we innovate, is going to help raise the tide for everybody and all ships will come up."
What D'Agostino and others plan to do inside the brand new CMEI building is nothing short of Jetsons-esque.  As Mayor Sly James said during the ceremony, "If your idea and thinking about the future does not seem absurd, then you're not thinking about the future." 
Where Dr. D'Agostino believes the real impact will be felt is, truly, in the classroom.  "Virtual classrooms," he says, "using things like augmented reality to show people where a tumor exists and simultaneously, in that world, show people what it's like in real life.  Being able to engage the learning opportunities in such a different way is very exciting for an educator like me!"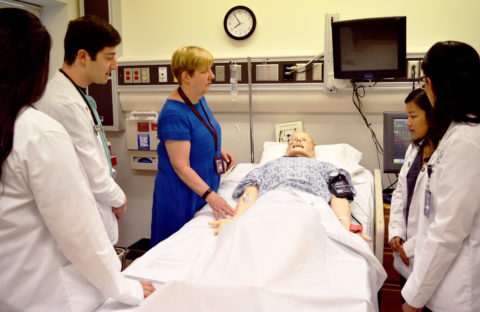 The virtual learning and implementation of haptic technology is where Hahn sees the true value in this investment.  "We can train our students again, and again and again to handle many of the most common medical and surgical problems, such that when they see a patient for the first time they are ready to care for them," he said. "That assures the best outcomes for our patients."
Terry Dunn was also wielding a silver shovel, as J.E. Dunn will be the construction company in charge of the build. He was also the co-chair of the Leading the Way Campaign to raise funding for the projects, and chaired the board during what he calls a "tough transition" period several years ago, and said he was elated to see this project finally break ground. He's also thrilled about the deeper meaning for Kansas City in the medical community.  "We are a unique community," says Dunn, "We have three great medical schools, and this one (KCU) back seven, eight, nine years ago was at risk.  And to see where it's come today and to see where it's one of the leaders, really throughout the United States, it's just a tremendous story."
6/04/2018