KCU Cuts Ribbon on New Administration Building, Centennial Celebration
---
---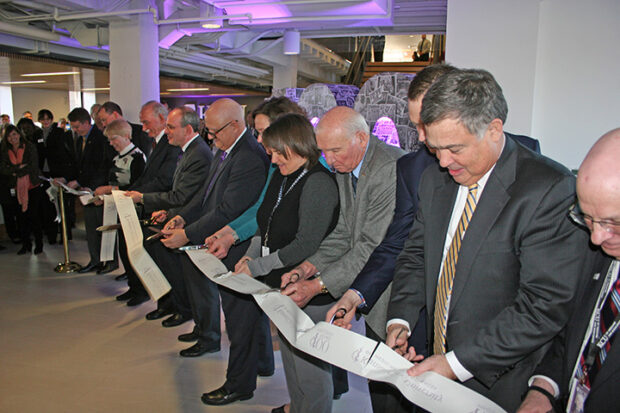 ---
Well more than 100 health-care educators and executives joined civic and business leaders from around Kansas City this morning, along with faculty staff and students, for the formal re-opening of the Administration Building at the Kansas City University of Medicine and Biosciences.
The ribbon-cutting for the renovated building, a 100-year-old structure that was originally the home to the first Children's Mercy Hospital, also served as the official kickoff for the medical school's centennial celebration in 2016.
"We are proud of our past, and look forward to a bright future of educating the region's top physicians," said KCU's chief executive, Marc Hahn. "As we enter 2016 and beyond, we anticipate 100 more years colored by collaboration, research and community."
All three of those themes surfaced throughout a one-hour ceremony leading up to the ribbon-cutting:
Hahn addressed the crowd in the entry hall of the building by noting the influence that KCU has had on the medical community, and its role as the largest medical school in the state.
Marshall Walker, chairman of KCU's board, took note of the 10,000 physicians who have earned there credentials at KCU–including himself–and their influence on health-care across the state and nation.
Scott Wagner, mayor pro-tem, who represents the 1st District on the Kansas city Council, addressed the commitment the university had made to revitalization efforts in the historic northeast neighborhood, saying the new building represented a doubling-down on that engagement.
And Jane Knapp, who chairs the department of graduate medical education at Children's Mercy Hospitals & Clinics, talked about the historical signficance of the building and KCU's continuing ties to the pediatric hospital.
The 16-month renovation, completed in December, gives KCU a silver LEED-certified building to serve as its administrative base. Helix + Architecture did the design work on the building, and JE Dunn Construction was resposnbile for gutting the existing structure and producing the finished product.
---