The long, proud history of Ingram's Best of Business Kansas City Awards was built on one premise: Excellence should be recognized and rewarded.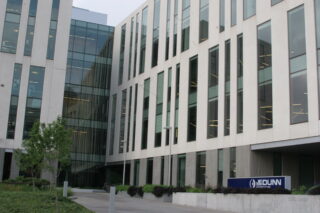 ---
"We have worked very hard to develop a brand and a relationship with clients and others, and receiving this award is very important to us to reaffirm what we try to do every day." — TERRY DUNN, J.E. DUNN CONSTRUCTION
---
And it surely has: The 2013 installment of this program, which evolved from the first Golden Spoon Awards in 1989 to the Silver Ladle Awards and since the Best of Business Awards, has produced 76 Gold winners in the categories of Wining & Dining, Entertainment & Culture, Business Products, Business Services and Leadership. Overall? The total number of Gold awards issued now stands at 1,051.
Some of this year's honorees are first-time winners. Most, however, have been down this aisle before, organizations and individuals who show us exactly what it takes to achieve recognition for being the best in their field—and demonstrating the resolve it takes to hold that status for years, even decades.
Even within this rarefied  atmosphere, however, a handful of organizations stand out. Among them are the top three in overall Gold awards, and—perhaps more impressively—three who came away with Gold in their category every year it was awarded.
One of those three, JJ's, collects what may be its last Gold, with a 15-year sweep; the building was destroyed in a February explosion and fire that caused one death and obliterated a KC institution. That final Gold recognition, said JJ's owner Jimmy Frantze, was a tribute to the work that the restaurant's entire staff had put in over the long term.
"Everybody who worked at JJ's was there because they loved working with wine," he said. "Matt Nichols and myself were the architects, but everybody was involved in it—the entire staff had a devotion to wine."
A culture like that takes time to develop, as does the product line. But vision, hard work and a staff embracing both were keys to JJ's rare feat of never giving up the Gold. "We'd been building that wine list over a period of 28 years, literally," Frantze said. "It was an ongoing project, and obviously a labor of love, something that takes a lot of devotion."
The greatest heartache, of course, was the loss of Megan Cramer, a member of the JJ's staff who was the lone fatality of the fire. Her death represented one of many losses Frantze experienced, including the building itself, decades of work, and an iconic Kansas City gathering place. And, for wine lovers, more than 7,200 hand-picked, world-class labels and vintages that were destroyed.
Nearly six months after the fire, Frantze isn't sure yet what his own course will be. Nobody in town, he says, can fill that void—"I haven't seen a wine list remotely comparable to JJ's," he says, so there's no place that stands out for him. "But when I do get out, I stick to the Plaza."
Another Gold sweep belongs to J.E. Dunn Construction, with a 14-year sweep, where CEO Terry Dunn sees in it a value that transcends bragging rights for a year in the category of Best Commercial Contractor.
"We're extremely honored to be recognized" again in 2013, he said. "We have worked very hard to develop a brand and a relationship with clients and others, and receiving this award is very important to us to reaffirm what we try to do every day." That kind of feedback from the public means they've sustained the corporate brand, Dunn said, not only for achieving excellence as a contractor, but as a good corporate citizen in the community.
"Accomplishing those are very, very important to us," he said. "When we look at recruiting great talent, which is extremely important to us, when we look at relationships with clients and potential clients, the reaffirmation of this certainly is very strategic to us and what we try to accomplish on day-to-day basis."
That last point is crucial, because it addresses a key aspect of the awards themselves: Consistent excellence in performance not in any one year, but over the long term.
As an employee-owned company, Dunn said, a collaborative approach is the best avenue to achieving that organizational success. "We think that sense of ownership and fact that empowering employees as employee owners, to be engaged in a real team effort to accomplish corporate objectives, is very important. The message is, we expect them to be innovative and entrepreneurial and to conduct themselves as leaders within the company."
The third company to win the coveted Gold Award every year in its category is First Watch, with a 20-year sweep of KC's Best Business Breakfast.
Among the companies most honored over the years, The Capital Grille leads the pack with 40, an impressive feat for a relative newcomer. The subsidiary of Florida-based Darden Group has only been in the Kansas City market since 2001. Plaza III–The Steakhouse, owned by longtime area restaurateur Nabil Haddad and his Haddad Restaurant Group, was picking up Gold all the way back through that first year and has secured 38 overall.
And Fiorella's Jack Stack Barbecue has snagged 33 Golds, most of them for Best Barbecue. In that category, it has brought home the top spot 19 times, and every year for the past 14—a streak made all the more remarkable in a town larded with nationally-known barbecue establishments.
Company president Case Dorman notes that the corporate culture is as important as the food at Jack Stack.
"For us, it's about establishing a culture of excellence; first and foremost, that's what we set out to do," Dorman said. "Where our team felt valued, where they felt like they could really use their skills to the best of their abilities and maximize those skills, then you've set the bar really high for expectations. We ask them to stretch themselves and do a little more and a little better than they think they can."
In the hospitality sector, and in restaurants as a subset of that, it all starts with the front-line team that touches the guests every day, Dorman said. "I think of all the groups in our industry, we're right up there, having the best front-line team in our area. That's been something we've really worked hard to create."
From there, leadership is the next layer of success, he said, because that front-line team needs a vision they can embrace and follow. And then it comes down to the infrastructure that allows for superior day-to-day performance. "The thing that I guess we really work on beyond that is the system and execution," Dorman said. "We're only as good as the last meal we served, so we've got to get up every day and make sure that system works at a high level. When we get it right, we can operate very consistently, and those are the keys to success for us."