City Council members on Thursday unanimously approved a Chapter 100 industrial development plan and bond request that could see $8.2 billion in incentives granted over 37 years to developers of Golden Plains Technology Park, should it achieve its projected scale.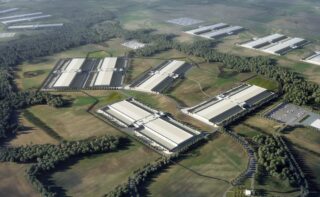 Rendering from Diode Ventures
---
Diode Ventures LLC, a Black & Veatch subsidiary, and another entity, Velvet Tech Services LLC, are advancing data center projects that could see a staggering $103.8 billion invested locally during the plan's lifespan, largely from anticipated personal property expenditures, such as computing equipment upgrades.
Last year, the city rezoned 882.5 agricultural acres at U.S. Highway 169 and 128th Street, in Platte and Clay counties, for 16 data center buildings totaling 5.5 million square feet of construction. Developer representatives have said the campus will see operations start next year and reach operational capacity in 2032.
The project's industrial development plan calls for as much as $103.8 billion in bond issuances, providing for a 100%, 25-year real property tax abatement for each phase of the data center campus.
Also included are a 100%, five-year abatement of personal property taxes for periodic property purchases with each phase, plus a sales tax exemption on construction materials. Those incentives respectively are valued at $5.2 billion and $232.1 million.
Diode Ventures and Velvet Tech Services will make fixed annual payments in lieu of taxes (PILOTs) equal to the sum of 100% of real property taxes, not including improvements from new construction, plus 25% of taxes assessed Jan. 1 the year after improvements are completed.