KC Bier Co. Plans To Expand In Lenexa
---
---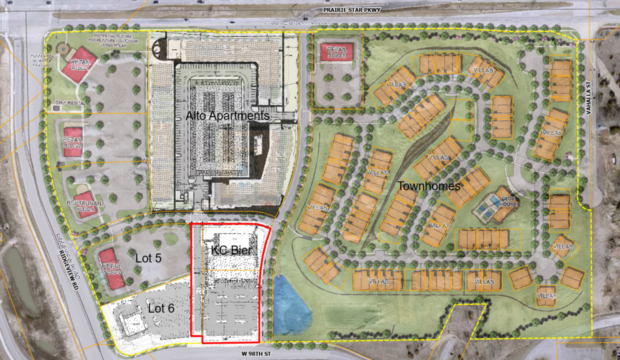 ---
Posted November 6, 2023
The German-style brewing company KC Bier Co. pursuing the development of a new restaurant and microbrewery in Lenexa, KS.
The Lenexa Planning Commission on Monday will take up plans for the 14,800-square-foot restaurant and beer hall located near the northwest corner of W 98th Street and Ambassador Street.
Architecture for the new restaurant will take inspiration from a traditional German Bier Haus—with materials consisting of stone, stucco and wood trim—and stands two stories tall, according to the Planning Commission agenda.
Additionally, the project includes an outdoor patio and performance stage as well as a dog park area.
The new KC Bier Co. restaurant and microbrewery would be part of a greater Vista Village development. A map of the project shows KC Bier accompanied just south of an apartment complex and west of a townhome village.
The Lexena Planning Commission will vote on whether to approve the development on Monday at 7:00 p.m.
View the full Lenexa Planning Commission agenda, here.