Kansas rural revitalization program opens applications
---
---
Applications have opened for Kansas communities looking for growth opportunities provided through the Kansas Main Street Program.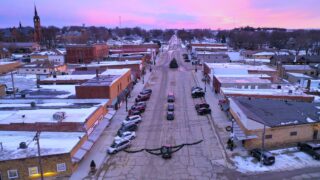 The Main Street program is designed to develop and strengthen downtown corridors, especially in rural communities.
The program will be accepting applications for up to three new communities in the state interested in joining, Kansas Gov. Kelly announced in a news release.
"My administration re-implemented Main Street in 2019 because we are committed to providing Kansas communities with the tools and resources they need to prosper," Kelly said. "Through the program, businesses can access essential technical services, networking, and other training opportunities that will assist their efforts to recruit and retain businesses, and keep talented young professionals in the towns they grew up in. I encourage any community looking to revitalize their downtown to apply."
During the first 27 years of this program, more than $600 million in redevelopment was invested in designated Kansas Main Street communities. During that same time, nearly 4,000 small businesses were started, creating more than 8,600 new jobs.
There currently are 25 designated Kansas Main Street communities in the program, with all participating in a competitive process to be selected for the program.