CHRISTINE BOUTWELL
Saint Luke's Health System
Even though her father was a biology professor at Missouri Western and her mother was a medical technician, there was never any pressure at home to steer young Christine Boutwell into health care. "I wasn't medically inclined, she says, "but I was always scientifically inclined."
Boutwell is a vascular and general neurologist for Saint Luke's neurological physician practice and its Marion Bloch Neuroscience Institute, where she indulges her twin passions for treating patients—particularly those suffering from stroke—and the underlying science behind that work in the institute's clinical trials.
Her duties dovetail nicely with what she says was an innate desire. "I always wanted to fix everything," Boutwell says. Some of that came from witnessing her mother's daily challenges wrought by a case of childhood polio. "I grew up around those challenges, the difficulties, the pain and the suffering, which progressed as time went on," Boutwell says. "Even when I was in medical school, she had a stroke on top of that. I'm sure on a subconscious level it drew me to that work, so people would not have to suffer like she did."
In nearly 20 years at Saint Luke's, Boutwell has been able to alleviate suffering on a scale undreamt of when she started. Years ago, she said, the practice of neurology "was largely cerebral: you confirm the diagnosis, but you didn't really fix anything." Today, neurologists can stop a stroke in progress, even reverse the effects of one if the timing and conditions are right. "We can do an intervention, save brain cells and people wake up and don't even know they had a stroke," she says.
Boutwell is especially interested in treatment and research of multiple sclerosis, and disorders like Lou Gehrig's and Alzheimer's diseases, and is able to apply scratch that research itch in her work at the institute. "All these clinical trials I'm involved with have to do, ultimately, with treating patients," she says. "Patients are my No. 1 thing and that's why I do what I do—to help people."
---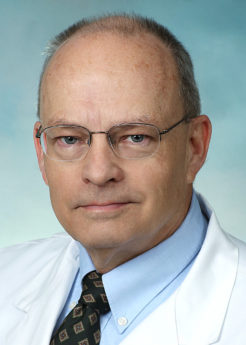 JAMES BRADLEY
Olathe Health
Pulmonary care. Critical care. Sleep Medicine. At Olathe Health, James Bradley has job duties that are self-evident. But there's an unseen aspect to his work, one that transcends generations of care-givers.
That started to come into focus for him while he was majoring in the History of Medicine at Duke University and working part-time in the university hospital. "These experiences," he said, "allowed me to witness the daily devotion of physicians and nurses at the bedside and to understand  how it continued a tradition that spanned centuries."
Growing up in Lenexa, Bradley was influenced by "stories about patients I heard from my nurse mother and the superb example of my childhood physician, Dr. William Matthew." Through medical school  at Emory University and residency in Atlanta, he was drawn to caring for acutely ill patients.
"I pursued pulmonary and critical-care training at the University of Kansas since I was attracted to its rapid pace and the ability of a superb patient-focused team to provide life-saving care," Bradley says. "It has been fascinating to participate in the advances of critical care medicine." And rewarding as well, he says, to have been part of the development of a 26-bed critical care unit at Olathe Medical Center. 
He started Olathe Medical Center's sleep center in 1995, and since then, he says, "we have recognized that sleep disorders affect all parts of the body, and their treatment is crucial."
And yet, the physician's role is only a part of the solution. "To achieve excellent patient care, you must build teams of highly trained individuals, and I have been blessed to work with such professionals," he says. Those teams have helped provide many firsts in Olathe—full-time pulmonary coverage, a sleep lab, and expanded critical-care capability. "Understanding the history of medicine causes you to appreciate the wonderful technology we have today, but it makes you view every highly touted advance with skepticism," he says. "Most important, it makes you keep your focus on individual patient care, which has been the foundation of medicine for millennia."
---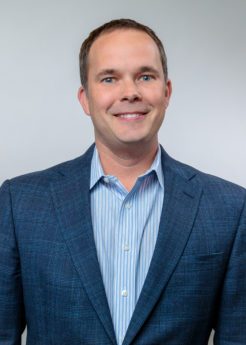 DOUG BURGESS
Truman Medical Centers
Outside of a spouse, perhaps, few people will have relationships that are as intimate as the one they'll have with their physician—someone who is likely to see you at your most vulnerable. That goes double for the relationship between patient and psychiatrist. Doug Burgess knows all about that. "I was drawn to psychiatry because people trust you with some of their most intimate stories, including the family dynamics," says Burgess. "You are part of the most formative things that happen in their lives, things they often share with you and nobody else. It's amazing to me—and maybe even more amazing because it was not something I set out to do."
The medical director for TMC's outpatient psychiatry services is a St. Louis native who found his path to medicine early, thanks to a pediatrician who was "funny and engaging," Burgess recalls. But thoughts of a career in pediatrics and later, orthopedics, yielded to psychiatry. "I enjoyed the challenge of having to approach patients differently," he says. "And I really enjoyed it because it was one of the few fields where you have real time to spend with patients."
While he's at the tip of the spear in a near-epidemic level of opioid abuse, Burgess knows that those drugs run a distant second to society's biggest substance challenge—alcohol. Irrespective of the substance, his time in the field has vastly reshaped his attitudes and understanding of what constitutes victimhood.
"As in intern in the emergency department, I would get frustrated with patients who would come in with alcohol or drug issues—I felt like this was the result of a choice, and these people were taking a bed that someone really sick needed," he says.
But working with those patients "opened my eyes, because I saw people over time, people engaged in effective treatments, and I got to see them get better. Once they could get through the initial phases of the addiction and get into treatment, they had the same values I had—they valued family, work, relationships. They had an illness and needed treatment. It opened my eyes and changed my career path."
---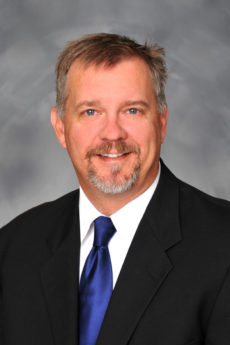 JEFF CAMERON
Research Medical Center
Back on the family farm outside of Frontenac, Kan., young Jeff Cameron would help his dad with carpentry projects. Even as a kid, he had a knack for working with his hands. He also had a thing for science, and the two interests would combine with an early sense of altruism to chart his course in medicine and life. Even back in high school, he understood, "I wanted to do something with that, and helping folks out seemed like the best thing to do."
That he does, as a vascular and general surgeon for Research Medical Center and the Kansas City Vascular & General Surgeons practice group.
The yen to help others took full form during his third year of medical school, on the surgical rotation. "I was in line for primary care, but when I did the surgical, I was just fascinated with the hands-on effect and have a quicker turn-around time for fixing people," Cameron says. "You can fix people with medicine and do a lot of things, but I like the fact you can correct things right then and there. I guess it goes back to that carpentry work." Surgery also fit his personality; "surgeons tend to be a little more—I don't know if aggressive is the right word, but more gung-ho. We like to get results."
Take, for example, the results he had with a patient who came in 10 years ago with blood clots accumulating in her feet. The evaluation uncovered a sizable, though benign, tumor in her abdomen. After that was removed, and a stent placed in her aorta, she was almost positioned for full recovery. The final piece came, Cameron says, "when I managed to get her to quit smoking, lose weight and start exercising." Absent that care, she might have lost both legs.
Her case also represents a great frustration for many physicians. "When you talk about bad lifestyle choices, No. 1 is smoking," he says. "When we get someone to actually quit smoking, that's a giant success. I've used everything out there to get folks to stop. But it does come down to an individual's making a decision. Once they've made that decision, almost anything they choose to do will work."
---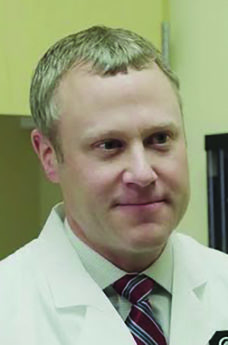 RYAN HUYSER
Liberty Hospital/Liberty Clinic
Ryan Huyser never saw himself in the same league with the bright, motivated students at Blue Valley North, nor with med-school students while he was a pharmacy major at Drake University. But he had a personal tool kit packed with a work ethic influenced by his father —"probably the hardest-working person you will ever meet"—and a gift from his mother—"a huge heart, and a massive amount of empathy for others," he says. Thus armed, he came to see himself  the equal of those supposed betters in med school. Now a part of the team at Liberty Hospital and its Liberty Clinic as a family physician, he pays tribute to both his parents when he says, "I hope I got the best of their qualities."
At Drake, a conversation with a respected professor raised the prospect of a career in medicine that didn't involve filling prescriptions. "That conversation changed my life, because it was the first time that I seriously thought about it," Huyser recalls. In their discussions that followed, "the turning point for me was a conversation about the ability, in medicine, to have intense interactions with people, and really impact peoples' lives. That was when I decided to commit." 
After earning his M.D. at the University of Kansas School of Medicine, "I found out pretty quickly that what I really enjoy is interacting with patients," he says. Treating patients of all ages challenged him to think about disease processes across the human lifespan. "I was drawn to primary care because I want to see patients over the course of their lives, to have a relationship that spans more than just a visit or two," he says. "It came back to the desire to have intense interactions, and the ability to make a difference in people's lives."
How much of a difference? Consider a recent routine visit with an older couple who had chronic health conditions, but nothing requiring more than a check-up. After exchanging some small talk, he recalls, "the husband said, 'Dr. Huyser, thank you for being a part of our lives.' I left the room and it was really hard not to be humbled by that."
---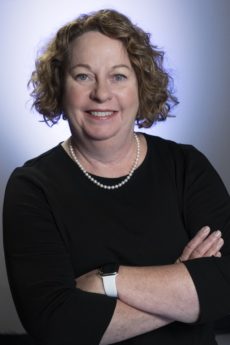 RITA HYDE
University of Kansas Health System
Rita Hyde's high school chemistry and biology teacher—"the smartest person I met in my first 18 years of life," she says—challenged her to greatness. "Mr. Nelson asked me what I wanted to study in college and asked if I had ever considered pre-med and assured me that if I was willing to invest the hours of study, I could do it," she says.
It didn't take Hyde long to get into the swing of things with life-saving medical care, either. It started while still in medical school in Wichita, spending time
with an aunt who lived nearby and was dealing with a series of nagging issues. "I was bothered by the fact that she had wounds on her hands and legs that wouldn't heal quickly," Hyde says. "She suffered a variety of minor infections that seemed to last longer for her than for other people."
Hyde insisted that her aunt see Donna Sweet, a well-known internist in Wichita, and she told the doctor she suspected her aunt might have diabetes. The diagnosis came that very day. "I was able to help her navigate the management of her illness throughout her life, including dealing with retinopathy and end-stage renal failure and dialysis," Hyde says.
For three decades Hyde has focused on improving patient outcomes, and now serves as clinical service chief for the Community Department of the health system. She's tasked with what her bosses call "building a highly successful, patient-
centered, multi-site, multi-physician primary- and urgent-care practice."
She's been witness to fascinating medical advances in her career: "Seeing AIDS go from a 100 percent fatal illness to a chronic treatable illness, seeing statin therapy change course for patients with heart disease, seeing multiple sclerosis and rheumatoid therapy advances in therapy, seeing migraine and epilepsy treatments," she says. "These advances have vastly improved the disease course of patients who suffer those illnesses and improved their quality of life."
---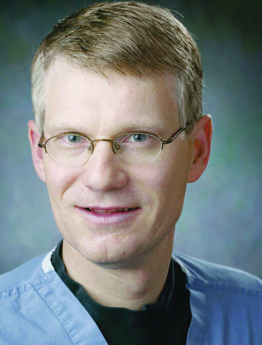 JACK JONES
Stormont Vail Health
Ask your typical high-school junior what he wants to do with his life, and you're likely to get a one-word response: "Huh?" Well, Jack Jones wasn't a typical high schooler: "By my last couple years, I was fairly solid that I wanted to be a physician, and interestingly, I knew I wanted to be  a cardiologist," he says. "I hesitate to use the term "your calling," but I always felt like I wanted to be doing procedures, working with my hands and fixing things. I never really thought about doing anything else."
And for that, a fair number of patients in Kansas can be grateful. Jones' career has tracked with remarkable advances in the field, from the introduction of the first interventional cardiology procedures in the 1990s—when survival rates for heart attacks were 50-50 propositions—to today, when techniques and tools have pushed that rate above 90 percent.
"The fact that I can take a patient with an arterial blockage who is critically ill and dying, and in a matter of a few minutes, stop a heart attack, I'm still almost in awe that we can do that," Jones says.
A native of Metropolis, Ill., Jones found the ideal location to practice his specialty when he came to Stormont Vail. "Neither of us wanted to live in a huge city," he said. "I trained in St Louis, and liked being in a smaller town. Topeka is a lot bigger than where I grew up, but still has a rural feel, Midwest values and the same type of people. It's about as  small as a city could be and let me do what I was trained to do. Much smaller, and you don't have the availability of resources you need."
With higher success rates and better outcomes, Jones is experiencing another dividend from his work: The emotional strain of having to deliver bad news to surviving family members. "It helps, the fact you go in with a  much higher chance of people surviving,
going home and returning to their lifestyle as if nothing had happened, as opposed to making it through but so disabled you can't do anything," Jones says. "There's a good chance the vast majority within a week will be home, and knowing that is very rewarding."
---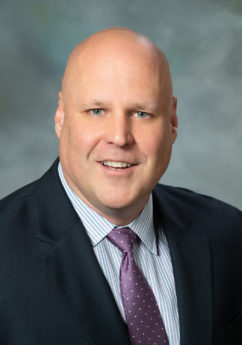 MICHAEL MAIN
Saint Luke's Health System
When you're young and looking for direction in life, Michael Main muses, "a lot of times, all it takes is somebody telling you that you're good at something." At the University of Texas Southwestern Medical Center, that "someone" was a cardiologist, part of a cohort of physicians who Main says he respected the most while on his residency and fellowship rotations. "That's kind of all it took," he says.
Fast-forward 20 years, and this practicing cardiologist for Saint Luke's Mid America Heart Institute is chairman of the cardiovascular division for the parent system's physician group, co-medical director for its cardiovascular service line, is a prolific author of cardiology research papers and is a professor of medicine at UMKC's School of Medicine.
This Iowa native was the first in his family to go into medicine, but getting there took some doing.

"I went to college not sure what I wanted to do," he recalls. Even into his senior year, he was exploring law school, intelligence work, and campaign roles in a presidential election year before casting his lot with medical school and cardiology.
Outside of software, medicine is perhaps the sector most impacted by innovation, and Main sees that in spades. With advances in treatment for heart disease, he says, "paradoxically, fewer people undergo open-heart operations. But outcomes have been outstanding; we're able
to accomplish that with a lot less morbidity. Patients often leave the  hospital one or two days after a procedure vs. in the past, where they had a prolonged recuperation period."
Those advances come as the Baby Boomers' Grey Tsunami of age-related cardiovascular conditions sweeps across medicine. "We're only seeing the first signs of that," Main said. "With people living longer in the Medicare population, there is incredible demand for cardiovascular services" and meeting that demand isn't merely a process of running faster in place, he says. "We need to embrace team-based care, not just cardiologists caring for patients. … We're not ever going to have enough cardiologists to do the job ourselves."
---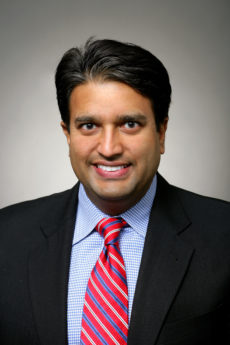 MANGESH OZA
North Kansas City Hospital
Mangesh Oza saw a lot of the world early: Born in India, immigrating to America when he was just a year old, settling in New York and relocating to the booming environs of Houston—the possibilities were endless. One could forgive him, as a teenager, for being a tad hesitant when his parents suggested a six-year medical school program in Kansas City. "I was," he says, "quite resistant." American higher education, after all, was symbolized by names like Harvard and Yale, and he figured he'd need that status to follow the inspiration of iconic Houston medical giants with names like DeBakey and Cooley.
But the more he considered a six-year path  through Kansas City, the more appeal it had. "It started to grow on me. I would be done at 23, and potentially could be in the operating room—that was a cool endeavor. It probably saved me three years from the traditional route." And his parents? "Of course, they were right," concedes Oza, a general surgeon for Meritas Health and parent North Kansas City Hospital.
He specializes in breast health and colorectal, endocrine and laparoscopic surgery, fulfilling the promise that surgery offered during his residency. "In surgery, the risks and high rewards are phenomenal, and almost immediate," Oza says. "If you do a great job with surgery, you can really change someone's life in a matter of an hour or two. Not to belittle the medicine side, but I just didn't gravitate to it; I knew I wasn't going to cure someone of hypertension or diabetes. I get more satisfaction from problem-solving
and being able see through them that I can fix them."
The cases that stand out for him almost always involve cancer treatment. There, he says, "I've found I could really make a difference in changing people's lives and the trajectory of their lives with surgery. Just today, I had a patient diagnosed with cancer for a third time. As I'm talking to her, it's an easy surgical fix, and I'm confident I can take care of her, but she's devastated with a third different type of cancer. Being able to treat that—that's the part that really touches me and excites me about what I do."
---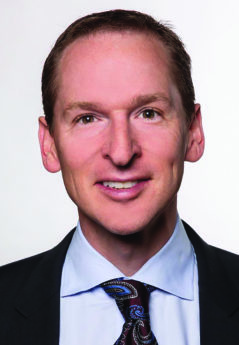 SHAWN ST. PETER
Children's Mercy Kansas City
It's not a direct line from northern Idaho to Howie Mandel to the operating rooms at Children's Mercy, but it's a path Shawn St. Peter knows well. He was raised in what he calls "the deep-snow territory" near the Montana border, at a time when Mandel and the ensemble cast of "St. Elsewhere" could impress a youngster from a small school in a class of 60.
"I read an article about the pressure and performance of surgery with analogies drawn to athletics when I was in eighth grade," St. Peter remembers. "I was absolutely drawn to medical TV shows at the time, like 'St. Elsewhere.' At that point, I started thinking very seriously about being a surgeon, particularly a sub-specialized one."
Thus was charted his path to medical school at the University of Washington and into residency at the Mayo Clinic, focusing on surgery. The appeal of that work? "The all-encompassing intensity, the physical dexterity and challenge," he says. "The fact that you take on disease with curative intent instead of committing to long-term therapy, the fact that you engage in medical management but also have surgical abilities, which makes you the last stop when someone continues to get sicker."
And the science of it all, he says, "is genuinely interesting. The variable schedule is refreshing; sometimes you have a light day and others, like tonight, where I am waiting for the next case still, you don't."
At Children's Mercy, he's senior vice president and surgeon-in-chief as well as program director for pediatric surgery. He also is surgery fellowship program director there, and has been part of a remarkable 339 research publications listed in the National Institutes of Health's NCBI database.
Every case, every challenge, is a reminder that he is a man on a mission, a mission that impacts uncountable lives. "The first time I rounded in the NICU and realized that we were taking care of souls there, and seeing my first neonatal operations where it was clear we were intervening at the beginning of the life curve, it was overwhelmingly inspirational," he says.
---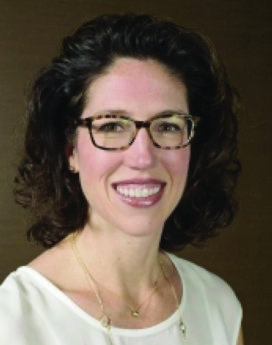 BRENDA SHOUP
AdventHealth Shawnee Mission
Growing up, Brenda Shoup saw first-hand what the life of an orthopedic surgeon looked like—her father was one—and wanted no part of it for herself.  "I remember deciding in high school that I would never go into medicine because my father had horrible work hours, missed multiple family events and frequently fell asleep in his chair as soon as he sat down at the end of the day," Shoup says. "This is not something you aspire to as a teenager."
Yet, here she is today, specializing in gynecologic oncology for AdventHealth Shawnee Mission. How did she bridge that gap? Her junior year in college focused her options on teaching, research or medicine, and "I didn't excel at teaching," she says. "I like to be with and help people, so I decided to try the Medical College Admissions Test. I know, it's not the 'lifelong dream' story, but it ends well."
In med school at KU, she says, "I discovered it was exactly what I was supposed to be doing.  I love the academic challenge and the inherent altruism of the medical field." Not until third-year rotations in obstetrics and gynecology did she realize the potential for oncology work in that discipline, but it was one of just a few, she says, "that provides both surgical and medical care to patients with cancer. I get to meet women at the time of their diagnosis, operate if appropriate, and then continue with their care as their treating oncologist delivering chemotherapy or other medical interventions.  It was this long-term relationship that was the draw."
The rewards of her work aren't immediately visible to all. "People often make comments about how sad my job must be when they ask what I do," she says. "It is sometimes sad, but more often, it's about small daily victories—being able to tell someone their cancer is in remission, having a successful surgical outcome, congratulating them on completing their chemotherapy, or celebrating with them at their two-year and five-year follow-up visits." Some must, inevitably, hear bad news,  but those who beat cancer, she says, are "incredibly grateful for the opportunity to get out of bed that day. Those patients are the ones that confirm this is why I do what I do."
---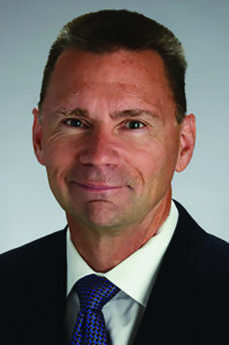 BRUCE TOBY
University of Kansas Health System
"I can hang with these guys—I like them." That's how Bruce Toby remembers his reaction to meeting orthopedic surgeons as a fourth-year med-school student. What he found was a collection of talented, well-rounded physicians, many of whom shared his interest in sports. And more than a few of them had been exposed to that field through their own sports-related injuries—as was Toby, an Indiana native who injured a knee in high-school football.
Since coming to this region in 1991, Toby has helped the University of Kansas Hospital and its parent health system build a highly regarded orthopedics and surgery unit, and he's the longtime chair of that department. Along the way, the sports-medicine talent he's assimilated has provided care for the Chiefs and Royals, KU sports and high-school programs.
Medicine wasn't always his plan; "I didn't go to college with the idea of becoming a doctor," says the one-time engineering student at Purdue University. "But I had a desire to work more closely with people," he says. "I wanted to do more with a personal interaction." Turns out, there's not a huge leap from biomechanical engineering to maintaining a musculoskeletal system. And surgery, for someone who enjoys working with his hands, was a natural fit. "I can't imagine not being a surgeon," he says. "My persona is not just doctor, but surgeon. There are differences between the two."
In a classic doctor-becomes-patient tale, Toby himself has benefited from his years of instruction and mentoring; two former residents had roles in the spinal fusion that left him with a plate in his neck. "Double dividends," Toby cracks, "from my teaching efforts."
Of course, his work pays off for patients, as well. Take the case of a young girl, more than 20 years ago, for whom he surgically re-attached a severed thumb. "I continued to follow her," Toby says, "and she's now a tarpon-fishing guide in Florida. I have a great interest in that, and went down there with my son to fish, and she was our guide. Heck, I'm still getting the benefits of that work, 20 years later."
---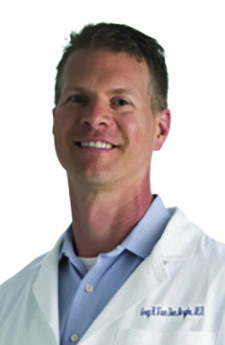 GREG VAN DEN BERGHE
Apex Orthopedics & Sports Medicine/St. Joseph Medical Center
An aunt was a chiropractor, and that was about as close to medicine as young Greg Van den Berghe got early in life. Dad, after all, was an engineer. Mom was an engineer. So engineering it would be, and after earning his electrical engineering degree at K-State, he doubled down with master's-level courses in mechanical engineering.
That entailed a course in comparative physiology, through the veterinary school, and "that piqued my interest in medicine." So it was off to KU's school of medicine for his degree and residency, followed by fellowship at San Diego Sports Medicine & Arthroscopy. Back in Kansas City, he has developed a sub-specialty in both shoulder surgery and sports medicine.
Whether it's a torn rotator cuff, arthritis or a broken bone, he says, "one of the things I really like about what I do is the opportunity to make a significant impact on the quality of a patient's life. Not just managing a chronic illness, but getting to diagnose, treat, and use my hands to actually fix something."
Some of those cases can be daunting challenges. "I once had a patient who had undergone seven previous shoulder surgeries and still couldn't lift an arm," he recalls. "She was miserable, but when she came here, we had something to offer with a new procedure. She had that eighth procedure, and it made a significant difference just with the ability to raise her arm again and use it. When they come back and see me, they are very appreciative."
Van den Berghe is in a field experiencing enormous growth in demand for joint repair and replacement, especially with Baby Boomers and age-related maladies. "I  don't see any end in sight for specialists and sub-specialists," he says, "and certainly for the next two or three decades, a heightened need for health care." Some of that demand will be absorbed  by mid-level providers, "but we have to be potentially more creative in how we deliver care," he says. "Time will tell what actually happens, but I just feel grateful—what I've chosen is very rewarding and I look forward to coming to work today even more than when I started."
---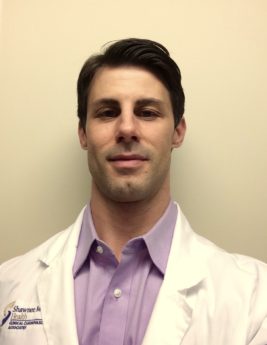 HEATH WILT
AdventHealth Shawnee Mission
A career in medicine did not come as a revelation to Health Wilt—in some ways, it chose him.

"I can always recall a calling to help others and interest in medicine," says Wilt, a specialist in cardiovascular disease for AdventHealth's cardiovascular consultancy. "I was always more familiar with science kits and mechanics rather than having any particular athletic skills," he says, so he headed to college and medical school "knowing that a career in medicine would likely keep me fulfilled helping others yet keeping me challenged on a daily basis."
Wilt has already distinguished himself by becoming medical director for both the non-invasive imaging lab and the cardiac and peripheral arterial rehabilitation units at the medical center. "I've always had a fondness for cardiology," he says. "To me, there's something inherently intimate about the heart—both from a physical, but also emotional aspect. Although literally a simple pump, its inherent mechanism of pumping with regularity and capacity for tremendous accommodation and adaptation to provide life is fascinating and extraordinary."
Like every other aspect of health care, cardiology is awash in change. "We are not only learning more about prevention and individualized treatment approaches," he says, "but we are in an era where we are moving more towards minimally-invasive procedures that are significantly reducing the need for open-heart procedures. This is significantly reducing recovery time while also expanding options to more complex patients and reducing risks of complications."
Not every case will yield an optimal outcome, but even in those instances, he can take pride in the level of care his team provides. "I am more honored when we help patients and families through difficult times," he says. "I feel the most emotional situations, and sometimes the most rewarding, are helping patients or families deal with terminal illness with dignity. It's hearing the genuine and heartfelt "thank you's" after difficult conversations or situations that are often the most rewarding."