Dozens of local leaders, developers and media from both Kansas and Missouri gathered on the Rock Island Bridge Tuesday to celebrate its progress and the idea of binding the two states together.
With little ground under their feet, the groundbreaking ceremony featured a "golden spiking". Local leaders and developers hammered five golden spikes into a wooden log to signify the project development is underway.
The ceremony featured speakers such as Kansas, Gov. Laura Kelly and Kansas City, Kansas, Mayor Tyrone Garner.
Garner reinforced the importance of the bridge's history during his statement and how to bridge is a benefit to anyone living in Wyandotte County.
"Wyandotte, which we all know has been disinvested, some parts have been disenfranchised and we need to balance that," Garner said. "This starts that reinvestment in those disinvested areas in both Kansas City, Kansas and Wyandotte County."
Kelly addressed the new entertainment district bridge as a future must-see destination for generations to come.
"The Rock Island Bridge will be a fantastic new destination for Kansans of all ages," Kelly said. "I hope that it will give our young people, in particular, a fun place to hang out. To continue our mission of making Kansas a state with good paying jobs and fin things to do on nights and weekends."
Project developers Flying Truss are scheduled to complete renovations and reopen in spring 2024.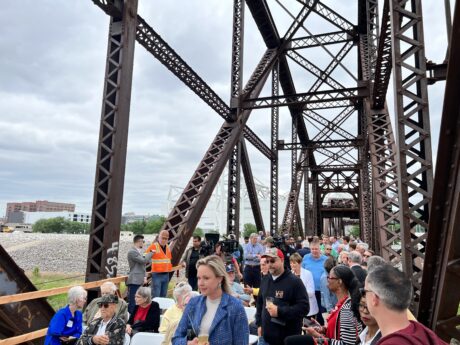 The $12 million project's mission is to bring residents and tourists to Kansas City's West Bottoms. The former railroad bridge will transform into a public crossing outfitted with retail, restaurant and other amenities available year-round.
Flying Truss Vice-President and CFO, Mike Laddin describes this project as a one-of-a-kind opportunity for residents on both sides of the bridge.
"What is being done here has not been done before. This will be a community destination, a gathering place for fun, and activation of the Kansas River as a recreational waterway," Laddin said. "This is a legacy project for Kansas City, Kansas, the gateway to Kansas, bringing our two major cities together."
Further details on the Rock Island Bridge development can be found here.