In the annals of workplace excellence, this is something of a milestone: 2017 marks the 10th year for Ingram's Best Companies to Work For awards. Much has changed in American business since the first honors were bestowed in the spring of 2008. For one, we were still months away from what would become known as the real-estate and financial crisis. The early stages of an economic downturn had little to suggest that it would earn the designation "Great Recession." And a trickle of layoffs in multiple sectors had yet to become a torrent.
---
2017 marks the 10th year for Ingram's Best Companies to Work For awards
---
On the positive side, something deeper, and perhaps more profound, has occurred in the workplace as well: The first Millennials began to enter the work force, and within just a few years, their numbers would come to dominate employment in the U.S., surpassing first Generation X, then the venerable Baby Boom generation as its retirement number was being called.
Over that 10-year span of recession and recovery, precisely 181 individual organizations have claimed their positions as the leading employers in the Kansas City region. Not for the number of people on their staffs, but for their demonstrated ability to assemble a workplace and the supporting business infrastructure to achieve organizational excellence.
A couple of those firms have received this prized recognition twice. Others, especially in recent years, have only recently announced their presence and their attributes, and are still navigating the contest guidelines that require them to sit out two years before being considered again.
But big, little or in between, each of these companies has something in common with the others. For one, they have visionary leaders who articulate a clear mission, a work force that embraces the vision, and goals that are specific, measurable and realistic. And a management team that gives workers precisely the tools they need to reach those goals.
So do lots of other good, sound companies, one might think. But what elevates one company from good to great? As this year's winners and those before them have demonstrated, it is leadership that collectively understands the need to help employees strike a balance in their lives. A great workplace, then, is about more than just work.
Through enlightened management, empowerment of employees, innovative approaches to scheduling and workflow, competitive or market-leading compensation levels, creative benefit packages and more, great companies create employees itching to get after it every day. These companies have learned that, beyond putting a roof over their heads or braces on the kids' teeth, employees yearn to be part of something bigger, to know that a piece of the company's success came from their own hard work.
We salute this year's winners for demonstrating what it truly means to be one of the Best Companies to Work For in the Kansas City area.
---
CONGRATULATIONS TO OUR 2017 WINNERS
LARGE COMPANIES:
Dentons | GEHA | Intouch Solutions | Olathe Health
MID-SIZE COMPANIES:
Clay Platte Family Medicine | Gould Evans Associates | Kansas City University | Spring Venture Group
SMALL COMPANIES:
Davidson Architecture + Engineering | The Miller Group | Muller Bressler Brown Renaissance Financial
---

LARGE COMPANIES: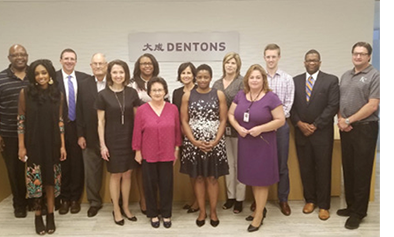 Kansas City-based law firms can compete for business anywhere, thanks to a built-in, low-cost structure that helps keep rates low. But flip that: How does a global firm attract and retain talent within the Kansas City market? For Dentons, with more than 7,700 lawyers (more than 60 of them here) working in more than 60 nations, it starts with understanding those local marketplaces. "The challenge is to ensure that compensation and benefits are competitive and appropriate to individual markets," says office managing partner John Snyder, and that applies to professional staff as well as lawyers.
But there's more: "We also understand the importance of work-life balance and offer flexible work arrange-ments, non-equity partner career paths and a rich benefits package geared to promote a healthy lifestyle," he says. "We realize that job satisfaction and career enhancement opportunities are keys to the long-term success of the firm and ultimately lead to better client service." To support both goals, Dentons continually bench-marks employee benefits, reviewing data and parsing trends and demographics to ensure that those programs stay relevant. The firm offers a comprehensive benefits program that includes four medical plan options, with discounted premiums for those who participate in its wellness program, preventative care covered at 100 percent, healthcare/dependent care, flexible spending accounts, discounted memberships to a national net-work of health clubs, back-up child care and adult/elder care, and eligibility to contribute to the firm's 401(k) and profit-sharing plans. To support staff development, Dentons has constructed a robust technology training program centering on SmartSite, on the internal Web portal. It lists upcoming classes, featured training videos, learning plans and quick-reference resources, and participation includes live, hands-on, instructor-led virtual classes ranging from 15 minutes to an hour, mimicking onsite classroom experiences. And the firm prizes the value of pro bono work. "In KC, we encourage, promote and reward our team for community and civic engage-ment and provide opportunities to get more involved in the non-profit sector," Snyder says, including volunteer activities at the likes of Ronald McDonald House and Operation Breakthrough.
Pictured (l-r):
Front Row: Ebony Walker, Se-nior Business Development Coor-dinator; Michelle Stark Kaufman, Partner; Patricia Shouse, Billing Coordinator; Judith Ndoping, Managing Associate; Erin Miller, Legal Secretary
Back row: Ricky Morris, Facilities Administration Clerk; John Snyder, Managing Partner, Kansas City office; Jerome Wolf, Senior Counsel; Coretta Catlin, Managing Associate; Barbara Threlkeld, KC Office Administrator; Carrie Berry, Legal Support Administrator; Wade Carr, Managing Associate; Kelvin Simmons, Principal; Cody Wood, Central Region Technical Support Lead
---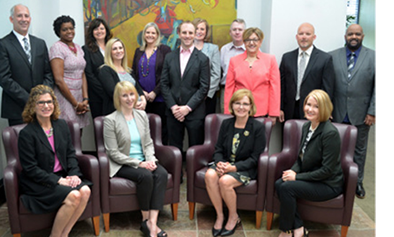 There are very good reasons why GEHA, a leading provider of health and dental benefits for civilian federal employees, has an average employee ten-ure of 10 years, and why more than a quarter of the staff has been with the company for at least 15 years. Many of them can be found in the company's Total Rewards philosophy, which CEO Julie Browne says "is fundamental in attracting and retaining an advantage in a highly competitive human-capital marketplace." The focus she says, is not just on annual salary, but on total compensation and benefits rewards: pension contribution, holiday bonus, performance incentives, health insurance, and more. But the target is shift-ing as the work-force does, she says, and "we find that younger workers want more immediate incentives. Designing a benefit package that meets the need of all is challenging and includes really understanding your employees."
So a comprehensive suite of benefits also includes dental, vision, disability and life insurance coverage, a paid-time off program that includes 10 paid holidays, parental leave, and flexible work hours or tele-commuting in qualifying departments. For staff development, there is mentoring, tuition reimburse-ment, and EDGE University, run by GEHA's Learning and Organizational Development Department, providing employees with opportunities to grow. Those tools help in a tough market. "The talent pool for clinical, actuarial and IT staff with just the right experience and niche skill set is limited locally," Browne says, so staffing remotely is one answer, as is helping employees from an outside setting trans-late other experience into the insurance industry. A challenge, Browne says, is designing a workplace that appeals to multiple generations, particularly with young singles with their quest for a different work/life balance and varied work, and for those with growing families. But once those folks are on board, the mission shifts to keeping them happy. "To boost retention, we pay for additional certification and offer a career ladder program," Browne says. "Our smaller presence in the insurance industry makes nurses for example, in whom we have highly invested, very vulnerable to recruitment by companies that may offer higher salaries." The company also encourages the staff to engage with their favorite chari-table causes, by providing time off for volunteer work.
Pictured (l-r):
Front Row: Mary Beth Compton, Chief of Staff; Lisa Hodson, VP Strategy and Government Affairs; Kathy Ross, VP Clinical Operations and Chief Health Officer; Karen Schuler, Chief Strategy and Marketing Officer.
Back Row: David Koenig, VP Health Plan Business Operations; Sherry Gibbs, VP Customer Experience and Marketing; Julie Browne, President and CEO; Sarah Osborne, VP and Chief Actuary; Susie Oliver, Senior VP Health Services; Shannon Horgan, President Surety and PPO USA; Lisa Skeens, VP Medical and Dental Products; Joseph Murray, VP and General Counsel; Annette Geroy, COO; Chad Mills, Senior VP Technology and Risk and CIO; Ron Jackson, VP Employee Relations and Engagement.
---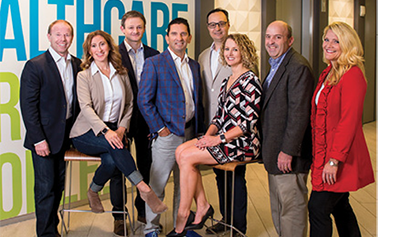 It's a pity that Best Companies to Work For wasn't around until 2008, nearly a decade after Faruk Capan founded Intouch Solutions. Had it been, his company might have pulled off the first Best Companies hat trick, earning that distinction at all three employer levels. As it is, Capan and his team at the online pharmaceutical marketing firm will have to settle for winning in the mid-size, and now, the large categories. But creating an award-winning employment structure for more than 700 employees isn't the same thing today as it was even a few years ago as a mid-size company."We know we have to stay not only relevant to the people we're wanting to attract, but competing with a whole new level of employer in the Kansas City market," says Wendy Blackburn, executive vice president. "Of course, we have to stay competitive, but our HR team is pretty active in understanding the competitive marketplace, and they're good about understanding that not just one size fits all—all kinds of people are employed at Intouch, so we offer a lot of elements that appeal to different people at different stages in their lives." In addition to competitive wages, recent additions on the benefits side include parental leave and adoption assistance, complementing its health insurance subsidies and 401(k) program with an effective 4 percent company matching contribution (plus profit-sharing and annual bonus eligibility), tuition and fitness reimbursement options, an employee referral bonus program and—nice touch, this—three weeks paid vacation right out of the gate your first year. And who can't get behind short-Friday summer hours between Memorial and Labor days? Those are almost table stakes in the digital marketing space. Being both fast-growth and rapid-hiring in that space is "definitely creating competition," Capan says. "The talent pool in digital pharmacy is limited, so the challenge for us is to retain and recruit." Shoring up that benefits program is an in-house continuing education program that addresses career-satisfaction needs. "It's been a huge hit," says Blackburn, offering hundreds of classes as options, available to all departments. "They can take advantage of feeling not only that they're learning for the job they have now, but developing additional skills to do better in the long run."
Pictured (l-r): Brady Walcott, Executive Vice President; Angela Tenuta, Executive Vice President; Boris Kushkuley, Executive Vice President; Faruk Capan, Founder and CEO; David Windhausen, Executive Vice President; Kristi Veitch, Executive Vice President; Chris Shirling, Chief Financial Officer; Wendy Blackburn, Executive Vice President
---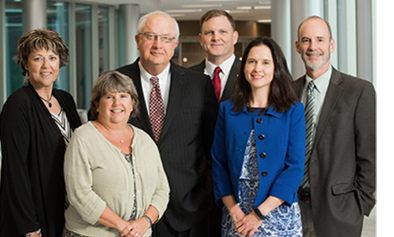 Like many large healthcare providers, Olathe Health diligently assesses local and regional surveys each year to make sure it remains competitive in both wages and benefits, and employees get a say, as well, with an anonymous feedback that helps leadership adjust benefits or add new offerings. What distinguishes the company from others is the nature of the workplace structure it has built in around that pay and benefits programming to keep a large work force oriented toward the organizational goals. "Employees at all levels of the organization can receive a discretionary incentive cash award each year based on individual achievements and the organization's 5 Pillars of Success," says Frank Devocelle, the CEO since it was a small community hospital in 1974. As the system has grown to encompass more than 60 locations and more than 2,500 employees—while revenues soared from $3.2 million to $950 million, Devocelle has been instrumental in advancing those pillars: Customer, Quality, Personnel, Growth and Financial. Beyond the raw organizational growth involved, he notes, "healthcare is an ever-evolving field." And with evolution comes disruption, but the health system works hard to complement its attraction piece with a retention piece. "Based on local survey data, our retention rate is very good when compared with other hospitals in the area," he says. But there remains the competition for new workers, always. "There is a lot of competition for qualified, experienced employees," Devocelle says. "We think it is important to provide educational and advancement opportunities for current staff, as well as work with local nursing programs to help train new graduates." To that end, the system recently developed pharmacy and nursing residency programs, which allows it to bring on new grads and offer them valuable on-the-job training at an accelerated pace. To foster staff development, the management team receives HR training on how to understand and work with employees in each generation currently in the workforce, Devocelle says. And "we have a committee of employees who lead our employee-engagement activities and provide fun activities such as 'March Madness' and 'Dog Days of Summer.' This committee also leads community efforts for employees to give back such as Harvester's food drives and hat-and-mitten drives for schoolchildren."
Pictured (l-r): Cheryl Sharp, Senior Vice President/Strategic Financial Initiatives; Tierney Grasser, Senior Vice President/Chief Financial Officer; Frank Devocelle, President/CEO; John Staton, Senior Vice President, Operations; Amy Meglemre, Senior Vice President/Chief Nursing Officer; James Wetzel, Senior Vice President/Chief Medical Officer
---
MID-SIZE COMPANIES: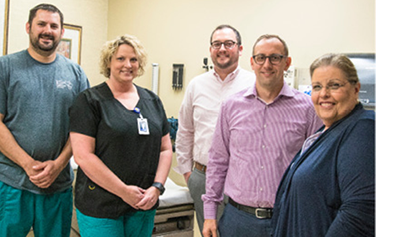 It's simple, really: If you want to provide patients with superior healthcare services, you need a staff that can rely on a superior workplace: Salary, benefits, culture—the whole megillah. That's the ticket to success in a healthcare world whose economics, for private practices, especially, have gone topsyturvy since the founding of Clay Platte Family Medicine Clinic in 1995 by a pair of physicians, Nathan Granger and Richard Ortiz. The small practice has grown into a highly regarded innovator in the healthcare community, with more than 160 managers, clinicians and support staff. Excellence, the clinic declares, starts with intensive training program for new employees, then advances through continu ing education for existing employees through educational in-services by specialists or vendors in the community. To take care of the lower-tier needs on Maslow's pyramid, the clinic works to ensure that wages remain competitive, then layers on a benefits package with health, dental and vision insurance, paid time off, holiday pay, life and long-term disability insurance, and a 401(k) savings plan with a matching contribution from the company, of up to 4 percent of an employee's pay. Performance evaluations, based in part on patient outcomes, are conducted routinely and each employee has a potential of earning a 2½ percent raise every six months, and going a step further, merit-based pay adjustments recognize truly superior employee performance. Driving the clinic forward as an Accountable Care Organization, employees have goals focused on increasing patient satisfaction, eliminating the use of unnecessary or duplicate services, and decreasing the overall cost of care. Beyond care for individuals, the clinic addresses civic health by encouraging employees to participate service activities throughout the year. Among them: Child Abuse Prevention Day, Lee Denim Day, Susan G. Komen and Go Red Day. Employees may purchase shirts for the events and make a monetary donation to wear jeans for the day. All proceeds go directly to the foundation. It's becoming a rarity in healthcare, but the clinic stands as an independent health care provider based on the success and reputation for care it has achieved.
Pictured (l-r): Josh Kollmeyer, Laboratory Manager; Jennifer Catherson, Clinical Nurse Manager; Vince Shisler, Assistant Administrator; Jamie Stevens, Administrator; Mary Lou Askren, Support Services Manager
---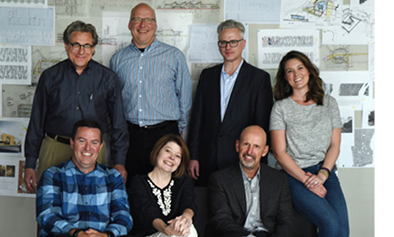 In a city famed as a center of design excellence, competition between architectural firms is … intense. But in an industry where job conditions must compete for talent with other industries—especially those that cling to a 9-to5 model—the design world poses particular challenges. "In our industry, it's common knowledge that sometimes our work doesn't fit nicely into a 40-hour work week," says Tony Rohr, national managing principal. "We are beholden to and responsible for all sorts of deadlines." Work ebbs and flows, and the ebb tide can take a toll. It's important then, he said, to recognize contributions of time by employees by taking care of the people who drive the organization forward. That can mean bonuses, it can mean extra time off. The industry as a whole, he says, "has gotten to be very good about being flexible and working with people's schedules. It's not so much about how much of your day was spent in your seat, but about completion of the job you're responsible for."
That, he says, does present its complications, especially when recognizing individual achievements when a goal is to promote team cohesiveness. Given the competitive field of work, competitive pay is a formality. But Gould Evans kicks in $3,000 for architects earning licensure, and sets those salaries by industry standards, research and annual evaluation. The firm offers insurance options for health (up to 60 percent of premiums paid), dental and vision, paying the full cost of vision, life and disability insurance. It has a 401(k) plan with a company match as well as the opportunity for employers to buy shares in the company through a 100 percent ESOP. All of that helps attract talent; the challenge for Gould Evans is retention. What helps there, Rohr said, is that "creative thinkers love this kind of variety in the work—no one gets excited about doing the same thing all the time." That variety leads to innovation and new problem-solving approaches, he said, and is leveraged by the different perspectives that employees can gain by working at various times in the San Francisco, New Orleans or Phoenix offices. That, he said, is a benefit that doesn't show up in the benefits package, but leads to additional professional-development opportunities that can't be attained in the Kansas City office alone, clients in other markets being a bit less risk-averse than those in the Midwest.
Pictured (l-r):
Front Row: Dan Zeller, AIA, Principal; Becky Rimmer, Chief Financial Officer; Tony Rohr, FAIA, National Managing Principal;
Back Row: Dennis Strait, AIA, Kansas City Managing Principal; David Reid, AIA, Principal; Adam Sterns, AIA, Pricipal; Heather Gentili, Human Resource Manager
---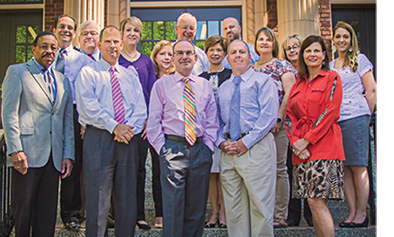 A physician, we've heard, is able to make very a respectable living in the practice of medicine. So if your goal is to hire top-notch talent with medical credentials, and you're an osteopathic school of medicine, you're competing with a marketplace vastly larger than the universe of med schools. To land the best, says Joe Massman, chief financial and operations officer at Kansas City University, you start with a platform that includes a generous benefits package—one that includes more than five weeks of paid time off, paid extended holiday break, a whopping 10 percent match on the 403(b) retirement plan, consistent merit increases every year, excellent health care benefits, a wellness program with free health screenings and an incentive for a $40 monthly premium differential, an on-site fitness center; and a $5,000 yearly tuition-assistance benefit. You also count on an element of altruism among recruits. ""It's a pretty mission-driven place, so there's a lot of investment in people," he says. "We're a not for profit; nobody comes here to knock out stock options and things like that, in large part because it's meaningful work." The call to serve by improving communities and by taking care of individuals is a unique employer attraction, he says, and "a point of differentiation about why people want to do the work here, relative to other places." And yet, all of that must be balanced against the interests and needs of students. This, then, is where KCU shines, having actually reduced tuition in two of the past three years—a dynamic almost unheard of in higher education. Another distinguishing characteristic is tied to KCU's sense of mission: Up to four days a year for employees to do community service work. "All of those things were a direct result of feedback we received from our employees," Massman says, "and those benefits align with who we are as an organization." Standing astride two sectors undergoing wrenching change, higher education and healthcare, KCU find opportunities to expand its mission through those very changes. Overall, it's a employment package that resonates with a changing work force, as well. "Younger employees are demanding a bigger voice than past generations," Massman says. "I also think younger people are much more mission-driven. They want to work for an employer who has values similar to their own."
Pictured (l-r):
Front Row: Adrian Clark, Associate Provost of Institutional Effectiveness, Accreditation & Inclusion; Joe Massman, CFO/ COO; Marc Hahn, President/CEO; Ed O'Connor, Provost, EVP for Academic and Research Affairs; Marci Nielsen, SVP for Community Engagement.
Second Row: Darrin D'Agostino, Executive Dean, College of Osteopathic Medicine and VP for Health Affairs; Robert White, Dean, College of Biosciences; Kathleen Gould, Chief Accounting Officer; Paula Gregory, Dean, College of Osteopathic Medicine KCU-Joplin; Jane Lampo, VP of Institutional Advancement; Andrea Hanson, Assessment Manager and President of Staff Senate; Dawn Kingdon, Director of Administration; Angie Bledsoe, Executive Director of Marketing and Communications.
Third Row: Mike Johnston, Vice Dean, College of Osteopathic Medicine; Rick Winslow, Vice Provost of Student & Enrollment Services. Not Pictured: Brooke Yoder, Director, Public Affairs
---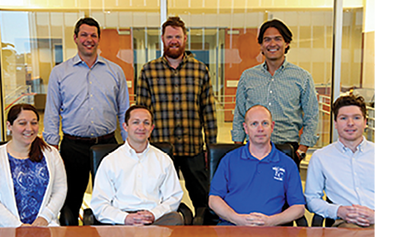 When the growth is fast, the need to hire is acute and the competition for talent is fierce—in other words, today—you have a choice as a company: Be nimble, and think of benefits as an investment, not a cost center. That strategy frames the leadership's outlook at Spring Venture Group, where CEO Chris Guiliani says rapid growth "has challenged us to remain nimble with our benefits and workplace design planning, and to move with speed as we implement changes that we believe will benefit our existing and future work force." The tricky part of manging growth, as Spring Venture Group has discovered, is that the benefits plan, compensation structure— even the very workplace culture itself—is a set of moving goalposts. "As we look at ways to improve and enhance aspects of our culture, benefits, and workplace, we are looking to the future by designing and implementing solutions that are scalable and account for the growth we are experiencing and expect in the years to come," Giuliani says. That starts with a mindset that a paycheck isn't just compensation, it's an investment. "We invest heavily in our people and see their success, both professionally and financially, as our success," he says. "We also continually benchmark all new roles to ensure compensation is competitive within the market." Like a lot of companies on their way to being large employers, but still short on those economies of scale, holding the line on the costs of benefits hasn't been easy. But with respect to healthcare costs in particular, Spring Venture Group has implemented wellness initiatives that include on-site fitness facility and free health assessments, with a goal of keeping employees healthy, engaged and productive at work. It has embraced additional health insurance options, disability insurance, flexible spending accounts, and other tools. "We continue to look for ways to be competitive with our compensation and benefits package so we can attract and retain the best talent in Kansas City," Giuliani says. Discussions about how to structure those programs do not take place within insulated offices. The company draws on internal employee surveys and ongoing advisory boards to gain feedback from employees on benefits and workplace needs, Giuliani says. That feedback is regularly incorporated into discussions and planning for benefits design. And, he notes, "we are also in the process of forming an employee-led committee specifically designed to help SVG ensure we are meeting the needs of our employees around wellness and benefits, and look forward to the contributions this team will make."
Pictured (l-r):
Front Row:Leslie Shea, VP-Human Resources; Jerry Hagedorn, VP-Information Technology; Scott Campbell, EVP-Finance; Johnny Hilgers, VP-Business Analytics
Back row: Chris Guiliani, CEO; Alex Allen, Chief Marketing Officer; Jeffrey Anderson, Chief Operating Officer. Not pictured: Michael Albenberg, Vice President-Operations
---
SMALL COMPANIES: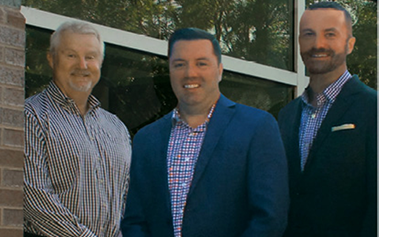 At Davidson Architecture + Engineering, the program couldn't be simpler: Healthcare insurance and other worker protections are benefits in which all have an equal stake. But performance isn't contributed in equal amounts, and can't be rewarded as though it were. "Our compensation packages are based on individual impact to the firm," says John Davidson, managing member of the firm he founded in 1995. As a practical matter, he notes, performance-based compensation "sometimes means younger employees are outpacing more tenured individuals. We feel this builds on individual strengths, which in turn compliment the firm overall.
It also provides incentive to be the best at what you do." Thus are organizations, large or small, driven forward. Applying that philosophy to a business moored in the construction economy, and being multi-disciplined, rather than a niche firm, compounds the task of effective workplace structuring, Davidson said. "Historically, young architects' compensation is not equal to engineer's at the same stage of their career, so that presents a challenge for incoming graduates." Add in cycles in that sector, and suddenly, young designers (architects and engineers) are being overpaid or underpaid, depending on the need, supply and demand of the economy, he says, so "we do our best to level this playing field, but it is challenging." That's especially true given the wrenching change in the makeup of the work force, where Millennials now account for the largest cohort, but have very different ideas about how a work week should be constructed. "That's part of the problem, and we're not sure what to do about that yet," Davidson says. "We're trying to accommodate some desires that are commonplace amongst all of them—but you have to work sometime." For a small company, it has made an extraordinary commitment to employer-paid healthcare: "We do try to give everybody the most we can," Davidson says, "and I think we really have kept on top of it with the medical benefits." That is a gift for understatement: In addition to disability and life insurance for each employee, "they are pleasantly surprised they don't have to pay any of it—the company pays 100 percent of healthcare costs for employees. "Who knows where healthcare is going now, but for us, we've paid 100 percent, and we will continue as long as can do so."
Pictured (l-r): John Davidson, Founder; Chris Hafner, Partner; Justin Bridges, Partner
---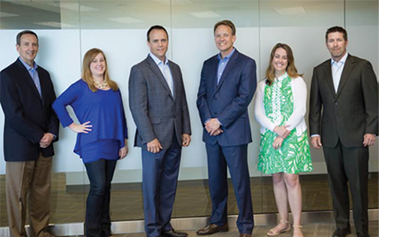 You simply can't put a value on company culture—especially when it works. And for The Miller Group, which specializes in employee benefits and insurance consulting, the culture is infused with faith, and a call to approach business not as a money-maker, but as an opportunity to serve both client and employee alike. That was a foundational element for the late founder of The Miller Group, Bob Miller, but it carries over today with the company under the direction of his son, Sean, and other members of the Miller family. "People talk about culture all the time; everybody has a unique culture," Sean Miller says. "Ours is built on the values we got from my Dad. Go to Calvary cemetery off Troost, you'll see a headstone that says Bob Miller, the date, and AMDG, the Jesuit credo, Ad Majorem Dei Gloriam"—To the Greater Glory of God. "The purpose of The Miller Group is that we exist to serve others for the greater glory of God." It's a refreshingly candid approach to structuring a business and workplace environment that one simply doesn't often hear in a world overrun with secular perspectives, especially in business. But it works for Miller, and perhaps is one reason the chief executive remains well-grounded despite the havoc of the sector where he works. On one hand, he says, it's helpful as an employer to specialize in the drafting of effective benefits packages. Then again, "there's a bit of a stigma attached to insurance—typically people will run away from an insurance agent, but we try not to look like that guy." For its employees, the company offers a robust 401(k) plan with an effective top match of 4 percent of an employee's salary. It has a parental and bonding policy providing a remarkable 10 weeks of paid leave to a primary caregiver—and an additional two weeks of paid leave to a secondary caregiver, over and above the associate's PTO schedule. Perks like that, Miller hopes, can help with the challenges of staff retention as the workforce transitions to a younger demographic. It is a cohort of employees with decidedly different expectations for, and definitions of, personal success. "The challenge you have is that they kind of expect to rise through the ranks really quickly," Miller said. But one example: someone who left recently after several years of moving from intern to receptionist, account coordinator and manager. After attaining a promotion virtually every year, that employee "left because they weren't moving up quickly enough," Miller marvels. "That's one of the challenges."
Pictured (l-r): Greg Smart, Chief Operating Officer; Laura Forbes, Director of Administration and HR; Matt Miller, President; Sean Miller, CEO; Amber Manning, President, Employee Benefits; Pat Murphy, President, Commercial Insurance.
---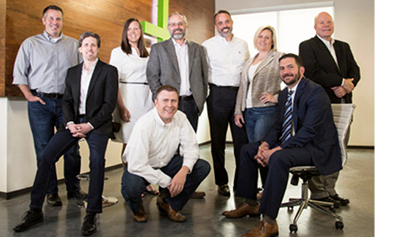 Of all the sectors that have been transformed by technology, the digital age and work-force upheavals, can any truly compare with advertising? The "Mad Men" world does indeed seem distant past for a line of work fragmented first by cable TV, then the onslaught of the Internet, then the concept of "channels" that have emerged with social media platforms. As the messaging possibilities have exploded, complicating clients' marketing strategies, the need for effective talent retention and attraction has grown. They are, says Jim Brown, "always an issue." But how do you fight enemies that are often faceless and amorphous? "One way we have combatted that is through location and work style," Brown says. Putting the office in the Park Place development in Leawood helped leverage efforts to provide the staff with a work/life balance in geography and style. "It allows people to bring their most to the office each day, with the knowledge they can get home or to a school event quickly and easily as needed," Brown says. Result: The strategic and creative talent at Muller Bressler Brown + hippo is fully energized, fully engaged, and thus allows the small firm "to go head to head with bigger shops for top talent who don't just want, but need this in their lives." For his firm, he said, it was important to understand that "we all love the vibrancy of a Downtown location—but, we recognize that creativity can live anywhere." The pace of change in the industry requires the firm to constantly be training and re-examining the type of people hired. "Clearly, more technical skills are required—regardless of agency department." That requires a constant review of compensation and benefits, which has led MBB to an attractive package. MBB+ offers health, vision and dental insurance, flexible-spending accounts, gym memberships and a 401(k) plan with a 4 percent company match for full-time employees. There are also birthdays off, summer Fridays (employees can leave at 2:30 p.m.), March Madness and Royals grill-outs, and miscellaneous surprise lunches from favorite local restaurants. And a nice touch that can only work if it's genuine, the company genuinely celebrates successes by ringing a large bell to commemorate promotions, new business and other agency achievements.
Pictured (l-r):
Front Row: Richard Cherra, Vice President-Strategy; Bob Waddell, Vice President, hippo; Garrett Street, Vice President-Creative.
Back row: Steven Burnett, Vice President-Consumer Engagement; Leah Mountain, Vice President, MBB+; Shan Neely, Partner; Jim Brown, Partner; Christian Weld-Brown, Partner; Denny Meier, Partner.
---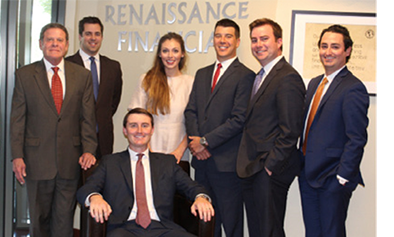 The greatest wealth transfer in history looms, with the Baby Boom generation poised passing along an estimated $30 trillion in assets to their Generation X and Millennial descendants over the coming decades. It is, then, an opportune time to be in the financial-services field. But how do you attract the talent you'll need to stand out? For St. Louis-based Renaissance Financial, with local offices in Overland Park and Leawood, it means addressing the needs of employees at all levels. "With our advisers, we focus on the opportunities they have at the entrepreneurial level, and the benefits of having a strong support team," said Tanner Coble, director of adviser development. Advisers receive ongoing training and incentives for hitting goals. For the administrative crew, there's a package that the firm believes is unmatched: generous paid-time off, clothing allowance up to $500, health insurance, 401(k) with whopping 200 percent company match, and after 10 years of service employees are gifted a trip to the destination of their choice. There is also maternity leave (6-8 weeks), two weeks of full pay for parental leave, and an opportunity to qualify for other company trips. "We think the benefits and the Renaissance Financial team atmosphere provided make us stand out in the financial-services industry," Coble says. "Most firms work on an individual adviser basis, and we focus on joint work and mentoring in the beginning years." That, he says, allows advisers to share in their expertise and provide clients with a more in-depth knowledge in various financial fields. By some estimates, the Millennial generation—yes, already—accounts for a fourth of the nation's millionaires. So there's a critical need to staff with advisers that can speak the language of and address the needs of all investors. "Our recruiting team consists of a recruiter in each location to ensure they are providing a relevant program that appeals to the different generations," Coble says. And as the firm draws on young talent with its recruiting, they work closely with colleges and provide the leadership team with the feedback to help keep the firm among a graduate's top choices. To keep them on the developmental track, the firm provides continuing education via group trainings, webinars and weekly meetings. "This allows us to adjust as rules and regulations evolve," Coble says, "and make sure our advisers are up to date to provide their clients with great service."
Seated: Tanner Coble, Director of Advisor Development
Standing: Howie Fleischer, Financial Advisor; Tyler Anderson, Financial Advisor; Lexie Swope, Financial Advisor; Luke Scott, Financial Advisor; Nick Sheppard, Financial Advisor; Joshua Lewis, Financial Advisor
---