Not Just Good, but Consistently Good
The easy way out with selecting great employers would be to identify top players in the big, mid-size and small categories, and just run with them every year. One problem with that: We'd box ourselves in if we took that approach. After all, how often is a great company in any given year not just as great the next?
Instead, since 2008, Ingram's has identified half a dozen clear leaders in each business size each year, then had them sit out two years before becoming eligible for consideration. This achieves a couple of things: First, that structure allows us to review changes in pay, benefits and workplace environs at leading companies over longer periods of time, where policy and benefit changes may become more pronounced. Second, it allows more highly qualified and deserving companies to get into the mix, which helps address some of the subjectivity factor that inevitably is a part of the selection process.
But even within that structure, the cream does indeed rise to the top. This year's Best Companies to Work For features a few familiar faces, companies that have already established they're bona fides as great employers. In fact, 16 of the 23 large or mid-size companies recognized as winners or finalists this year had achieved at least one of those titles in previous years. Only in the vastly more competitive small-company category did we see more new faces; eight of the 12 companies recognized this year earned those honors for the first time.
All have demonstrated that even in a challenging economy, it's still possible to create a workplace where people are inspired, motivated, productive—and happy. As you read about how they've done just that, keep in mind: There are lessons in those examples for all of us.
The Judges
Jerry Hellebusch, president and owner of Morgan Hunter Corp., has been involved in the executive search industry since 1979. He spent the past 26 of those years building his own highly successful firm, which has grown to be one of the largest search firms in the state of Kansas. During that time, he has been involved in more than 5,000 search assignments. Before entering the executive search industry, he had a successful career in sales and sales management.
His community involvement has included membership in the Kansas City Area Dev-elopment Council, Greater Kansas City Chamber of Commerce, Overland Park Chamber of Commerce, Management Exchange Group, National Association of Personnel Services, Mid America Association of Personnel Services, board member of the Kansas City Association of Personnel Services, executive committee member and president of the American Association of Finance and Accounting.
Gene Brown is the CEO and founder of Market Intellect, a marketing services company. He is responsible for the development of marketing plans, marketing audits, sales and promotional plans, as well as conducting seminars and focus groups. Additionally, Brown is the Valentine Radford Professor of Marketing at the Bloch School of Business and Public Administration at the University of Missouri–Kansas City.
Brown earned his Ph.D. in Business Administration with a major in marketing and minors in statistics and quantitative methods from the University of Alabama. He holds  a master's degree in marketing from the University of Alabama and a bachelor's degree in marketing from the Florida Institute of Technology.
2013 LARGE COMPANIES: WINNERS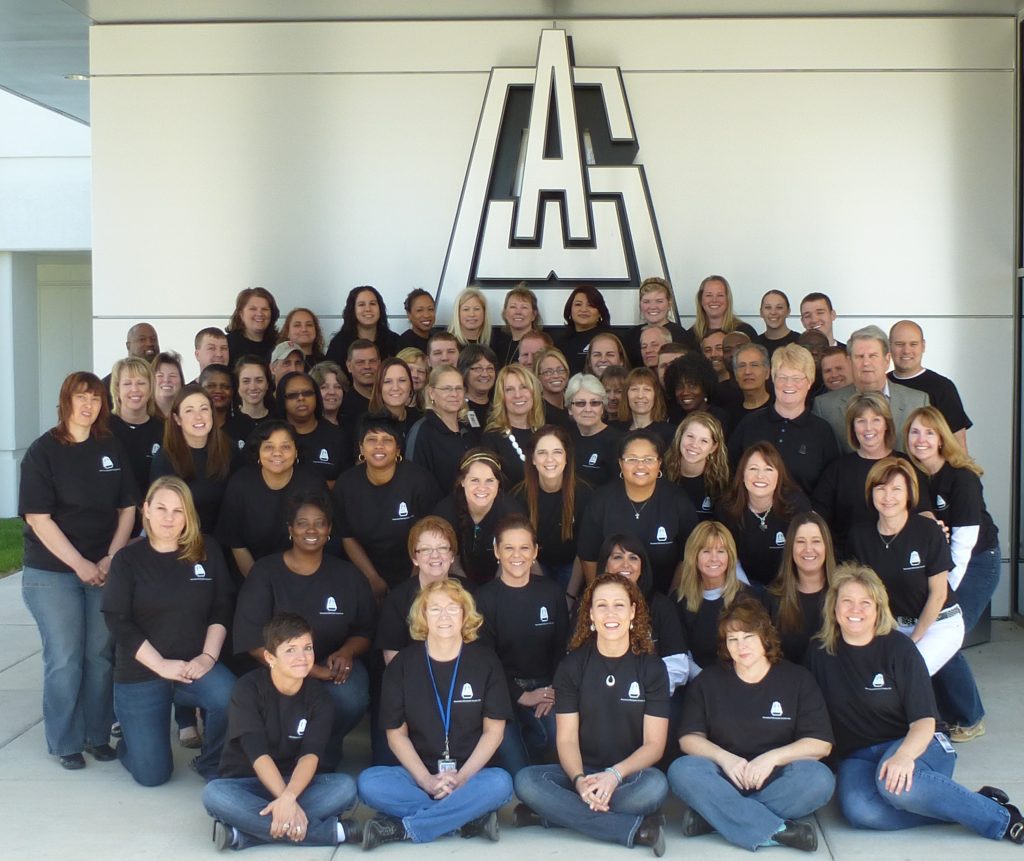 ASSOCIATED WHOLESALE GROCERS
The leadership at AWG believes greatness as an employer is built on four pillars: long-term, sustainable success; a compensation structure of excellent pay, benefits and a system to reward employee achievement; educating, training, and empowering employees; and showing commitment to the community by investing in it.
Can't argue with the results: For 35 of the past 37 years, AWG has recorded sales growth, and today is not only the second-largest company in any business sector in the Kansas City region, but the second-largest retailer-owned grocery cooperative in the nation. "One of the best motivators we have had is our steady and continuous growth," said Susan Ott, vice president of human resources. Employees who have seen relatives laid off with closings of other companies around the nation have developed a new appreciation for what AWG offers as a stable, growing, 87-year-old company, she said.
The next pillar is a suite of benefits that includes health, dental, vision, disability and life insurance, flexible spending accounts (for medical expenses and dependent care), health savings accounts, tuition reimbursement, term life insurance, and an employee assistance program.
As it transitions its retirement program to a 401(k) structure, the company pension plan remains available for qualifying employees, making AWG one of the few employers still offering a defined-benefit plan, Ott noted. "This is an incredibly generous benefit we offer," she said. "Although this plan is completely funded, we had to make a decision to modify our plan to a very competitive 401(k)." The company also addresses health-care costs with an emphasis on shared responsibility and a wellness with a "carrot-and-stick" approach to health and wellness. "We are one of the few companies in Kansas City that offers a high-deductible medical plan option that is free to our employees," Ott said.
All of those are employee-retention factors, but one other company practice keeps turnover low: Promotion from within. Since 1980, each of the cooperative's six CEOs has come up through the ranks. And from the current CEO, Jerry Garland, through 100 executives who attend the annual strategic vision conference, an outline of the company's strategic plan is issued to each one of AWG's 3,619 workers, 1,024 of whom work in the Kansas City region.
Throw in a dedicated training department, a management-development program, and a broad array of area non-profits that AWG supports, and the pillars for success are set.
FARMERS INSURANCE GROUP
Inspiring others, whether they are colleagues or consumers, is a key guiding principle at Farmers Insurance. "Every day, Farmers people approach work with optimism, energy and creativity to help instill in others a sense of confidence and a peace of mind that comes from knowing that we care and are continuously striving to be better," said Vince Donofrio, senior vice president, Claims Shared Services.
But there's a lot more involved in creating a Best Companies to Work For environment. Things like a commitment to promoting from within, a dedicated department that assists in crafting individual development plans, career-path guidance, internal job and education fairs—all of which promote career enrichment for the 2,675 regional Farmers employees and more than 20,000 others across the nation. Being able to convey its mission of helping consumers get smarter about insurance and compassionately helping restore their lives after a loss calls for effective training. And at Farmers, training is critical and continuous. Thanks to the resources of the University of Farmers, new hires receive extensive classroom instruction and hands-on training, and the company assigns dedicated mentors to them throughout the first six months of employment.
The benefits suite is built on a Total Rewards theme, with a 401(k) plan that offers a rarely-seen company match on the first 6 percent of employee contributions. The company also offers contributions of up to $1,000 for health-savings accounts, has a flex-time program in some departments, provides coverage for both short and long-term disability and—get this—has a paid-time-off policy that can yield nearly four weeks of potential vacation after just one year. 
Looking for more? How about on-site food vendors, oil changes, car washes, windshield repair, dry-cleaning service and massages? The company store sells cards, balloons, gift cards, discounted theme-park passes, $1 movie rentals and stamps, and offers mail service, too. There's also an on-site fitness center to encourage employee fitness, and wellness programs in which employees can purchase merchandise with reward points, plus $375 in benefit dollars each year. Wellness initiatives include weight-loss programs and competitions, healthy vending options, company paid on-site flu shots and biometric screenings, a dedicated wellness coordinator and on-site yoga and zumba classes, to name a few.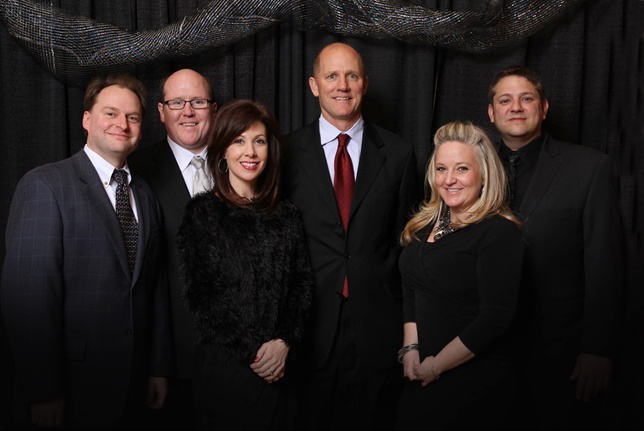 HARRAH'S NORTH KANSAS CITY
Come on, now: Is this really fair? Trying to assess the relative workplace merits of hundreds of eligible companies is tough enough. But with Harrah's North Kansas City, it's even tougher: After all, the 1,100 people employed there work in a casino. How many people come to your job site for their recreation?
But yes, it's possible to take the glitz, the glitter, an atmosphere that can at times be electrically charged with customers who have high hopes or dashed hopes—
and make an even better workplace out of it. How? Make sure your pay and benefits are competitive.
Harrah's had to withstand the market impact of the metro area's first major Kansas-side casino opening in 2012, and officials believe their compensation package is one reason why they lost only 19 people from the staff. And some of whom have already asked to come back to work in North Kansas City, even the ones who live near the Kansas facility in Village West. In addition to full- and part-time paychecks, there are full- and part-time benefit plans, providing coverage for medical, dental, life and vision insurance; there's a 401(k) plan with a company match program, flexible-spending accounts and health-
reimbursement accounts.
To address health-care costs, the company implemented Wellness Rewards programs that allow employees and their spouses to save up to $1,800 per year in health-insurance premiums—and it produced an astonishing 85 percent employee-participation rate. Tuition reimbursement covers 90 percent of the class costs for Harrah's employees who meet academic guidelines. A rewards system called Total Service Credits, assigned for meeting quarterly customer-service goals, has allowed team members to buy airline tickets for trips to New York, new golf clubs or even assign the proceeds to help out with holiday shopping costs. Even in their first year on the job, employees can earn up to 18 days of paid time off—more than 3 eeks. And here's a perk you don't see in many places: Team members can dine up to seven times for free every two weeks in the employee dining room.
The casino is backed by the organizational might of parent Caesars Entertainment, which has more than 70,000 employees nationwide. And with more than 50 casinos across the country, it offers ample opportunities for those who are hoping to make that corner of the hospitality sector a career.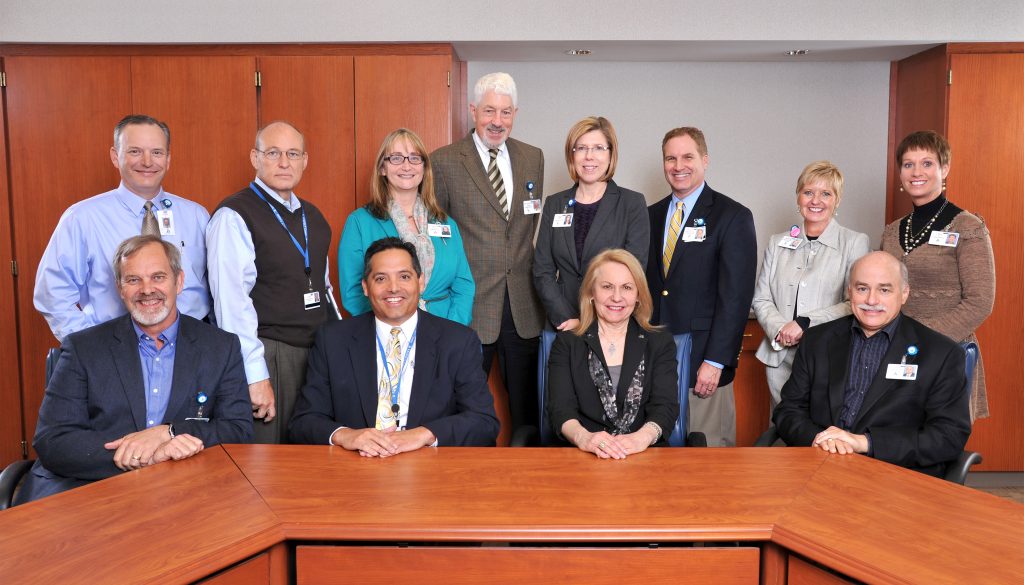 HEARTLAND HEALTH
The biggest employer in St. Joseph might also be the best: Heartland Health, home to nearly 3,800 caregivers, as employees there are known, is an award-winning organization nearly a third larger than the next-biggest company in town. It's simply not possible to overstate the importance that Heartland Regional Medical Center and its affiliated operations play in the greater St. Joseph economy. And it might be the city's biggest hammer for breaking glass ceilings: Women account
for 81 percent of those caregiver positions, and 55 percent of the executive team.
Health-care compensation typically exceeds that of national and local averages, and that's true for Heartland employees as well. The average non-exempt employee salary of nearly $42,000 is fully 10 percent ahead of the Buchanan County average; for exempt employees, it's an impressive $124,849. Atop that is Sharing Success, which rewards caregivers for exceptional customer service. They also are eligible for quarterly payouts for reaching customer-satisfaction goals—and one payout per year when the organization reaches its financial goals.
Heartland also pays more than 90 percent of premiums for medical coverage, which includes a health reimbursement account, vision benefit for caregivers and dependents, and offers dental and life insurance. Non-smokers can receive discounts on premiums, and even smokers can earn the discount by working out three times a week in one of the two state-of-the-art fitness centers staffed with personal trainers at no cost. Exercise classes are also offered daily at both fitness center sites—all free of charge for caregivers, spouses and dependents.
The 401(k) retirement program offers a company match, and consultants are on-site every two weeks to discuss retirement planning needs. Heartland Health also offers paternity leave, adoption assistance, lactation facilities, flex hours, an EAP program and an on-site concierge service for caregivers.
Tuition reimbursement? Yes, up to $3,000 per school year for tuition and fees for classes that prepare full-
or part-timers for advancement within the organization.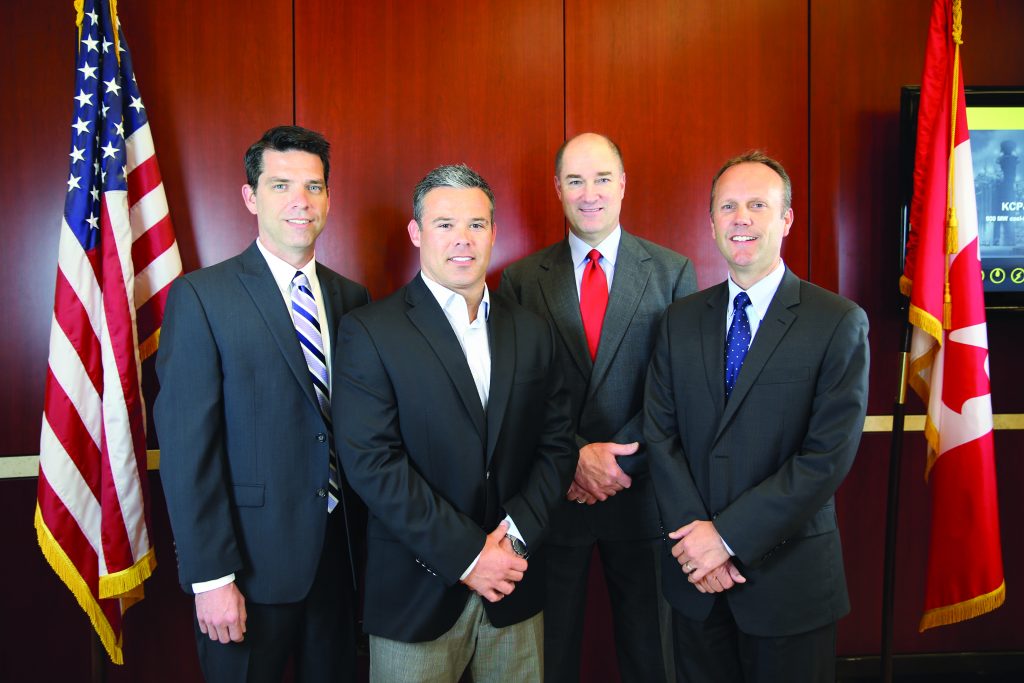 KIEWIT POWER
Small, sexy start-ups inspire the entrepreneur in all of us, but successful, established and very big companies—with muscular compensation and benefits packages—have an appeal all their own. So it is with Kiewit Power. With more than 1,000 employees, this Lenexa subsidiary of Omaha-based Kiewit Corp. is part of a global family that numbers 11,500 staff and 18,500 craft employees. Muscular benefits? Kiewit matches employees' 401(k) contributions up to 6 percent of their pay. That alone is an impressive match, one rarely seen in benefits programs. But each year since 2005, the company has contributed an extra 4 percent at the end of the year—a total contribution of 10 percent of annual base salary for plan participants. Sexy, indeed. To a compensation structure that targets the upper percentile of the market, the company adds a benefits package it believes is unmatched in the engineering sector: A high percentage of company's share on the cost of health insurance premiums, company-paid short-term and long-term disability insurance, reimbursement for health and fitness activities, and wellness coaching. The raw might of $700 million in annual revenues allows Kiewit Power to make outlays that foster additional productivity, as with its $300 million campaign to upgrade its IT infrastructure. Tools like that, wedded to increased training and development opportunities, underwrite the company's belief that its best chance of growth comes from providing its people with the means and desire to be successful. For many at the nexus of construction and energy production, recent years have been challenging. In response, Kiewit has pressed to keep its benefits package a step ahead of the industry overall, without letting cost-cutting imperatives detract from the
comprehensive nature of the perks offered. One way to do that with a key cost driver—health insurance—
is by offering deeply discounted premiums for employees who sign on for health-risk assessments and screenings. The company supports them with coaching and management programs to address risk and promote healthy living, and employees enjoy 100 percent-paid preventative care.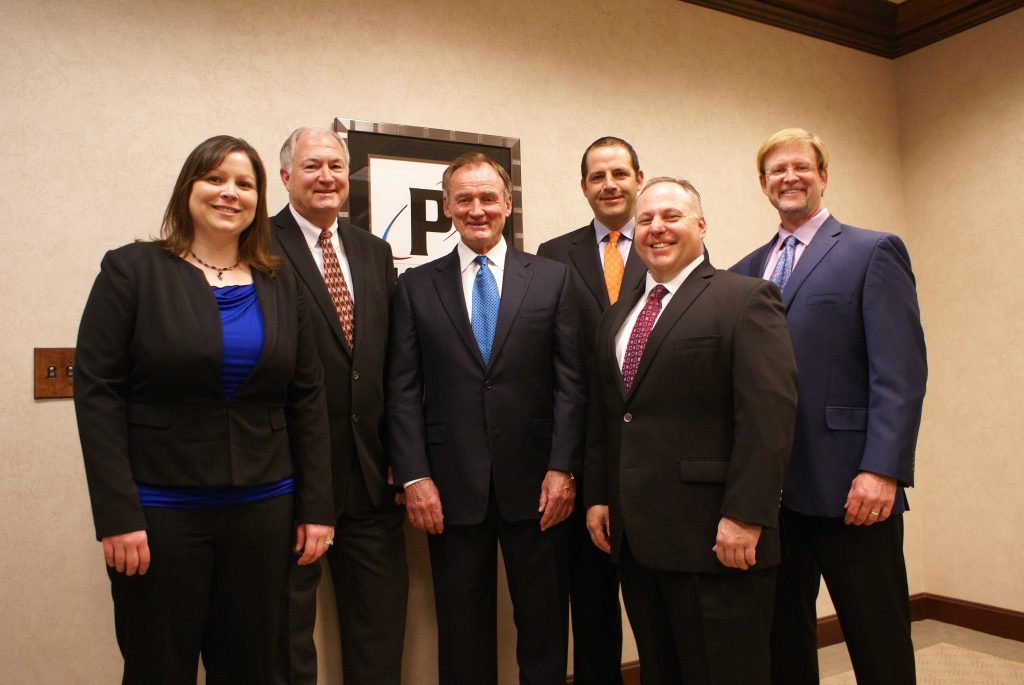 P1 GROUP
Consolidating five separate engineering concerns into a unified corporate structure made all the sense in the world heading into 2007, but note the year.  "We made this challenge a little bit more difficult on ourselves" by taking that step as the Great Recession dawned, CEO Smitty Belcher says. Positioning the company—now a comprehensive mechanical, electrical, refrigeration and plumbing contractor—for long-term success meant fully engaging the employees for the coming challenges. "The first thing we did was communicate," Belcher says. "We organized the first annual all-office meeting" to articulate the vision for a consolidated company, and that led to a structure for keeping employees informed about significant achievements and bolstering morale. Then came P1 University, a multi-faceted in-house training program. "We made a commitment that even during a recession, we weren't going to cut back on training," Belcher says, and that "sent the message that our company was strong enough to continue to provide these types of opportunities even during an economic downturn." As a final measure, P1 introduced Fundays, a monthly social gathering during the workday to bring people together, often over a meal or snack, he said. For more than 900 local employees, that positive mindset steered P1 Group through
the lean times and a lame national recovery, and allowed executives to address other pressing issues.
"Health insurance costs have been the largest challenge," Belcher said. "We were fortunate enough to be able to go three years in a row without a premium increase." As most other companies have found post-health-care reform, that trend couldn't hold, but P1 has responded with an incentive plan to reward healthful activities, successful completion of which yields lower employee costs for premiums—a discount renewable each year. The company also changed to a plan with higher deductibles, but lower overall premiums and out-of-pocket expense maximums. It adopted a health savings account program, which allows funds to accumulate if unused, and to accrue interest. And a new retirement plan provides a wider range of investment options, Belcher said, with lower fees, increasing the earning power of P1 employees' investments.
2013 LARGE COMPANIES: FINALISTS
Bank Midwest                     
Fiorella's Jack Stack Barbecue
Performance Contracting Group
Plattform Advertising
Truman Medical Centers
2013 MEDIUM COMPANIES: WINNERS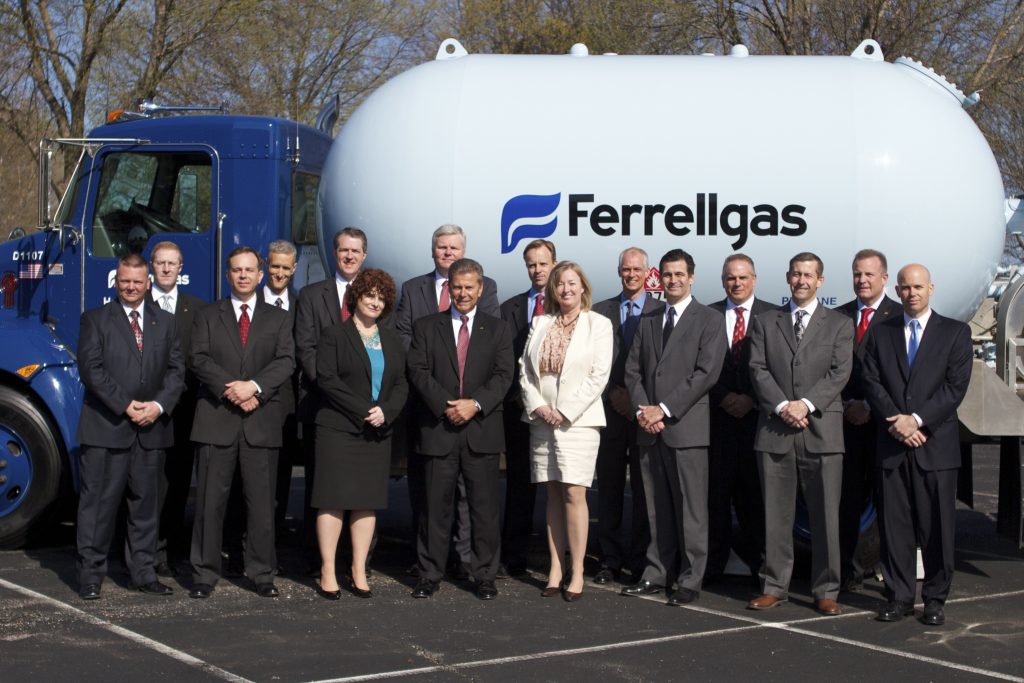 FERRELLGAS PARTNERS
This is about as plainspoken a success incentive as you'll find: When Ferrellgas thrives, employees implicitly prosper because they own a 30 percent stake in the nation's second-largest propane distributor. Since the employee stock ownership plan was formed in 1998, the value of each share has risen 445 percent, something a lot of us wish we'd seen in our 401(k)s. Did we say 401(k)? Ferrellgas employees have those available to them, as well, with a company match. The third leg of the compensation stool is an incentive bonus program—all of this from a company that, as the nation's second-largest distributor of propane, sets standards for compensation levels in that sector. "Like any successful business, Ferrellgas has aggressive growth goals," says Scott Brockelmeyer, vice president for communications. "We owe it to ourselves as employee-owners and to our public unitholders (Ferrellgas is publicly traded on the New York Stock Exchange) to relentlessly pursue these goals."
With employees making decisions in the best interests of the company, and holding one another accountable, the result is a fun, creative and teamwork-driven environment, he says. And in the C-suites at corporate, employees find additional inspiration: CEO Steve Wambold, CFO Ryan VanWinkle and COO Boyd McGathey all rose to their current positions from the low-level managerial jobs they started with in the late 1990s.
Beyond the compensation and career-track considerations, the company offers a cafeteria-style plan based on benefit dollars that may be used to purchase the specific goodies from the Ferrellgas benefit cart. Among them are health, prescription medication, dental, vision and life insurance, disability plans, and Ferrellgas offers them as a self-insurer; the company itself pays the employer portion of all employee medical claims, not an insurance company. Coming straight off the bottom line, it's another incentive for employees to take responsibility for their health and help manage the costs of their care. And—naturally—employees receive discounts on propane, much to the envy of the backyard grillmaster in all of us.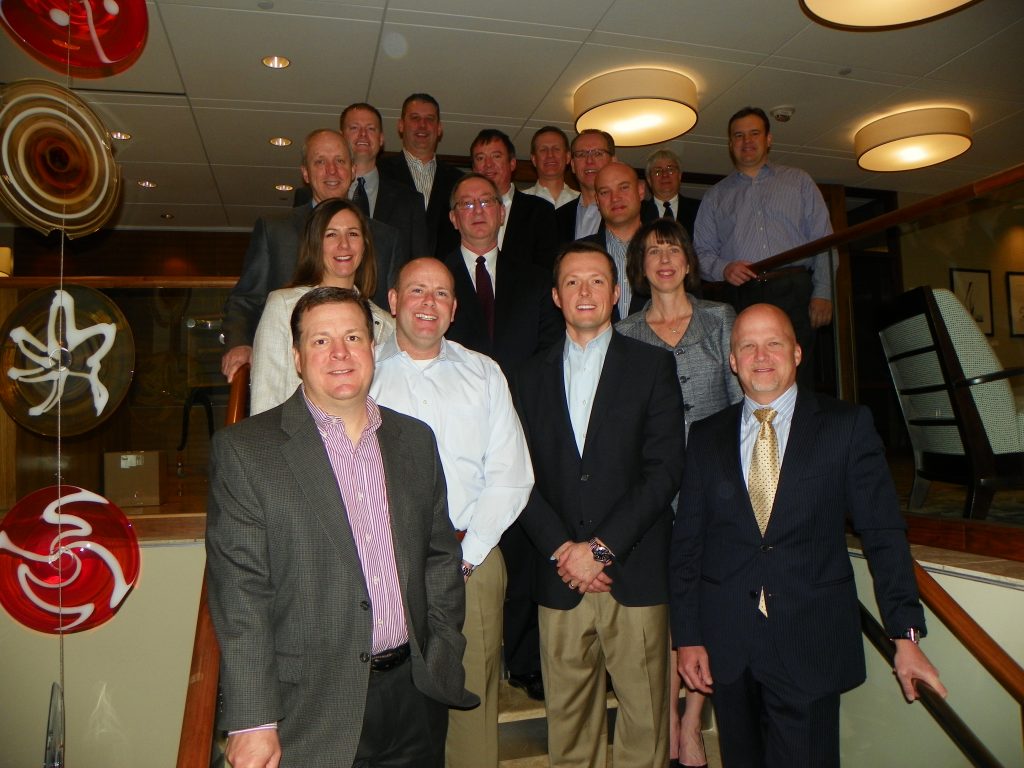 BKD, LLP
Communication and commitment. When times get tough, you build work-force loyalty by raising the ante on both. Through recession and recovery, the accounting and consulting firm BKD went all-in because, as managing partner Barry Davis said, if your goal is driving growth, "it's vital to keep spirits up and provide open lines of communication at all levels."
BKD did that by forming employee-appreciation and employee-engagement committees, and used all-employee breakfast meetings every other month to help communicate updates and news. The appreciation day, firm picnic and
a holiday gathering to help employees relax outside of work are just a few
ways that let employees know they're appreciated and keep them optimistic, Davis said. The commitment piece? While many companies decided to cut benefit programs during the recession, BKD didn't. "In fact, we enhanced
some of the existing benefits with little or no premium increases," Davis said. "Our greatest employee benefits challenge during this period was the same as everyone else—staying on top of double-digit increases in our health-care costs." So the firm helped offset that by raising its share paid health-care costs by as much as 15 percent.
In additiion to 10 paid holidays each year, paid time off at BKD accumulates monthly, tied to length of service, and full-time employees can buy five additional days off every year. On the financial side, eligible employees may contribute up to 50 percent of their pretax salaries to the 401(k) plan, which has a company match. The insurance suite provides medical coverage—with flexible spending options available—as well as plans for dental, vision, life and disability.
But the benefit that may be most valued by employees, Davis said, is what the company invests in their ability to perform: "I believe our employees appreciate the training and development opportunities we offer for new employees and continuing education throughout their entire career," he said. "It allows our employees to grow into new roles, interact with other BKD offices' employees and provides many oppor-tunities for growth on both personal and professional levels."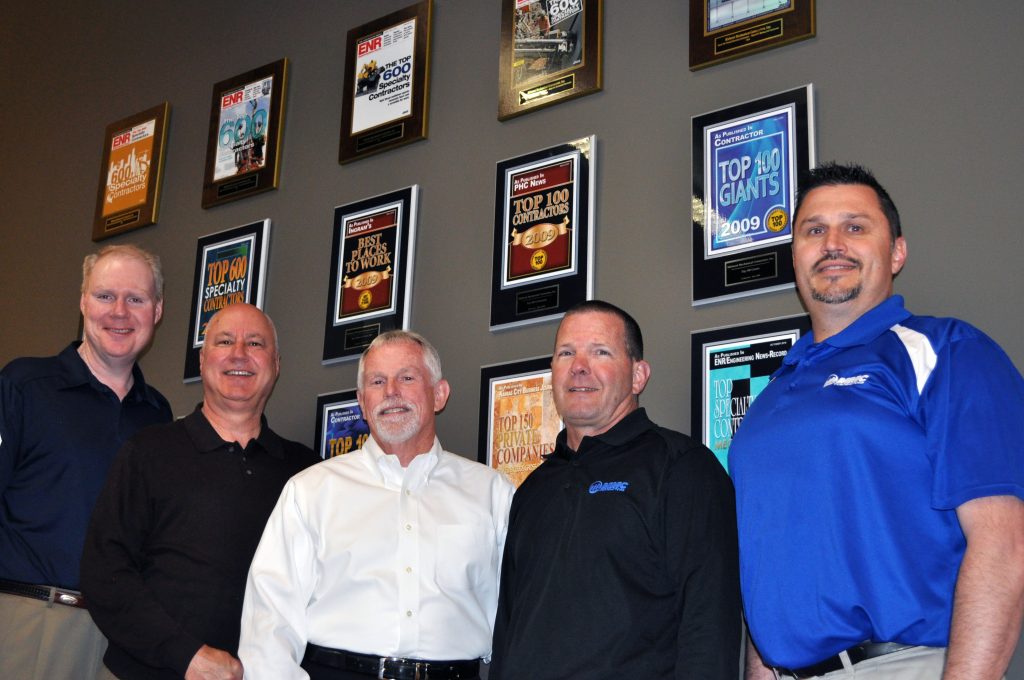 MMC CONTRACTORS
What is, hands down, the most popular benefit accorded to employees of MMC Contractors? "Participation in our employee stock-ownership program," says Mike
Kotubey, president of the Kansas City company formerly known as Midwest Mech-anical Contractors. That program helped MMC earn Best Companies to Work For status in 2009, and it's one reason the firm is back again this year.
What's the special appeal of that ESOP? "Both the financial benefit each employee gains from being an employee-owner and the team-oriented culture it promotes," Kotubey says.
Even before onset of the contracting downturn in 2009, the company was undergoing a strategic redirection. And good thing, too: Because of it, Kotubey said, MMC has been able to weather the economic turmoil that followed, expand employment levels while other construction companies were slashing payrolls, and maintain salaries, benefits and bonuses. "We were able to stay in front of the challenges that others faced and actually had some of our best years over the last five years," he said.
Those outcomes flow in large part from his own philosophy, which holds that growth is within the control of the leaders of any organization. "They can choose success and growth or succumb to negative group-think," Kotubey said. "Our team chose to control our future and lead our team accordingly."
That has paid off for 163 local employees and nearly 600 throughout the company, who enjoy not only ownership stakes, but a 401(k) savings plan, comprehensive health, vision and dental insurance plans—including health-savings accounts, flexible-spending accounts and both PPO and HMO options—as well as paid holidays and paid time off. There are employment anniversary celebrations, wellness programs and an on-site fitness center.
"Health care continues to be a challenge," Kotubey said. "The costs continue to rise and the markets we are
in continue to become more competitive every year." But through the implementation of wellness programs, 
the ongoing re-evaluation of benefits evaluation and education/training for both management and employees,"
we have managed to maintain all our benefits at comparable levels to five years ago with just a minimal impact on the cost to each employee."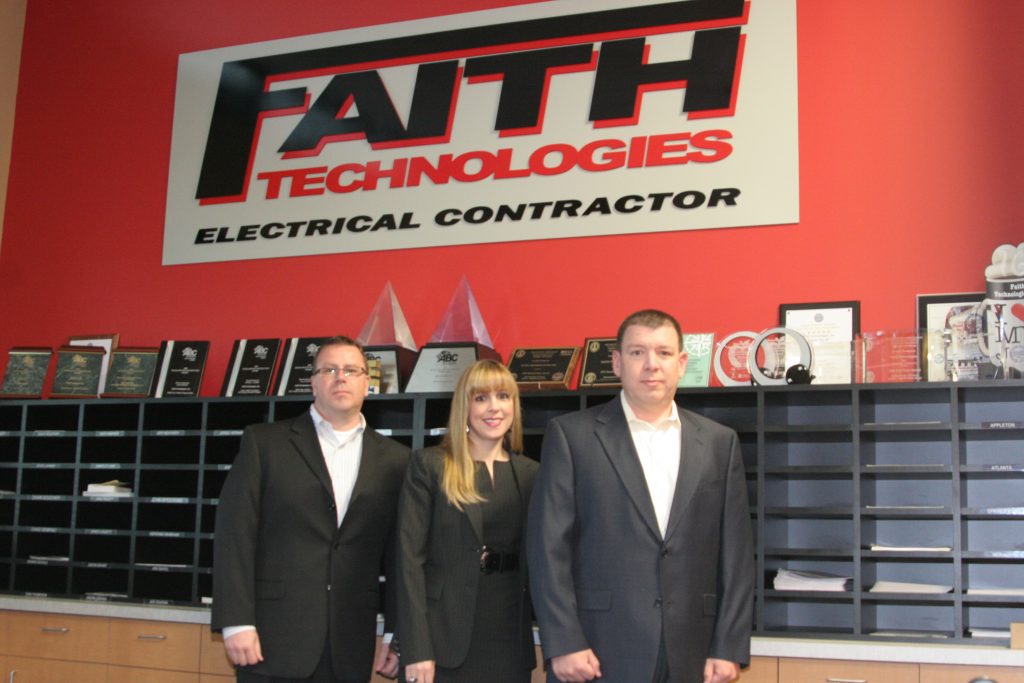 FAITH TECHNOLOGIES
Even in a highly specialized service business—like electrical contracting—competition can be fierce in the best of times. Recent years have not been the best of times for many in the construction sector. But at Faith Technologies, the downturn consisted of a single year, 2010, before revenue growth pulled ahead of 2009, and it's been rising ever since. Tom Clark, executive vice president of preconstruction, said the company had redoubled efforts to monitor costs, but made sure employees bought into that with more effective communication. "We wanted them all to know how they could positively impact the business through their job," he said. Everyone in the company, then, had input to the One Faith strategic planning initiative, aligning their roles with the organizational vision. "By allowing everyone to hear what our big-picture goals were as an organization, we allowed them to think outside of the tougher economic times," Clark said. "Overall, it did just come down to attitude and staying positive."
The Wisconsin-based company also invests in a benefits program that attracts, retains and develops nearly 1,500 employees—208 of them at the regional branch in Lenexa. Atop standard benefits like tuition reimbursement, an employee assistance program and insurance coverages (life, accidental death and dismemberment, short-term and long-term disability) are more updated and sector-specific benefits: identity-theft protection, emergency travel assistance, and reimbursements for safety shoes and safety glasses. The effort to balance benefit costs with employee needs has produced a comprehensive approach to health insurance and wellness that includes semi-annual newsletters and monthly wellness posters, lunch-and-learn sessions, reimbursements for flu shots and health club costs, run/walk event and recreational sports fees, annual health-risk assessments, a nicotine-cessation program, and in the break rooms, free oatmeal, fresh fruit and green tea, plus healthy offerings in vending machines. To top that off, employees hitting wellness goals can earn cash rewards, gift cards, and other prizes.
All of it comes wrapped up in a system of incentives and performance-based compensation, creating "a culture that promotes individual contributions to the organization," says Stephanie Guin, executive vice president for human resources. "Every employee in the organization has an opportunity to advance his or her career."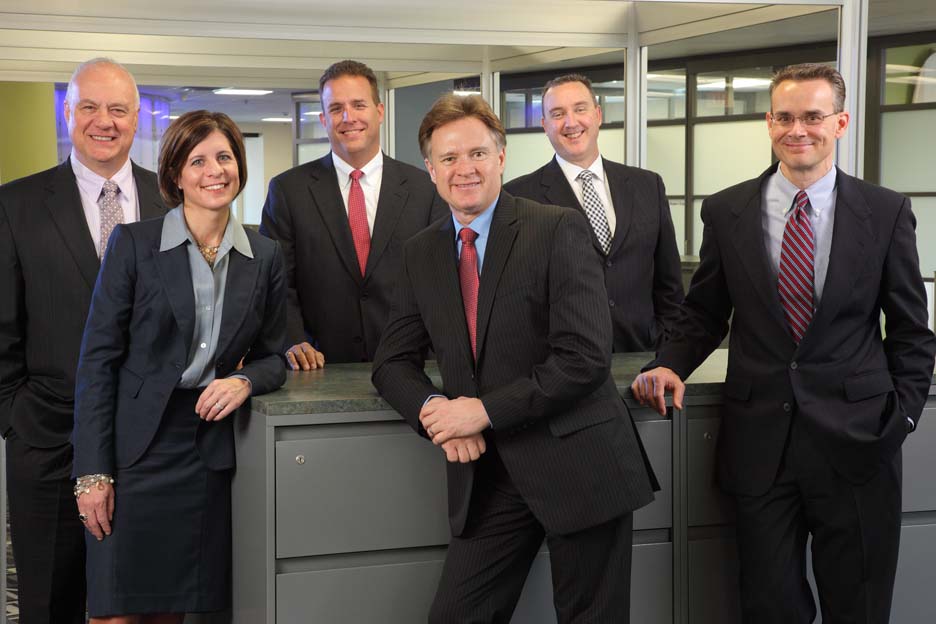 NIC, Inc.
Here's a novel approach that can bolster any company's efforts to be a great employer: At NIC, Inc., one of the core values is being not just a great place to work, but the best company its employees have ever worked for. To get there, this public company factors in employee involvement, work-life balance, wellness programming, and community and charitable involvement.
NIC builds Web sites, online services and payment-processing systems for more than 3,500 federal, state and local government agencies, and does it well: It was the only Midwestern company to make the Forbes list of "25 Fastest-Growing Technology Companies in America," ranking 20th in a field that contained names like Apple and LinkedIn. The magazine also has designated NIC as the only Kansas company in its "100 Best Small Companies in America" for four straight years.
Two keys to playing at that level are the compensation structure and a robust benefits package. "If people are happy and healthy, their chance of success on both personal and professional levels is much higher," says CEO Harry Herington. To get them there, NIC offers a competitive-salary foundation for all employees, and managers receive cash bonuses and performance-based stock compensation. Almost unheard of in this era, NIC still offers 100 percent employer-paid health and dental insurance premiums for employees and their dependents. The insurance suite includes short- and long-term disability, life and accidental death/dismemberment, and term life for spouses and dependents. Addressing the long-term financial welfare of its staff, NIC provides a 401(k) contribution match of up to 5 percent of a participant's annual salary, as well as a stock-purchase plan with a 15 percent discount.
The company supplements employees' health-club memberships and mobile-phone expenses, offers a retail discount program, and provides over 50 kinds of complimentary healthy foods and drinks to support its culture of wellness for a staff of 113 employees at the headquarters in Olathe and more than 620 in other offices around the country.
McCOWNGORDON CONSTRUCTION
Pat McCown and Brett Gordon stared into the darkest hours of a long downturn in the construction sector, which only recently gave way to light. Then they acted. "In the depths of the economic downturn, we embarked on a strategic planning process that has brought clarity and purpose to our work" at McCownGordon Construction, says Nancy Whitworth, human resources director for the Kansas City contractor. From that foundation came new programs in leadership, mentoring and new-associate orientation, and "instead of cutting the training budget during the challenging years," Whitworth said, "we doubled it. And those investments are
paying off by leaps and bounds." Set aside for a moment all the talk about competitive pay, great benefits and carnival rides in the break room, and consider this: When the threat to a business is existential, isn't a great company the one whose leadership finds a way, first and foremost, to keep the doors open?
That's where a corporate culture begins. You can build on it, as with McCownGordon, through company outings for laser tag or bowling, holiday parties, anniversary cards and birthday gift cards from the executive team, and team-building through community outreach with Habitat
for Humanity, Christmas in October or Ronald McDonald House. But providing a job is, well, Job One.
That sense of purpose is at work in the company's response to health-care costs, launching a range of  wellness activities—competitive walks, weight-maintenance challenges, healthy-recipe cook-offs—aimed, as Whitworth said, at delivering "the best possible benefits package for our associates at the best possible value for the money." The same goes for creation of a two-tiered health plan; associates can choose between a base plan and a more robust plan with higher employee contributions. Or the litany of changes Whitworth notes: an on-site fitness center, free fruit and healthy food, bicycles, wellness lunch-and-learn sessions, health-risk screenings, walking challenges, weight-loss competitions, sponsored walks, and more. "Our surveys show that these efforts inspire associates to live healthier lives," she said. "Our next goal is to make the program even more results-oriented."
With 101 employees, McCownGordon is the smallest in this Best Companies to Work For category, but it packs a punch well above payroll weight: Concerted efforts to pay above-market wage rates, a generous company co-pay on health and dental insurance—and full payment for disability and life plans—and a 401(k) with a company contribution equal to 3 percent of an employee's salary, regardless of their own contribution level. 
2013 MEDIUM COMPANIES: FINALISTS
Bishop Spencer Place
Design Mechanical, Inc.
First National Bank
Intouch Solutions
National Bank of Kansas City
TruckMovers.com
2013 SMALL COMPANIES: WINNERS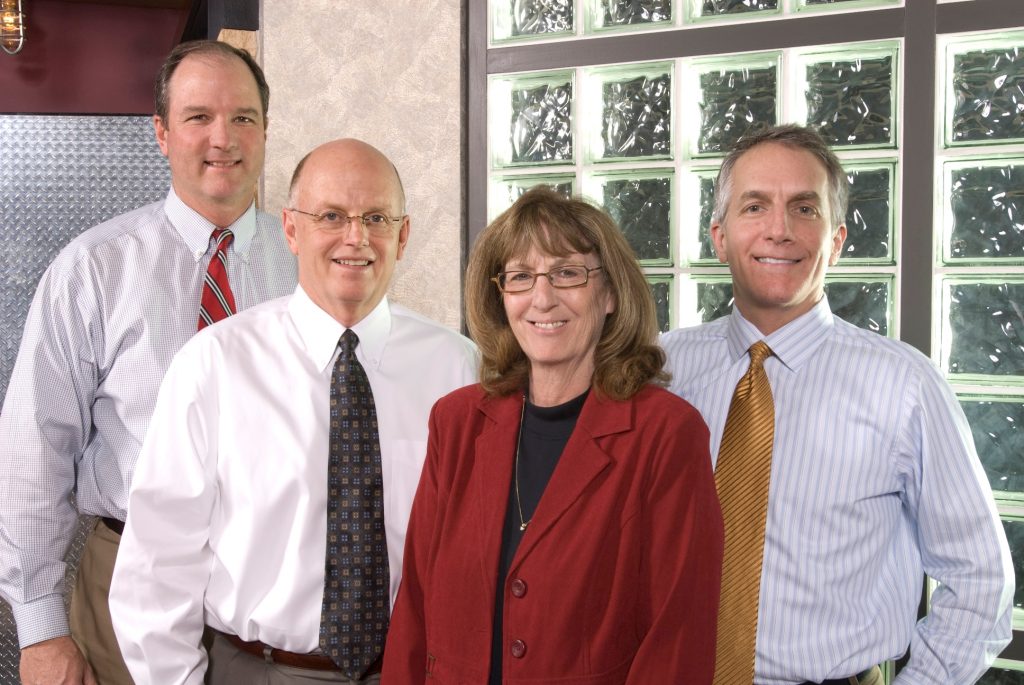 EXCEL CONSTRUCTORS
You can measure Excel Constructors' commitment to employees in multiple ways, but to really appreciate it, look at what's missing from the 49-member staff: 172 pounds of excess weight, shed in the company's workplace-wellness program. That initiative was spawned by an employee-satisfaction survey, which president Mike Johnson said demonstrated a need for the company to assist employees by taking an active role in their physical and mental health. Of course, there are more traditional ways of expressing concern about employee welfare, and at Excel that means a compensation system that rewards hard work and client satisfaction, a comprehensive health-care benefit package for the employees and their families, 401(k) plans and flexible spending accounts, a summer-hours schedule and education reimbursement. The company addressed higher health-care costs with a smoking-cessation program, including lower insurance rates for non-smokers, and the workspace is assessed to ensure that employees have ergonomic chairs and keyboard evaluations. In the field, superintendents without office trailers have mobile truck desks to help ensure safer work zones.
The company culture was a key tool used to navigate a tough construction economy since 2009. "To main-
tain high employee morale, we continually emphasize the sense of family among our staff; the sense of taking care of one another," Johnson said. With unemployment in construction topping 25 percent during parts of that stretch, Excel conscientiously continued full employment, even during the slow periods. "This balance between taking care of our employees and corporate health enabled us to tackle new opportunities immediately when presented," Johnson said. Training has been increased, he said, so each employee has the tools needed to perform. A big winner with employees is the early-out on Friday afternoons in the summer. Yet even with all of those factors going for it, "my hope and belief is our staff would mention Excel's sense of family as the most popular benefit we all share," Johnson said. "It is the feeling that everyone is genuinely concerned about the success of the organization, and that each member's best interests are central in all decision-making."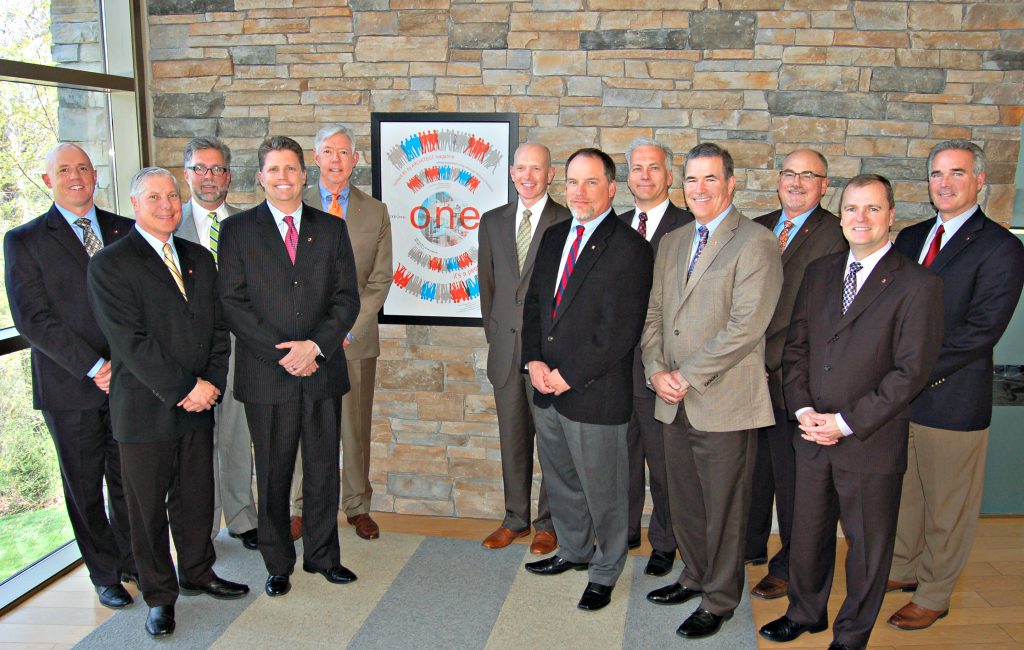 DLR GROUP
There's no guessing about the financial health of your employer if you work at DLR Group: The open-books policy is standard fare for employee-owned organizations. So every one of its 500 staffers—57 in the Kansas City market—is plugged into both the Big Picture and the Bottom Line in the bi-monthly office meetings.
The architectural-engineering firm with offices in Overland Park lives out its sustainability message for employees, who were literally able to create their own workspace: They designed the offices in the Deer Creek development. Living up to their work-hard-play-hard mentality, they factored in a large outdoor patio, where Friday afternoons mean it's time to fire up the grills. And while those are warming up, employees can take a crack at their own 86-yard, par-3 golf hole, complete with a tee box. Other stress-killers include Theme Fridays, summer picnics, holiday parties and chili cook-offs.
To encourage longer-term success for the nearly 50-year-old firm, young professionals from the 19 offices around the country are sent to DLRU, a leadership academy that plays out over three days in a retreat on Bainbridge Island, across the sound from Seattle.
Last fall, the American Institute of Architects designated DLR Group as the No. 1 firm in the U.S., based on weighted measures of design excellence, pro bono work, sustainability, and business fundamentals, and the firm has ranked in the Top 10 of Architect magazine's list of the 50 best firms since the feature debuted in 2009. "Employee-owners also live by our core commitment to elevate the human experience through design," said Andy Anderson, a senior principal and southeast regional leader. "They come to work every day knowing they can make a difference." They do that in ways that go beyond design, with firm-hosted blood drives, participation in United Way's Day of Caring, the CANstruction fund-raiser for Harvesters, and other food drives throughout the year. Each winter, oversized boxes become drop-off centers for warm clothing, blankets and heavy coats that will be donated to local charities.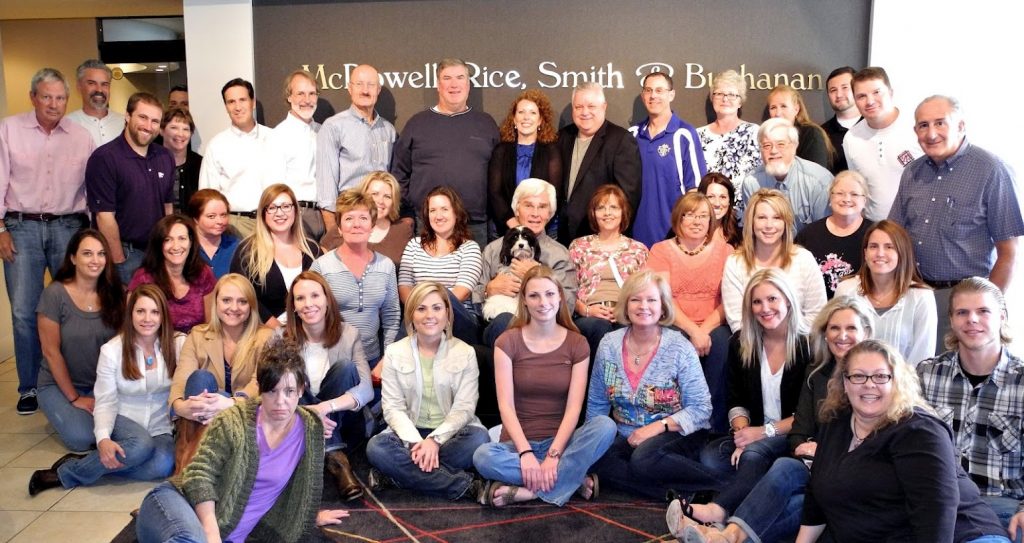 McDOWELL, RICE, SMITH & BUCHANAN
"It's performance that counts." That kind of cut-to-the-chase incisiveness has defined the legal career of lawyer Pete Smith—and the success of the law firm where he's chairman, McDowell, Rice, Smith & Buchanan. "The reason we are here is to provide our clients with the best experience possible," says office administrator
Sherry Newsom, in a spot-on channeling of her straight-shooting boss. "We are not as
concerned about rules and policies, and restrictions and governance. Hard work and winning results are rewarded."
To forge an effective, efficient operation, McDowell Rice leaves office matters in the hands of experienced administrative professionals, freeing the partner attorneys to focus on client matters. Workloads, areas of
practice, and practice styles of attorneys are matched with legal assistants, creating an efficient, balanced workflow, and delivering higher levels of service at the best possible rates.
All of that pays the bills for the employee benefits essential to attracting and retaining talented attorneys at the Plaza-based firm, which has 80 employees overall. First, it pays the lion's share of employee health-insurance costs, and in an impressive display of negotiating acumen, has hammered out reductions in health-care costs for this year and next. The firm pays 100 percent of employee life insurance, offers dental and short-term disability insurance, a cafeteria plan and participation in a 401(k) profit-sharing plan in which employees are 100 percent vested after only one year, with discretionary contributions from the firm of up to 3 percent of base compensation.
Discretionary cash gifts are awarded in December based on longevity, and unused vacation/sick/personal time is rolled over—with no cap. Additional benefits include floating holidays, Wednesday breakfasts, in-house training and lunch-and-learn sessions, paid professional membership dues, and, on occasion, spontaneous ice cream socials and pizza lunches, complementing the Starbuck's Pike Place coffee served all day long. 
The work environment, Newsom says, is professional, but flexible and personable. To accommodate personal and family needs, the flexible work schedules range from 7 a.m. starts to 6 p.m. wrap-up, employees are cross-trained for personal and professional growth and to assist with unpredictable work demands, and the internal support includes two IT directors, state-of-the-art equipment and software, an in-house trainer and a dedicated printer at each desk.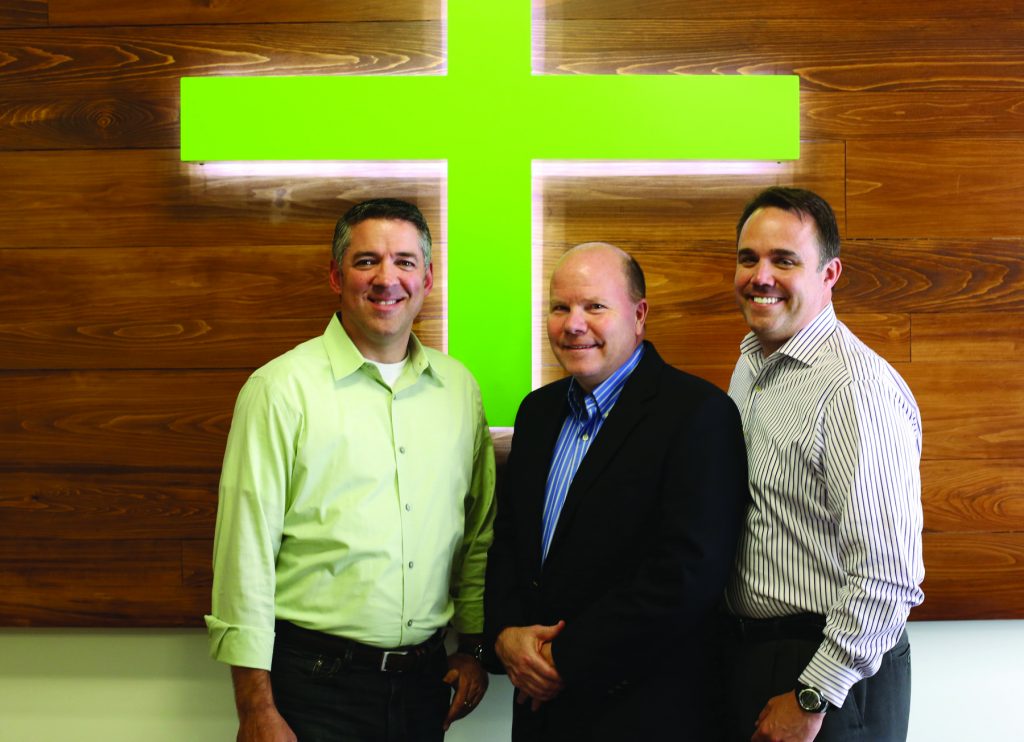 MULLER BRESSLER BROWN
The real key to creating a great workplace is respecting a work-life balance, say the folks at the Muller Bressler Brown advertising agency. "It's easy for many employers to say they support that balance; it's harder to actually do," says Andrea Hayob, the firm's public relations director. "At MBB, we do it and we do it well."
It's part of a culture that she calls the No. 1 reason people enjoy working at MBB.  "We are a fun, creative, energetic place where people are given entrepreneurial freedom with the collaborative support from other MBBers," Hayob said. Employees expect a lot from each other, and they work hard, she says, "But we still know when it's 5 p.m." or maybe a little earlier on Fridays—the 2:30 p.m. getaway during the summer his a hugely popular perk. The keg is always cold, the wine club always keeps the shelf stocked and there are plenty of chances to shag whiffle balls in the firm's open space.
The latter perks are part of a corporate culture that appeals to creative minds with
other goodies like discounts at nearby Park Place retailers, free covered parking, and even surprise gifts based
on performance—last year, everyone received a free iPad. The financial side of that culture starts with compet-
itive salaries, performance bonuses, a 401(k) program with agency match, medical, dental and vision plans for
employees and their families, flexible spending accounts and employer-paid life and AD&D, plus long- and
short-term disability insurance. There's also a health-club reimbursement to promote employee wellness.
The formula seems to be working: Over the past three years, revenue has increased 35 percent, thanks in part to the creation of Hippo, a health-care marketing subsidiary. Since 2010, overall employment has increased by a healthy 62 percent, from 21 employees to 34; just a year after leaving its Plaza location for Leawood, the company had to knock down a wall in its new digs to add 10 new workstations.
That financial stability, combined with extensive training, a collaborative work environment, strategic staff additions to improve client service and a culture of engaging employees in community and civic service are all reasons why the company has succeeded, Hayob said.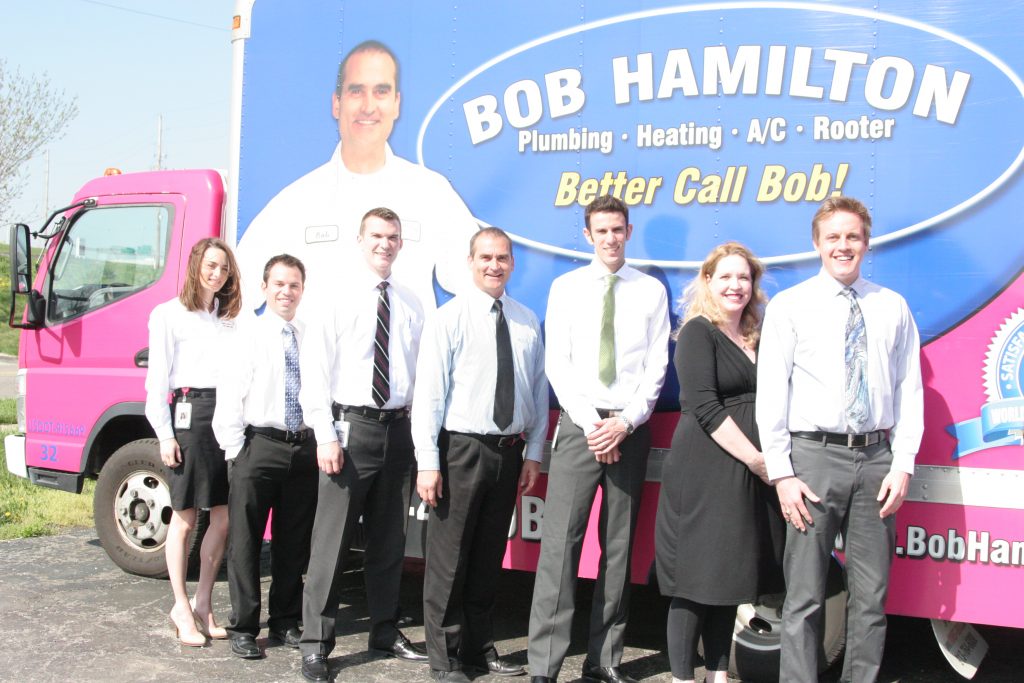 BOB HAMILTON PLUMBING, HEATING, A/C AND ROOTER
He's had 12 children with his wife Teresa, so Bob Hamilton knows a little something about successfully managing complex organizational structures. And that has carried over to his 30-year-old family business, Bob Hamilton Plumbing, Heating, Air Conditioning and Rooter. Over the years, the original Bob Hamilton Plumbing has grown not only its service lines and length of the company name, but the employee headcount, as well. The Lenexa-based company now counts 56 people on the payroll, including some of Hamilton's grown children.
In the application materials for this recognition, marketing manager Amie Logan listed 17 reasons why her employer should be counted among Kansas City's
Best Companies to Work For. No. 1 on the list—we don't think this is coincidence—was "Great Work-Life Balance." So the owner's personal narrative has become the company's, as well.
Among the other supporting factors were the workplace atmospherics: The first Wednesday of each month is Cookout Day, there's a company outing to the Royals each fall and a holiday party in December, and team-building activities like participation in the Trolley Run, Rugged Mania and Spare a Square.
In a bit of culinary risk-taking, the plumbers on staff make breakfast every Tuesday. And there's an officially designated Fun Fairy, charged with showering holiday treats on employees and recognizing em-
ployee birthdays.
Those aspects bring a little balance to the hard work that can go into plumbing and HVAC operations,
but the traditional, button-down business benefits are part of the package, too: health and dental insurance, flexible spending accounts, and a 401(k); paid training, a full kitchen with cookware, an on-site workout room, and a Keurig coffee maker, with coffee and tea provided.
The company also embraces its owner's belief in supporting community-betterment efforts and regional non-profit causes like Harvesters, Giving the Basics, Redemptorist Social Services and Project Change.
And finally, there's a perk you won't find everywhere, as Logan notes: Working for "one of the funniest presidents/owners in the world—just ask him!"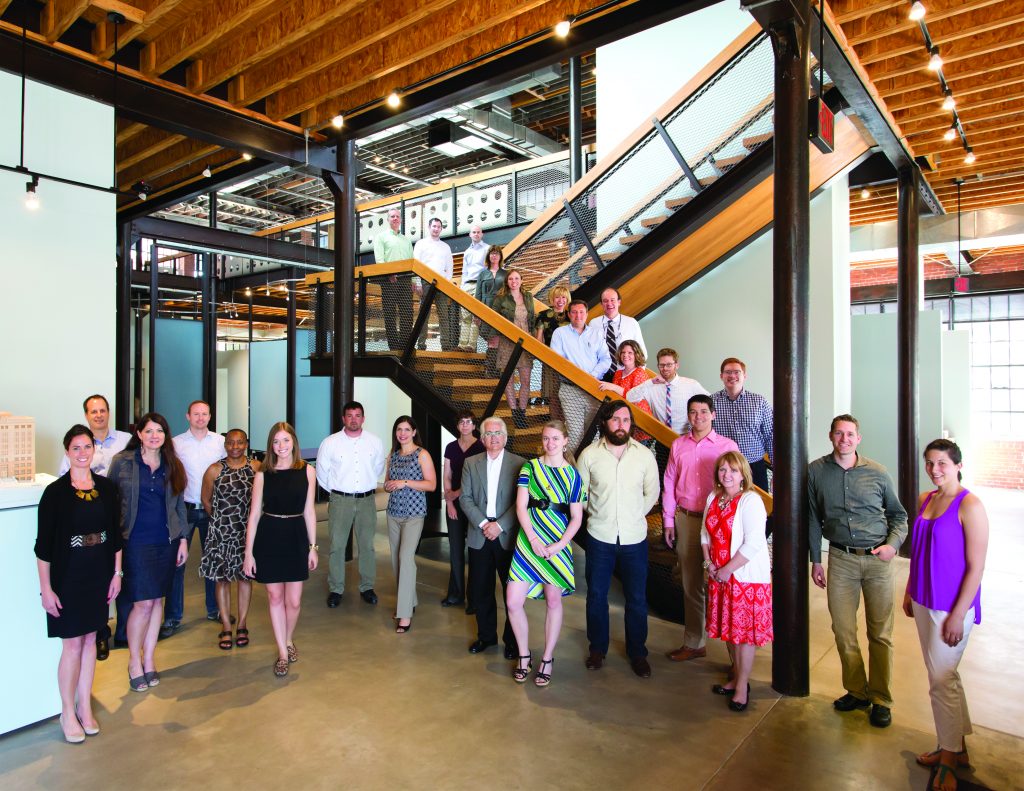 HELIX ARCHITECTURE + DESIGN
Feed. Challenge. Reward. Those are the three building blocks for success at Helix Architecture + Design, which doubled down on its commitment to employees amid the disastrous construction/design climate of 2009–2012,
and emerged from it stronger and better, the firm's principals say.
The feeding and challenge parts, in particular, drew some extra attention during the downturn, as the firm invested in employees in new ways. For new hires, a more comprehensive orientation program, focusing not just on the technical aspects of the job, but the way the work fit into the company culture. For young staff, engagement in deeper discussions about design goals and practices. For veterans, an encouragement—and the tools—for developing additional expertise within their areas of specialty. And overall, the firm reviewed many of the cultural traditions that had been in place for years, and worked to make them more inclusive, more meaningful, and more fun.
And the rewards? Ah, the rewards: How about Happy Hours every Friday? Fresh fruit and artisanal coffee? And, of course, the most popular benefit available: The flexible work scheduling for the firm's 31 employees. Employees manage their time by deadlines, so they were able to go teach an afternoon class, attend their children's school plays or soccer games, or give their parents a ride to the airport and later log in from home to catch up on their project's activities. All of which helps maintain the work/life balance that is an important firm value, principals say. Other program benefits include a traditional PPO health-care plan with medical, dental, disability and life insurance coverages in a cafeteria structure, incentive bonsues for any employee who quits smoking for six months, a 401(k) plan to eligible employees within their first six months of service, and free basic financial planning.
That last should be a snap for a firm that not only has survived the design doldrums, but prospered.
After a brief dip in 2010—when virtually anyone in the construction/design realm saw revenues drop—Helix has been rising, up 9 percent in revenue for 2012, with a 13 percent margin. That goes a long way toward underwriting the benefits associated with working there. And that performance allowed the
company to buy not only its Crossroads building from the landlord, but to acquire an adjacent building
with a potential for a 6,000-square-foot expansion.
2013 SMALL COMPANIES: FINALISTS
Ascend Integrated Media
Bartimus, Frickleton, Robertson & Gorny
Delta Dental of Kansas       
EAG Advertising & Marketing
Searcy Financial Services
Smith Seckman & Reid