Cynthia Andrews
"My career provides me with the opportunity to affect positive change in people's lives every day." So says Cynthia Andrews, the 36-year-old human resources manager for Midway Ford Truck Center in Kansas City. There, she says, "intentional and selective hiring processes have been the cornerstone of cultivating Midway's culture of engaged and empowered employees who consistently go above and beyond to satisfy our customers." Those standards, twinned with other tech tools, have created an engaged, happy, and loyal cohort of roughly 270 employees aligned behind a mission: "To serve our customers so well they remain loyal to Midway," she says. Her work at the employee-owned company contributes to a turnover rate of 13 percent, far below the industry average of 34 percent, and nearly half the work force—47 percent—has been employed at Midway for at least a decade; 21 percent for at least 25 years. "My commitment as the human resources manager is to serve ouremployees so they are able to serve our customers," she says, and that seems to be working out just fine: last year's sales topped $1 billion for the first time in Midway's history. Outside of work, Andrews says her faith "calls me to serve people and the community I live in through Meals on Wheels, Salvation Army Christmas Meal Delivery, and other charity walks and events when possible." There's plenty to do at home, as well, as a working mother of four—ages 9 to 16.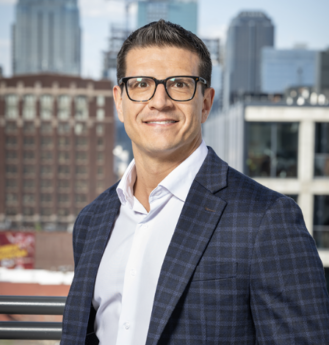 Scott Archuletta
It's 1998, and Scott Archuletta is in fifth grade, playing the role of bank president during a career exploration field trip to Blue Springs. That program, Exchange City, might be gone, but it left its lasting imprint on Archuletta who, at 35 today, is vice president and senior portfolio manager for Academy Bank. "I was hooked," he says of that grade-school experience. His career started with the Federal Reserve Bank of Kansas City as a bank examiner "at the height of the Great Recession, when banking was not in favor," he notes. For the past eight years, he's been in commercial banking, focusing on small to medium-sized operating businesses and their financing needs. "Over that time frame, I've helped to facilitate more than $300 million in capital for Kansas City-area based companies and find enjoyment seeing the dozens of companies and owners I work with grow and thrive," Archuletta says. At Academy, he helps provide financing for the acquisition of companies with revenues between $10 million and $100 million—"typically, Baby Boomers who have all of their retirement dreams wrapped up in the company," he says. His two children, ages 3 and 8, command much of his after-hours attention, and he's worked with Junior Achievement, including volunteer services with its BizTown simulator, where he says he hopes "to ignite a student's passion like Exchange City did for me all those years ago." Archuletta has also been an active member of the Boys & Girls Clubs' Emerging Leaders Council, including a stint as co-chair for the annual Brims & Bowties Kentucky Derby fundraiser and club engagement.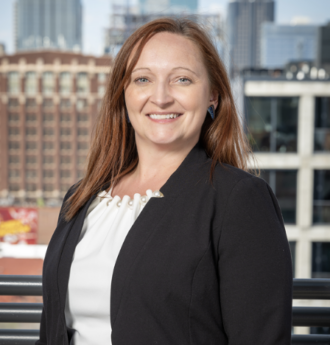 Sarah Armendariz
At just 34, Sarah Armendariz became a partner at Dentons-—one of the world's largest law firms. That was in 2020. In the time since, the wisdom behind that elevation has become evident: Working in the Real Estate practice group and focusing on sophisticated commercial real estate lending, she has represented some of the biggest names in global and regional commerce: Guggenheim Partners Investment Management, Landesbank Hessen-Thüringen (Helaba) and JPMorgan, and closer to home, Sunflower Bank. That work entails the representation of foreign and domestic financial institutions, real-estate investment trusts, commercial banks, mortgage lenders, and life insurance companies. Success, she says, is grounded in responsiveness with each client, whether by answering questions quickly in the midst of a closing at any time of day or night or by taking calls on her cell phone when she's out of the office. Ever one to pay it forward, she credits the influences of helpful, invested mentors, which prompted her to become the Kansas City office's WomenLEAD Partner representative to advocate for younger lawyers. "For a young woman in a profession that is still, particularly at the highest levels, led by men, it can be difficult to navigate a legal career without support," Armendariz says. "I received, and continue to receive, such support from colleagues at the firm, and I plan to do my best to be a supportive figure to others." That also informs her work with the International Refugee Assistance Program, Wayside Waifs, and Lawyers/Accountants for the Arts. She and husband Kevin have two children, ages 3 and 4.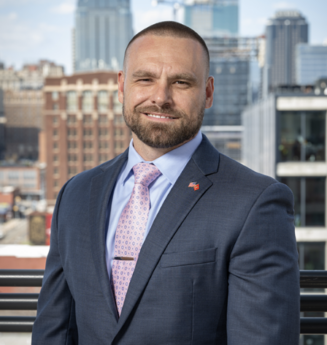 Seth Arnold
America's 35th president issued the challenge a full 25 years before Seth Arnold was even born, but the call to "ask not what your country could do for you" has always had a special meaning for him. From Park Hill High School to the Marines to the stark desolation of Afghanistan, Arnold has striven to do what he can for his country. He's still doing so at age 38 as senior security compliance manager for Honeywell, which manages the National Security Campus for the Department of Energy, producing non-nuclear components for the nation's defense arsenal. Arnold rose to captain in the Marines, where he oversaw intelligence operations for a helicopter squadron that completed more than 3,500 safe flight hours and nearly 600 combat missions, earning three Air Medals in the process. He could have gone anywhere after his service, but "family and community are extremely important to me and were the main drivers for me returning to Kansas City," Arnold says. While still an undergrad at Park University (where he also attended graduate school), he was accepted to the Pryor Leadership program, which immersed him in the concept of servant leadership. That continues outside the workplace, with his avid support of Christmas in October, improving the homes of those in need throughout the community. In addition, he says, "I routinely support veteran organizations such as Veteran's Community Project, Wreaths Across America, and the Military Advisory Council. Lastly, my wife (Adriane) and I frequently donate to local shelters such as Friends of Parkville."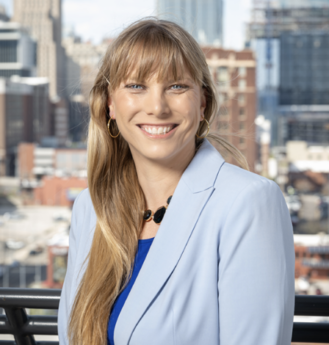 Christina Arnone
Salus populi suprema lex esto. It's the Missouri motto, and it's central to Christina Arnone's career. Translated: The welfare of the people shall be the supreme law. Arnone, 39, is at the tip of the spear with efforts to secure justice for clients at Stinson LLP, where she's a partner. In addition to litigating complex insurance disputes for corporate clients, she says, "I have also had the extraordinary honor of representing survivors of childhood sexual abuse as insurance counsel for creditors' committees in nine mass-tort bankruptcies arising from clergy sexual abuse." Her work has recovered more than $250 million in insurance proceeds and tens of millions of dollars for businesses that have suffered from all manner of disasters. Recently, Arnone helped secure recovery on an insurance claim for more than $20 million in fire-related losses during the riots that followed the death of George Floyd, Jr. at the hands of Minneapolis police in 2020. There's much more breadth to her work, as well as her life—she and husband Michael have three sons, ages 10-12, so "I am also passionate about giving back to the Kansas City community through organizations benefiting local children," says Arnone. That service includes chairing the Jackson County Children's Emergency Fund Executive Board since 2015, providing emergency care funds for at-risk youth under the supervision of the Jackson County Family Court system. "We also created an annual event to inspire the youth in the family court system to achieve success in academics and life by engaging with area college basketball coaches and other athletes," Arnone says.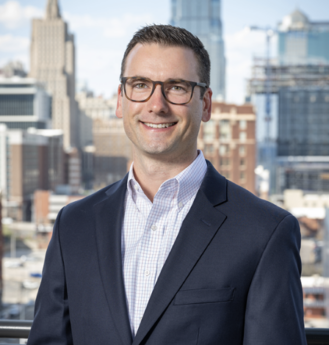 Chris Atkins
Last year's acquisition by Oracle left many in Kansas City asking, "Where is our next Cerner?" Well, in terms of scale and global reach, it just might be C2FO, where 38-year-old Chris Atkins is president of capital finance and capital markets. "I'm most proud of building C2FO's lending business, which today consists of 27 team members and $150 million in assets," says Atkins, who was tasked with creating that business unit. "We launched in mid-2018, and in 2022, we had our best year yet when we tripled the business by assets and grew 120 percent year-over-year by revenue. C2FO's lending business has grown at a five-year compound annual growth rate of better than 100 percent—surging to 350 percent from 2020 to 2022. "This level of growth is attributable to the all-star C2FO Capital Finance team I've been able to assemble, which is built on the foundation of C2FO's great company culture," Atkins says. "They are deeply committed to creating win-win situations for our customers and funding partners. It is an honor to serve with them." Outside of work, he and his wife, Andrea, are raising five children with a finance guy's appreciation for numbers: they are ages 2, 4, 6, 8, and 10. Faith plays a key role; he serves as pastor/elder at his church and says, "my professional and personal life is largely intertwined and guided by my desire to serve others and support them in achieving their personal and professional goals. In all arenas, I aim to serve those around me for their benefit and success."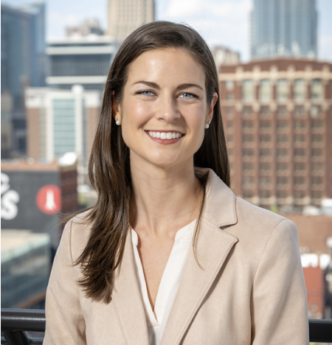 Rachel Attebery
The baby of this 40 Under Forty cohort is 33-year-old Rachel Attebery, but she's right up there at the top in terms of business impact. As director of operations for Diode Ventures, she's helping that Black & Veatch spinoff make a huge splash in the development of data centers and power systems. Attebery came on board in 2012 on the oil and gas engineering team, working on the world's first converted floating liquid natural gas project, and signed on with Diode in 2018. There, she developed its first solar project (currently the second-largest of the kind in Texas); for Google, she drove the execution of the first corporate power-purchase agreement in Taiwan. She also designed and managed the build of Diode's proprietary asset-development software and the operations team, now up to 11 members. Armed with an MBA with a focus on finance, she is continually writing and refining Diode's business processes. Away from her primary responsibilities, she has served as the Empowerment Chair for B&V's Women's Advancement, Vision, and Empowerment employee resource group and served as a guest speaker promoting her sector before TEDxKC Youth, Engineering Change Lab USA, ENR FutureTech, Introduce a Girl to Engineering Day, and KU's STEM initiative, and as well as Vineyard Community Church's CauseCon conference. "I am passionate," Attebery says, "about my family, friends, church family, and advocating for those with talent and drive."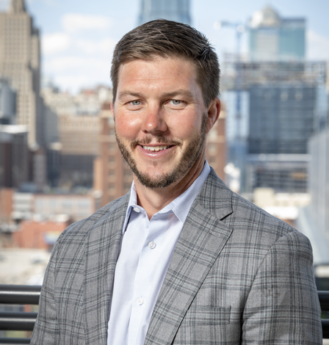 Austin Baier
Ten years ago, Austin Baier hit the ground running at CBRE, the world's largest commercial real-estate brokerage. Since then, he's picked up the pace, cracking the Kansas City office's Top Five Brokers list four times and, in the previous two years, ranking in the top 20 percent of brokers worldwide. The 35-year-old senior vice president is part of a team that has racked up more than $1.1 billion in sales transaction volume the past two years and more than $600 million in lease volume. Over the past five years, overall volume for his team is up an impressive 260 percent. For Baier, success all starts with an entrepreneurial mindset. "To me, being entrepreneurial is starting or expanding a business to serve needs in the economy," he says. "True entrepreneurs use their knowledge and skills to propel themselves past other professionals in their own field through innovation and hard work." Learning the basics of commercial real estate early in his career, he says, "allowed me to have a very solid base as an industrial broker. From day one, I understood the dynamics of a lease and how a landlord is likely to enforce the lease. With that background, I am able to better serve my clients by negotiating points that may seem irrelevant at the time of lease execution, but in the middle of the lease term could be a very pivotal point in the company's future." Family—and being part of an active one—is important, he says, so he and Beki are already introducing their two little ones, ages 1 and 4, to boating and hiking. His other interests include support for Next Step KC and Big Brothers Big Sisters of Greater Kansas City.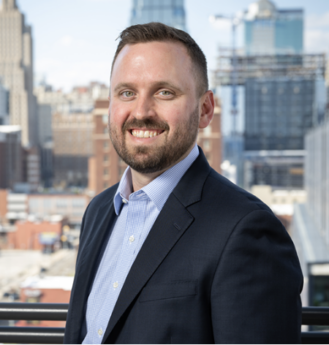 John Bertrand
If you like clean drinking water, you might pass a word of thanks along to John Bertrand. Six years ago, he took a civil engineering background with both public-sector and private company experience, slapped on a thick slab of entrepreneurship, and took the leap by founding Daupler. The company provides software for utilities to manage water contamination, broken mains, and other issues. "Our platform automatically detects utility issues and dispatches their staff to respond, resulting in faster resolution times," Bertrand says. Today, Daupler serves utilities in 32 states throughout the U.S., multiple provinces in Canada, and even overseas, in Auckland, New Zealand. Already serving enough of Kansas to account for 70 percent of the population, he has set his sights on doubling the company's size this year. "With an established team of over 25 dedicated employees, Daupler's growth serves as a testament to the company's unwavering commitment to revolutionizing the utility industry and improving services provided to communities worldwide," he says. A native of Kansas City, he's also a husband to Cara and father of four, ages 2 to 13. Before starting his own enterprise, Bertand absorbed water-infrastructure know-how for both the city of Lawrence and Johnson County Wastewater, as well as engineering firms Black & Veatch and HDR. "My commitment to community service is evident in my work at Daupler and my involvement with the parish," he says. He's also an active mentor and advisor for entrepreneurs who seek to create innovative solutions to real-world problems.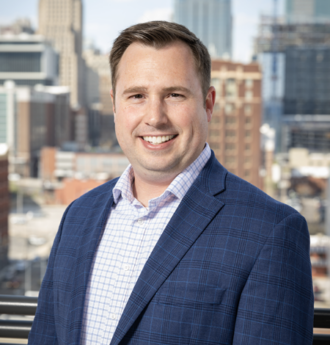 Christopher Beverlin
His achievements in the design space are impressive: Chris Beverlin leads a firm that is active in 48 states, has 11 licensed engineers and four engineers-in-training, and is himself licensed in 16 states, with projects completed in 14 states and a history of overseeing construction work with a combined value of more than $1 billion. This year, all of his hard work paid off as the 38-year-old became just the fourth president in the 66-year history of structural engineering firm Bob D Campbell & Co. Yet for all that, "nothing is more important to me than my family and faith community in raising well-rounded youth to lead the future of our community," Beverlin says. "We are active members at Holy Trinity Catholic Church in Lenexa, where three of our four children attend school." He also leads a small faith group for men, Cub Scout dens of first- and third-graders, and serves as head soccer coach for teams in those same grade levels. That commitment to giving of time, talent, and treasure flows to well more than a dozen non-profits and his alma mater, Kansas State University, where he earned his degree in architectural engineering with an emphasis on structures. At Bob D. Campbell & Co., "I lead strategic planning and growth with our 10 principal shareholders as we transition the firm into the next generation of ownership," he says.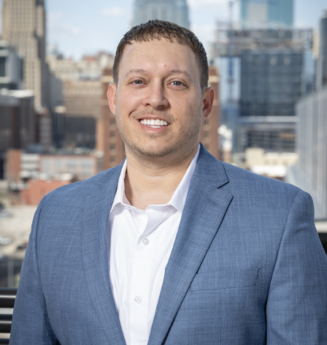 Darrell Blackburn
Barely into his 30s, Darrell Blackburn came to the Kansas City area from Indianapolis in 2018 to seize an opportunity with a tech services startup, Full Scale. What's happened since might make one wonder who was seizing whom. As chief operating officer, he's been riding a growth tiger: revenues up 1,034.79 percent since he on-boarded; 17 straight quarters of revenue growth; 13 straight quarters of gross profit margin growth, and an employee headcount that has surged nearly 12-fold, hitting 287. The ride, he says, "has been wildly fun and challenging. I have had the opportunity to network and get to know some of the most influential people in the Kansas City entrepreneurship and startup ecosystem," and his work helping companies build IT teams of their own has impacted dozens of local businesses trying to scale their own enterprises. "My time in Kansas City," he says, "has also resulted in what I consider to be my most important role in life—husband. I met my wife in Kansas City and had the pleasure of being married by Fr. Richard Storey in Honolulu last June." While Valentino, their Shitzu/Yorkie mix, commands much of the free time, he and Carolina also take in Royals games, concerts, traveling, trying new restaurants around the area, and lots of time with family. "The final part of that sentence," the 37-year-old says, "is the one that defines me most. Being around my old and new KC family is what brings me the most joy."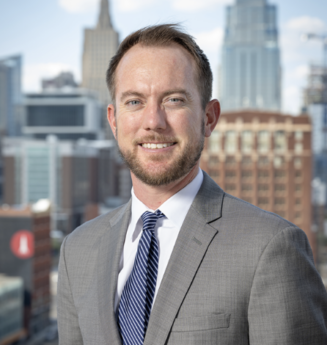 Will Blankenship
He just might be the face of an evolving, mobile workforce. Will Blankenship lives in Mission Hills but works for a Tulsa-based oil and gas exploration company, Samson Energy. He's also the managing member of an investor group of about 50 people who have combined assets of about $70 million. So why Kansas City? It was a quality-of-life call: "In late 2020, I moved to Mission Hills from Denver to be closer to family, and because my lovely wife, Cary, and I decided we wanted to raise our (three) children in this great community," he says. With his priorities nailed down, he turned his attention to career matters.  "My team and I oversee more than 50,000 net acres of oil and gas rights in the Northern D-J Basin of southeast Wyoming," Blankenship says, and by the end of 2023, those assets should be producing 10,000 barrels of oil per day. On the investing side, his group is betting on a critical mineral start-up company, Ionic Mineral Technologies, which will leverage a next-gen silicon anode material to produce lithium-ion batteries that give electric vehicles longer range and faster charging. "My favorite thing to do is to spend time with my family," says Blankenship, 35. "Family, friends, faith, playing/watching sports, challenging the status quo, giving back, and having fun is what life is all about." He earned a degree in business administration from the University of Oklahoma, with a double major in energy management and finance.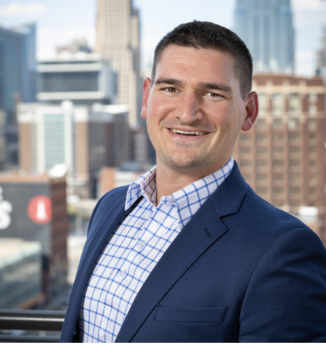 Andrew Block
Andrew Block, 34, has a passion for fitness, and it took him from his native Kansas City to Arizona, managing a Planet Fitness site. But blood, it seems, is thicker than sweat. He came back home as part of the third generation of leadership at Block Real Estate Services, tasked with developing fitness-related aspects of the firm's multifamily housing strategy. Now specializing in office and industrial brokerage, Block says that getting a deal done is about much more than the underlying transaction. There is something very rewarding; he says, "watching companies start in 1,500 square feet and eventually grow to 60,000 square feet and beyond." His impact on the firm was immediate, earning him the Roger L. Cohen Rookie of the Year award for outstanding transaction volume and community leadership in Kansas City in 2017. For the past four years, he's had the highest office transaction brokerage volume in Kansas City while working toward prized designations in the Society of Industrial and Office Realtors and as a Certified Commercial Investment Member. To date, he's been involved in 654 transactions and $602 million in gross sales volume and even started a pair of small businesses on the side. "The awards and honors I have received," he says, "serve as further motivation, inspiration, and determination to help others excel and achieve their own goals." Outside the office, his agenda for this year includes efforts to support Big Brothers & Big Sisters, the Hot Stiletto Foundation, Renew KC Neighborhoods, and Boys and Girls Clubs of the Greater Kansas City, among others.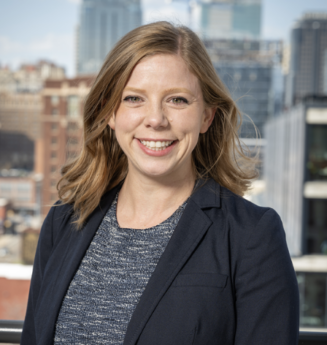 Emma Brooke
Emma Brooke doesn't just work for a B Corporation; she lives the mission of those elite companies that voluntarily set high standards for social and environmental performance. "I measure success and achievement by the impact I have on our Global Prairie team, our community, and the world," she says, "and so my proudest accomplishments are those that change lives." Brooke, 35, is the managing director of insight and strategy for marketing firm Global Prairie, a firm organized around the belief that corporations are much more than the sum of their income statements. "I'm proud of our innovator status as one of the very first B Corps in Kansas and Missouri, now ranked among the top 1 percent among more than 6,500 B Corps around the globe," she says. Brooke leads a team uncovering solutions to clients' most pressing business challenges and has P&L responsibility for the fast-growing business, where she helps drive continued revenue and profit growth for the firm's employee owners. Result? A year-over-year surge of 205 percent in the firm's ESOP share price. In addition to leading the insight and strategy team, she manages and mentors a cross-functional team of 20 employee owners, fostering an environment of collective and individual growth. Outside the office, Brooke co-founded Project Homeless Connect Kansas City, a non-profit that has served more than 2,000 people, providing access to vital care and services.  She's also on the board of Pawsperity, formerly The Grooming Project, which helps break the cycle of poverty by teaching pet grooming skills.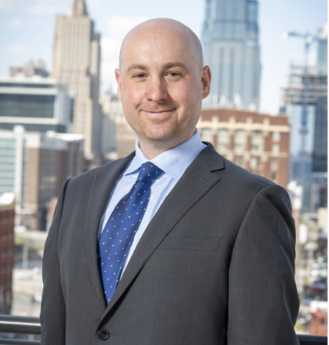 Alexander Brown
It's a question often asked after headline-making reports of abusive behavior by law enforcement: Who's policing the police? Well, Alexander Brown is carrying some of that burden. The 39-year-old partner at Lathrop GPM isn't just proficient in pursuit of justice in such cases, he's the founder of the firm's Civil Rights Insurance Recovery Practice. In that role, he says, "I have helped resolve some of the highest-profile law enforcement abuse cases in the country. I founded the practice after securing a $20.5 million insurance-funded settlement for the families of three men in Mississippi who were wrongfully convicted in 1979 and spent a collective 83 years in prison for a rape and murder they did not commit.  Sadly, the men died from their injuries." That case played out over seven years as he litigated law enforcement insurance issues. "Ultimately," he says, that "resulted in a 2019 ground-breaking decision holding multiple insurers liable for injuries sustained by my clients while imprisoned." He's gone on to secure the two largest wrongful-conviction settlements in U.S. history, including the largest total settlement—more than $60 million paid to four exonerees in Chicago—and the largest settlement for a single exoneree (more than $21 million for an exoneree in California).  Last year, my team achieved the largest civil-rights settlements in the history of Kansas, Idaho, and Nevada, with combined awards of $38.7 million, and the largest in Pennsylvania's history outside of Philadelphia, $8.2 million. In all, the father of two (with wife Kristin) has helped secure settlements nationwide totaling more than $150 million.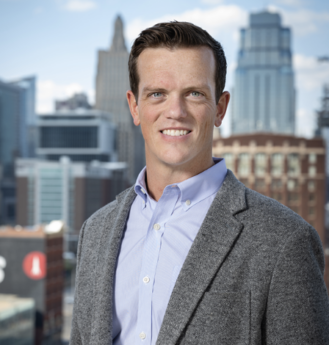 Andy Butler
Andy Butler's career path is a study in what it means to be intentional: He carried the storied Missouri farm-kid work ethic to Columbia to secure his master's in accounting, tacked on his CPA, spent three years in the audit practice at KPMG and three more in transaction services at BKD. So he had all the tools in the kit when C3 Capital—now CPC—came calling in 2016. The private-equity firm invests $50 million to $100 million buying controlling interests in a wide range of promising companies, and Butler, 36, brings a passion for lower-middle market businesses to the task. He came on board to help invest three funds totaling $450 million in capital and was responsible for helping manage 16 of 40 portfolio companies—originating six of them. He now serves as a member of multiple company boards, monitors financial performance, and is involved in company strategy and developing management teams for each of these companies. "I'm a relationship guy and big believer that people are a company's biggest asset," Butler says. "I also oversee CPC's marketing function, hiring our first marketing manager in 2022." He's lived in Kansas City for a dozen years and calls himself a proud brother, son, uncle, friend, and BBBS "Big." "When not working, you can usually find me working out, at a lake water skiing, or playing volleyball or basketball—where my "Little" and I met and became fast friends almost a decade ago. He now plays basketball at Washburn University."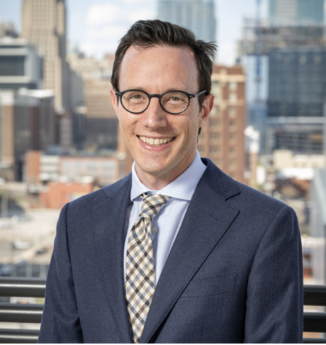 Mike Cappo
Law-firm litigators are famed for having the cool resolve of riverboat gamblers, which is an apt metaphor for Mike Cappo and his work as a partner at Shook, Hardy and Bacon, dealing with what's often referred to as bet-the-company casework. "My teams and I use real-time analytics, alternative fee arrangements, and innovative legal strategies to defend some of the world's largest companies in high stakes, complex litigation," says Cappo, 37. "My expertise with batteries and alarm services makes me a trusted adviser for clients in those fields, and I manage national and international litigation portfolios with tens of millions of dollars in exposure for industry-leading companies." Just last fall, the firm bestowed upon him the John F. Murphy Compass Award for Leadership, named after Shook's past chairman. "Connecting people, building relationships, mentoring, and learning from others drives me," Cappo says, "and being recognized by my peers and our Chair Madeleine McDonough was humbling." After the litigation dust settles, he remains active; "community involvement is important to me," he says, citing service on Visit KC's executive committee, finance committee, and board of directors. That's engaged him with the organization's strategic direction, this month's hosting of the NFL Draft and FIFA World Cup 2026 details. And with Kansas City Tomorrow, he says, he's learned about the region's most pressing challenges and opportunities to address them. All of that has a personal impact, as well, he says: "My wife, Elizabeth, and I live in Kansas City and plan to spend our lives here."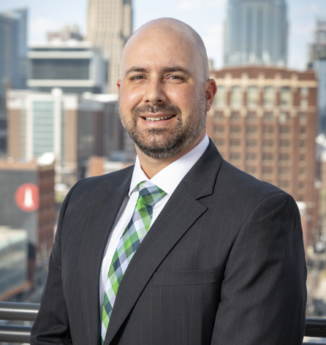 Patrick Courtney
Career success can be measured in a lot of ways. For Patrick Courtney, general counsel for one of the region's newest additions to the billion-dollar-revenue club, one big metric contributes to  Terracon's top-line performance but doesn't show up there. "The accomplishment I am most proud of is the success we have had on our Corporate Survey," says the engineering firm's general counsel. "This survey asks our offices to rate all corporate departments on qualities such as responsiveness, expertise, and reliability. My team received a 98 percent net positive score on the most recent Corporate Survey, leading all corporate departments."  For his team, "Be a resource, not a roadblock" is more than just a motto. "We try to live that out every day," Courtney says. He's also been a resource for local non-profits through his work with the ACC Mid-America Pro Bono Legal Clinic. In partnership with Stinson, LLP and UMKC's School of Law, it provides pro bono opportunities specifically for in-house counsel and has served more than 50 non-profits since its launch in 2019. He and Rachel have four children, ages 4 to 13, and Courtney has also stepped in as basketball coach and swim official. "As busy as we are," he says, "my hope is that the example my wife and I try to set regarding the importance of community involvement is instilled in them and that when they're older, they will remember the adults in their lives who made a positive impact on them and be inspired to do the same for others."
Mishelle Drake
"Although I was privileged to have come to America at seven years old to fight for the American Dream," says Mishelle Drake, "I am aware of the difficult circumstances my family and friends in Venezuela face daily. This awareness has and continues to drive my desire to get involved in the community and find ways to help people succeed no matter the cards they are dealt. At the end of the day, I want to make my parents proud and make all the sacrifices that they made for me to be worth it." Drake, the 33-year-old associate general counsel for Kiewit Corp's Lenexa operations, has made an impact both at work and in civic life here. Her work life requires legal acumen, as she demonstrated serving as lead counsel in the negotiation of a Kiewit project entailing engineering, procurement, and construction on one of the largest solar facilities in the United States. "As Kiewit dives into the renewable energy market," she says, "I am honored to have contributed in a small way toward the future of energy." On the civic side, she's been the Change Campaign cabinet leader for United WE, addressing economic, social, and policy changes that confront women, especially women of color. "It matters to me to be a part of that change," she says. She was also a Kansas City Land Bank appointee of former mayor Sly James and a past winner of the Robert C. Welch Volunteer Attorney Project Award, recognizing her pro bono legal work. "At my core," Drake says, "I am an individual who values integrity, loyalty, and compassion towards others."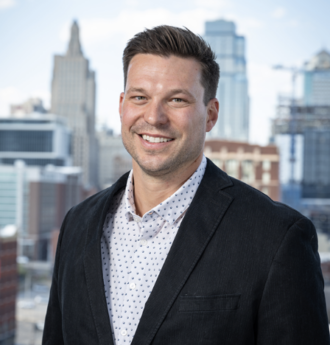 Jonathon Goss
Meeting a payroll isn't just a biweekly matter of checking a box for Jonathon Goss. It matters to him what that cost center represents at JACOR Contracting. "The number that I'm most proud of is our total payroll topped $3.4 million," says the specialty contractor's president. "We are a lean office with most of our employees being union craftsmen. Those union craftsmen make up 80 percent of our overall payroll. Providing a steady, reliable job for those blue-collar workers is what I was most proud of." He took the ownership leap in the fall of 2021, partnering to secure the SBA loan used to buy the company founded in 1993. "Our projects vary from new schools, apartments, logistics parks to restoration of buildings and parking structures," says Goss, 38. Among the more notable projects completed are the restoration of the Valencia Grand Staircase on the Country Club Plaza, the Boley Building, and the deck at Liberty Memorial. The year following the acquisition, he says, broke company records for both sales and overall volume. At home, he and Lindsey have two children, ages 6 and 7, "who always keep our family on the run," Goss says. "I'm actively involved in their youth sports, coaching basketball, football, soccer, and baseball."  Instilling a faith-centered giving heart in them, Goss says, "is the highest of our priorities. Our family is actively involved in volunteering with our church and several great organizations, Newhouse being one of them. Our last family volunteer event was Newhouse's Holiday Gift Shop.  My wife and I helped wrap presents while our children helped kids pick out their gifts for Christmas."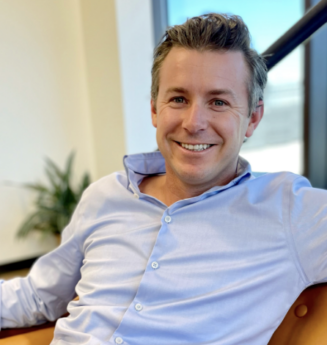 Andrew Gray
He's bootstrapped his insurance services company from zero revenue and zero clients to a $20 million enterprise in 10 years—with a goal of $100 million in revenue within five more years. A heck of an accomplishment right there, but it's not No. 1 on Andrew Gray's list. Don't get him wrong: "I love what I do," he says. But "I am a family man first; I'm a proud father of four and married to an incredible wife, LeighAnne. Virtus is my second-greatest honor." Despite his success to date and its spot on last year's Inc. 5000 list, "I won't say (it's an) accomplishment yet because we continue to scale the firm," which now counts 100 employees, $200 million in brokered premium, and 70 percent year-over-year growth. "I have the most fun building and leading our team, and I'm incredibly proud of our culture, our values, and the way we bring our tagline—Push Forward; We've Got Your Back—to live every day,"  says Gray, 38. "For our team, this means we pursue excellence, say "Yes" to bold opportunities, take calculated risks, and continuously learn and get better together while chasing our dreams. For our clients, this means we're habitually wired to mitigate their risk and maximize their value so they can focus on achieving their dreams and building their business. For our communities, it's our goal to make things happen, to do our part to advance our neighborhoods and communities." In his spare time, he's on the move. "I like action," Gray says, "whether it's traveling, watching or playing sports, getting outdoors, enjoying good food, drinks, and live music, and taking it all in with great friends."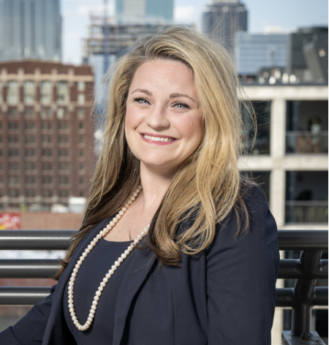 Heather Hatley
Women, says Heather Hatley, make up less than 20 percent of civil litigators nationwide. That's changing, and she's one reason why. The 36-year-old partner at Franke Schultz & Mullen isn't just part of the trend—women make up nearly 40 of the firm's partners and nearly half its associates—but she's working to lend a hand up the legal services and litigation ladder to other aspiring women. "Fostering and cultivating diverse talent is a foundational part of our firm, and I believe it is the key to our continued growth and success," she says. Hatley was recently named by Missouri Lawyers Media as one of just three attorneys in the state's Up and Coming Law Firm Leader awards and, more recently, a recipient of the Women's Justice Award. On the clock, she represents diverse individual and corporate clients in cases ranging from wrongful death, sexual and physical abuse, to bodily injury claims, arguing cases before the courts of appeals in both Missouri and Kansas. "My most meaningful work," she says, "is representing residential-treatment facilities and social-service organizations throughout the state who provide essential social, mental health, and family services to our community." But, she notes, "I am most proud of my work as a mother to my two young children, Charlotte and Henry. My children are the joy of my life, and I am grateful to both my husband (Robert) and my law partners for their unwavering support throughout my career, without which none of my accomplishments would have been possible."
Molly Howey
Molly Howey, 39, is all about learning new things, gaining new perspectives—and bringing new businesses to Topeka and the Shawnee County area. She's the president of Go Topeka, the county's economic development effort, working her way to that role over the course of 12 years. Her work has paid off for the region in the form of more than 1,500 new jobs and billions of dollars in capital investment. She has also led efforts to create a partnership with Plug and Play, a Silicon Valley-based innovation platform that brings dozens of startup companies to Topeka each year for a business-accelerator program. "We have also funded hundreds of small businesses through our small business incentives program that puts over $300,000 in the hands of small, local businesses each year to fill gaps and remove growth barriers," says Howey. "Being a community leader, I get to help create opportunities for our citizens and see the changes happen before my eyes, which is amazing! I am involved in my community and my industry as a mentor across the nation, as well," and her efforts have been rewarded with multiple awards at the local, state, and even national levels. "I'm a native Kansan and love my home state, but I also love to travel," says the mother of three. She, husband Johnny, and their three kids spend a lot of time at lakes and listening to live music whenever they can. She also says, "I have a heart for people with special needs and serve on the board for TARC, a major resource for that community in Topeka."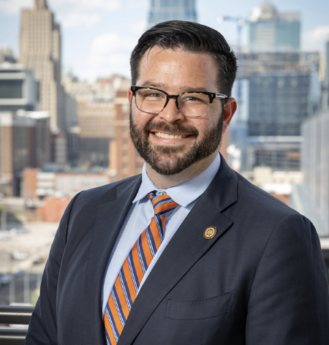 Mike Kelly
We're pretty confident that Mike Kelly sleeps—at some point—but it's hard to figure out just when. Consider: He's a partner at Husch Blackwell, working in construction, real estate, and development litigation. He's a civic-minded change agent, swapping out elected office as mayor of Roeland Park last year for the much higher-visibility and important role as chairman of the Johnson County Commission. He's the founder of Climate Action KC, a non-profit that created the first regional climate plan. And, with his wife Elizabeth, he's the father of two, ages 2 and 5. All of that aligns with the Jesuit tradition—being "a man for others"—that he embraced from his days at Rockhurst High School, values that he says form "a core principle of my life." As a native of Johnson County, Kelly says, "I realize success didn't happen by accident and that it's not guaranteed. The leaders we elect and the policies they enact will set the course for the next generation. We are at a time of unique opportunity, and I am honored to help shepherd in new opportunities for generations of Johnson Countians to come." While mayor, he led efforts to reduce Roeland Park's property tax rate—three times—as home valuations surged. And on his way to becoming the youngest commission chairman in the county's history, at 37, Kelly broke the fundraising record for municipal and county government races in Kansas, raising more than $500,000—with maximum donations of $500.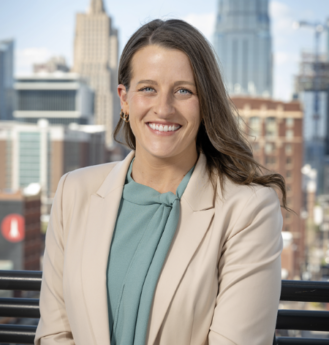 Lauren Kepler
Lauren Kepler's degree was in journalism, not music, but she's nonetheless a rock star—of business development—for Newkirk Novak Construction Partners. After more than a decade in roles with large construction and design firms, she came on board last year as the first strategic hire outside of project operations for a company founded in 2017. It was already in rapid-growth mode, but Kepler has added fuel to the fire. Over a recent six-month period, she's been part of $130 million in sales, slightly better than two-thirds of the company's total. She also led the firm's 2023-2026 visioning and strategy process, including sales and revenue projections, market strategy development, and people planning. Kepler, 34, is a civic and volunteer whirlwind. She currently chairs the Platte County Economic Development Committee, has a seat on the board for the Northland Chamber of Commerce and sits on its education committee, has been through Leadership Northland and the Kansas City Chamber's Centurions program, and is secretary/treasurer for the Association for Learning Environments chapter. She's a busy volunteer for the Synergy Services board since 2019, serving as 2021 co-chair for the 31st annual Kindest Kansas Citian event (raising more than $120,000 for school-based mental health programming), and other services with Missouri DECA, Junior Achievement, Coaches vs. Cancer, United Way and others. "I'm a Dotte original KC native" from Wyandotte County," she says, and "very family-oriented with a twin sister, two brothers, four nephews and niece on the way."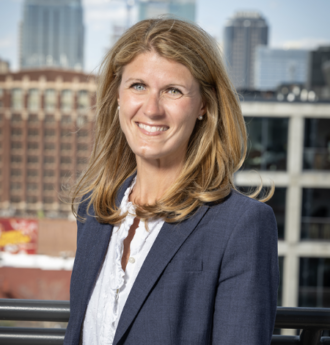 Megan Knoblauch
Career success isn't always just a matter of being in the right place at the right time. It's what you do with the opportunity that counts. Witness Megan Knoblauch, who had the good fortune of earning her accounting degree from KU just as RubinBrown was expanding into the Kansas City market from its St. Louis roots. "When I joined the firm, I was one of three staff in our audit department, along with two managers and two partners, the 38-year-old says. "I was the first new hire right off of campus. I saw this as an excellent opportunity for growth." Two years in, she was married, and two years later, she and Luke welcomed the first of their three children to the fold. "I continued to work because it was important to me as a mom and wife to progress in my career," she says. "I started to change my schedule a little bit in order to be more of an active mom because it was important to me to be able to spend time with our children before they went to bed." She rode that model to manager in her fifth year at the firm, made partner at 10 years, and became a partner in charge of assurance services in 2018. With eight assurance partners, 11 assurance managers, and about 20 staff, she leads the charge on staff scheduling and serves as a career advocate to more than half a dozen team members. "Giving people new opportunities and the ability to try something new is incredibly important to me," Knoblauch says. Luke's support has been vital, she says, and away from work, she fills the family time with softball team coaching, school parties, programs/musicals, and sports.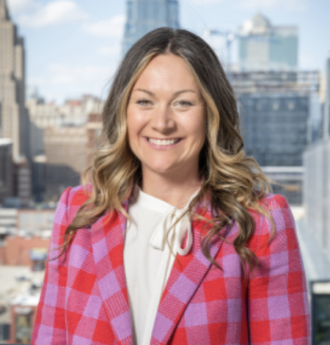 Alicia Kotarba
For those who say education could use a stern application of entrepreneurial principles, we give you … Alicia Kotarba. The 39-year-old president of Notre Dame de Sion, which operates the Midtown co-ed grade school and the all-girls high school in south Kansas City. An entrepreneur at heart, she founded myEDmatch, a job-matching website for teachers that was eventually acquired by Frontline Education. She did a stint as a Kauffman Foundation fellow, working on initiatives to support innovation in education. And since 2018, she's been at Sion, where in just five years, she says, "we have grown enrollment by 10 percent, fundraising by 100 percent, and completed a capital campaign for a new STEM wing." Hers has been an intentional career path. "I feel the foundations I have built from a classroom teacher in Los Angeles to starting and growing Teach for America's regional office and eventually a startup have combined to solidify my love of both education and innovation," Kotarba says. Before launching her own company, she was the founding Executive Director of Teach For America-Kansas City, which grew to support 225 teachers a year and raised $4.5 million in just four years. That experience, plus an MBA from Washington University in St. Louis, sparked the conception of myEDmatch. With husband Wade, she's raising a pair of pre-kindergartners in an ideal working-mom dynamic at her alma mater: "My two children attend school with me at Sion and St. Mark's Catholic Church," she says. She's also on the board of WIN for KC and the Missouri State Public Charter School Commission.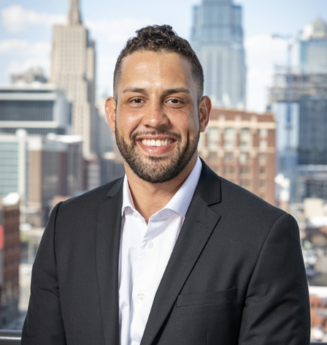 Trevor Lewis
Little was gifted in this life to Trevor Lewis: Raised by a single mother on a teacher's salary, he says, "I quickly learned the value of hard work and dedication. Despite the financial challenges we faced, I was determined to pursue my passions." That meant odd jobs as a farmhand during school breaks, cooking pizzas at a local pub, and supplementing the household income by starting a power-washing business at 17. "These experiences," he says, "taught me the importance of taking the initiative and being resourceful and have helped shape my entrepreneurial spirit." At 36, he applies that initiative today as chief revenue officer for InStore Design Display, helping improve operations, increase gross margins, expand into new markets, and diversify revenue streams for a company that designs and builds retail displays for global brands and retailers. Among them: T-Mobile, the Chiefs, and Walmart. In just over five years there, he's helped boost gross margin by more than 7 percent, and in 2022 alone, oversaw $2 million in net new revenue. "I have always loved Kansas City, its people, food, sports, and culture," he says. "Networking and charity involvement in the city is really important to me. I am active in Top Gun Kansas City, Lift KC, and the Avila University Alumni Association," and he's an avid outdoorsman who loves to hike, camp, and fish, often with his 11-year-daughter sharing the experience. "Being a dad is one of my greatest joys, and I am grateful for every moment I get to spend with my family," he says.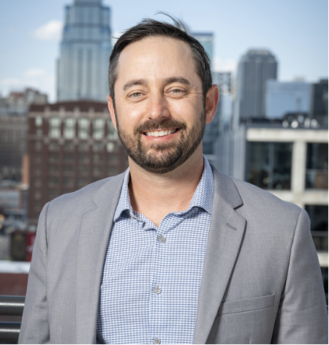 Jake Loveless
For the better part of a decade, Kansas City's multifamily market has been on fire, a streak some thought would end years ago. That it hasn't is in part to the work of Jake Loveless, vice president for Griffin Riley Property Group, leading business development, investment evaluation, entitlements, contractor and government relations, project management, operations, and more. Over the past five years, he said, "We have built or repositioned 682 apartment units throughout the metro and have another 583 units of for-rent housing starting construction in 2023, with plans to add as many as 800 more units in 2024." As if that's not enough, he oversees all facets of the firm's retail, office, and warehouse investments. Loveless, 38, started off with Summit Homes in 2010, working for GRPG founder Fred Delibero and rising up from project manager to director of business development at the region's largest home builder, structuring bulk lot purchases, new land development projects and other investment opportunities. Outside of work, he sits on Lee's Summit's planning commission and the boards of Drumm Farm and Saint Luke's Hospital East, all while working with wife Emmie to raise three children, ages 6 to 13—and coaching the baseball teams for his two boys. "Giving back to the community is a huge priority for me and my family," he says, and that has helped drive Summit/GRPG's efforts to raise millions in funding for St. Jude's Children's Research Hospital, Boys & Girls Club of Kansas City, Hope Haven of Cass County and more.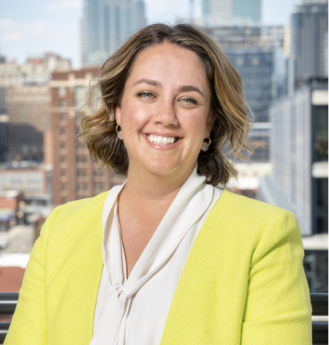 Amber Manning
You know that saying about what Generation Three does to a family-owned business? Well, in Amber Manning's case, you can just forget about it. She's the recently-named CEO of The Miller Group—her father was one of the founder's sons—but DNA didn't earn her that role. Performance did: "My greatest accomplishments at The Miller Group involve helping the company grow both financially and culturally," she says. "While serving as our president of the Personal Risk Management division, I helped the department's revenue grow 900 percent in under four years. After that, I purchased shares in the company and joined the executive team. I then served as vice president of the Employee Benefits division, where I moved the department from a negative margin to profitable growth within roughly two years." Culture, she says, is as important as financial performance, so she has stepped in to help build a positive, supportive, caring environment where employees feel so valued that they often refer members of their own families to join her family's team. As with Gen2, "I am a highly driven individual who values family, faith, my community and giving back," Manning says. "These values guide me in all aspects of life and were influenced by my parents and grandparents. From a young age, they taught me to be generous, thoughtful, and humble." She and husband Chris have three children, ages 6, 7, and 10, and her civic history includes a seat on the Greater Kansas City Community Foundation's regional advisory council for nearly five years and before that, board and committee roles with the Central Exchange and the Kansas City Symphony.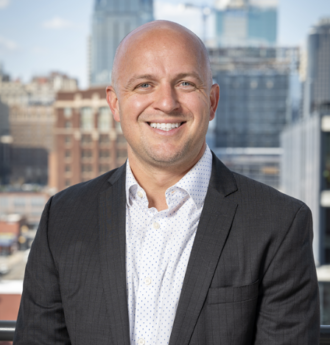 Josh Matthews
Josh Matthews is all about getting the priorities straight. "The most significant accomplishment of my brief life is marrying my wife (Alicia) and bringing three wonderful little humans into the world with her," says the president of SelectQuote Senior Services. "My primary focus is that our children are positioned well to be great influencers of faith, family, and friendships as they continue to grow." But as priorities go, he's knocking it out of the park with No. 2, as well. "Second to our family is my dedication to the business. I have been fortunate enough to find success in the business world since leaving education through Teach for America," where the 38-year-old was both a classroom educator and a member of the education committee. "Over the last nine-plus years, I have held a series of escalating responsibilities at SelectQuote. … As the senior executive of my division, I am responsible for nearly 2,000 employees and over $400 million in expenses. Annual revenues for SelectQuote Senior exceed $500 million, with EBITDA north of $100 million. Under my leadership over the past four years, we have averaged over $100 million per year in revenue growth, with EBITDA growing over $200 million in the last fiscal year alone." At the same time, he says, the employee headcount went from 900 to 2,000, as insurance policy sales surged more than 220 percent to nearly 650,000 Medicare policies. And over the previous 12 months, he's led a reduction of 26 percent in the firm's cost per acquired customer, yielding a savings of $58 million.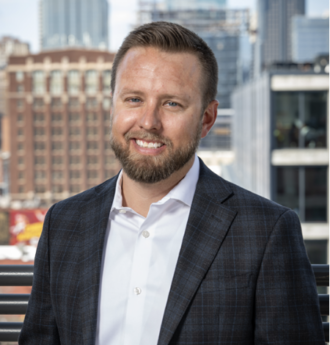 Mike Miller
Mike Miller's simple formula for career success: "Being a man of my word. That's who I am. If I tell you I'm going to do something, I do it 100 percent of the time," says the 36-year-old president of Meyer Lab. "This trait has helped me build many relationships in life. These relationships extend throughout my family, friends, business, and community." Seven years ago, he came on board as national sales director for the Blue Springs chemical manufacturer. Next came regional vice president, vice president of sales, executive vice president, and ultimately president. "Our No. 1 goal is positively impacting lives, and we believe we can do that through creating a great place to work," Miller says. "I'm most proud of growing our headcount from 90 people when I started to 170 people as of today." Under his leadership, sales grew 47 percent and profit by 58 percent between 2019 and 2022—in 2022, the figures were 27 percent for sales and 33 percent for profit. His real treasures are at home, with wife, Diamond, and two sons. "When making challenging decisions, I ask myself, 'Would my son be proud of the decision I'm making?' or "What advice would I give my son in this situation?' " Miller says. "I also realize I have been blessed by God, and I wouldn't be here without his support." At this point in his life, he says, "I feel the biggest impact I can make is serving the people of Meyer Lab," Miller says. "There is a huge opportunity for Meyer Lab to be a ministry. That's how I view our company, and I wake up every day working to create an oasis for the families of Meyer Lab."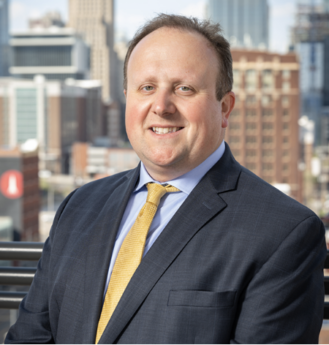 Justin Mouzoukos
Justin Mouzoukos is driven to achieve. The 39-year-old CFO for the region's second-largest credit union has carved out one career success metric after another. He has led the asset/liability position of Mazuma Credit Union, using investments and balance-sheet management to double Mazuma Credit Union's assets to $900 million over the past six years, leading to strong growth in net worth. He also led an organizational conversion of the wealth-management program, with $100 million in assets, to another platform, increasing profitability by more than 10 percent while increasing technology and resources for its members' financial planning. His time as CFO has seen top-line revenue increase by two-thirds, from $28 million annually to more than $45 million. But there's a strategic side to his leadership that goes beyond the financial metrics. One example: creating the firm's finance, risk management, and facilities departments and developing strategic plans for each business unit. Another: He championed the organizational culture and development of the Mazuma Corporate Social Responsibility program and foundation, which has contributed more than 10,000 hours of volunteer work and provided grants to non-profits across the region. As a result, Mouzoukos was the youngest Credit Union National Association Finance Council Professional of the Year in 2021. He also was the CUNA CFO Council Volunteer of the Year in 2015 before being elected to the association's executive committee. "I believe that it is important that businesses empower people and employees to become engaged in leading corporate change," he says.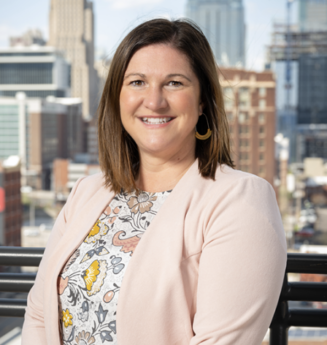 Jenna Pukach
Projects done right lead to short-term profits. The longer term, Jenna Pukach believes, requires a separate focus in her role as accounting operations controller for the region's biggest engineering and construction firm, Burns & McDonnell. "While ensuring our company is moving in the right direction is a critical part of my job, I believe it is also necessary to reevaluate our organizational systems so that we're not only focused on our projects but also our people," says Pukach, 39. "Just as others within Burns & Mac helped me along my path, I try to do the same by being a dependable leader, mentor, and friend." A working mother of two with husband Jeremy, she sees the value of passing the organizational baton to the new cohorts of workers. "Inspiring young people and nurturing the next generation of leaders is also why I'm active within two United Way leadership groups: Emerging Leaders Society and Women United," Pukach says. She's also a member of Central Exchange's Lean In Circle Program, serves as a Girl Scout leader, and participates in a regional AEC industry networking group. "As a wife and a mom of two young girls, I am proud to model for them dedication to my family, my team, and my community," she says. She's also a member of the Regional AEC Industry Networking Group for design/construction professionals. "Throughout my journey," she says, "I led multiple restructuring efforts to improve efficiency, client service, department processes, and recruitment—which included expanding our finance-intern and new-graduate programs."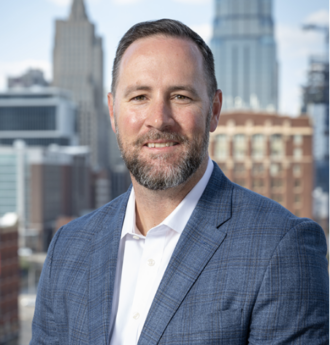 Sean Richardson
In two seasons with the KU baseball team, Sean Richardson was a .317 hitter who was good enough to be drafted by the Minnesota Twins. After wrapping up his playing days, he went on to become a logistics All-Star as president of one of the region's most consistently fast-growing companies in a red-hot sector—logistics. His logistics career started in 2009 with Freightquote, on the sales team, then managing a team of his own there. After a stint at eShipping, where he led sales team expansions in Denver and Dallas, Tallgrass Freight came calling in 2018, making him an agent/owner. In fairly rapid succession came roles as director of agent development, vice president of growth and development (helping push revenues from $70 million to $165 million between 2020 and 2022), then the current role as president, overseeing all aspects of Tallgrass Freight's business—operations, sales, recruiting, finance and strategic vision for growth. Naturally, for this father of three with wife Amanda, time away from work means coaching. "I enjoy coaching all of my children's athletic teams, including their basketball, football, and baseball teams," Richardson says. "I believe in giving back to your community and being involved with local organizations to continue to make our local communities a better place." To that end, he and Amanda work with Synergy Services and Happy Bottoms, among others. "Whether it's donating time, raising money, or building custom wooden beverage carts and cornhole sets to be auctioned at their charity events, I'm excited to do what I can to help these organizations," he says.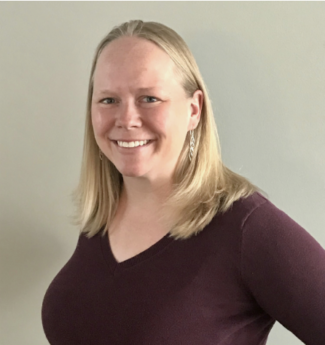 Lauren Roberts
Passion, service, and an in-the-trenches mentality define Lauren Roberts' leadership style as president and CEO of CFM Distributors, full-service specialists in heating, ventilation, air conditioning, and refrigeration. "I'm a passionate leader who believes in servant leadership and giving back," says Roberts, 38. "I'm not afraid to get my hands dirty and work alongside my co-workers, helping with anything else that needs to be done." That mindset has helped her with oversight of the company's mobile app, development of its e-commerce site, and—most notably, she says, "successfully leading our company through a global pandemic and doubling our net profit in 2020 over 2019 with a lot of hard work, grit, and teamwork, without having to cut any staffing." On her way up, Roberts became the youngest vice president in CFM's history when she was just 27 years old, an act she followed up at 33 by taking her current role with the 100 percent employee-owned company. The passion she brings to work carries on after hours, giving back to the local community and the industry she's part of. That includes a stint as president of Women in HVACR, an organization focused on bringing women into the blue-collar industry and providing mentoring, networking, and education opportunities for them to grow in their careers. In addition to her corporate board role, she has held board seats for the Kansas City Industrial Council, the Historic West Bottoms District board, and—a personal favorite, she says—the executive board for Kansas City Children's Assistance Network, which raises funds that benefit multiple children's charities in Kansas City.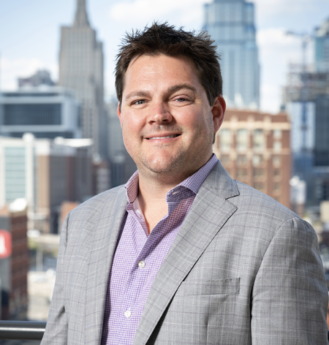 Chad Sneed
Commercial real estate, vehicle sales, IT services, and consulting—even country club ownership—it doesn't matter where he trains his guns, Chad Sneed finds a way to drive growth. "My passion lies in improving business operations and the lives of its employees," says the 38-year-old co-founder/owner at the Brain Group. He partnered with Andrew Brain in 2016 and cultivated the business from the ground up. "Today, our efforts are seen through ownership, leasing, and management of nine commercial properties totaling more than 500,000 square feet," he says, and among those is Plexpod, the Midtown co-working site. "Seven years ago, we started with no employees; today, we employee eight full-time people with benefits," he says. The benefits part is important to Sneed, who sees it as a corporate duty owed to those who make the organization tick. He did the same after securing ownership of the family's Dennis Sneed Ford in Gower, Mo. There, he returned after a gap of 11 years to help resolve struggles with software and accounting issues. "Fast forward to today, volume is up 25 percent, with a record year at 50 percent," Sneed says, and EBITA is up 5x on average. For the 30 employees on staff, he says, "benefits have now been offered for over four years, whereas prior to that, they were not available." Previous to those ventures, he was involved with a pair of companies that successfully sold Stealth Data and Clayview Country Club. Born and raised in Kansas City, Sneed is a lifer. "There were numerous opportunities to pursue endeavors elsewhere," he says, "yet I felt close to the community and its people. For that reason, I was not willing to move away from the area."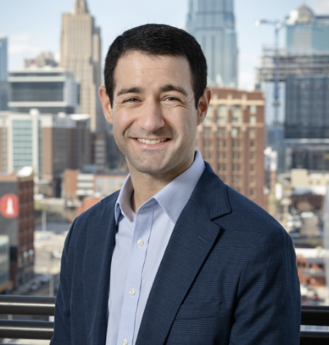 Jeff Stolper
His background as a tax CPA and certified financial planner, says Jeff Stolper, "provides me with a strong foundation to impact people in a positive way. That expertise, paired with a passion for leadership, led me to my role at Creative Planning, where I can improve the lives of both clients and my team members." At 36, he's director of financial planning for Creative Planning, the region's largest wealth-management firm. Since taking that role in 2018, the firm's advised and managed assets have grown from about $36 billion to more than $200 billion, and his team has expanded from 55 to an enormous staff of more than 250 financial planning professionals. "I recruit, train, teach, and advise on technical aspects of financial planning," Stolper says. "I also guide team members in their careers and get great satisfaction as they achieve their career goals." The roots of his servant leadership run back to K-State, planning fund-raisers for a local food pantry and seeking leadership roles with campus organizations. More recently, his service has included several non-profit boards in the Kansas City area, and he's the incoming board President of Jewish Family Services, which serves over 10,000 local individuals of all faiths every year. "Part of the reason that I feel a duty to serve my community," Stolper says, "comes from my parents and grandparents, and I want to pass that priority on to my children," ages 2 and 5. "Setting an example that is caring, passionate and present is important. I see these characteristics in my wife Lisa, a public-school administrator, and how I try to live each day with our kids."
Saeed Valian
He's a nationally recognized authority in information security systems, a published author, and a bona fide influencer who has amassed more than 16,000 followers on LinkedIn. So, yes, Saeed Valian is a hot commodity, which is why, at 39, he has a work history that reads like a corporate Who's Who: Cerner Corp., Saint Luke's Health System, WireCo World Group, Fishtech Group, and Metropolitan Community College. Along the way, he's packed his trophy case with honors like Industry Era's, 10 Best CISOs of 2021, the 10 Most Influential CISOs to Watch in 2021 from Analytics Insight, and WireCo's, Outstanding IT Professional honors. Information security, particularly in the health-care realm, allows him to live out his commitment to meaningful work, Valian says, who also has a one-year-old daughter with his wife, Bana. "I'd like for my personal story, as a minority in the Midwest, to inspire others and show them that success is achievable through hard work and determination," says Valian, who earned his degree in electrical and computer engineering at UMKC. And "considering the significant rise in cyber-attacks, I'd like for my story to raise visibility and inspire more people and young generations to join the cybersecurity field." More than external threats, Valian is passionate about helping corporate leaders understand the need for strong defenses. "I've been challenged by some business leaders with questions/comments like 'We're not a Silicon Valley company, so we don't need to invest much in security,'" he wrote after the content-creator Patreon laid off its entire security team last fall. "How much security is enough?"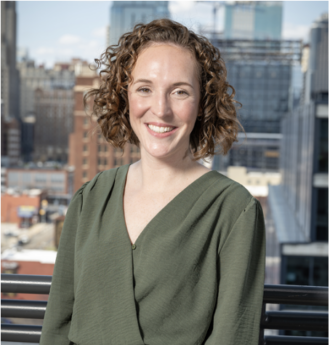 Emily West
"Professionally, my biggest accomplishment has been building and leading FCI Advisors/Midwest Trust's Wealth Planning Group," says Emily West, the Overland Park firm's head of wealth planning. And that was no small task: FCI is among the region's top 10 wealth managers, managing $12.8 billion in assets across nearly 13,900 client accounts. "Historically, in an investment management and trust services firm, introducing financial planning as a discipline was somewhat of a paradigm shift," West says. "I had the opportunity to build the line of business from scratch, designing the client-facing deliverable along the way. I continue to lead this team as our services evolve and reach expands across our client base while also maintaining a book of client accounts in my role as a portfolio manager. In recent years, I've also taken on the role of writing content for publication and speaking at many clients' events." Philanthropically, she's most proud of her work with KCinfertility. "Along with a group of women I met through the organization while we each worked to build our families, I took over for the founding board members, serving as only the second president in the organization's history," West says. "We were able to introduce many foundational structures to provide the organization stability and scale going forward while increasing fundraising and community reach significantly." That work had a deeply personal aspect to it. "I'm extremely proud of the family my husband and I have built together," West says of husband Josh, their 7-year-old twins and 2-year-old son.